Street 118, Sangkat Mittapheap, Khan 7 Makara, Phnom Penh, Kingdom of Cambodia
Deluxe Classic
Bed:

1

Capacity:

2

Size:

50m²-68m²
AMENITIES
Electronic key card

49' LCD TV

Bedding: Non-feather pillows.

Multi-functional work desk

Wardrobe, Telephone, Alarm clock

Bluetooth music connection

Complimentary hight speed internet

In-room safe.

Iron / ironing board

Individual climate control.

Slippers and terrycloth bathrobes

Luxury bathroom amenities

Sustainable bathroom amenities

Hair dryer

In-room dining service

24-hour concierge
Universal AC/DC adapters, Socket near the bed

Mini-bar. Complimentary bottled waters

Separate bathtub and rain showers in select guest rooms / suites
Spanning 68 square meters, the Deluxe Classic are spacious one-bedroom suites perfectly suited for couples seeking privacy. These king-bedded suites contain a large living room and bedroom, entrance foyer, and ample closet space.
---
Have you ever heard of the concept of a Deluxe Classic room in a hotel? And do you wonder what a Deluxe room is and what distinguishes it from other rooms? You have the opportunity to visit Phnom Penh, and travel but do not know which hotel to choose, quality, and especially Deluxe Classic room. So today's article is for you, let's find out with Luxcity the answer for Deluxe Classic room, what are the best hotels with this type of room in Phnom Penh.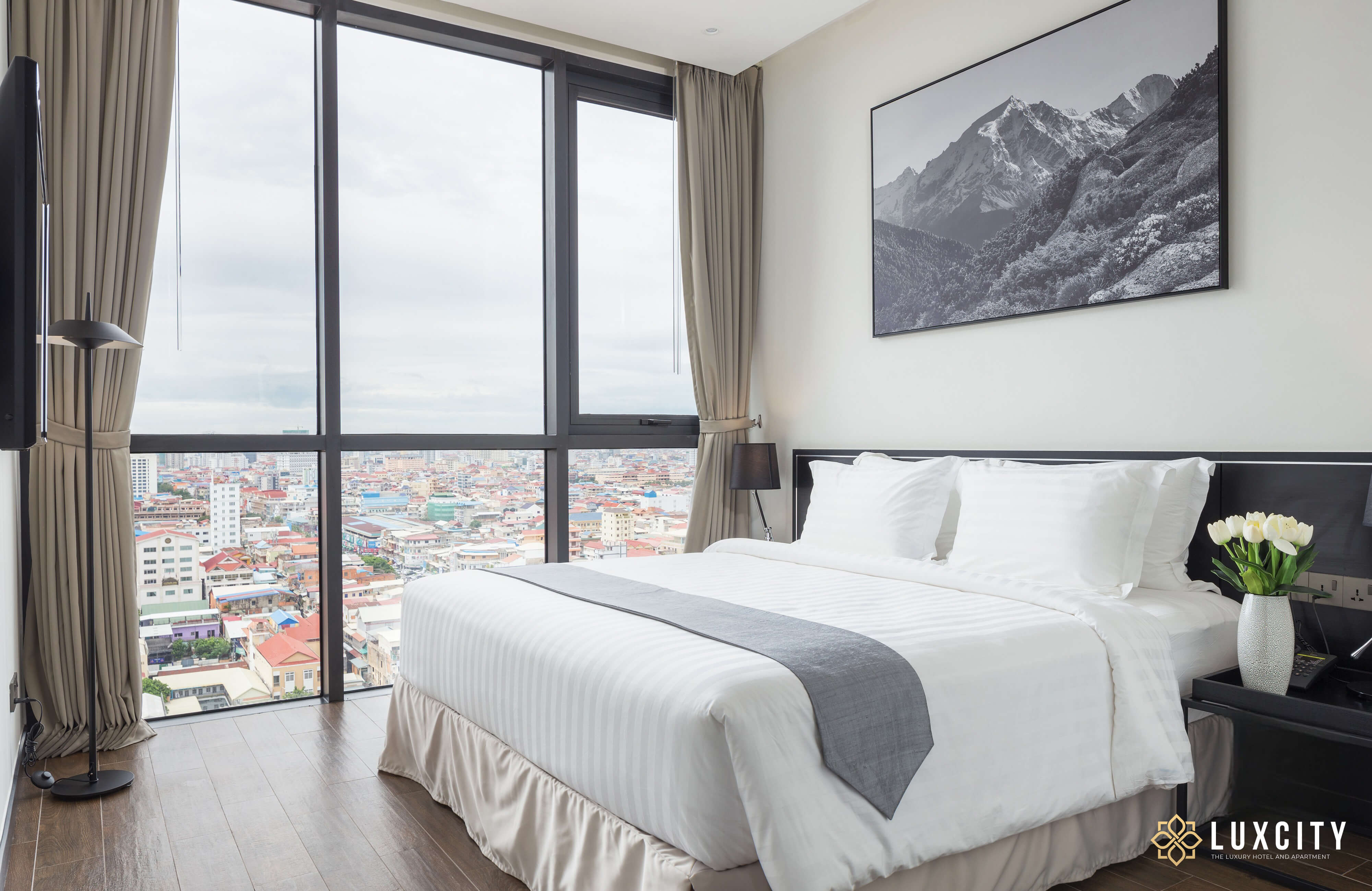 What is a Deluxe Classic Room?
Deluxe Classic room is a superior room type, with better quality than the Superior room. Deluxe rooms are usually designed with a large area, on a high floor, with a beautiful view, and are equipped with high-class appliances and equipment. Normally, this type of room has an area of ​​30 - 50 square meters. The spacious and luxurious space of the room is suitable for many different customers: leisure travel, business trips, couples with small children...
To give customers the best experience when using the service, hotels often divide rooms into many types based on different criteria for customers to freely choose. And in that, Deluxe Classic is one of the room types that is highly appreciated and loved by guests.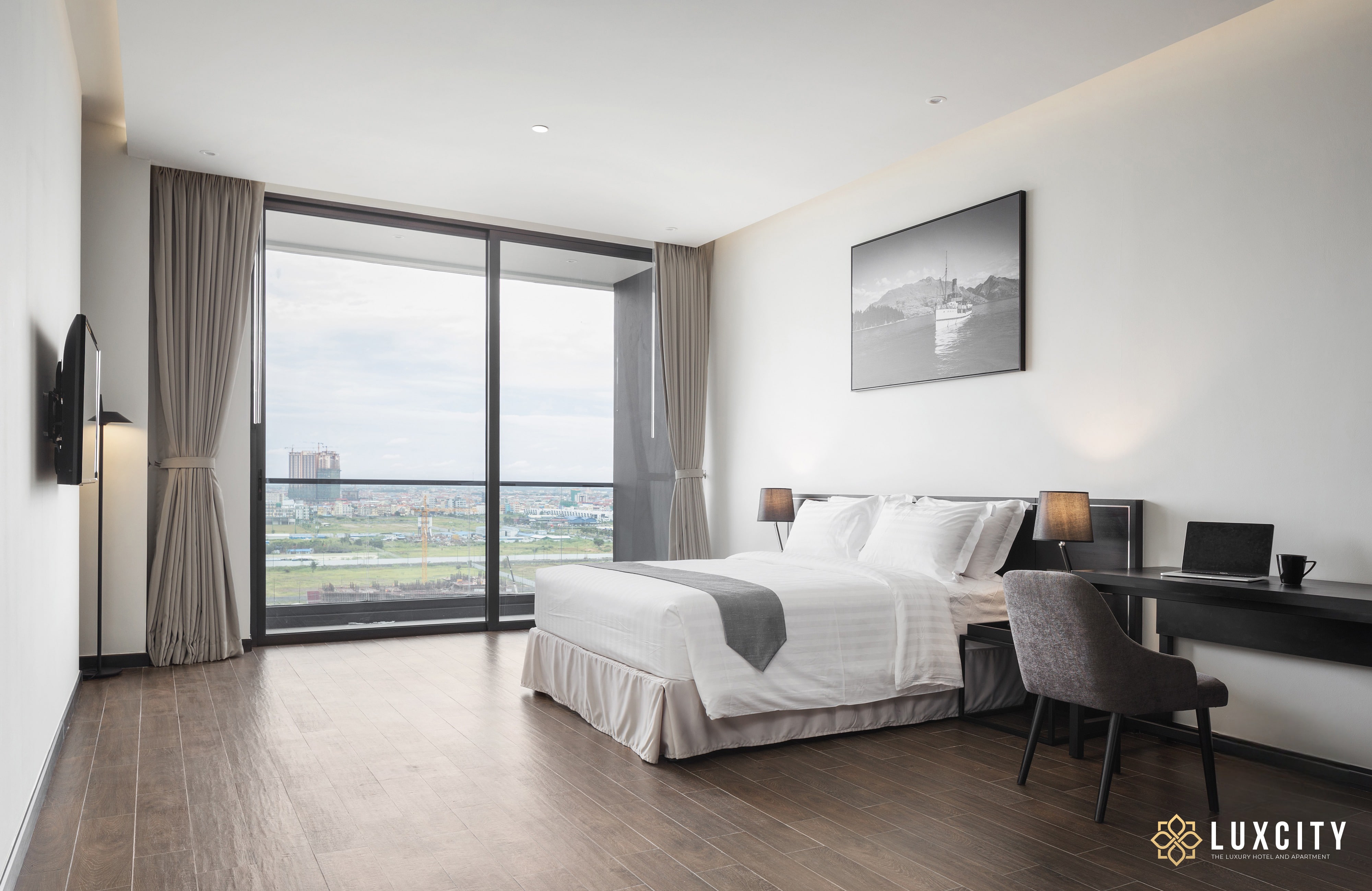 What's inside the Deluxe Classic room?
A Deluxe Classic room includes basic furniture such as:
Living room
Minibar
Salon
There are double and single rooms, along with a spacious balcony
The room is equipped with air conditioning, satellite TV, and a fresh flower ordering service…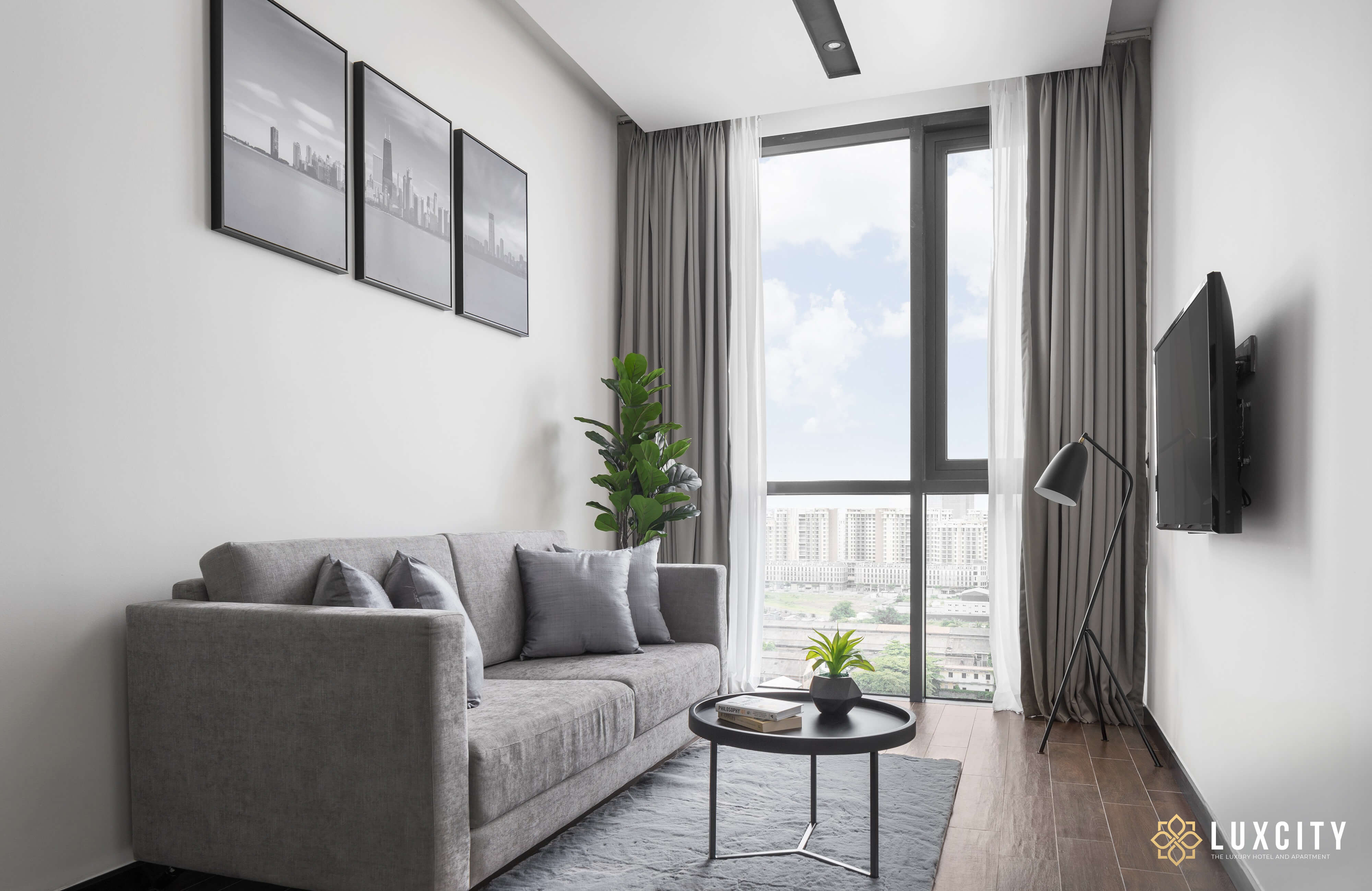 Some common types of Deluxe Classic rooms
Currently, with the development of social life, the needs of customers are increasing day by day, requiring hotels to have different variations. These variations are divided based on different standards and have many names such as view room, and view city... In Phnom Penh, the types of Deluxe rooms are divided as follows:
Deluxe Twin: A Deluxe room with 2 single beds (beds have many sizes such as 1m x 1m9; 1.1m x 2m or 1.2m x 2m depending on each place). The Deluxe Twin room is suitable for people with large bodies or friends of the opposite sex in the same room…
Deluxe Double: A room with a double bed (1.5x2m). Deluxe Double room is suitable for 2 people who can sleep together or couples.
Deluxe King: Deluxe King Room has a king-size bed (1.8x2m) and is suitable for couples with small babies or 2-3 minors…
Deluxe Triple (also known as Deluxe Family room): Deluxe Triple usually has a larger area than other Deluxe rooms. They usually include 1 double bed and 1 single bed. This room type is suitable for small families including 2 adults and 2 children. And they cost more than other room types.
In addition, in some countries, Deluxe rooms are also modified based on standard conditions, higher quality bedrooms, such as Grand Deluxe, Premier Deluxe... and have a higher rental price compared to other countries with other Deluxe Classic room types. If during your trip, you want to choose a furnished and comfortable room but don't want to spend too much money choosing a room, then the Deluxe room is a suggestion just for you.
Standard of interior design and construction of Deluxe Classic room
The interior of the deluxe room will include modern high-end equipment. You must understand to design a fully equipped room. In many cases where the design is faulty, the investor has to supplement or refresh it from scratch. Deluxe classic room consists of two main areas: living room area and bedroom area.
Deluxe Classic room living room area
The living room space is designed in an open form, linked to the bedroom area. The area is optimized to create a feeling of ventilation and comfort. Furniture is made of elegant wood. In addition, some high-end hotels also arrange professional desks. The table lamp performs both the function of lighting and an elegant accent.
Deluxe Classic room bedroom area
The bedroom area has a soft mattress for a night of deep and comfortable sleep. However, for each deluxe room type (twin, triple, king, double), you need to pay attention to the number and type of beds. The room will be more comfortable with wardrobe furniture and a dressing table. Carpets, curtains, and pictures are decorative accents for the room. Colors are harmoniously combined and synchronized with each other.
Other areas in the Deluxe room
The balcony is spacious and airy with a minibar or a set of couches for everyone to chill. Some high-rise hotels without balconies will design glass walls. Thick, transparent glass has a view of the city at night.
The modern bathroom has both a shower and a relaxing bath. A high-class air-conditioner and television system bring a comfortable experience. The quality furniture is high-quality and easy to use.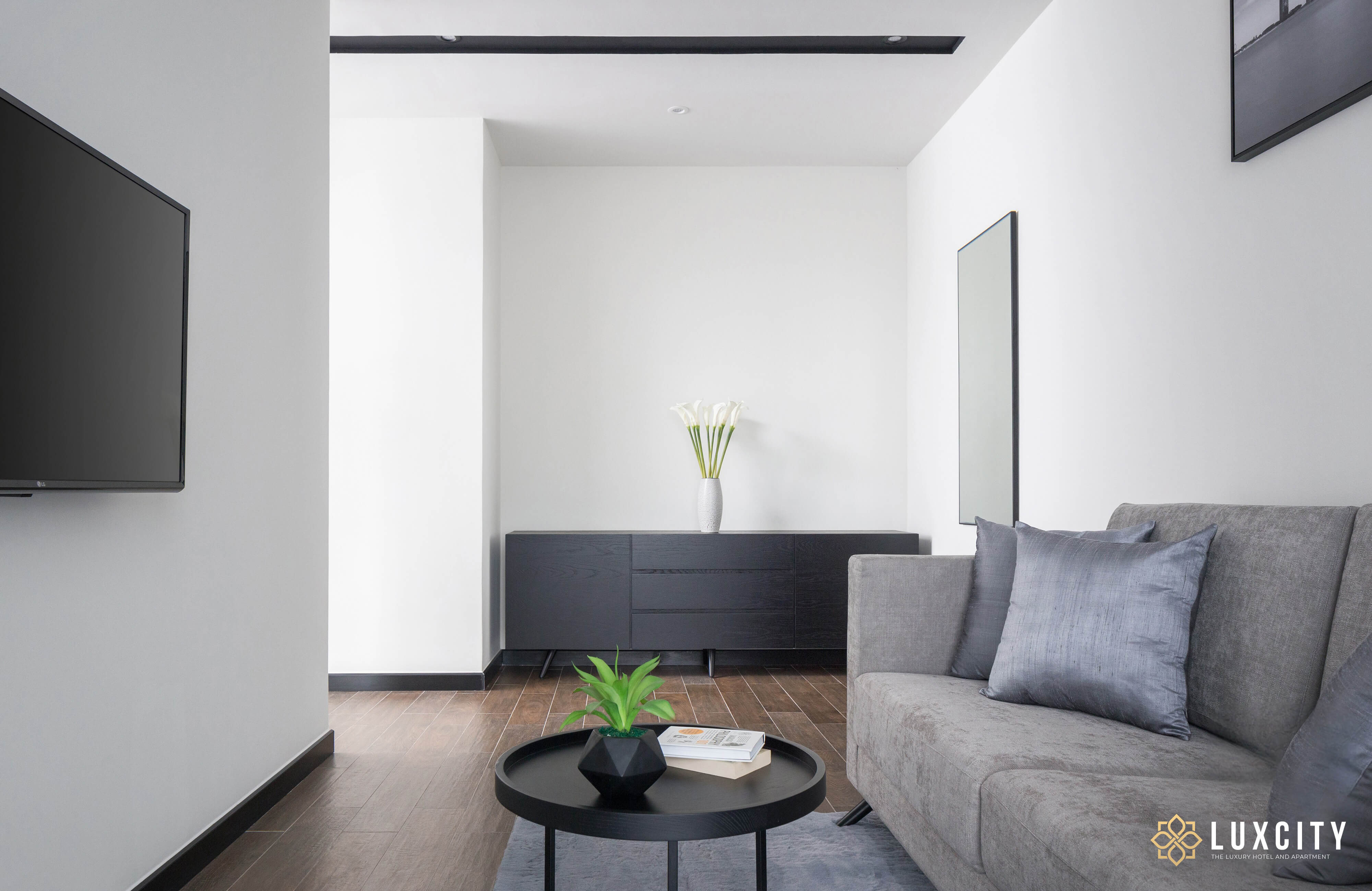 Benefits of choosing a Deluxe Classic room
So what benefits do you bring when you choose a deluxe classic room for your resort? Let's take a look at some of the advantages of this type of room.
The deluxe room has a nice view
The first thing to mention is the beautiful view of these deluxe rooms. When traveling you will always want to have a place where you can capture the best moments, the deluxe room will be a great place to stay so you can fully admire the scenery. Usually, high-class rooms are also appreciated by investors as well as choosing a better location. Therefore, the deluxe rooms are always the place to contain the best images of the tourist destination where you go. This is an advantage of these high-class rooms.
Room with High-class Furniture
It cannot be ignored that these Deluxe Classic rooms are all very attentive and carefully designed. Therefore, in addition to having a beautiful appearance, the interior of these rooms is fully furnished with high-class products. All contribute to increasing the luxury of the room and also bring customers the most comfortable vacation days. Away from the busy life and resting for a few days, anyone wants to give their body the most comfortable, and best things.
Room with Good Service
No matter how high-class, service is also an important element of a resort. Because it is one of the high-class room types, when choosing a deluxe classic room, you will enjoy a unique experience and very good treatment. With the training of the staff, you will have a relaxing time full of comfort with dedicated service. This is also one of the big advantages for you to choose this deluxe room type.
Features of a deluxe classic room
The large area of ​​the deluxe room is one of the high-class rooms. So the area of ​​this room is quite large, usually in the center of 40m2 or more. Therefore, you will also have a more comfortable space to live in. This is a required feature to be able to meet the high-class criteria of this room type.
Full facilities
The deluxe room will be fully furnished with all necessary amenities from the living room, minibar, salon, bathroom with high-class furniture, balcony, television, and air conditioner. In a deluxe classic room, you can completely live in your own house. With this convenience, luxury rooms are extremely popular.
Beautiful view, superior service
It can be said that this is a feature and also an advantage of the deluxe room type compared to other types of rooms. Because of the requirement to have a beautiful view, the deluxe rooms are usually located on high floors to capture the full beauty of that tourist destination. When you choose to stay in the deluxe room categories you will have your perks and this is one of them. Besides, you will also get more services and are served wholeheartedly. This is very important not only for this type of room but also for many other types of rooms. No matter how high-end the interior is, the service is what makes customers love it and keep coming back.
Growth potential
Currently, the deluxe classic room is one of the most popular room types. Therefore, the development potential of these types of rooms is quite large. Deluxe Classic rooms often have many common features and are necessary to be able to cover a wide range of customers. These types of rooms have moderate and reasonable prices along with many high-class services, so it is completely possible to dress the best quality for customers to experience.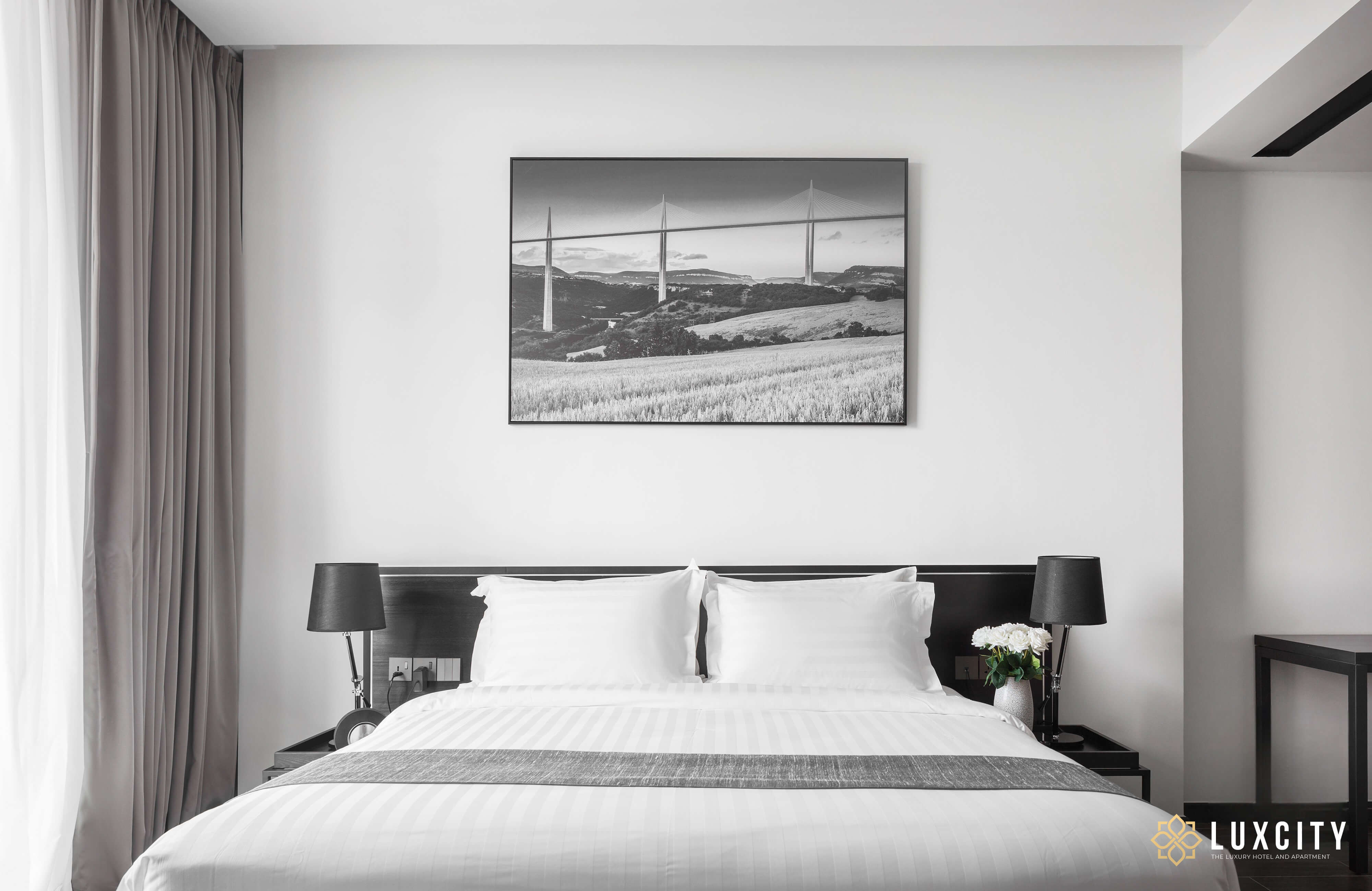 Distinguish Deluxe room and Bungalow room
Bungalow rooms are often confused with deluxe rooms because of the similarity in services. However, these are 2 completely different types of rooms. Bungalow room is a small one-story house with a closed design, giving visitors privacy and absolute quiet. With such a comfortable space, you will have wonderful relaxing moments with your loved ones.
The deluxe classic room type is usually located on the upper floors of the building and is a self-contained room. Although there are many different features, both are high-class rooms worth choosing. Besides, the deluxe rooms will also have a smaller area than the bungalow. The deluxe fonts are small but still ensure a high-class and luxurious living space.
Luxcity Hotel & Apartment - one of the famous hotels in Phnom Penh has an extremely high-quality Deluxe Classic room
Luxcity Hotel & Apartment is one of the hotels that customers love and trust, choosing when coming to this vast capital of Phnom Penh. Located in the heart of the capital, Luxcity has an extremely convenient location, easy to find, and catches the eye of tourists. When coming here, just looking at the outside, visitors can be satisfied to a certain extent, but everything inside is what makes visitors fall in love with the surprise. Of course, our hotel has excellent quality and excellent Deluxe Classic room service. The rooms have a moderate area, enough for visitors to enjoy, separated between a few very luxurious walls. The interior is neatly designed and arranged in a modern Western style. Utensils are also always full to serve customers and are maintained and cleaned daily.
In addition, the bathroom, toilet, and other services are also very pleasing to even the most demanding guests. Overlooking the balcony, the view is also airy, extremely comfortable, and brings a feeling of peace and relaxation. The service staff at these Deluxe Classic rooms are also extremely dedicated, and attentive, and take care of customers in the best, most friendly, and harmonious way. Ensure visitors have the best experience when coming here when coming to this beautiful land of Phnom Penh for tourism and relaxation.
If you have the opportunity, please come and let us serve you! Luxcity Hotel is always happy to welcome customers to its Deluxe Classic.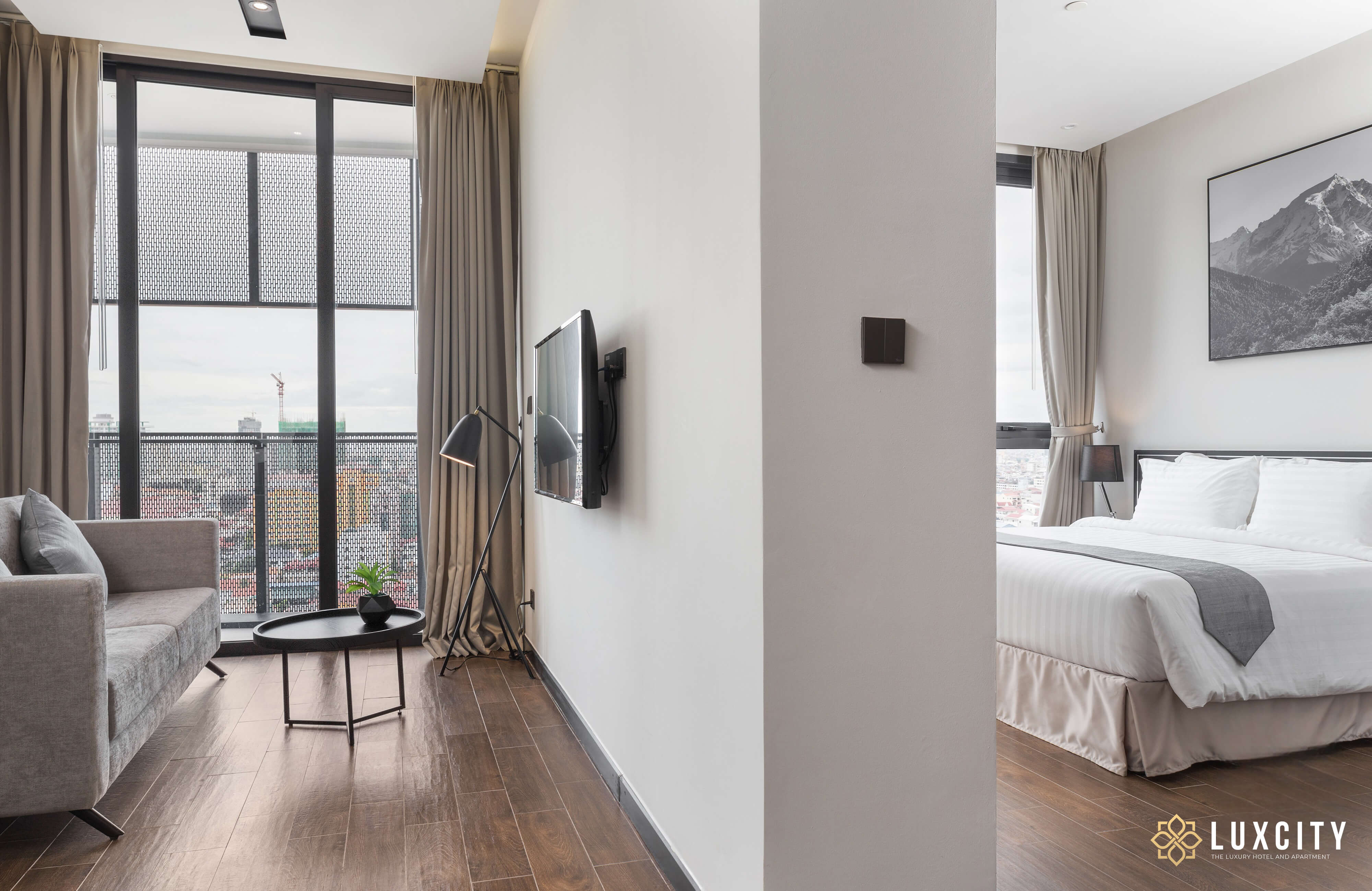 Luxcity Hotel & Apartment

After reading this article, you will surely understand what kind of room Deluxe Classic is and its popularity and popularity in recent times in parts of the world, especially Phnom Penh. If you have the opportunity, I think you should try the comfortable, luxurious room that meets all your needs for a stay. Let Luxcity make your vacation experience more wonderful than ever. Please contact us if you have any questions, and we will help you.
Read More Design Concept Hotel Rooms from Luxcity.com.
Long - Term Rental
Rent a room by month or by year. Let's telegram chat with us!
Chat now