Street 118, Sangkat Mittapheap, Khan 7 Makara, Phnom Penh, Kingdom of Cambodia
Studio Twin
Bed:

2

Capacity:

2

Size:

39m²-53m²
AMENITIES
Electronic key card

49' LCD TV

Bedding: Non-feather pillows.

Multi-functional work desk

Wardrobe, Telephone, Alarm clock

Bluetooth music connection

Complimentary hight speed internet

In-room safe.

Iron / ironing board

Individual climate control.

Slippers and terrycloth bathrobes

Luxury bathroom amenities

Sustainable bathroom amenities

Hair dryer

In-room dining service

24-hour concierge
Universal AC/DC adapters, Socket near the bed

Mini-bar. Complimentary bottled waters

Separate bathtub and rain showers in select guest rooms / suites
The light and airy Studio Twin Room offer a choice of either a king-size bed or twin beds, ideal for all types of travelers who enjoy a spacious and comfortable room. The Studio Twin Room average is 50 square meters (538 square feet).
---
Both studio twin rooms and a double room (or double bedrooms) are designed to accommodate a two-people reservation in the hotel and hospitality industry.
However, there are some key differences between the two that go beyond just the number of beds. In this article, we are going to break down the primary contrast between the two room types to help you pick the right one the next time you're venturing out.
Read more: THE 10 BEST Hotels in Phnom Penh for 2023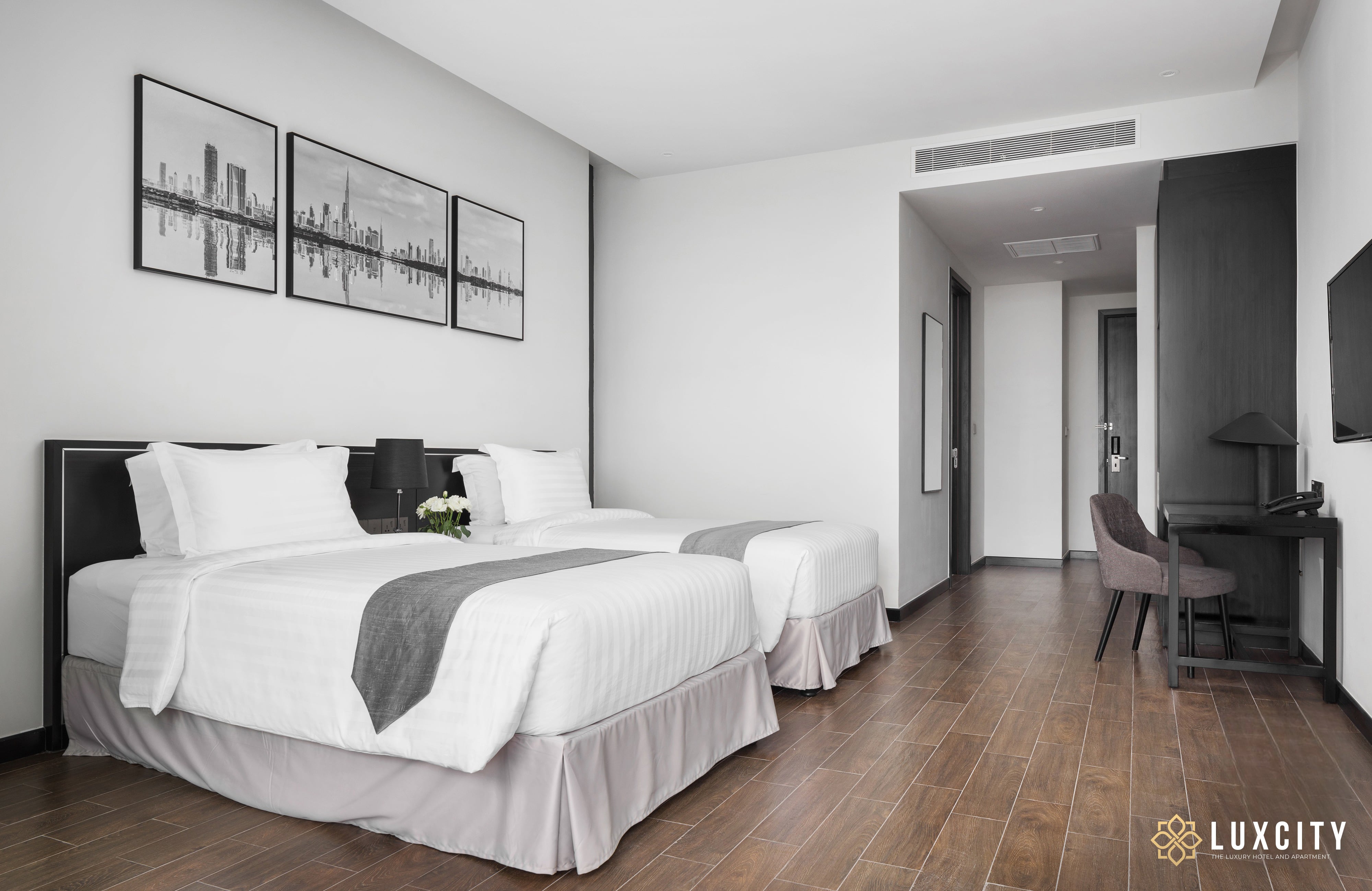 What is a Studio Twin Room?
This Studio Twin room is usually arranged with 2 regular single beds for guests who want the best comfort and privacy during their sleep time. On average, a 3-star hotel will offer a 2m x 1m bed size while it's likely to double the size in most 4-star hotels upward.
The interior design of a studio twin room inclines towards a modern, contemporary and timeless flare. Depending on which hotel brand you're visiting, you'll find a unique touch using the regional decorative elements or it will stay in line with the major theme of the brand, which reflects the brand image throughout the world despite the location.
A studio twin room is also broken down into two major types which can be listed as Standard Twin Room or Deluxe Twin Room.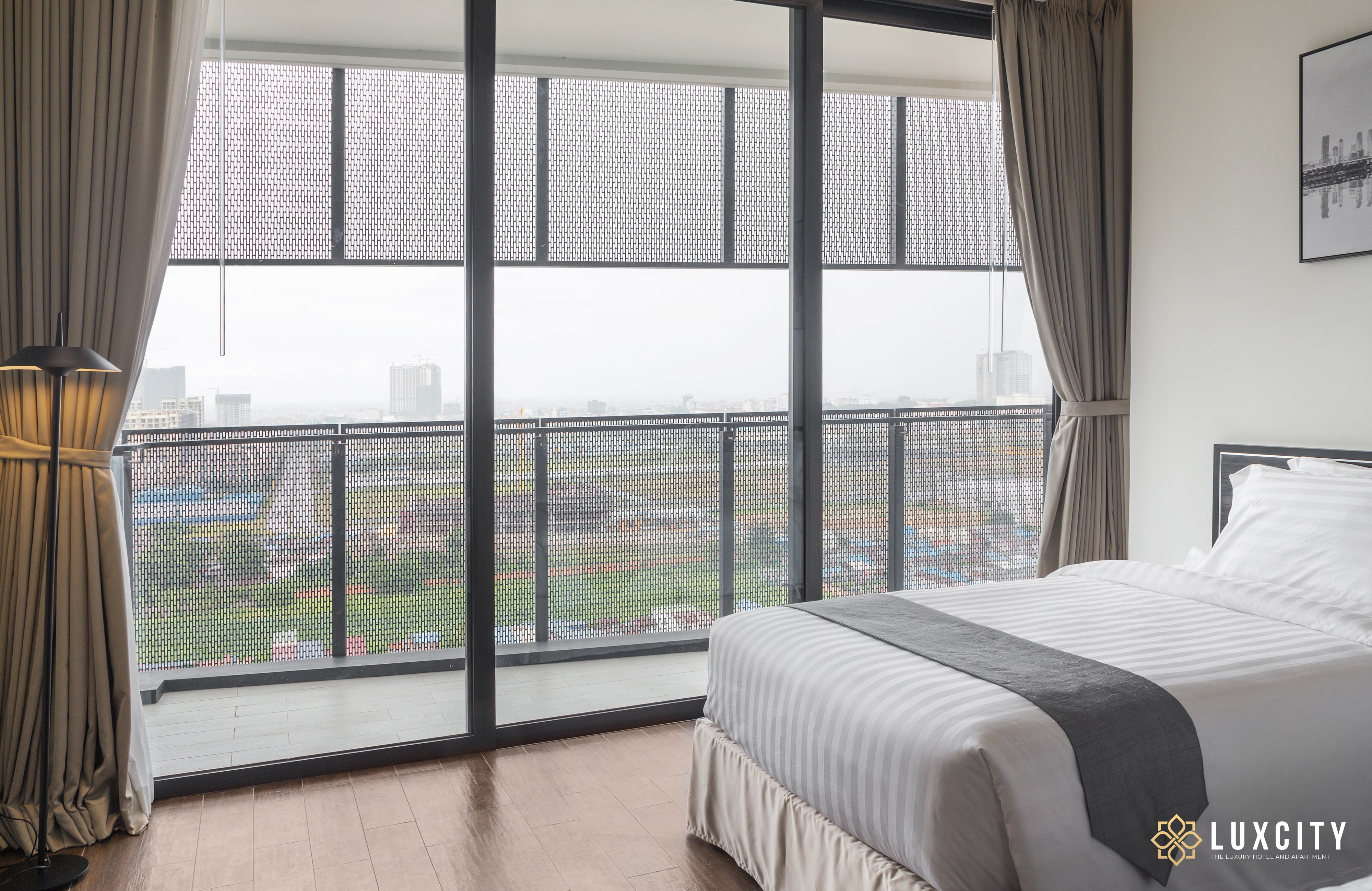 The Concept of a Studio Twin Room: Size, Quality, and Service
Room Size
That being said, a Studio Twin room is curated for a group of two, encompassing a standard footprint of over 500 square feet. The size fluctuates depending on the design concept of the brand. Regardless of the shift in space, each studio twin room must be sufficient to accommodate a standard set of furniture and ensure the freedom of movement throughout the space.
Quality
The quality of each studio twin room is defined by the brand image and room type. Some studio twin rooms reflect a classic design with top-notch amenities, a perfect soundproof system, a floor-to-ceiling window with a view, or even a breezy balcony.
Meanwhile, some other studio twin rooms on the lower end of the price spectrum are steeped in a simple design and stocked up with basic amenities for a short vacation.
Room Service
Room service of a studio twin room includes basic day-to-day housekeeping, breakfast, and direct access to certain areas of the hotel complex such as a swimming pool, restaurant, bar, or even a fitness centre if provided.
However, some specific areas may be off-limits for studio-twin room guests who are not applicable for the VIP services such as a cigar lounge, business meeting areas, breakfast at the pool, or in-room catering breakfast. Access to these services and areas may require a hotel room agreement.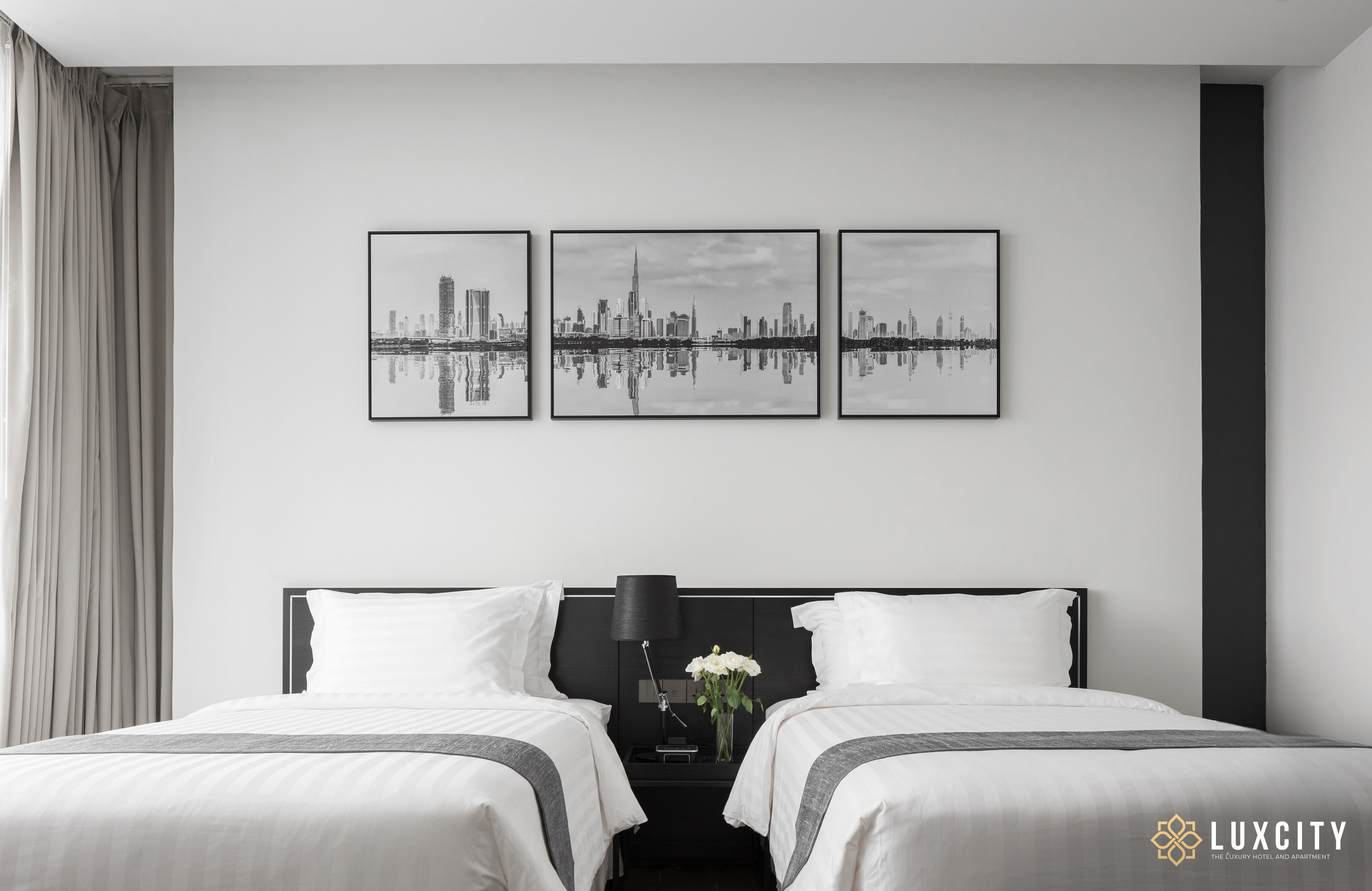 Studio Twin Room VS Double Room: The Key Differences
Twin Room has 2 large single beds while Double Room only accommodates one bed for two (starting from Queen bed to King size and Master).
A studio twin room has an average bed size of 2m x 1m at a 3-star hotel and 2m x 1m2 for a 4-star to a 5-star hotel. A double room has an average bed size of 2m x 1m6 or 2m x 1m8 with a queen-size bed and 2m x 2m with a king-size bed.
Studio twin rooms may come with a kitchenette, a standard is just a bedroom with maybe a bathroom attached. A standard double bedroom doesn't come with these extra services.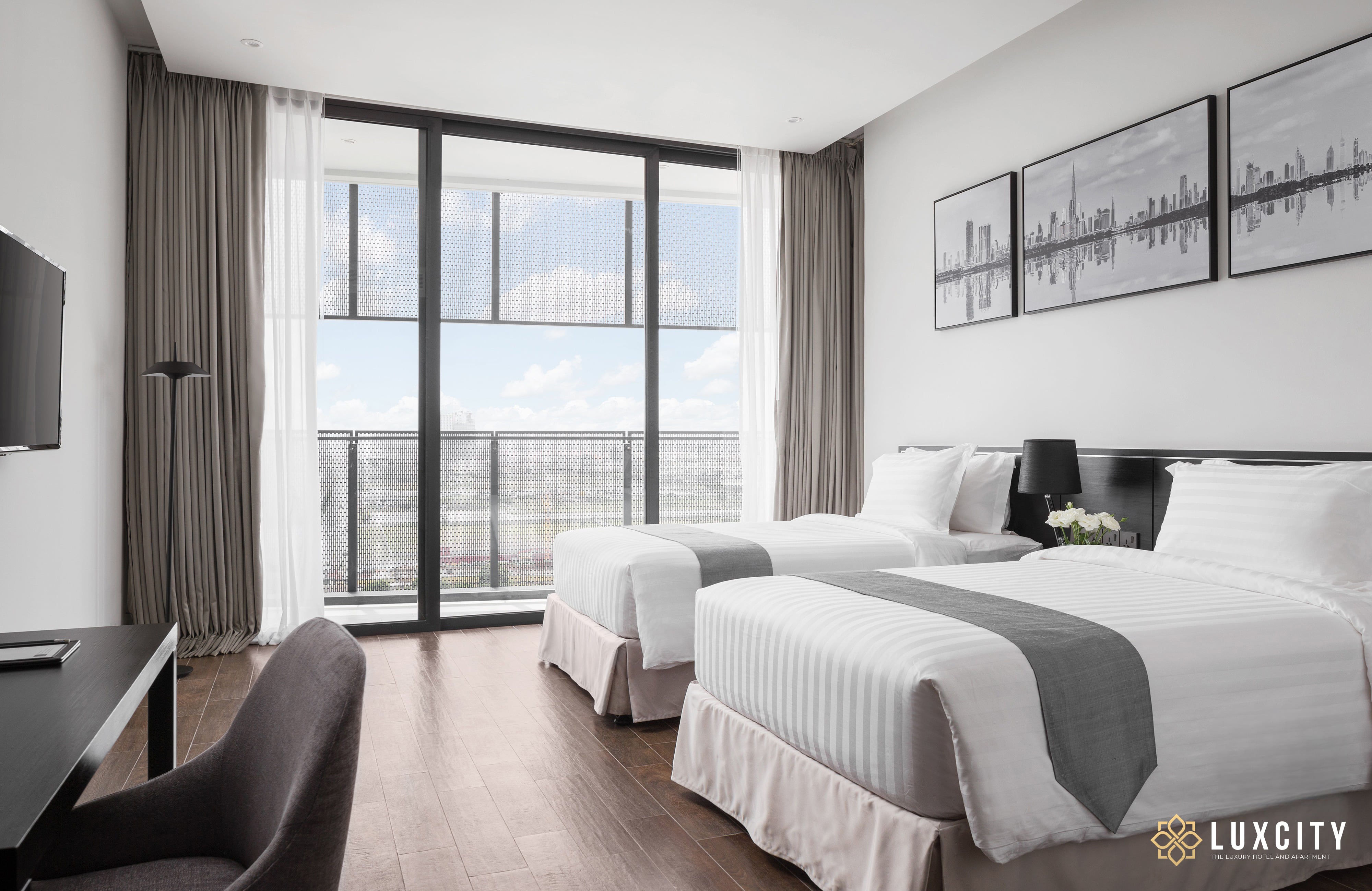 Luxcity Hotel & Apartment – The Best Studio Twin Room Hotel in Phnom Penh
Luxcity is home to a collection of high-quality Studio Twin Rooms with a well-received reputation in Phnom Penh. With a geographical location in the centre of the capital city, the in-house guests can easily navigate to the major attractions as well as the main business hubs in town.
Each studio twin room is fully equipped with thoughtful facilities and steeped in a modern and optimal design. Going beyond the design matter, the staff at Luxcity is highly trained to ensure a top-notch vacation for each individual.
The collection of Luxcity Studio Twin Rooms is designed to meet the needs of all types of customers. Each room is soaked in a dramatic view with lots of sunlight during the day as well as a romantic vibe when the sun beams down. Each room is stocked up with a safe electronic key card, in-room safe, Universal AC/DC adapters, sockets, Bluetooth music collection, two fluffy beds with non-feather pillows, a multi-function desk, and high-speed wifi to accommodate a hassle-free meeting, a large wardrobe to unpackage anytime, and more.
Those visitors looking at a long-day stay will also find the best comfort of home with an ironing board, hair dryers, a mini bar with free daily water bottles, optimal and modern bathrooms as well as a series of high-end toiletries.
Luxcity Hotel & Apartment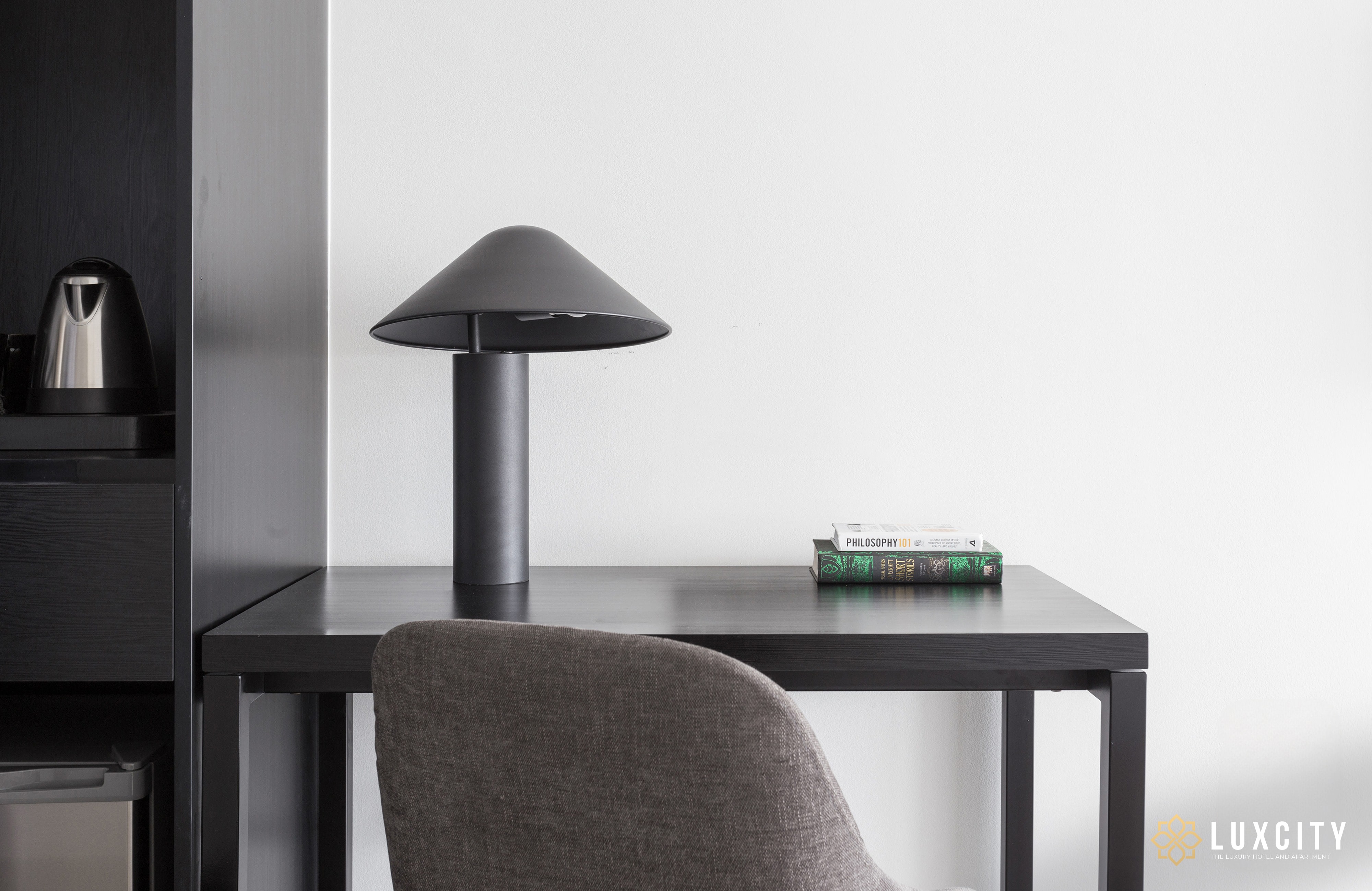 The comprehensive run-down of the major differences between a Studio Twin Room and a Double Bedroom will give you a deeper insight before your next vacation.
Given a well-cared and thoughtful design and a golden location smack dab in the heart of Phnom Penh, Luxcity Hotel and Phnom Penh have become one of the best choices for both short-term and long-term guests.
Contact us today for the latest deals and steal your favourite room.
Read More Design Concept Hotel Rooms from Luxcity.com.
Long - Term Rental
Rent a room by month or by year. Let's telegram chat with us!
Chat now