Street 118, Sangkat Mittapheap, Khan 7 Makara, Phnom Penh, Kingdom of Cambodia
Executive Residence
Bed:

1

Capacity:

2

Size:

79m²
AMENITIES
Electronic key card

49' LCD TV

Bedding: Non-feather pillows.

Multi-functional work desk

Wardrobe, Telephone, Alarm clock

Bluetooth music connection

Complimentary hight speed internet

In-room safe.

Iron / ironing board

Individual climate control.

Slippers and terrycloth bathrobes

Luxury bathroom amenities

Sustainable bathroom amenities

Hair dryer

Oversized umbrella

In-room dining service

24-hour concierge
Universal AC/DC adapters, Socket near the bed

Mini-bar. Complimentary bottled waters

Separate bathtub and rain showers in select guest rooms / suites

Fully furnished / Fully modern kitchen equipment / Cooking stove / Microwave
Exquisitely refined and supremely comfortable, Executive Residence are one-bedroom suites offering an average of 79 square meters of living space. Entered through an elegant foyer, the suites provide an airy living room, a gracefully designed bedroom, and panoramic views of the Phnom Penh skyline, making them ideal for guests to feel at home.
---
From the get-go, the hospitality industry records about 25 different types of hotel rooms ever existed. They can be broken down by the number of occupants, bed availability, room layout, or even amenities and facilities.
Each room type has its own characteristics according to various factors such as size, bed type, service, as well as decoration, and layout. The most simple and common type starts with a single room or double bedroom. On the higher end of the spectrum, you will find a suite, apartment-style, presidential suite, and of course – an Executive Room. So, what's exactly an Executive room, and would it be the best fit for your next vacation? Learn more to find out.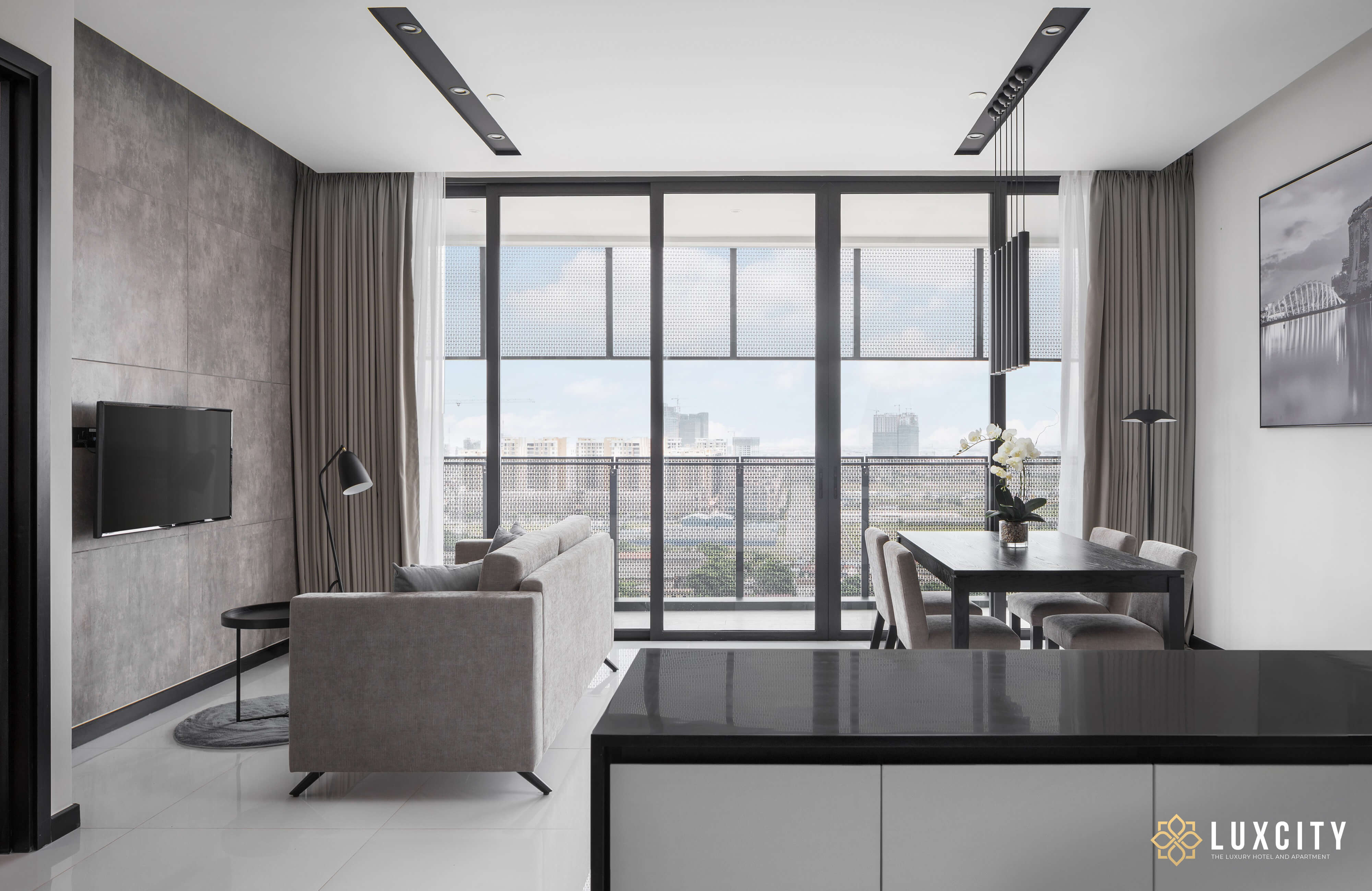 What Is an Executive Room?
The executive room is also known as an Executive Suite room. It usually encompasses a large area ranging from 60 to 120 square metres. This type of room is often the most luxurious room class in the hotel because it inherits the incentives in terms of furniture, design, view, and the best services that come along.
This type of room is commonly found in luxurious hotels four stars and above. There is a harmonious layout using aesthetic elements and thoughtful facilities to create the best comfort of home for those willing to spend a little extra for a long stay and usually those who travel with their families.
An executive room cannot go without additional perks such as a private meeting place to socialize and work, free expensive snacks, direct access to a VIP lounge, cocktails, gaming areas, high-end furniture, and bedding, or even a private elevator. On top of that, some brands even offer a butler to help you with unpacking and packing your belongings.
In terms of layout, an Executive room is equipped with a King Size bed for a couple or two single beds to share amongst friends.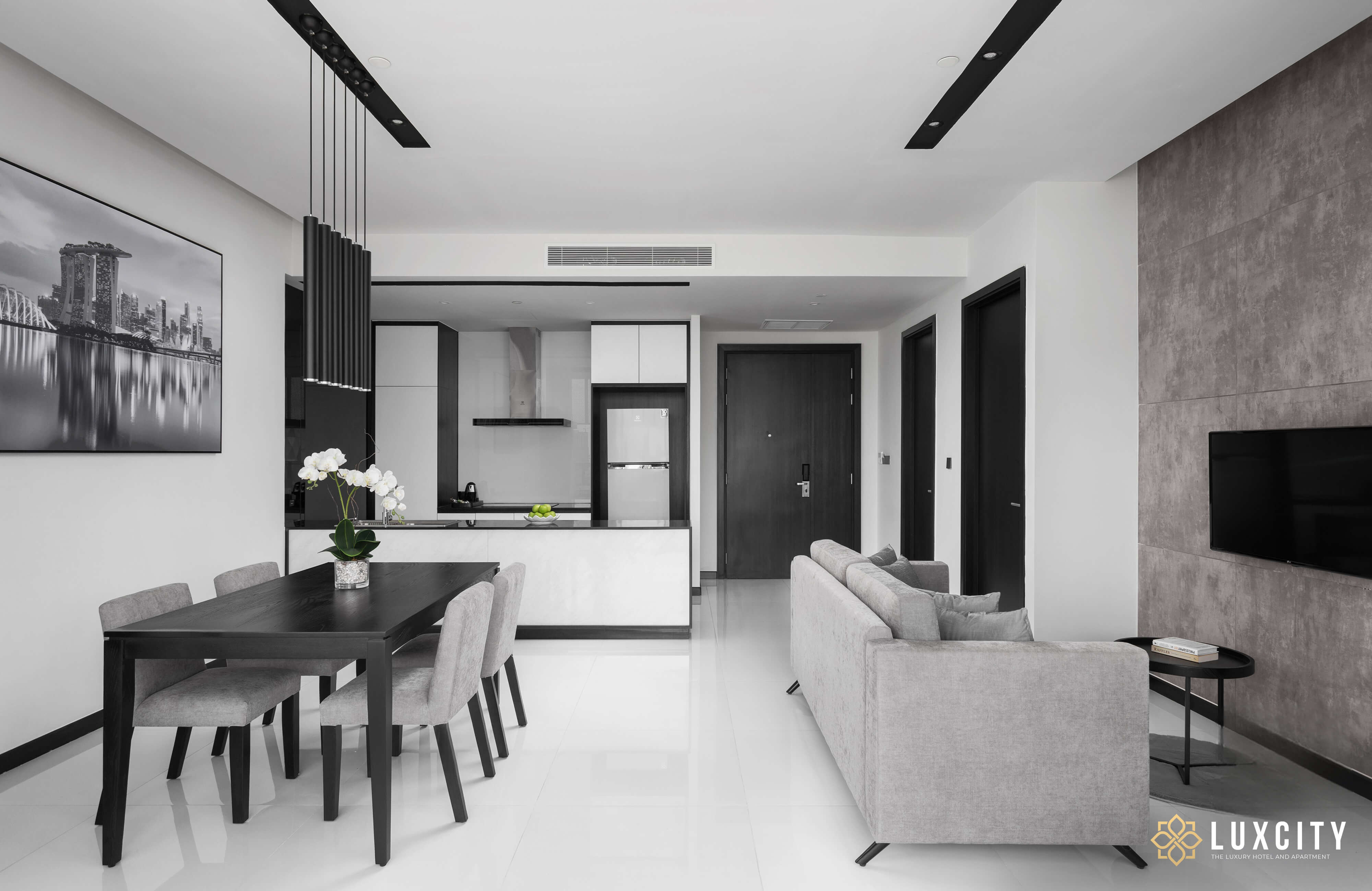 The Outstanding Features of the Executive Room
Each room type of the hotel has a different layout, design, and equipment. So what makes the Executive room stand out from the rest?
The executive room is a luxury room found in high-class hotels and resorts with an area of up to 120 square metres. This type of room is usually located on the top floor with a sweeping wraparound view. The living space is flooded with sunlight all day long via the floor-to-ceiling windows and stocked up with thoughtful amenities that bring the best comfort of home to the occupants.
The standard Executive room will include a bedroom, living room, minibar, and a private balcony. Beyond the standard amenities such as bedding, wardrobe, dressing table, a mini bar, TV, air conditioner, and shoe rack, some hotels also offer a separate kitchen and swimming pool arrangement to inject their stay with a fancy touch.
The layout and arrangements in the room are carefully curated to help ensure aesthetics and convenience.
Inside the bathroom, you will find showers usually made of durable materials and a high-end moisture resistance facility as well as no slipping phenomenon.
The accompanying services of the Executive room are always commensurate with the high room rate. Fresh flowers and expensive snacks are also stocked up every day. Daily newspapers are also provided in the morning which allows guests to keep up with the latest updates. Those who pay extra will receive more exclusive services designed only for VIP guests such as a shuttle transport service or a private butler who attends the stay from the beginning until the end.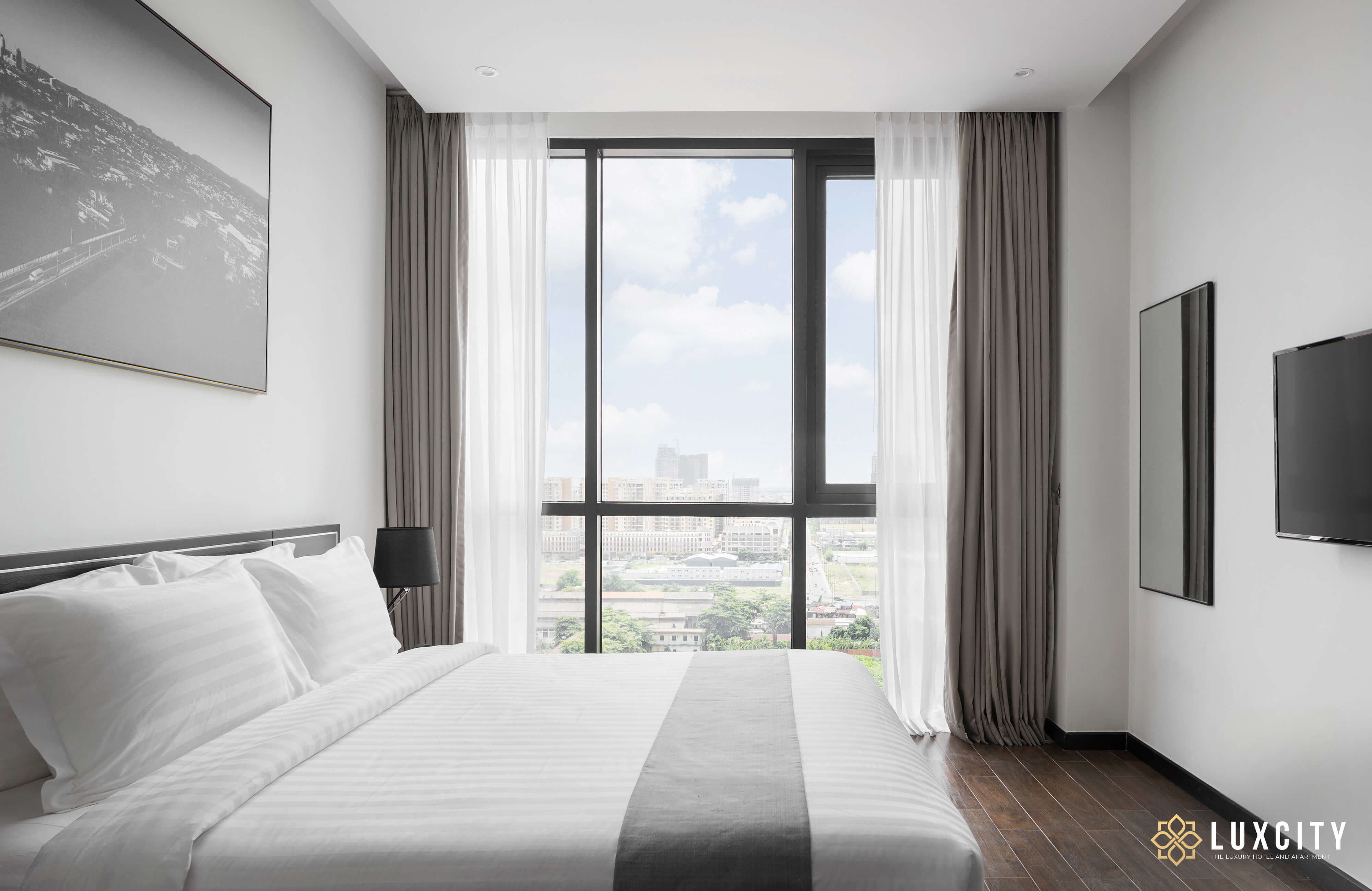 Luxcity Hotel & Apartment - One of the Best Hotels with Executive Room in Phnom Penh
Luxcity Hotel & Apartment is one of the best hotels in Phnom Penh that offers a true definition of an Executive Room. The building is located smack dab in the heart of Phnom Penh and is accompanied by a series of well-received restaurants, cafes, and shopping hubs for guests to comfortably enjoy their travel.
You only need a few minutes to reach the major attractions in Phnom Penh, making it a perfect base for visitors of all types on their first trips to the capital city.
Luxcity is designed in modern and luxurious architecture, which is a perfect place to accommodate high-ranking and senior officials. If you look at Luxcity building from afar, this exterior facade pops out with a modern and timeless look. Above and beyond, the team at Luxcity also focuses on interior design, introducing a luxurious, modern, and comfortable atmosphere at all corners and areas throughout the building.
Other than that, Luxcity Hotel and Apartment also offers a well-care range of office rooms which can be used for meetings and conferences.
Ever since its inauguration day, Luxcity Hotel & Apartment has welcomed millions of hundreds of high-ranking officials both domestically and abroad. Therefore, we believe that we can satisfy even the most demanding guests.
Luxcity Hotel & Apartment
This comprehensive breakdown opens a new angle into the world of the Executive Room so you will have a better understanding of what's behind the door and which services you will receive when opting for this choice.
In addition to Executive Rooms, Luxcity Hotel and Apartment is also home to six other room types, ranging from Studio Queen to Sky Villa. Check out our guides and introduction below for a better understanding.
Read More Design Concept Hotel Rooms from Luxcity.com.
Long - Term Rental
Rent a room by month or by year. Let's telegram chat with us!
Chat now