Street 118, Sangkat Mittapheap, Khan 7 Makara, Phnom Penh, Kingdom of Cambodia
Deluxe Premium
Bed:

1

Capacity:

2

Size:

75m²
AMENITIES
Electronic key card

49' LCD TV

Bedding: Non-feather pillows.

Multi-functional work desk

Wardrobe, Telephone, Alarm clock

Bluetooth music connection

Complimentary hight speed internet

In-room safe.

Iron / ironing board

Individual climate control.

Slippers and terrycloth bathrobes

Luxury bathroom amenities

Sustainable bathroom amenities

Hair dryer

In-room dining service

24-hour concierge
Universal AC/DC adapters, Socket near the bed

Mini-bar. Complimentary bottled waters

Separate bathtub and rain showers in select guest rooms / suites
Spanning 75 square meters, the Deluxe Premium are spacious one-bedroom suite perfectly suited for couples seeking privacy. Featuring residential-style living space, these king-bedded suites contain a large living room and bedroom, an entrance foyer, and ample closet space.
---
In hotel design, each Premier room is always equipped with high-class interior design as well as comfortable equipment to fully meet the needs of customers. When choosing a room, customers have the right to prioritize the choice of bed size by the number of members. The Deluxe Premium room is always highly appreciated. Luxcity Hotel will introduce you to the most basic concepts of this Deluxe Premium hotel room.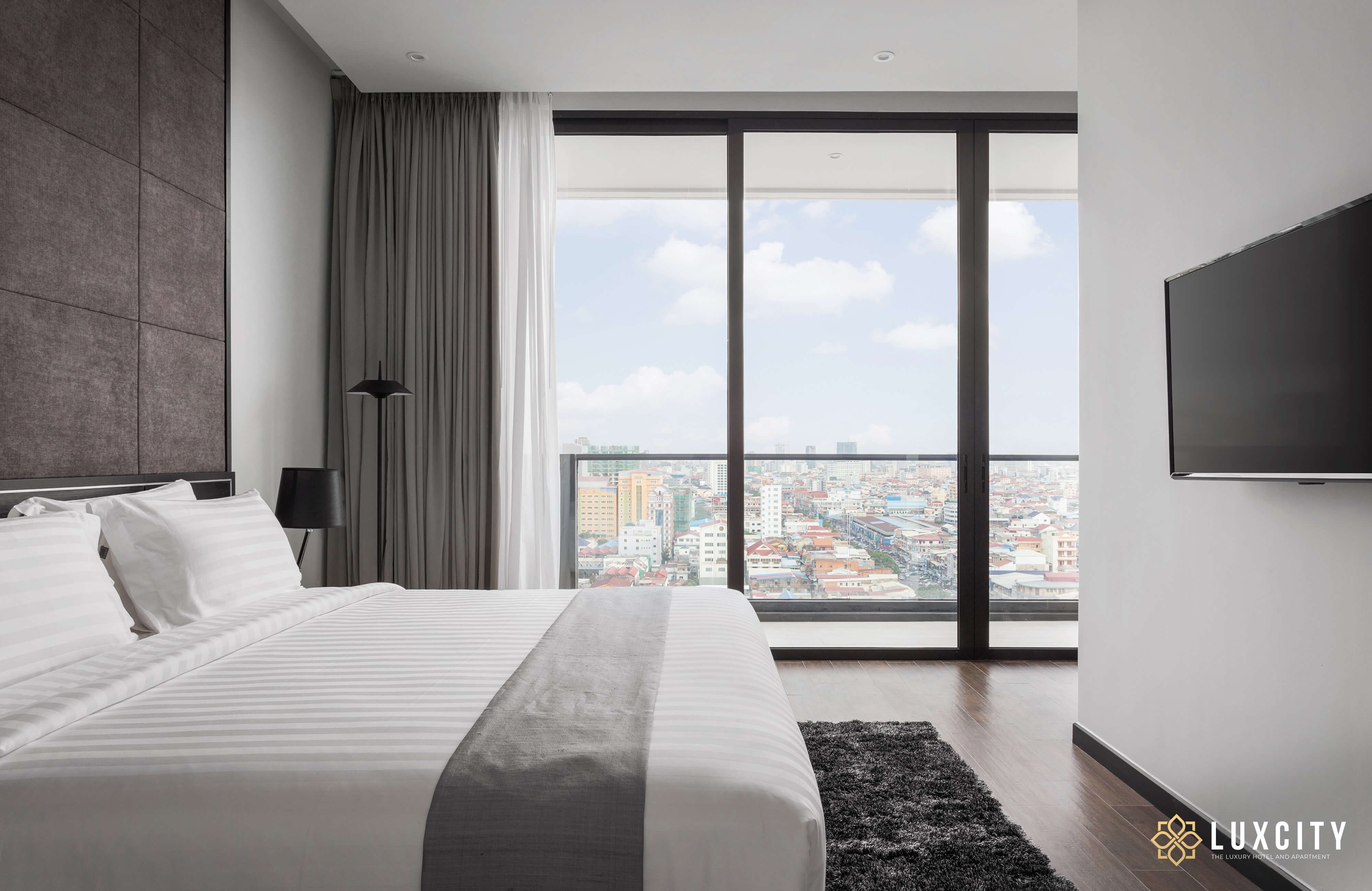 What is a Deluxe Premium Room?
Deluxe Premium Room is one of the room types in the hotel business. How is it different from other rooms? It differs from other rooms in the superiority of the room. The room conditions are best designed, with international quality and standards or the business rooms. With such best-equipped conditions, the price paid for these room types is huge. With room rent higher than usual.
With luxurious designs and the best service, as well as the best-designed room conditions, it is chosen as the room type that guests like the most when renting a hotel and is always highly appreciated by guests. guests have directly experienced the services in the Deluxe Premium room of any hotel.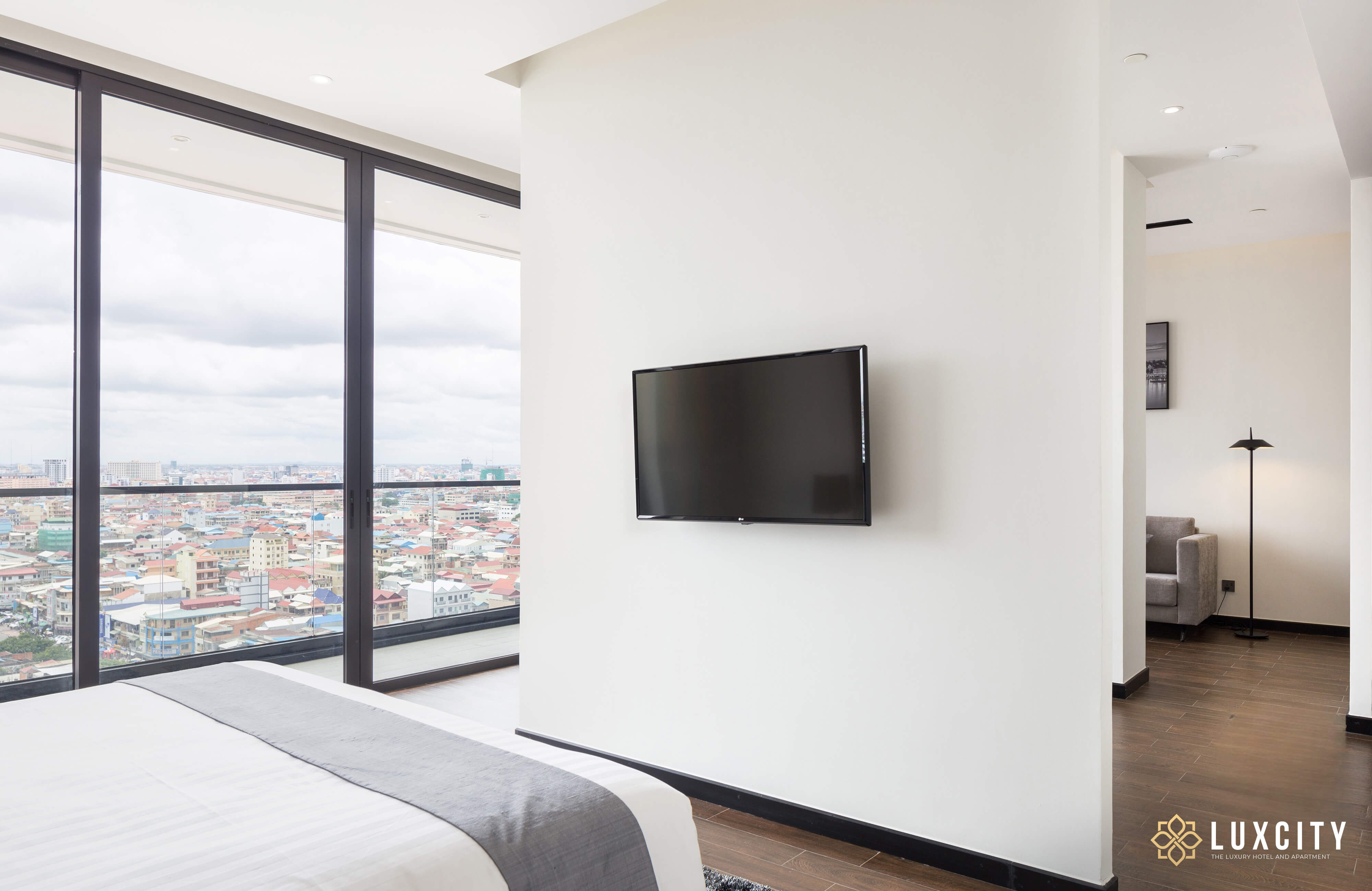 The development of Deluxe Premium rooms in recent years
In addition to the name "Deluxe Premium" room, these high-class rooms are also used with another English name - Premier, and the price of this room type is higher than the Suite rooms or Deluxe Classic. Currently, high-end hotels or resort resorts, all aim to design these Deluxe Premium room types to attract high-income guests, and their spending level for their accommodation is very high big. Especially in high-class resorts and resorts, these are hotels that target the most "spending" groups to enjoy the best services for themselves.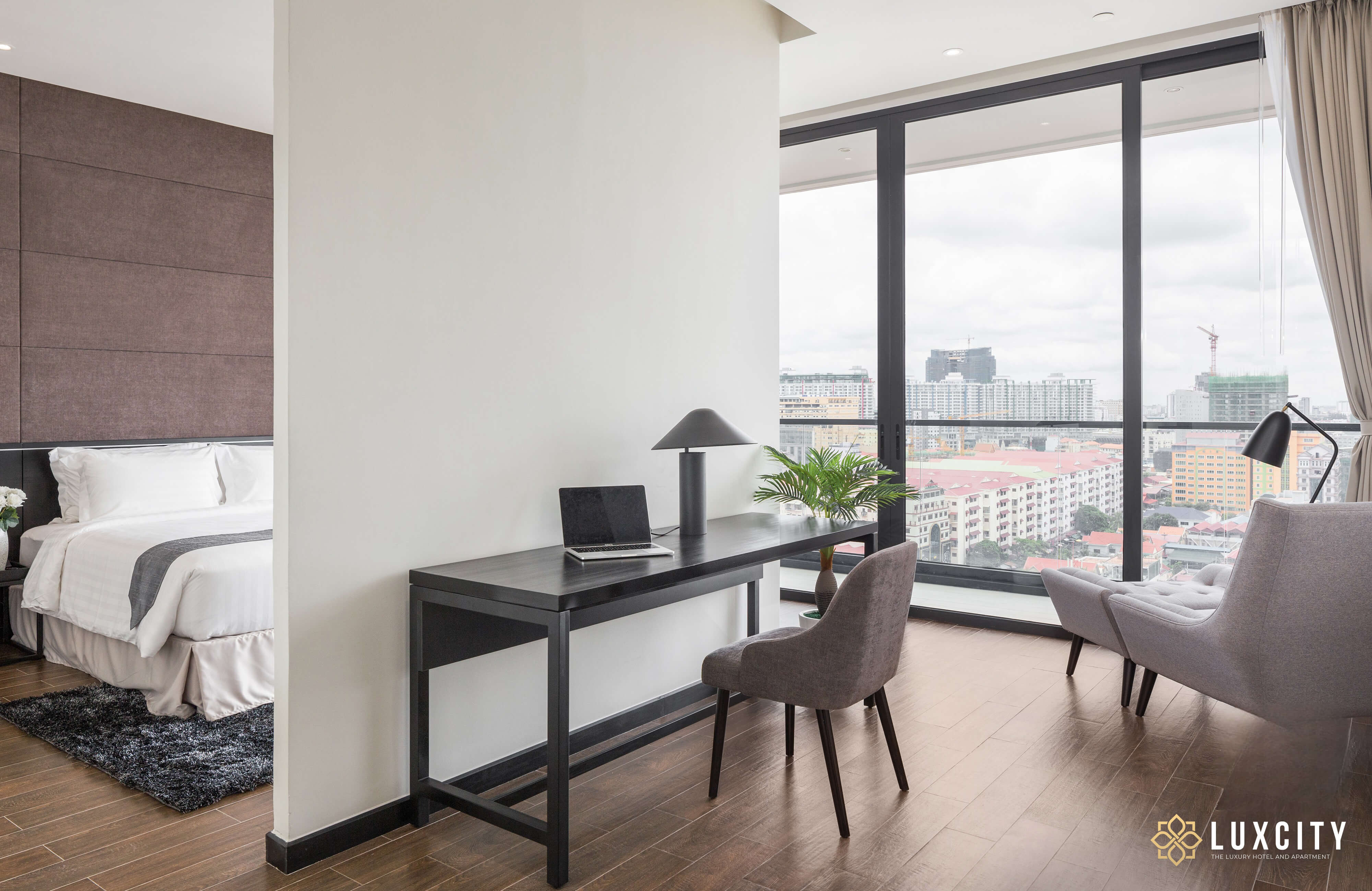 Features of Deluxe Premier room
The room is spacious and comfortable
Deluxe Premier room will be designed with a large area. A large design for a comfortable space, helping users get an airy space, and enjoy the best air from the large room area. The large room area also helps the design to be complete and it will be no different from a high-class mini-apartment that you rent.
The location is high, with a beautiful view
Deluxe Premium rooms are usually designed on high floors and have a nice view. The highlight of this room type is that from the room you will see how beautiful the outside scenery is from your position and height. This will create the most romantic and comfortable atmosphere for you.
The equipment is always fully equipped and comfortable
A feature that you should not ignore is that the design of the Deluxe Premium room will be fully equipped with amenities for the most convenient use. Designed with complete amenities, along with high-end designs with different styles, it can be a classic design, it can be a modern design, or a combination of both. The design of the Deluxe Premium room in the hotel always brings the user to say "luxury", and any guest is satisfied with this room type.
With the above characteristics, it is a "luxury" choice for many travelers and makes its room price much higher than normal rooms. In addition, in a hotel, this type of room is not much, to be able to book a Deluxe Premium room, you need to book in advance to keep the room, plus it's a bit of luck to be able to use this room.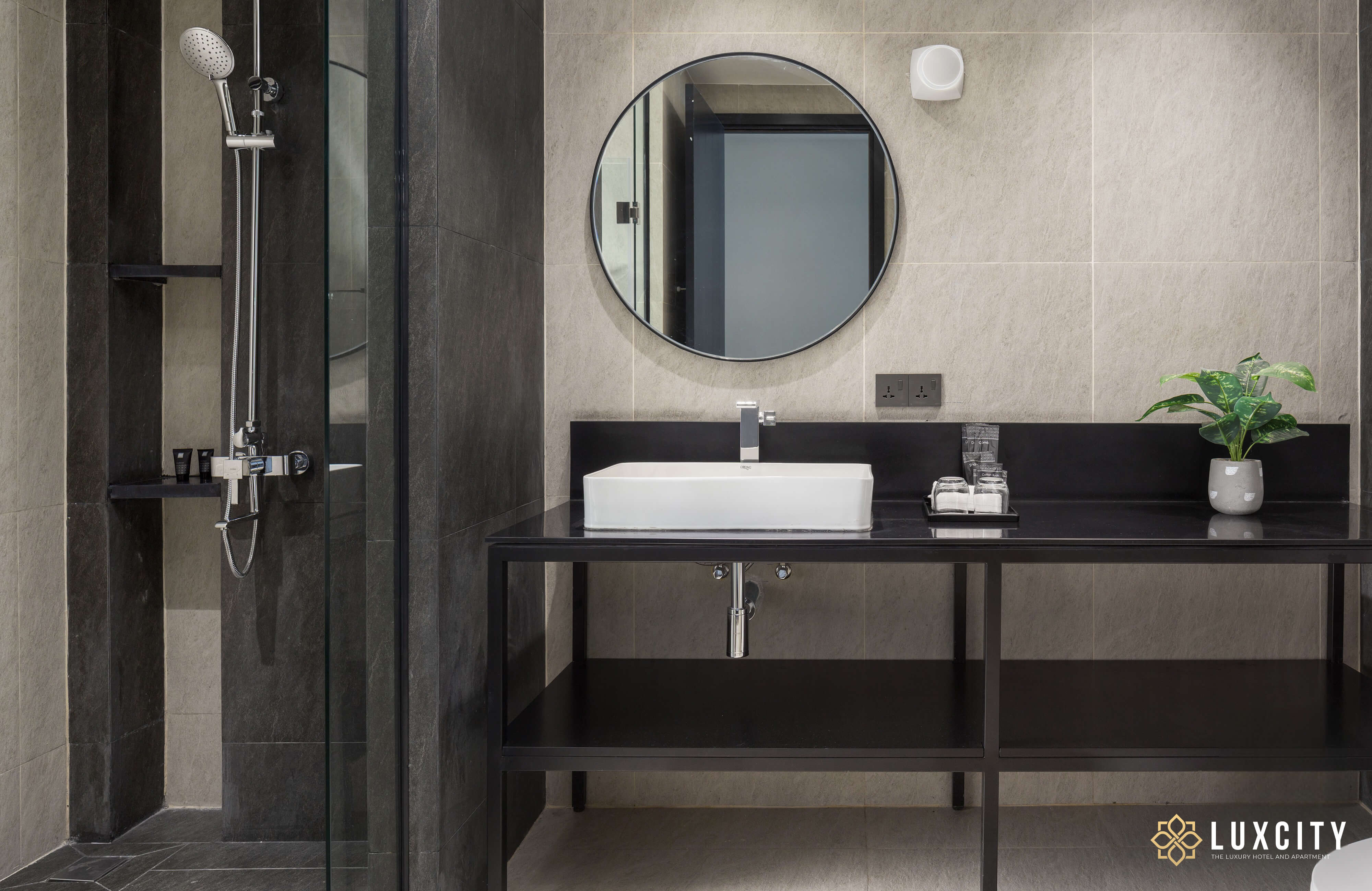 Interior details of Deluxe Premium room
The function of a high-class Deluxe Premium room will always be full of designs including a bedroom, living room, a minibar, and a balcony. Details of the furniture in the room are:
The bed design is often chosen in the form of Kingsize to bring spaciousness as well as luxurious aesthetic beauty, bringing a good night's sleep like being at home.
The interior of the Deluxe Premium room is often chosen with a luxurious and classic design. Especially, the tables and chairs outside the living room and inside the bedroom are often chosen in ivory white tones combined with luxurious metallic borders.
You will enjoy delicious wines in mini sizes. Let's enjoy the romantic and private space by the high-rise view to see the beauty of the city at night.
The interior of the bathroom is also respected by the investor. Built with high-class interior equipment, and luxurious design. The baths are equipped with a steam system, bubbling, adding rose petals if required by the customer.
Depending on the interior of the hotel, the Deluxe Premier room will be decorated with neoclassical, classical, and modern furniture…
The Deluxe Premium Room is one of the most expensive experiences at each hotel. Customers will experience unforgettable moments when using convenient and high-class services, worthy of the service fee they spend.
Importance of Deluxe Premium for every hotel
Each type of room in the hotel has a special meaning and brings profit to the investor. Deluxe Premium rooms not only bring high revenue but also affirm the class, meeting the resort requirements of customers located in the high-end customer segment.
Deluxe Premium rooms have expensive views, brightening every corner of the room. Customers will tend to check in "lemongrass" posted on social networking sites. At the same time, the hotel will have countless follow-up customers thanks to this way.
Design and construction of a professional Deluxe Premium hotel room
This type of room always has high requirements for interior design and has a high cost compared to normal rooms. Therefore, small and medium hotels should consider this type of hotel and pay attention to the customers they are targeting.
This luxury hotel's Deluxe Premium room design is extremely effective for 5-star hotels and above. Because the target audience here has all the needs and costs to choose from. A great experience for the elite.
Luxcity Hotel & Apartment - one of the best hotels which have Deluxe Premium
Located in the heart of the vast capital of Phnom Penh, Luxcity Hotel & Apartment is one of the famous hotels with quality Deluxe Premium rooms and is the most popular choice here. In addition, this is a peaceful resort where guests can relax on a soft bed, immersed in the poetic scenery of the capital. Not only large and filled with natural light, but the Premium Deluxe room is also upgraded to a luxurious level with delicate and elegant wooden furniture, a marble bathroom, and high-class amenities. This is the right choice for couples, honeymooners or families with young children, or senior officials who want to stop after a trip.
The customer service here is also extremely good and we always put it first. Customers are always king, so serving visitors is our joy, pride, and honor. Facilities at Luxcity are also fully equipped, nothing is missing and especially all of them are extremely modern and neatly arranged. If you want to choose a room with certain comfort requirements but do not want to spend too much money on the cost of accommodation, the Deluxe Premium room in Luxcity is the most suitable for you. Because we have a lot of promotions, discounts, and hot gifts throughout the year. In addition, the Deluxe room is also suitable for those who are small families or resort travelers who need certain comfort. If you have a chance, I hope you will come here to enjoy your wonderful trip.
Luxcity Hotel & Apartment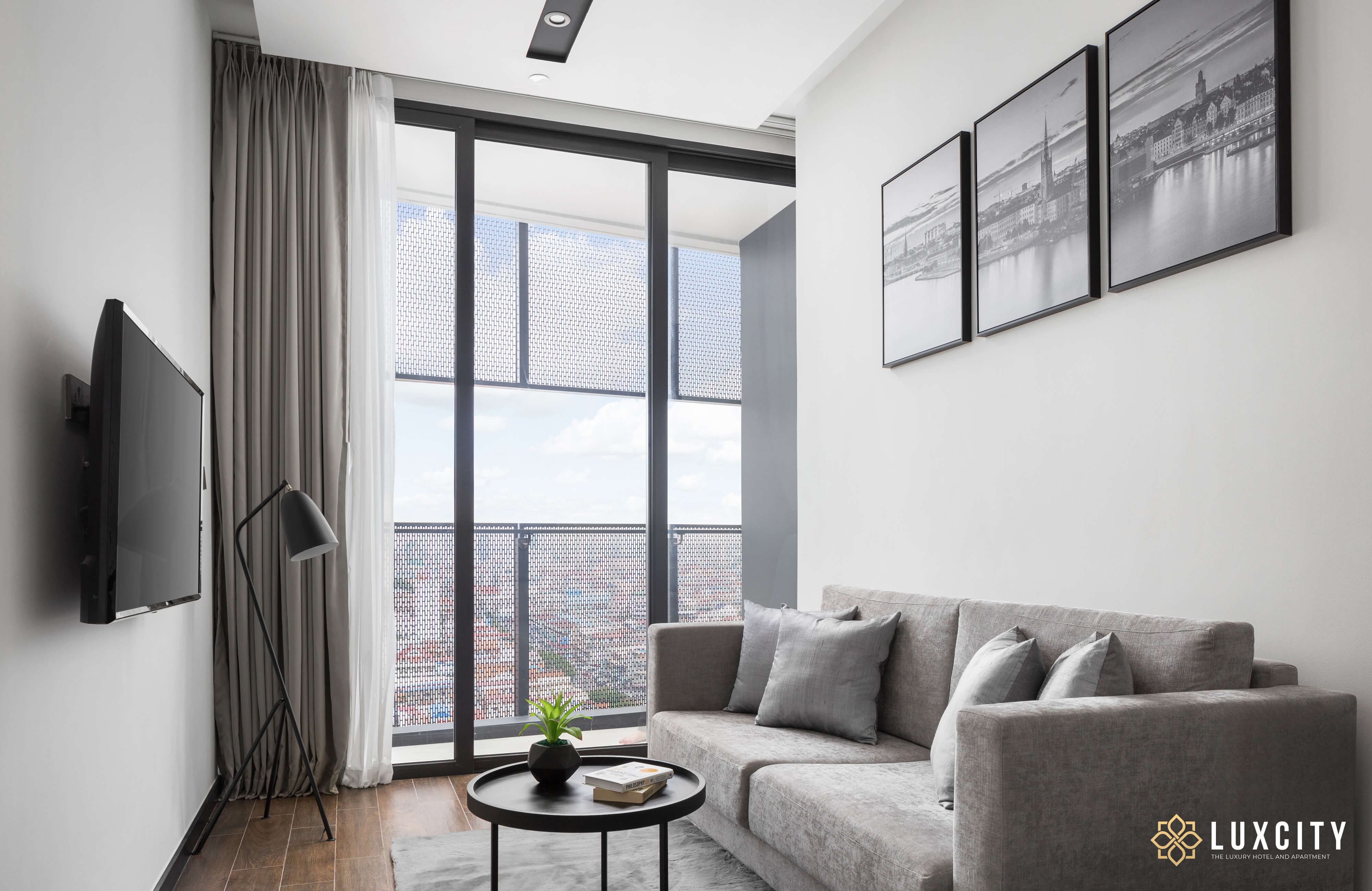 After the last article, surely you also know the necessary information about the Deluxe Premium room and have feelings for it, right? The Deluxe Premium Room has been enjoyed by many travelers for several years now, so of course, you will be no exception. Because of its luxury, comfort, and high class, anyone will feel infatuated from the first time they see it. If you are looking for such a hotel, please refer to Luxcity, we can meet all your needs and preferences. If you have any questions, please leave them and contact us to be resolved them as quickly as possible.
Read More Design Concept Hotel Rooms from Luxcity.com.
Long - Term Rental
Rent a room by month or by year. Let's telegram chat with us!
Chat now