Street 118, Sangkat Mittapheap, Khan 7 Makara, Phnom Penh, Kingdom of Cambodia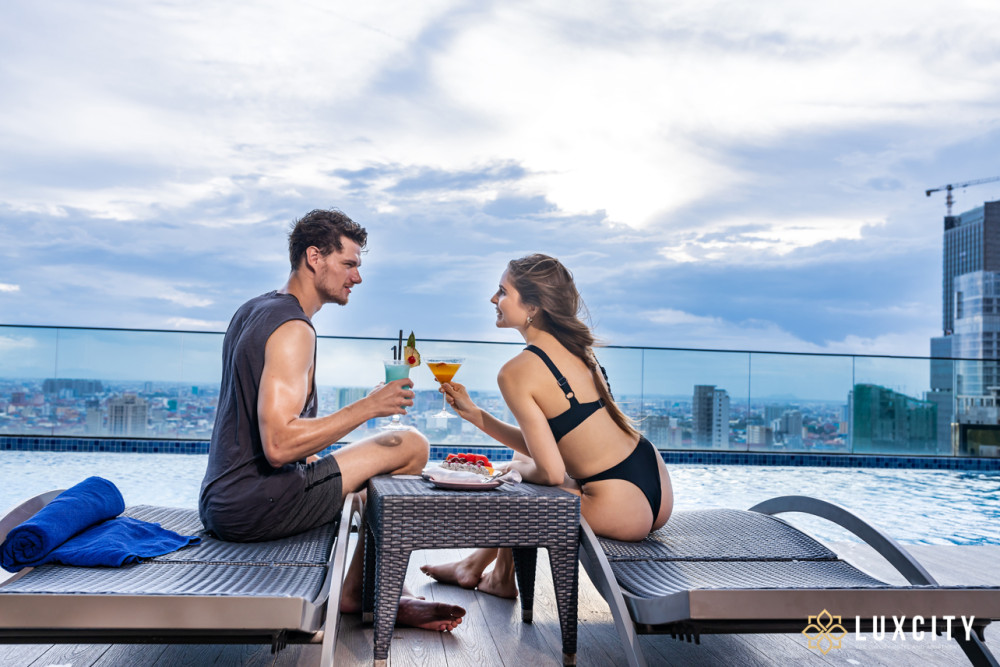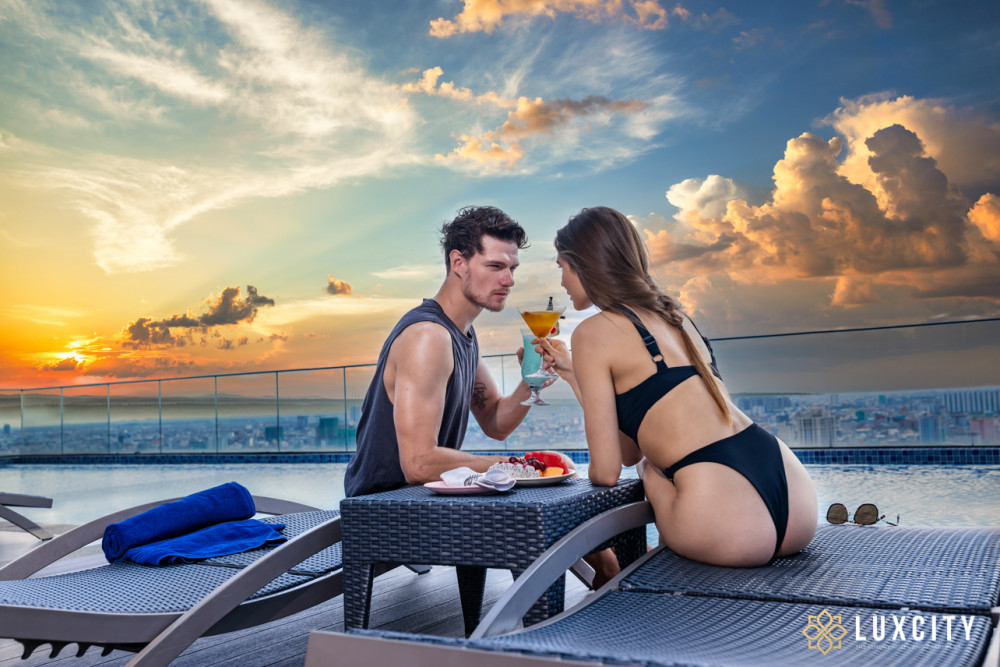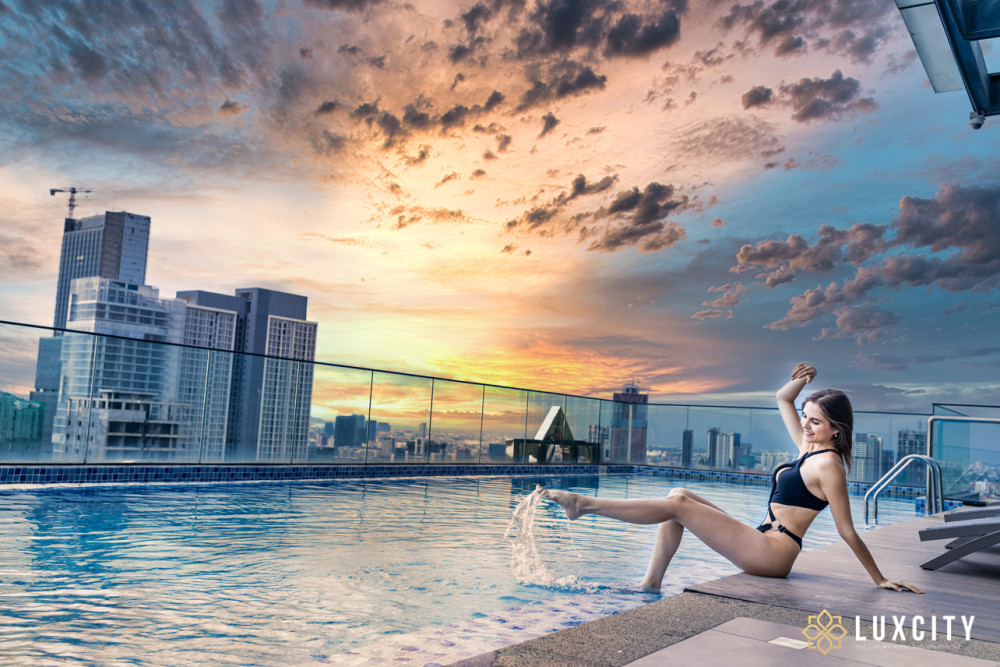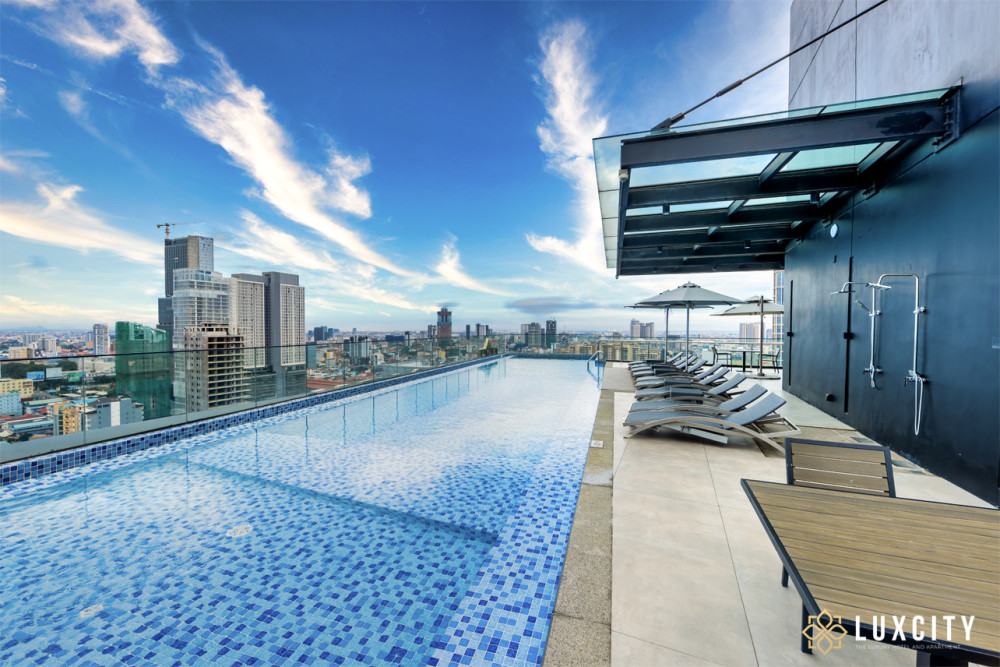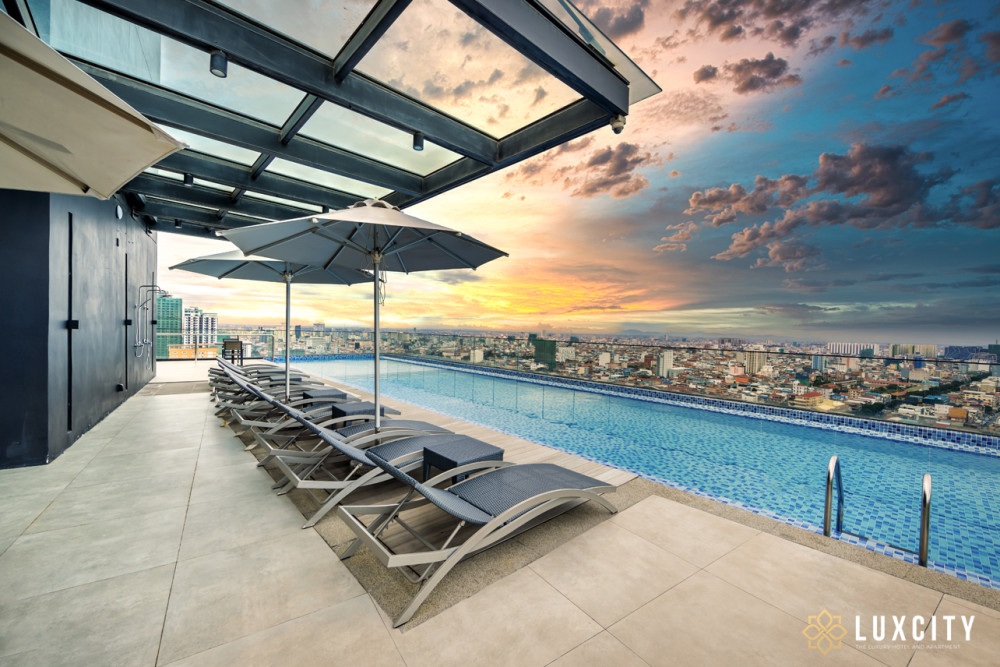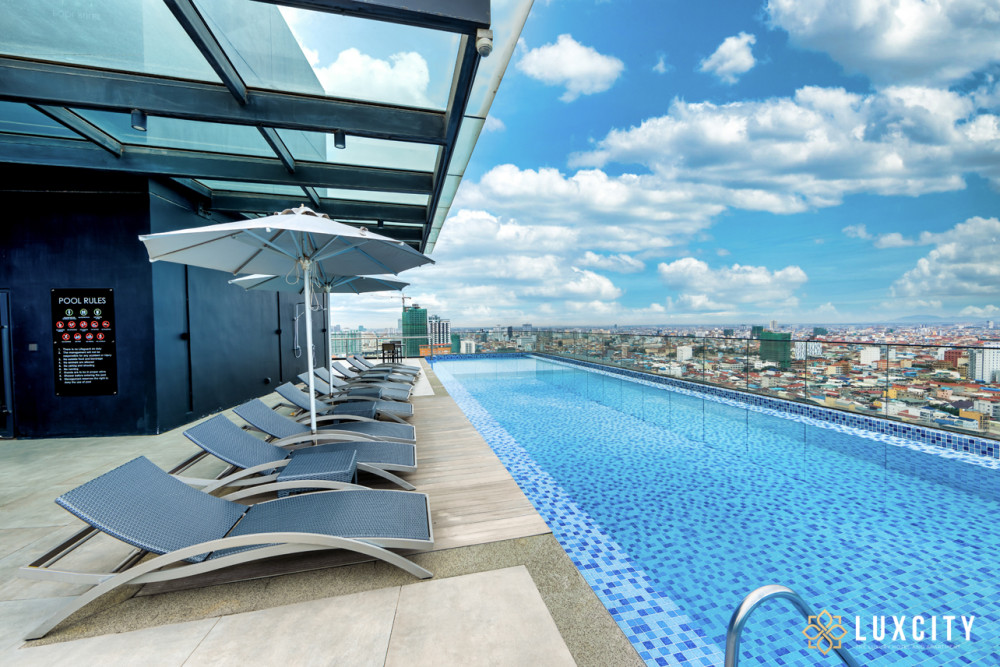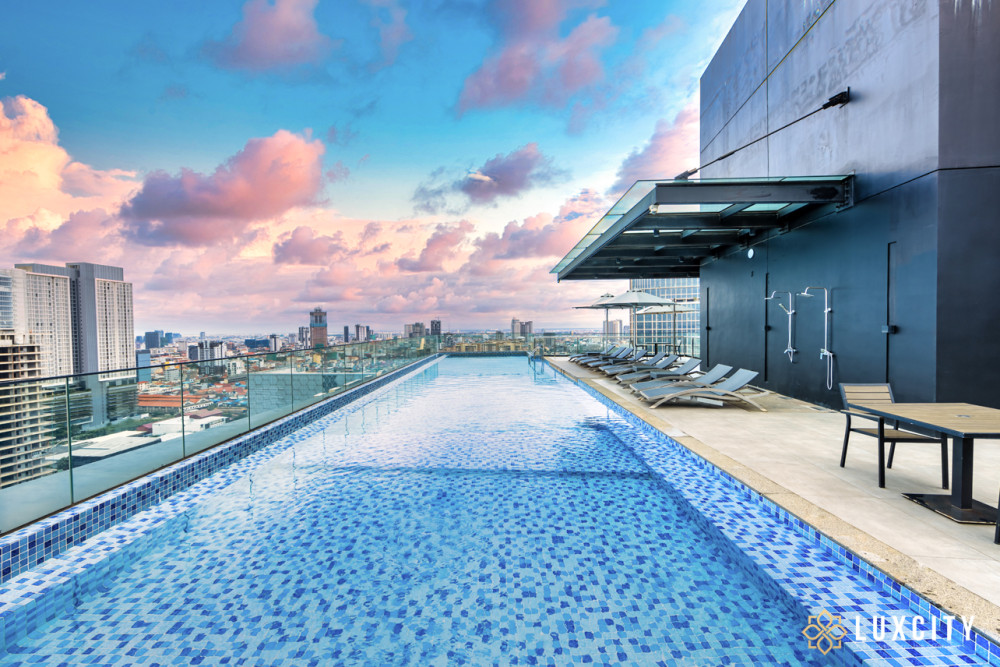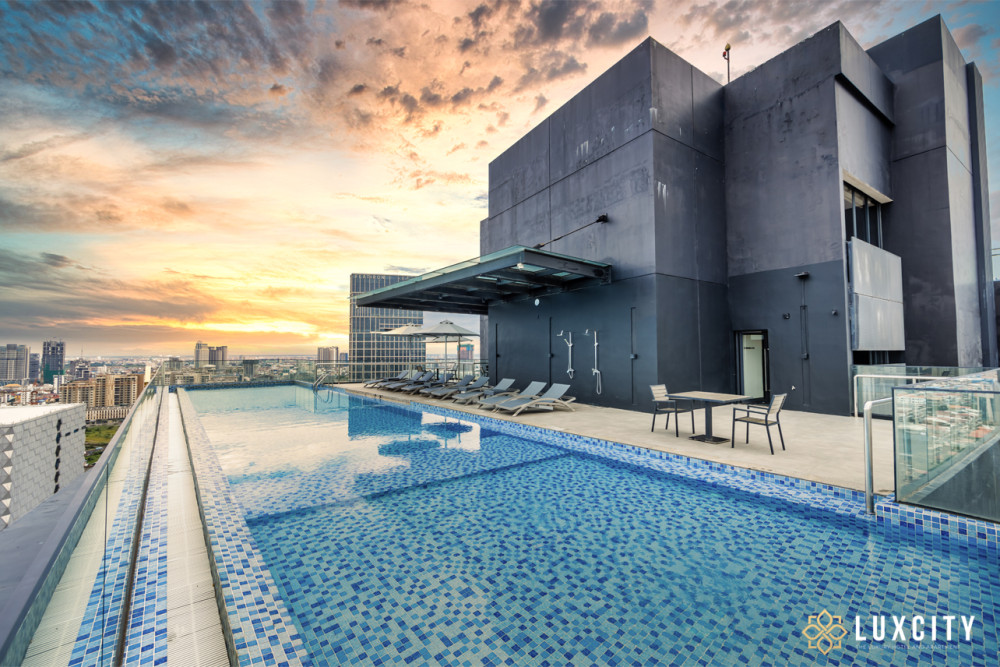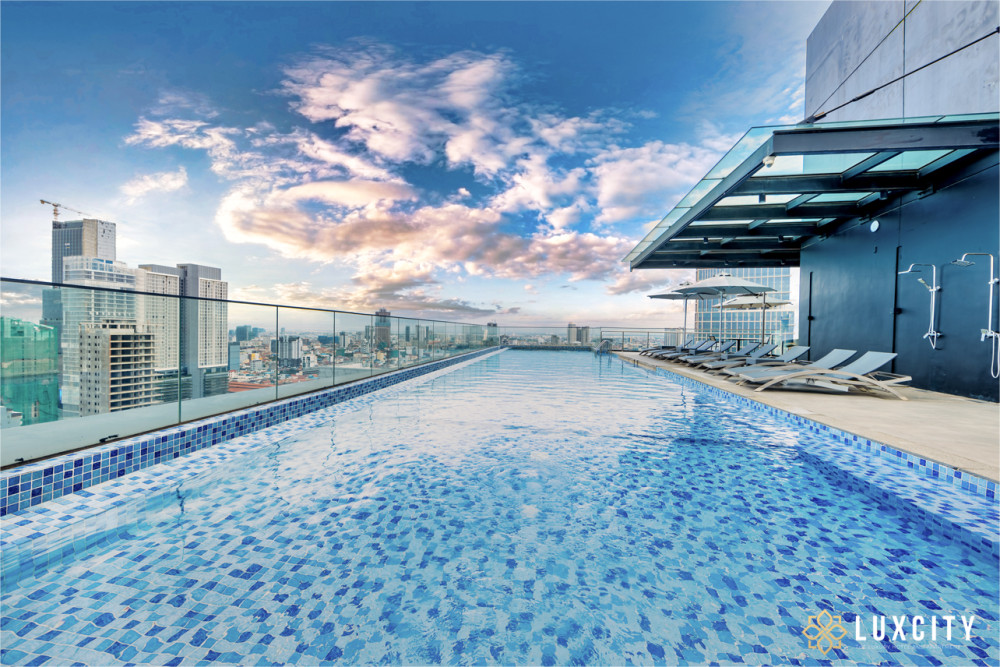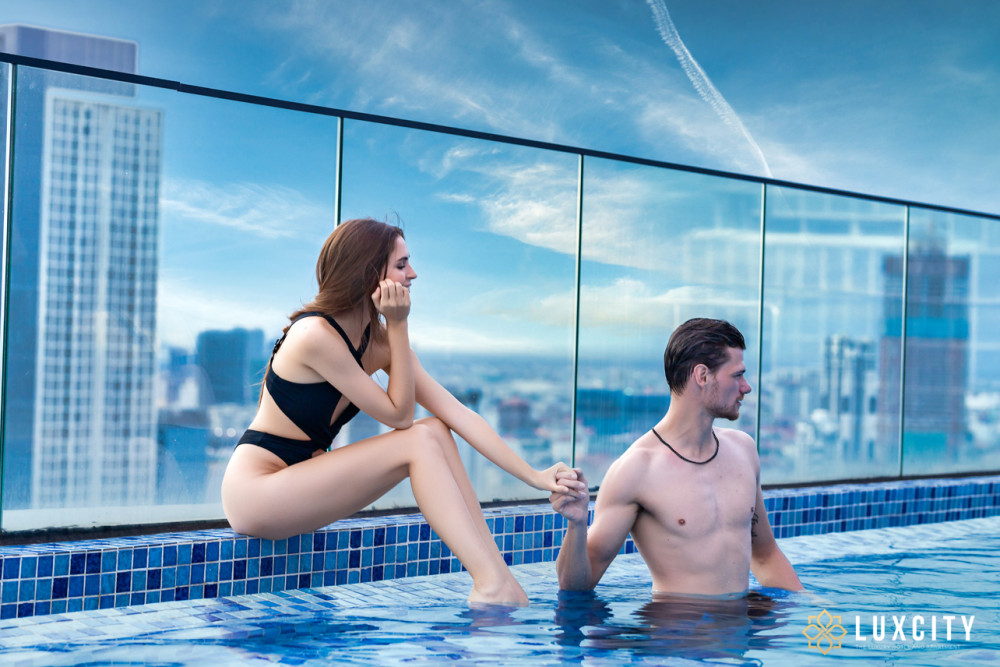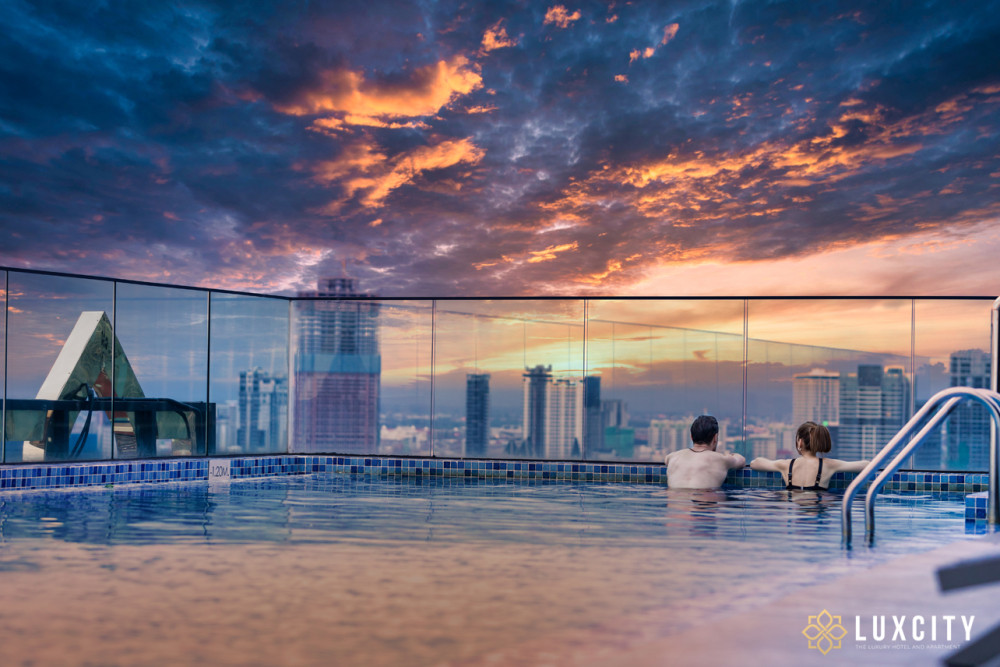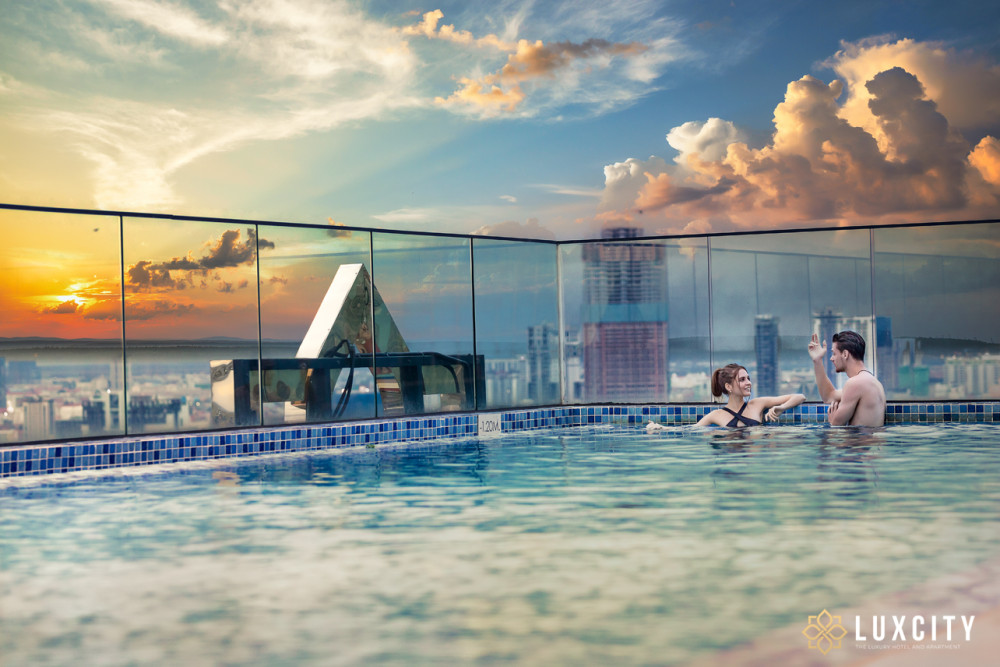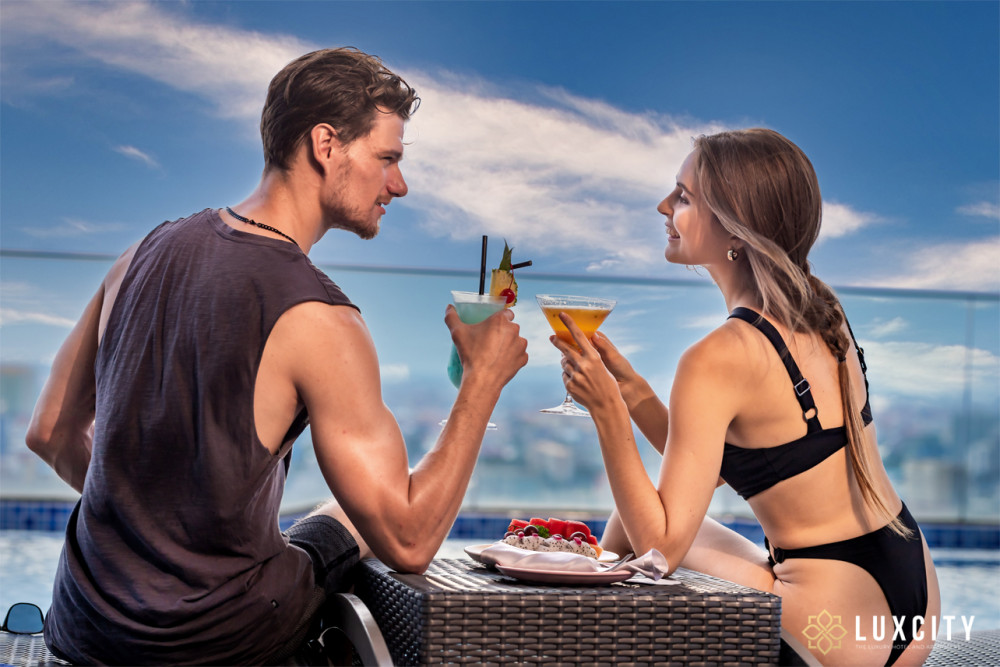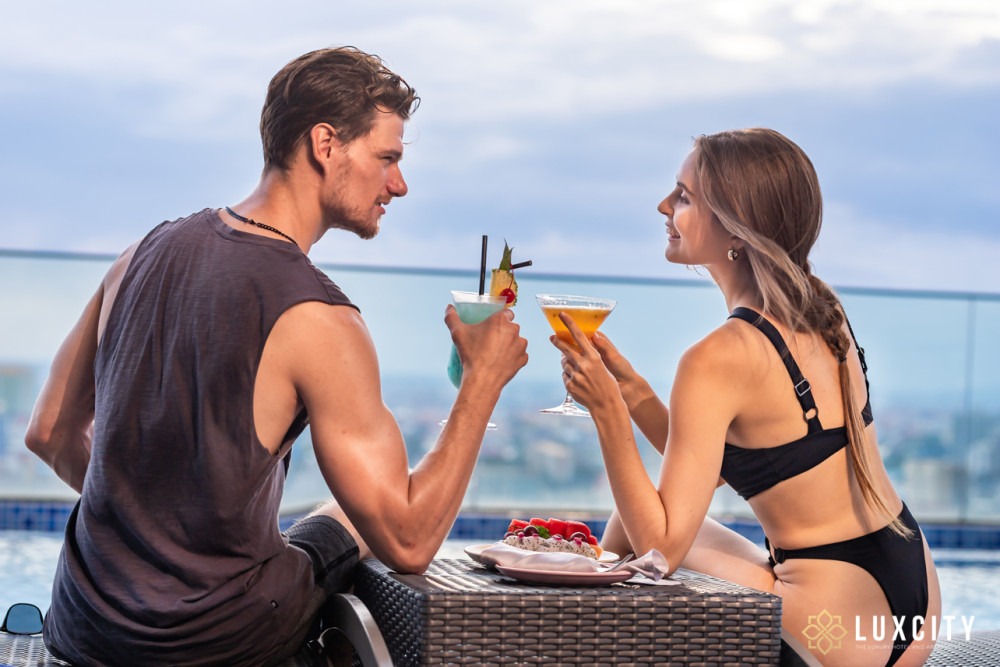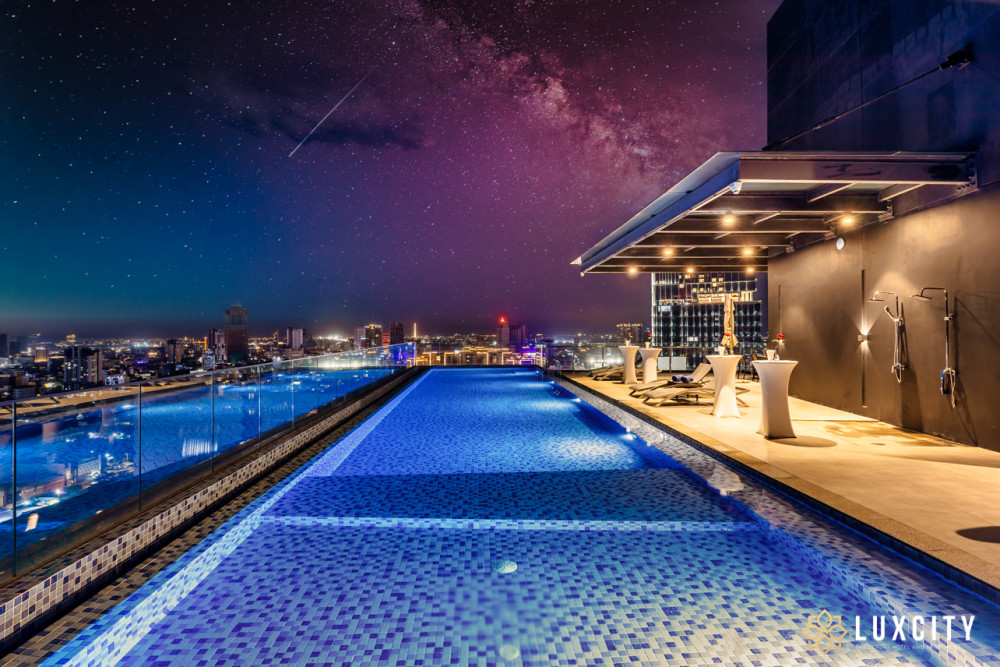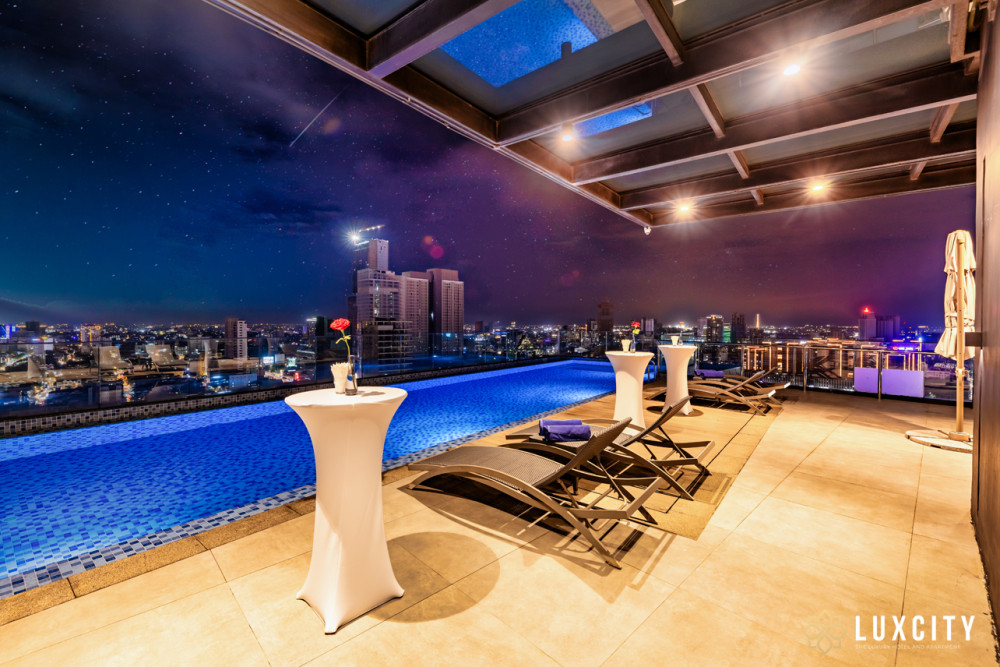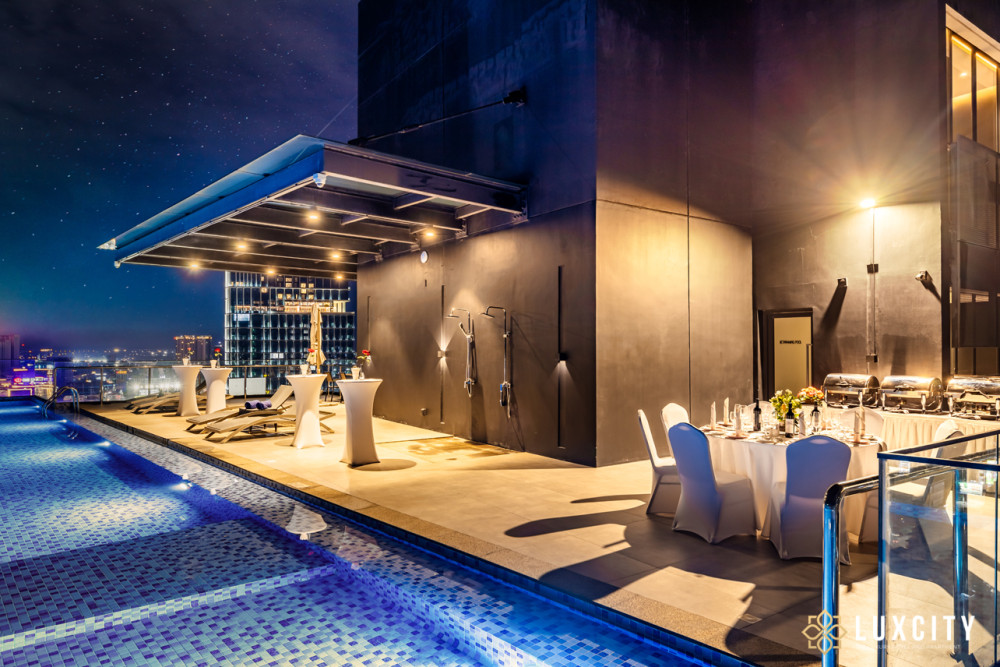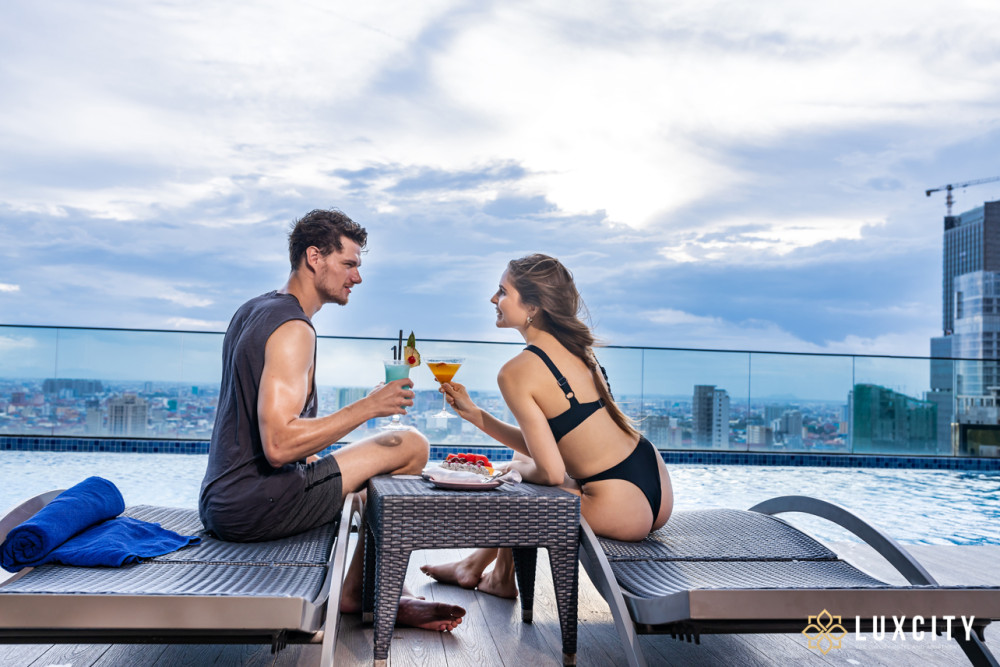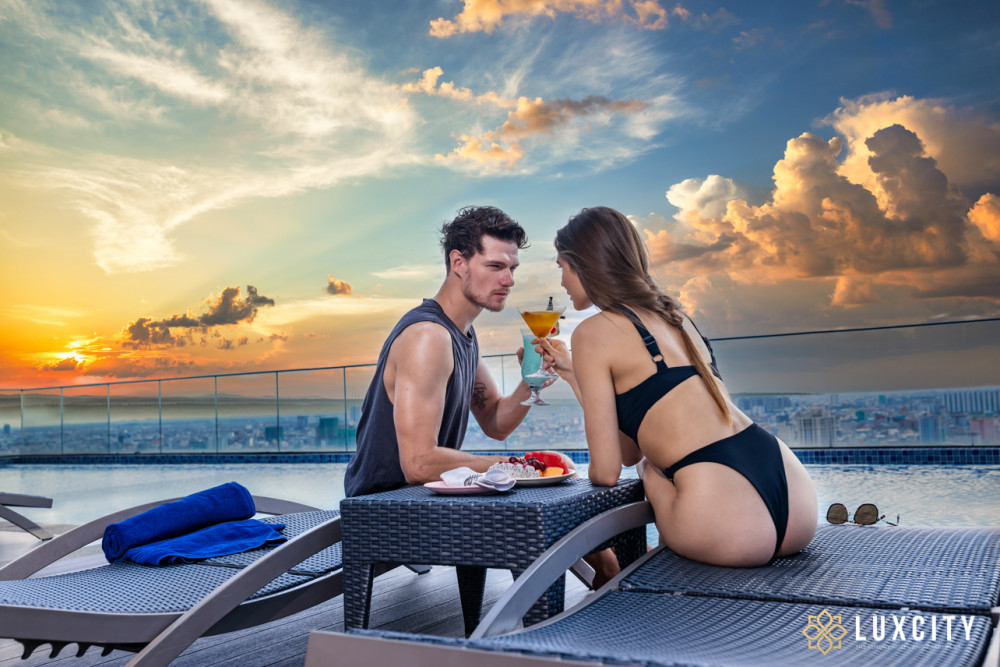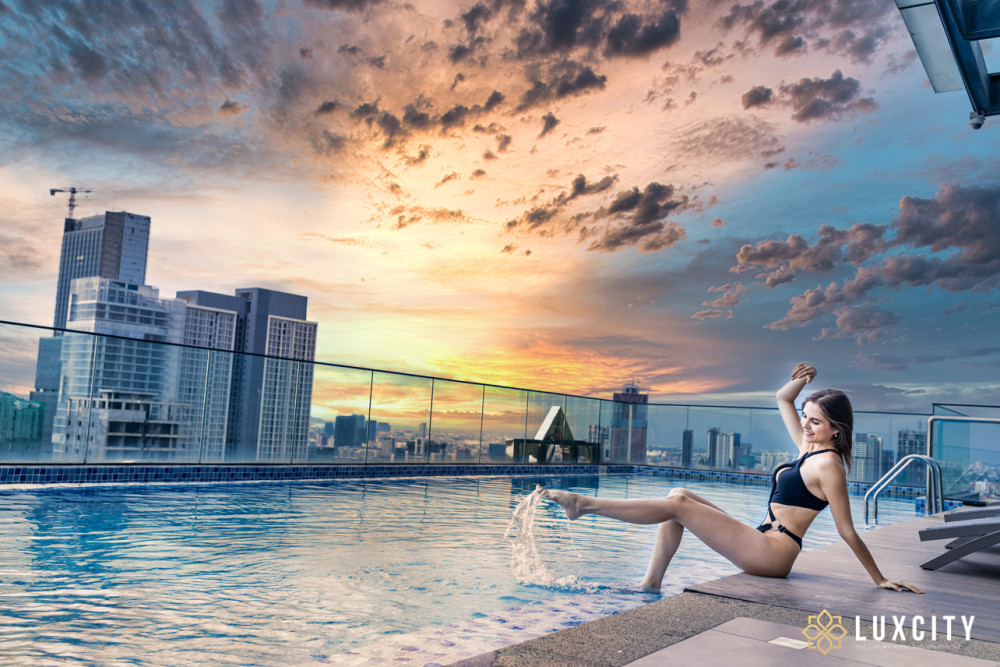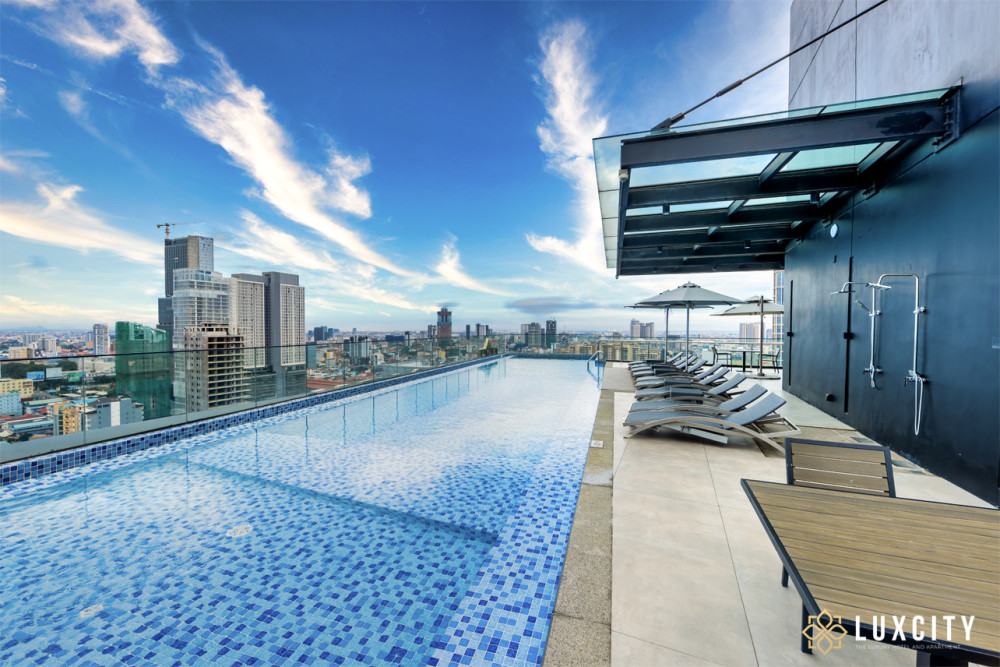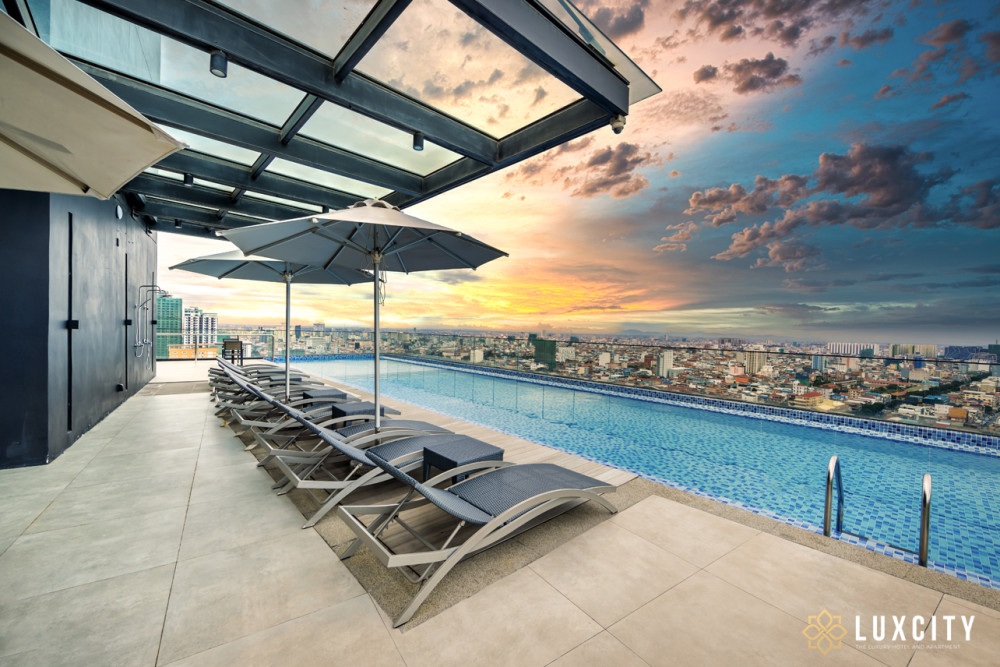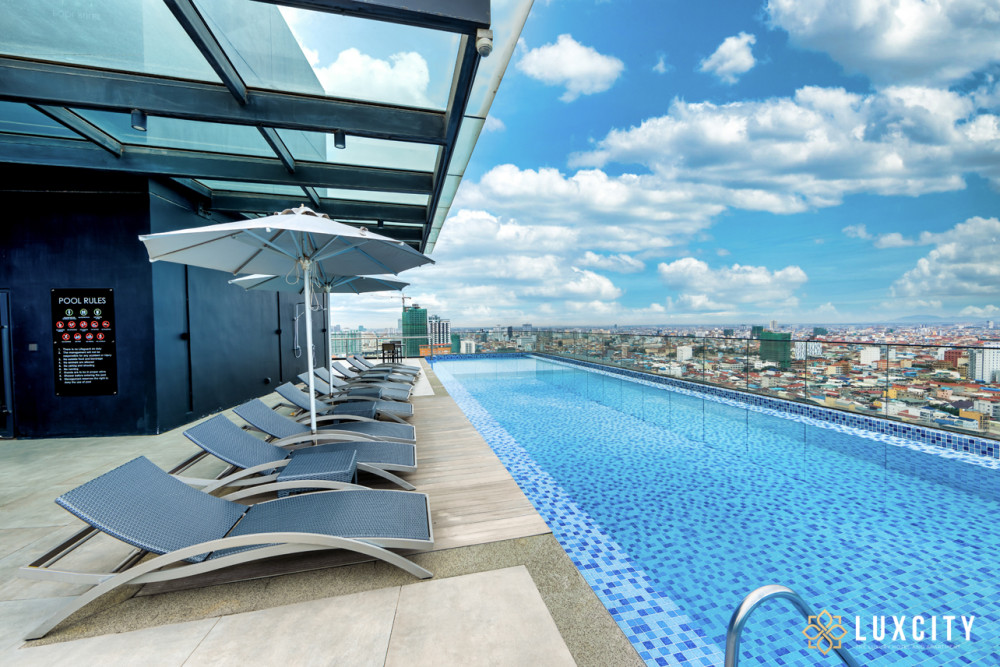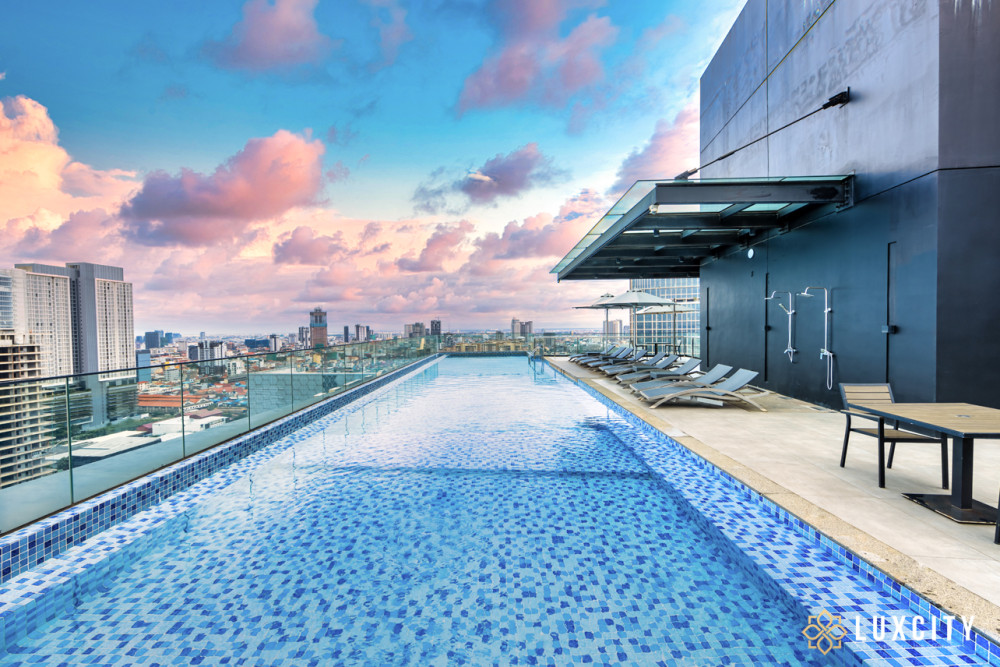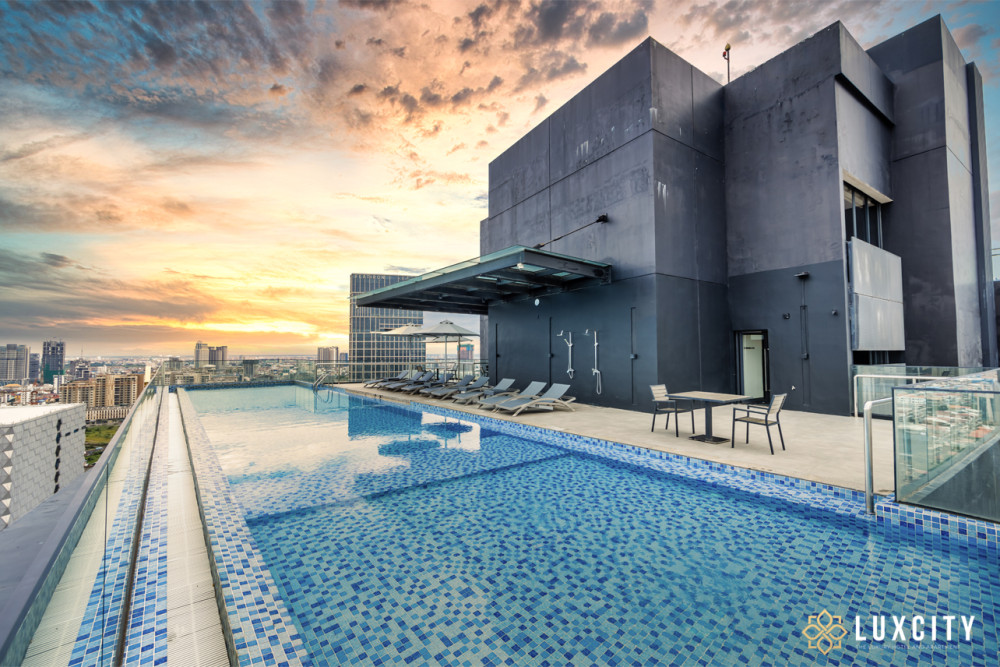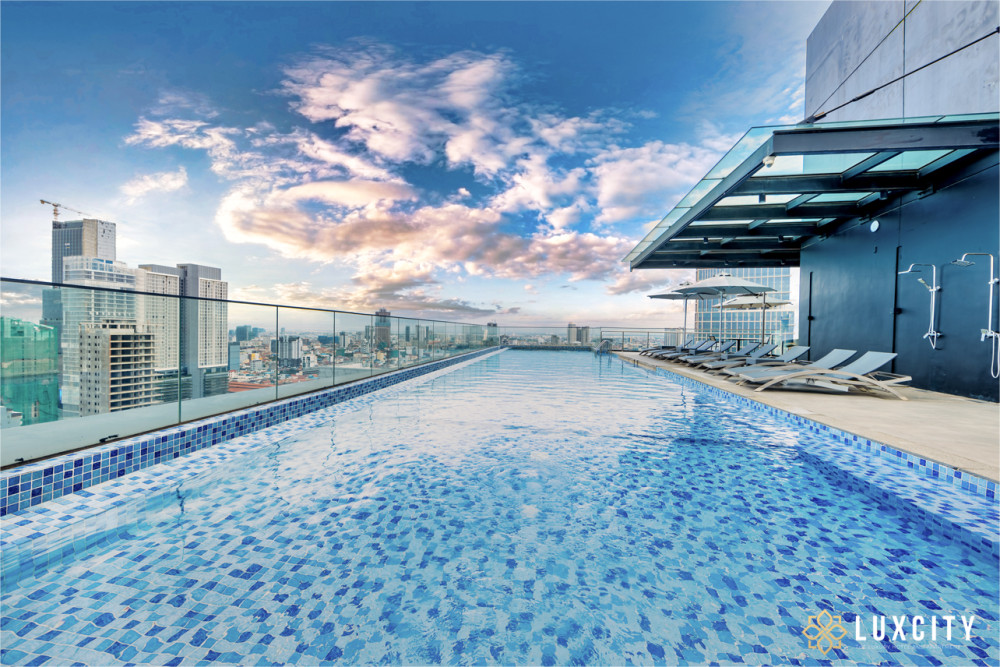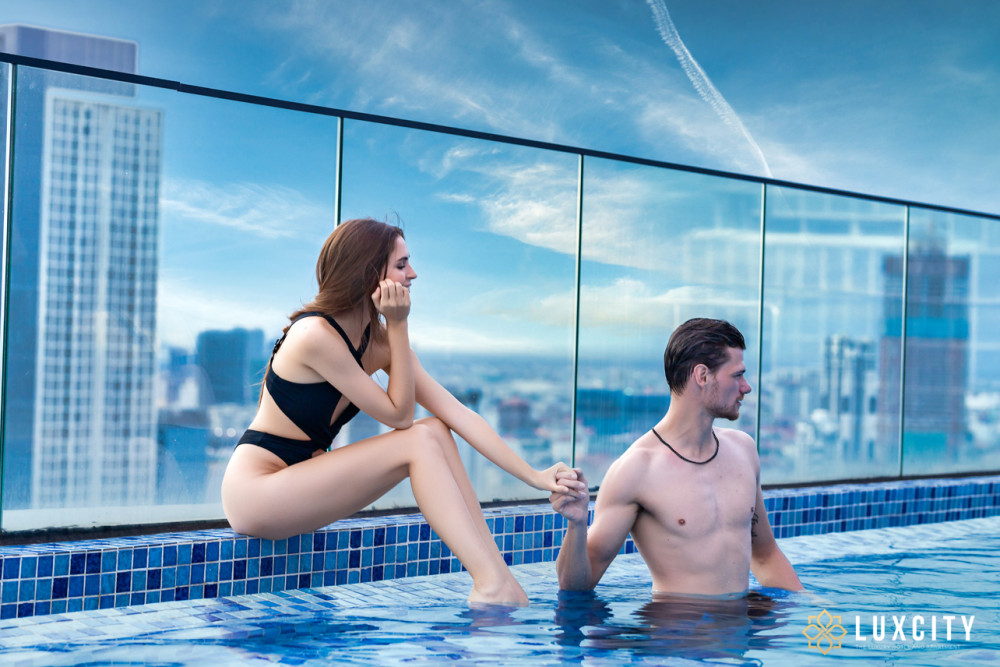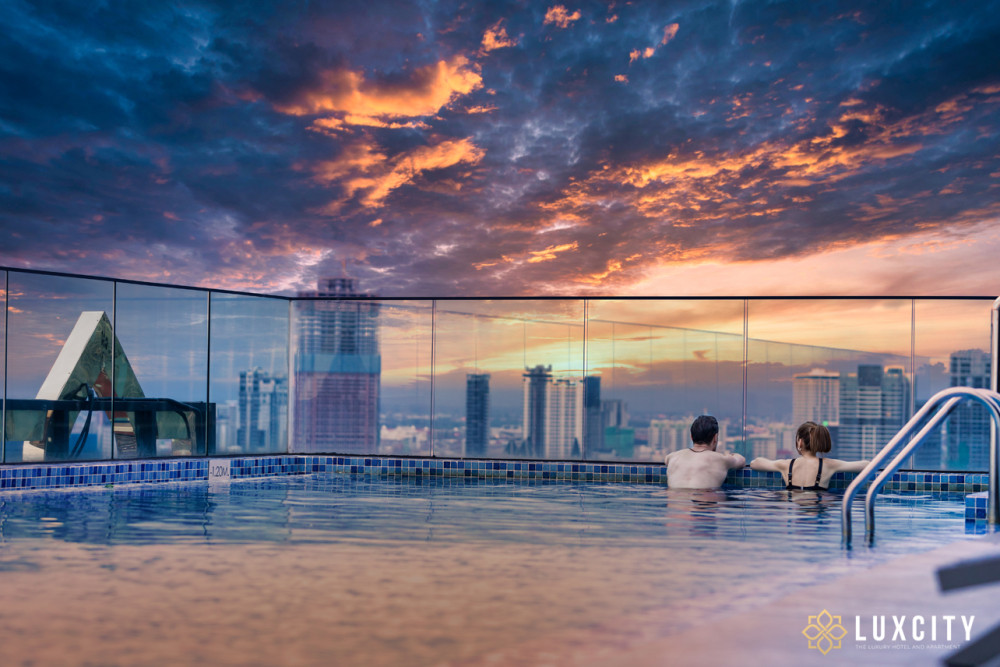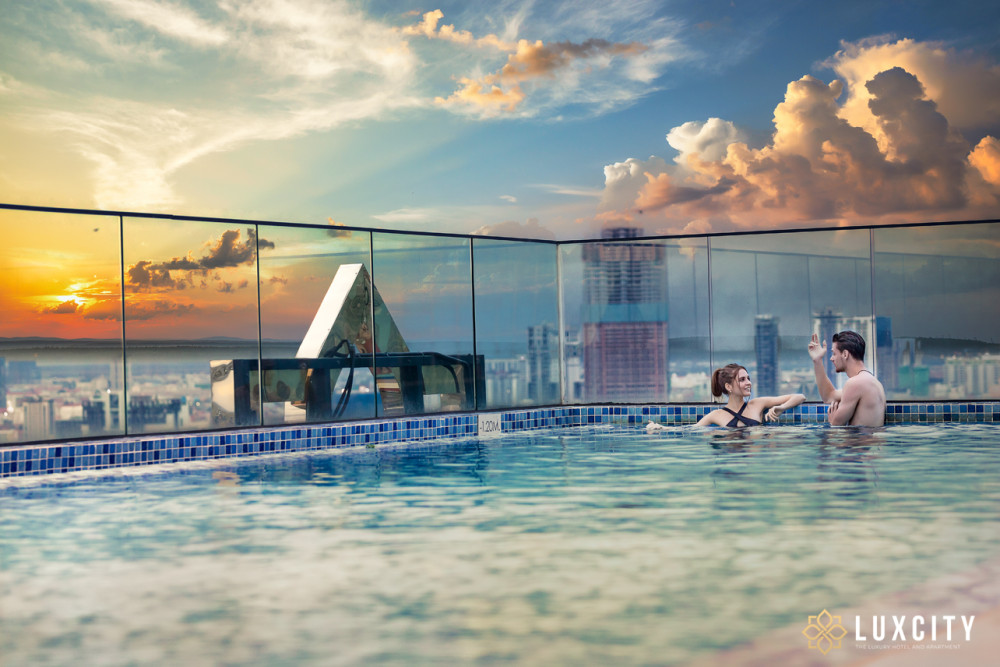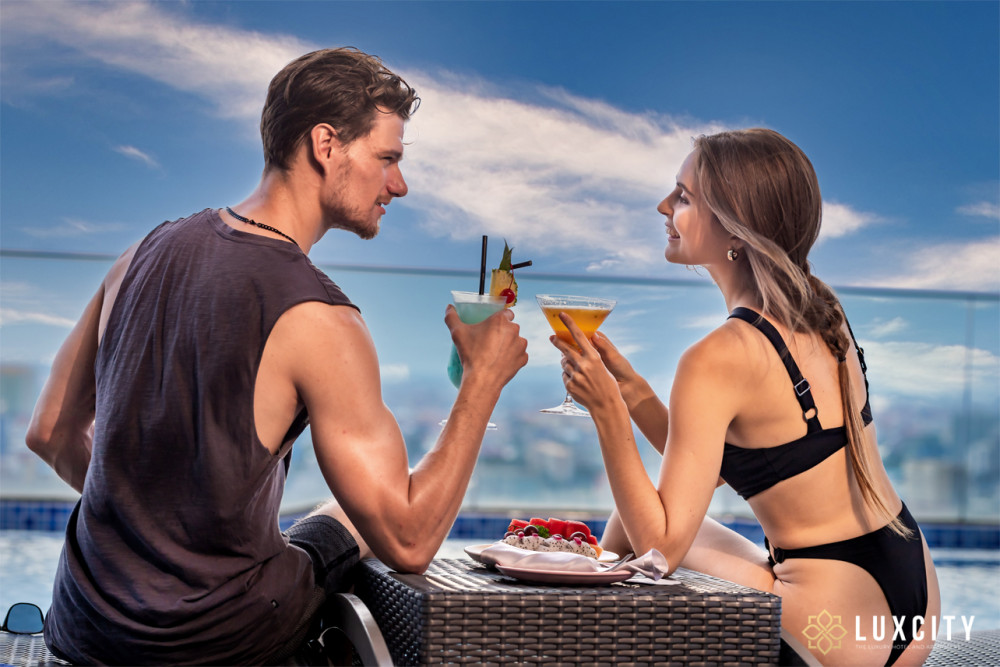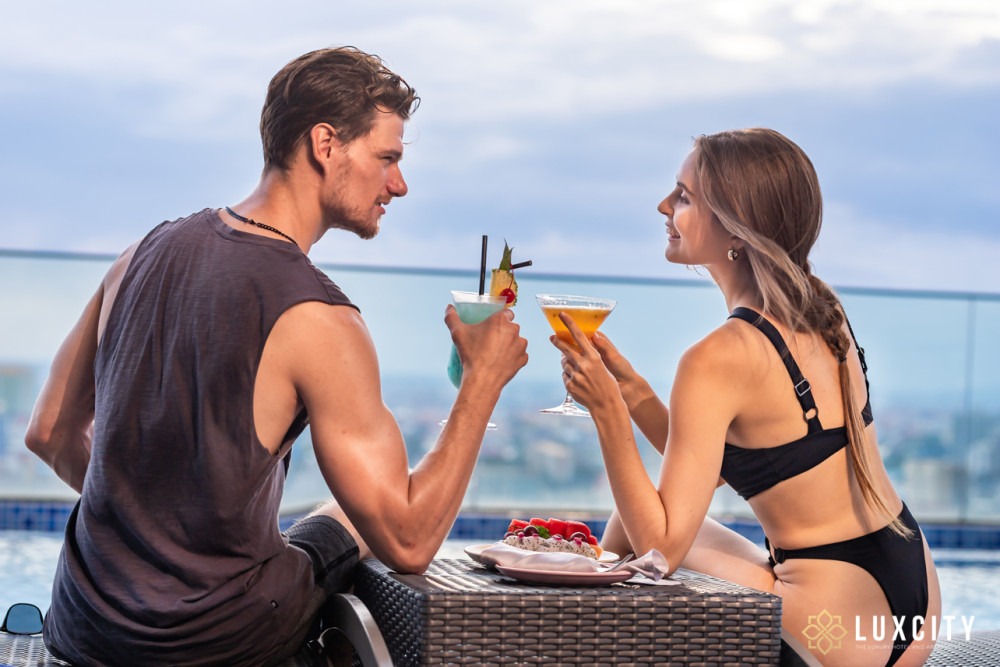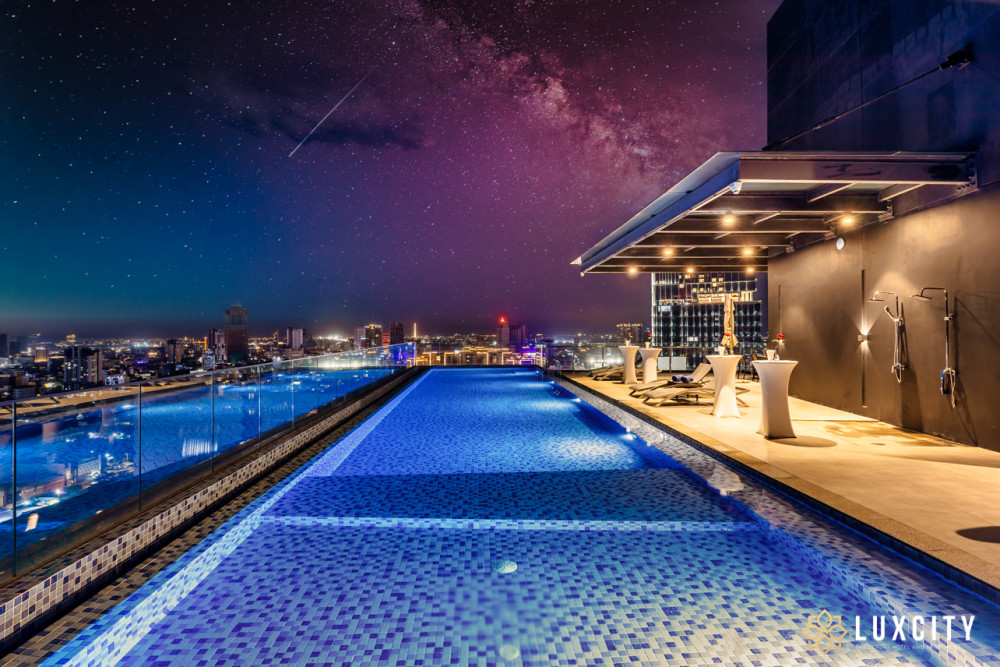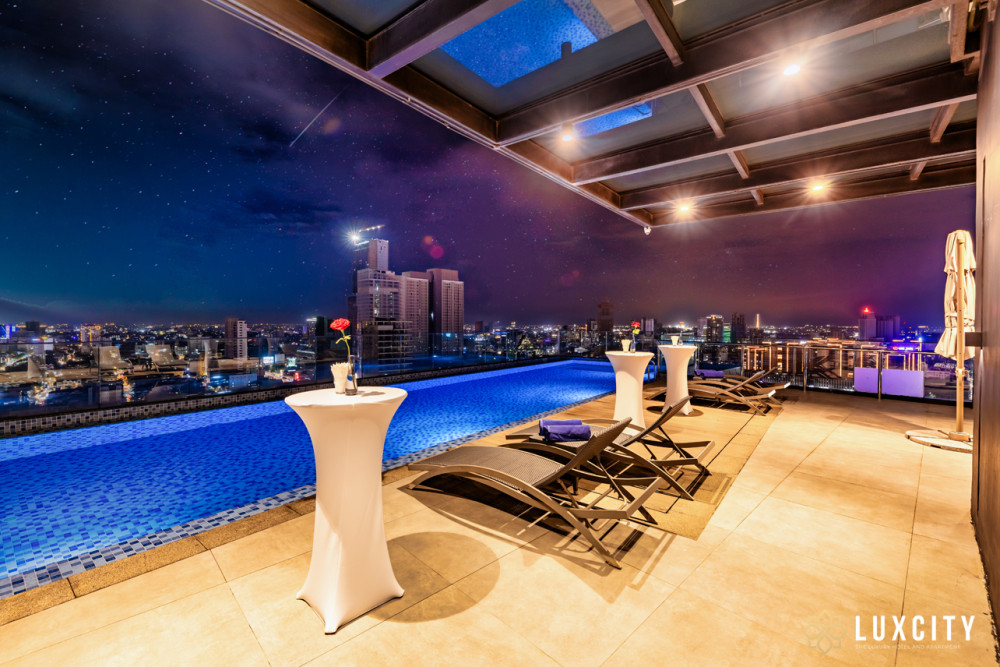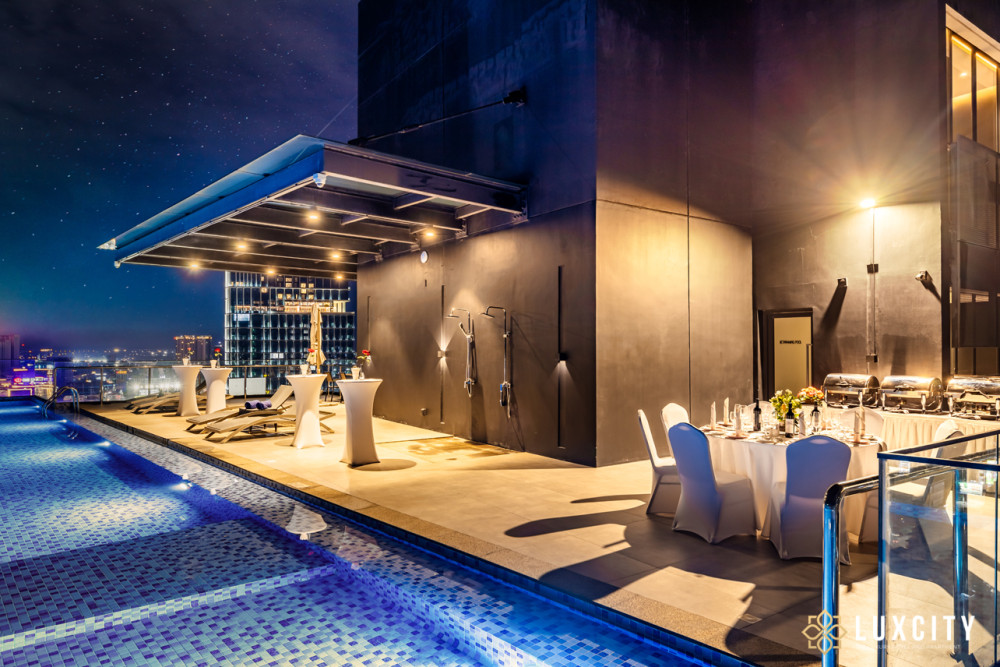 Swimming Pool
Capacity:

10

Size:

24.4x5.1m
Seeking a swimming pool in Phnom Penh to cool off when it only gets hot and even hotter? Look no further as I've got you covered with some of the best pool recommendations located right in the heart of the city.
Even though the summer is drawing to a close, the heat does not seem to escape us here in Phnom Penh. Cambodia's relentlessly tropical climate somehow renders swimming pools virtually essential for both tourists and locals to stay cool and relax. Whether you choose to unwind either on your own, with your significant other, or the whole family, these are the top picks for some of Phnom Penh's best swimming pools.
Booking Swimming Pool, contact to seller: (+855) 315 666 666 - (+855) 23 971 118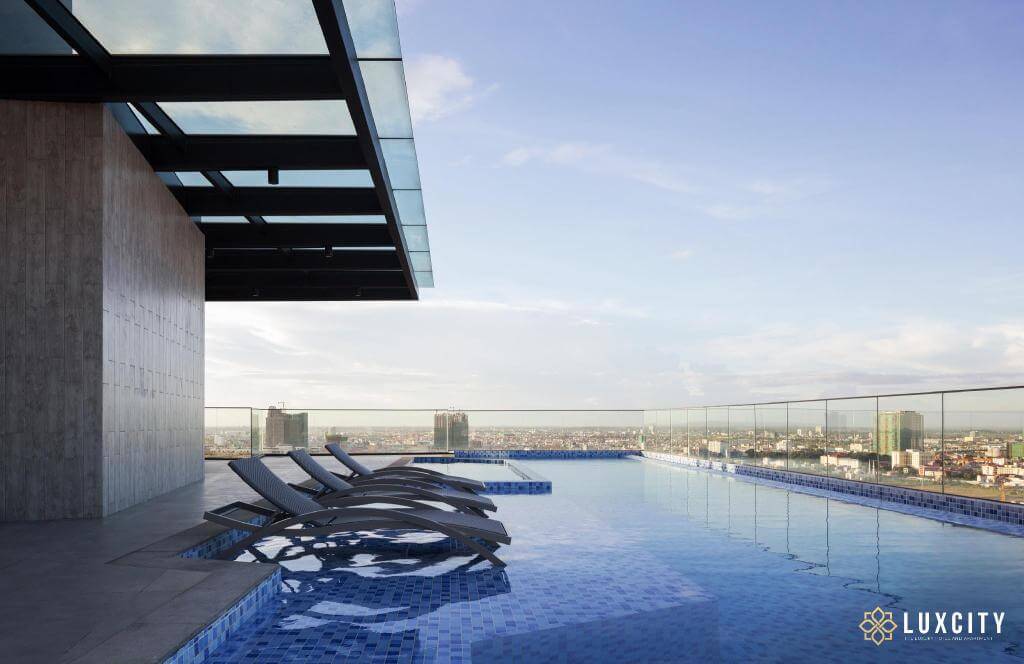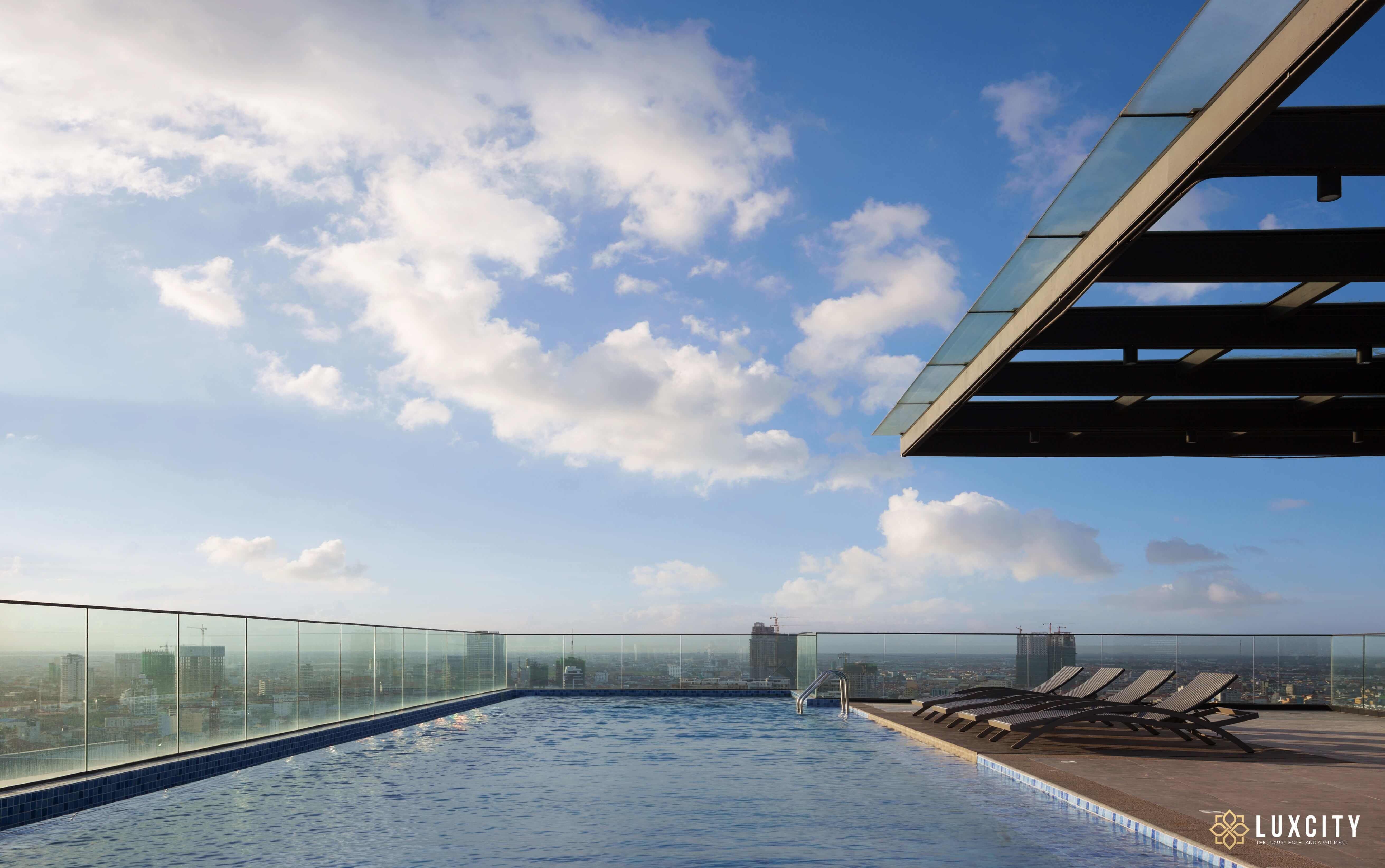 Luxcity Hotel & Apartment
Conveniently located within walking distance to the popular Phnom Penh Megamall yet well-hidden enough on a less busy street to preserve the demanded exclusivity, Luxcity Hotel & Apartment Phnom Penh features a stunning rooftop infinity pool on the 24th floor of the luxurious premise.
With the maximum capacity of up to 10 people within an area of 124.44 square metre, the impressively large pool is guaranteed to afford you a breathtaking panoramic view of the capital city behind the highly secure transparent protective glass wall.
Designed to be intertwined with shoreless ends on two sides, this 1,4-metre-deep swimming pool ensures your comfort at its best while probably facilitating anyone who wishes to keep up with their fitness routine. After a few laps in the pool, it is nearly impossible for you not to be tempted to lounge on one of the line-up sunbeds shaded by umbrellas while sipping light refreshments ranging from fresh juices to piquant cocktails and delectable spirits.
The warm LED lighting system melding underwater with the reflection of modern blue mosaic tiles effectively nourishes a sense of tranquillity and, more practically, allows you to swim at night. This could be a great idea for a big night out by the pool as the hotel does accept pool party requests.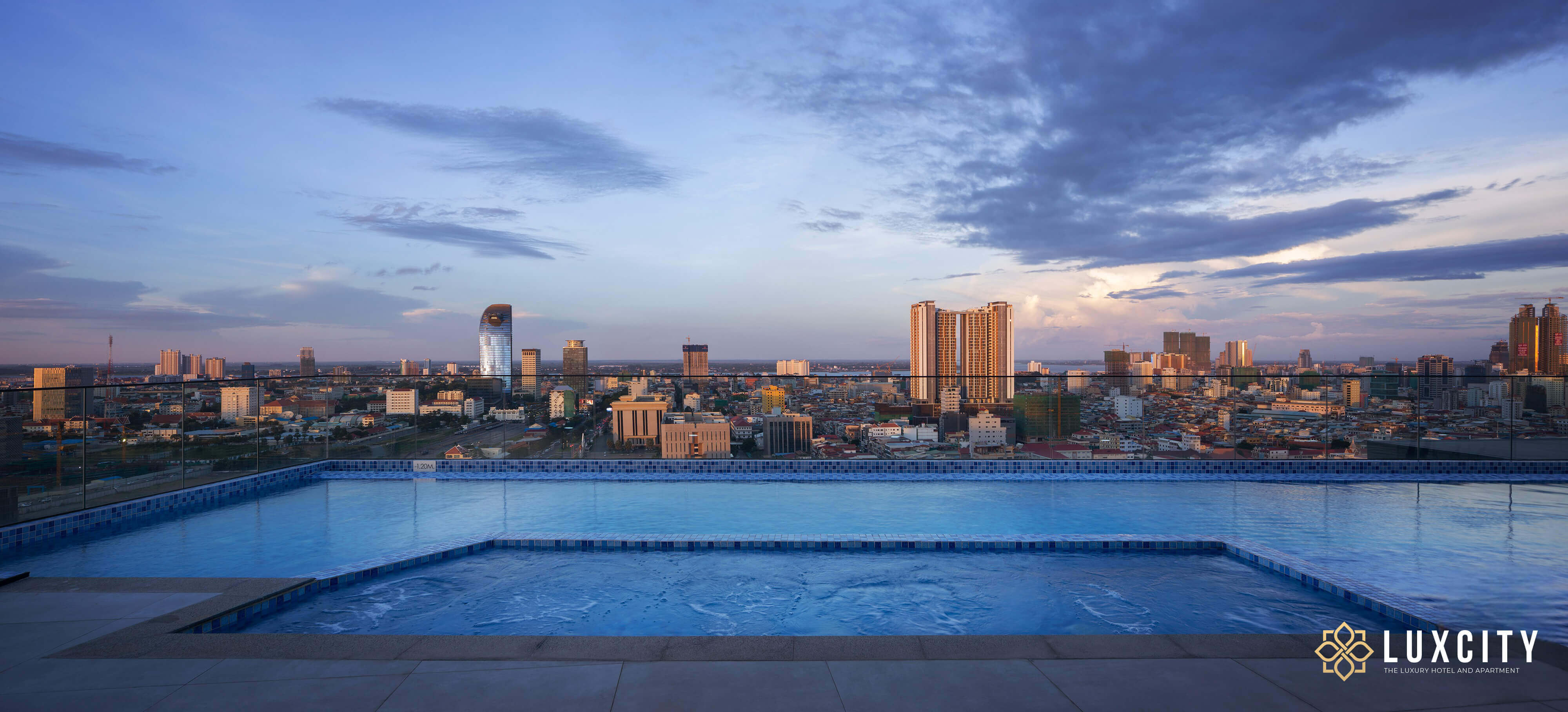 DIB Club
Shaded cabana, wine, cheese, live music, and happy hours by the pool? Sounds like a party to me! Indeed, coming to Diamond Island Beach Club – a precious little oasis in the middle of Phnom Penh, residents and visitors will surely find themselves overwhelmed by the abundance of options.
Should you take an alfresco dip in the vast majestic pool with your kids? Should you sit back on one of the loungers and take a nap while letting the soothing breeze from the Mekong River nearby puttering around you? Or should you enjoy some scrumptious snacks together with refreshing cocktails while enjoying a good read? You name it.
3P Square
Weekend family outings with a touch of nature and of course, some fun under the deep blue water of the L-shaped swimming pool pretty much sums up what the 3P Square pool represents. Hidden among the most well-planned alleyways for residential projects and business zones, this around-the-clock pool is ideal for those who value modernity while seeking a worthwhile stop amid the daily hustle and bustle of the capital city.
Either you are an early bird hoping to catch some laps or you are someone who enjoys a late-night swim, 3P Square pool will not let you down. The pool might get a bit busy towards the afternoon and evening.
Friendly reminder: Opt for a morning dive to avoid the inconvenient crowd.
Dyvith Fitness & Aquatic Centre
Located inside a Western-oriented hotel, the upscale Dyvith Fitness & Aquatic Centre characterized by professional safety float lines to demarcate up to 3 lanes have become a frequent meet-up spot among sports enthusiast.
What's more surprising is that the pool water here has been made to be uniquely salty – as salty as the beach. With only fifteen minutes drive from some popular tourist attractions such as Royal Palace, National Museum, or Riverside, you can already make your way to this salt-soaked pool and the food served in one of their chic restaurants. Why not?
Rambutan Resort
The trendy expat-swamped BKK1 neighborhood where the Rambutan Resort pool is located entices the premise to be one of the most sought-after pool vibes among young visitors. Catering to adults only, the saltwater pool no doubt complements the resort's artsy and secluded atmosphere. Their rotating weekly food and drink specials are also something that keeps their patrons coming back for more.
To enjoy the pool at your disposal, you will only need to pay $8 for an entree with a drink; otherwise, a small day pass fee will be applied.
Ming Hour Sports Club & Swimming Pool
Walking into the premise of Ming Hour Sports Club, you will first be amazed by the incredible size of its pool. Besides a variety of many services the place offers such as gym, steam, sauna, and pool tables at as low a price as $10 per person, it is undisputedly the best get-away for large active families.
To top it up, the service here has also been considered to be standardized – which can only mean they are able to skillfully handle unexpected situations that arise. There are really a ton of "unexpected situations" kids could get involved in on an outing, you know what I mean?
Phokeethra Sports Club
Proud to be one of the most secluded luxury pools with limited membership numbers, Phokeethra or Sofitel Hotel makes sure you will have unforgettable memories of limitless summer days basking yourselves under the sun of Phnom Penh while sipping your favorite cocktail prepared by their vertical poolside bar.
I don't know about you but it is so inviting that I'm going to get that membership before it runs out. Make sure you check the availability of the pool and the fee as well as the accompanying privileges for members beforehand.
I think it is safe to say that the heat can at times deter you from venturing out of your old way when you're on the road, leaving a few boxes unchecked. Heart-to-heart advice as someone who has also been in the same position a hundred times before: always prepare a contingency plan for those boring days by researching in advance. I hope our aforementioned list of 7 swimming pools in Phnom Penh can help you pick out some interesting places for your next trip to Cambodia.
Read More Design Concept Hotel Rooms from Luxcity.com and Best hotels in Phnom Penh.