2023-01-17
Phnom Penh Railway Station: All you need to know [2023]
Located in the heart of Phnom Penh, the railway station is Cambodia's busiest and most important transportation hub. The Royal Railway train also travelled through well-known locations in the country's north, including Pursat, Battambang, and Poipet. In addition, on the way to Sihanoukville, Kep, or Kampot. A railway line should be built in Cambodia to connect the city of Siem Reap with the boundaries of Southern Laos in the future. The most popular route connects Phnom Penh and Sihanoukville. In the north of Laos, approximately 5 kilometres from the city of Poipet, you may utilise the Thai train link - from Aranyaprathet to Bangkok, thus you can take a train to Bangkok.
Phnom Penh Railway Station History
The Phnom Penh Railway Station, which opened to passengers in 1932, was built during the French colonial era. Phnom Penh Train Station is a magnificently maintained structure from a very different age, despite being ineffectively out of service as a railway station for an 11-year period from 2005 to 2016 (effectively).
On April 9, 2016, the Phnom Penh Railway Station reopened to passengers for the first new train run to Sihanoukville, marking the restoration of passenger rail services in Cambodia. The station structure is clean and well-kept, but it remains a nearly empty environment, with no stores, restaurants, or other services filling the huge open spaces within the station building or alongside the train platforms. There are seats and a ticket booth inside the train station, but little else.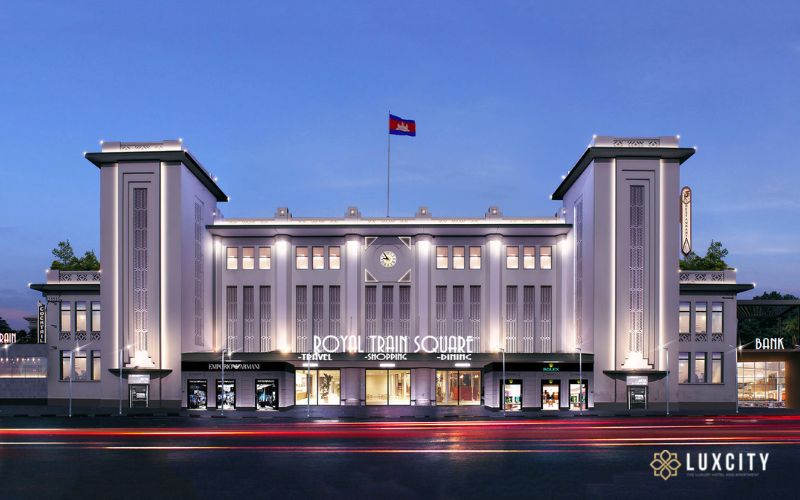 How Phnom Penh Railway Station operates
The Phnom Penh Train Station now operates with three platforms, each of which serves a distinct set of destinations.
Platform 1: Line to Poipet
Currently, trains from Phnom Penh to Poipet terminate in Battambang. Every day, services from Phnom Penh to Battambang run once.
There are no rail services between Poipet and Battambang at the moment. Trains go from Battambang to Poipet once a day, every day.
Platform 2: Line to Sihanoukville
Trains from Phnom Penh to Sihanoukville and vice versa currently operate once a day.
Platform 3: Airport Link
This route is being suspended
Facilities at Phnom Penh Railway Station
Except for public restrooms, which are located near the railway platforms, there are no amenities at Phnom Penh Railway Station.
The only shops offering food and drinks near the railway station are a sandwich kiosk at the main door that also sells drinks and snacks and another stall selling hot coffee and other beverages. Long-distance trains in Cambodia provide catering on both major railway lines, and you can often obtain tastier meals on the train than you can at the station before your train departs.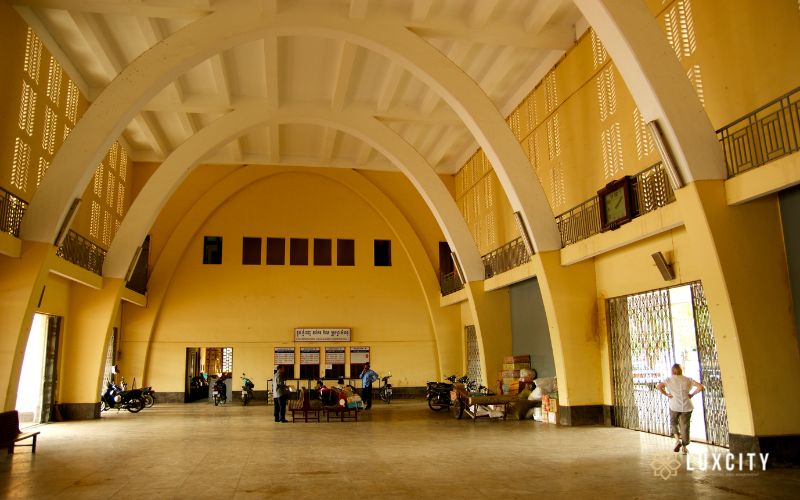 Why should you travel by train in Cambodia?
More Rapid Mode of Transportation:
Traveling on Cambodian roads may be a frustrating experience. Unless you leave in the early hours of the morning, you will almost certainly encounter heavy traffic practically everywhere. Cambodian trains, on the other hand, completely eliminate the potential of road traffic. Even though the average speed of a Cambodian train is lower than that of a road car, the rails pass through the suburbs, making travel faster.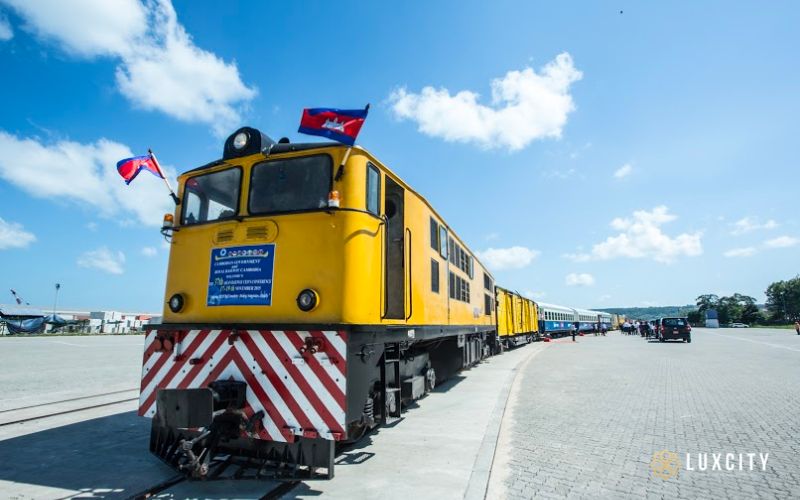 Prompt Arrivals and Departures:
Cambodia rail services have been quite prompt and timely since their restoration, making them the perfect choice if you want to reach your destination on time. Getting around on the road can be hard in this way, especially during the day when traffic jams can slow you down by more than an hour.
Safer Modes of Transportation:
Speeding motorists' irresponsibility causes regular accidents on the route from Phnom Penh to Sihanoukville. When you go by train, however, you are completely secure from such incidents and may travel much more peacefully.
Amenities:
The Royal Railways offer trains with air conditioning, which is a comfort for those who visit Cambodia during the extremely hot summers. The toilets on all trains are nice and clean, with paper towels. Karaoke machines are utilised to make announcements in both the native Khmer language and English. In-train food includes quick noodles, and water bottles may be ordered at any time.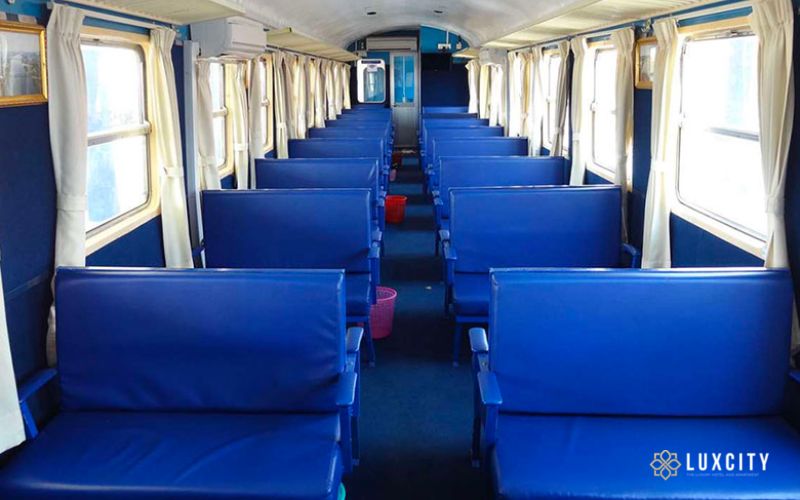 How to buy train tickets at Phnom Penh Railway Station?
There are two ways for you to acquire a train ticket at the Phnom Penh train station: Online or at the station.
Because there are only two ticket booths in Phnom Penh Train Station, you must arrive early to purchase a ticket, and lines might form during peak hours. The ticket desks take both US dollars and local money.
Royal Railways is now imposing seat reservations, so if you wait too long to buy a ticket, you risk getting one of the less popular seats facing backward near the train's manually operated doors.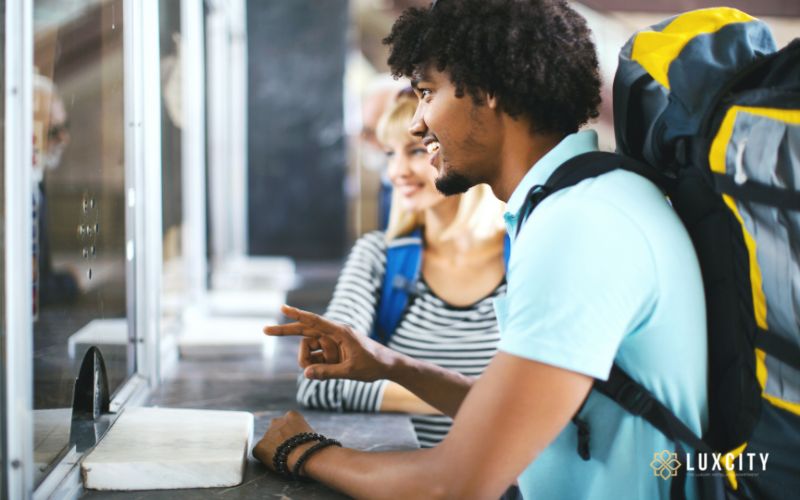 Stay tuned to Luxcity for more information and ideas to help you make the most of your time in the Kingdom of Cambodia.