2023-04-11
Best 3-star hotels in Cambodia: Where amenities meets affordability [2023]
If you're seeking an authentic and immersive travel experience in Cambodia, why not consider staying at a 3-star hotel? While 5-star luxury accommodations certainly have their appeal, 3-star hotels can offer a more unique and authentic glimpse into local life, culture, and hospitality. In this blog, I'll be sharing my personal recommendations for the best 3-star hotels in Cambodia in 2023, highlighting their distinctive features, character, and charm. So if you're looking for a more meaningful and memorable travel experience in Cambodia, read on to discover some of the country's most unique and enchanting 3-star hotels.
Learn more: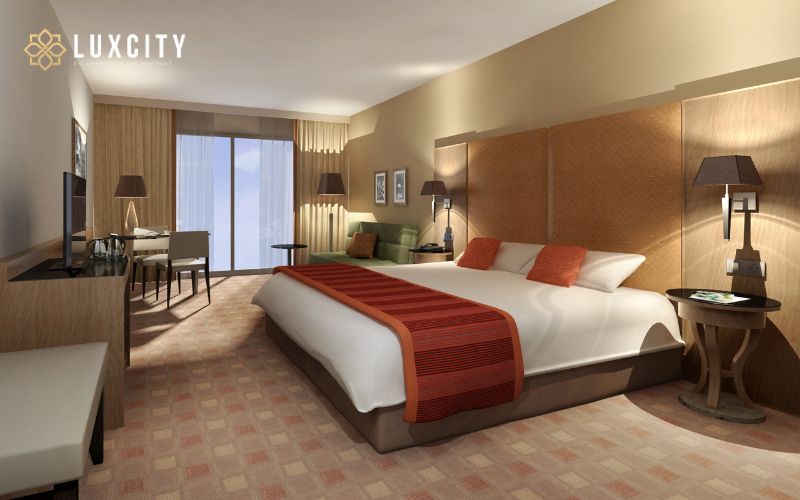 What makes a 3-Star Hotel?
A three-star hotel offers a balance between price and amenities. They are typically the mid-tier option of upscale hotel chains, emphasising style, and comfort. Three-star hotels may not be ultra-luxurious, but guests can expect to have their basic needs met and extras to make their stay more enjoyable.
Rooms are typically large, with a couch or comfortable chair, a desk, a closet, a phone, an alarm clock, and a flat-screen TV with extended cable packages. These hotels may also provide on-site amenities such as free Wi-Fi, a gym, a pool, and breakfast dining facilities.
3-star hotels are typically located near restaurants and local attractions such as amusement parks, theatres, and stadiums. Because they cater to business travellers, they are strategically located near major cities. They also provide 24-hour front desk assistance, conference rooms, and room service to meet business needs.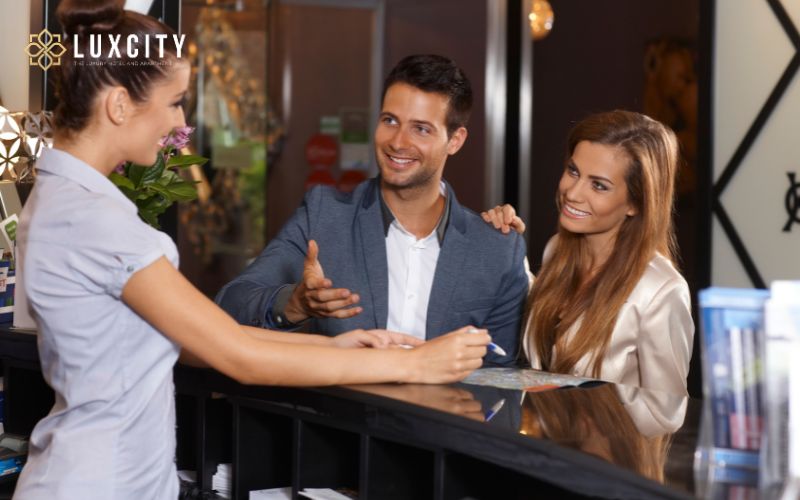 Saravoan Royal Palace
Address: HW8G+2J9, Preah Ang Makhak Vann St. (178), Phnom Penh, Cambodia.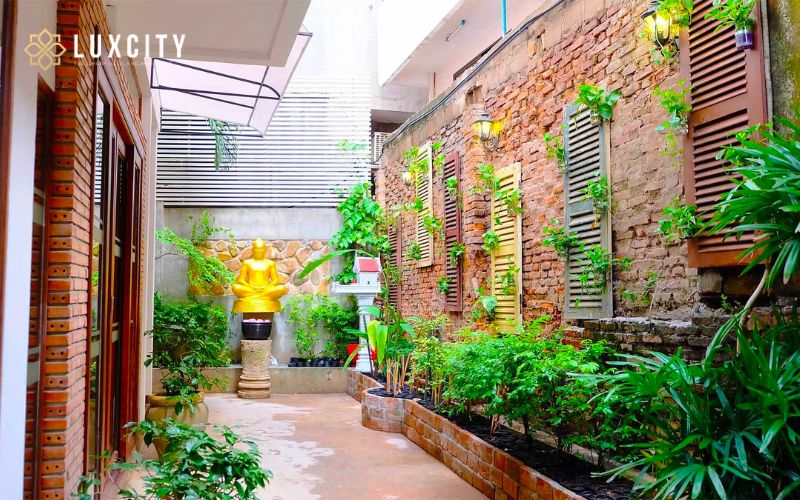 Located in the Daun Penh district, Saravoan Royal Palace offers accommodations in the heart of Phnom Penh. Guests can enjoy beverages at the in-house bar. Free WiFi is available throughout the property. It is 350 m to the National Museum and 500 m to Wat Ounalom. The Royal Palace is 950 m away, while Central Market is 1.2 km from the property. All rooms are equipped with a TV with satellite channels. Some units include a seating area for your convenience. You will find a kettle with tea/coffee facilities and bottled water in the room. All rooms include a private bathroom equipped with a bathtub or shower. You will find bath robes, slippers, and free toiletries for your comfort.
Orussey One Boutique
Address: Preah Trasak Paem St. (63), Phnom Penh 12208, Cambodia.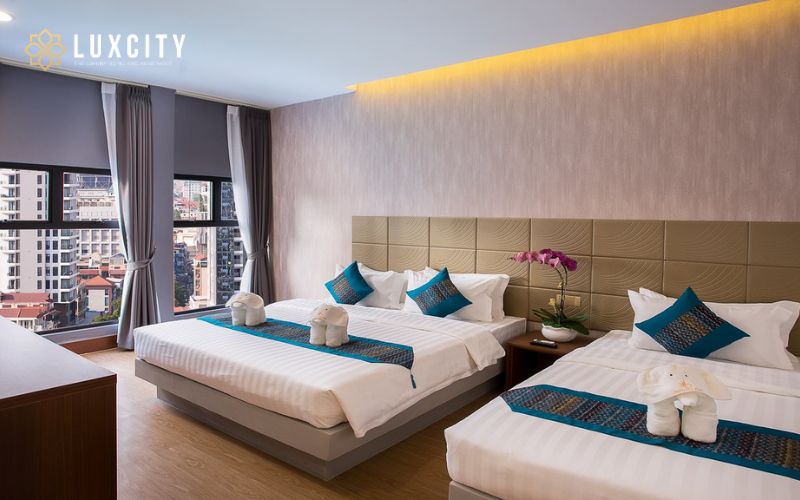 Greeted with a drink and cold towel upon arrival, Orussey One Boutique is conveniently located within a 20-minute walk from Central Market and Orussey Market. It features 2 dining options, a spa, and free Wi-Fi access throughout the entire property. Offering city views, air-conditioned rooms are well-equipped with a safe, a flat-screen cable TV, a minibar, and complimentary tea/coffee-making facilities. The en suite bathroom includes a hairdryer, hot/cold shower, towels, and free toiletries.
Homesyn Hotel
Address: #23AB Street 278 Boeng Keng Kang Ti Mouy, Phnom Penh, Cambodia.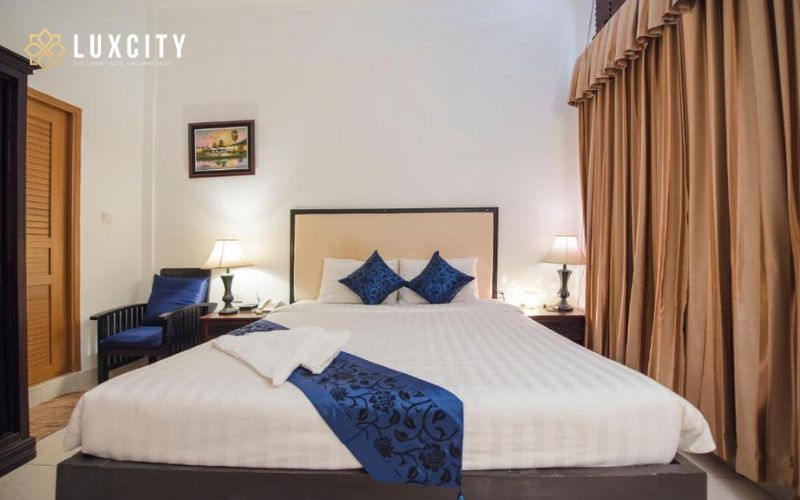 Located in Phnom Penh, 1.7 km from Tuol Sleng Genocide Museum, Homesyn Hotel provides accommodation with a restaurant, free private parking, a fitness centre, and a bar. This 3-star hotel features free WiFi and a garden. The accommodation features a 24-hour front desk, room service, and currency exchange for guests. We liked this hotel so much that we booked an additional night's stay! The staff is superb from the guy at the door to the man and lady who look after the reception. Friendly and helpful. Our twin room was lovely as was the ensuite. The shower had hot water and a shower screen. Both were spotlessly clean. The beds were comfy. The hotel is on a narrow side street off the main road. As a result, our room was quiet, allowing us a good night's sleep. The fridge and air conditioning both worked well. A kettle with tea and coffee in the room was a nice touch. It is only a short stroll to nearby restaurants and shops.
Silver Mounts Hotel
Address: 37 Street 172, Phnom Penh, Cambodia.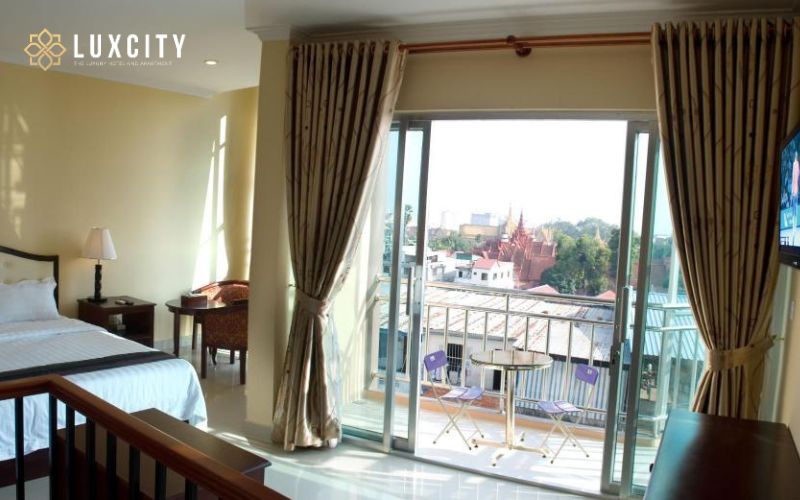 Overlooking the historic Wat Ounaloum Pagoda, Silver Mounts Hotel offers Cambodian-style accommodation in Phnom Penh. Guests can enjoy meals at the in-house restaurant or have a drink at the bar. Free WiFi is available in public areas. Unique rooms offer a blend of modern furnishings and Cambodian accents. Guests have the use of a safe, fridge, and free tea/coffee-making amenities. Hairdryers are provided in private bathrooms. Guests can approach the 24-hour front desk for currency exchange, luggage storage, tour arrangements, ticketing, and concierge services.
ARK Hotel
Address: 1019 Phnom Penh, 12102, Cambodia.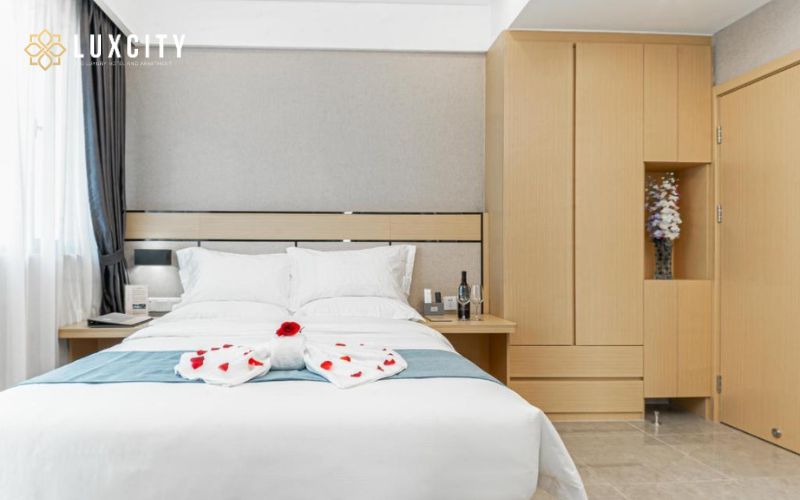 Located in Phnom Penh, within 6.8 km of Tuol Sleng Genocide Museum and 7 km of Vattanac Capital, ARK Hotel provides accommodation with a terrace as well as free private parking for guests who drive. Featuring an outdoor swimming pool, the 3-star hotel has air-conditioned rooms with free WiFi, each with a private bathroom. The hotel features family rooms. Guest rooms at the hotel are equipped with a flat-screen TV and a safety deposit box. At ARK Hotel, each room has bed linen and towels. You can play table tennis at the accommodation. Staff speaks English, Khmer, and Chinese at the reception.
Hello Cambodia Boutique
Address: Bakeng Road, Sangkat Svay Dangkum, Siem Reap, Cambodia.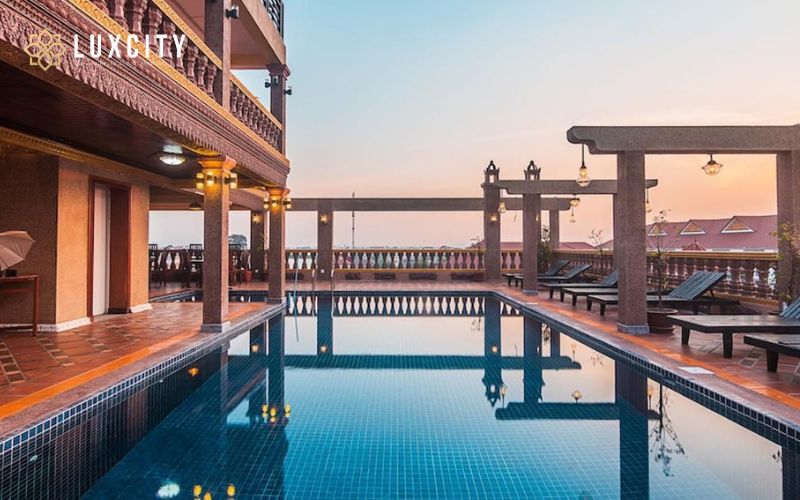 Hello Cambodia Boutique is an accommodation located in Siem Reap, 1.6 miles from King's Road Angkor, that features an outdoor pool, free private parking, a garden, and a patio. There is a business centre and a concierge at this 3-star hotel. There is a 24-hour front desk, complimentary airport shuttle service, room service, and WiFi in public areas. Air-conditioned rooms with a desk, a kettle, a refrigerator, a minibar, a safe, a flat-screen TV, and a private bathroom with a shower are available at the hotel. All of the rooms at Hello Cambodia Boutique include linens and towels already.
The Five Senses Boutique Hotel
Address: House NA, Street Riverside, East Street, Wat Damnak Village, Sangkat Sala Kamroeuk, Siem Reap.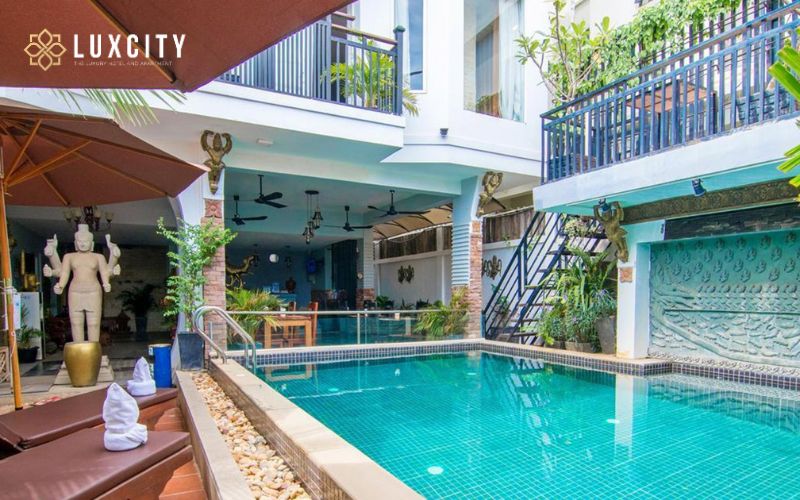 The Five Senses Boutique Hotel is a 3-star property in Siem Reap that features an outdoor pool, a patio, and a bar. It is located about 450 yards from King's Road Angkor. This 24-hour front desk and concierge service hotel has three stars and free WiFi. A few of the rooms here at the hotel have balconies that look out over the pool. There will be a flat-screen TV, a safety deposit box, a minibar, a wardrobe, a kettle, a refrigerator, a minibar, a wardrobe, a safety deposit box, and a shower in each of the hotel rooms. Bed linens and towels are provided in each room at The Five Senses Boutique Hotel.
Villa Um Theara
Address: #150, Wat Bo Road, City Central, Siem Reap.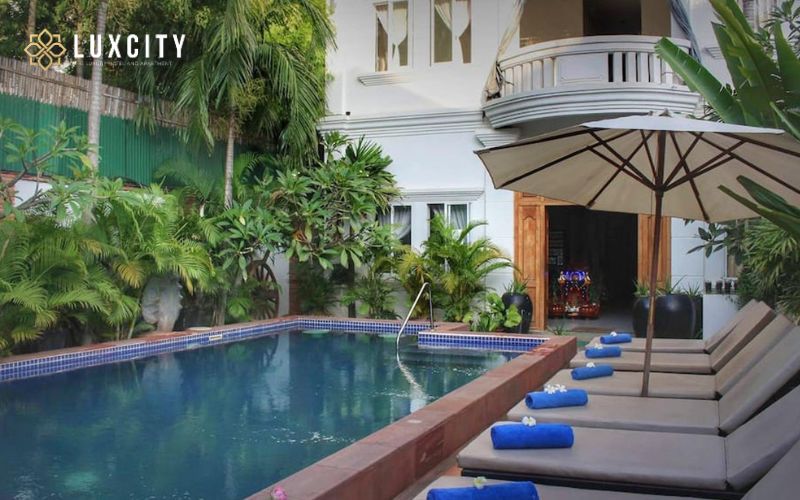 You can reach the Siem Reap Resident Royal Palace from Villa Um Theara in about 7 minutes because to its convenient location in Wat Bo Village. There's a pool outside, and the rooms are classy and spacious. There is free WiFi all across the premises. The property is within a ten-minute stroll from both the historic Old Market and lively Pub Street. At only 4.3 miles away lies Siem Reap International Airport, and at 6.8 miles is the Tonle Sap ferry dock. Both the airport and Angkor Wat Temple are on the World UNESCO Heritage List.
Wat Bo Inn
Address: Banteay Chas, Slokram, Siem Reap.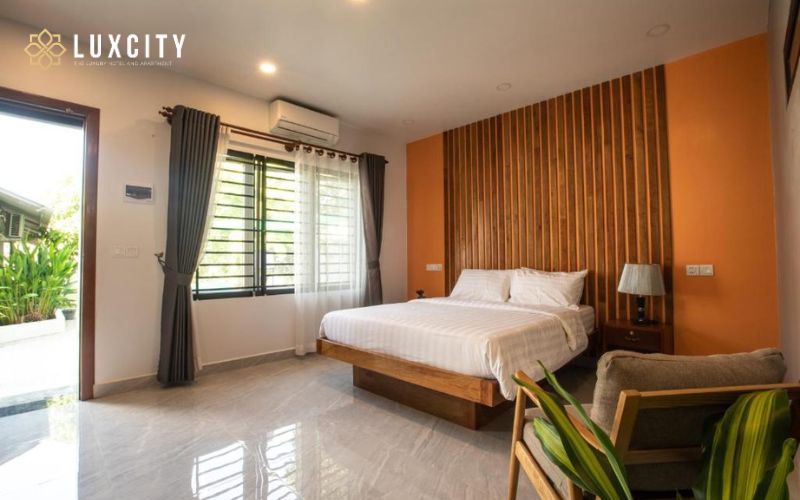 The 3-star Wat Bo Inn is situated in Siem Reap, about 4 kilometres from Angkor Wat and 2 kilometres from the King's Road Angkor. The 3-star inn features a garden and offers comfortable rooms with free WiFi and en suite bathrooms. Guests may take advantage of the hotel's currency exchange, concierge, and room service. Each room at the inn is furnished with a desk. There is a kettle in each room, and some also have a fridge. There are closets in the rooms for guests to use. For breakfast, guests at Wat Bo Inn may choose between an Asian or vegetarian option. This is a three-star establishment with a table tennis table and a well-known bicycle route nearby.
The Local Time Village
Address: Svaydangkum Commune #083, Taphul Village, Siem Reap.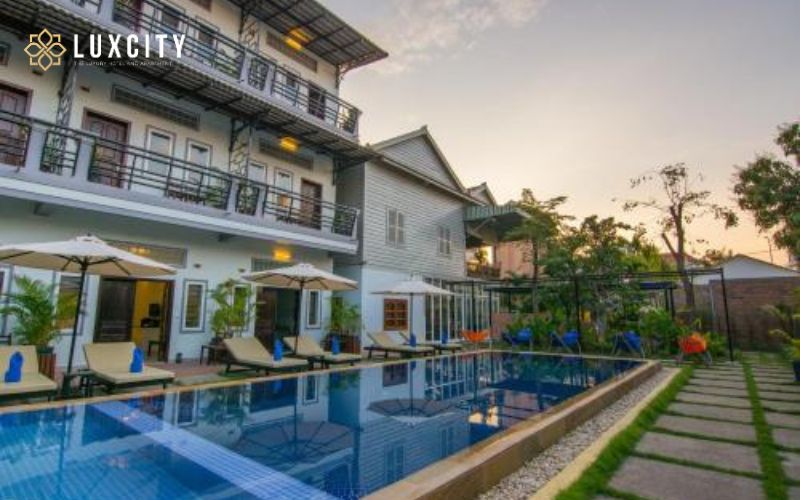 This affordable option in Siem Reap features a garden, an outdoor pool, and free parking just 1.2 kilometres from the popular King's Road Angkor. There's a tour desk and baggage storage at this 3-star hotel. The hotel has a 24-hour front desk, complimentary airport shuttle service, a concierge, and WiFi access.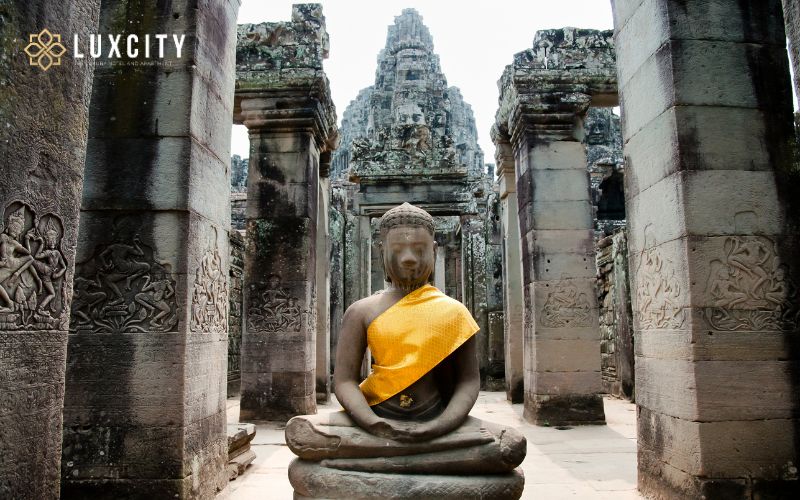 Whether you're visiting Cambodia for its rich cultural heritage, natural beauty, or vibrant cities, a 3-star hotel can be a great way to enhance your trip and connect with local communities. So, if you're planning a trip to Cambodia, consider staying at one of the best 3-star hotels I have recommended in this blog. Don't miss out on the chance to experience Cambodia's hotels' warmth, hospitality, and charm. And if you wanna explore more travel tips compiled by Cambodian locals, check out my blog: https://luxcity.com/blog.