2023-01-29
The best 7 luxury hotels in Siem Reap for a delightful trip in 2023
Siem Reap (see-em ree-ep; ), the city that serves as a gateway to the Angkor temple complex, was meant for greatness from the beginning. Of course, the temples themselves are a major draw for tourists, but there is also plenty to see and do in the surrounding area. The city of Siem Reap has transformed into the cultural and artistic hub of Cambodia, boasting everything from backpacker party hostels to chic hotels, world-class restaurants serving a wide variety of cuisines, luxurious spas, fantastic shopping, exciting tours that cater to both foodies and adventurers, and the country's preeminent contemporary circus.
If you are planning a vacation to this vibrant city, here are the best 7 luxury hotels in Siem Reap that will make your stay more comfortable and memorable.
Read more:
Anantara Angkor Resort
Anantara Angkor Resort offers a magnificent base from which to visit the UNESCO-listed ruins of Angkor Archaeological Park, the gorgeous Tonle Sap Lake, and the attractive town of Siem Reap, all within a short drive.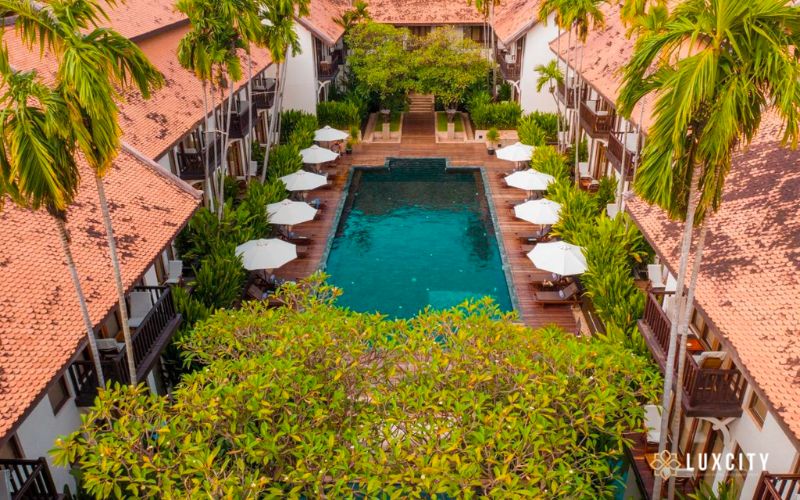 The resort's architecture blends Khmer and colonial styles, and its suites look out over tropical foliage. Some of the larger suites on the higher floors even include private plunge pools and spacious living spaces, while all 39 suites have their own private courtyards or terraces with a personal butler.
Guests at the Anantara Angkor Resort are treated like royalty from the moment they arrive, with free airport transfers, a welcome foot ritual, fresh fruit delivery, stocked minibars, and knowledgeable local guides eager to show them the finest the area has to offer.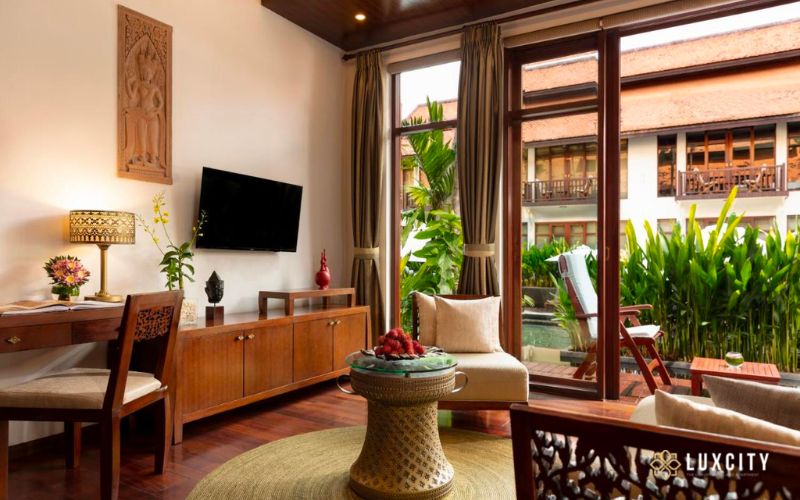 The rooms at the Anantara Angkor Resort are decorated lavishly, with silk fabrics, rattan woodwork, rich crimson and gold accents, and teak flooring that glisten in the light, all of which will make you feel like Khmer royalty.
The suites, which range in size from 495 square feet to almost 2,500 square feet, are both luxurious and homey thanks to their use of natural tones, regional fabrics, and intricately carved wooden shutters and furnishings. You may have your morning coffee outside on your own private patio.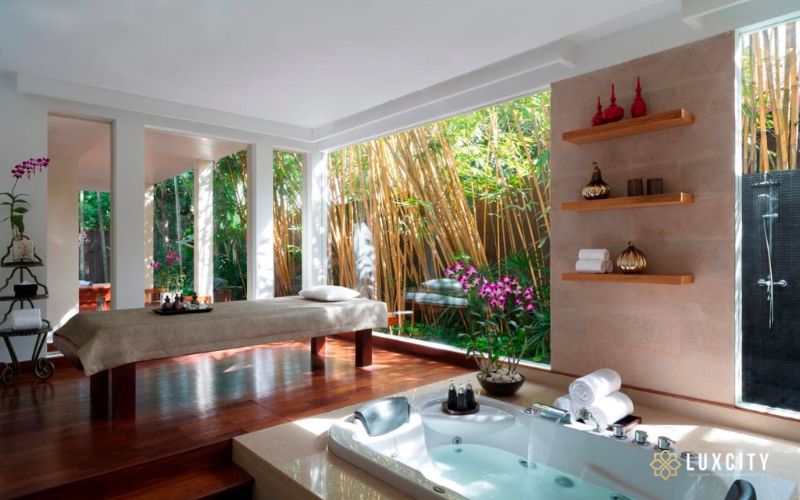 Address: 6 National Road, Siem Reap, Cambodia
Amansara
Amansara, formerly known by several various names, is yet another construction of King Norodom Sihanouk, who was extremely productive in the construction industry during the 20th century. It began in 1963 under the name Villa Princière and catered to the royal family and their visitors with low-rise structures that were both comfortable and tasteful.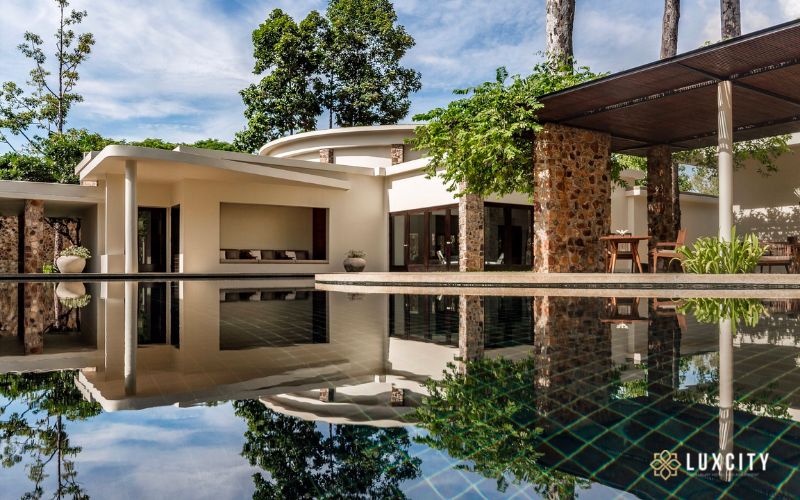 Originally built in the 1700s, it was renamed Villa Sokha in the 1970s before being destroyed in a civil war. It was rebuilt to some extent in the 1980s as Villa Apsara, but was left abandoned by the 1990s. The building was essentially a shell when Aman arrived in 2002, but after meticulous work was done using vintage photographs as a guide, it now looks as good as it did in the 1960s.
A new lap pool, spa, and fitness centre bring it into the 21st century. Yet the resort's mystique remains, as guests are still greeted in the original reception building after entering through an unmarked black gate, and the K-shaped pool remains a welcome retreat after a day spent exploring the Angkor temples, followed by dinner in the resort's distinctive circular restaurant, which is covered by a domed ceiling.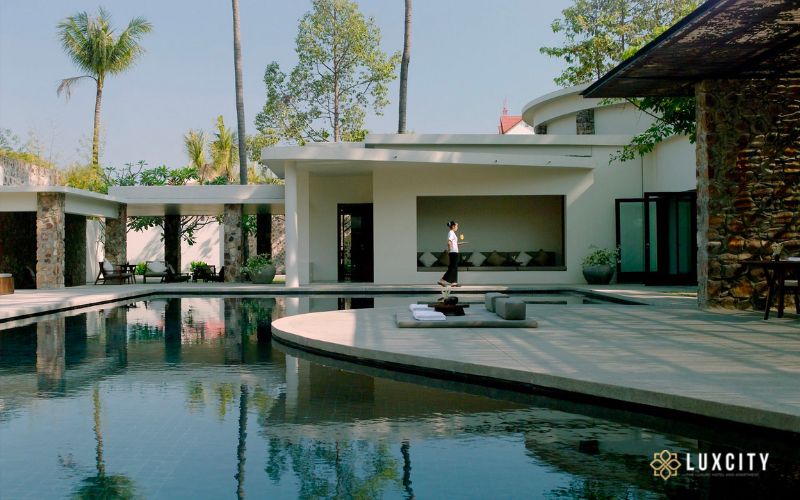 The Angkor temple complex is just a short drive away, and the tranquil centre of Siem Reap is just a few minutes' walk (or remorque trailer ride) from your door.
In keeping with the restful colour scheme of the public spaces, rooms are decorated in shades of white, grey, and brown, with pops of vivid greenery throughout. One may pick from a contemporary apartment, a courtyard suite with its own garden, or a pool suite with its own 322-square-foot plunge pool.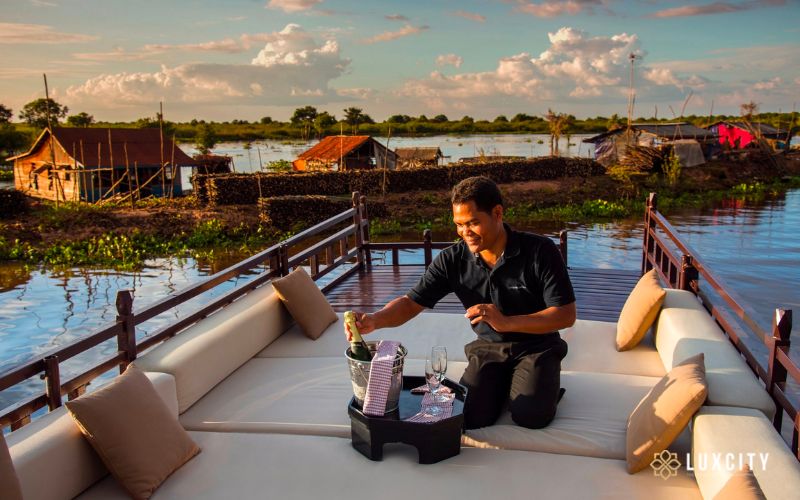 What sets Amansara apart from the other hotels in Siem Reap is its exceedingly elegant style, which is exemplified by the delicate sandstone reliefs located on the walls and which pay respect to the temples of neighbouring Angkor.
Address: Charles De Gaulle, Krong Siem Reap, Cambodia
La Résidence d'Angkor
One of the first luxury hotels in Siem Reap, La Résidence d'Angkor, A Belmond Hotel, is located on a peaceful section of riverfront just opposite the French Quarter. Peaked hard-wood rooms, pockmarked stone blocks, shuttered windows, and al fresco eating are all nods to classic Angkorian design at this urban haven.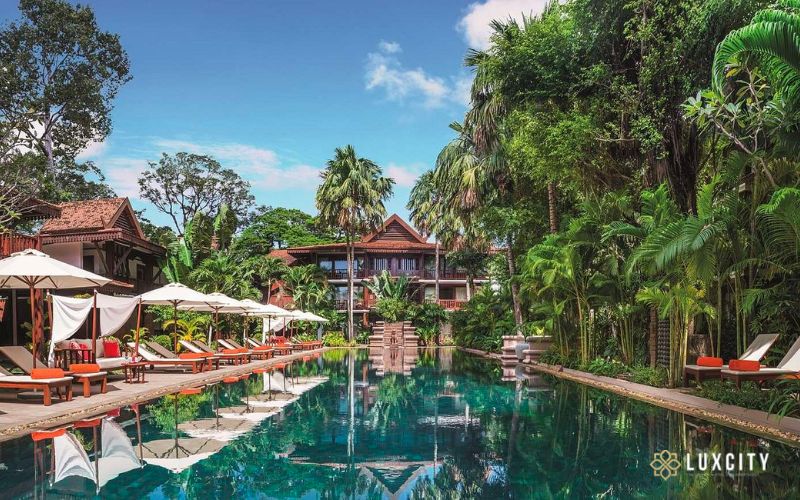 The upstairs Martini Bar's tropical lounge furniture, ceiling fans, and Christian Develter's modern art reflect this rich history-meets-new-luxury concept.
The main swimming pool, which at times feels like a lost pond hidden inside ancient ruins, is set against a backdrop of dense tropical greenery that intrudes on every aspect of the property. Both the all-day eating at Ember, which transforms into a candle-lit refuge at night, and the famous Khmer food at Circle are conveniently located nearby.
Read more: Top 10 Best Khmer Restaurants in Phnom Penh
Front desk to back office, everyone at the all-suite Siem Reap hotel provides outstanding service. Muted tones of brown, white, and orange, shuttered windows, and traditional Khmer-tiled bathroom floors maintain the room's Old World vibe.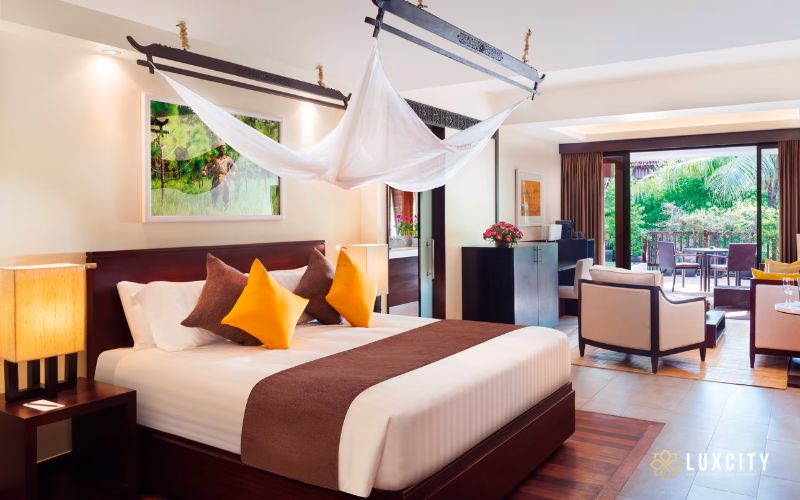 The One Bedroom Poolside Suites are our biggest accommodations. Separate living and dining spaces, a balcony, a walk-in rain shower, and an inviting big bathtub are just some of the features of this 1,324-square-foot apartment.
Address: River Road, Krong Siem Reap, Cambodia
Park Hyatt Siem Reap
The Park Hyatt Siem Reap is a serene oasis with its tropical timber furniture, Khmer design details, and quiet pools. Its proximity to popular tourist destinations including the Old Market, the Royal House, Pub Street, and Kandal Village sets it distinct from other high-end hotels in the area.
Read more: Top 10 stunning hotels near Pub street in Siem Reap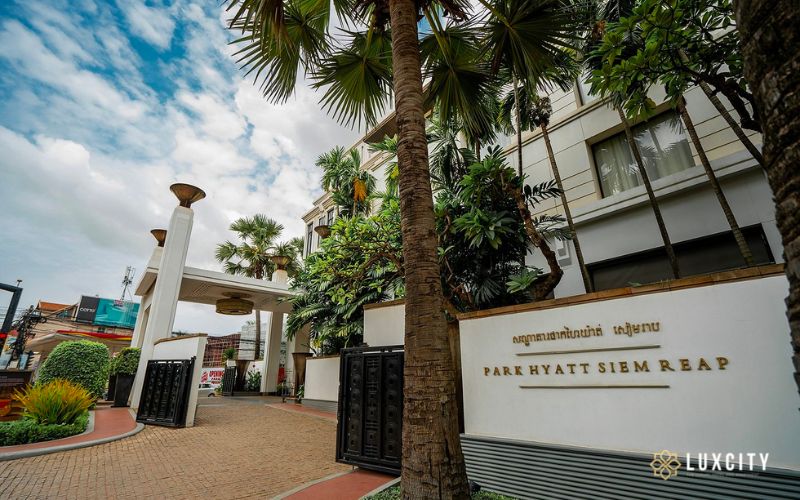 The hotel maintains Park Hyatt's status as a luxurious urban hideaway while also featuring the avant-garde touches of renowned resort designer Bill Bensley, who is based in Bangkok and Bali. The American was responsible for the property's distinctive art deco design when it first opened in 2002; ten years later, he was hired to give it a fresh new appearance while keeping many of the elements that made it so enjoyable (1930s-style door signs, for example) (elephant tusk bar tables).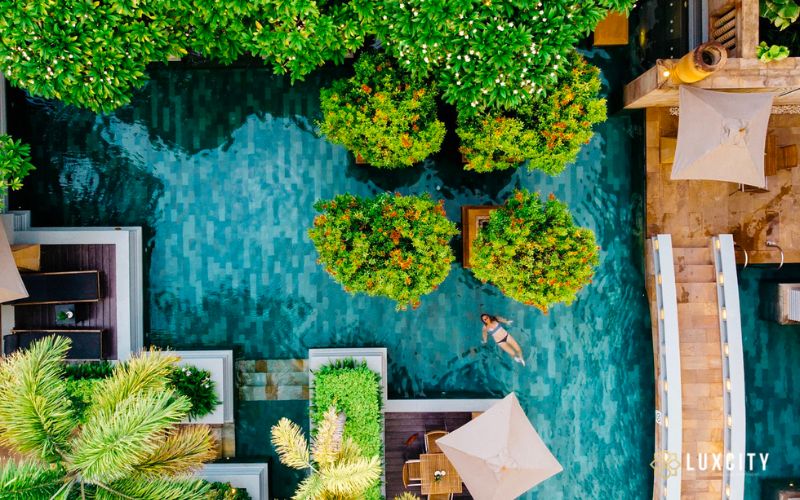 The stylish standard rooms provide views of the gardens or the city, but it's the Pool Suites that really stand out thanks to their own pools and courtyards. While the all-day Dining Room serves a variety of foreign and Khmer cuisine and the dark wood Living Room is Bensley's tribute to an explorer's boudoir, it is the light and airy Glasshouse Deli that truly captures the essence of France.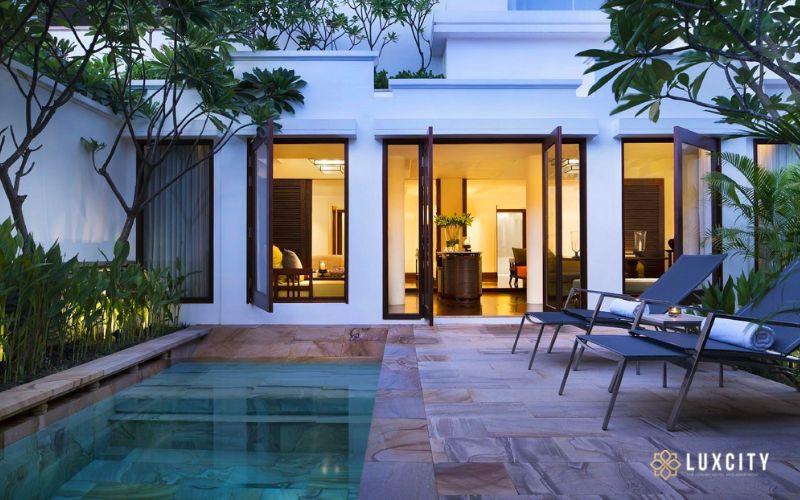 The hotel's 104 rooms and suites provide views of the city or the lush grounds. Yellows and blues from the water provide a pleasant contrast to the white, multi-tiered ceilings and dark wood furnishings. Luxury accommodations may have either a plunge pool or a rooftop garden.
Khmer-inspired artwork, colonial-style ceiling fans, and framed French plans from the early 20th century help to anchor guests in their surroundings at Angkor. All of the bathrooms are decked out in pristine white Italian marble and feature a bathtub and a separate shower.
Address: Sivutha Boulevard, Siem Reap, Cambodia
Phum Baitang
Meaning the "green village" in Khmer, 45-villa resort Phum Baitang gets the rustic-luxe recipe just right. Just a 15-minute drive from the world-famous Angkor Wat and Ta Prohm temples, Phum Baitang immerses you in the natural beauty of the Cambodian countryside.
The eco-conscious resort, which was designed by Paris-based AW2 studio, has been modeled on a traditional Cambodian village, albeit with lots of contemporary and luxurious touches. The result is a collection of spacious, stilted wooden villas — all peppered across lush green paddy fields and manicured gardens.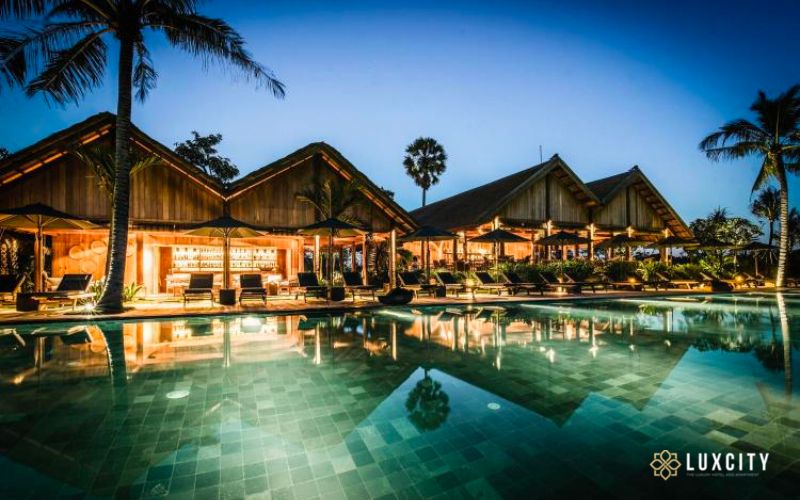 Half the fun is exploring the setting: a network of wooden walkways guides you around the grounds' restaurants, bars, enormous pool and temple-like spa. There's much to do nearby as well, from Angkor Wat to the Old Market, which sells handcrafted souvenirs and delicious street food.
Read more: Top 5 Best Places to Find Street Food in Phnom Penh You Cannot Miss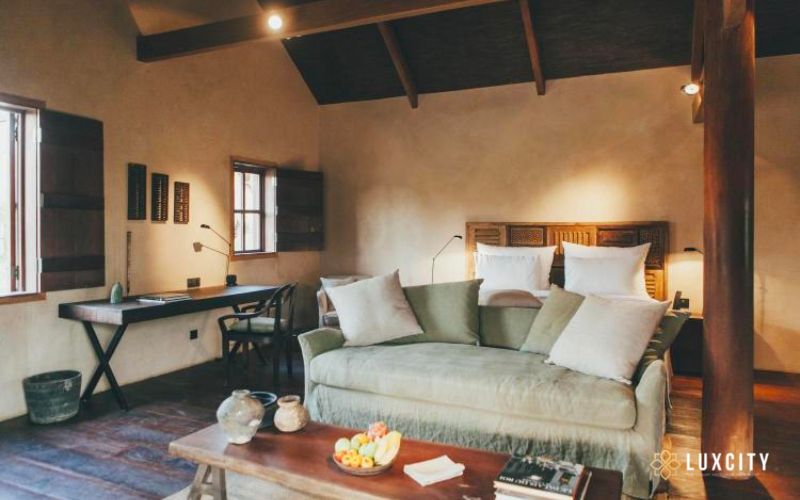 The hotel's two styles of villas, the 25 Terrace Villas and the 20 Pool Villas, both provide stunning panoramas of the surrounding tropical forest. The stilted villas are styled like traditional Khmer family dwellings and are meant to replicate the feel of a real Cambodian vacation while still providing modern comforts. Shutters of woven bamboo, roofs of straw thatch, and headboards carved from solid wood are all common features. The abundance of raw materials used helps to provide a homey, organic ambiance.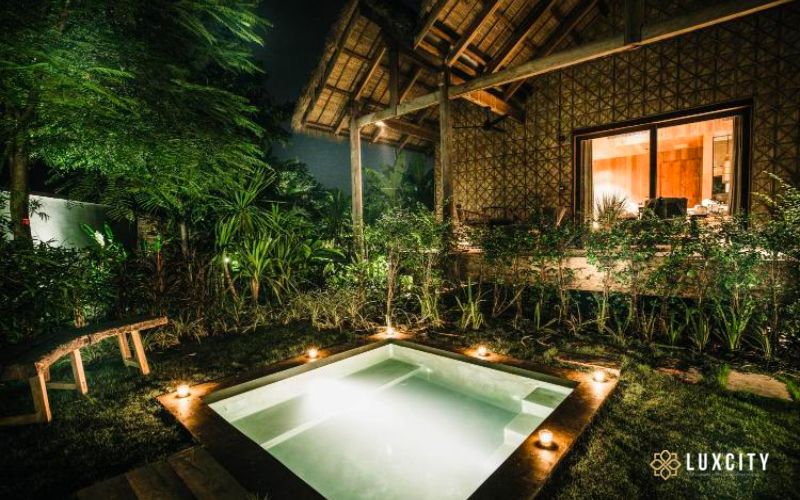 Consistent with the rest of the building, the interiors have a minimalist yet attractive design scheme in an earthy colour scheme of beige, brown, and light green. The Terrace Villas are 646 square feet and feature an understated bedroom as well as a comfortable outside sitting space. There is even more room in the Pool Villas, which are 775 square feet and come with an own plunge pool, garden, and lounge pavilion.
Address: Neelka Way, Krong Siem Reap, 17000 KH
Shinta Mani Angkor
Shinta Mani Angkor, like its sister properties Shinta Mani Siem Reap and Shinta Mani Shack, is the brainchild of acclaimed Bangkok-based designer Bill Bensley, and it is a chic combination of contemporary elegance and Khmer traditions, all overlaid with the American's signature flair.
While the long, high-ceiling corridor framed by lotus ponds that greets visitors from the road is reminiscent of Angkor Wat's corridors, the resort's predominant black-and-white colour scheme is a striking, non-traditional design decision. It can be hard to decipher Bensley's thought processes, but it seems likely that this is his vision of what a modern Angkor temple might look like.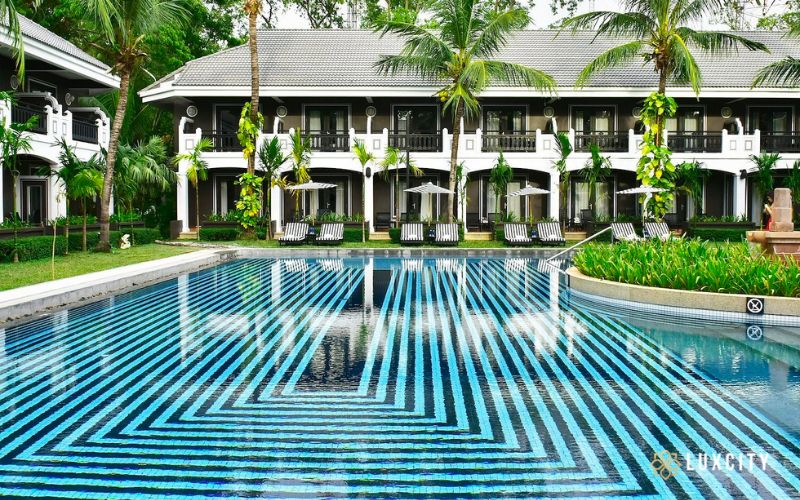 There's more to Shinta Mani than simply its aesthetics; its 39 rooms are spread out among gardens and a pool, and guests may reach them through steps and corridors that are reminiscent of Bayon's subterranean galleries. The interior features a monochromatic design that extends from the bedding to the furniture; nevertheless, the photographs of Angkorian temples that are fixed on the ceiling deserve special note since they will take you back to the ancient complex as you drift off to sleep.
The other major attraction is Kroya, an all-day eatery with swing chairs where diners may enjoy a menu of worldwide standards and dishes made with locally sourced organic ingredients while also thinking about the restaurant's striking interior design.
Rooms include artwork from designer Bensley's sprawling Bangkok studio, and his signature touches may be seen across the whole property.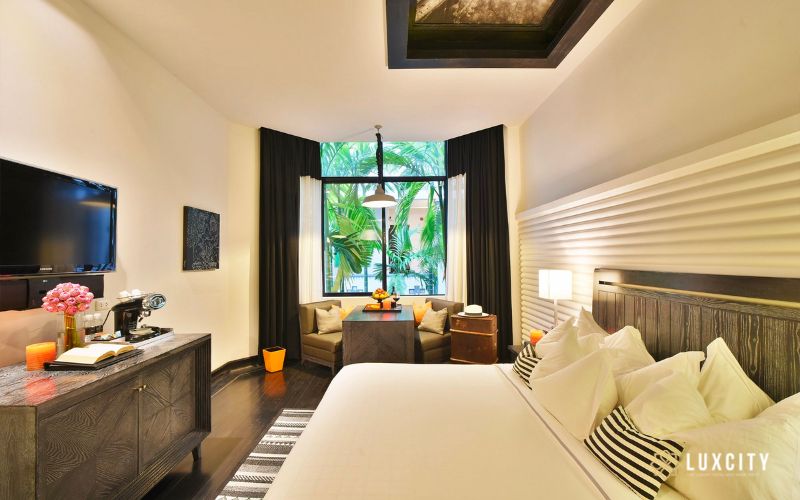 The hotel in Siem Reap is a commendable plastic-free green environment, therefore you won't find any plastic water bottles in the minibar (which, by the way, is entirely free).
Address: Oum Khun St and 14th street, 00000 Shinta Mani St, Krong Siem Reap
Six Senses Krabey Island
Located just 15 minutes by speedboat off Cambodia's southern shore, Six Senses Krabey Island is a private 30-acre island with 40 villas that showcase the resort's core values of luxury, wellness, and sustainability. In fact, as you approach the jetty, you won't be able to make out any of the private homes; just the occasional reflection in a window will give away the fact that you're looking at a hotel.
Read more: Best beach hotels in Cambodia for a perfect sunny hideaway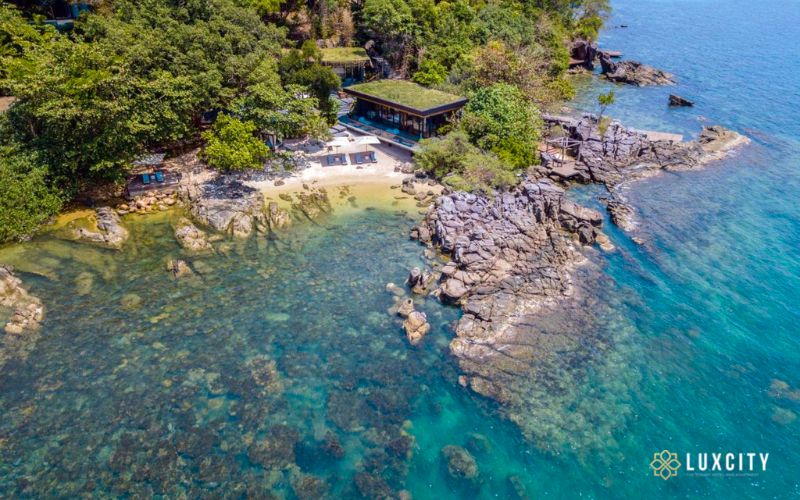 Walking or using a golf cart is the best way to explore the resort's maze of winding walkways. The main structure slopes down the hillside to a wide infinity pool, where guests may check in, dine all day, and enjoy sunset beverages.
A walkway leads from here to a secluded cove with a tiny beach and helpful employees willing to give you equipment to stand-up paddle board, kayak, or snorkel among the curious, beautifully colourful fish.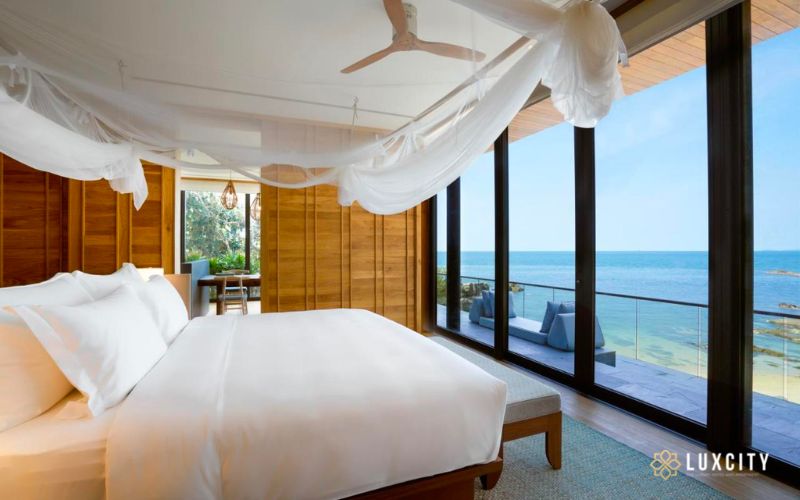 The spa on Krabey Island is the highlight of any visit there, since it is located on the island's highest point and provides a variety of treatments that include yoga and the promise of overall rejuvenation.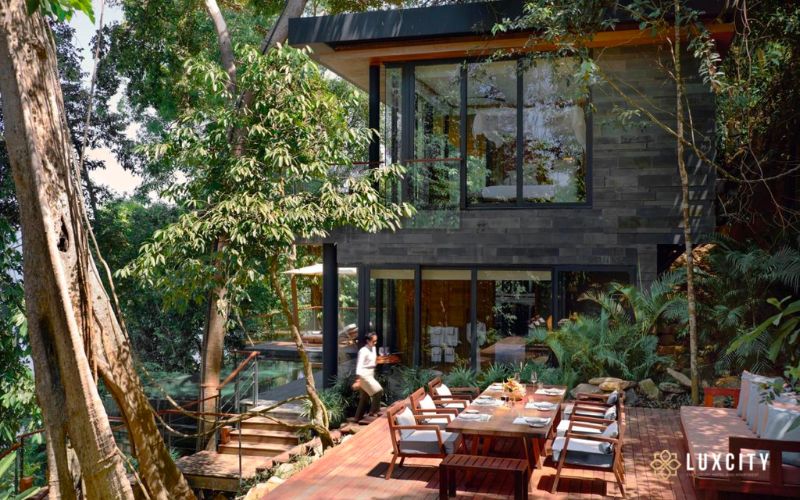 All villas have pools, so your choice comes down to whether you'd rather be in the middle of the forest or right on the beach. The Oceanfront Two-Bedroom Pool Villa is ideal for larger groups seeking both privacy and convenience, as it can accommodate up to six people across its two floors and two king-sized bedrooms. The Beach Retreat is a gorgeous 2,045-square-foot, two-villa shore-side property with a private cove and dining area, perfect for a luxurious vacation.
Address: Koh Krabey Island, Ream Commune, Preah Sihanouk Province, 18000 Cambodia
If you want to know more about how to make the most of your time in Cambodia, keep reading Luxcity.