2023-01-28
Top 5 five stars hotels in Siem Reap (2023)
The Cambodian city of Siem Reap is well-known because of its stunning Ankhor Wat Temple Complex. Visitors come from all over the world to see these world-renowned temples, which comprise one of the Seven Wonders of the World. Siem Reap itself has a thriving evening scene, equipped with a variety of pubs and restaurants. In the last decade, a great number of excellent hotels have sprung up in Siem Reap, providing guests with the opportunity to unwind in elegance while seeing the majestic temples and other nearby sites. Here are some of the top five stars hotels in Siem Reap that are sure to please luxury connoisseurs.
Learn more:
Park Hyatt Siem Reap
The Park Hyatt provides large rooms that exude Khmer-inspired luxury with a chilling vibe. Everything is opulent, from the enormous interconnecting pools to the free-floating cushioned eating platforms.
Design and style
The hotel's beautiful and imposing combination of old Khmer and ultramodern aesthetics sets the tone, and guests will not be disappointed once they inside. Guests staying at the Park Hyatt may enjoy the finest privacy with the quiet guards, as well as a completely minimalist interior, contemporary décor, and spacious room.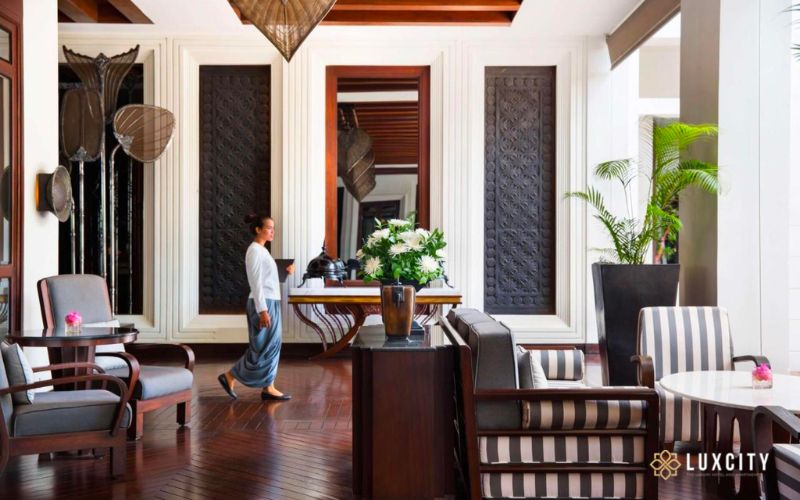 Park Hyatt's distinctive architectural identity, created by hotel design guru Bill Bensley, is complemented with many classic black and white pictures of the Angkor monuments by long-term resident photographer John McDermott, as well as art pieces by local artist Lim Muy Theam.
Service
The Park Hyatt provides swift and considerate service. With 24-hour room service, the Park Hyatt Siem Reap puts you in the lap of luxury. At the solitude of their beautiful guest rooms and suites, enjoy bespoke cuisine from some of Siem Reap's top restaurants. Whether you want breakfast in bed, afternoon drinks, or a midnight snack, their skilled staff will make sure your food is fresh, hot, and exactly to your liking.
In peak season, free traditional torch-lit Apsara dance performances in the hotel's central courtyard are held several times a week and may be enjoyed with supper or simply a drink.
The largest of the two pools is really a cluster of little interconnected pools connected by a short bridge, with lots of nooks allowing visitors optimum seclusion. The smaller saltwater pool is perfect for families. A small but well-equipped gym accompanies the seven-room spa, which has a steam room and a range of treatments.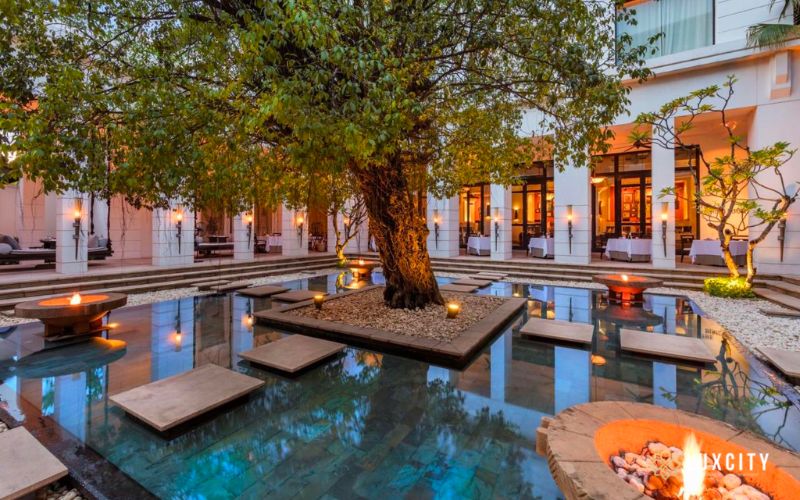 Rooms
The Park Hyatt features 104 rooms, 13 of which are suites. The ordinary rooms are big, light, and quietly beautiful, with all the expected conveniences such as air conditioning, television, a safe, a minibar, a docking station for iPads and other tablets, and a Nespresso coffee maker. Fresh fruit and Khmer-style cookies complete the image well. The opulent bathrooms are divided from the rooms by a sliding glass over the tub. Everything is in excellent shape and is pristine.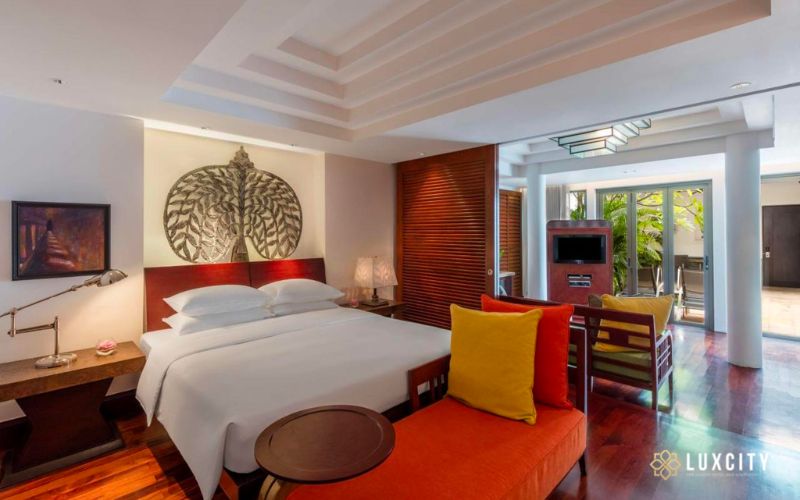 Jaya House River Park
This hidden gem is peacefully nestled near the Siem Reap River, surrounded by fully grown trees. A 36-room hotel featuring two swimming pools, a spa, and an all-day eating restaurant. The hotel is about a 6-minute tuk-tuk ride from town, in the area of the spectacular Angkor Wat temples.
Jaya House River Park combines style and a social conscience, with a design influenced by 1960s Cambodian Modernism. It has a one-of-a-kind swimming pool coated with glittering, solid silver tiles and is the country's first plastic-free hotel, helping to establish the ReFill Not Landfill project.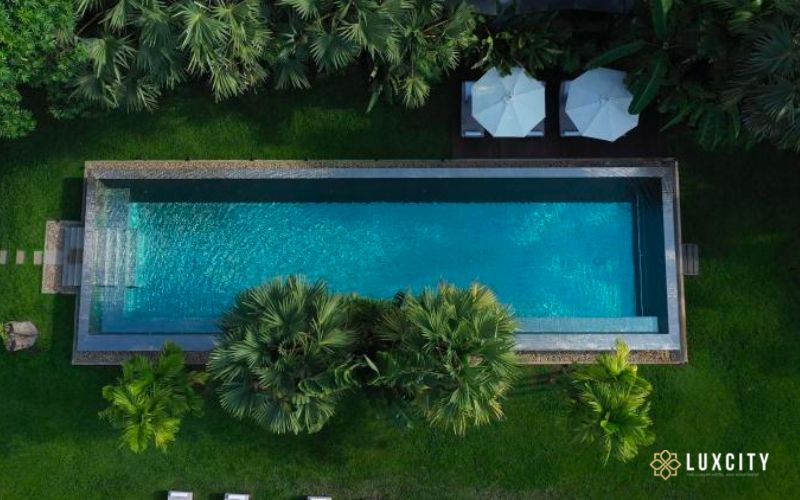 Design and style
The interiors, made from ethically sourced wood and local stone, highlight the craftsmanship of Siem Reap craftsmen. The linen uniforms were created by Eric Raisina, whose Cambodian-inspired fashion has appeared on worldwide catwalks, and the lobby has a stunning sculpture by Siem Reap-based British artist Sasha Constable. The hotel also contributes to a number of non-profit organisations. The 48 paintings shown throughout the hotel were commissioned by the city's Small Art School, which provides free art education to impoverished youngsters.
Service
Every guest is individually greeted by the management, and the staff is as kind and attentive. You may visit temples and towns on the Discovery, Explorer, and Immerse trips, or you can create a custom itinerary based on your hobbies (such as birding, kayaking, or art). The driver of the tuk-tuk will drop you off wherever you'd like inside the city, and you'll be given a phone to call for pickup whenever you're ready. After all of the touring, there are two swimming pools to relax in, as well as a modest spa with a steam room and massages using hand-crafted fragrant oils.
Rooms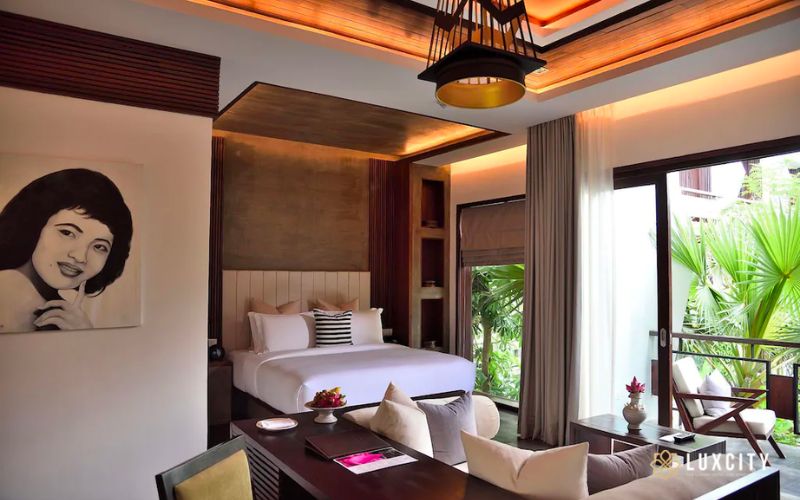 The 36 spacious rooms and suites all have a balcony or patio with views of the tropical garden. Four of the Junior Pool Suites also include outdoor plunge pools. Top-tier mattresses have relaxing neutral tones and tactile fabrics, as well as high thread-count sheets and appealing embellishments like Rehash Trash washing baskets and vintage telephones, as well as Bluetooth connectivity. The majority of the glistening bathrooms contain showers and tubs, as well as organic items made by a Siem Reap-based French perfumer. There is a complimentary minibar stocked with soft drinks and Angkor beer, as well as a Malongo coffee machine - with paper pods, of course - or try the organic herbal teas moringa, ginger, and lemongrass.
Location: River Road, Treang Village, Slor Kram Commune, Siem Reap Cambodia
Raffles Grand Hotel d'Angkor
The Raffles Grand Hotel d'Angkor is a sanctuary for the well-traveled, offering an oasis of peace and excellent inspiration. The hotel's luxurious rooms, services, and amenities offer a unique combination of old-world beauty and modern requirements, just a short distance from the temple ruins of Angkor and the busy tourist town of Siem Reap.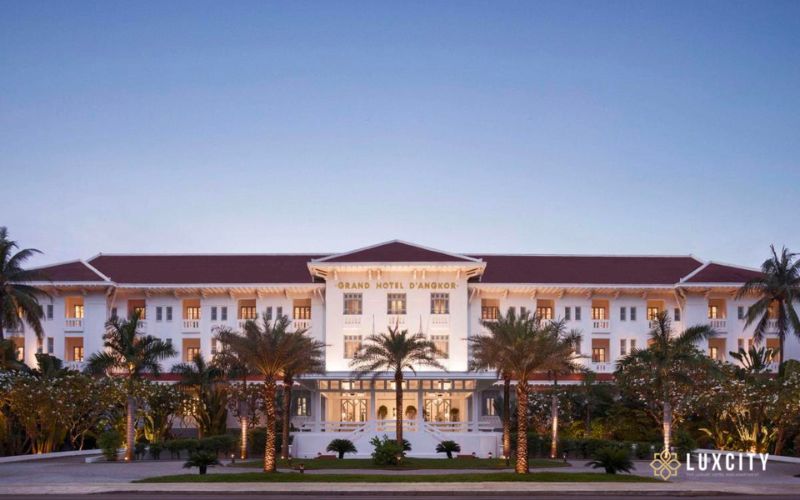 Since 1932, the Grand Hotel d'Angkor has been greeting visitors from all over the world. The Raffles Siem Reap hotel is located in the city's historic centre and offers guests a variety of unique, all-inclusive tours and activities designed to get them up up and personal with the ancient temples of Angkor and beyond.
Style and design
The Grand d'Angkor is Cambodia's oldest luxury hotel. The main structure is a massive colonial complex that will be seen by everyone who spends more than a day in town. The hotel definitely lives up to its stately appearance; the foyer, as well as the exceedingly sleek Elephant Bar, radiate colonial flare. From stunning 19th-century pictures of Cambodian life in the marble-floored halls and the old wooden elevator in the lobby to the dedicated exhibit displaying John McDermott's landmark images of the Angkor ruins, nods to the hotel's past can be found everywhere.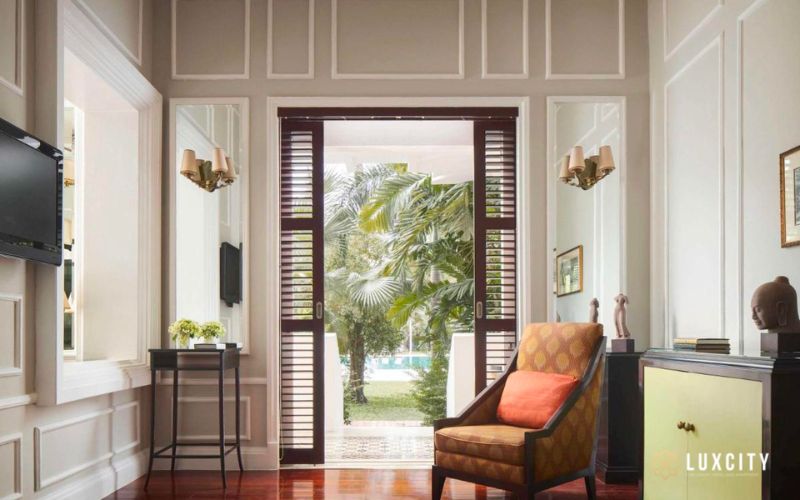 Service
Service is official, uniformed, and timely but not invasive. The facilities are basic and superb – the freshly refurbished pool is 33 metres long, making it one of Cambodia's largest. A well-equipped gym is available to guests, as is a top-of-the-line spa with six treatment rooms. The hotel also provides culinary instruction with a visit to a local market to its guests.
The classical dance Apsara shows, which you can watch while eating a delicious Cambodian buffet and barbeque dinner, are probably the best in town. There will be a blessing ceremony by monks in the early morning, a class on how to fold a lotus flower, and a masterclass on how to make a Singapore Sling cocktail. The Grand also provides many planned adventures, such as a vespa tour of the Angkor sites, a tuk-tuk shopping excursion with butler, and, perhaps most intriguingly, a visit of the workshops of several local artists. The Grand D'Anglor has eliminated the use of plastic bottles (due to its own bottling factory), and all hotel amenities are biodegradable.
Rooms
The rooms are small but flawless. The rooms include dark wood flooring, historic images on the walls, excellent faux-antique furnishings, such as vintage desk lights, and enormous, comfy double or twin beds with views of the Royal Gardens or the pool, all of which contribute to a restful stay. There is usually fresh fruit available, and the orchids are a pleasant accent.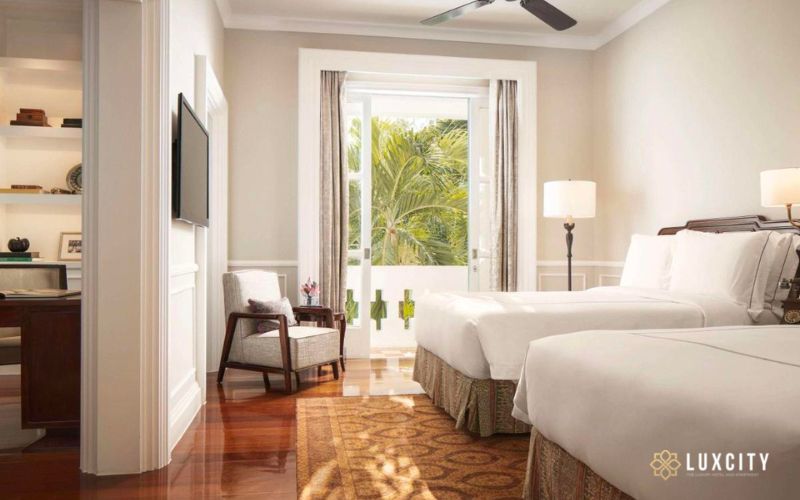 The recently restored and modern bathrooms are tiny but bright and hygienic, paved with Italian marble, and have huge walk-in showers. Some rooms have balconies where you may have a candle-lit meal.
Location: 1 Vithei Charles de Gaulle, Khum Svay Dang Kum, Siem Reap, Cambodia.
Amansara
Amansara, located just 10 minutes from the entrance to Cambodia's Angkor Wat Unesco World Heritage Site, was once the guest palace of King Sihanouk. It is a masterpiece of New Khmer architecture from the 1960s. Manicured gardens, a spa, a curving pool, and a canopy of mature trees all contribute to the heavenly tranquilly that inspired the name of this hotel, Amansara, which is located in the spiritual city of Siem Reap. Jackie Kennedy, Peter O'Toole, Charles De Gaulle, and Angelina Jolie have all stayed at the single-story residence, which is known for its excellent service and discretion, and exudes a James Bond-esque vintage cool from the 1960s.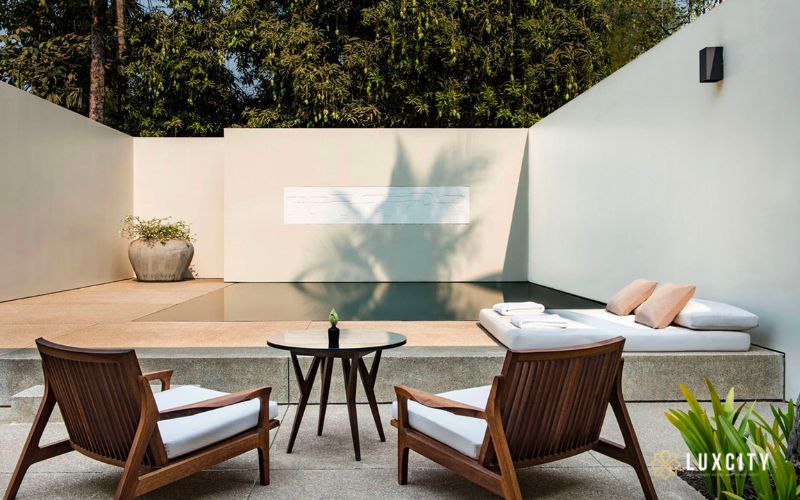 Style and design
Originally built as a guest home for King Sihanouk in the New Khmer style, this magnificent low-rise collection of rooms was abandoned in the face of revolution in 1975. Since its reopening in 2002, the structure has been meticulously repaired and extensively expanded to include 12 pool suites surrounding a grassy courtyard, making it the Amansara Siem Reap's most opulent lodging option.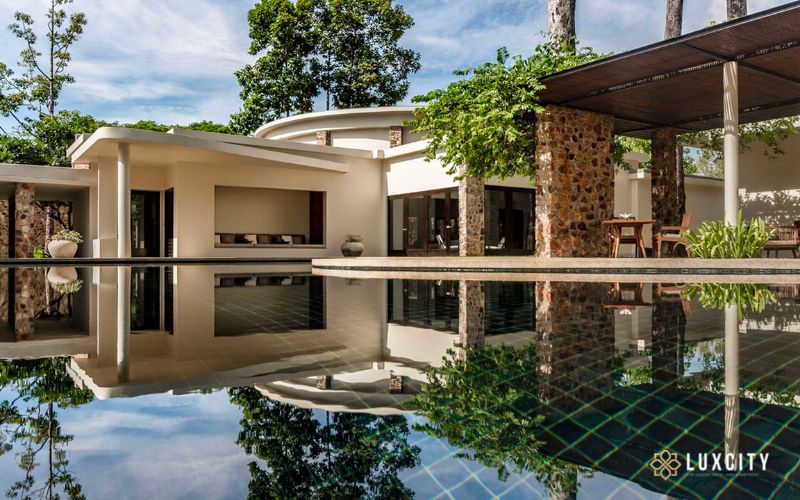 Service
The employees are hand-picked from the city's top hospitality training programmes, and they infuse their service with real charm and efficiency. Both a vintage-style pool adjacent to the historic guestrooms and a more discreet lap pool are available. The hotel package includes a daily tuk-tuk and tour to and from the Angkor temples.
The Amansara is proud of the numerous one-of-a-kind activities and services it has developed, from yoga classes to novel approaches to health and wellbeing like cranial osteopathy. A home in the community is available for hosting cooking lessons. Tonlé Sap Lake tours aboard the hotel's boats and discussions with influential locals and foreign specialists on Cambodia round out the itinerary.
Rooms
The huge rooms are decorated in the same refined vintage style as the rest of the hotel, with dark wood furnishings and white concrete walls. The walls of the private courtyard are rather high, making the view from the room's floor-to-ceiling windows seem a bit forbidding to some visitors. Each one has a tablet and built-in music system for a more contemporary feel. Private plunge pools are available in some accommodations.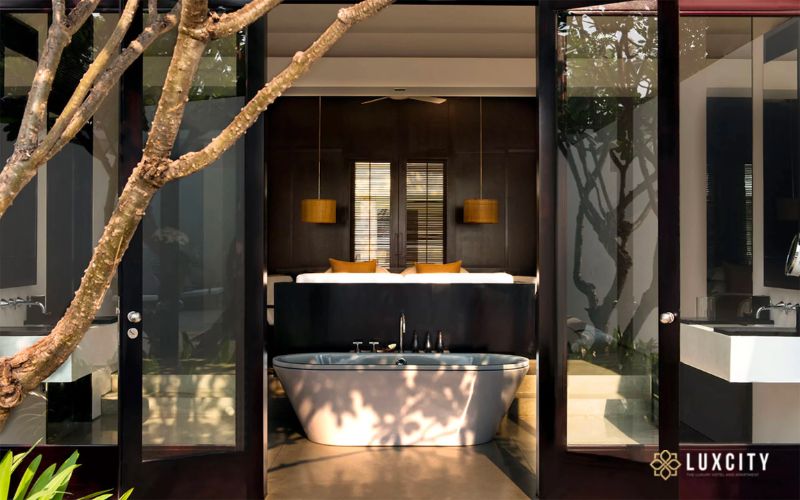 Only the toilet and rain shower are separated from the rest of the bathroom, which is otherwise open to the living area. They have roomy showers and two sink vanities.
Location: Road to Angkor, Siem Reap, Cambodia.
Sala Lodges
Sala Lodges provide a luxury opportunity to learn about rural Cambodian living. Eleven authentic Khmer homes, originally built between the 1950s and 1980s, have been painstakingly recreated in a lush tropical landscape. An amazing selection of Khmer dishes may be found at the next restaurant.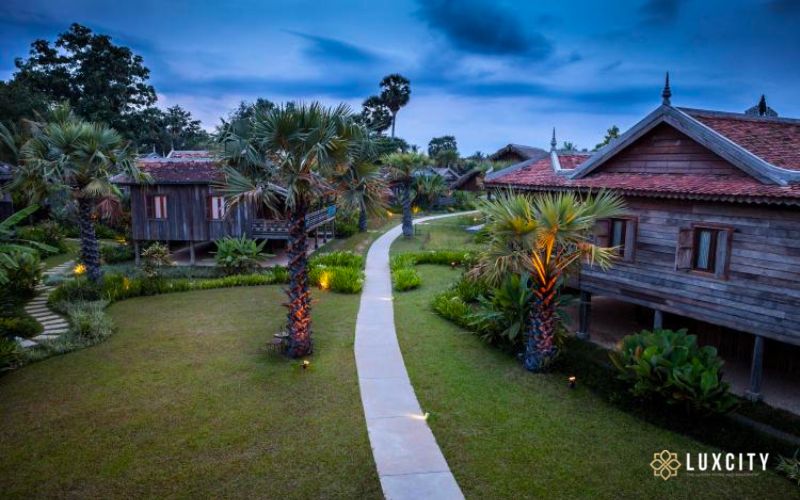 Although Sala Lodges is located somewhat removed from the main part of town to the north, a tuk-tuk journey to the ancient market takes about five minutes. The ride in a cab to the airport should take no more than twenty minutes. Just a short distance away lies the incredible temple complex of Angkor Wat. When you book directly through the hotel's website, you'll get free tuk-tuk rides between 7 a.m. and 5 p.m., as well as complimentary airport pickup and drop-off.
Style and design
The Swiss owners fell in love with Cambodian history and culture, so they purchased eleven traditional stilt homes in three different provinces, dismantled them, and reassembled them in Siem Reap with a few modifications made to make their visitors more at home. The once-typical single-family homes look almost unchanged; only the addition of insulation to the roof and updated bathrooms hint to their new function. This beautiful property has the feel of a little hamlet thanks to the thoughtful layout of the homes.
Service
Staff is kind and competent. Sala Bai Hotel Management Institute students work as housekeepers. The beautiful garden on the property is meticulously maintained. The hotel has a garden with palm trees, long grass, and ponds where they grow some of the herbs and spices they use in the cooking. Sunbathers and swimmers alike will enjoy the 20-meter infinity pool. We provide our guests with a local SIM card and bug spray.
Sala Lodges is a sustainable hotel because they use metal water bottles that can be refilled, bamboo straws for beverages, menus crafted from grass and banana tree trunks, and they feed food scraps to local pigs. Room service, as well as services like in-room massages and bicycle rentals, are available.
Rooms
There are nine one-room stilt cottages. Each of the two surviving homes has two bedrooms. The outside and interior of the homes are restored with great care to reflect their historical styles. Each room has air conditioning and is equipped with a high ceiling, a wide double bed, antique furnishings, and a balcony where guests may idle away the afternoon in peace.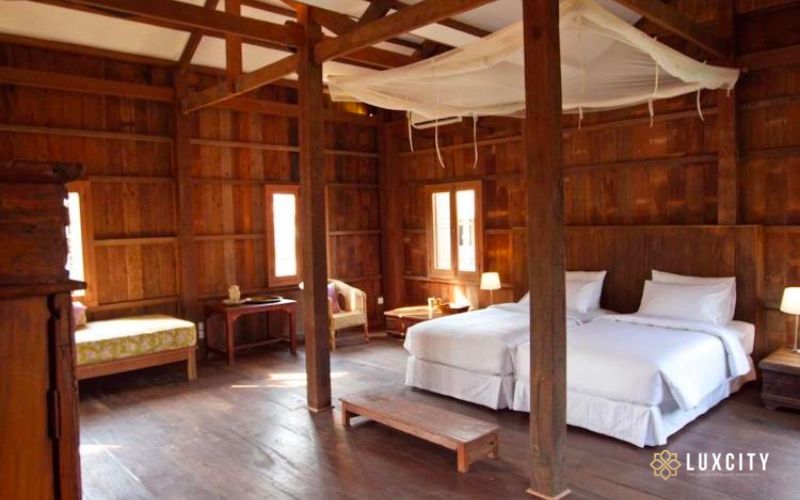 There are televisions and DVD players available in the rooms upon request. There's no charge for using the mini-bar. One honeymoon suite includes a jetted tub. Simple, immaculate bathrooms with rain showers are standard in all of the other homes.
Location: No 498, Salakomroeuk, Siem Reap, Cambodia
This hand-picked five stars hotels in Siem Reap will give you some hints. Stay subscribed to Luxcity to get the fruitful information relates to Cambodia travel.