Street 118, Sangkat Mittapheap, Khan 7 Makara, Phnom Penh, Kingdom of Cambodia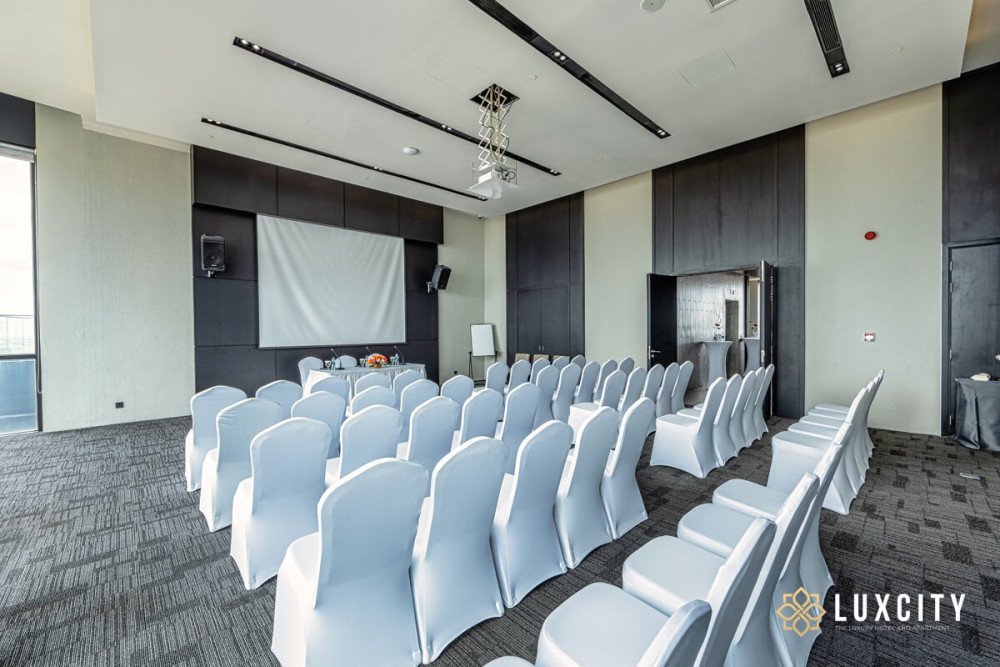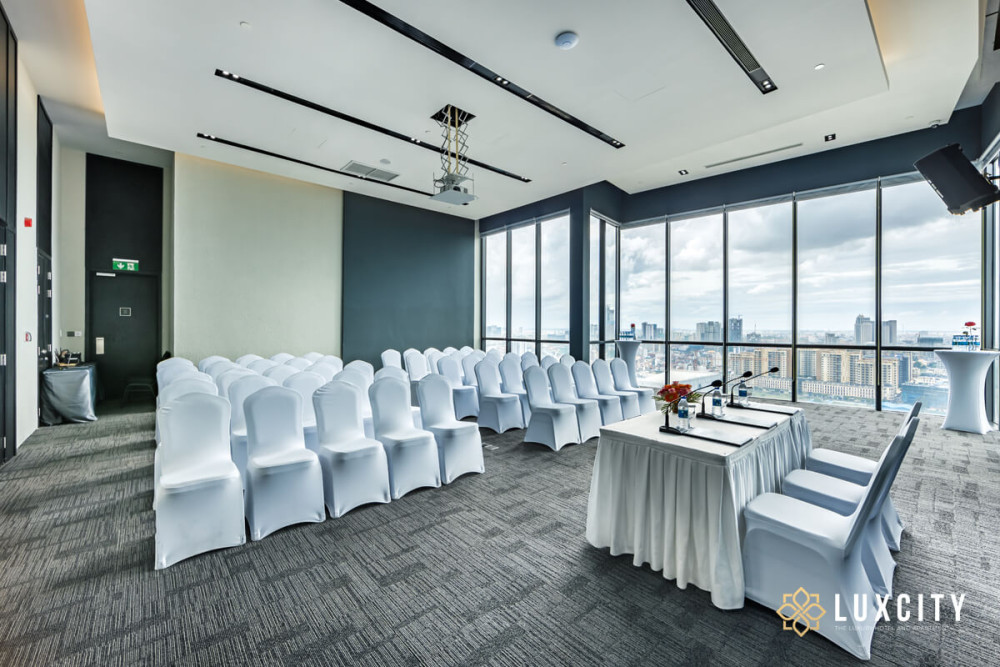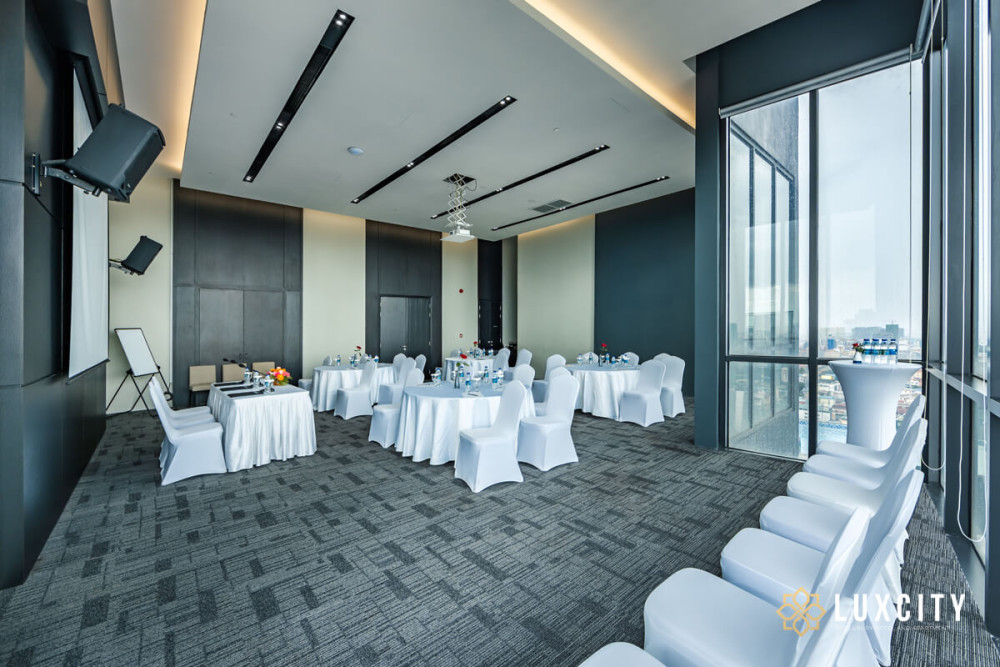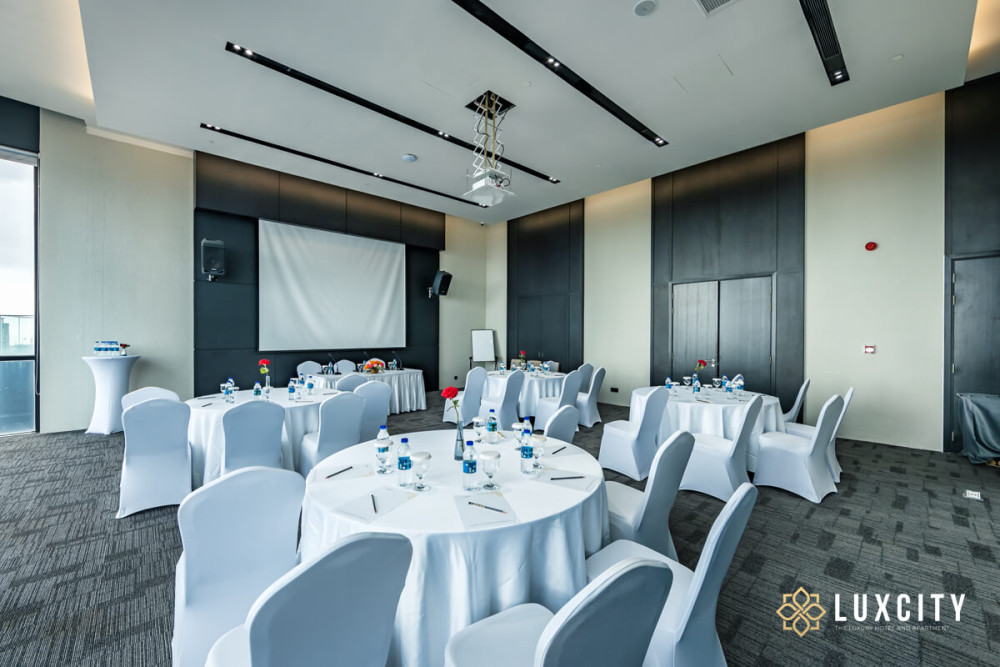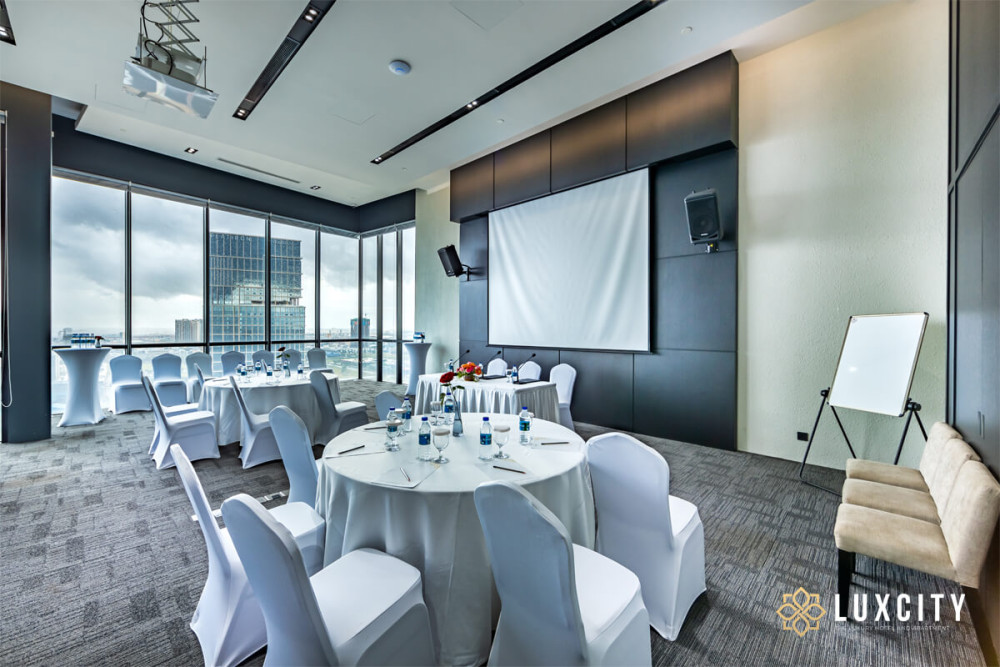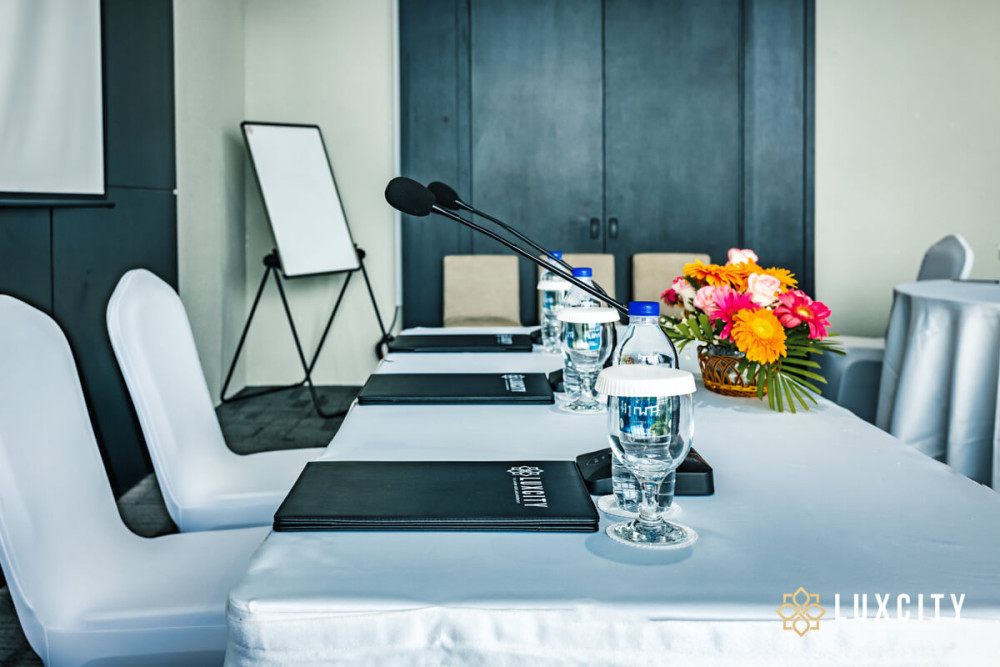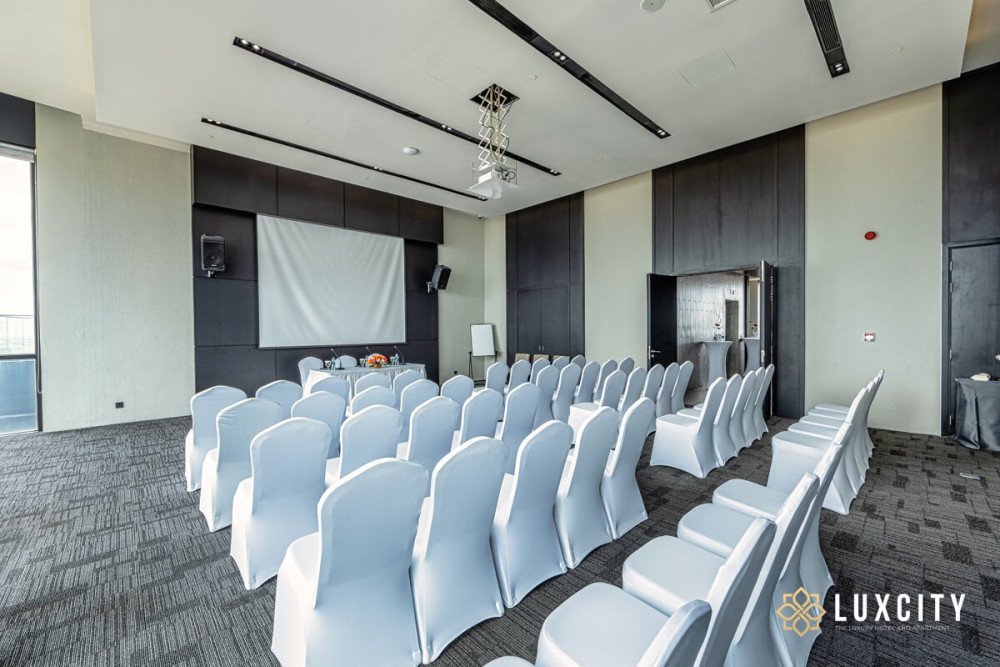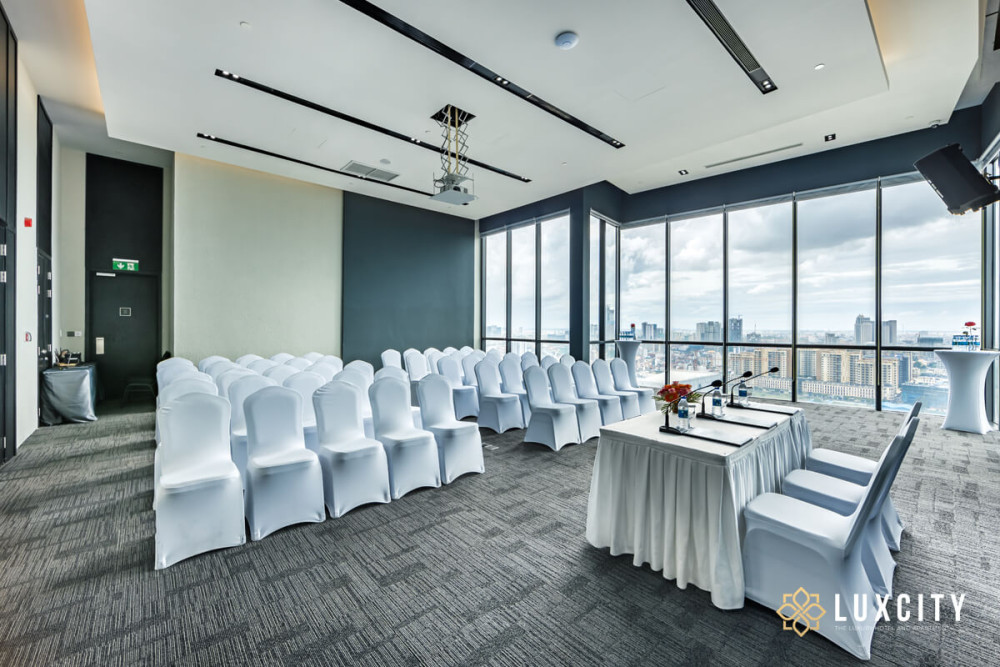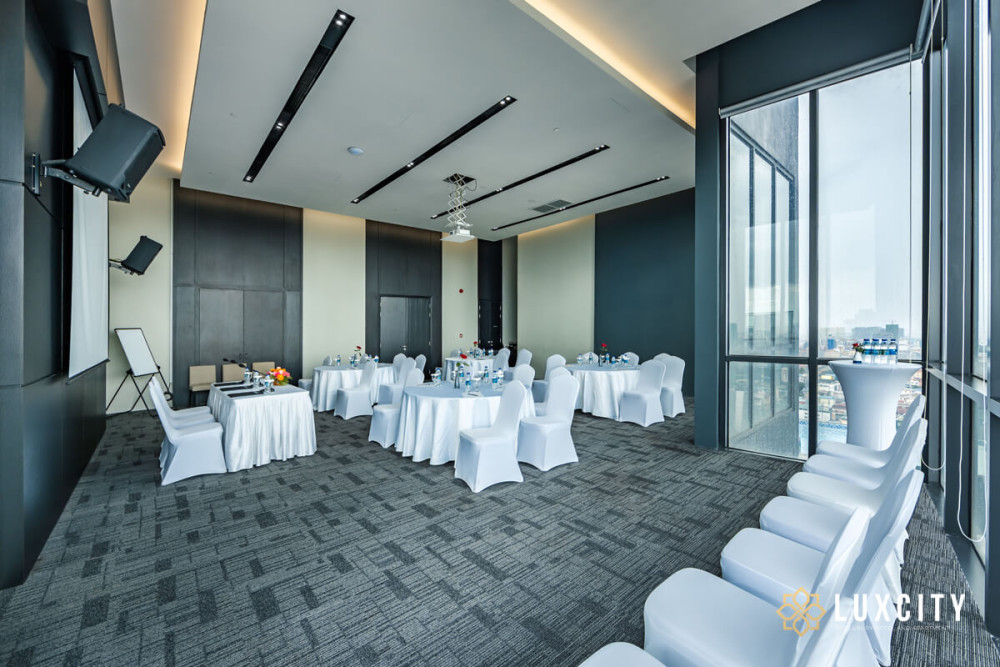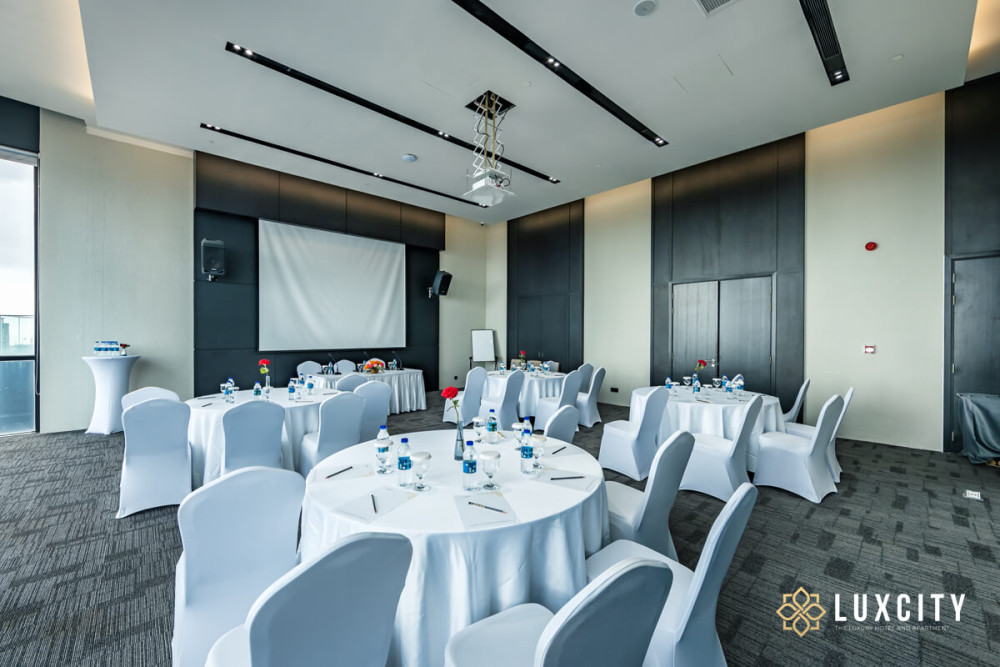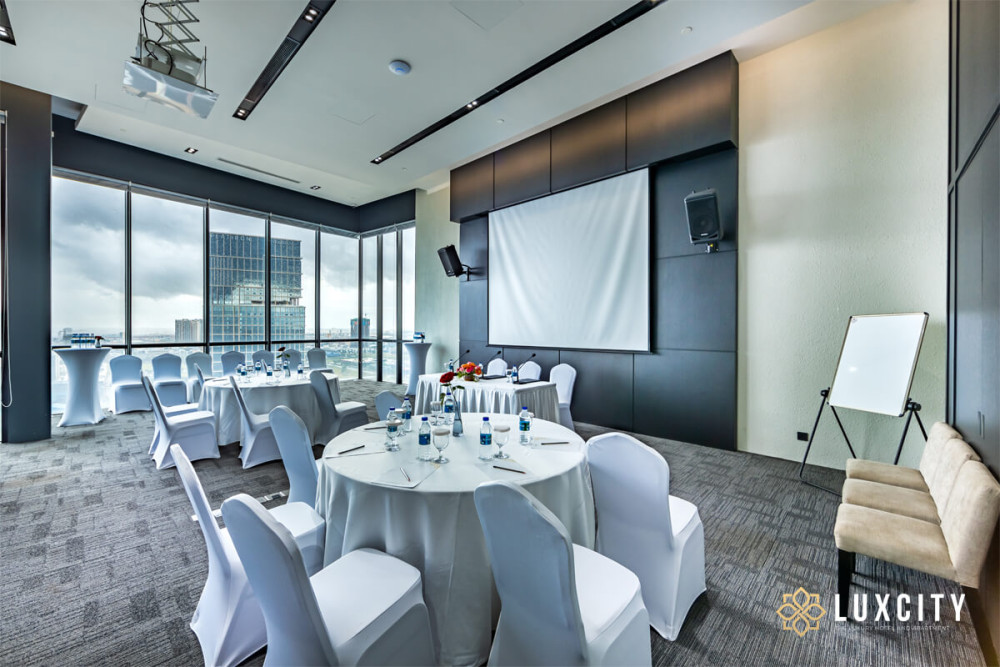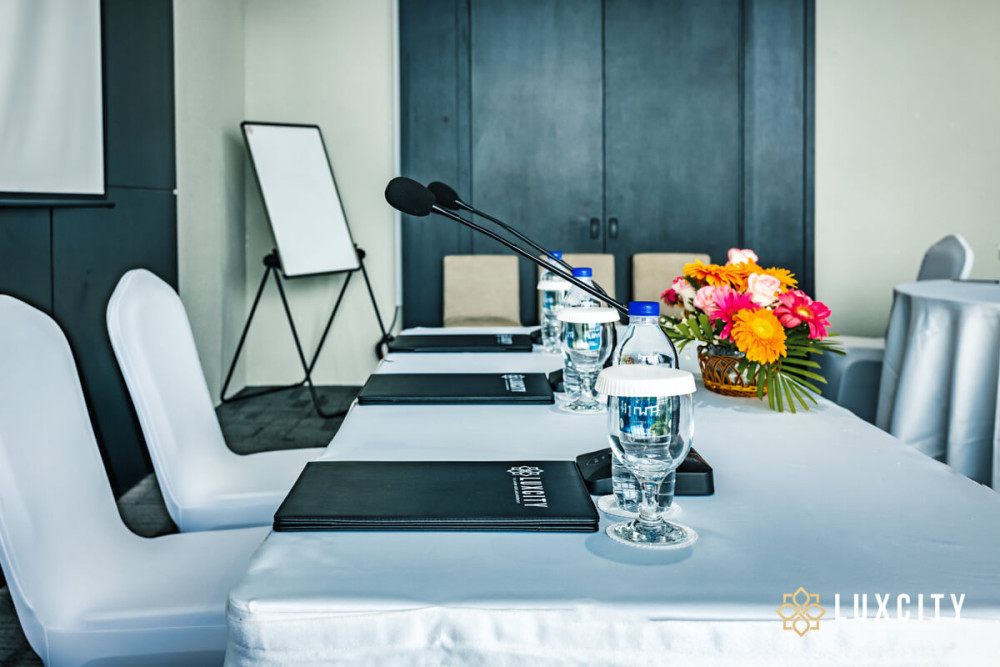 Meeting Room
Capacity:

60

Size:

84.79m²
Whatever you want to organise, whether it's a business meeting, a conference, or a celebration, there's one thing you should keep in mind. A meeting room is much more than just four walls: it is a universe of possibilities for every guest. As a result, selecting a venue that provides the appropriate amenities is critical. If you want to best conduct your event, make sure you check off each of these meeting rooms' facilities on this list! Let's find out!
Read more: What Business Travelers Want From Hotels - Top 10 Best facilities for business travelers in hotel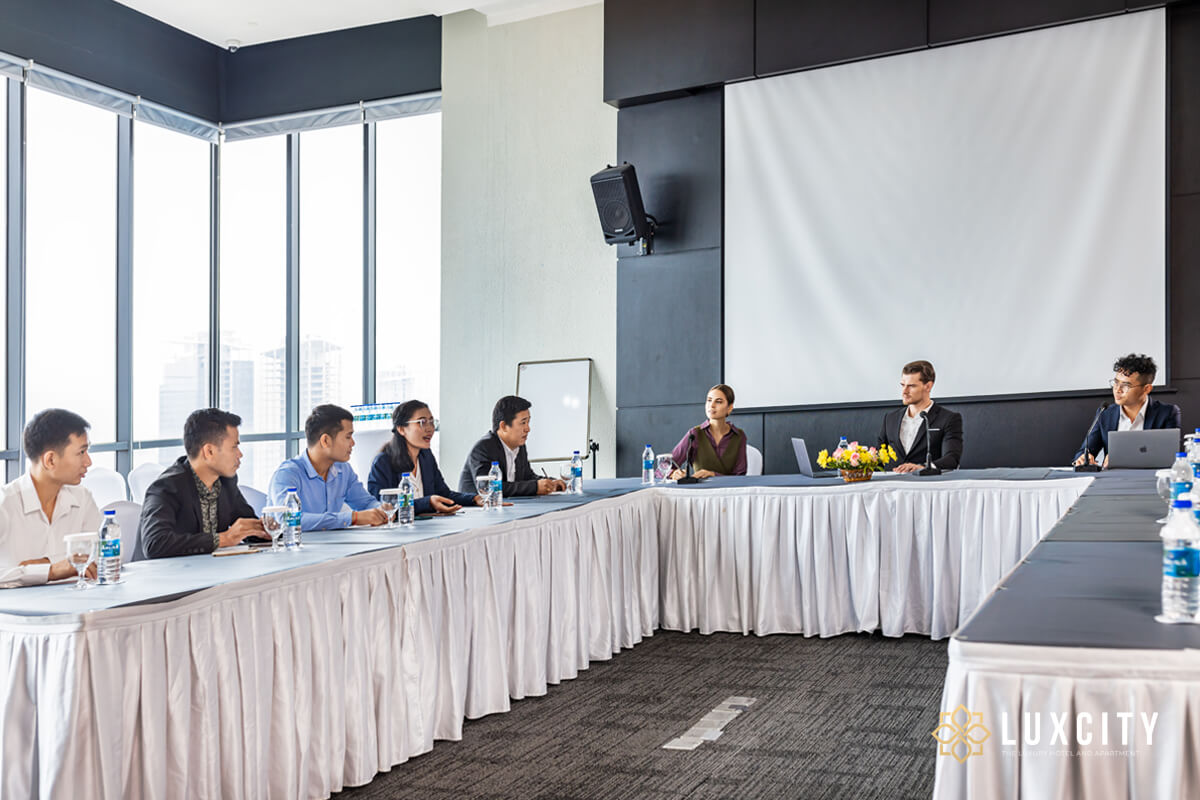 What is a meeting room?
A meeting room is a room with less than 50 seats, with equipment for group meetings. This standard specifies the requirements for rating hotels and does not apply to the rating of other types of tourist accommodation establishments. This standard can also be referenced when designing new construction, renovating, and upgrading hotels.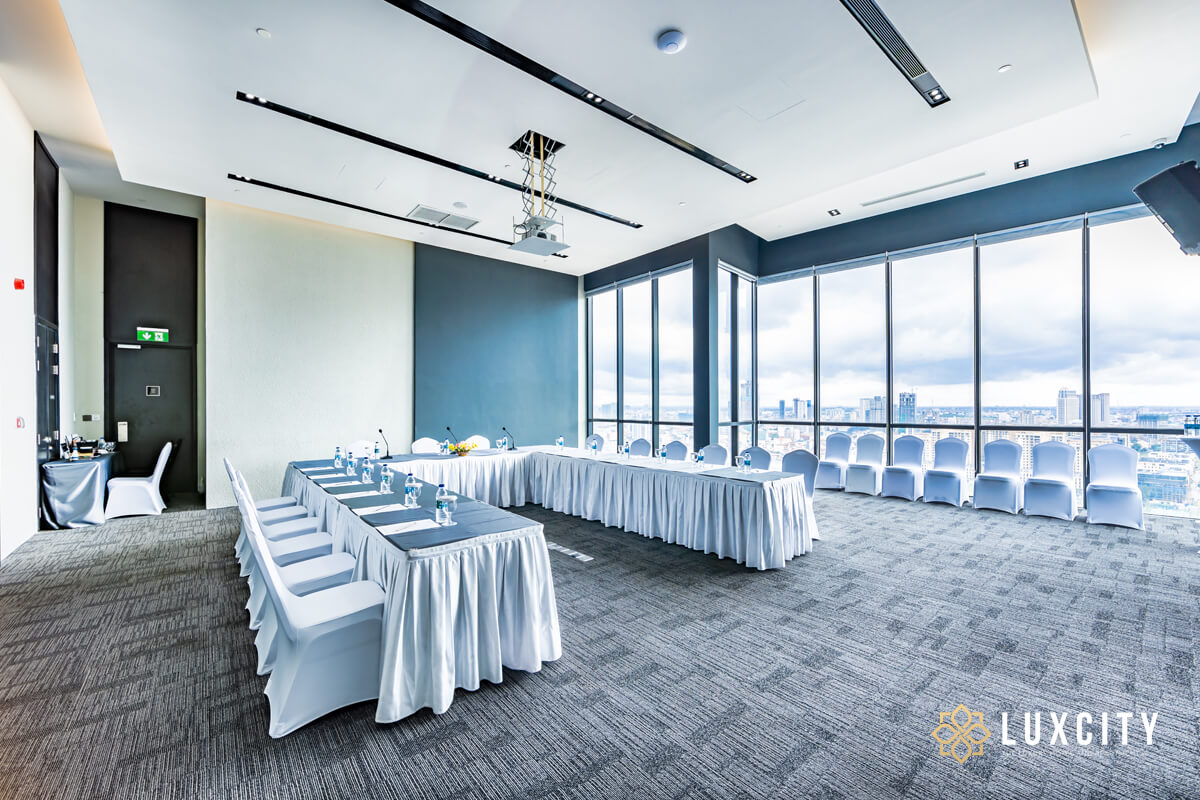 Why is it so important to have a good Meeting Room?
Corporate meetings provide a valuable forum for various functions, allowing individuals to share ideas, make decisions, and develop teamwork. In the meantime, celebration plays a significant role in both professional and personal spheres. It provides the opportunity to commemorate all of your significant milestones and accomplishments, as well as a sense of accomplishment, and it's a great way to reward ourselves for a job well done.
Undoubtedly, you will want to make any event an all-rounded experience at your best. Therefore, keep in mind that successful meetings are built on first impressions and that having good meeting room facilities can make or break your event.
Let's look at the Top 8 must-have facilities when it comes to choosing a qualified meeting room.
Read more: What is required to have conference facilities in a hotel?
Top 8 Important Facilities Every Meeting Room Must Have
SmartBoard/ Projection Screen
When choosing a venue for the conference, make sure that the room is equipped with a whiteboard and projection screen that has a multi-touch feature and mouse-hover functionality that can be used by multiple users at a time.
The projection screen allows you to display presentations, while the whiteboard allows you to scribble down pertinent meeting notes. This would lead to more interaction in the meeting, and the audience would better understand the material you deliver.
What more? It could also be connected to a printer to print a hand-out of the session to the participants in real time.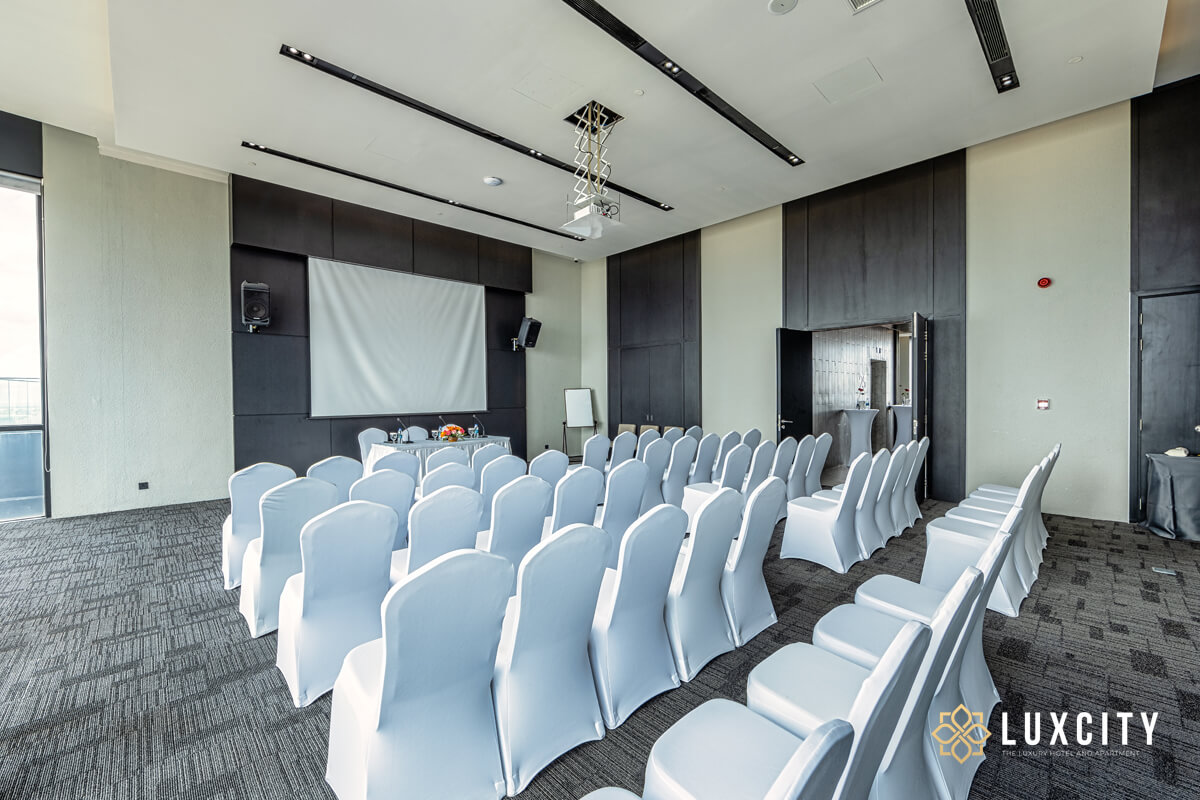 High-Speed WiFi
This is a requirement for any conference of this age. During the meeting, whether you need to connect to the Internet to show the presentation or make video chats with particular team members, your meeting will definitely be disrupted if it has low-speed WIFI.
Good quality Audio Equipment
A surround sound speaker system, and a microphone,... are among the list of fundamentals while you are organizing a conference. For the smooth conduct of your meeting, you need to communicate precisely with your attendees.
And if yours is a conference of 100 people, then ensure that you have an effective surround sound system so that every guest can easily hear the speakers. Therefore, remember to check the audio equipment at the beginning of any meeting.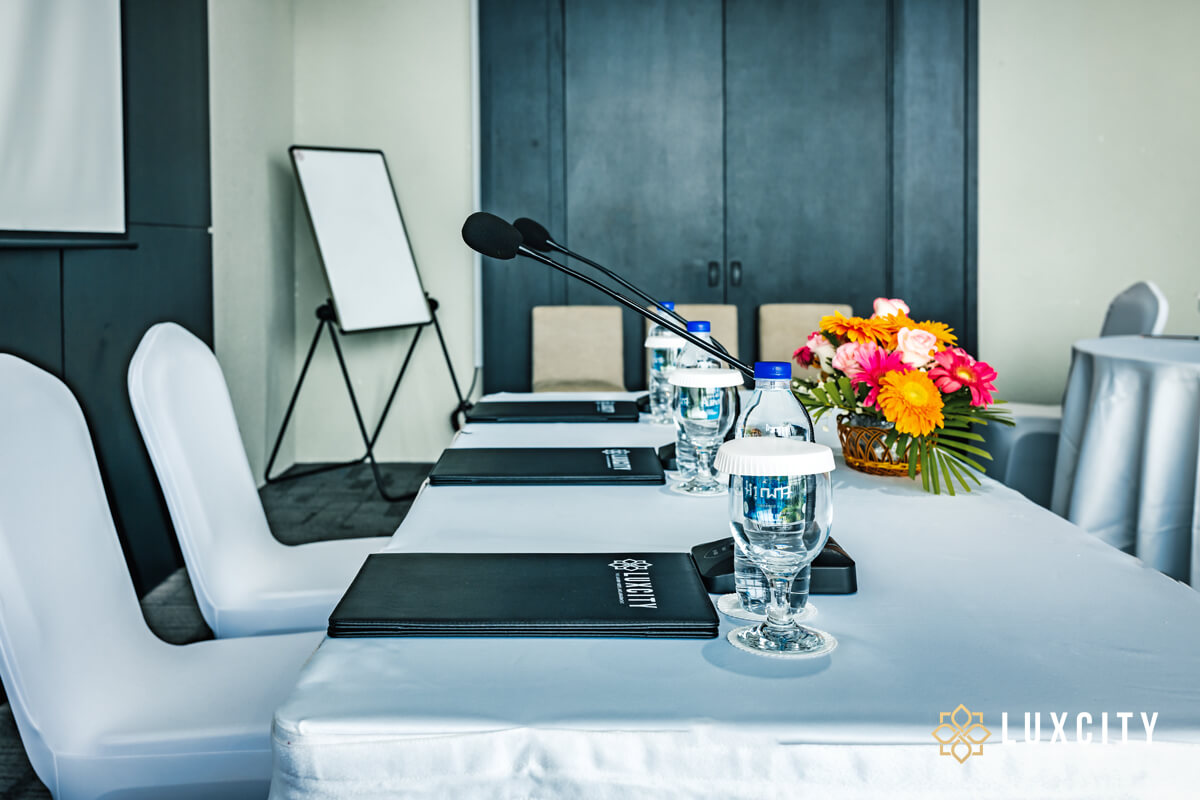 A Proper Seating Arrangement
There are several types of seating arrangements that can be set up as per the members of your meeting. Whether you want a U-shape setup, Boardroom-style seating, Hollow Square, or a classroom-style arrangement, it all depends on the conference type. But a table is a must.
Thus, as one of the unique ideas of corporate events, choose a chair-table seating plan according to the nature of the meeting. A simple meet and greet can happen within a U-shaped arrangement, but a classroom style would be better when organizing a workshop. Decide on the type and plan your seating layout with the venue manager.
Video Conferencing System
At a corporate meeting, it might be possible that you are compelled to make some international calls. Thus, a video conference is due in such situations wherein you have to converse with the person online. This is primarily a preferred mode of communication for most companies that want to reduce travel costs.
Make a connection where you can have full access to the internet while your conference is going on in full flow. This will give you immense flexibility during the meeting session. Make sure that such an arrangement is available at the venue.
Digital Projectors
Projectors have seen an update since their evolution, and these days, rather than using the traditional Fresnel lens to project the image on your laptop or desktop, it uses video cameras to give a 3D image of the documents or image, making it easier for the participants to learn about the matter.
It should be at an Accessible Location
While choosing the venue for the conference, be assured that its location is easily accessible from the airport or railway station since some of your members could be from outstation. Keeping convenience in mind, choose a venue that is easily reachable, recognizable, and has accommodation facilities if the need arises.
Fully Air-conditioned and Lighted
You cannot let your employees or members sweat over during the session! This would turn into poor planning. Make sure that the venue or meeting room you have chosen is properly air-conditioned. Furthermore, the venue should have a supply backup facility in case of any mishap. Try to choose a space that is well-lit as well as well-ventilated. This would create a bright atmosphere even if it turns out to be a gloomy session.
Tea Room/Common Room
Attending a meeting for 6 hours at a stretch is impossible. Thus, during venue selection, it becomes essential for you to check whether they have an adjoining break room where the delegates can relax and enjoy a brief tea time among themselves. This kind of refreshment is a requirement while choosing a venue. Your members will highly appreciate your efforts towards their comfort.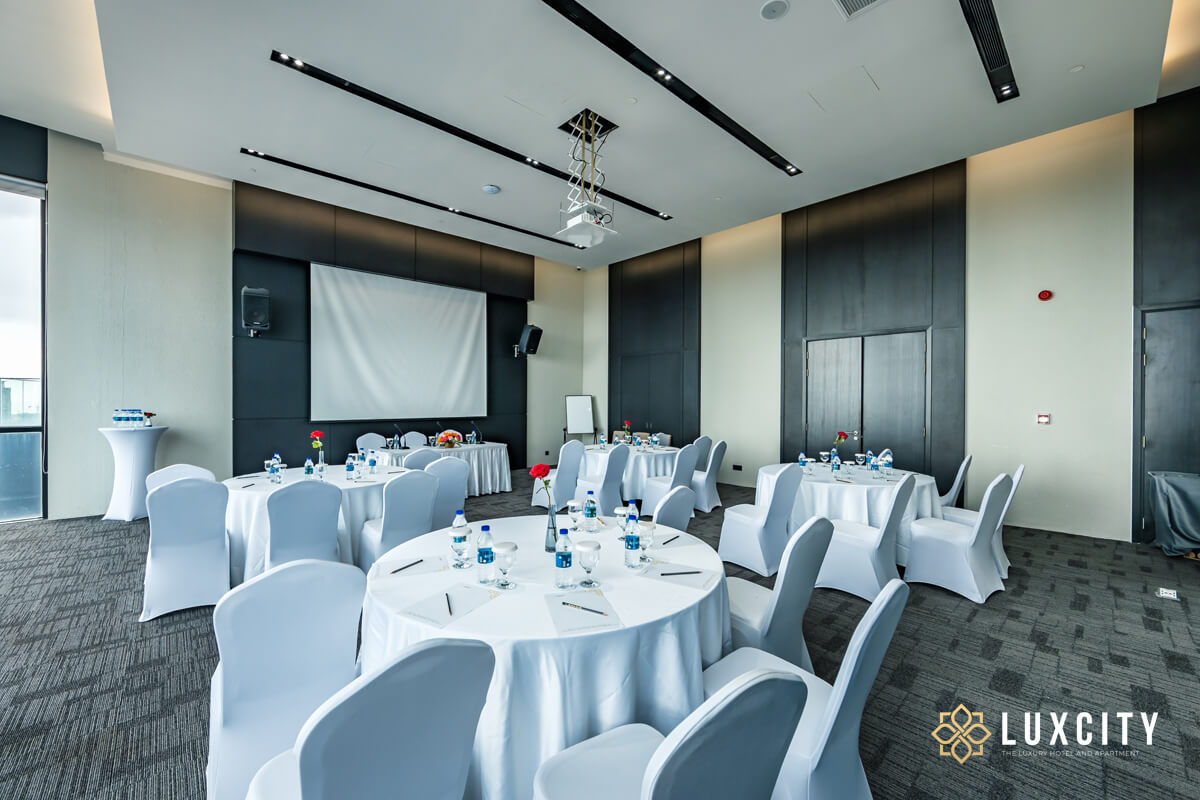 An Efficient Staff
Proper and diligent staff is always required while you are hosting a conference. The staff members will take care of the basic requirements of your members at the venue. Choose the one who is experienced in handling such types of events.
Criteria for you to choose a good Meeting room
Check the design standards
Every visitor is aiming for a modern, luxurious, and comfortable meeting room space. These are the important spaces in state agencies, units, or other non-state enterprises. The role of serving important tasks such as meeting and welcoming distinguished guests, diplomacy, or negotiation... the design standards for choosing a meeting room has become extremely strict and strict. The design of this room should be by the standards that will create a luxurious, dignified space that is still very elegant and modern while ensuring comfortable facilities for all participants.
Check the functional standards
What is the design function of a quality meeting room? You need to identify this issue before planning your meeting. Ask yourself three questions: What is the purpose of the meeting? What is your audience? What kind of atmosphere do you want to create for the meeting?
For instance, if your meeting is about a discussion of new ideas or the presentation of a proposal, keep in mind that the audience is all high-ranking members of your organization. You should arrange for a U-shaped meeting room, verify the availability of technical systems, and create the most professional and trustworthy atmosphere possible. Remember that the ultimate objective is to provide convenience and comfort to all guests.
Check for the aesthetic standards
Not only does it need to be comfortable, but the meeting room's design also needs to pay attention to aesthetic standards. Aesthetic standards for meeting rooms must be formal, modern, and elegant. The harmonious combination of function and aesthetics in one space will surely bring the best results and the most convenience in work.
We hope the above information can help you better prepare for important events and meetings. At Luxcity, our seamless service and skilled expertise in Phnom Penh are all well-equipped to cover your event requirements, from high-tech audio-visual systems for presentation to interpretation booths for international calling. You give us the big picture, and we'll do the details. Contact Luxcity now so we can offer you our greatest deals.
Read More Design Concept Hotel Rooms from Luxcity.com.
Long - Term Rental
Rent a room by month or by year. Let's telegram chat with us!
Chat now