2022-05-26
What Business Travelers Want From Hotels - Top 10 Best facilities for business travelers in hotel
It's not always easy to book your business travelers into hotels that match their preferences. Sometimes there's a last-minute trip, and few rooms are available. And sometimes your travelers need to visit a city right before it hosts a vast convention or meeting, you need to prepare the most modern and advanced facilities and equipment as the best you can. So how do you know what business travelers want from hotels in 2023? What facilities for business travelers in a hotel?
Learn more: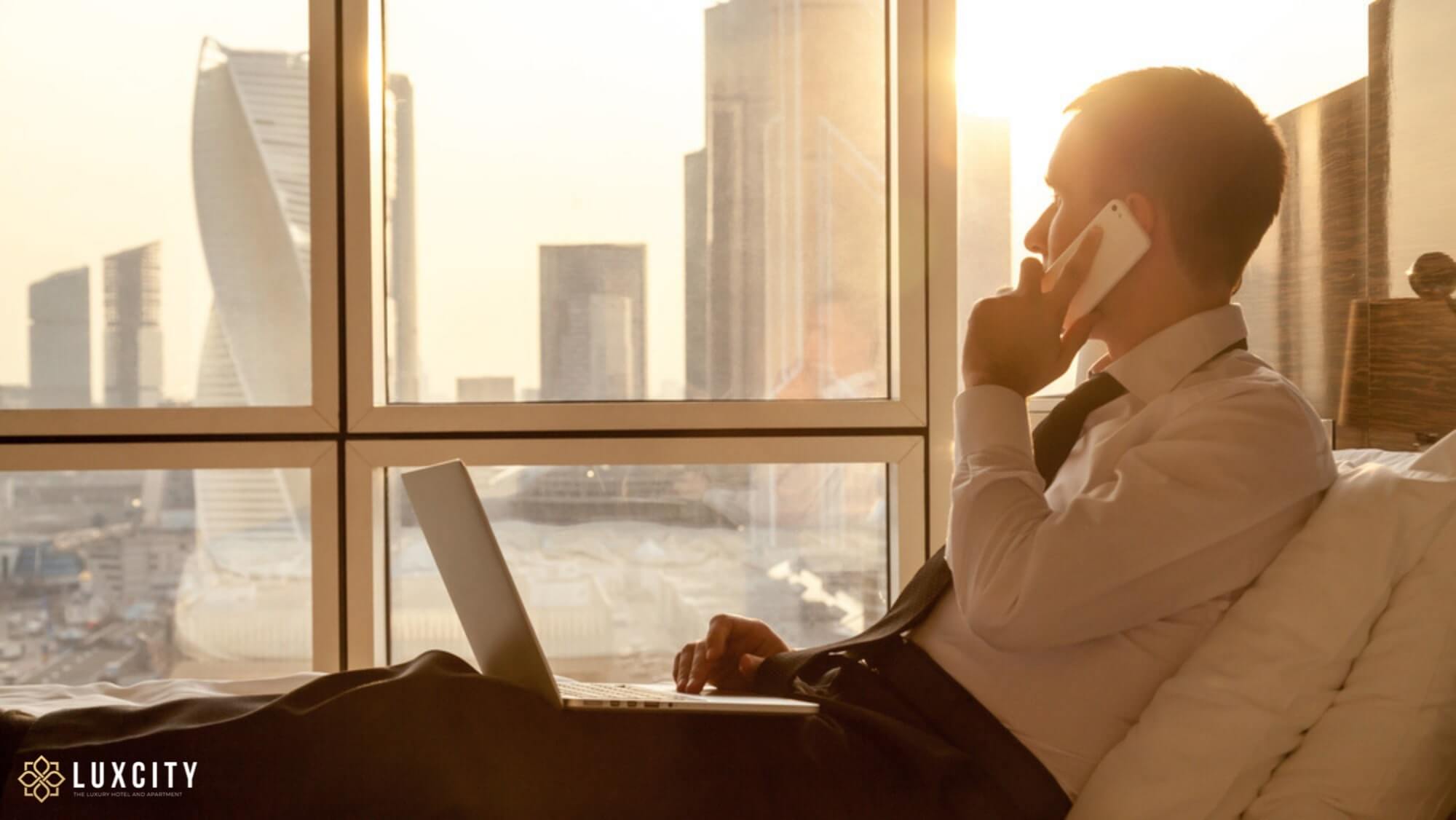 What Business Travelers Want From Hotels?
It's important to keep a schedule when traveling for business. If you organize business travel, it's your responsibility to make sure business travelers have everything they need.
Business travelers can contribute up to half of a hotel's revenue, so it's crucial to cater to them and turn them into repeat visitors. Both leisure and corporate guests want more than a hotel room; they want value in what they experience while staying with you.
This elusive guest experience must appeal to clients with vastly varied ideas of expertise and value. Some notable budget hotels have met this difficulty by operating separate marketing campaigns for leisure and business tourists. But what about tiny enterprises that can't afford two marketing campaigns? What can you do internally to please business travelers?
It's rewarding to find nice hotels that fit your travel policy and your travelers' needs when you have options. When your staff stays in comfortable accommodations, they can do their best work.
Here are the Top 10 Hotel Amenities Business Travelers Want.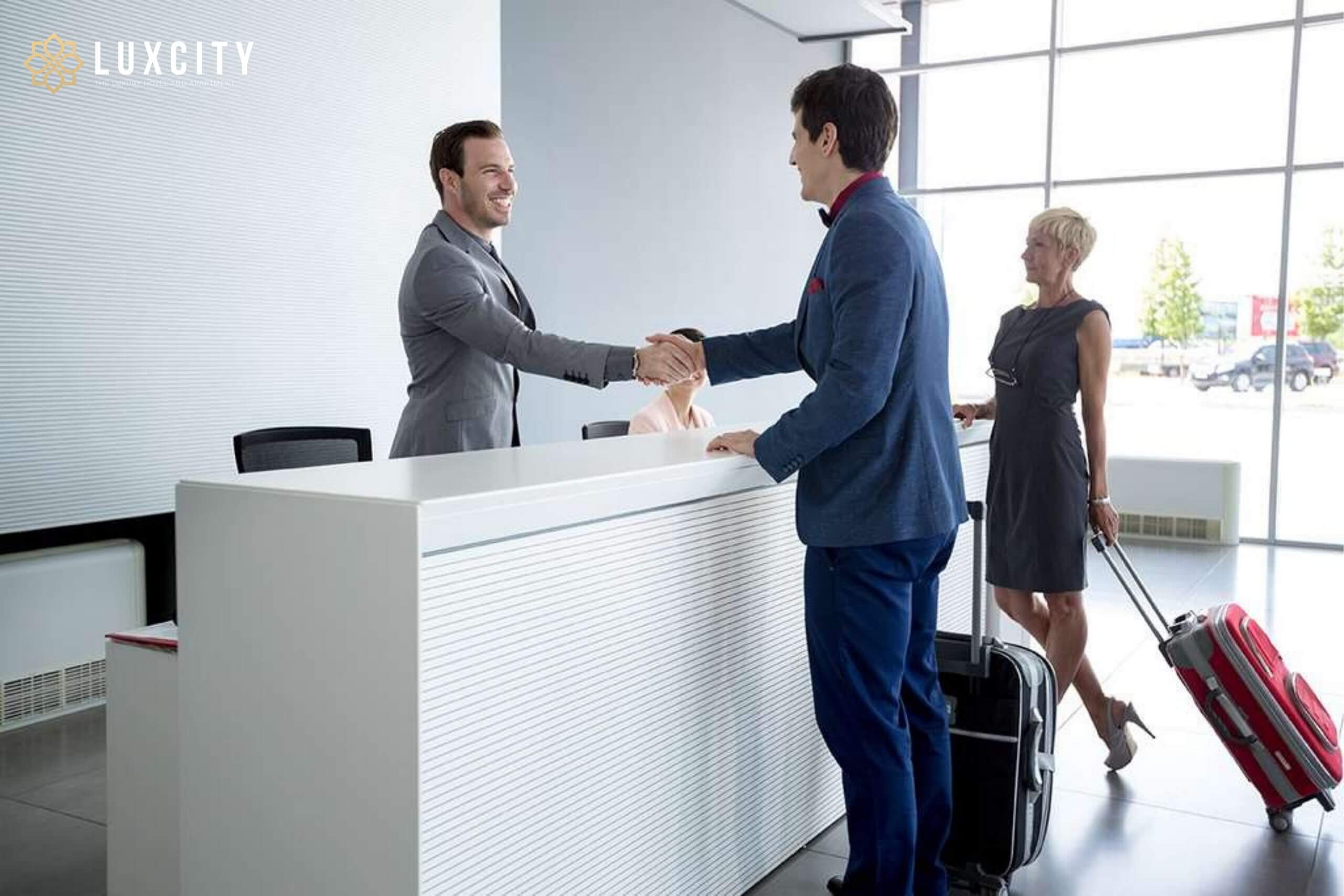 Top 10 Best facilities for business travelers in hotels
Proximity
Location remains the top priority. Travel managers can use the primary reason for a trip to help team members book the most convenient and intuitive hotel to meet their needs. Also, proximity is great for productivity. It limits in-city travel time, which means more time to get work done.
Most booking platforms allow you to search for hotels within a certain distance of specific cities, zip codes, and even landmarks. This is to say: Finding a hotel that offers proximity is easy. So why not take that extra step?
Does your company allow team members to book their accommodations? If so, consider holding training that shares with travelers how to filter for location when booking hotels. Or, consider sending regular email updates that remind them how to find quality hotels close to where they want to be.
A Personalized Experience
This is where technology enters in. Most business travelers want to stay at hotels where they can use an app to check in and check out — and hotel brands are responding to that desire. The major hotel brands now offer technology and automation that streamlines the guest experience from start to finish. These new technologies aren't just appreciated, they are now expected by most business travelers.
New technology and automation can help with booking, too. No matter who does the actual booking (a travel agent, a travel manager, or a team member) preset preferences tied to a loyalty number can ensure that travelers have the type of experience they want.
Free (and Fast) Wi-Fi
In 2018, hotels that don't provide free Wi-Fi should not be considered. This is an absolute must. And the faster the Wi-Fi the better.
Make sure you're leveraging the power of loyalty programs and status to get your travelers the fastest Wi-Fi possible. Some chains will offer a lower-speed Internet connection for free and a faster connection available for an upcharge or to guests with a certain status.
When you use a corporate travel agency, make sure your representatives can negotiate the status of your travelers. This helps team members feel more at home while traveling, and it can also help save money on Internet upcharges and other expenses.
Plenty of Power Outlets
Business travelers have so much to plug in and power up these days. They might roll into a hotel room needing outlets for a cell phone, a tablet, a computer, and more. And then, when it comes time to press a shirt for the next day, there needs to be an outlet left over for the iron.
For whatever reason, many hotels still offer too few power outlets. When possible, look for hotels that are newer or that have been recently renovated. New and updated hotels are more likely to offer the power outlets that business travelers love.
Accessible Meeting Rooms
Business travel is often essential to securing new clients, pitching ideas to existing clients, and having important conversations that simply can't be conducted over the phone. That's why business travelers prefer hotels that offer accessible conference rooms and meeting spaces.
Conference rooms and meeting spaces give team members a chance to have dress rehearsals before making big pitches. Having the chance to run through a presentation or pitch beforehand can be the difference between winning or losing out on new business. And you don't want to hold these dress rehearsals and dry runs in a cramped hotel room. As a bonus: It's always nice when a hotel offers AV equipment such as projectors and screens where guests can quickly and easily plug in their laptops
Fast Services
No matter what type of services a business traveler needs, they should be fast and effective. Room service should arrive within 30 minutes. Dry-cleaning and shoeshine services should be available overnight. Business travelers are often working on short timeframes, flying into a city one day and flying out the next. There's no time to waste when it comes to getting a meal or getting an outfit ready for the next day.
Healthy Hotel Dining Options
One of the greatest challenges with life on the road is staying healthy. Airports are packed with tempting fast food options, and business dinners often include cocktails and red meat.
So, look for hotels that provide healthy dining options — and preferably via room service. Most business travelers love to have healthy breakfast, lunch, and dinner options to help balance out what they're eating in airports and with clients or colleagues.
Easy Fitness Opportunities
It's not enough to just have a fitness center. Business travelers want that fitness center to be spacious, easy to find, and well maintained.
It's frustrating when a fitness center is so small that a guest has to wait to use a certain machine. It's frustrating when a fitness center is so well hidden that a guest gives up looking at all. And it's frustrating when a guest steps onto a treadmill only to find that the belt is too loose to use or that the built-in television shows static only.
When a fitness center frustrates a guest, he or she is unlikely to use it at all.
A Setting That Promotes Productivity and Rest
There are two main goals when a business traveler is at his or her hotel. They either need to be: 1) getting things done, or 2) getting rest. So look for hotels that promote both.
A productive hotel includes a comfortable, well-lit desk with plenty of power outlets. It also offers the aforementioned fast Wi-Fi and a business center where a guest can print documents or take care of other things — around the clock.
A restful hotel is one that is quiet and comfortable. An individual traveler is going to be more comfortable in a king-size bed than a queen, and he or she is going to be more comfortable with quality bedding.
Somewhere to Relax and Unwind
The best hotels offer inviting public spaces where guests can enjoy a drink, enjoy live music or watch the sunset. Of course, not every hotel is going to have a resort-style patio or in-pool bar. But it's nice to have some sort of common space where guests can spend time away from their rooms. Yes, rooms should be places of productivity and rest, but too much time spent in a hotel room can feel more like you're hibernating in a cave.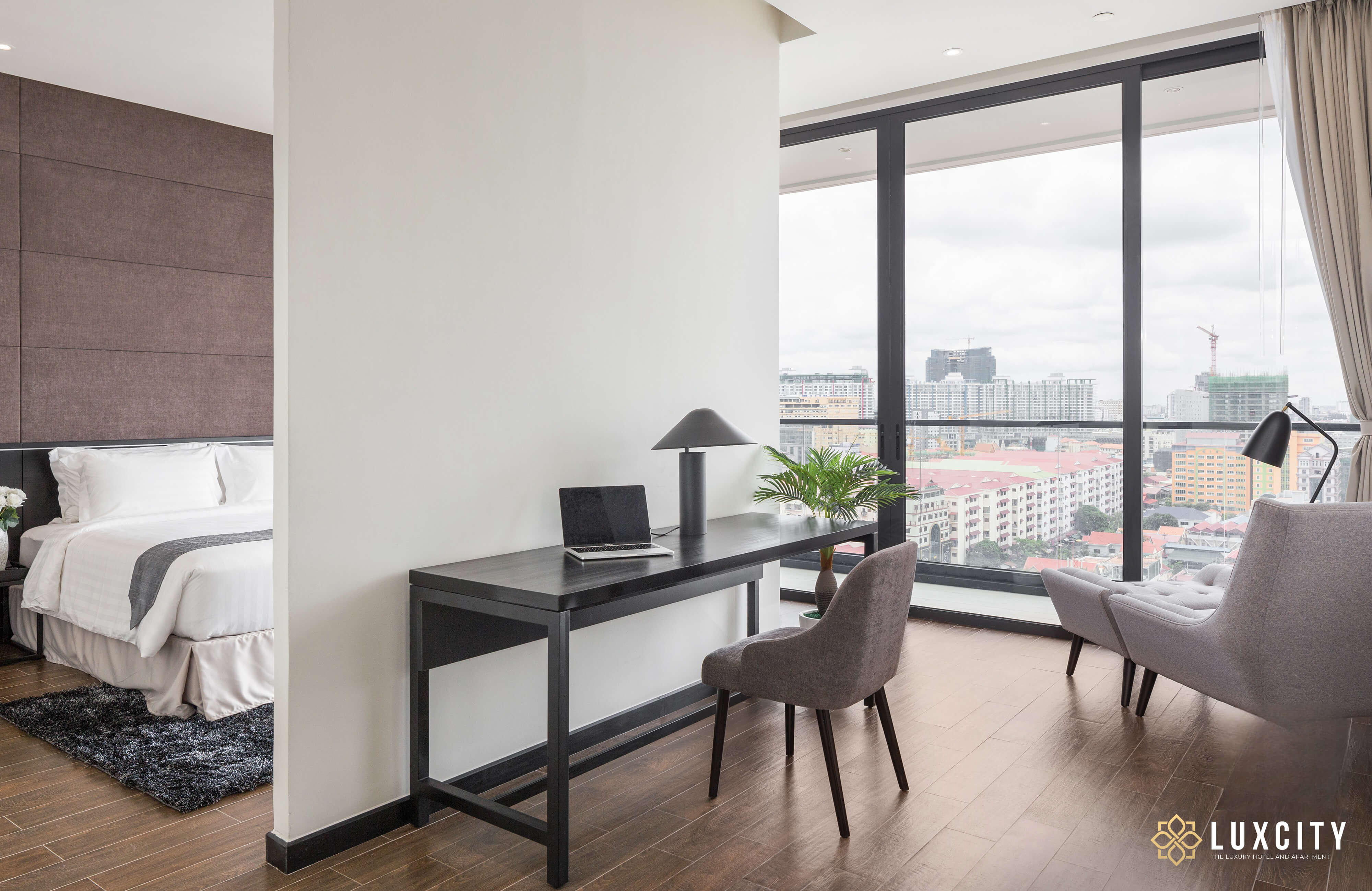 Why do hotels need to attract business travelers?
Attracting business travelers to your hotel can increase the occupancy rate, especially in the seasons when there are few room bookings.
Most business travelers need to stay in a hotel for corporate and face-to-face meetings. But business expansion opportunities are constantly available and high, this facet of the industry gives rise to more room bookings, outstanding food menu selection, and amenities that reflect the individual style of these travelers.
They also help hotels attract new guests and get the number of repeat guests from time to time.
Now, as the need to target business travelers is established, the question is – how to start welcoming such guests to your hotel? Does your hotel suit the requirements of these travelers?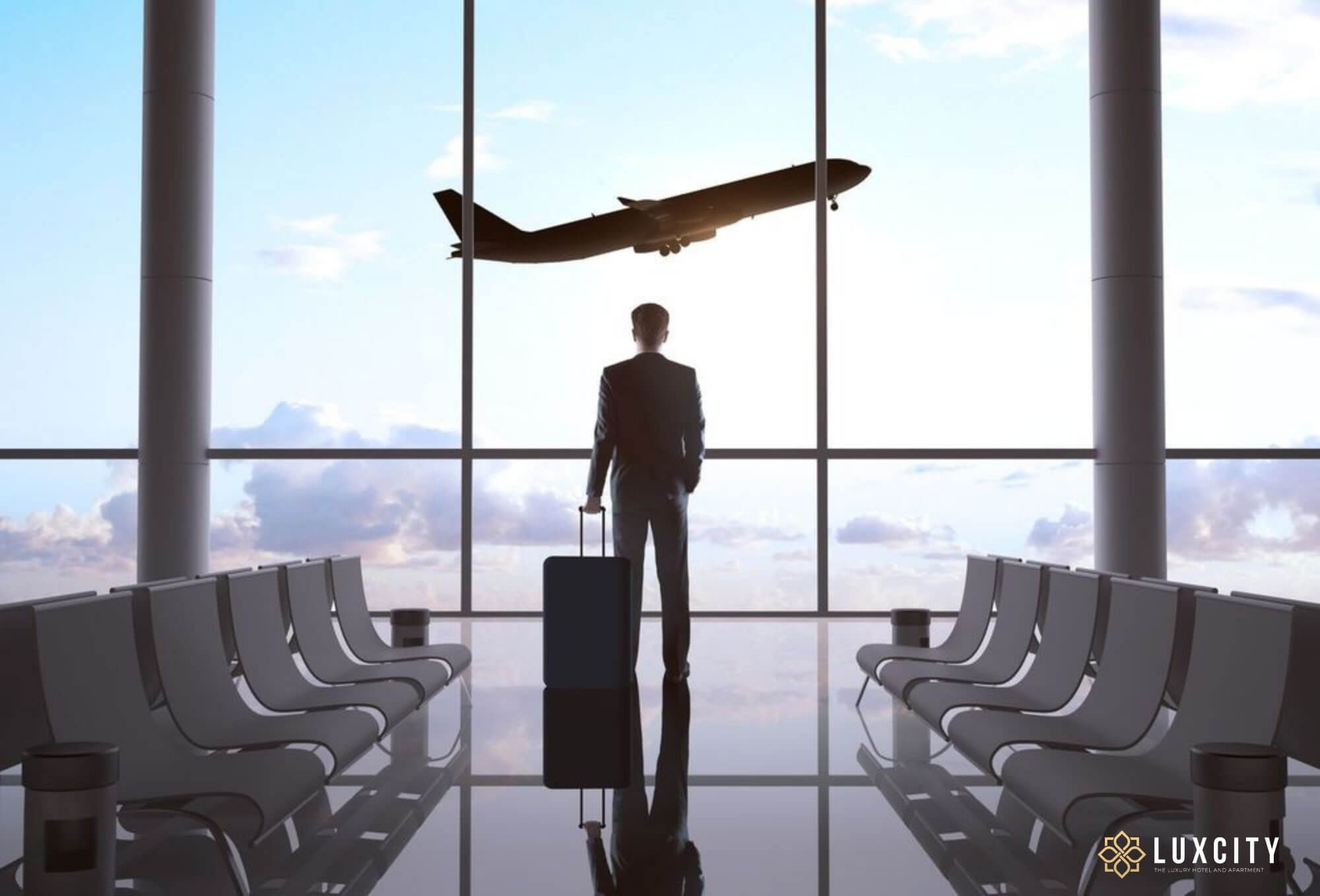 Best ways to attract business travelers to your hotel
Offer corporate rates with recreational facilities
Business people travel across the globe for their work. Hence, they want to experience the best during their stay at your hotel. It also happens that entrepreneurs extend their stay because of a few unplanned meetings, upcoming events, or due to personal reasons.
In their hectic work schedule, the pressure of work meetings and traveling can build up stress in the body and mind causing them to feel overwhelmed.
Therefore, they always look for corporate rates with facilities like a de-stress package – that most of the companies organizing business trips demand while booking online. Thus, ultimately you need to turn their business trip into a stress-free one.
Make emails your strength
While promoting your hotel brand and services, it is necessary to check your targeted guests; keep an eye on their preferences, habits, and all the other factors which may affect their trip and experience with you.
Since corporate travelers are most of the time active on their emails, sending them pre-arrival, in-house, and post-departure emails regularly will help you engage with them and make them aware of the services, promotions, and extra facilities you might be offering.
Let them know about some business trade shows and expos happening in your region. You can even suggest places to unwind after their hectic day.
Entrepreneurs usually come for professional reasons. Hence, your pre-arrival email should offer your business guest the highlighted services that will help make their stay productive and efficient. For instance; would you like to book a meeting room? need restaurant reservations? and more.
Whereas, post-stay emails to your corporate clients should target their specific needs like offering them special business packages and discounts.
Provide easy transportation
According to a report, more than 45% of business travelers enjoy transportation services from a hotel. The first and the most relevant service that you can ever provide to your business guests is the Airport or Railway Station pickup facility. Waiting for a taxi or taking public transport can create frustration among your business guests.
Transform their trip into a Bleisure = Business + Leisure one
This is the perfect opportunity for you to impress corporate guests by offering a convenient and hassle-free airport pickup (even add a drop-off later) which is the best way of creating a welcoming environment prior to they reach your hotel.
Provide speedy check-in and check-out
For business travelers, time is the most precious thing in their profession (and in our industry as well). Therefore, they always prefer to stay in a hotel where all the processes are quick and easy.
So, one most important factors to consider to attract business travelers to your hotel is to speed up your arrivals and departures process. A paperless check-in/check-out to avoid unfavorable circumstances to save time can work wonders. Today, services like; self-check-in via hotel kiosks or mobile guest self-service portals are also in demand, especially by millennial travelers.
Besides, several other ways using which you can provide the best guest experience during arrival.
Offer healthy menu options
Business travelers work more hours when they travel and so, they don't get time to select from the food options available in the hotels.
Instead – they choose to grab and go. This is where you can impress your guests by offering healthy menu items to them.
Why so? Because staying healthy and fit while traveling is important to them. Therefore, put up gluten-free and vegan meals for the business guests.
Take special care of their food allergies. The guests also appreciate the availability of healthy snacks for example; self-serve toast, cereal, yogurt, and fruits.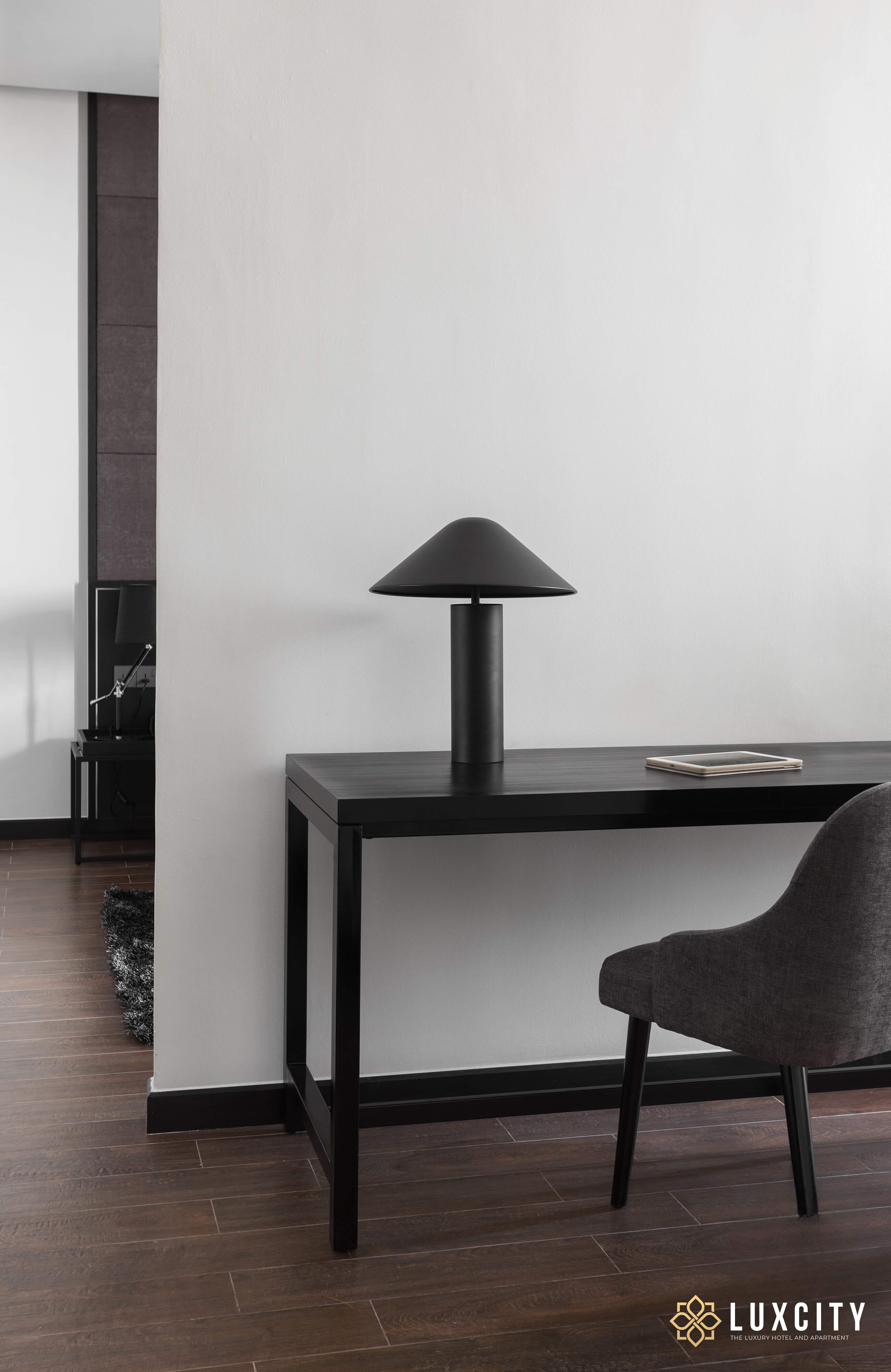 After reading this article, you should be familiar with the facilities for business travelers in hotels. In general, to cater the business travelers, it is important to focus on convenience, efficiency, and technology. These types of guests not only bring other such guests to your doorstep through word-of-mouth recommendations and strong feedback but also help you be open to hoards of new types of guests even in your low-peak seasons. Our hotel technology can help you operate your processes efficiently, provide more personalized service without making any mistakes, and handle all corporate rate management, promotions, email marketing, and scheduling activities with utmost ease. If you have any questions, please contact Luxcity Hotel for answers.
Read more travel articles in Cambodia and inspiration from Luxcity.com.