2023-02-23
Top 7 all-inclusive apartments for rent in Phnom Penh
Cambodia's tourist and hotel industries have seen numerous changes recently. Tourists are interested in distinctive accommodations in addition to activities and entertainment. Luxury apartments have been popular in Phnom Penh and around the world in recent years.
If you are looking for a high-end apartment in Phnom Penh, we have a list with all the options you need for a pleasant stay. You will find everything you need in this article, whether you are just looking for a short-term apartment for rent in Phnom Penh or you are travelling with a large group. Let's delve in!

Luxcity Hotel and Apartment
If you're looking for a boutique hotel in Phnom Penh, look no further. This hotel's prime location in the heart of Phnom Penh means it is convenient to the city's best sights and restaurants. The staff is kind, upbeat, and really concerned about their clients, and the location couldn't be more ideal. On top of that, there is no charge for parking or using Wi-Fi, so you may come and go as you choose without worrying about money.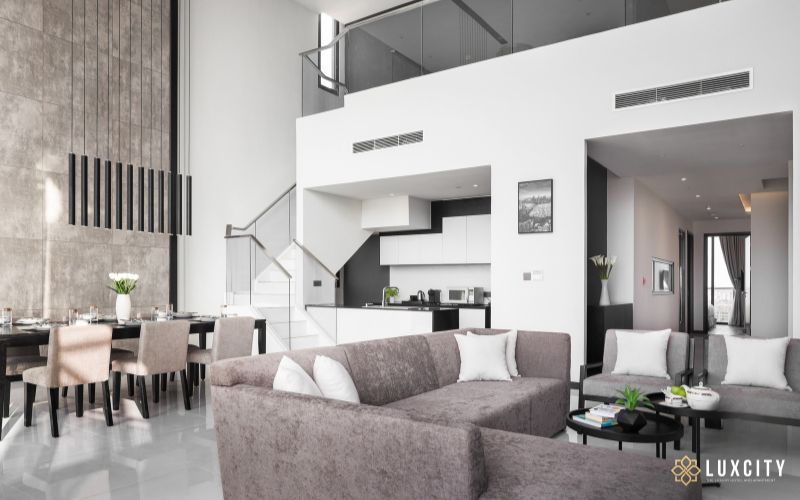 This luxurious hotel has a pool and a great guest review rating. in addition to a gym and a café. In particular, Luxcity's main website now features an excellent promotion programme of the year; rush over there to secure the lowest possible rate on a hotel.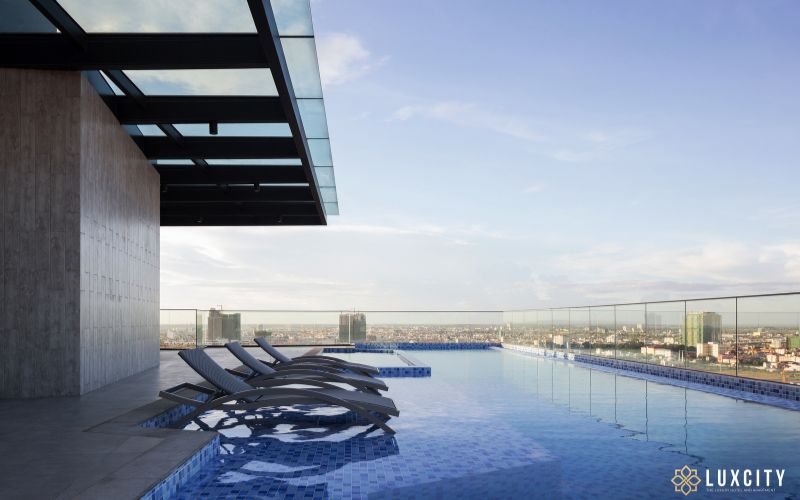 GRANFERTE Phnom Penh Hotel
The GRANFERTE Phnom Penh Hotel is located in the heart of Phnom Penh, just a 3-minute drive from the city's vibrant nightlife and about 2.5 miles from Vattanac Capital. A mini bar, water, coffee/tea making facilities, instant coffee/tea, and a refrigerator are all available in certain rooms of the serviced apartment. Guests may relax in air-conditioned comfort in rooms outfitted with a variety of amenities, including a work desk, a coffee maker, a refrigerator, an oven, a safety deposit box, a flat-screen TV, a balcony, and a private bathroom with a bidet.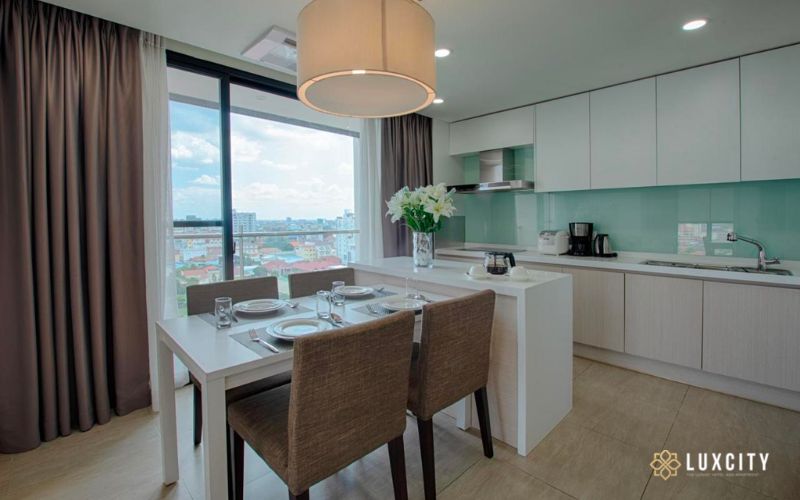 Himawari Hotel Apartments
Himawari Hotel Apartments is a five-star hotel perched on the banks of the Chaktomuk River, overlooking the tranquil Tonle Sap River. Relax in peace and quiet at a resort with breathtaking views of the Mekong Delta. Pamper yourself in the quiet luxury of one of the Himawari Suites or Flats. The Himawari Hotel Flats provide several rooms with balconies and terraces. Guests may relax with a little amusement from the daily newspaper, TV, and cable in some rooms.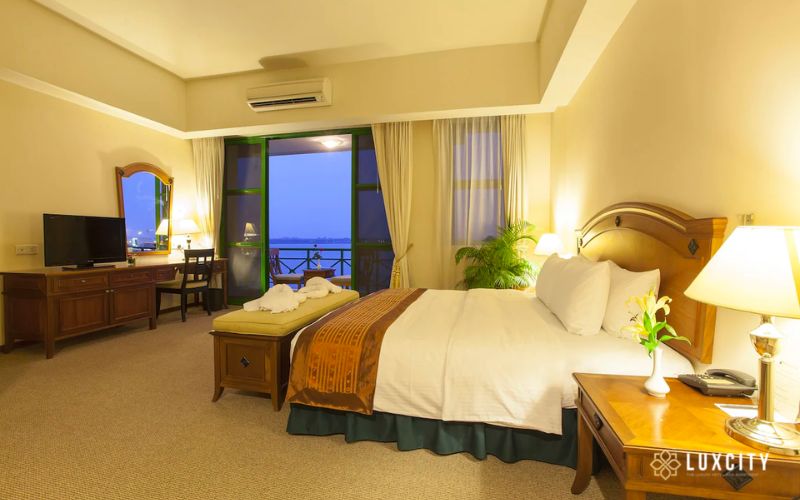 MekongView 6 CondoTel
If you're looking to get your trip off to a good start, this is the place to stay because it offers free Wi-Fi in all rooms. Sangkat Chrouy Changva is a neighbourhood in Phnom Penh that features a variety of activities and restaurants. You can add a touch of luxury and relaxation to your stay at this 4-star hotel by taking use of the indoor pool.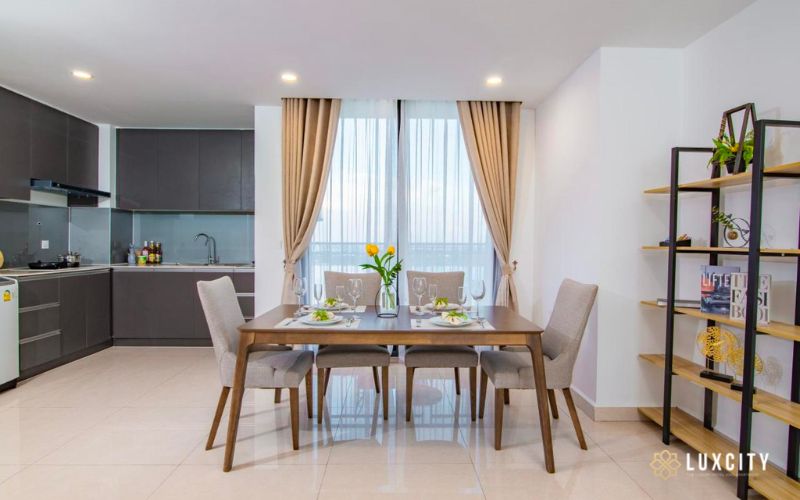 Orussey One Hotel & Apartment
The Orussy One Hotel & Apartment is in the heart of the city's business, cultural, and entertainment districts. With its 12 brand-new, high-quality stories, it has a unique elegance, a modern atmosphere with a touch of nature, and ease and peace in a beautiful cultural city. It feels like your home away from home because it has personal hospitality and comfort. We always try to make you feel like it's your second home, which is in line with our philosophy of being a place of comfort, safety, and peace. Orussy One Hotel & Apartment is focused on giving its guests the best experience possible. Each hotel has comfortable beds, free Wi-Fi, air conditioning, flat-screen TVs with cable, and a beautiful view of the city, as well as a roof-top bar, pool, gym, sauna, and steam room.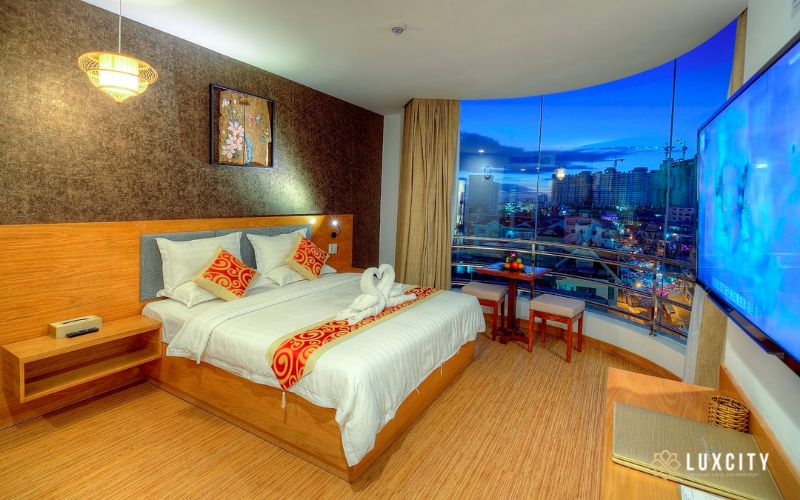 TK VIEW HOTEL and APARTMENT
This luxuriously large one or two-bedroom hotel and apartment is a good choice for couples, single people, or even smaller families who want a fully-equipped apartment and hotel services in the centre of Phnom Penh.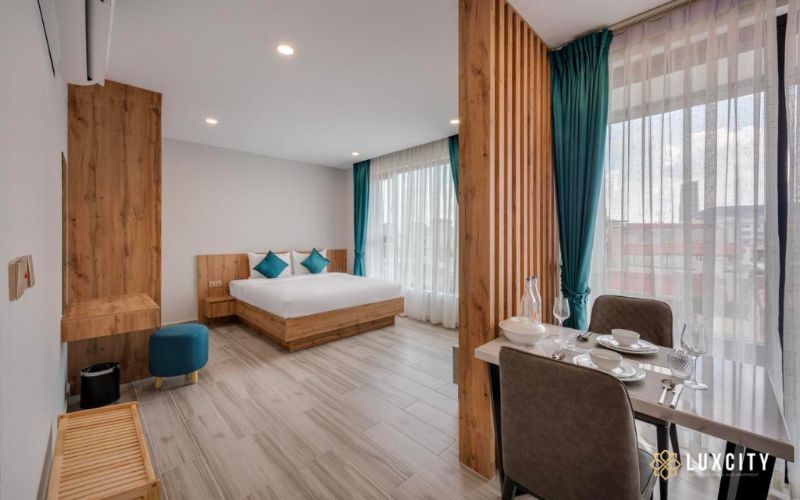 The living room is the most important part of the hotel and apartment. It is large and has a modern cable flat-screen TV and a desk where you can have fun or work on your laptop using our high-speed Wi-Fi. The living room also has a comfortable sofa, and the kitchen has everything you need to cook without stress. In a quiet room with a view of the courtyard, there is a comfortable king-sized bed and enough space to store things. A standard-sized bath in a bathroom can help you unwind after a long day. The one-bedroom hotel rooms and apartments are on the first through the twelfth floors, and they all have a small balcony.
AMATA Residence
In Phnom Penh, there is always something to do. You won't miss any of Phnom Penh's great sights if you stay at AMATA Residence, which is only a few minutes from the city centre.
The amenities and services at AMATA Residence make sure that guests have a pleasant stay. With the free Wi-Fi internet access in the serviced apartment, you can post pictures and check your email whenever you want. You can easily book transportation services to and from the airport through the serviced apartment. The serviced apartment helps you get to where you want to go in Phnom Penh by giving you taxi and shuttle services.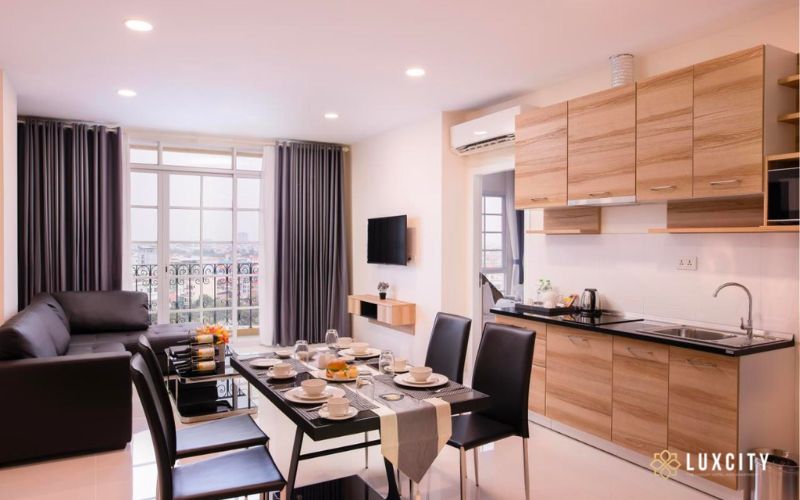 The helpful staff at the front desk of this great serviced apartment can help you with services like concierge service, luggage storage, and safety deposit boxes while you stay there. If you want tickets to the best shows in town, the serviced apartment's ticket service and tours can help. The dry cleaning and laundry services at the serviced apartment help you keep your favourite travel clothes clean so you can bring less.
Choosing the right place to stay is the key to a great trip, especially if you plan to stay in Phnom Penh for a long time or travel with a large group. Hopefully, the above hand-picked luxury apartments for rent in Phnom Penh will have one that suite your style!