2022-06-04
Review French restaurant in Phnom Penh [Luxurious Meal]
Society is developing day by day, and the needs of people are also increasing, especially the demand for food and food. Amid thousands of large restaurants racing to spring up, each business needs to be oriented not only on service quality but also pay attention to the aesthetic factor of the restaurant. In particular, the French restaurant is one of the popular styles, trusted by many investors and also loved by many diners. Especially on weekend evenings, what could be more wonderful if we treat ourselves and our loved ones to a luxurious dinner at a French restaurant? For more information on this, Luxcity invites you to refer to today's article and consult the top 10 best French restaurants in Phnom Penh.
> Learn more: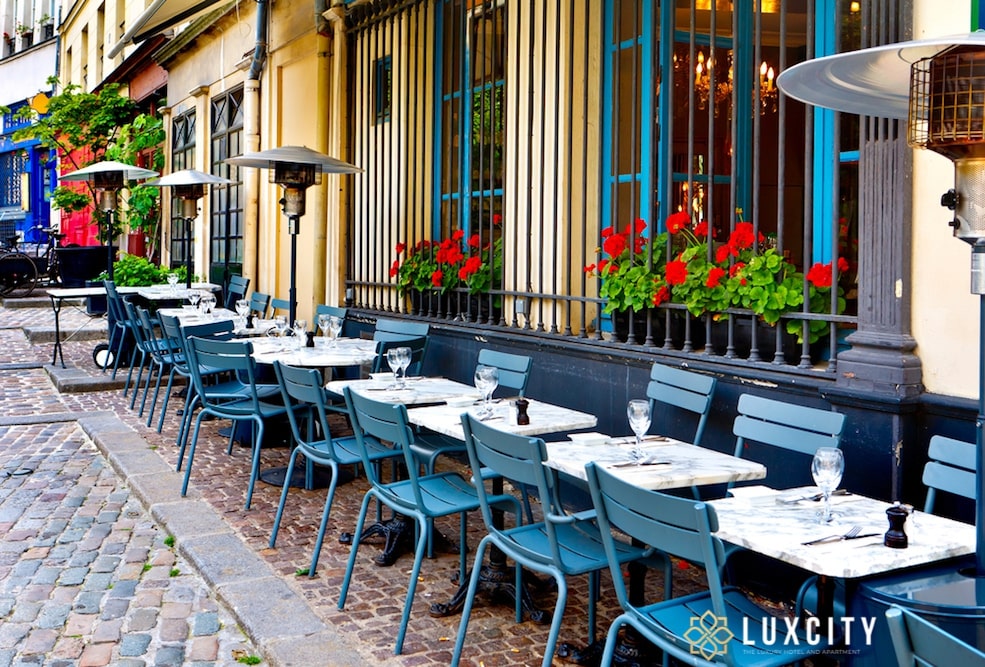 What are French restaurants?
French restaurants are also one of the most developed dining models in other countries, accompanied by luxury and high costs. The dishes served here are mainly of French origin, prepared by highly qualified chefs, to meet all the needs of customers.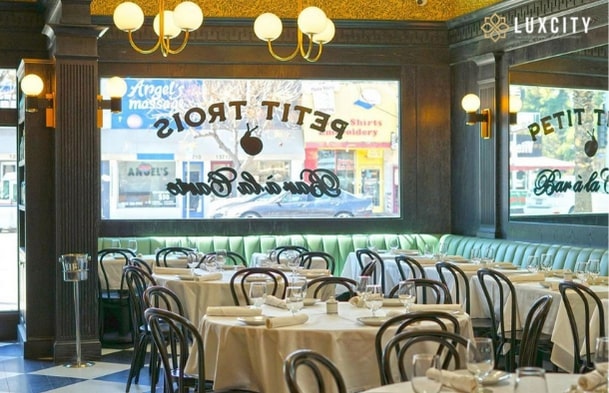 What's in a French restaurant in Phnom Penh?
It is not natural that French design has become a cultural heritage of the world. The class and value of French design have been established in their development. Here are some French restaurant features that investors should know!
In a French-style restaurant, of course, there will be some mandatory areas, the main thing is that the architect must have a scientific and reasonable arrangement so that all areas can promote their full functions in the process. restaurant operations.
Dining area: An area designed to place tables and chairs for diners. Depending on the nature and number of customers that the restaurant wants to serve, the architect will have an arrangement that ensures both aesthetics and privacy for different groups of customers. Because the French do not like noise while eating and drinking, sitting too close together will create discomfort.
Bar area, cashier counter: In a French restaurant, often the bar area will combine with the cashier counter and is located near the dining area of ​​customers. This way, you can easily serve drinking water to customers if needed. Near the cashier counter will be convenient to serve the payment process of customers.
WC area: In any restaurant, the WC area is always silently one of the important factors to evaluate the overall quality of the restaurant. For a long time, the WC area is not only solved personal needs, but people also pay great attention to the aesthetic factor here. So if you have designed a luxurious and elegant French restaurant, there is no reason for the investor not to invest in this area.
Kitchen area: The main kitchen is the "soul" of a restaurant, the most important area that determines the success of the restaurant operation. Architects must understand the cooking process of a French restaurant to design continuity and flexibility so that chefs can work more scientifically.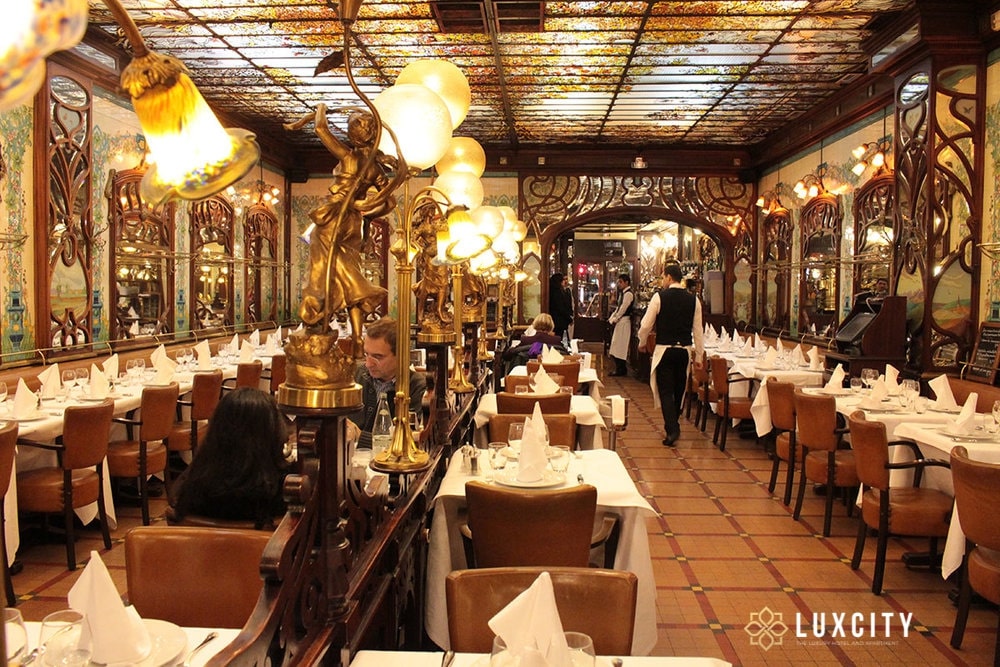 Features of a French restaurant in Phnom Penh
Impressive colors
French-style design often gathers some strong colors such as cornflower blue, red, orange, and yellow, ... extremely impressive and eye-catching. But to match the current trend, architects should choose the above colors but have darker tones or neutral colors such as white, black, beige, and brown, .... Depending on the spirit and slightly In the direction that the owner wants his restaurant to go, choose a smart color to make the main color tone.
Usually, strong colors such as cornflower green, red, orange, etc. mentioned above will be used to create accents for the restaurant's exterior. Because France is one of the countries famous for its magnificent and eye-catching streets, the houses are always well-groomed for the exterior. This seems to be part of the French design culture.
And stepping inside the restaurant is a delicate space with mellow colors such as yellow-brown, beige yellow, and beige white,... Inside and outside using two opposing color states will attract more attention. with customers.
Simple and diverse materials
A French restaurant does not have too high a requirement for interior design materials, following the principle of "less is more", it tends to be rustic, simple but still delicate. Wood furniture or industrial wood will be the first choice for French restaurants, this is a material close to nature that can be flexibly edited and designed.
The floor is often used marble tiles for tiling, so it is both flexible in decoration and easy to clean to ensure a clean space.
Decorative accents are not too picky but eye-catching
I don't know if you realize it, but French architecture is fascinated by many meticulous carvings. French design boasts sophisticated, flexible, curved lines that seem to represent French design motifs. The carving of decorative objects during the formation of this style resulted in several iconic motifs such as flowers, garlands, and mythical creatures.
But the design of the French-style restaurant should not be too overdoing those lines, making the space look coveted. Patterns should appear with a moderate density, just enough to become a highlight.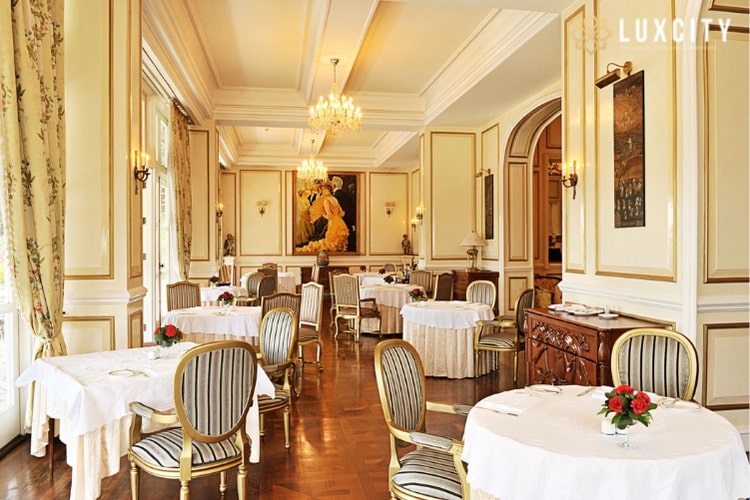 French restaurant designs in Phnom Penh
Modern French restaurant design
The modern French restaurant design trend is a collection of minimalist lines but still shows sophistication and elegance. Because when thinking of French design, many people still think of the image of a lavish space with many meticulous and delicate lines. When going in a modern direction, the number of patterns will be reduced, instead to clear, strong straight lines, minimizing space. In a modern-designed French restaurant, the most noticeable thing is the maximum restriction of decorative details on the furniture, it only appears to be a highlight. The shape is also towards basic blocks such as square, round, cylinder, etc. Modernity is also reflected in the creative, neat, and sophisticated design.
Neoclassical French restaurant design
Perhaps you also know that the neoclassical design style is one of the hottest design trends today. As the standard of living is increasing, the neoclassical style makes people feel comfortable in a noble space no less than the classical style, but still retains sophistication. Both originated from the West, and combining French design with neoclassical will also be one of the design trends that cannot be ignored soon. This style is aimed at more high-class customers, whose "guts" are not simple. The space will be especially emphasized with a lot of sophisticated and meticulous pattern details in the design of the neoclassical French restaurant. Because it is the factor that creates the lightness and softness of your restaurant. Depending on the purpose you decorate, these patterns and motifs are meticulously cared for, carefully in the lines. But if teh neoclassical requires a lot of high-class materials, the French style only requires rustic materials, close to nature, which is an important factor for the space to become receptive. It doesn't get too overwhelming and doesn't make some customers "shy" to go in.
Vintage French restaurant design
A space bearing the traces of time but still luxurious, that is the design of the French restaurant with a bit of a vintage direction. This design style is also quite sophisticated but brings a closer feeling to customers than the neoclassical design above. The colors of the vintage style are also very harmonious, towards nostalgia but not limited. Furniture is the most important element in the design of a vintage French restaurant, such as slightly old tables and chairs, an old clock, a little old painting, etc. All have extremely high aesthetic requirements. The vintage French restaurant design will attract customers with "artistic blood" who love a beautiful, retro space but are still extremely luxurious.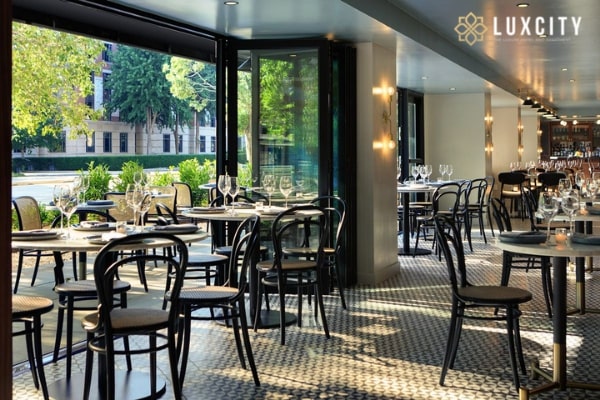 Experience choosing quality French restaurants in Phnom Penh
Choose a suitable geographical location, suitable for feng shui
Location is an extremely important factor when you have a restaurant design idea. This is also an important feng shui factor that plays a decisive role in the success of that restaurant.
To design a French restaurant in particular and restaurant design in general, businessmen need to choose a strong one to suit their age and par. Choose a convenient location so that the restaurant can more easily reach customers. Do not choose locations that have a negative impact on your restaurants such as being too close to industrial parks, factories, and arterial traffic locations where traffic jams often occur; the area is too far from the residential area; sparsely populated areas, and housing; Do not build restaurants next to places with bad odors. In addition, to ensure the feng shui element, when designing a French restaurant, restaurant owners need to avoid facing banks to avoid being sucked in, and the main door is not facing large trees that easily create conflicts. aura is not good.
The color and lighting in the restaurant are designed in the French style
The French have different preferences and characteristics than the Vietnamese, especially in terms of color and light. Therefore, when designing a French-style restaurant, it is necessary to ensure respect for such a long-standing culture.
We can choose light and gentle colors such as earthy yellow, orange-yellow, turmeric yellow, golden brown, etc. to create a cozy and close atmosphere for the restaurant. Or you can use modern hues like white and accent it with other creative colors and details.
In terms of lighting, choose mainly white and yellow lights to create harmony with the main color chosen by the homeowner. Remember, lighting can harmonize the vitality of the restaurant!
French restaurant interior
Because the design of a French restaurant is not only for Vietnamese people but also an attractive destination for French tourists, readers need to know the taboos of the French.
The French do not like to speak too loudly in public, so when designing a French restaurant, readers need to arrange not too many dining tables in the same space, avoiding noise and crowding when dining. Tables and chairs or utensils must be cleaned and carefully cleaned. The interior of the restaurant must also be arranged neatly… only then can it give a deep impression to diners about your brand!
After reading this article, you must also understand the specific characteristics, selection criteria, and experience when enjoying food at a restaurant in Phnom Penh, right? Luxcity always hopes to bring the most useful information to customers, wish you can choose a French restaurant right in your vast capital Phnom Penh that is suitable to have a satisfactory evening. Please. If you still have questions, please contact Luxcity to be resolved them as quickly as possible.
Read more travel articles in Cambodia and inspiration from Luxcity.com.