2023-01-17
Phnom Penh bus station: All you need to know [Update 2023]
Cambodia is known for its organized chaos. While this characteristic adds to its allure, it can make getting around difficult. Whether navigating the capital's congested streets or planning a vacation across Phnom Penh, the bus is one of the most recommended modes of transportation that visitors are encouraged to use during their stay. Here's what you need to know about the bus station in Phnom Penh:
Overview about bus stations in Cambodia
The most convenient way to move across Cambodia's cities and regions is by bus. Buses, unlike airplanes, cover all local and regional routes. Buses can quickly move you across the country, whether you're going to a distant place or heading to a metropolis.
Even though there are already motorbike taxis and tuk-tuks on most street corners and ride-hailing apps for tuk-tuks and taxis, the bus system is a nice addition. The public bus system in Phnom Penh has recently been expanded to eight lines, providing a service that is valuable for both locals and tourists. Even though buses are slower than other ways to get around the capital's streets, which are getting more and more crowded, they are a more relaxing way to wait out the inevitable waits.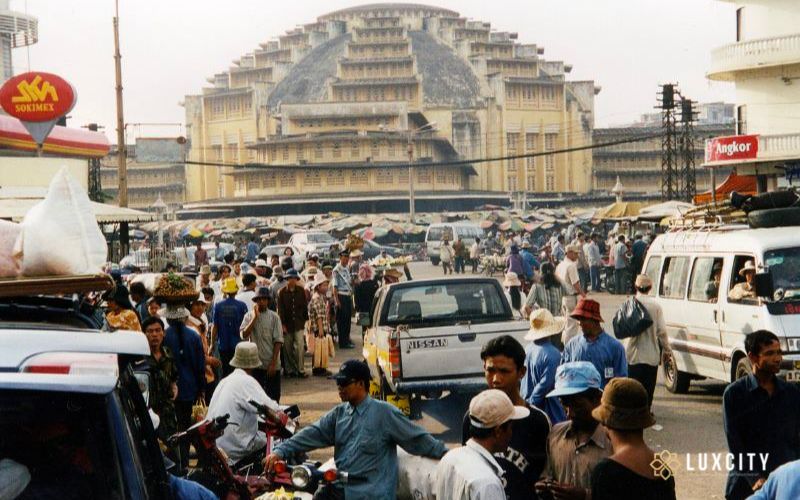 It also provides intercity mobility between city areas. For example, after landing at the airport, you can take a bus to the city center. Cambodian buses are either run by the government or by a private operator. Most buses include air conditioning, television, and Wi-Fi. It is open every day from 5:00 a.m. until 8:30 p.m. If your trip will take a long time, you can buy tickets ahead of time at travel agencies and bus stations. Meanwhile, if you only need to go within the city, you may take buses from authorized bus stations.
Phnom Penh City Bus is the municipal public transit system in Phnom Penh, Cambodia. It is open every day from 5:30 a.m. until 8:30 p.m. There are 11 bus lines that serve the entire city. Its bus service connects Ta Khmao (in the south), Prek Pnov (in the north), Chbar Ampov (in the east), and the Special Economic Zone (West).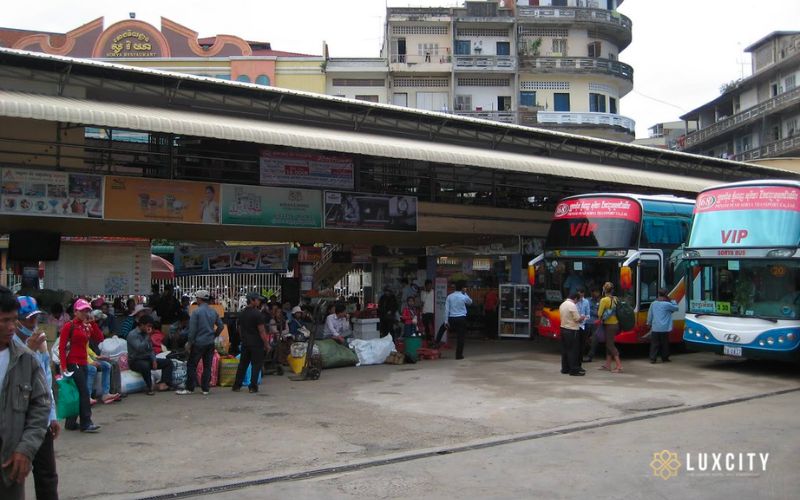 Public buses, regardless of distance, charge KHR 1,500 ($0.37 USD) for each ride. Seniors, children under one meter tall, the disabled, students, monks, manufacturing employees, and teachers are exempt from payment. The free trip may only be obtained once proof of identity, such as a student ID, is shown.
Bus stations are a combination of covered seats and plain signposts, and they all provide a route chart for that particular bus route. To get the most out of the system, download the free "Stops Near Me" app. It not only displays the whole route map for all buses and indicates bus stops in English, but it also live tracks buses so you know when the next one is on its way. You may get the software for free from Google Play or the Apple App Store.
Reasons why you should take the buses:
Traveling in the new buses is far less risky than on motorcycles or tuk-tuks, and you won't have to worry about having your belongings stolen.
Prices don't need to be negotiated.
The air conditioning provides a welcome relief from the oppressive heat, as well as the clamour, dirt, and stench that permeate the streets of Phnom Penh.
Even for shorter distances, it is the most financially prudent choice because of how inexpensive it is. Taking the bus along Route 3 from the night market to the airport in Phnom Penh will only cost you $0.40 cents, whereas a tuk-tuk off the street would cost you $7 after some negotiating, and an app-hailed taxi will cost you closer to $8.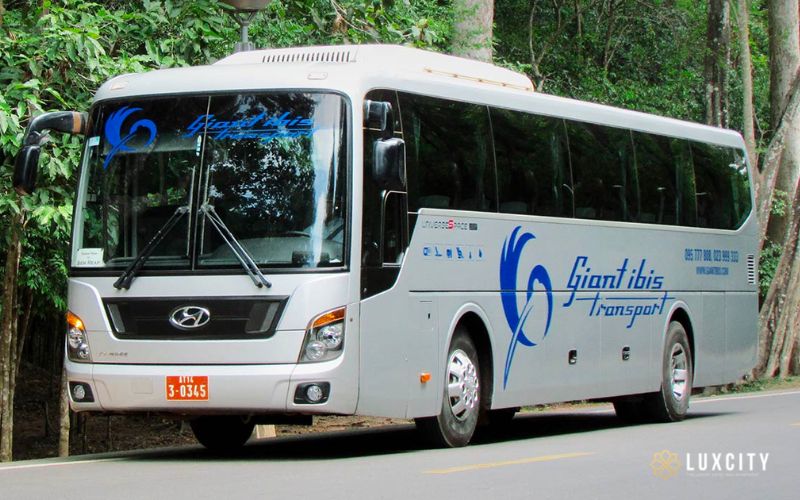 Bus station in Phnom Penh
Route 1:
From the Cho Ray hospital on National Road 1 in Chbar Ampov (on the route to Vietnam), it crosses the Monivong bridge, goes up Monivong Boulevard, past the French Embassy, and continues along Highway 5 through the Cham Muslim settlement and the Ammar Ebn Yasser mosque.
Route 2:
Another vertical path runs from Takhmao city in the south up Norodom Boulevard, via the Independence Monument and Wat Phnom, before going west to Aeon Mall 2 in the northern Toul Kork neighborhood.
Route 3:
From the Riverside bus depot near the Night Market, which is where many major bus and minibus services arrive and depart, this travels east to west and passes the Central Market as well as the Airport.
Route 4:
After passing Wat Phnom, Central Market, and the Olympic Stadium, it will divide in two just south of the airport. Route 4A will link with the Route 3 terminus just south of the airport near National Road 3, while Route 4B will go west to the Extraordinary Chambers of the Courts of Cambodia (ECCC), also known as the Khmer Rouge Tribunal, and will end at the Phnom Penh Special Economic Zone.
Route 5:
The route begins in the area directly to the rear of Aeon Mall 1 and near Diamond Island, continues west along Mao Tse Tung Boulevard, skirts the northern edge of Russian Market, and then swings to the north, passing through Toul Kork en route to Aeon Mall 2.
Route 6:
Begins close to the airport, continues north along National Road 6, and terminates a short distance from the Silk Island ferry. This route travels east through Toul Kork, past the French Embassy, and then proceeds north along National Road 6.
Route 7:
It then proceeds south from National Road 5, via Toul Kork, and through the Royal University of Phnom Penh before dividing. Route 7A continues past the Olympic Stadium and Independence monument until ending behind Aeon Mall 1, and Route 7B continues east over the Monivong bridge before ending in Chbar Ampov.
Route 8:
Starts where Route 6 ends, at the Silk Island Ferry, and travels north before turning west, passing the construction for Cambodia's hosting of the 2023 Southeast Asian Games and the city's premier golf course, Garden City, before crossing the LYP bridge and returning south along National Road 5 to the terminus of Routes 1 and 7.
The prices of buses in Cambodia are very reasonable. However, even if you are travelling on a tight budget, we advise you to shell out a little bit extra money whenever it is feasible to do so in order to reserve a ticket with a firm that provides a service that is more convenient for you. Although most buses are rather pleasant and air-conditioned, the cheaper ones are often older vehicles that make more stops along the route, which adds to the overall amount of time it takes to complete the trip.
Tourists have a strong preference for luxurious transportation options that prioritise passenger satisfaction in regard to both safety and comfort. Some of them will even come to pick you up directly from your hotel at no additional cost to you.
The following are some examples of these companies: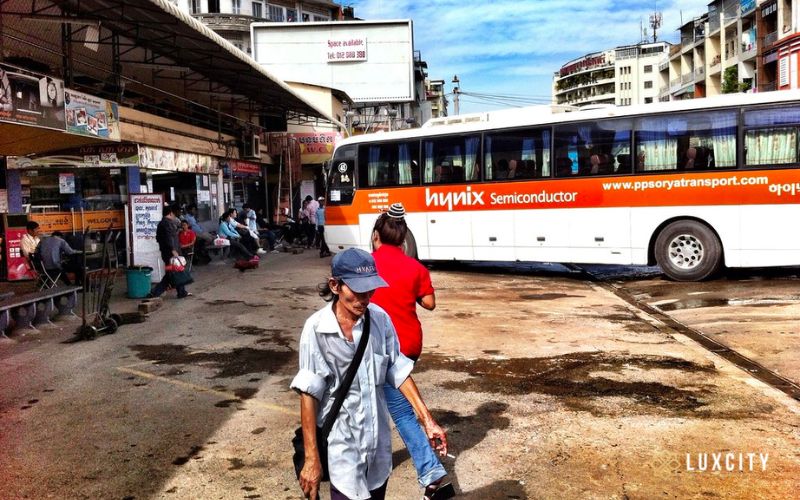 According to the Ministry of Public Works and Transportation, Giant Ibis Bus Cambodia has the finest safety record of any passenger transport firm in the country. This information was obtained from the ministry.
Mekong Express is a company that operates luxury buses that go from Phnom Penh to several locations in Cambodia.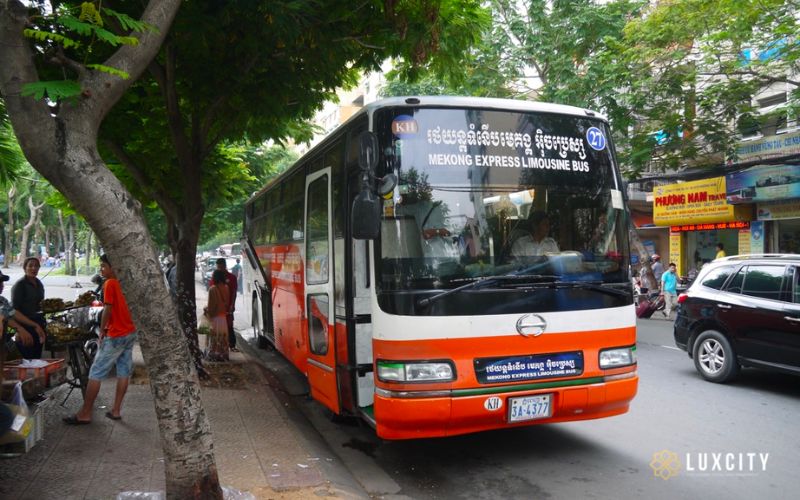 These businesses offer reliable services on many routes, including those that go from Phnom Penh to Siem Reap, Sihanoukville, Kampot, and Ho Chi Minh City.