2022-05-05
How do the facilities in the hotel meet the needs of customers?
A good hotel always comes with quality services, especially facilities. Customers will rarely look at the exterior of the hotel to evaluate it, or decide whether they should stay and enjoy the trip. But they often rely on the convenience and comfort that they receive when using the facilities here. So how do the facilities in the hotel meet the needs of customers? How do we find such a good hotel? Let's refer to today's article from Luxcity Hotel, we will help you answer these questions.
What are the facilities in the hotel?
Facilities in the hotel are all utilities, items, and utensils in a certain room of the hotel. This is also one of the criteria that can evaluate whether the hotel is a good hotel or not, how many stars. Each different hotel model usually has different modern facilities, depending on the type of service that customers choose. If you want a hotel with good facilities, of course, it must be suitable for the price that customers spend. So what are the specific facilities in the hotel and what are the characteristics of each type? Let's follow along.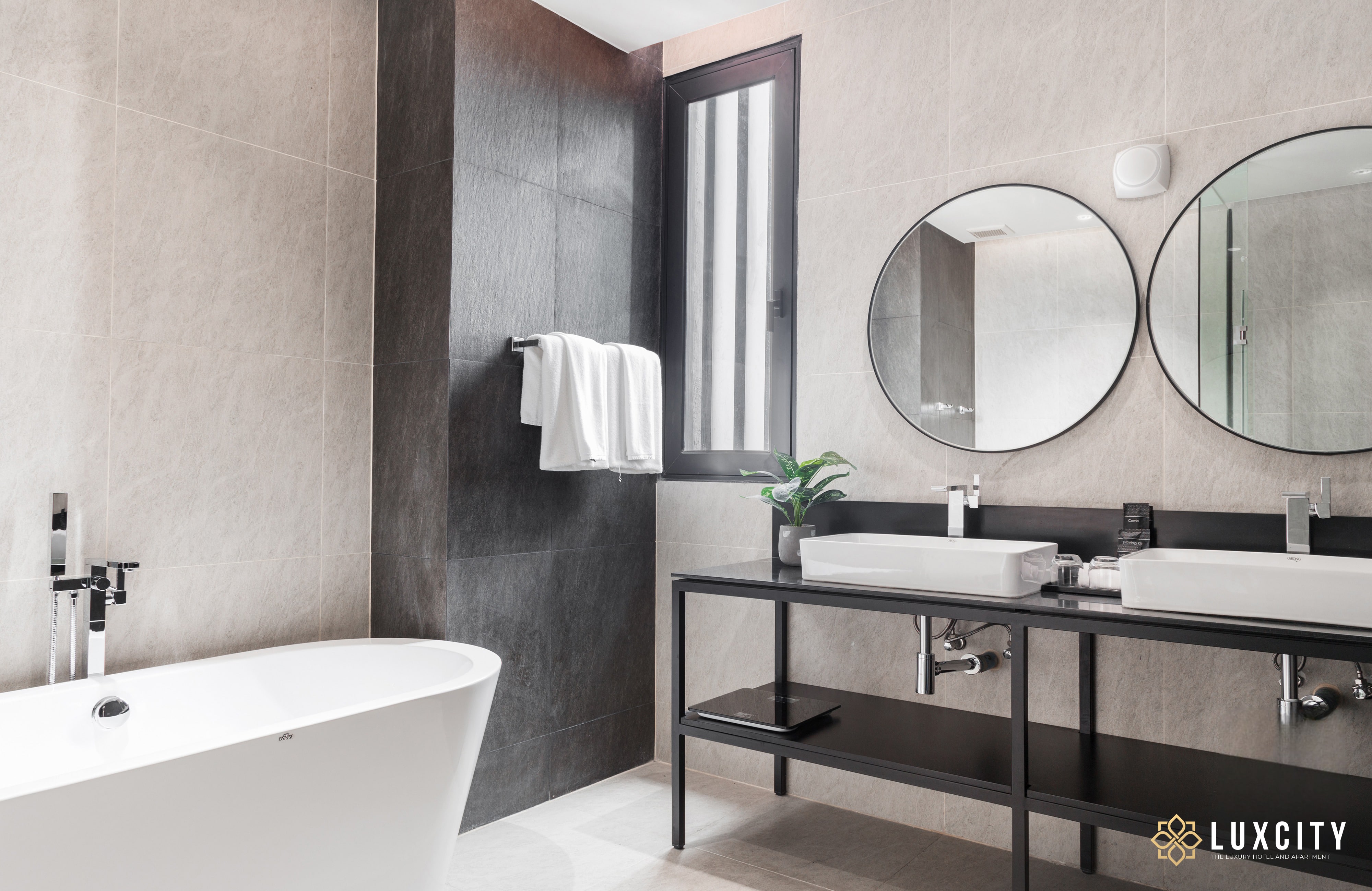 Restaurant and Coffee
The past year has brought many anticipations to the hospitality sector. Therefore, many Hotel and restaurant operators have employed creative solutions to remain profitable, such as increasing facilities and services in the hotel to meet the needs of customers, including restaurants and coffee. Overall, it brings a lot of convenience and comfort to tourists. Typically, restaurants try to give the best dishes, featuring from different regions and countries, with the quality of food always on the top. Food is fresh, preserved, processed, and cooked very well, made by highly qualified chefs, carefully and meticulously bringing each dish to guests. In addition, the coffee service right on the hotel premises is also extremely popular and loved today. It brings convenience and relaxation to customers. In addition to the hours of sightseeing or work, seminars in the hotel, visitors can relax, watching everything next to a cup of hot coffee. That feeling will hold visitors back to the hotel to experience it again. If you have the opportunity, I recommend that you consider this service when choosing a hotel, it's very good.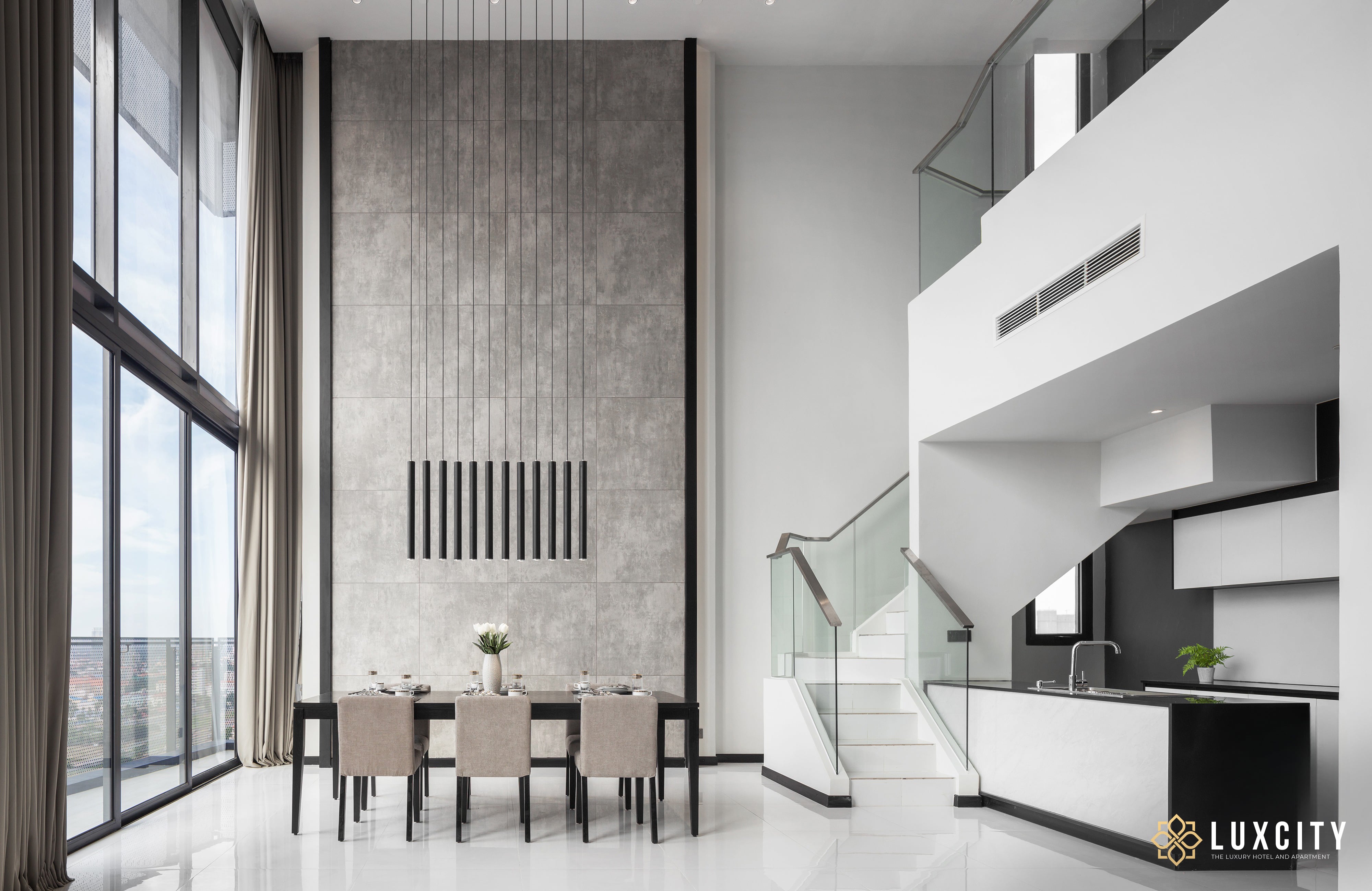 Laundromat
Laundry service is available in most hotels, from basic to advanced. This is a service created to meet the personal hygiene and wearing needs of customers. It will help customers realize whether this is a thoughtful hotel for them. Normally, staff will come to your room every morning to pick up laundry, iron, iron for you carefully, and then deliver it to you on time. Everything will be done by the staff and we won't have to do anything, it's convenient, right?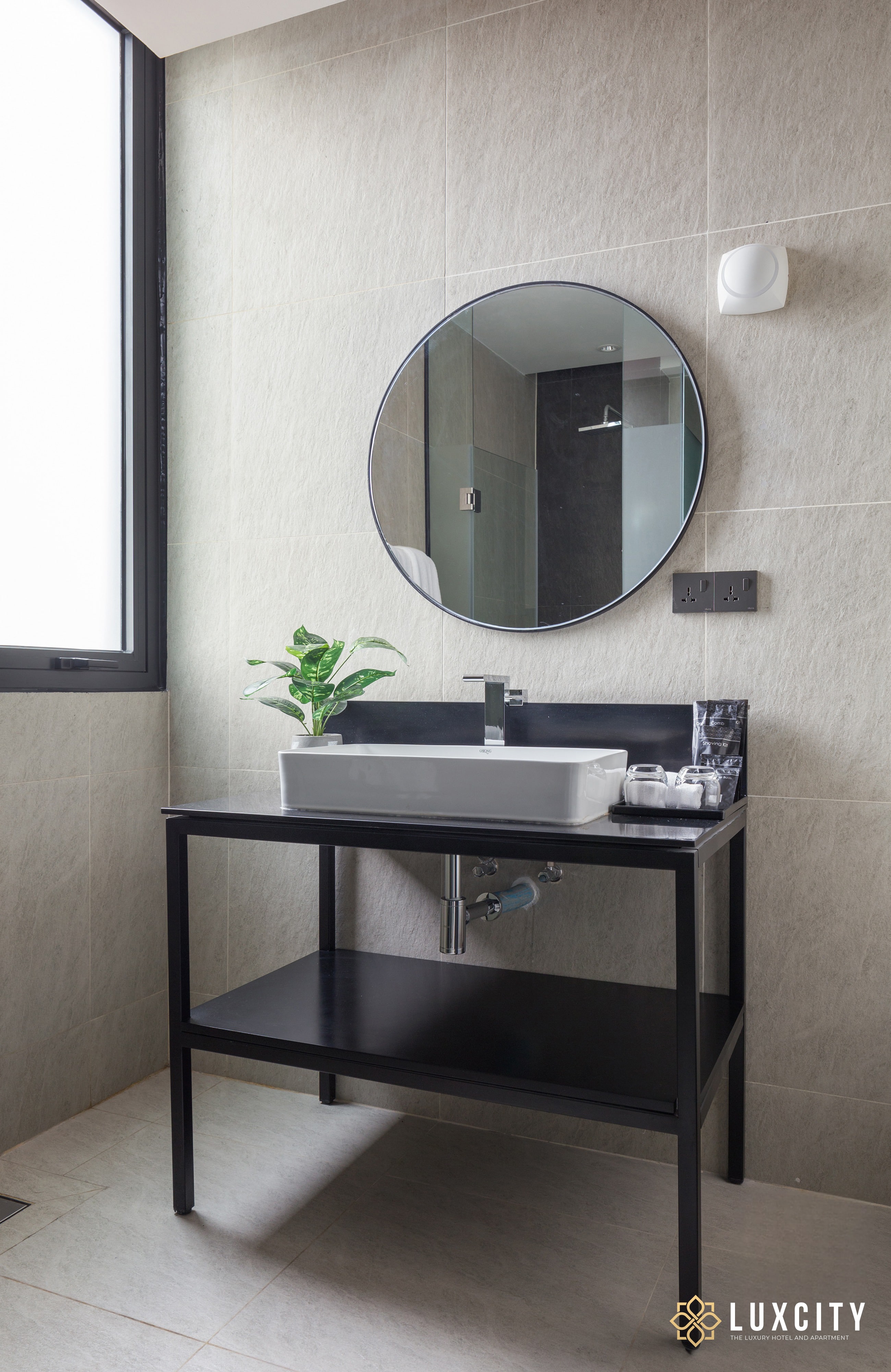 Auto Parking
Almost all hotels are equipped with garages or auto parking to serve the needs of preserving and protecting their moving equipment. This is an attraction, especially for high-ranking guests, who come to the hotel to work or attend seminars, conferences, or large business discussions. Due to the nature of the job, having to move traffic with a lot of frequency, having a spacious and comfortable auto parking is extremely essential. If the hotel is equipped with that, it will attract business guests to this place.
Function Room
As one of the factors, the facilities in the hotel are extremely modern and new. For example, at Luxcity, we have built this facility model for many years to meet all other service needs of customers. Event space for conferences and seminars at our hotel always serves resort tours, meeting combinations, year-end parties, gala, and full-service packages in a professional and classy manner. In addition, Luxcity also provides modern conference and event spaces, suitable for many types of events and services to meet the needs of meetings, exchanges, and rest. of organizations and enterprises; become a companion of units and businesses in building and developing brands.
At Luxcity, the system of conference and event rooms is diverse in size, and professional event organization services, fully meet the diverse meeting needs of organizations and businesses. All conference - event rooms here are fully equipped with modern facilities and equipment of international standards; an elegant and luxurious lighting system, two-way air conditioners, and good soundproof walls.
If you have the opportunity to come to Phnom Penh, Cambodia to work or organize an important conference or meeting, don't forget to visit Luxcity Hotel & Apartment for the best and first-class service and experience.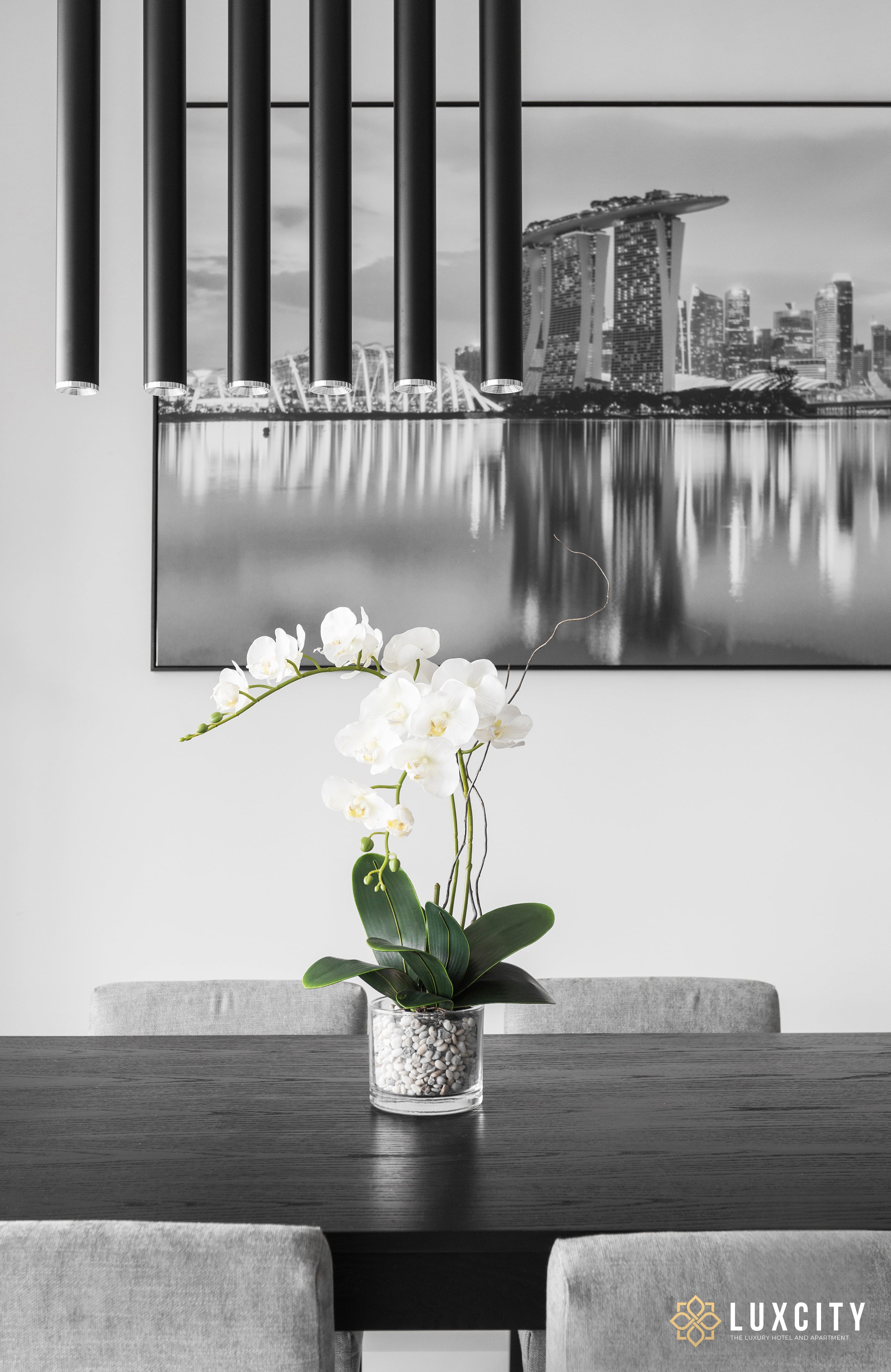 Facilities sport center
Currently, people's demand for health training at gym services has increased significantly, especially after the epidemic period, and everyone's awareness of health protection has improved. Therefore, choosing hotels for long trips for travel and business needs a gym service to help customers both work away and maintain a daily exercise regimen, and that's also the case. gradually become a criterion for choosing a hotel of customers. For a 5-star hotel, this facility is necessary to help provide a better experience for customers, to expand the microscale to increase competitive advantage over other hotels in the area. A good hotel will meet the criteria of a gym such as airy and spacious space, modern exercise equipment, and convenient services to attract many customers. At Luxcity we also have a model of such hotel facilities. With a very comfortable view, we always ensure that customers will both practice and rest in joy.
Swimming pool
Swimming pool service at the hotel is no longer strange to tourists, almost every hotel is equipped with one to serve the needs of customers. The swimming pool is usually designed to be spacious but full of safety so that customers can enjoy the experience with peace of mind. Luxcity hotel & Apartment is one of the hotels that always respond well to this service. We built the main swimming pool located in the center on an extremely spacious, modern, and safe scale. There are also swimming pools on the balconies of high-class rooms, to meet the maximum comfort possible for customers.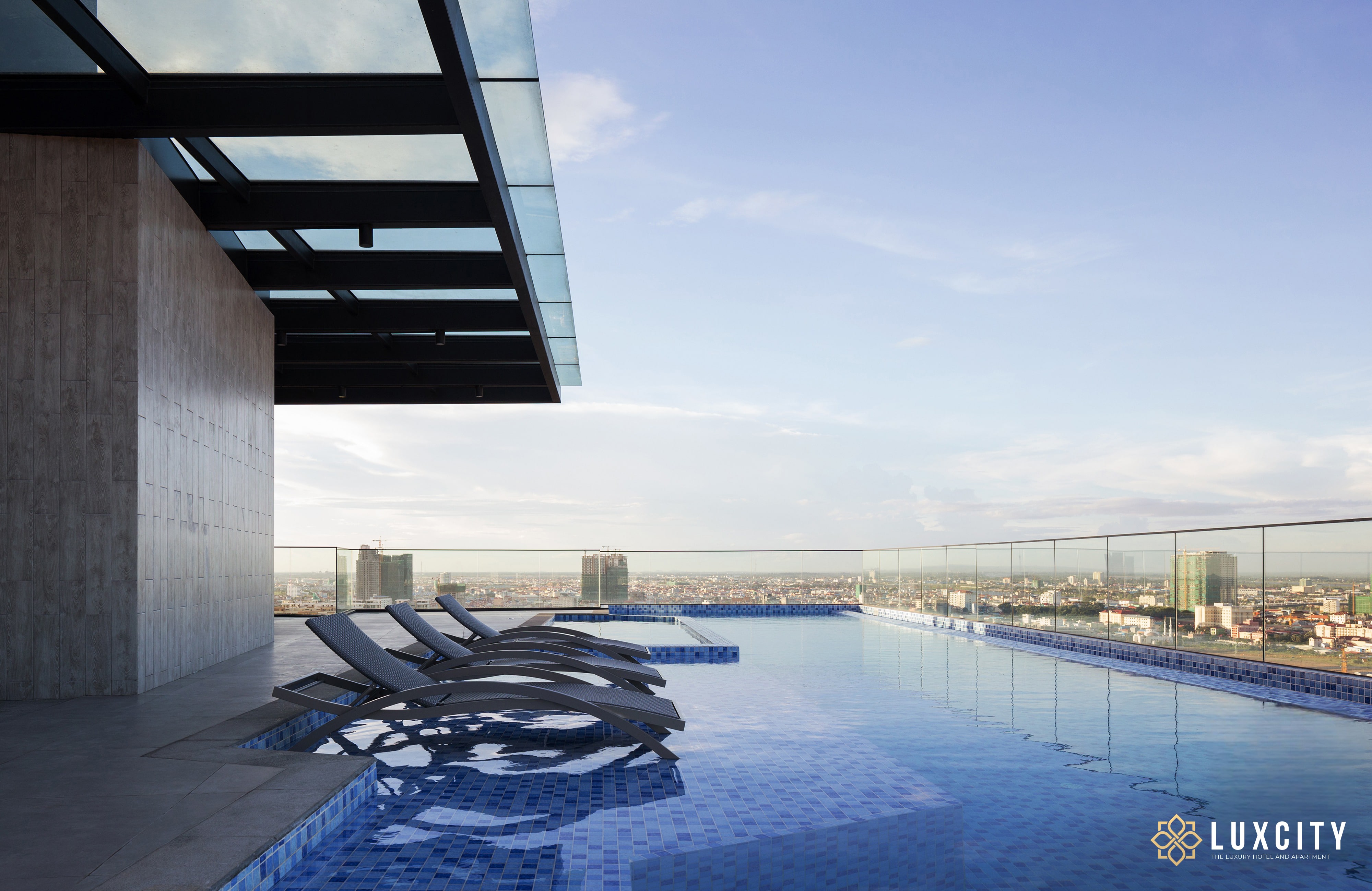 Luxcity Hotel & Apartment - One of the top facilities hotels in Phnom Penh
This is one of the hotels with the best hotel facilities in Phnom Penh. This is an ideal location for every itinerary of your vacation, as it is located in the heart of Phnom Penh's Doun Penh. You can easily visit your favorite restaurants near Riverside Phnom Penh, go to any of the entertainment areas and eat to your heart's content.
Of course, the facilities here are too good. The rooms of this hotel are large and well equipped, with comfortable and modern amenities. There are some unique features that not all hotels offer. Luxcity's services are also of high quality; the employees are motivated and attentive, and they take good care of the consumers. Guests can approach the front desk at any time for assistance with outside services such as taxis, luggage storage, currency exchange, and more.
Meals are also served with a variety of international specialties from other countries. It is also close to many famous attractions and tourist attractions in Phnom Penh. You can get there without spending a lot of money.
Luxcity always makes sure that it can satisfy even the most demanding guests with such great facilities. So, if you are looking for a place to stay in the best hotel facilities in Phnom Penh, look no further than Luxcity Hotel & Apartment! We are always happy to welcome you and provide you with a wide range of options.
Luxcity Hotel & Apartment

After reading this article, you must know well about the hotel facilities and how to choose the hotel with the best facilities, right? Any visitor when choosing a place to stay after a holiday vacation focuses on the interior rather than the exterior. If you are still looking for a hotel that meets all of those essential needs to enjoy your vacation in the best way, don't forget to visit Luxcity! We have everything you need here and are ready to give you a lot of deals today.
Read more travel articles in Cambodia and inspiration from Luxcity.com.