2022-10-27
Top 5 Country hotels near you to dive into the supernatural beauty of the Cambodia countryside
Have you heard that every exit is an entry somewhere else? Cambodia goes beyond the city centre and ancient temples. It is an authentic adventure with stunning landscapes and a home to elusive wildlife. Escape to the Cambodian countryside, you will walk down a dirt road, observing the laid-back way of life. You are welcomed with warm and gracious smiles, with waving hands from energetic children. This is what Cambodia is all about! And if you want to fully immerse in this supernatural gateway, the country hotel will surely tick your box. Check out the Top 5 country hotels near you in Cambodia to go beyond the temples and the cities, and discover the true meaning of what life is like for the typical rural Cambodian.
Read more: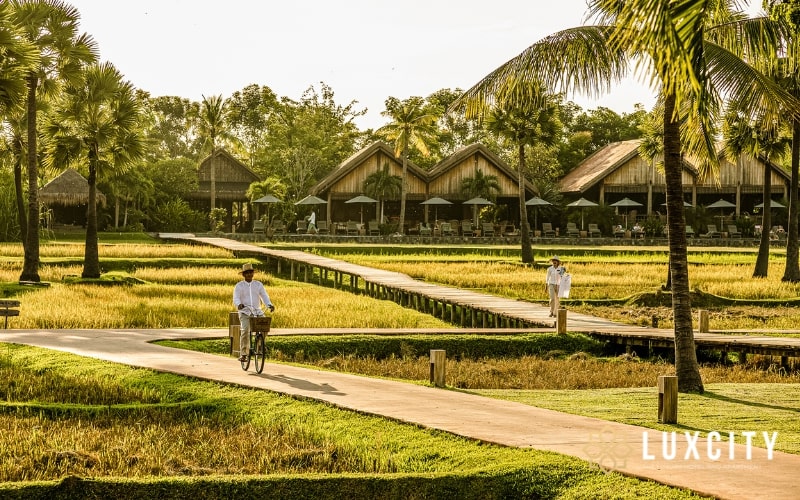 What is a Country Hotel?
A country hotel is a hotel located in the countryside. It provides visitors with a one-of-a-kind stay in a natural setting. In general, these hotels appear to be more like houses than hotels found in cities or prominent tourist locations. One of the most important characteristics of this sort of hotel: tourists immediately feel at ease and welcome.
Every rural hotel has its own style and specialisation, which usually reflects its natural surroundings. Some country hotels focus on local activities like hiking, fishing, or horseback riding, while others focus on making their guests feel good. Simultaneously, some hotels will have a spa or a pool on-site.
What sets Country Hotels apart?
Natural surroundings
Country hotels acquire their moniker from their location in the countryside. It gives visitors the peace and quiet they would expect from a property in the country. When you wake up, nothing is more peaceful and attractive than a view of the countryside.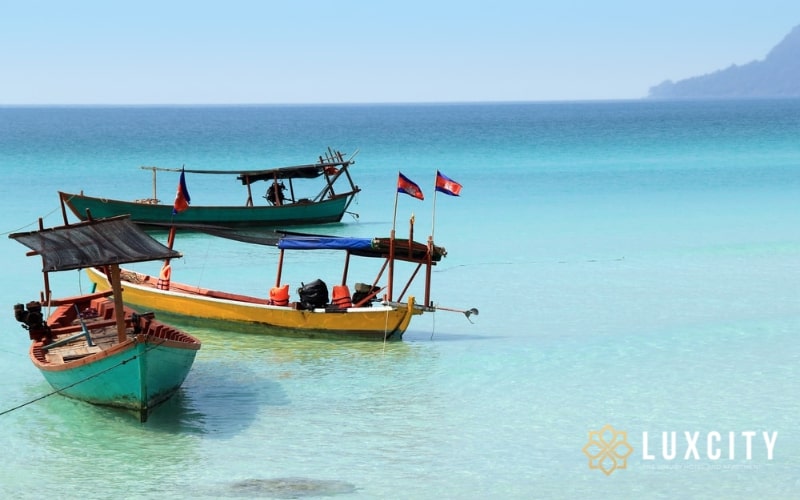 Outside of the cities, traditional Khmer towns and villages dot the lush countryside, giving interesting glimpses into a more traditional way of life.
Intimate encounter
A country hotel gives its guests a more personal and homey experience than a regular hotel. During your stay, you will surely feel at ease. The subtleties are what make this intimate experience so special. The furnishings, service, activities, scale, and surroundings all contribute to the one-of-a-kind experience.
Excellent customer service
At country hotels, you will take pleasure in providing outstanding service. Because country hotels are frequently smaller than other hotels, they can give each and every visitor their undivided attention. They frequently remember their visitors' names and particular requests by heart.
Activities
Most hotels offer activities, trips, and other services to their guests, but a rural hotel does a great job of giving guests unique experiences that fit the area and the guests. Some of the things you can do at the hotel are outdoor activities, guided trips, horseback riding, cycling, and fishing. Activities vary based on the hotel and the area around it, but they are always changed to fit the location.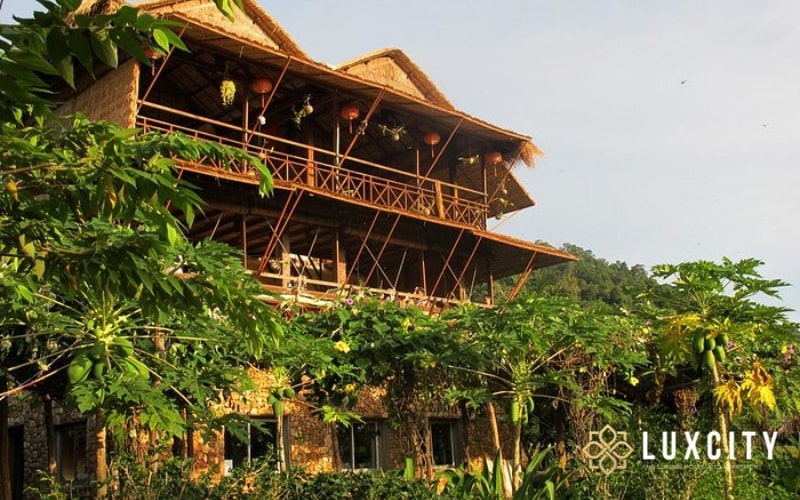 The difference between Country Hotels and Boutique Hotels
Country hotels and boutique hotels share many similarities. They both have great customer service, are often in unusual buildings, and are usually smaller than hotel chains and bigger hotels. However, the two are not identical.
Unlike boutique hotels, which are frequently found in cities, country hotels are always situated in the countryside. Both types of hotels have great service and a personal touch, but a country hotel cares more about being real than about design and art. This is why hotels attract a diverse range of tourists.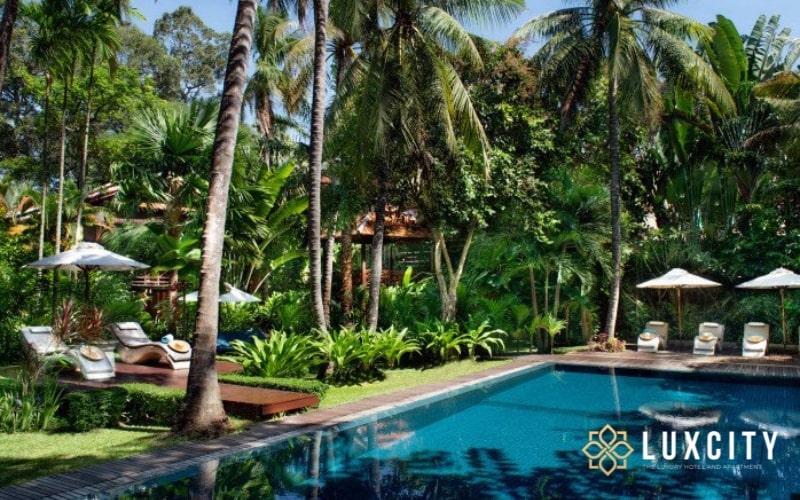 Which are the top 5 country hotels near you in Cambodia?
Maison Polanka
Maison Polanka is a cluster of traditional Khmer villas on stilts, nestled in an idyllic garden estate near Siem Reap – a hip hub of Cambodian culture and gateway to the ancient temples of Angkor Wat. The stylish suites are divided by color and have handpicked antiques, art deco furniture, and wooden verandahs with views of the grounds. Sample authentic local delicacies at the intimate restaurant, then learn how to make them with a chef-led market food tour and cooking class—or focus your energy on cooling dips in the pool and deep-tissue massages at the palm-leaf–lined spa.
Zannier Hotels Phum Baitang
Tucked away among the paddy fields in Cambodia's picturesque countryside, Zannier Hotels Phum Baitang is a world away from the bustle of nearby Siem Reap town. Perched high on stilts in luxuriant tropical gardens, this all-villa resort has the rustic charm of traditional Khmer wooden houses, albeit ones with hand-picked antiques, freestanding baths, and private plunge pools. Surrender to the ministrations of its expert mixologists and spa therapists—should you ever feel compelled to leave, ancient ruins, vibrant markets, and a lively nightlife are just a short tuk-tuk ride away.
Shinta Mani Wild
Shinta Mani Wild is so much more than a tented riverside perch deep in the Cambodian rainforest's heart. This luxe retreat taps into the country's burgeoning appetite for adventure basecamps that don't scrimp on home comforts – and it does so in Bill Bensley's inimitable escapist style. Strap on your hiking boots to explore jungle trails, butterfly sanctuaries, and unspoilt waterways. And the tents? They're one of a kind, of course: picture-perfect feats of the stretched canvas, polished teak, and outdoor bathtubs just waiting to welcome weary explorers home.
Soriyari Villas Resort
Soriyari Villas Resort, located in natural greenery just a 10-minute boat ride from Koh In, offers a peaceful getaway in Cambodian-style media. This resort has a restaurant, free Wi-Fi, and bicycle rentals. Wat Chong Koh and Wat Kbal Koh are both a 10-minute walk away, and Kratie is a 20-minute boat ride away. Rooms here have wooden floors and walls, large windows with views of the garden, fans, work areas, and comfortable sitting areas. Some people choose the private room filter. The restaurant is open all day and serves a variety of local and Western dishes. There are also BBQ facilities and room service.
Angkor Countryside Boutique Resort
Angkor Countryside Boutique Resort is a small property hidden in the green heart of rural Cambodia, yet only a short distance from all the attractions you have come to see. It is located 7km east of Siem Reap, approximately15 minutes by tuk-tuk or 10 minutes by taxi. The temples of Angkor are 12km north of the resort, and the Rolous temple group dating back to the 9th century lies a mere 8km east following the national Route #6, and it is a 10-minute walk to Svay Thom-Local Market.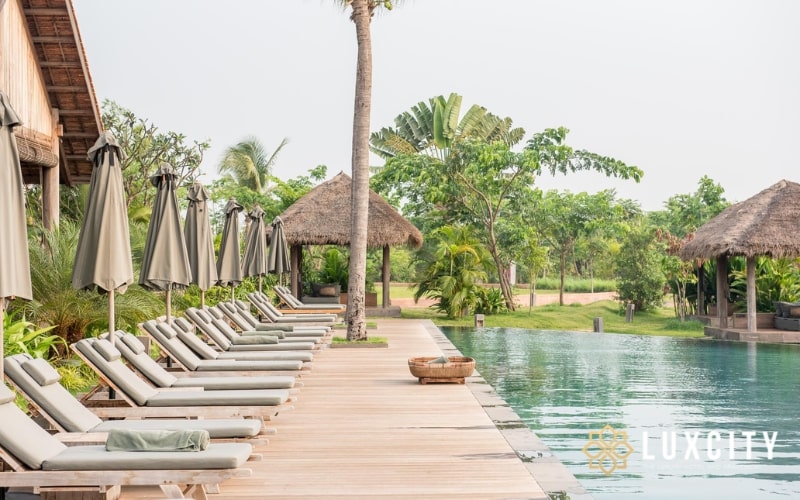 Every year, millions of tourists visit Cambodia to see Angkor's famous UNESCO World Heritage temples and many other temples. Even though these places are what most tourists come to Cambodia to see, the countryside is often overlooked. There aren't many ways to get off the beaten path and see the beauty of Cambodia's real rural life. Cambodia goes beyond the old temples, monuments, and vibrant cities. Why not step off the beaten path to gain a better appreciation of Cambodia? Start planning your trip to the countryside of Cambodia, and you'll fall head over heels for this magnificent country.
Check more Luxcity travel tips if you wanna learn more about fascinating things to spend your trip to the fullest: https://luxcity.com/promotion.