2022-10-18
Book 7 Top-rated hotels near Tuol Sleng Genocidal Centre to know all about Cambodia's history
The Tuol Sleng Museum in Cambodia is one of those museums that houses Cambodia's darkest secrets. It tells the story of innocent people who were kidnapped, tortured, and executed by the Khmer Rouge regime between 1975 and 1979. A visit to this museum makes you question humanity's purpose, people's sanity, and truthfulness as well as how these people's lives could have suddenly turned into something worse than hell. It not only helps you learn more about Cambodia's troubled modern history but also changes how you see the rest of the world. So, why not stay near the Tuol Sleng Genocidal Centre and walk through the city's most iconic tourist attractions? Here are Luxcity's top-rated hotels near Tuol Sleng Museum recommendations that may help you. Let's scroll down!
Learn more: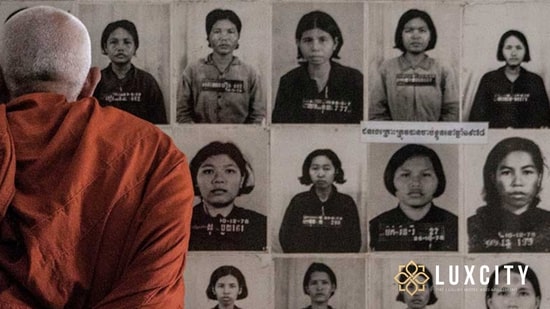 About The Tuol Sleng Genocidal Centre
The Tuol Sleng Museum is located in the Cambodian capital - Phnom Penh. This museum was originally a secondary school before being converted into a prison by the Khmer Rouge regime, which ruled here from 1975 to 1979. The Security Prison 21, also known as the S21, was retained as the name of this prison. It is believed that it was one of the 196 prison cells under the control of the region's previous government. This crime centre was a five-building complex that served as an interrogation facility. This structure housed thousands of innocent people who were horribly tortured and then left to die or be murdered. Several medical experiments were performed on them, and their body parts were removed and sold on the market without their consent.
By 1975, half of the people who were not Cambodian had left the country because of the genocide. The entire nation's state was entirely shattered. This museum was constructed to teach people about how cruel the Khmer Rouge was and to be a memorial for all the innocent people who had to endure so much pain and eventually died.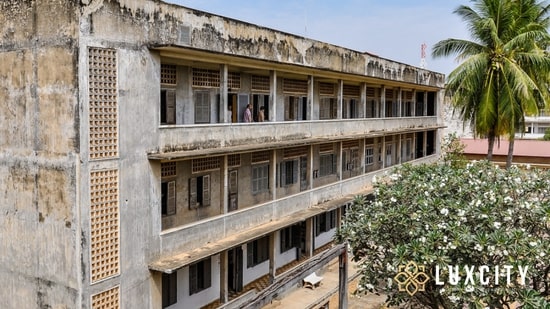 What is the best time to visit the Tuol Sleng Genocidal Centre?
There are two distinct seasons in Cambodia. The wet season lasts from May to October, whereas the dry season lasts from November to April. So, the best time to visit Cambodia depends on how hot it is, how often it rains, and how many people usually travel in a certain month and area. So, if you want to visit the Tuol Sleng Museum, the best time to go is between May and early October. There are two reasons why you should come here at this time of year:
Avoid crowds: Because the number of tourists travelling during this period is comparably low, allowing you to explore the places peacefully and learn everything you can about them.
Save money: Almost everything, from food to lodging to local markets, is quite inexpensive. As a result, you can save money as well!
The Tuol Sleng Genocide Museum is open to the public every day.
Morning: from 8:00 AM to 11:30 AM
Afternoon: from 1:30 PM to 5:00 PM.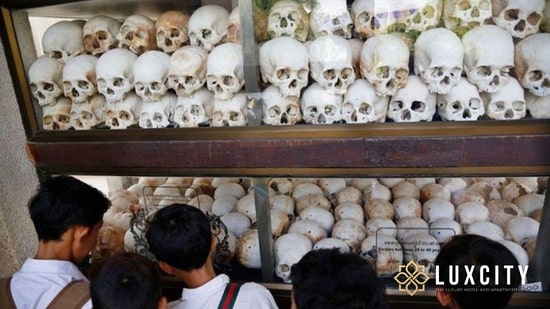 Why is staying close to the Tuol Sleng Genocidal Centre advantageous?
Being in the two best areas to stay in Phnom Penh ​​- Chamkar Mon
Chamkar Mon, Cambodia's most forward-thinking district, is bustling with markets, embassies, and businesses. This expat-friendly Phnom Penh neighbourhood is one of the best places to stay in Cambodia for longer stays, and even a quick visit is worthwhile.
Chamkar Mon is central Phnom Penh's southernmost district. The neighbourhood is served by several new public bus lines that traverse the main axes into the city, making it relatively easy to get around by bus, tuk-tuk, motorcycle, or taxi. Drive to Chamkar Mon from Phnom Penh International Airport in about 20 minutes or less than 10 minutes from the railway station. The ferry terminal is in Chamkar Mon's northeastern corner.
Because there are so many embassies in Chamkar Mon, the area is usually friendly to expats and tourists, especially in the busiest spots.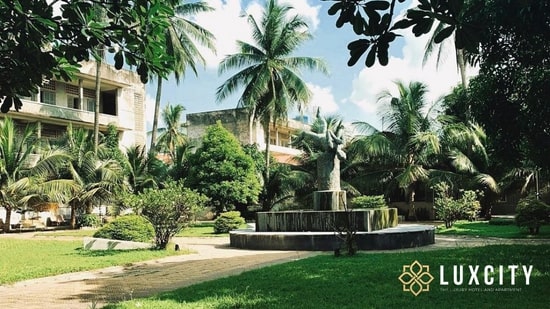 Various Attractions To Visit Near Tuol Sleng Genocidal Centre
This huge area in the south is full of markets and shopping malls, as well as touching memorials to Cambodia's troubled past.
Choeung Ek Genocidal Centre
Cambodia-Vietnam Friendship Monument
Central Market
Grand Phnom Penh Golf Club
Independence Monument
Monireth Boulevard
Wat Phnom
NagaWorld Casino
National Museum of Cambodia
Preah Sihanouk Garden
Riverfront Park
Royal Palace
Silver Pagoda.
And a lot more.
Book 7 Top-Rated Hotels Near Tuol Sleng Genocidal Centre to Know all about Cambodia's History
Luxcity Hotel & Apartment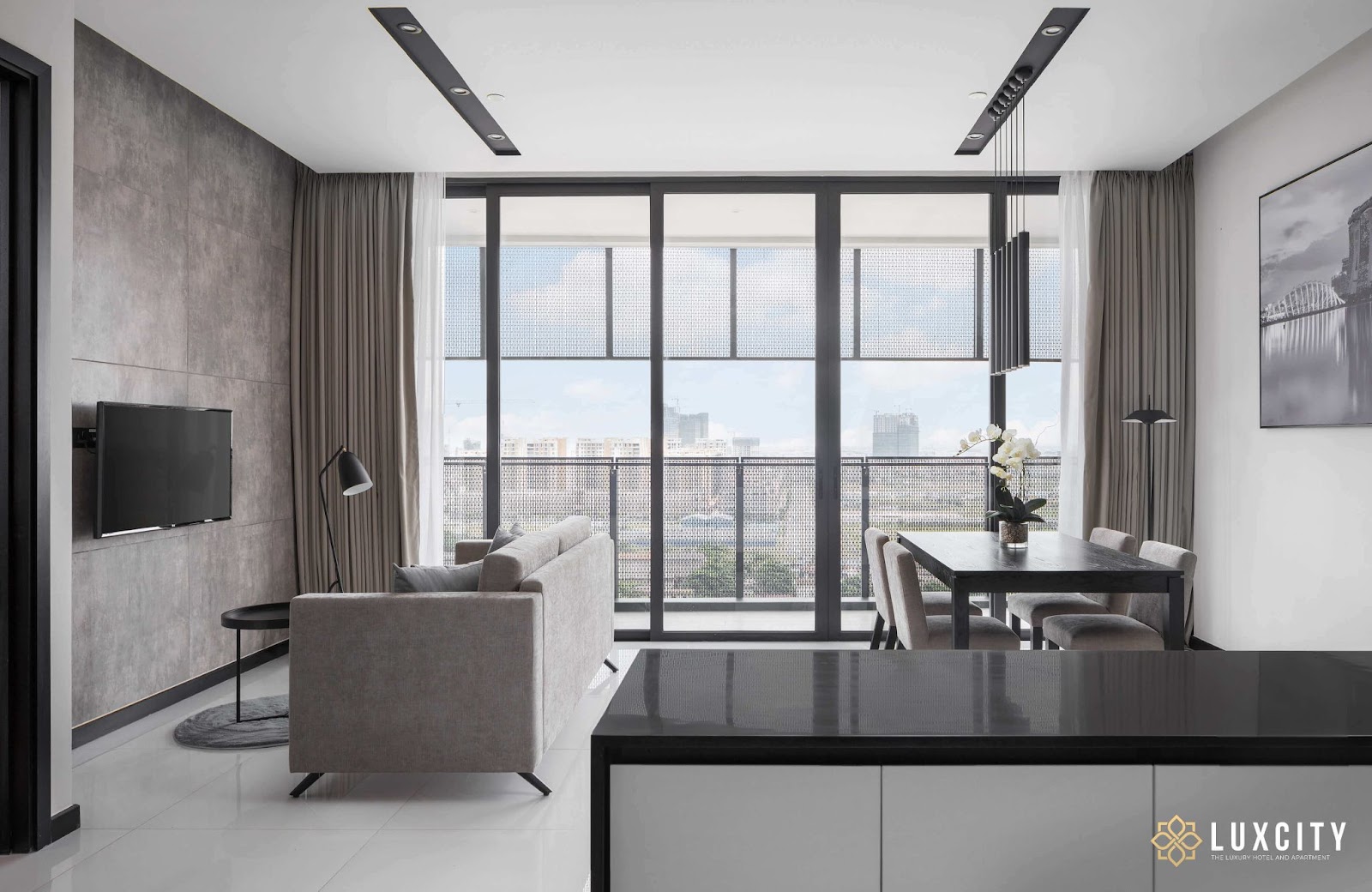 Luxcity is recognised as one of the most prestigious 4-star hotels in Phnom Penh. Strategically situated in the heart of this capital city, Luxcity offers easy access to the majority of the city's most famous attractions as well as convenient amenities. The hotel offers 24-hour reception, 24-hour security and housekeeping service, a complimentary laundromat, one parking space in an automated parking garage, a restaurant, and a swimming pool. You can keep fit through fitness classes at the gym. Each of the standard rooms is equipped with all necessary amenities. Additionally, each unit includes an electric kettle, coffee/tea making facilities, and kitchenware. But what distinguishes Luxcity as outstanding is our service; we provide a wide variety of services through staff who embody Cambodian tradition and international standards of hospitality. With our courteous and enthusiastic staff, a stay at Luxcity will ensure that you make the most of your trip.
Rambutan Resort
A sister property of Rambutan Hotel & Resort in Siem Reap located in the middle of Phnom Penh's chique and quiet BKK1 area, just walking distance of Toul Sleng and Russian Market and a short ride from all other activities. All rooms have TV, air-con, fan, writing desk, rain shower, fridge and all amenities. All deluxe suites have a private outdoor bath in garden or balcony. The Penthouse suite overlooks the city and has a large private Jacuzzi. Salt water pool, bar, restaurant, spa, and free breakfast (large choice) complete the Resort. Set in a city environment with a green garden makes it the perfect city oasis for a short getaway or holiday.
Relax Hotel
Located in the Chamkar Mon district in Phnom Penh, 200 metres from Tuol Sleng Genocide Museum, Relax Hotel features air-conditioned rooms and free private parking. Guests can enjoy the on-site restaurant. Some rooms have a private bathroom with a hot tub, while others have bath robes and slippers. Certain units feature a seating area for your convenience. You will find a kettle in the room. Relax Hotel features free WiFi throughout the property. A flat-screen TV is available. There is a 24-hour front desk at the property. The hotel also offers car hire. Royal Palace Phnom Penh is 1.8 km from Relax Hotel, while Riverfront Park is 2.7 km away. The nearest airport is Phnom Penh International Airport, 8 km from Relax Hotel.
Balconitel Boutique Hotel
Located in Phnom Penh, Balconitel Boutique Hotel is a contemporary hotel that boasts a garden, an indoor pool, and a rooftop spa bath with sun loungers. Free WiFi is accessible throughout the hotel. All rooms are brightly decorated with white walls and modern wooden décor. Some rooms also feature a balcony with views of the Phnom Penh cityscape. Daily breakfast is provided, and guests are able to enjoy meals at the rooftop restaurant with city views, and sample beverages at the rooftop bar. Enjoy the facilities such as the rooftop Jacuzzi, or even the massage treatments available. Landmarks such as the National Museum, Royal Palace, and Night Market are a 10-minute drive away from the property, and the Phnom Penh International Airport is a 30-minute drive away. Shuttle services to the airport can also be arranged at an extra fee.
Poulo Wai Hotel & Apartment
The brand-new Poulo Wai Hotel has opened its doors to discerning guests! With 196 rooms and apartments, we welcome you to Phnom Penh's most exciting new development where we blend traditional Cambodian hospitality with contemporary refinement. Whether it's a business or leisure stay our spacious and comfortable rooms, suites, and apartments, are perfectly designed for the modern traveller. Each room is bright, airy, well-appointed, and clean with its own distinctive character and fabulous view overlooking Phnom Penh. On the roof, there's Cambodia's newest sky bar with stunning views of the Mekong and Tonle Sap rivers and the ever-expanding skyline of the new Phnom Penh in the distance. There are meeting rooms, a business center-type reception desk, and of course our long-term apartment suites featuring washing machines and cooking facilities.
Baitong Hotel & Resort
Urban meets nature. Prepare to be inspired. At Baitong, quintessential design elements meet you around each corner and down every corridor. The unique architecture with lush gardens, minimal ponds, cascading Jacuzzi, striking staircases, glass-bottomed pool and walkway, and other bold features will enhance your stay. Rough stone, unfinished wood, leather, and metallic finishes are mixed & matched to create the feel of industrial functionality while adding warmth, comfort, and simple sophistication. The captivating green creates a serene and natural space within the urban setting.
Palm Tree Boutique Hotel
Located in the prestigious heart of Phnom Penh, the intimate and fashionable Khmer Style Palm Tree Boutique provides independent travellers, couples, and families with a relaxing and highly personalised stay in Cambodia's capital. Rooms are fitted with a flat-screen TV. Some rooms feature a seating area for your convenience. Certain units have views of the pool or garden. You'll find slippers and a hairdryer with free WiFi for your comfort. Khmer traditional style. Friendly Staff, helpful. The long-standing team of staff is well trained in the hospitality of green hotels and professional yet welcoming and friendly; they are completely focused on delivering exceptional customer service of hospitality.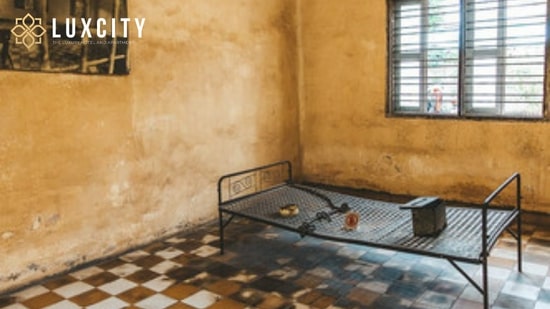 The Tuol Sleng Genocidal Centre, located in the heart of Phnom Penh, preserves a tragic period in history with the purpose of inspiring visitors to be peace messengers. If you want to learn what truly happened during those terrible years, look no further than the Tuol Sleng Museum and other historical sites such as the Choeung Ek Killing Field, Wat Phnom, etc. And if you stay at Luxcity, you'll find it easy to get to these places and use other helpful services. The best time to visit Phnom Penh is between November and April, as it enters its most beautiful season of the year. What a great time to pack and go!