2022-07-24
Top 5 Best Deluxe Hotels Near You in Phnom Penh for a Cozy and Stylish Vacation
Are you wondering where to find the best deluxe hotels near you in Phnom Penh? This article has everything you need to know.
Time and time again, Phnom Penh is treated as a less busy capital among its high-profile neighborhoods like Bangkok, Hanoi, Singapore, or Kuala Lumpur.
As part of the history itself, Phnom Penh culture and architecture have been refined with a strong French influence. The best way to soak up this stunning European flare is to spend a few nights at one of the top-rated hotels.
Other than the iconic heritage hotels, the capital city also plays host to numerous deluxe hotels for the boggiest of travelers. These hotel rooms and suites are usually accompanied by a view, either looking out to the sprawling city or the romantic Tonle Sap and Mekong River, as well as a rooftop pool or a lush garden in the sun.
Whoever said money can't buy you happiness probably hasn't had breakfast served while basking in a private pool. And that's one of the best things Phnom Penh's deluxe hotel can enjoy. Treat yourself to an indulgent staycation at these best luxury stays in Phnom Penh money can buy.
Read more: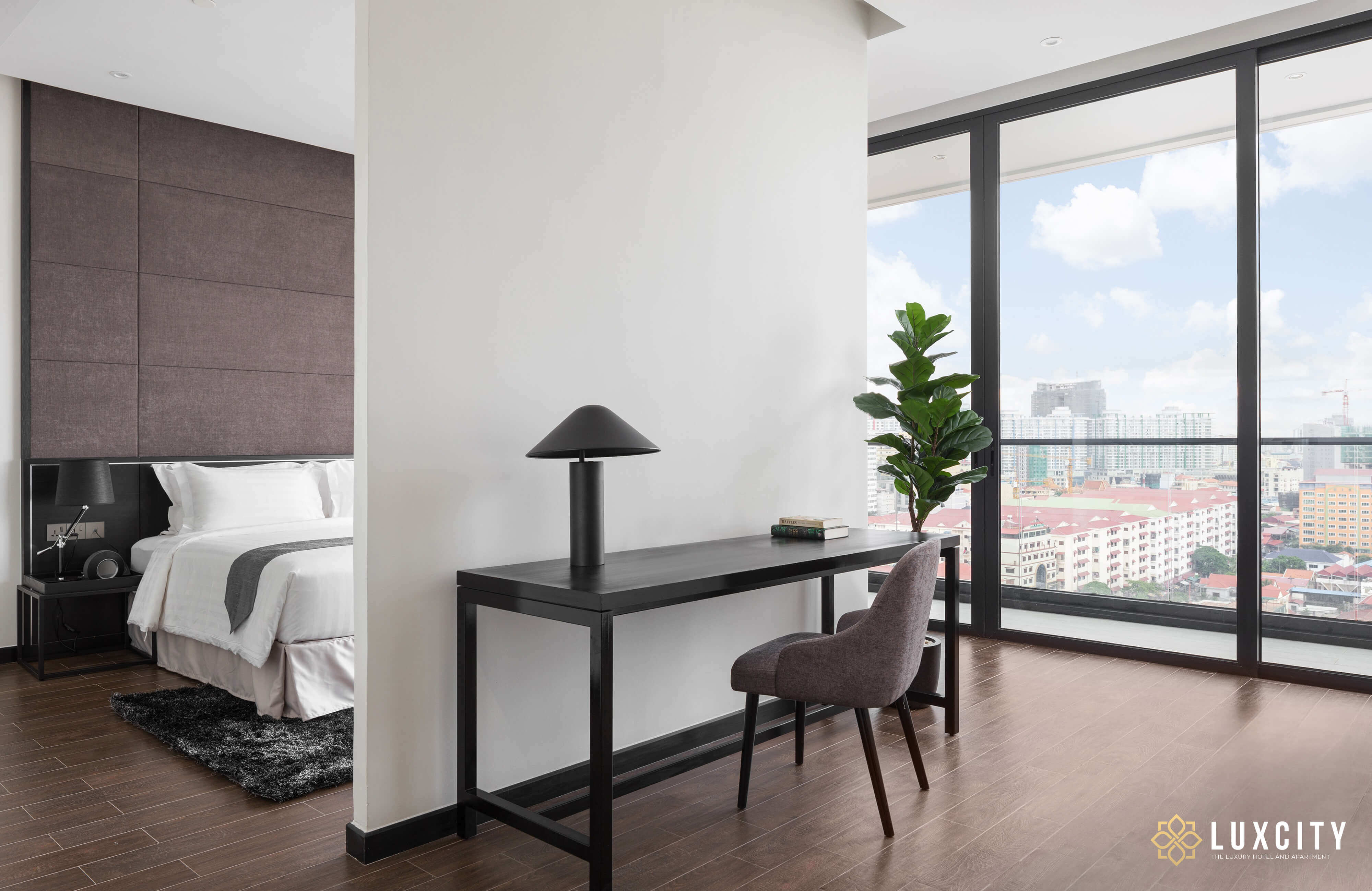 Luxcity Hotel and Apartment Phnom Penh
Let's get Luxcity on top of the list. Pardon me if you see me keep talking about this wonderful brand, but there is just something about this deluxe hotel that is so hospitable and easy-going without the absence of professionalism.
Staying at Luxcity, I don't have to think much. They have a Studio Queen, Studio Twin, and a Deluxe Room ready for me to choose if I pop into the city on a business trip for two nights or three. I love the vista those rooms have to offer.
Plus, the rooftop pool is a real deal. I like to start my morning with a quick plunge before dressing up and getting ready to go.
Luxcity totally passes the modern vibe check. I just love how everything is easy to access. The decor is steeped in a modern Art Decor flare with charisma. If you're looking for a stylish hotel with decent rooms for a big family, I highly recommend the Duplex Suite and Sky Villa which can host up to eight people at one shift.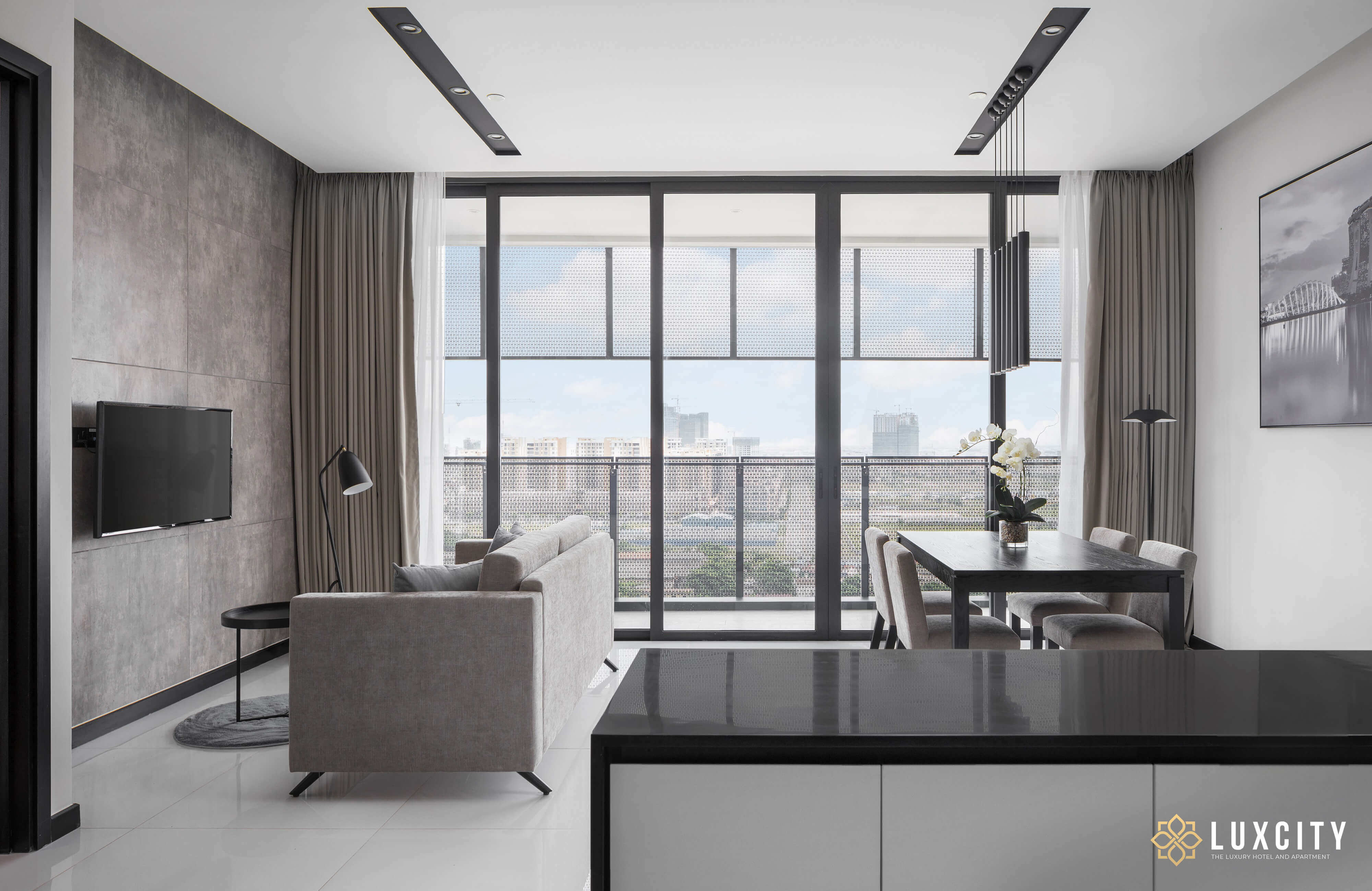 The Sky Villa at Luxcity is one of the most impressive villas I've ever seen. It's very functional with all the top-tier amenities you need for a long stay. It's more like a house in an apartment rather than a hotel room. There is even a Mezzanine perched above a small kitchen. All the area looks out to a private balcony that's connected to the interior via a floor-to-ceiling window.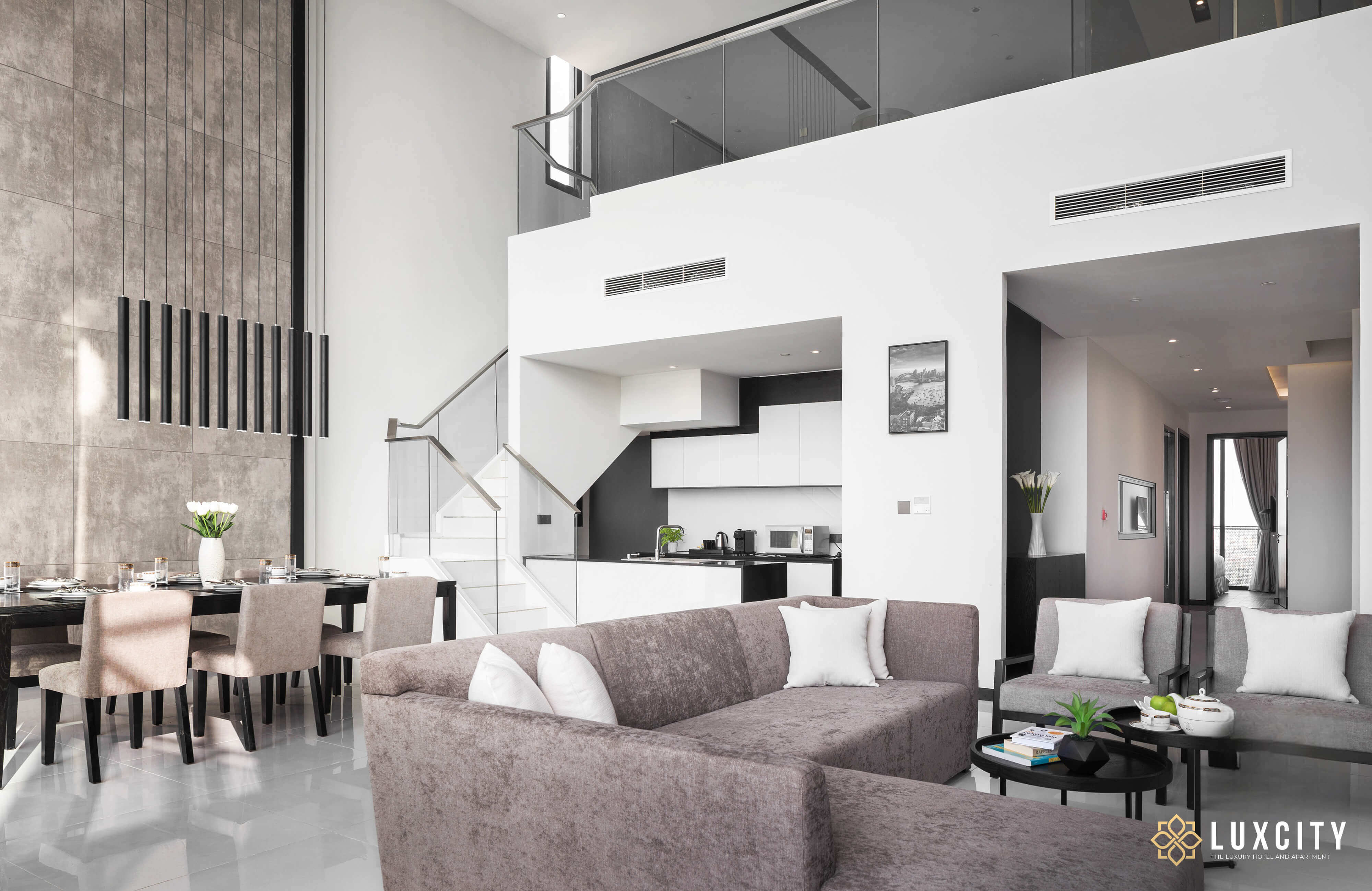 Luxcity Hotel & Apartment
Rosewood Hotel
Acting as a perfect blend between a refined tradition with a modern twist, Rosewood is the next stellar luxury hotel in Phnom Penh to be featured on your bucket list.
The deluxe side of the hotel is reflected by a group of 175 rooms, most of which are suites with a stunning city view and a collection of high-end amenities that scream "fancy". Rosewood is snuggled by a 39-story steel-and-glass monolith in the city's central business district. For those coming in a group of two, pick one out of the three deluxe room types including Executive, Premier Rive, or Grand Premier.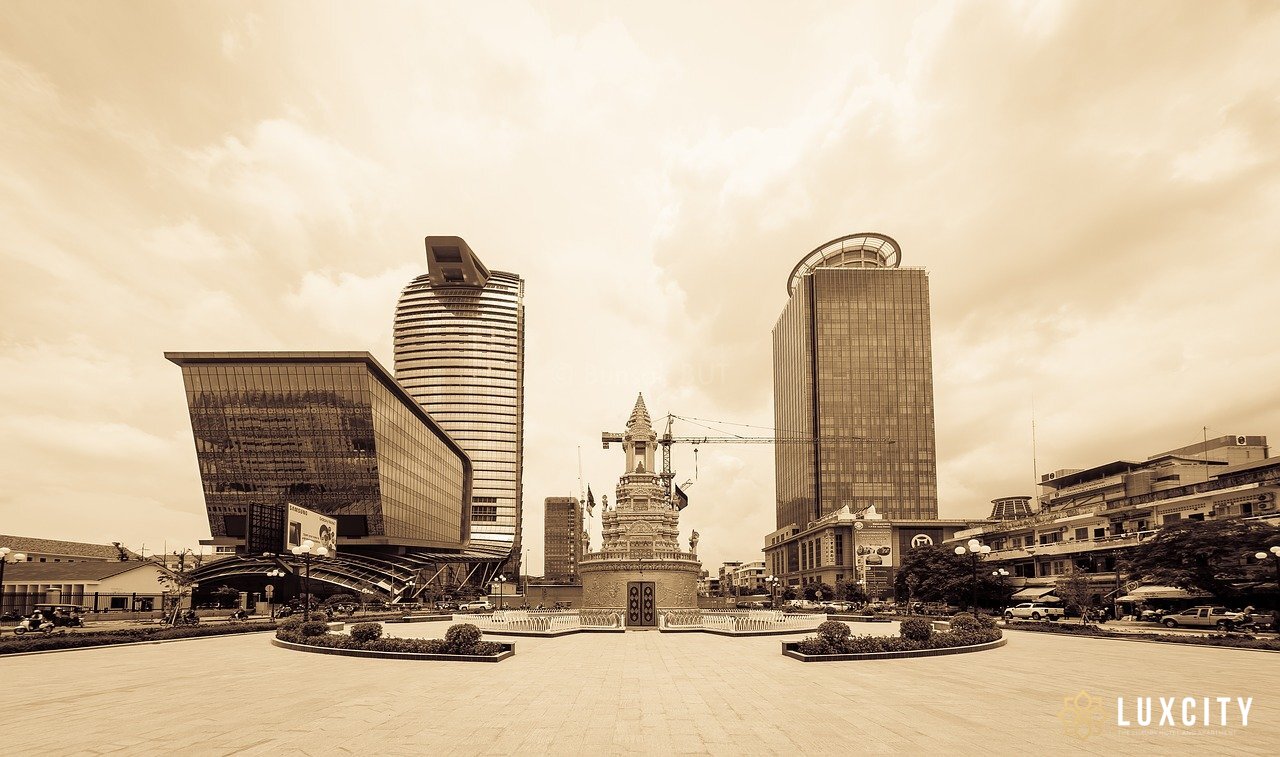 Tagging your big family along? Then Rosewood's suite collection will have you in awe, ranging from Mekong Suite to Manor and the 'Signature House' such as Monivong or Norodom.
One of the best features that define the reputation of Rosewood is the gorgeous views it offers. No matter which room you opt for, the sweeping wraparound vista transports you to the mighty Tonle Sap, Mekong River, or a bustling old town corner to keep up with the main happenings.
Patio Hotel and Urban Resort
If you're looking to inspire your vacation with a free-spirited style and a colorful room that wows, look no further than Patio Hotel and Urban Resort.
Boasting 45 deluxe rooms fully equipped with modern amenities, one swimming pool on the roof floor, a restaurant, and a bar on the 7th floor, Patio Hotel and Urban Resort totally nail this fun and carefree trend that transforms your stay into a bohemian trend.
The Deluxe collection it has to offer will have you spoiled with choice with three of its curated room types. Deluxe Double, Deluxe Twin, and Patio Suite are some of the best choices to spruce up a wedding anniversary or fit a large family with kids. On the budget-friendly side, you can choose between a Standard Single or a Superior Twin/Double. All stays include breakfast and access to the rooftop swimming pool overlooking the city.
Sofitel Phnom Penh Phokeethra
Steeped in an exquisite French art de vivre decor with an intentional simplicity, Sofitel is a quaint and stylish deluxe hotel in Phnom Penh with an excellent location. Each of its deluxe rooms boasts a stunning view over the city and Mekong river while some open out to the pool and garden.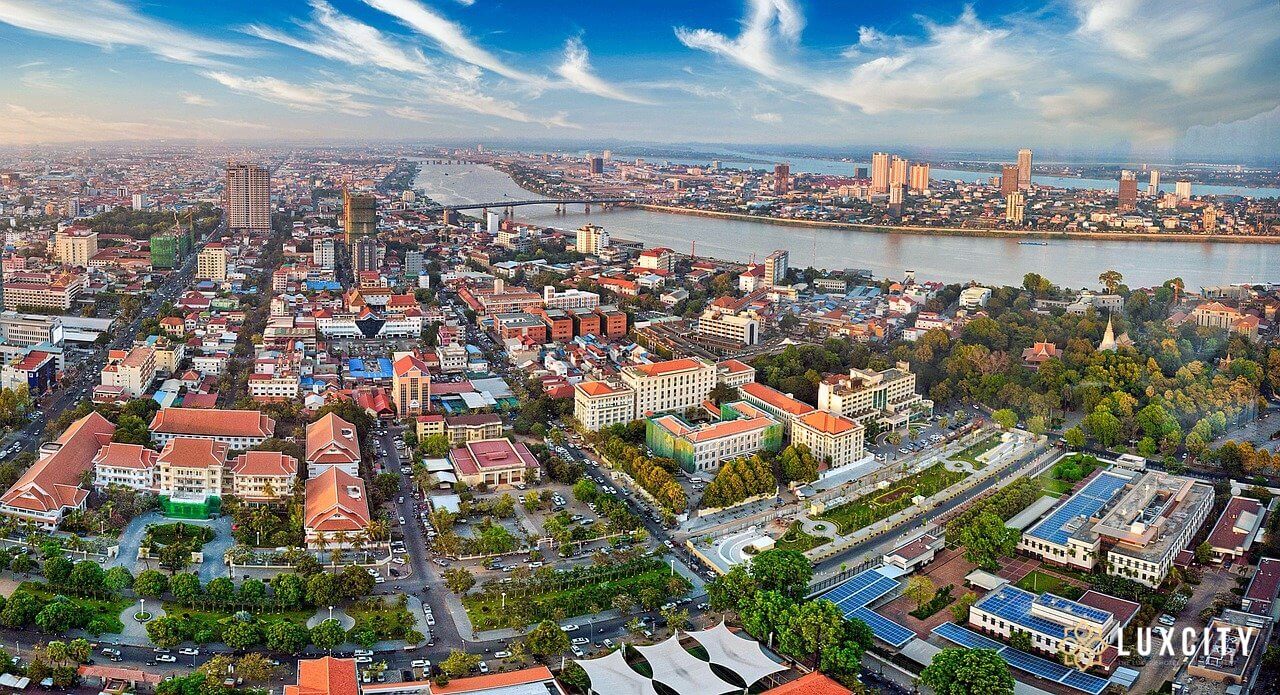 Those looking for a quick and relaxing getaway like to spend a few nights in the Superior Room with a city view. If you're seeking a more spacious option, upgrade it to the Luxury room type and celebrate its 47 square meters of colonial design and a private balcony.
Going on a business trip? Don't overlook the Club Access Room for full access to its excellent offer including the sumptuous civilities, dazzling sights, and extra Club Millesime benefits.
Last but not least, the highest collection including Opera Suite, Prestige Suite, and Junior Family Suite will hypnotize those traveling with their families on a long-weekend vacation.
Courtyard by Marriott
Specifically dedicated to business travelers, Courtyard by Marriott is all about modern and elite. Sitting in an excellent location less than a mile from the Royal Palace, Courtyard by Marriott is bathed in a contemporary design and a heap of top-tier amenities.
So with such a broad range of choices from 186 modern and smoke-free hotel rooms, what is the best choice that meets your needs?
Well, start with the Double Guest Room with a Sofa bed and city view if you're here within a day or two. Work your way up to the Executive lounge access with a floor-to-ceiling window if you wish your stay to be fully equipped with the best comfort of home. And best of all, the Executive lounge access suite is the best fit for families looking to turn their vacation into a home away from home.
Other than that, the rooftop pool and all-day-access fitness center on the 20th floor add more comfort on top of the stay. When the sun beams down, the rooftop bar The Deck featuring a live DJ and creative cocktails awaits to erase all your stresses and tiresome before a good night.
Deluxe hotels in Phnom Penh come in plenty but searching for the right one is a daunting task. Make sure to read the reviews online, check the location, and see if the nightly rate fits your budget!
Read more travel articles in Cambodia and inspiration from Luxcity.com.