2022-07-08
Top 8 Best Hotels Near You in Phnom Penh Steeped in Timeless Designs and Styles
Do you know what I love the most whenever I search for the best hotels near me in Phnom Penh? It's like an adventure itself. Playing around with so many stellar hotel rentals near me that range from riverside to central business district, from the downtown heavyweights to hidden French colonial gems is a pure joy that I never get bored with.
Given such a mesmerizing collection, picking the right hotel near me that is available right at the time I book it can be a daunting task. Sold-out rooms and skyrocketing rates during the high season are the biggest reasons to hold me back in doubt.
So what is the key takeaway here? Consult my curated list below, find the right place that suits your budget and travel intent, then go ahead and reserve the room before you arrive!
Luxcity Hotel & Apartment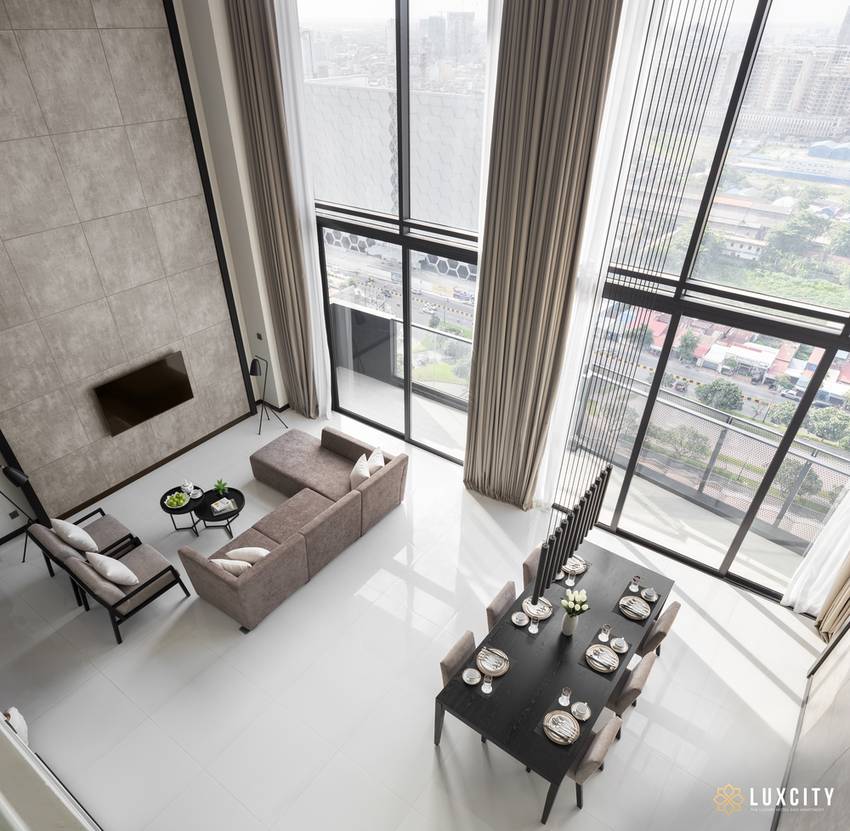 Luxcity Hotel and Apartment - Best Balcony Hotel in Phnom Penh
Let's put Luxcity on top of my list! I can't stress enough how wonderful this place is. Whenever I drop by Phnom Penh on a business trip, Luxcity is always the best hotel studio near me and my co-workers' workplaces.
I've stayed at Luxcity so many times that I even got a chance to try all of its room types. I think the excellent location is the biggest hook. You can literally walk from the Cambodia Central Railway Station and get there within minutes.
Right on the side of the hotel is a heap of good eats at affordable prices. But I always stop by the restaurant inside the building for a meal or two, especially when I have a dinner meeting with some of my business partners. And let me tell you – the chefs at Luxcity totally nailed it! I love their beautiful choices of cuisines.
The front office staff is so helpful. I personally work in the hospitality industry myself and I completely appreciate their sense of professionalism and friendliness.
Now let's talk about the rooms. I usually switch between Studio Twin and Studio Queen if I stay alone. But if there's a big family tagged along, I'll recommend Duplex Suite. Their décor is beyond imagination. It's minimalist but trendy and on point. The floor-to-ceiling window invites lots of sunlight all day long.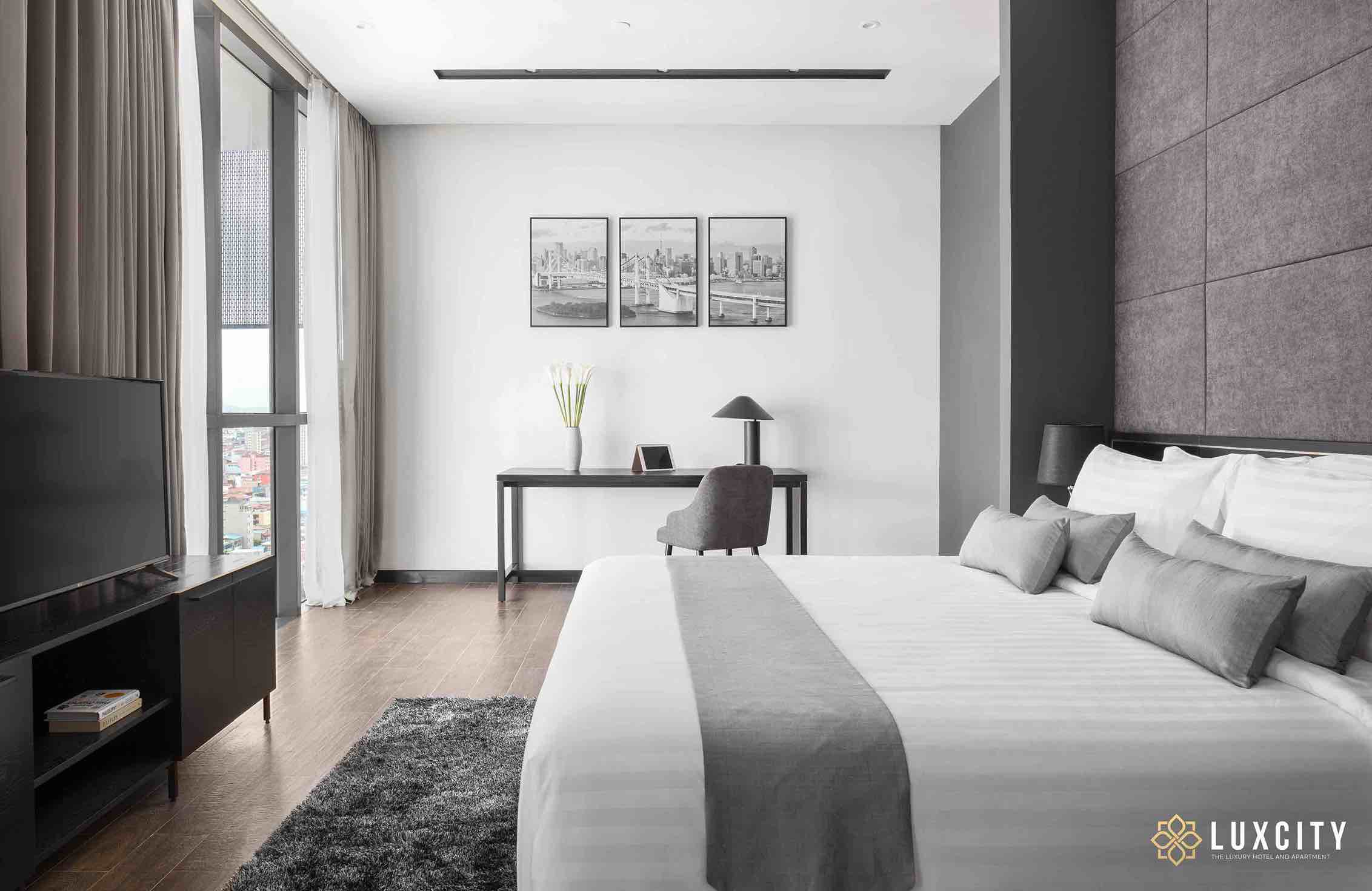 And whenever I need to chill with a drink, their rooftop swimming pool will pamper my tired soul.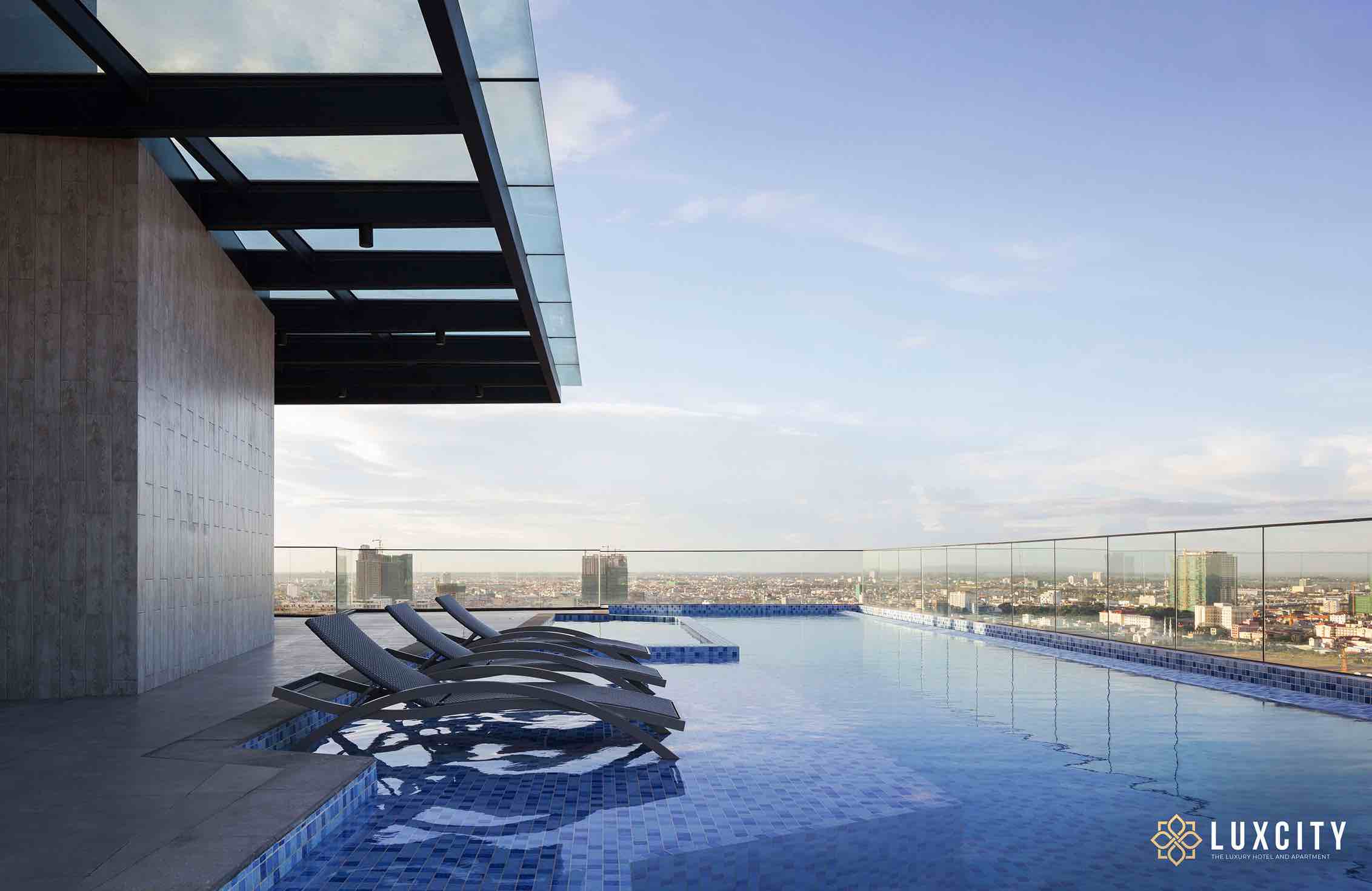 Pavilion Hotel - Best Anniversary Hotel in Phnom Penh
Pavilion Hotel is that one place where you feel as if it transports you back to the old Phnom Penh. Ringing true to its vibe, Pavilion remains as a peaceful hideout, tucked within the bustling and ever-changing capital city.
Within the first steps into the space, you'll be hooked by its serenity of a typical Old Asia vibration with birds chirping from above and the smell of the tropical plants dancing in the air.
The timeless elegance of the Pavilion Hotel is reflected through the exuberant flora, especially when you're soaking in one of the two large swimming pools and private plunge pools under the shade of the tropical trees.
This secluded fancy hotel near you in Phnom Penh also offers a gym and spa to soothe your tired bones after a long day on the streets. Even better, free bikes are available for in-house guests whenever they wish to explore the surrounding area on their own wheels.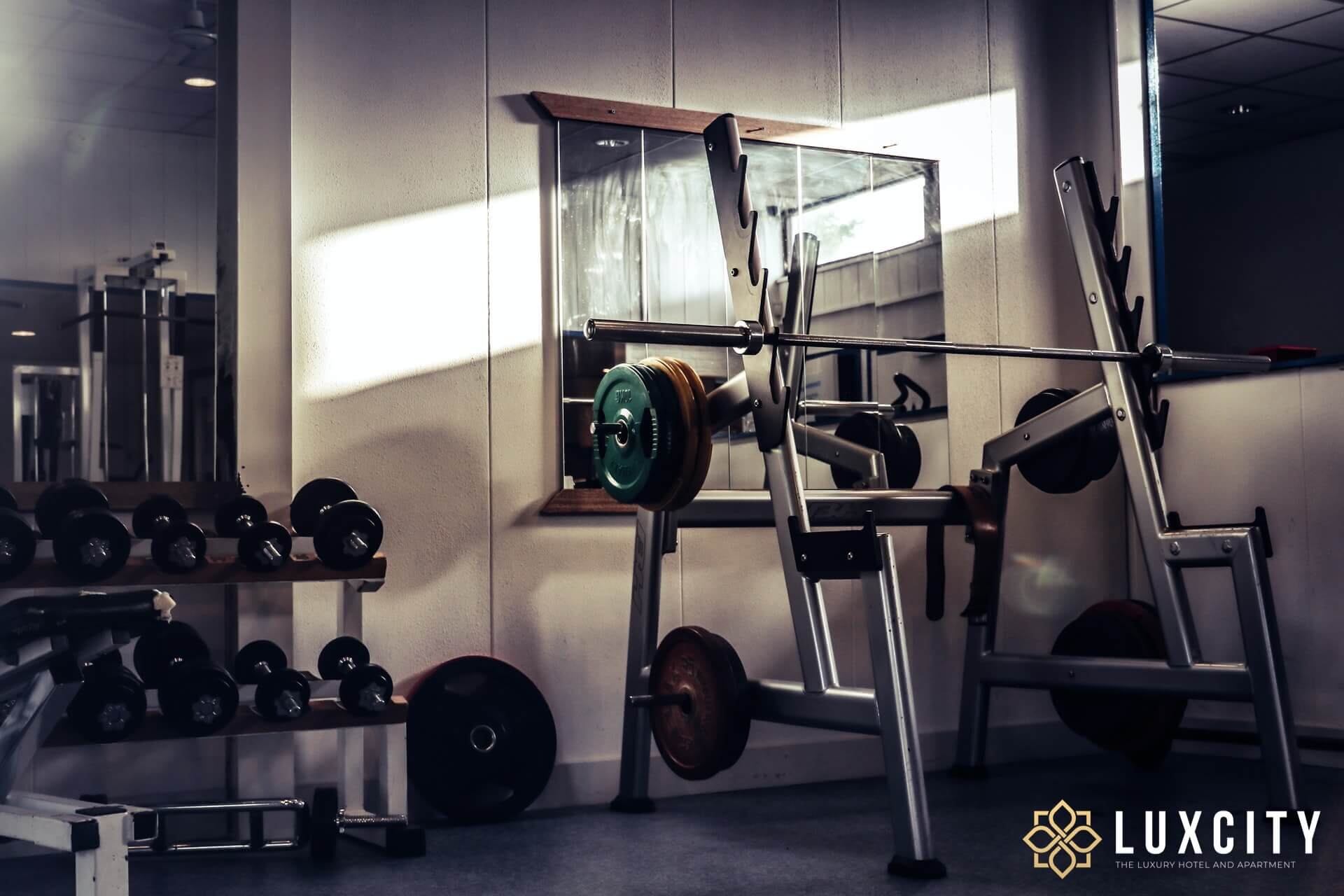 Rosewood Phnom Penh - Best Hotel for Couples in Phnom Penh
Rosewood's claim to fame is the epic 188-meter-high Vattanac Capital Tower that houses the hotel within. Celebrating 175 rooms and suites with five on-site restaurants dishing up stellar meals day and night, Rosewood is one of the best fancy hotels near you offering an unobstructed view over the city capital and the scenic Mekong River.
Steeped in a stylish temporary design, Rosewood demands the attention of business travelers and first-time travelers who like to soak in the modern vibe and excellent hospitality service.
One of its highlights, Sora Sky Bar, is a household name in town overlooking an incredible view from a cantilevered terrace. Grab your favorite cocktail while gazing at the starry nights of Phnom Penh when the sun beams down and recall the day's events.
Learn more: Top 8 sky bars in Phnom Penh that prove the city nightlife is dynamic
The Balé Phnom Penh - Best Hotel for Events and Weddings in Phnom Penh
Looking for the best hotel room near you to throw an epic birthday celebration? Balé comes to the rescue. The team of experts is ready to be on board with you whenever your big day is coming closer. Or even better, you can throw an entire fairytale wedding at Balé's luxurious wedding venue on the majestic, thriving lawn for a beautiful day of solemnization.
Balé is one of the best hotels around your location with only 18 suites. Running on a small scale doesn't deter it from stealing the spotlight. The contemporary boutique low-rise complex nestled on the side of the dreamy river speaks a thousand words.
Other than that, one of my favorite things to do at Balé is the stellar cooking class for in-house guests. Is there anything better than dishing up famous Khmer cuisine with the like-minded and enjoying your masterpieces at the end of the day?
Learn more: Top 10 Best Khmer Restaurants in Phnom Penh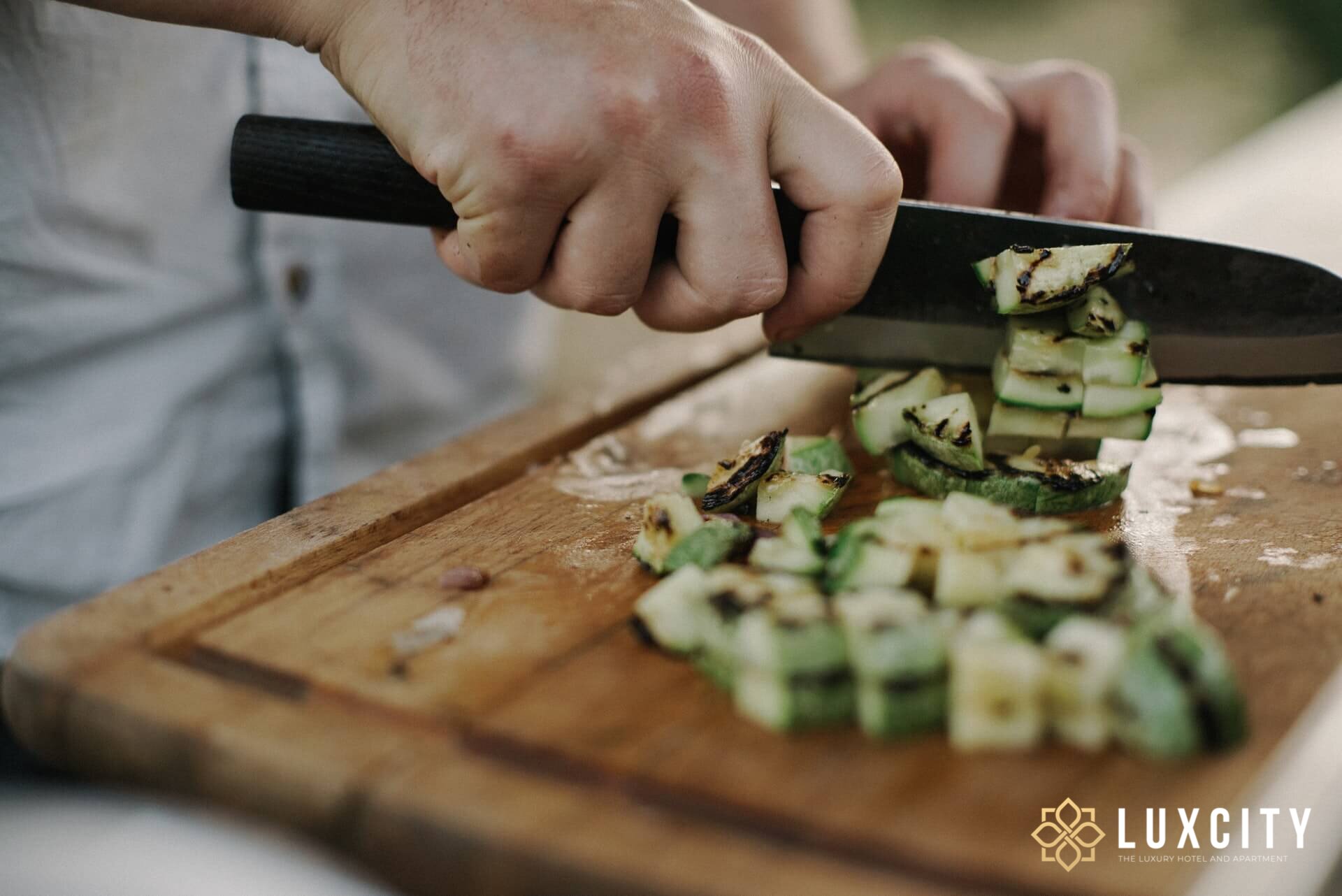 Sofitel Phnom Penh Phokeethra - Best 18 And Up Hotel in Phnom Penh
Oh, here we go, my lovely Phokeethra. Steeped in history and the finest charm of colonial buildings, Sofitel Phnom Penh Phokeethra is a gorgeous hotel near me to stay in style whenever I stop by Phnom Penh for a long weekend trip.
Delivering an elegant French colonial authenticity with 201 bedrooms and an excellent butler service, Sofitel Phnom Penh Phokeethra is here to game up your stay with top-tier hospitality and more.
There's one thing I'm thrilled about the most about Sofitel Phnom Penh Phokeethra: Its cigar lounge is a real deal. Teaming up with its Champagne Boutique and a library-style Club Lounge, these entertaining areas will contribute to the overall value of your stay.
Raffles Le Royal - Best Spa Hotel in Phnom Penh
Sometimes, looking for the best hotel reservations near me that blend old-world charm with new-world luxury is a daunting task. But as soon as I found Raffles Le Royal, I knew I had to give it a try.
8 unique types of rooms and suites boast a high-ceiling design with impeccable floor-to-ceiling windows. Each room is flooded with tropical sunlight all day long, injecting the 1929 historical charm with the breath of the modern world.
English actor Charlie Chaplin and French novelist André Malraux once called Raffles Le Royal home during their visit to the capital city in the past century. Now it's time for you to celebrate its popularity. Pick your favorite colonial-era bungalow with a gorgeous infusion of Khmer elements and a modern twist.
And don't forget its on-site Raffles Spa! I can't stress how wonderful its Signature Khmer Massage package is. Oh, lovely!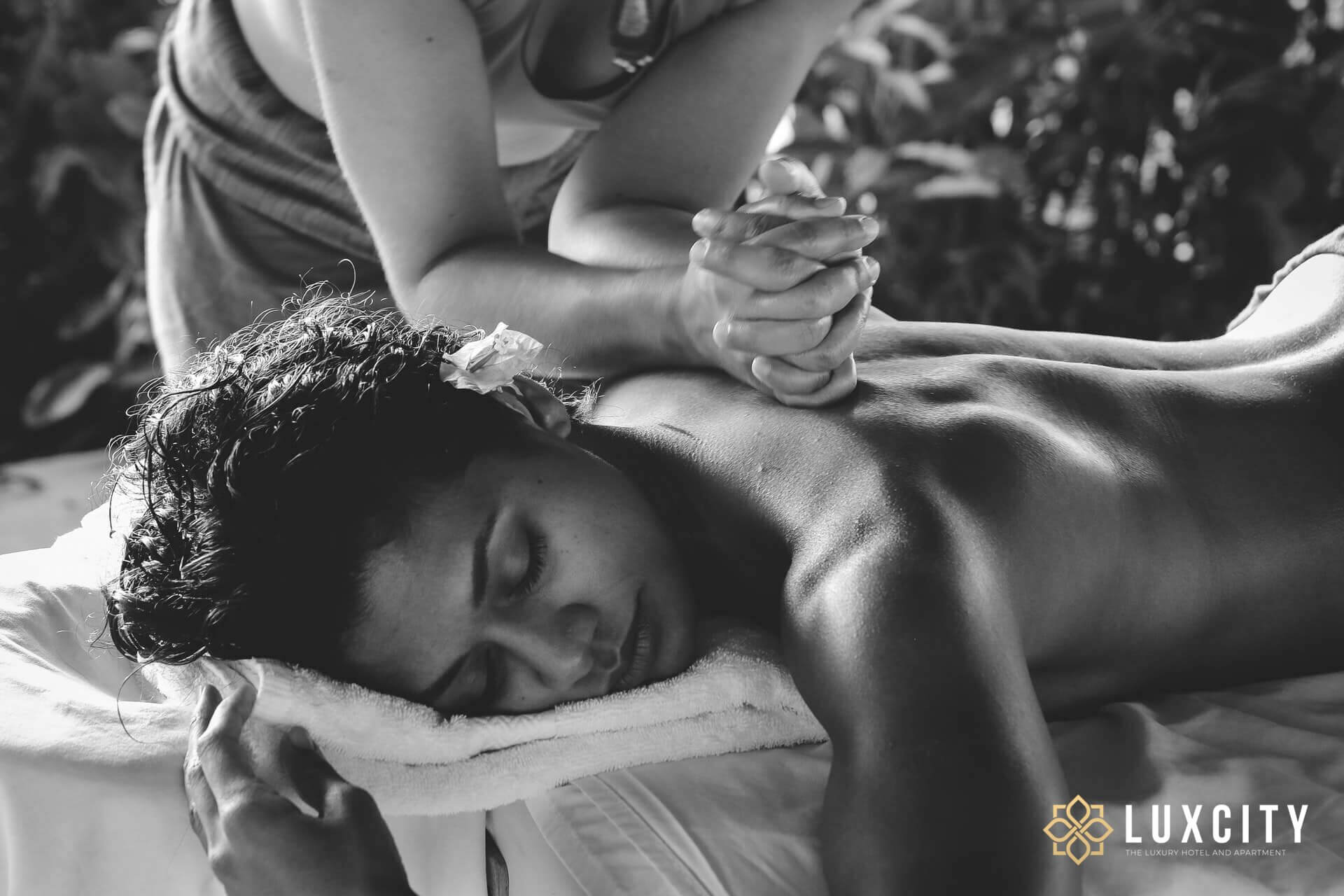 House Boutique Eco Hotel - Best Budget-Friendly Hotel in Phnom Penh
As the name suggests, this eco-friendly hotel rounds up this curated list of my favorite hotels in Phnom Penh. House Boutique Eco Hotel is a household name for health-conscious travelers with a heap of vegetarian options and environmentally friendly practices.
House Boutique Eco Hotel makes a perfect base for your retail therapy. With a stone's throw away from the bustling Boeung Keng Kang market and a short drive from Toul Sleng Genocide Museum, House Boutique Eco is always the best choice whenever I need a hotel near me with a cheap price. The nightly rate fluctuates somewhere between USD 25 to USD 50. If you're looking to save some bucks without sacrificing the quality of your stay, look no further than this lovely getaway!
La Rose Suites - Best Airport Hotel in Phnom Penh
If Luxcity Hotel and Apartment has the most beautiful rooftop pool in the city, then the saltwater swimming pool at La Rose Suites is my second favorite. It literally has two small waterfalls cascading down a large, well-lit-up pool where you can wash away all stresses and doubts.
Whenever they offer hotel offers or packages near me while I still have some days to spare in Phnom Penh, I would definitely stop by. The surrounding neighborhood is quiet, protecting 68 expansive rooms within. Each room is spacious and comfy, with redwood flooring and straight-up white walls defining its unique beauty.
If you're what else to be offered at La Rose, get ready to be spoiled with choice! As part of the stay, you will receive a complimentary one-hour traditional Khmer massage. I know the world's been talking a lot about Thai massage. So if you haven't tried Khmer massage before, it's time to be stunned at La Rose Suites.
Looking for more ideas on where to stay in Phnom Penh? Check out these incredible finds:
Read more travel articles in Cambodia and inspiration from Luxcity.com.