2022-07-31
The Best Spanish Restaurants in Phnom Penh That Transport You Straight to Spain
Basque to Catalonian, Andalusian to Valencian – the best Spanish restaurants in Phnom Penh will have you in awe with the best drool-worthy tapas dinner dished up by a Spanish chef.
Happiness exists when you don't need to get up early on a vacation. All you need to do is curl up in your fluffy bed gazing at the city view and get ready to enjoy the best Spanish food in town. Oh yes, nothing feels better than a weekend brunch indulgence.
Whether you're out on a fancy date night or simply looking for a hideout to please the craving for some Spanish staples, Phnom Penh has it all.
From the low-calorie Salmon Ravioli Warm Salad for those trying to shed some pounds to the vibrant Iberian cuisines to re-energize after a long busy day, dig in to see what Phnom Penh has to offer. ¡Comamos!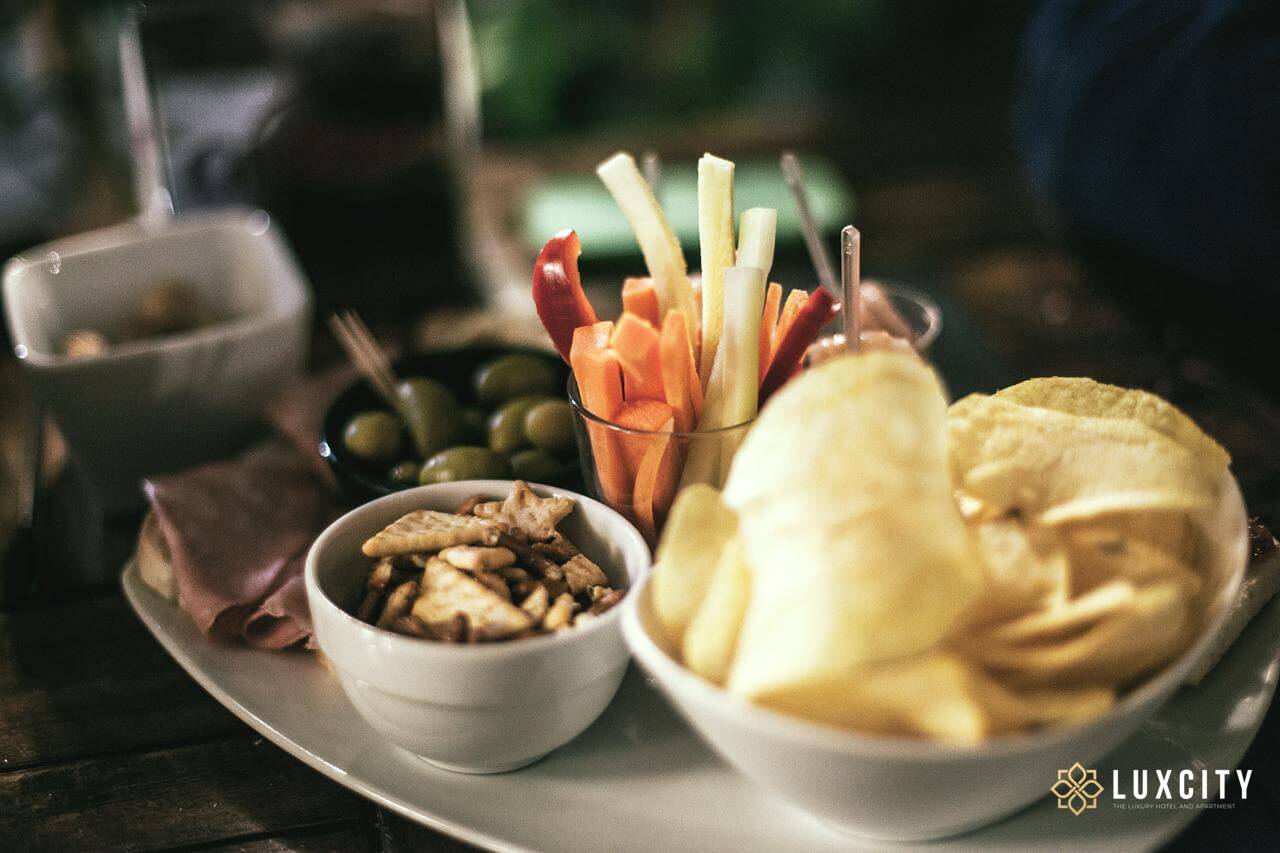 Doors Music + Tapas
Out of many Spanish and Mexican restaurants in Phnom Penh out there, Doors takes the lead. The long-established brand has been going strong for the past decade and still counting.
On any given day, rain or shine, Doors serves as a big hub beckoning locals and visitors alike on the hunt for some brunch treasures. This is one of the most popular Spanish restaurants in town specializing in Tapaz. Even better, the claim to fame at this famous dining hole is a wonderful all-you-can-eat weekend brunch experience.
If you are a first-timer here looking for some brunch ideas, make sure to give yourself a treat of Bravas. Bravas is known as one of the most popular tapas in Spain, presenting a hearty and savory serving of fried potato topped with spicy tomato and mayonnaise.
Another stellar dish to add to your brunch collection is Spanish Omelet. It's so rich and creamy that makes a wonderful breakfast to kick start your day and can be served either hot or cold.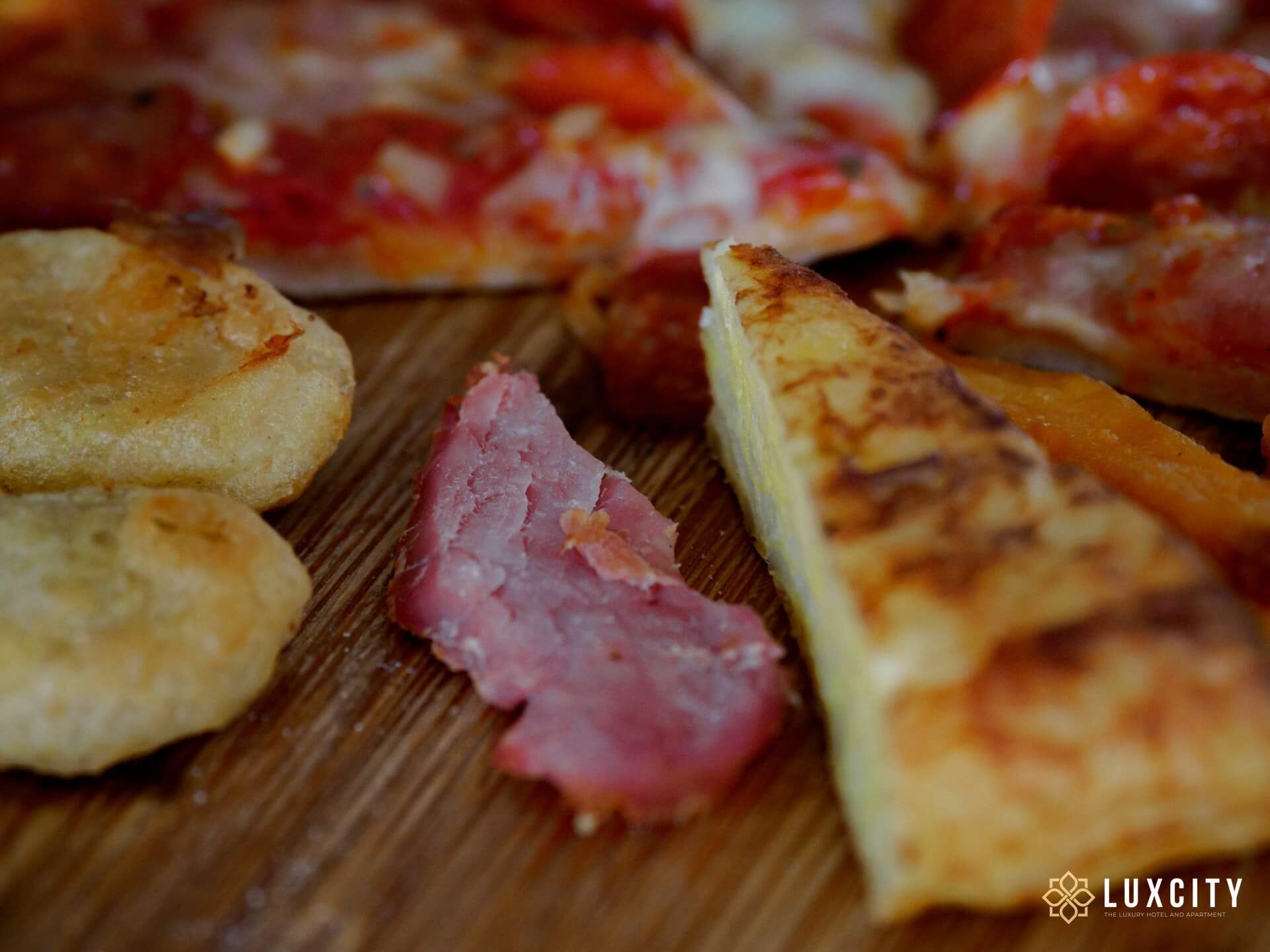 Alternatively, the Migas served at Doors Music + Tapas is the best call to consume on a cold rainy day. What I love most about its Migas is the homemade sauce topping the poached eggs. When it's blended into the runny shiny yolk, you sprinkle it with crumbs to create an addictive taste after a few bites.
La Plaza Spanish Tapas Bar
Next up, we have La Plaza Spanish Tapas Bar. When it was aired, the locals were thrilled. It was treated as one of the best Spanish restaurants in Phnom Penh where serious tapas fans have been bemoaning. Whenever summer is around the corner, La Plaza Spanish Tapas Bar becomes the biggest hook for locals and visitors alike.
I'm by no means a bias, but don't let some of the negative reviews hold you back in doubt. At the end of the day, it all boils down to what delights your palate.
Some of the dishes are super, some are not. But don't take others' words for it, hit them up for a reservation and try it out yourself.
The first time I finally managed to waddle over before the holidays, I was in awe.
and was pleasantly surprised. Looking like pumpkin soup in disguise, salmorejo is a cold tomato soup served with hot crunchy bread, hard-boiled eggs, and jamon on top.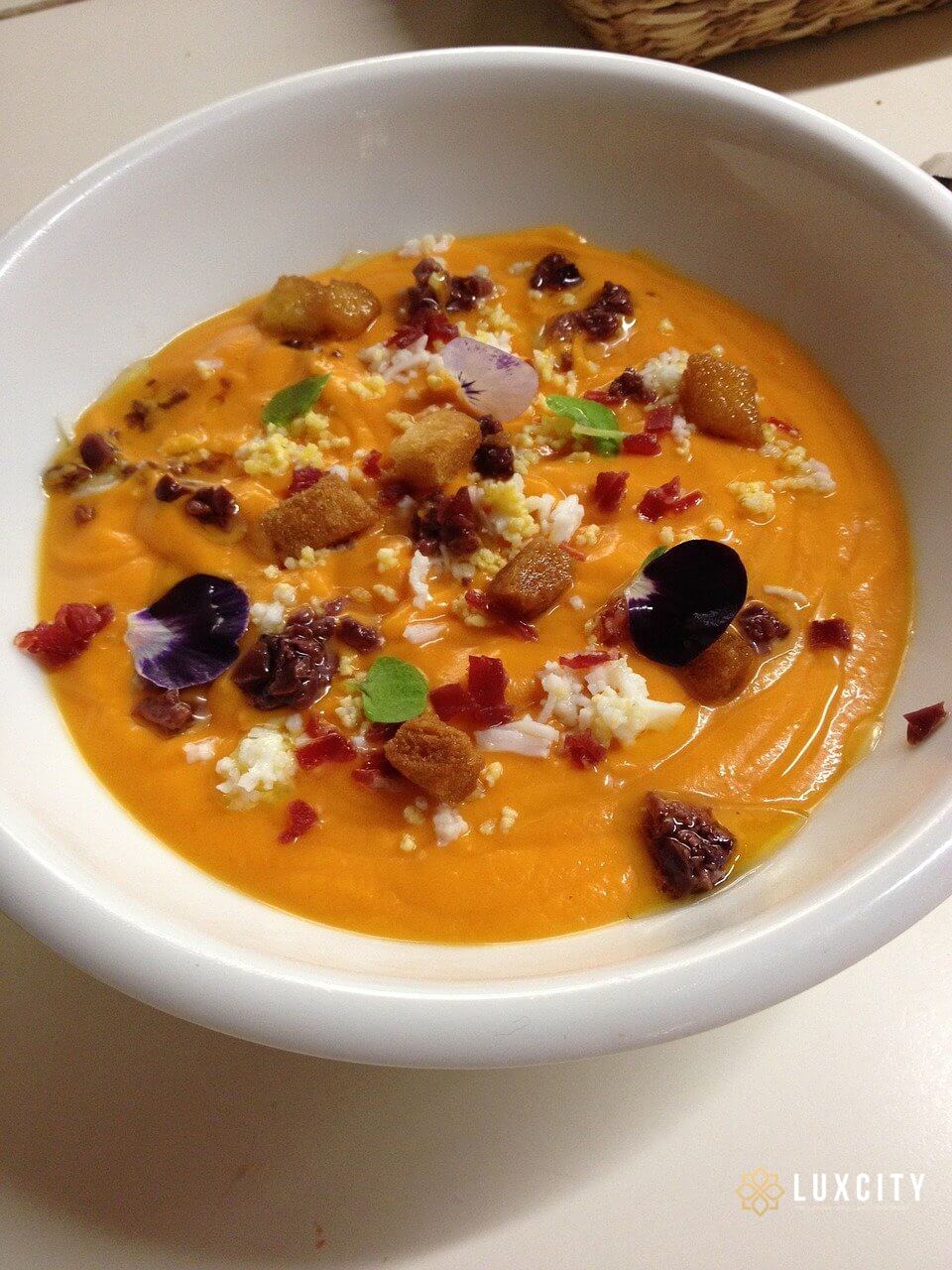 Other than that, its boquerones en vinagre gives the traditional recipe a little local twist, using Mekong fish instead of anchovies cured in vinegar before sprinkling it with local curly parsley.
Some people are held back in doubt with this modernized version. But what can I say if you're on the hunt for a medley of something-Spanish-and-something-Khmer? Go ahead and give it a try, the final result may surprise you. On top of that, the price for each dish is reasonable given the quality in return.
El Tapas Hôtel KVL
Call it a hidden gem but El Tapas will have you stunned. Not many people are aware of its existence, even me, except for the in-house guests staying at Hotel KVL themselves.
El Tapas is a place where you only want to submerge in the quaint traditional Iberian dining flare. With the sangria flows, fine wines, craft cocktails, and a mashup of Spanish food coming on the roll call, El Tapas is surely an exceptional service at Phnom Penh's top Spanish restaurant.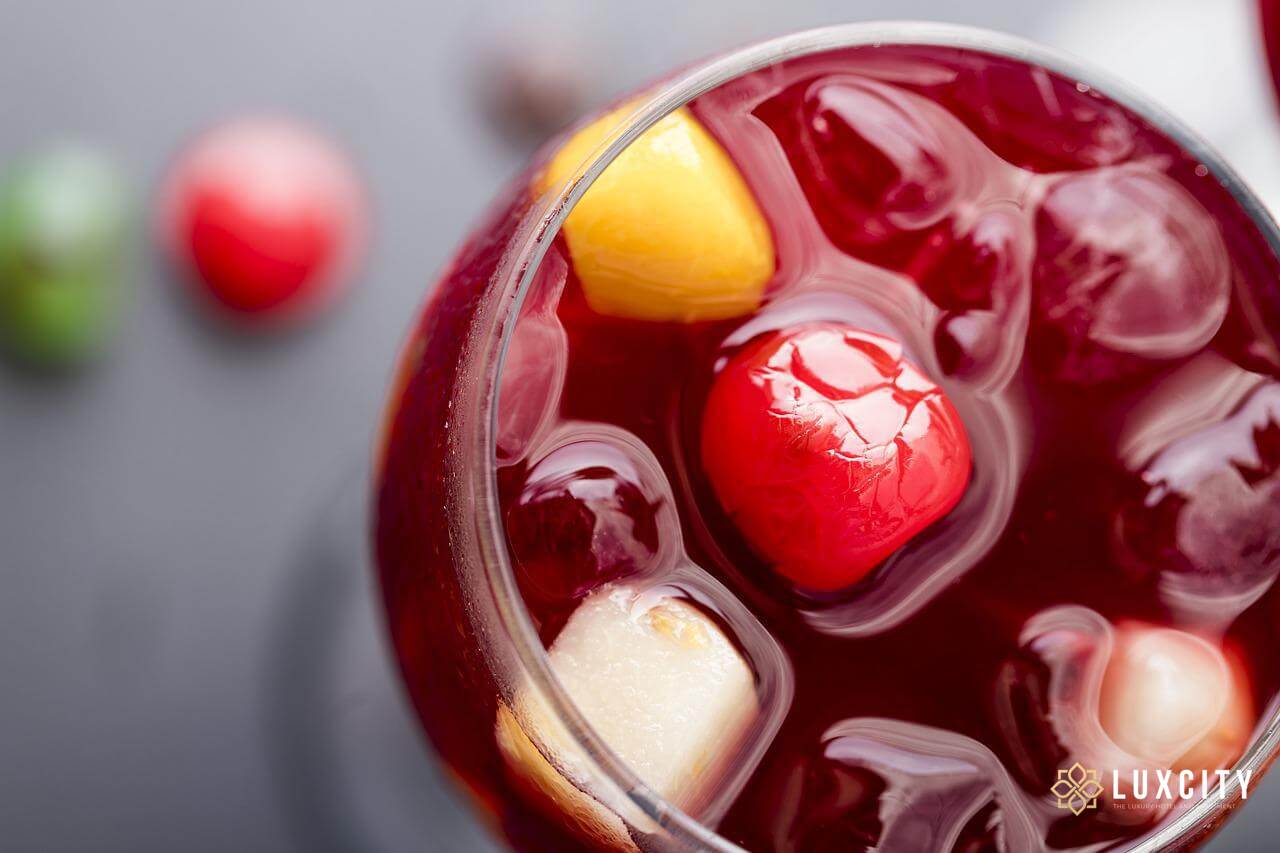 Featuring everything Spanish-related, El Tapas is gradually marking its name on the map of Phnom Penh's best Spanish restaurant with its Valencian chef Mario waiting to serve you his favorite Iberian cuisine with passionate care at the restaurant's open kitchen and Josper grill.
Even better, the local DJs flock to El Tapas on a nightly basis to keep the evening going. Is there anything better than swaying to your favorite jam while munching on some Iberico Croquettes or Gambas al Ajillo?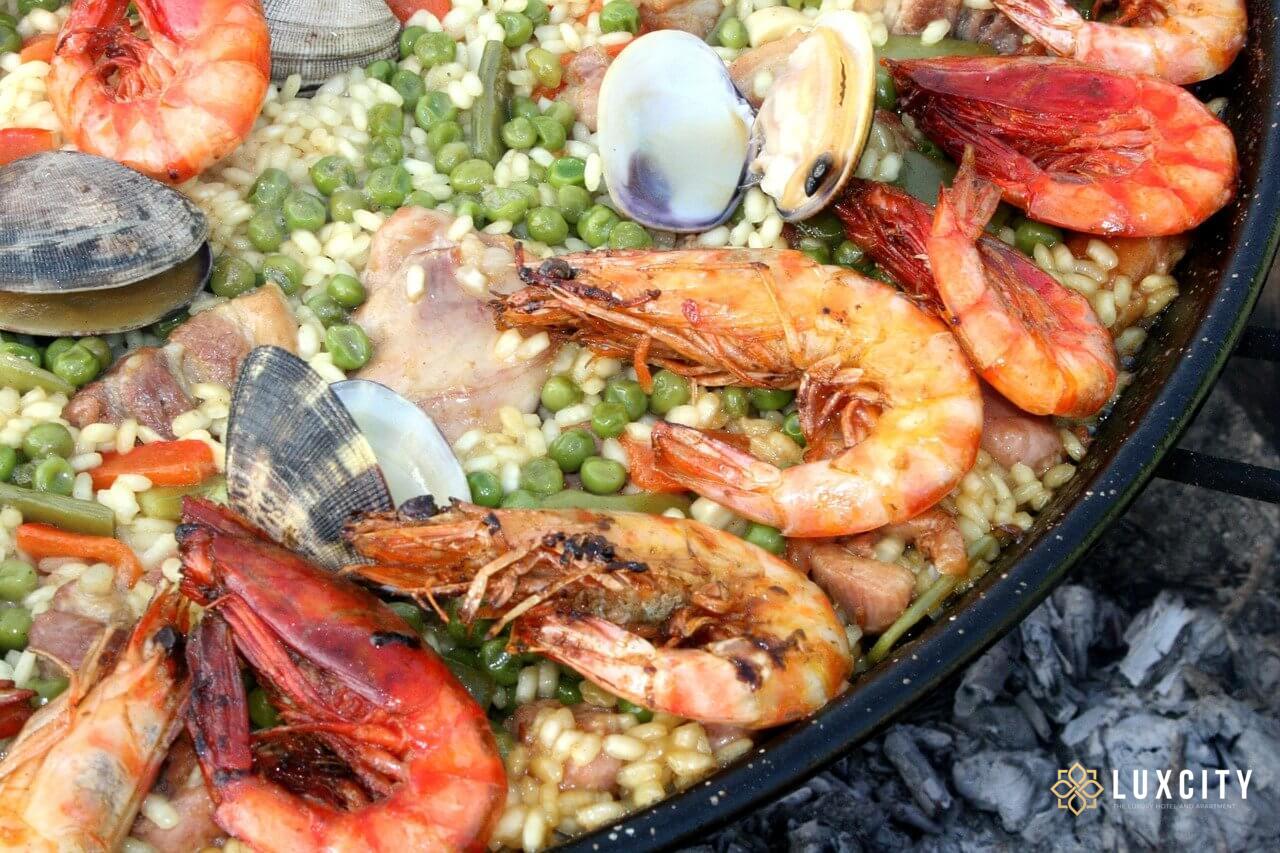 On top of the meal quality, the stunning contemporary decor adds in the fine dining charm as well. As part of a hotel, El Tapas features a semi-private room that is available for functions and special events.
Rukkha Sky Bar & Tapas
Tapas with a view? Oh well, I'm sure nothing tops your night out with the gang better than this. To save the last for the best, I highly recommend Rukkha Sky Bar & Tapas as a stellar Spanish restaurant in Phnom Penh for those who worship the young night out.
One of the best things about this insanely cool hideout is the view. When the sun is out and the light is up, Rukkha Sky Bar & Tapas comes alive again, where the high-living guys and girls flock here to soak up the dazzling view looking out to the river. Rukkha Sky Bar & Tapas is adjacent to the Ounalom Pagoda. It's tucked away on the 4th floor with a modern, open concept.
Rukkha is famed for its serving speed. The food and drinks are stocked up with light speed, leaving you almost no wait time at all. Despite the small kitchen, Rukkha truly deserves a round of applause.
But don't just come for the food. How about getting some rock and roll live by Graham Cain on the rooftop while you munch on the crispy Tapas bite? It is quite crowded for the weekend, so make sure you have your reservation at the ready!
These four Spanish restaurants in Phnom Penh above are my favorite, but tell me about yours! Here are some more dining ideas in Phnom Penh to end your day on a high note:
Read more travel articles in Cambodia and inspiration from Luxcity.com.