2023-01-18
Top 7 breathtaking hotels with private pool in Siem Reap
There aren't many better ways to wind down for anybody searching for a peaceful vacation than by arranging a hotel where you can dive in and recline alongside your own pool. We've located the top villas, hotels, and cottages across Siem Reap with magnificent private pools, from in-suite swimming to romantic, panoramic plunge pools right outside your balcony. Here is the list of 7 hotels that offer the best private pool in Siem Reap. Let's dig in now!
Read more:
What is the hotel with a private pool?
If it's a small property with fewer visitors, having a private pool means you're more likely to get the pool to yourself if that's what you're looking for. Another definition of private pool is a pool that is part of your room or apartment and that only you (and your visitors) have access to. That is a really private pool, which is harder to come by. Certain locales, such as portions of Bali or Fiji, are more likely to have really private pools that only you have access to.
King Rock Boutique Hotel
Although centrally located in Siem Reap, guests of the King Rock Boutique Hotel may enjoy a quiet night's sleep despite the city's constant activity. The resort has an outdoor pool and a bar where guests may unwind. All guests have access to the hotel's complimentary WiFi network.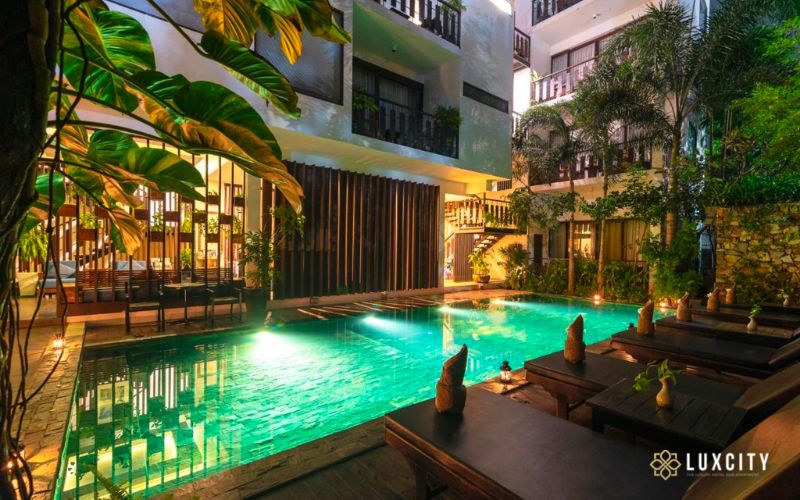 In each of the rooms that include air conditioning and a flat-screen TV, you may relax in comfort. On some of the rooms, you may relax in your own balcony or patio, which some of the rooms also offer. Each room has a private bathroom with a bathtub and free amenities are provided.
Guests may hire bicycles from the front desk at any time to get out and see the sights.
Address: Wat Damnak Road, Sala Kamreuk Commune, Siem Reap City, Kingdom of Cambodia
Mane Family Vacation
Five-star Mane Family Vacation is nestled in the tranquil 90000 square metres with a broad choice of Private Homes, all surrounded by nature. The resort goes out of its way to entertain guests of all ages by planning special dinners, events, and excursions for families with children and large groups of friends.
Because of Mane and her husband's enthusiasm for travel and the desire to share their love of travel and the warmth of Cambodian hospitality with the world, they chose to convert their private houses into a luxurious resort.
Read more: THE 10 BEST Hotels in Phnom Penh for 2023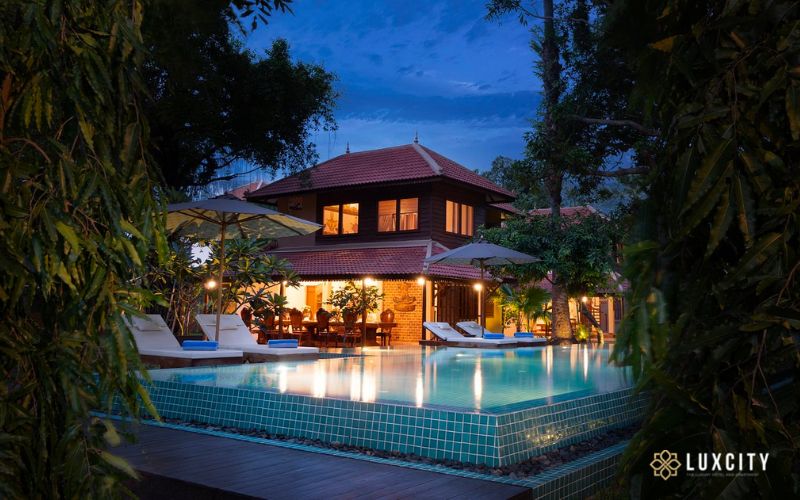 Mane Family Vacation provides all the comforts of a luxury resort in the privacy of your own home. Amenities include a saltwater pool, restaurant, bar, spa services, tour desk, gratis daily maid service, complimentary shuttle services, and much more.
Mane Family Vacation is located at a 5-minute drive from the heart of town, an 18-minute drive from Angkor Wat, and a 25-minute drive from Tonlé Sap Lake. The hotel is a ten-minute drive from Siem Reap Angkor International Airport.
Address: Mane Family Vacation Road, Siem Reap, Cambodia
Mane Hariharalaya
Mane Hariharalaya, or "The home of gods Harihara," is a five-star resort that beautifully captures the Khmer Traditional Houses while offering every modern luxury. It is located in a 70,000-square-meter area surrounded by old trees, lakes, and rice paddies and echoes the ancient city of the Khmer Empire near the ruins of royal temples of Bakong, Preah Ko, and Lolei (Latin: Hariharalaya) Mane (sometimes spelled Mané) is a travel enthusiast who opened this establishment so that she could showcase the genuine Cambodian hospitality for which she is known.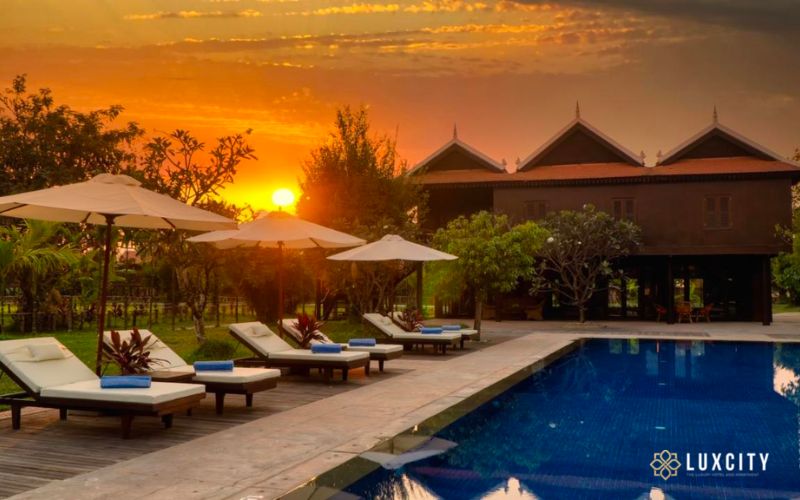 Harihara was a Hindu god worshipped widely in pre-Angkorian Cambodia, and his name inspired the name "Hariharalaya." Harihara is a combination of the names Hari (Hindu divinity Vishnu) and Hara (a kind of lion) (The Hindu god Shiva). Since the Sanskrit word alaya means "home" or "basis," Hariharalaya might be translated as "home of the gods Harihara" (Shiva).
Nearby attractions include the Rolous Temples (Bakong, Preah Ko, and Lolei), the Booyong Country Club, and the Makro supermarket (all within 7 minutes of Mane Hariharalaya), while Angkor Wat and Downtown are a further 17 minutes away by car. You can reach the Floating Village and the Siem Reap - Angkor International Airport in a short 27-minute car ride from the resort.
Cozy Boutique Villa Siem Reap
Located in the heart of Siem Reap, the 8-room Cozy Boutique Villa boasts a private pool, kitchen, living room, bar, and balcony with sunbeds. Guests may make use of the villa's bike rental service to explore the area's many riding trails.
Each of the rooms has a desk, a refrigerator, a kettle, a shower, a hairdryer, and a flat-screen TV with satellite channels. Rooms at the also have a seating area, a view of the pool, and a private bathroom with a bath and complimentary amenities.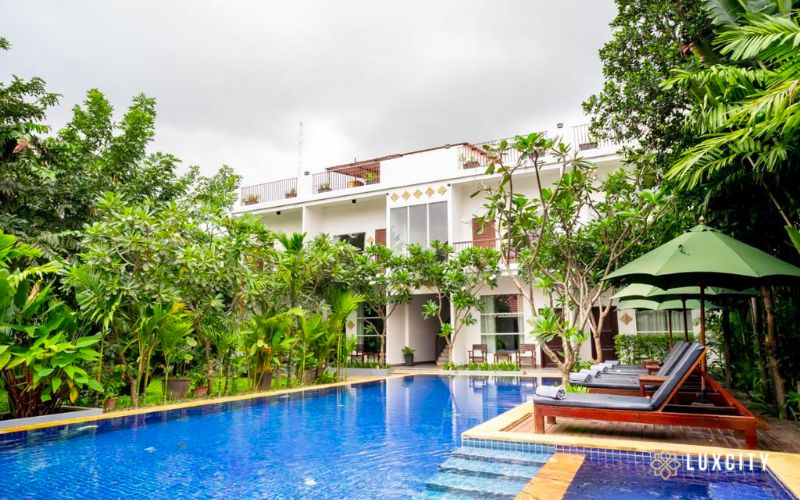 Platinum Cineplex Siem Reap, Artisans d Angkor, the Angkor Night Market, and bar street are just a few of the many popular attractions in the area of Cozy Boutique Villa ( 10 min walking way from the Villa) The facility provides free shuttle service to and from the nearby international airport, which is about 13 kilometres from the Villa.
Park Hyatt Siem Reap
The Park Hyatt Siem Reap is well situated on Sivutha Avenue, only steps from from the city's main attractions including the French Colonial District, the Old Market, and Pub Street. Just a two-minute tuk-tuk (rickshaw) ride from the hotel will take you to the Angkor National Museum. Guests will find that both the Siem Reap International Airport and the UNESCO World Heritage Site of Angkor Wat can be reached in under an hour's time when travelling by car.
Each air-conditioned room contains contemporary artwork inspired by Khmer culture, bespoke furniture, and summery decor, and offers views of either downtown Siem Reap or the hotel's courtyard. Every room has a flat-screen satellite TV, DVD player, Nespresso machine, and fresh fruit basket that is restocked every day. You'll find Italian marble and twin sinks in your en suite bathroom.
In addition to a beautiful garden, this house also features a small, private pool. The fitness centre, spa, hot tub, and sauna at Tai are all available at all times. A concierge service will be able to set up tours that are tailored to the interests of the guests.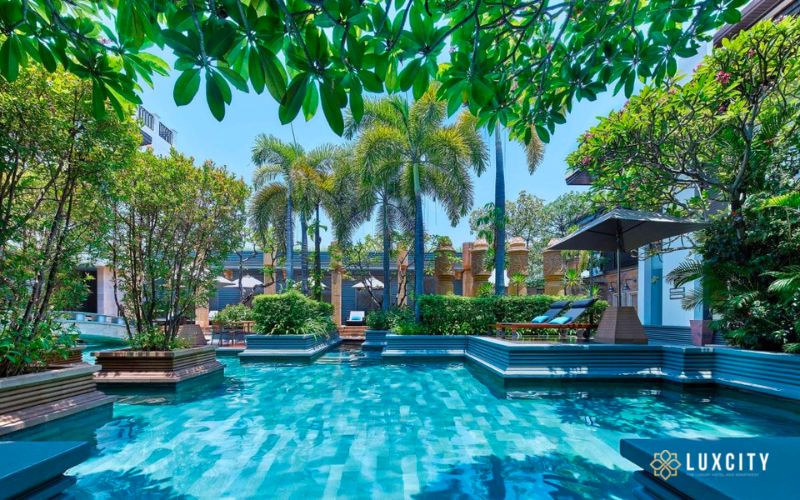 The hotel's dining selections prioritise the ethical procurement of regional foods. Elegant Indochinese-French cuisine is offered for breakfast at The Dining Room's complimentary buffet. Savory tea, light lunches, and tasty tapas are available in the evenings at The Living Room. Sandwiches and pastries at Glass House are cooked from scratch daily.
Long Night Siem Reap Hotel
The Long Night Siem Reap Hotel in Siem Reap, Cambodia features a garden, a common lounge, a terrace, and a restaurant. The 3-star hotel features a pool outside and indoors, as well as air-conditioned rooms with free WiFi and private bathrooms. There is a 24-hour front desk, a gift shop, and a currency exchange available to visitors at this lodging.
Read more: Top 10 Best 3-Star Hotels Near Me in Phnom Penh
A few of the rooms even feature balconies and in-room safes. Every room at the hotel has a comfortable seating space. Each morning, guests can choose between an American breakfast and an Asian breakfast, both of which are served on an à la carte basis.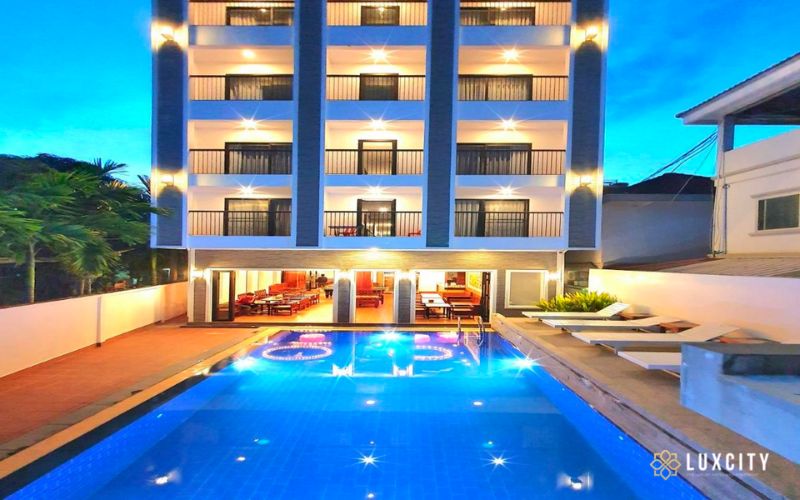 This is a 3-star hotel with a billiards room and a great location for cyclists. There is a bar and a business centre available to guests. The Long Night Siem Reap Hotel is located near the King's Road Angkor, and Angkor Wat is about 4.5 miles away. The facility provides a shuttle to and from Siem Reap International Airport for a fee, which is located 5 miles from the hotel.
Angkor Miracle Resort & Spa
There is a hotel in Siem Reap called Angkor Miracle Resort & Spa, and it is located right across the street from the Cambodian Cultural Village. There's an infinity pool with saline water and a sauna and steam room, too. All guests have access to the hotel's complimentary WiFi network.
Air-conditioned modern rooms with city or pool views include subtle Khmer furniture. The rooms include hardwood floors and are furnished with a cable TV, a minibar, and tea and coffee making amenities.
Angkor Miracle Resort & Spa is located 4.4 miles from Angkor Wat and 2.7 miles from the lively Pub Street and Old Market. Siem Reap International Airport is a mere 4 kilometres away. The hotel provides free airport shuttle service to and from the airport.
The Kong Kea Main Restaurant serves both Western and traditional Khmer fare. It is possible to order room service. There are bars available, including a lounge bar on the mezzanine and a poolside bar.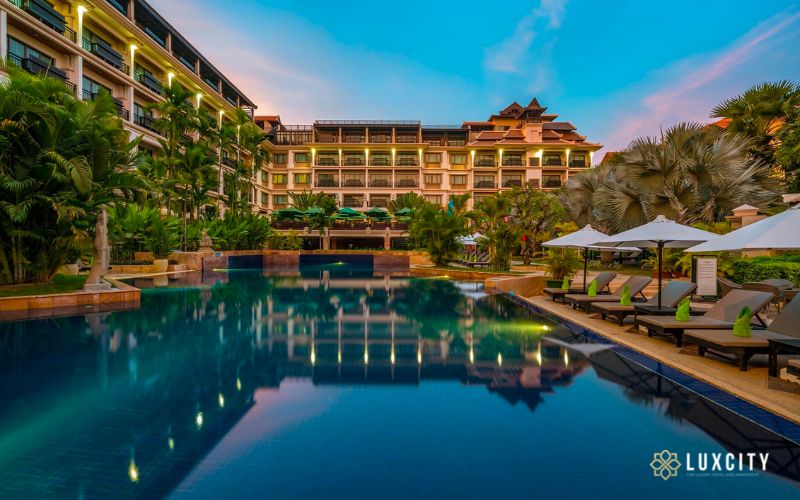 At the Karma Spa & Health Club, visitors may get pampered with massages and soak in the spa tub. A fitness centre is also available for visitors. There is a travel agency and a gift shop for visitors.
Now that you know where to stay in Siem Reap with a private pool, you can begin making travel plans. Follow Luxcity to be astounded by the best Cambodia travel advice you'll ever receive.