2023-02-02
The best budget hotels in Sihanoukville starting at $20 in 2023
Sihanoukville is widely considered to be one of the top beach resorts in all of South East Asia, thanks to its long, winding coastline lined with dozens of white sand beaches. These are this year's top budget-friendly hotels in Sihanoukville, so book now if you're thinking about visiting this stunning beach.
Sok Sabay Resort
Address: Otres River Village, Khan Mettapheap, Sihanoukville, Cambodia
Sok Sabay Hotel & Fine Restaurant is located among the natural mangroves of Otres Village in Sihanoukville, 3.7 kilometres from Occheuteal Beach. It has an outdoor pool that is open all year and private gardens. There is an on-site restaurant and a games area where visitors may participate in a range of activities. If guests need some peace and quiet, they can visit the library.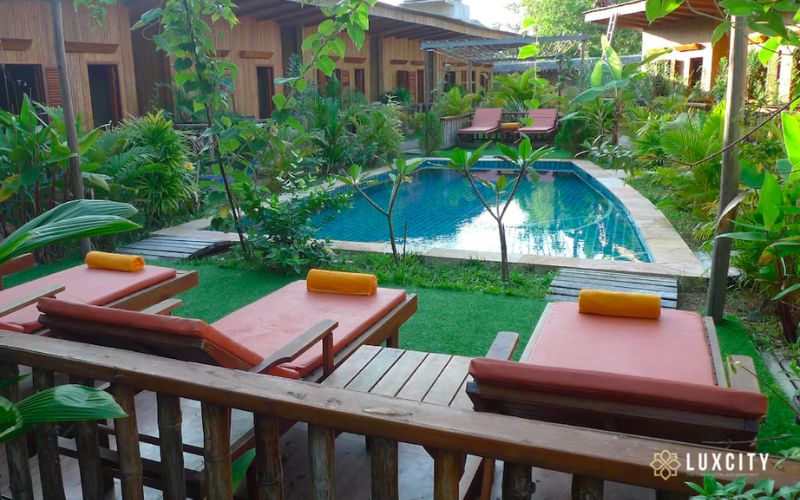 Bamboo-made and wood-furnished bungalows with zen-style design include air conditioning. The rooms have a king-size bed and their own balcony or patio with outdoor furnishings. A flat-screen cable TV is available in the seating areas. Some rooms have views of the river or the garden. The en suite bathrooms have a solar-powered rain shower.
Guests can request kayaking and horseback riding from the hotel staff. Bicycles are also available for free use for exploring the neighbourhood. Outdoor activities such as fishing and boules are available on-site. Indoor activities such as chess and billiards are also available to guests. Sok Sabay Hotel is 3.7 miles from Serendipity Beach, while Samudera Supermarket is 4.3 miles distant.
Junlan Hotel
Address: Ekareach Street 288, Sihanoukville
Junlan Hotel is located in Sihanoukville, 1.7 kilometres from Sokha Beach, and features a fitness centre, free private parking, and a common lounge. This 4-star hotel has a concierge and a tour desk. The resort has a 24-hour front desk, airport shuttles, room service, and free WiFi throughout.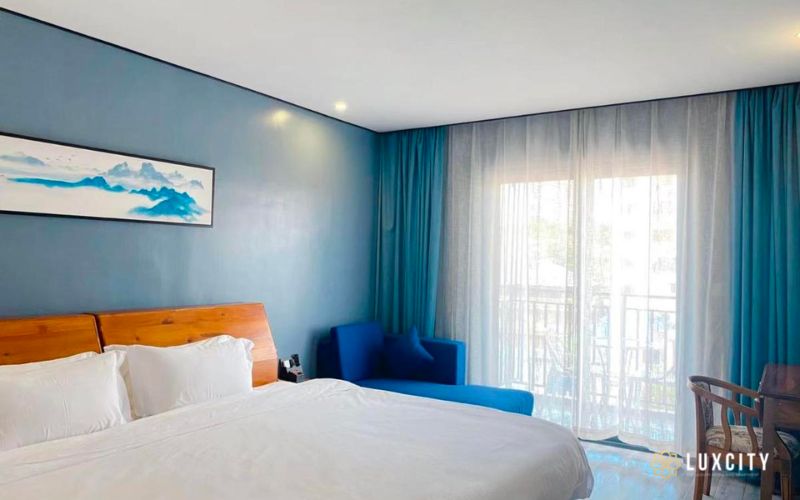 All rooms at the hotel offer air conditioning, a desk, a balcony with a view of the city, a private bathroom, a flat-screen TV, bed linen, and towels. All guest rooms will have a refrigerator.
Nearby attractions include Sihanoukville Bus Terminal, Soriya Bus Station Sihanoukville, and Bus Station. The nearest airport is Sihanouk International Airport, which is 13.7 miles away.
Read more: Ultimate guide to take bus from Phnom Penh to Sihanoukville
Lakshmi Bungalow
Address: Otres Village,Sihanoukville,Cambodia, Sihanoukville
Guests at the Sihanoukville's Lakshmi Bungalow may take use of the property's restaurant, terrace, free parking, and garden, all of which are just 750 yards from Otres Beach. This facility is situated within a mile and a half of Otres 3 Beach, and it has a bar for guests' enjoyment. There is a 24-hour front desk, complimentary airport shuttle service, room service, and WiFi available to guests.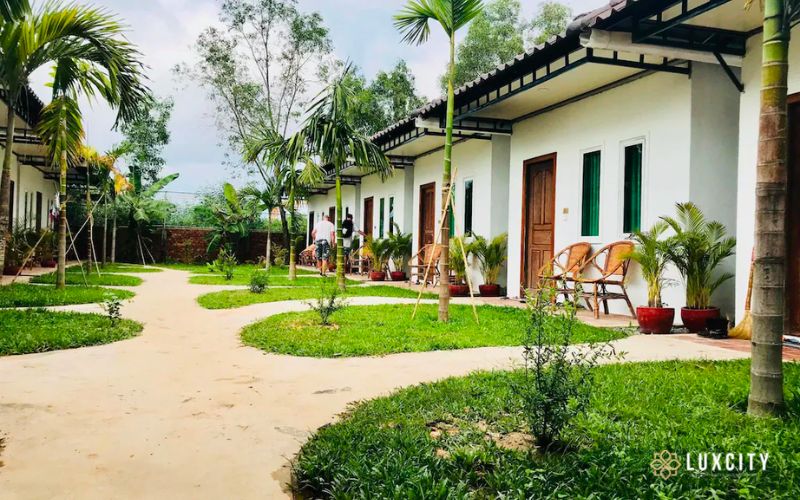 Air conditioning, a refrigerator, a minibar, a kettle, a bidet, complimentary amenities, and a work desk are included in all rooms. The hotel offers rooms with a view of the city as well as a private bathroom with a shower and a hairdryer. Bedding and bath towels are provided in each room at Lakshmi Bungalow.
You can reach Ochheuteal Beach in 1.7 miles from Lakshmi Bungalow, while the Serendipity Beach Pier is 4.5 miles away. Sihanouk International Airport is 14.1 km (7.4 mi) from the hotel.
Oasis Boutique Hotel
Address: Legacy, Sihanoukville, Cambodia
In Sihanoukville, the Oasis Boutique Hotel offers complimentary bicycles, a communal lounge, a terrace, and a bar. The front desk and concierge service at this 3-star hotel are available at all hours. The home is located just 200 yards from Otres Beach and is smoke-free throughout.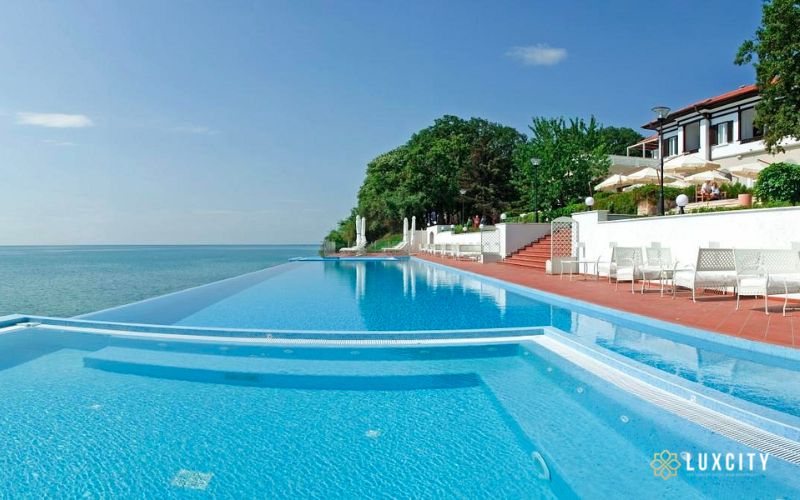 Canoeing and other outdoor pursuits are just some of the things that hotel guests may do in and around Sihanoukville.
The Ochheuteal Beach is located 1.5 miles from the Oasis Boutique Hotel, while Otres 3 Beach is located 1.1 miles away. Sihanouk International Airport is 13.1 miles from the hotel, and a shuttle service to and from the airport may be arranged for an additional fee.
New Papa Pippo Resort
Address: Otres River Village, Sihanoukville
New Papa Pippo Resort is a Sihanoukville resort that provides bungalow and apartment options near the lively Otres Village. Guests may relax in tranquilly at the resort's outdoor pool and sun deck, conveniently located in the resort's heart. All guests have access to the hotel's free WiFi network.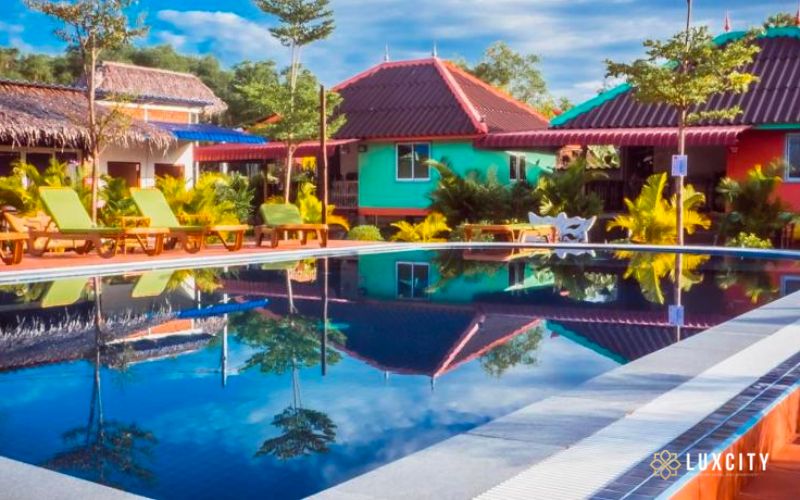 There is air conditioning, a flat-screen TV, and a private bathroom in each room at New Papa Pippo Resort.
The on-site restaurant is open for breakfast, lunch, and supper, and serves a variety of authentic Italian cuisine to its guests.
The hotel's multilingual staff can assist with taxi transfers, Tuk Tuk rentals, and other travel arrangements.
The property is 6.2 kilometres from central Sihanoukville, where you'll find several restaurants, shops, and the Phsar Leu Market. Within a mile and a half, visitors may reach Otres 1 and 2 beaches. A weekly market with food, music, and wares can be found at Otres Market, which is about 500 yards from New Papa Pippo Resort. It is a 20-minute drive to Sihanoukville Airport, the closest airport to the hotel.
Onederz Sihanoukville
Address: Golden Lion Traffic Circle, Sihanoukville
The dorms at the One Stop Hostel in Sihanoukville are air-conditioned and provide complimentary Wi-Fi. In addition to its own eatery, this hostel also provides visitors with a common room and a kitchen. The lobby desk is open all hours.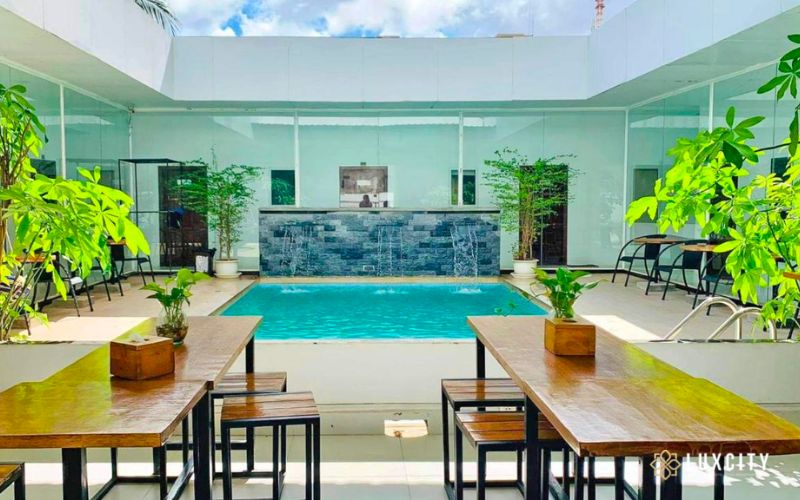 The hostel is situated in a convenient location, just 650 yards from Serendipity Beach, 1,000 yards from Occheuteal Beach, and 0.7 miles from Samudera Supermarket in Sihanoukville. The distance to Sihanoukville International Airport is 10.2 kilometres. All dorms include central air conditioning and provide visitors with access to a communal bathroom and toilet.
Sunbird Garden Resort
In Sihanoukville, Sunbird Garden Resort features an outdoor pool, garden, terrace, and restaurant. The hotel has a bar and is located near various landmarks, including Otres Beach (about 450 yards away), Otres 3 Beach (about 450 yards away), and Chum Teav Mao Beach (about 1.2 miles away). There is a common kitchen, room service, and guided excursions available at this hotel.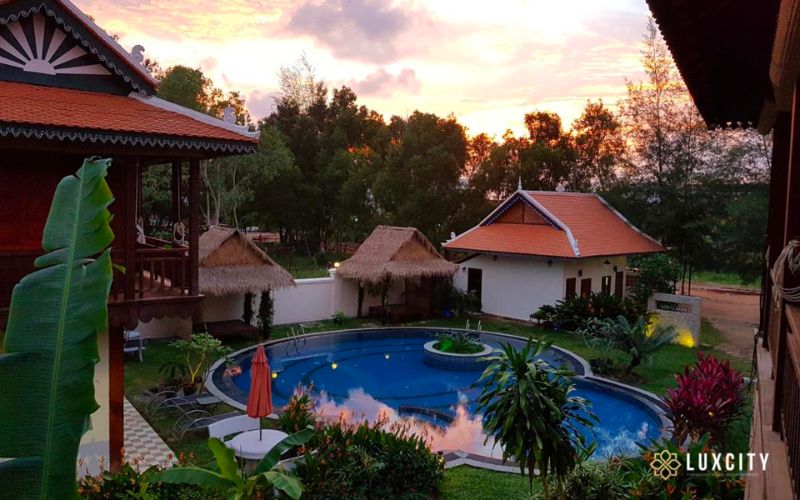 There is air conditioning, a refrigerator, a minibar, a kettle, a shower, complimentary amenities, and a work desk in each of the rooms. The resort's rooms provide a view of the city and come with a private bathroom with a bathtub and a hairdryer. Sunbird Garden Resort offers cosy accommodations with a flat-screen TV and complimentary slippers.
In the mornings, guests can choose from an à la carte menu, a continental spread, or an Asian spread. Activities such as fishing and canoeing are available in the area near the hotel.
Guests may speak with multilingual staff fluent in English, French, Khmer, and Dutch at the front desk and ask for recommendations about the neighbourhood. Sunbird Garden Resort is located a short 3.7 kilometres from Kbal Chhay Waterfalls and 11.8 kilometres from Serendipity Beach Pier. Sihanouk International Airport is 12.1 km (7.4 mi) from the resort.
Continue to follow Luxcity for more helpful travel recommendations throughout Cambodia.