2022-12-28
Ultimate guide to take bus from Phnom Penh to Sihanoukville
Located off the Southern Coast of Cambodia, Sihanoukville is a popular spot for travellers to check out the country's best beaches. It is an easy 5-hour, 230-kilometre drive from Phnom Penh along the highway. There have been significant changes in how to get from Phnom Penh to Sihanoukville in the last year. From fantastic new bus companies to comfortable mini-buses, getting from one city to another has never been easier. Here's the most up-to-date information on buses and mini-buses between Phnom Penh and Sihanoukville. Let's check it out!
Learn more: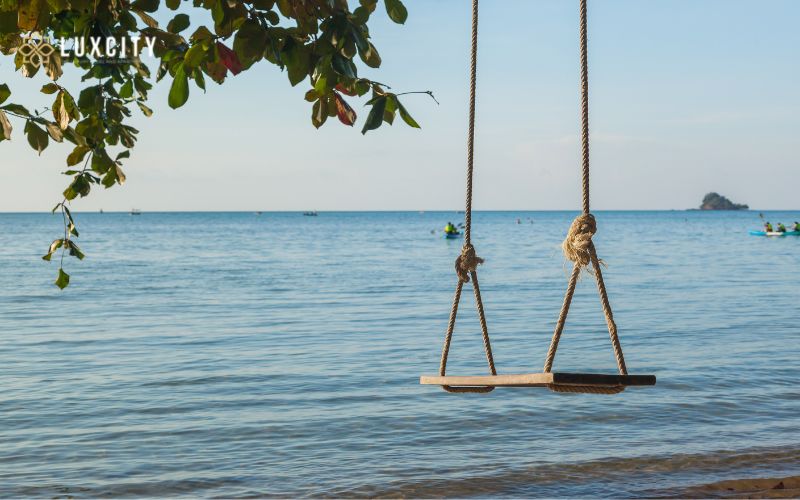 Take a Bus from Phnom Penh to Siam Reap
The bus is the most common transportation from Phnom Penh to Sihanoukville. Depending on traffic and road conditions, it takes between 6.5 and 8 hours to get to Sihanoukville. Cambodia's roads aren't the best, and traffic can become congested because construction seems to be ongoing.
Many bus companies offer economy and VIP buses between Sihanoukville and Phnom Penh. Although companies such as Giant Ibis, Mekong Express, and PSD Xpress used to be the only recommended services a few years ago, there are now several fantastic (and even better) options, including Cambodia Post VIP, Bayon VIP, and Phnom Penh Sorya (we recommend Cambodia Post VIP and Bayon VIP).
Giant Ibis is undoubtedly the best bus company on this route (and for almost all bus trips in Cambodia). Tickets start at $16.00 and include free pick-up from your Phnom Penh hotel. They have comfortable buses, a good safety record, and water and snacks on the way. If you can't find enough people to split the private transfer cost, we recommend taking the Giant Ibis bus from Phnom Penh to Sihanoukville.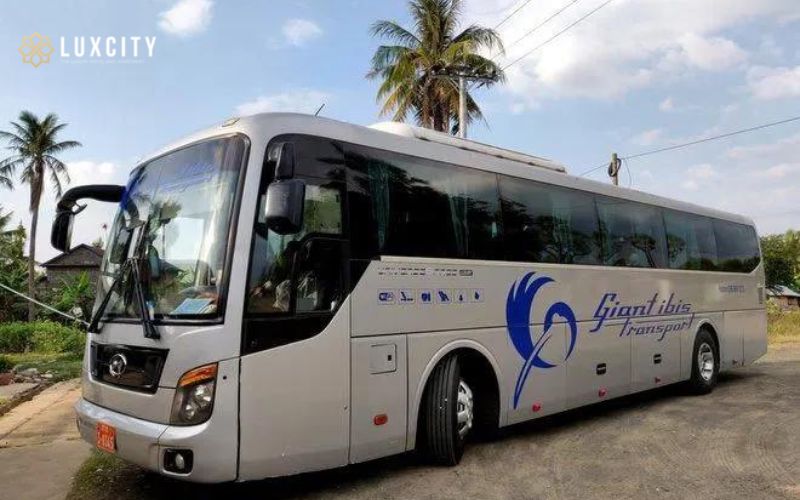 In general, an economy bus costs $4-$6 on average and seats 50 people. VIP buses are smaller and more comfortable, seating approximately 15 passengers. They are slightly more expensive, costing $8-$10 one way.
VIP buses are usually faster (4-5 hours) and more convenient than economy buses (5-6 hours) (e.g. you can ask the driver to stop if you desperately need to go to the toilet). Both types will make short toilet and snack stops along the way. Although Wi-Fi will be advertised, if you do have a connection, it will be very slow and unreliable.
Here is the information on bus time:
Phnom Penh to Sihanoukville
Sihanoukville to Phnom Penh

Bayon VIP Timetable

7.15 am, 8.45 am
1.30 pm, 2.30 pm, and 3.30 pm

8.45 am, 9.45 am
1.30 pm, and 2.30 pm

Cambodia Post VIP Timetable
Mekong Express Timetable

7 am, 7.30 am, 8 am, 8.30 am
1.30 pm, 3 pm, and 5.30 pm

7 am, 8.30 am, 9.30 am
12.30 pm, 1.30 pm, 3 pm, and 5.30 pm

Giant Ibis Timetable

7.30 am, 9.30 am
1.30 pm, and 3.30 pm

PSD Xpress Timetable
Take a Mini-bus from Phnom Penh to Siam Reap
If the bus schedule does not coincide with your travel plans (or if it is fully booked), your next best option is to take a minibus to Sihanoukville. There are some excellent minibus options between Phnom Penh and Sihanoukville. And, with dozens of departures, you can begin your journey anytime.
The seats are a little more cramped than on a full-size bus, but minibuses generally travel faster because they don't stop as much to pick up and drop off passengers along the way. The minibus trip from Phnom Penh to Sihanoukville should take about six hours, but with Cambodian traffic and road construction, you never know.
For this trip, there are several reliable minibus companies to choose from: Mekong Express, Larryta Express, Bayon VIP, Mey Hong, and Cambodian Post VIP bus. Minibus tickets range from $8 to $12.50 and are one of the most affordable ways to travel to the coast.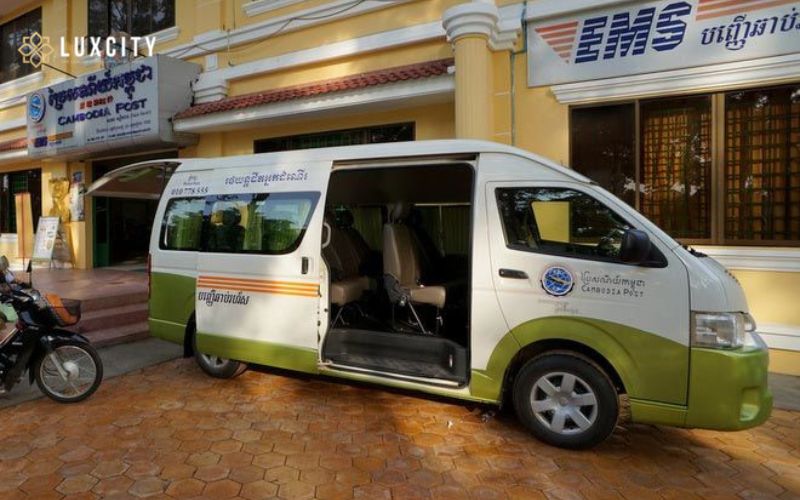 How long does it take to travel by bus from Phnom Penh to Sihanoukville?
Buses from Phnom Penh to Sihanoukville typically take between 4 and 5 hours. Please remember that the travel time is only for your convenience and may vary depending on traffic and weather conditions. Expect long delays if you travel during major national holidays.
Where to Book the Ticket?
You can book the ticket and check for detailed agenda via the ticket websites: Camboticket, Bookaway, Bookmebus.
Essentials for Bus Travel
It is strongly advised to book your bus tickets in advance if you intend to travel during peak season, weekends, or national holidays.
Bus tickets marked VIP, 1st, Gold, and so on are more expensive, but they provide a higher level of comfort and frequently include wide soft reclining seats, water, and snacks or lunch.
Although not all buses have onboard toilets, all operators schedule a bathroom and/or a lunch stop for all trips lasting more than three hours.
If you take an air-conditioned bus, bring layers because air conditioning on buses is often excessive.
Earplugs and a sleeping mask are recommended to avoid being disturbed by overhead lights that are turned on during stops and an overly loud onboard entertainment system.
It should be noted that if the bus needs to be refuelled en route, passengers will be asked to disembark.
Arrive at the bus station 20-30 minutes before departure to allow time to locate the departure platform.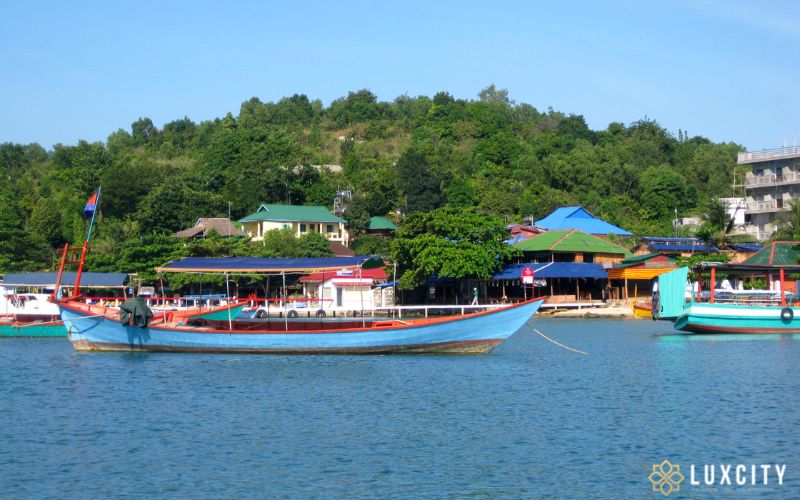 What to do in Sihanoukville?
Sihanoukville is one of Cambodia's central seaside cities with many beaches to visit, including Otres, Ochheuteal, and Serendipity. Beaches are the perfect place to chill out, party, or enjoy some snorkelling and water sports. Sihanoukville can also be the departure point for exploring the islands by boat: Koh Rong, Koh Koun, and Koh Rong Samloem. Inside the city, you can drink a delicious morning breakfast at the ethical NGO café supporting the local community, the Starfish Bakery. Visit the Wat Leu Temple and the Golden Lions roundabout, iconic landmarks of the city. Seven kilometres from the city centre, you can admire a beautiful serene natural spot: The Kbal Chhay Waterfall. Sihanoukville is also a great place to shop, with many beach shops, branded shops, and markets. If you want to enjoy a fun activity with friends or family, defy them at the Queenco Palm Beach 18 holes mini golf!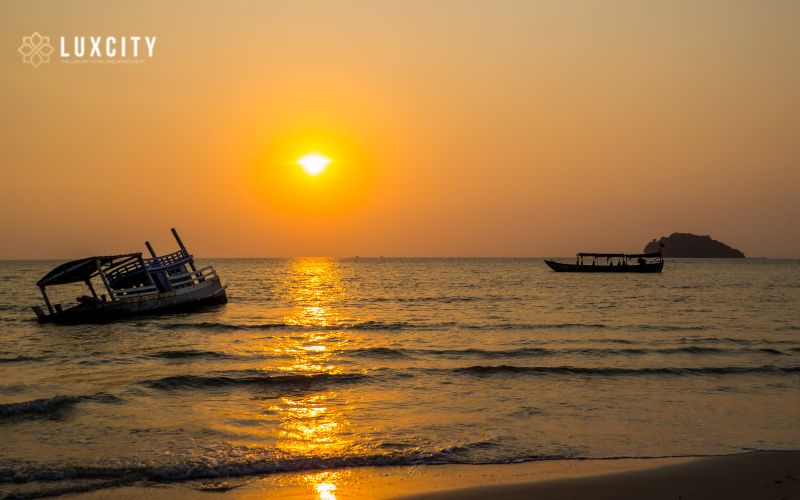 Sihanoukville, once a sleepy little coastal village, has now grown into a sprawling city full of casinos and seedy nightlife. Sihanoukville is a popular Southeast Asia backpacker destination due to its laid-back beach scene. Going from Phnom Penh to Sihanoukville by bus is easy as it is one of the most popular routes in Cambodia, enabling people to join the islands. And above is all you need to know about booking a bus ticket from Phnom Penh to Sihanoukville. Have a fantastic day travelling there!
Check out our travel guide compiled by Kmer locals for more activities in Cambodia!