2022-11-28
Top 8 sky bars in Phnom Penh that prove the city nightlife is dynamic
A place where the great divide between modernity and history constantly collides, whether, in its food, culture, or infrastructure, it's hard to fully grasp a place like Phnom Penh. This once-torn city is now a haven for visitors from all over the world looking to discover the city's hidden treasures. On top of that, is the raucous bar scene. Sky bars abound in Phnom Penh, each with its own distinct vibe and personality. From historic rooftop bars to swanky ones serving exotic cocktails to modern, music-heavy bars where you can drink, party, and get properly lit, here is the list of the top 10 sky bars in Phnom Penh to dance the night away.
Learn more: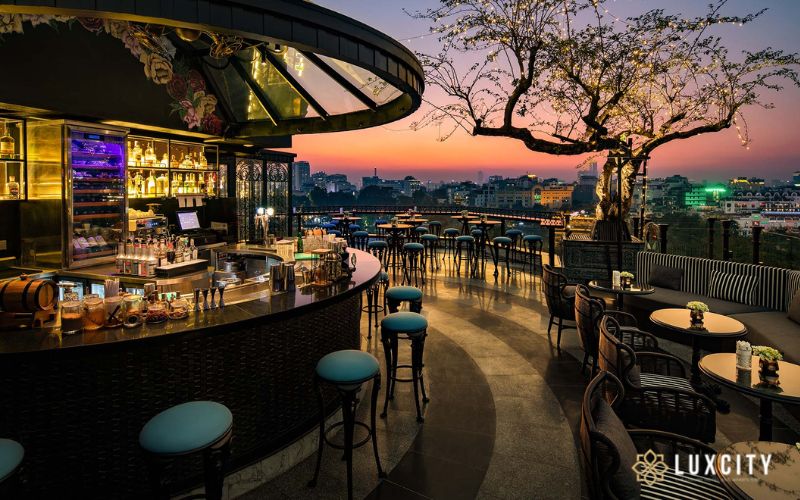 Juniper Gin Bar
This bar is a must-visit if you're in downtown Phnom Penh, serving up classy cocktails, craft ales, and wood-fired pizzas to match its 12th-floor rooftop river views. Because this is a gin bar, try signature drinks like their Turkish Delight, a blushing blend of Bombay Sapphire, creme de cacao, raspberry syrup, vanilla syrup, and rosewater. Seekers Mekong Dry Gin, Cambodia's very own handcrafted premium gin, to Indian Summer, an aromatic, saffron-infused gin from Scotland, are among the excellent gins available at the bar. Pull up a stool, grab a drink, and relax as the sun sets over the Tonle Sap.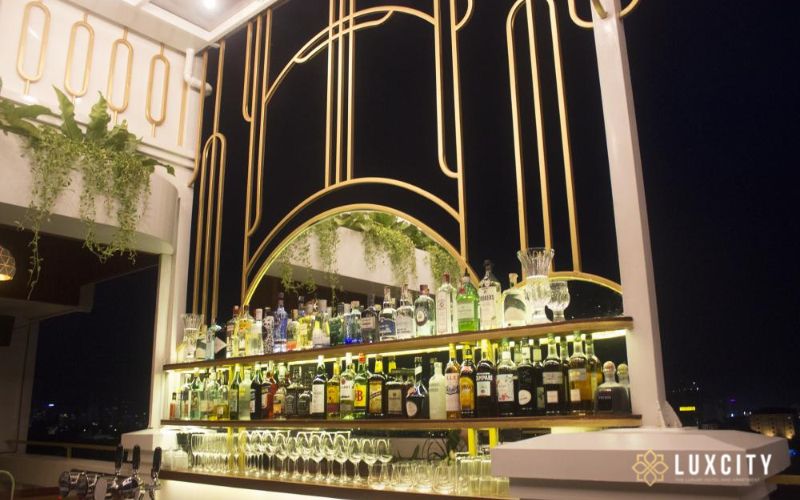 Lantern Rooftop Bar
This low-rise rooftop bar on the 6th floor of the Baitong Hotel and Resort is a breezy hideaway tucked among Phnom Penh's glittering cityscape. Daybeds piled high with comfy cushions and gossamer-curtained cabanas create cosy nooks for lounging and tete-a-tetes, and after dark, the warm glow of lanterns amplifies the casual-chic vibe. Baitong Breeze, a refreshingly fizzy cocktail with pineapple, lime juice, pandan syrup, and white rum, and Kampot Special, made with Samai Kampot Pepper Rum, triple sec, pineapple, lime, and peppercorns, are among the bar's thirst-quenching craft concoctions. Pair your beverage of choice with the Lantern Party Platter, a delectable spread of pork and herb sausages, deep-fried spring rolls, and taro and sweet potato chips with guacamole, hoisin sauce, ketchup, and mayo.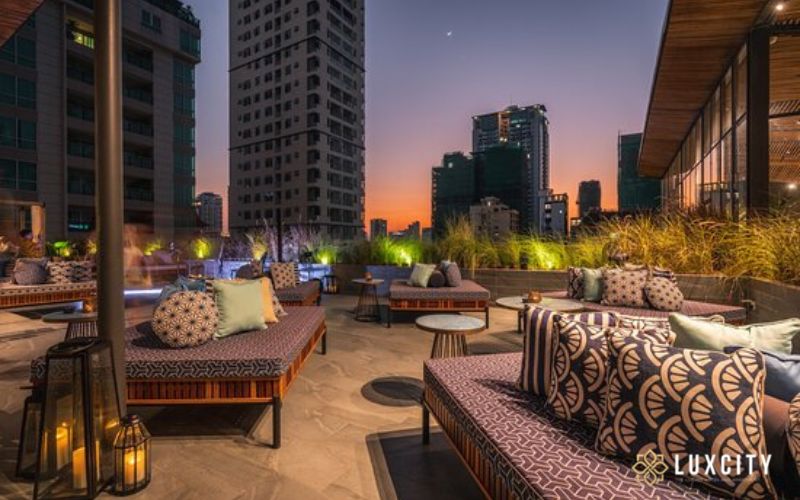 Sundown Social Club
This three-story-high rooftop bar overlooking the city's Russian Market was also named to the World's 50 Best Discovery list - and for good reason. This is the kind of place where you can leave your worries behind, with rattan lounge chairs, bamboo pendant lights, and potted palms accented by bold prints and pops of bright colour. The bar's carefree mantra is complemented by a menu of delectable tiki-style cocktails - think pina colada, daiquiri, and Jungle Bird - local craft beers, and bar bites like tacos and fish and chips. If you've spent the day haggling at the market for apsara figurines, krama scarves, and other souvenirs to take home, you'll definitely appreciate a revitalising drink.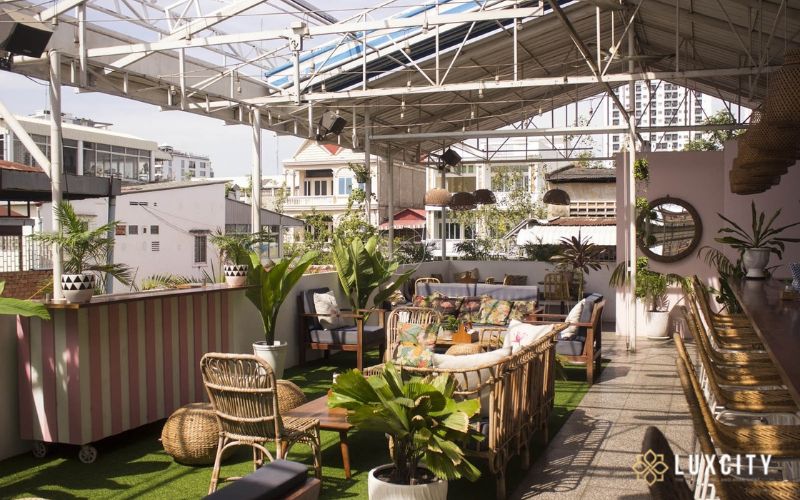 Sora Garden
Aside from its ultra-luxurious surroundings, the best feature of this sky-high bar perched on the 37th floor of the Vattanac Capital building is its cantilevered terrace, which is ideal for guests who want to feel the wind in their hair. This chic rooftop pad, part of the upscale Rosewood Phnom Penh, serves curated cocktails, top-shelf Japanese, Taiwanese, and Scotch whiskies, and tapas, as well as sweeping views of the city. Relax with delectable drinks such as the Nom Slek Chak, a carbon-neutral cocktail made with locally produced Samai Kampot Pepper and Gold rums infused with coconut flesh and complemented by a housemade orgeat made from nom slek chak, a traditional sticky rice, coconut, and palm sugar snack. Sora Sky Bar is one of the coolest places to unwind in Phnom Penh, with an indoor and outdoor seating capacity of 220 guests and a DJ providing beats at night.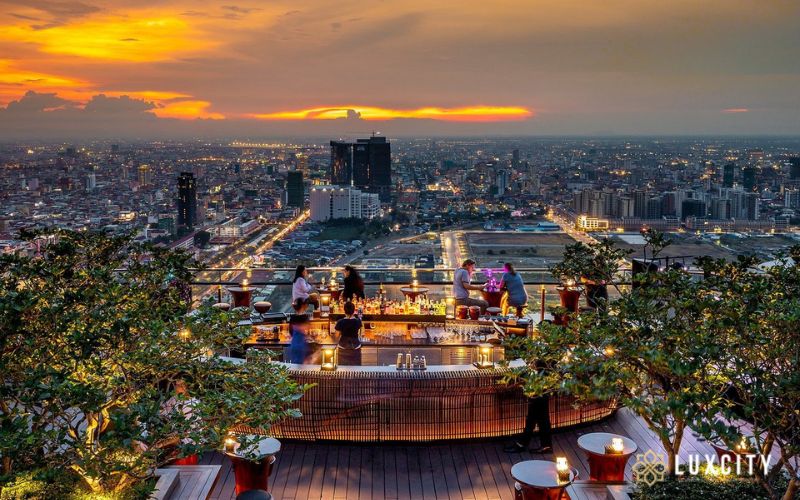 Vehaa Restaurant & Bar
Vehaa Restaurant & Bar stands out from the city's usual nightlife by occupying the top floor of Tronum, one of the city's coolest residential complexes that blend Cambodian heritage with contemporary design. Tables are built around tree trunks and shaded by chunky cement blocks, giving the impression of being in a forest in the sky. This restaurant will not leave you hungry, with dishes ranging from fried rice with lobster to prawn bisque.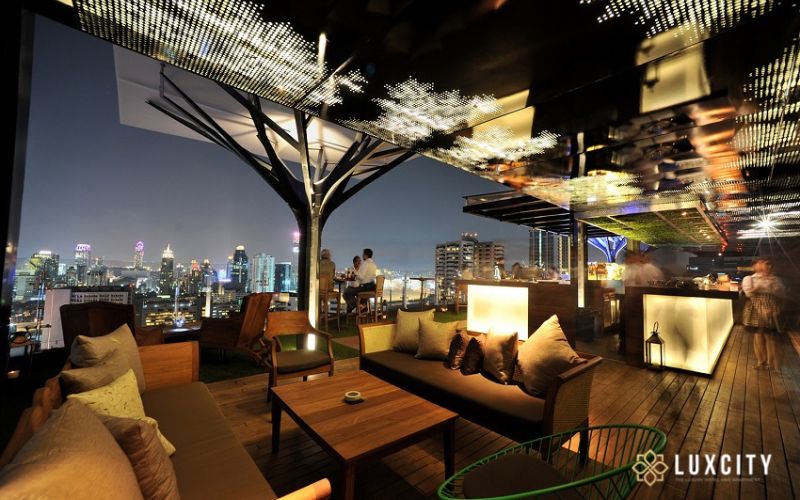 Le Moon Rooftop
This riverside rooftop bar atop Amanjaya Pancam Suites Hotel is a top pick for its scenic views of the Tonle Sap and the mighty Mekong. This cosy watering hole, which has been open for over a decade, is a local and expat favourite for its laid-back atmosphere. Choose your poison from the extensive list of premium wines, cocktails, and mocktails, then sink into one of the plush sofas by the river and watch the boats pass by. Le Moon Rooftop also serves bar snacks such as chilli fries, fried chicken wings, and beef skewers, as well as Cambodian classics such as amok trei and beef lok lak, or tender beef slices tossed in a glossy, peppery sauce.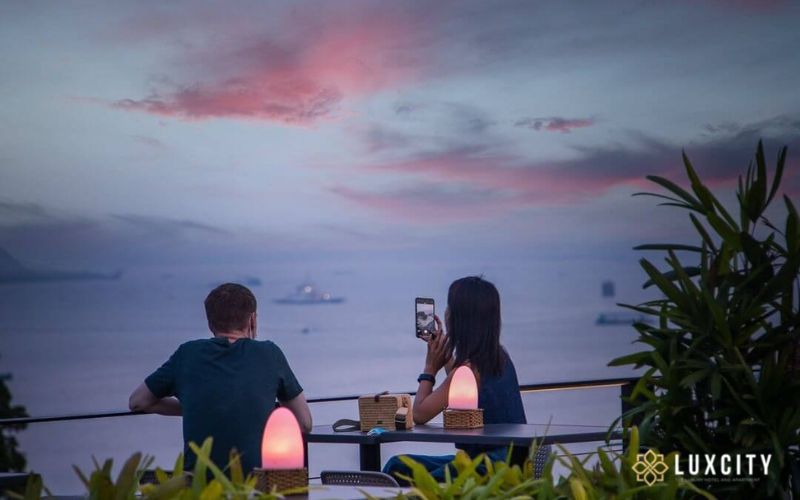 Organic Skybar at Palace Gate Hotel and Resort
The newly renovated Organic Skybar, a leafy rooftop paradise with an unusual name, is the place to be for a glimpse of royalty while having dinner and drinks. The bar, framed by foliage-twined arbours, overlooks the Royal Palace of Cambodia, a complex of buildings that serves as the King of Cambodia's residence. After dark, the palace is beautifully illuminated and can be seen from the bar. Other nearby attractions include the Silver Pagoda, Wat Botum Park, and the National Museum of Cambodia, which are all within walking distance.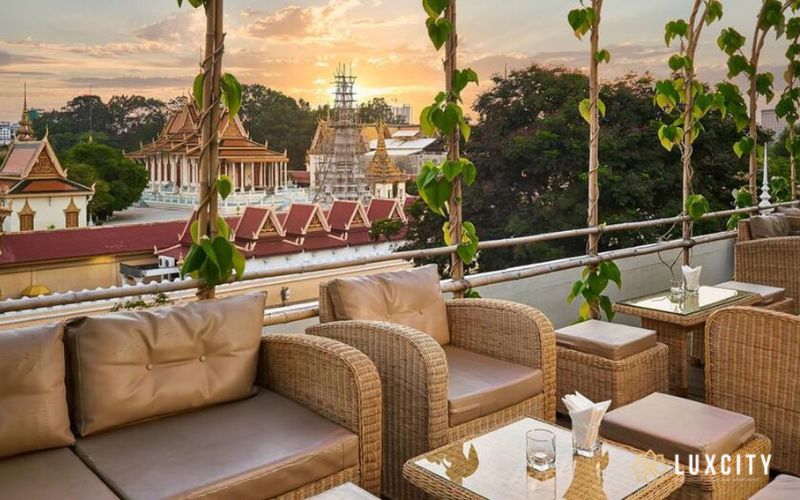 Rooftop bars in Phnom Penh cater to almost any mood and style, whether you're looking for colonial charm or ultramodern interiors. They feature panoramic views of the vibrant city and beyond. Drinks and food served at Phnom Penh sky bars are unsurprisingly on the pricier side, attracting a steady clientele of expats, celebrities, as well as affluent locals and tourists. Nonetheless, with excellent service, a stylish atmosphere, and a lively crowd, a night out at one of Phnom Penh's most popular sky bars is well worth the extra cost. Below is the collection of 8 best sky bars in Phnom Penh for you to discover this capital city from another angle. For more fascinating to make every moment count in this capital city, learn more here with us!