2022-11-29
Top 10 fun things to do in Phnom Penh at night - the city for night owls
As darkness falls and the lights flicker to life, this is when Phnom Penh comes alive! The city has an energy that never stops, even late at night with a collection from chill to crazy activities for night owls. You might not want to miss the nights spent out dancing until 4 a.m., and the beautiful cab rides home along the riverside watching the sunrise. Moreover, with the hospitality of the locals, those friendships and adventures will always have a special place in your heart. So, if you don't know what is waiting for you when the night falls, venture out 10 fun things to do in Phnom Penh and start heading out to the street now!
Learn more: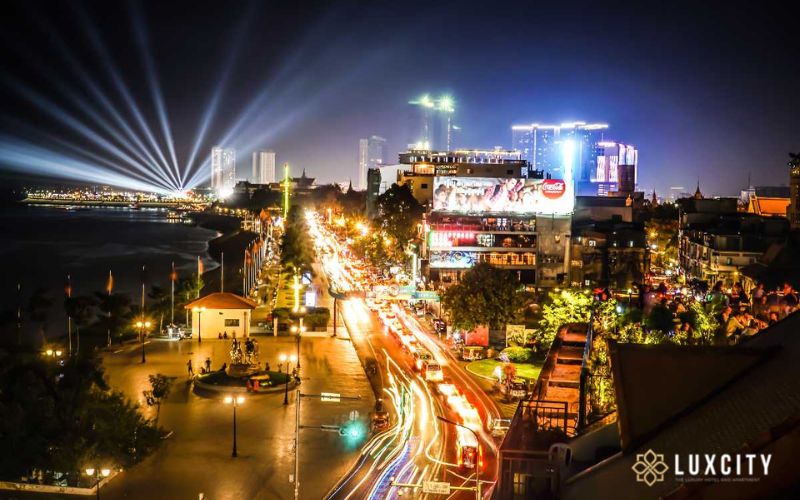 Shop and eat at the night market
The Phsa Reatrey market is Phnom Penh's night market. It features a huge area and a stage in the heart of the market where folk music events are organised for tourists to appreciate the local culture and shopping and eating. The kiosks are arranged closely around the stage, selling anything from clothes and shoes to tourist souvenirs. You can haggle a little if you believe the price is higher than intended. The smell of cuisine will draw you in as you approach the market's entrance. Trying some unusual insect delicacies, such as spiders, crickets, frogs, and stalks, is an unforgettable experience. Surprisingly, these dishes have a distinct and delectable flavour, so don't be afraid to try them! Some familiar dishes have distinctive flavours, such as rice, vermicelli, noodles, curry, and so on.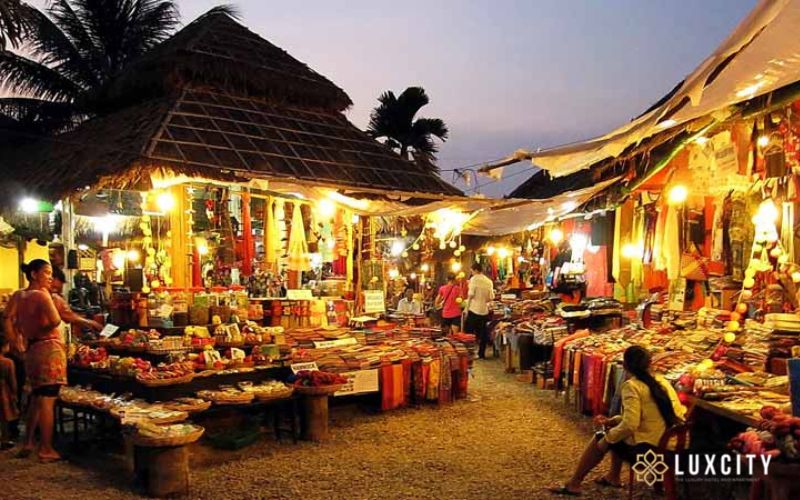 Discover Pub Street
Pub Street is a well-known foreign street in the heart of Phnom Penh. Pub Street is a new attraction within the Golden Sorya Mall in Phnom Penh; there are numerous pubs and bars and Western-style and traditional Khmer eateries. Traffic is prohibited after 7 p.m., and the route becomes a walking street. Most restaurants and bars are open all day but are most crowded between 5 p.m. and 12 p.m., even overnight.
You can also experience the fish massage! Foot massage with little fish, known as Dr. Fish Massage, is an everyday activity here. Each group of roughly 2 to 3 individuals sits around the water block, and the fish eat the dead skin on the foot surface. For 10 minutes of massage, the cost is only one US dollar. A board with the words "If my fish does not satisfy you, you do not need to pay the money" can be seen.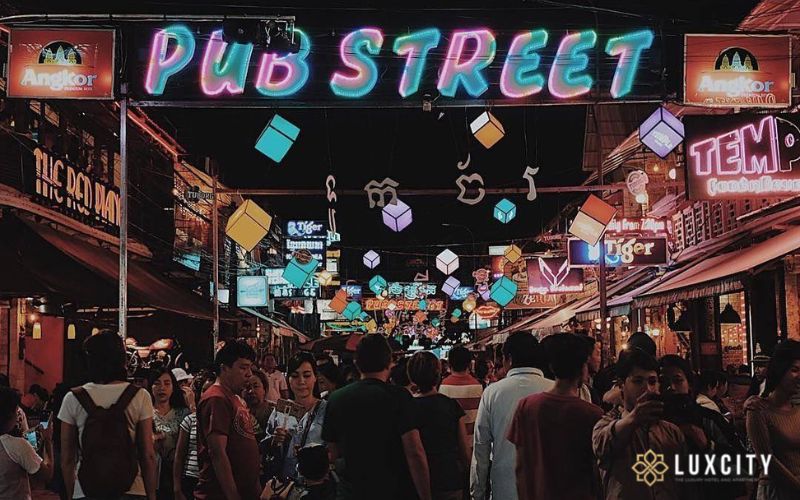 Experience Nagaworld Casino
Cambodia also attracts tourists to the contemporary and luxurious Nagaworld Casino, the country's largest casino. Nagaworld has grown into a sophisticated entertainment complex with an area of up to 1.2 square metres. The structure has 13 stories separated into four parts: a large-scale casino complex, hundreds of luxury hotel rooms, high-class spa rooms, and professional service restaurants serving Asian and European cuisine. Casino Nagaworld is open 24 hours a day, seven days a week, and is always bustling, much like the Taj Mahal Casino in Las Vegas. Every day, various electronic machines and table cards range from easy to complex to play.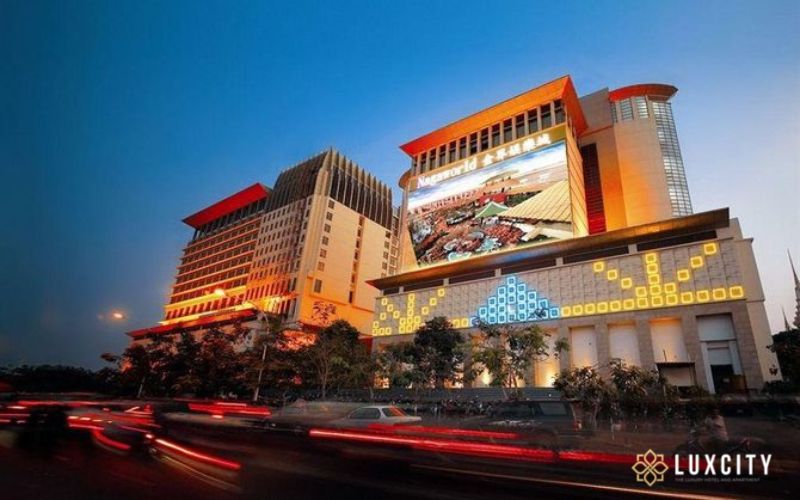 Get around by Tuk Tuk
Tuk Tuk can be found in every corner of Cambodia. Tuk Tuk is a tricycle with a cabin that transports people or goods and is popular in many Asian nations such as Cambodia, Thailand, Laos, the Philippines, and India. Tuk Tuk is a motor taxi that can carry up to four passengers and readily navigate tiny roads or traffic bottlenecks. Tuk-tuks have a top speed of 30km/h, making them ideal for short-distance transportation.
Enjoy the famous Angkor beer
If you visit Cambodia, you will find Angkor beer in numerous restaurants and pubs, particularly in major towns such as Phnom Penh, Siem Reap, and Pub Street. Observing the lively nightlife of a massive city while conversing with friends and drinking Angkor beer will be an unforgettable experience experienced only in Cambodia. A bottle of beer costs between $0.5 and $1. Angkor beer is well-known throughout the world for its excellent and unique flavour. It has been exported to many other nations, including Japan, the United States, Malaysia, and Australia.
Top 5 Bars and Clubs to Dance Your Phnom Penh Night Away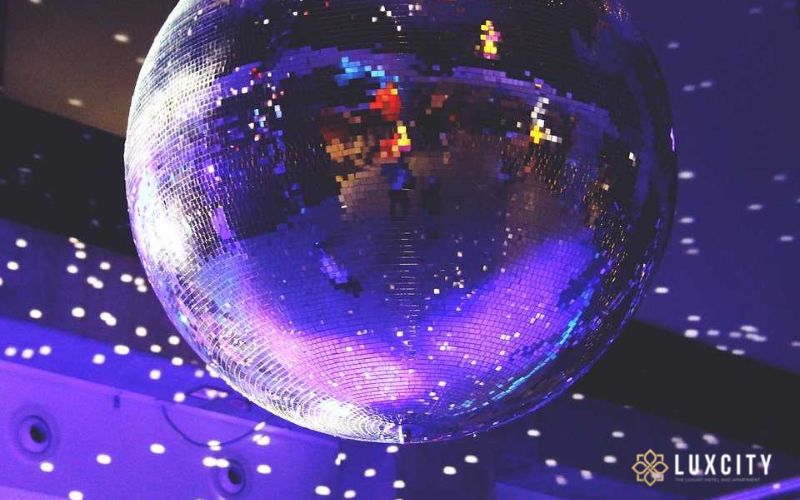 Pontoon
Pontoon is a club you wouldn't want to miss. It's a bar and dance club, with three huge rooms, usually different music playing. They have local and international DJs performing from time to time and a spacious disco floor where you can dance your troubles away. The nightlife vibes here are immaculate, and it's a must-hit on Street 51, along with some others. You'll be able to dance to all kinds of music, drink cocktails all night and have a bite or two in between. Party vibes to the maximum!
Club Love
The club's motto is "all you need is love." This location on the third level of the Duplex Cafe & Restaurant encourages economical and international entertainment. As a result, it is a famous backpacker location, with incredibly casual attitudes and music ranging from hip-hop to alternative. Their food comprises Khmer and Western dishes, a distinct drinks menu, and a fun dance floor. You can also visit Street 278 while you're there.
Heart of Darkness
This place is true to its name. Heart of Darkness is one of the classics and the longest-running attractions in this city (since 1993) and it presents its A-game every year. The contemporary Khmer-style interiors mixed with hip-hop and rock music make for the perfect Phnom Penh experience. It's usually packed with tourists, locals, and ex-pats coming to welcome the darkness. With statues found in temples and awesome drinks, the spirit of this place is top-notch.
Candy Bar
You can't go wrong with Candy Bar if you're the hostess bars type. It is the most sought-after hostess bar in Phnom Penh, open 24/7, with Khmer cuisine and hip-hop music. It is a little more expensive than most bars, but the services and ambiance make up for it. It also services a live DJ on weekends, a sports bar, and pool tables. You can spend your night here without any boredom at any point!
The Mad Monkey
This is a hostel for all backpackers. They have a swimming pool and 2 bars, one of which is on the roof. It is a little away from the streamlined tourism but placed right in the centre of BKK1, which is why it is also known as the backpacker's central. It might be a little more expensive than some hostels, but their parties and evenings are not to be missed. The Mad Monkey is another impeccable place to watch the sunset, along with a pool and over 40 cocktail alternatives.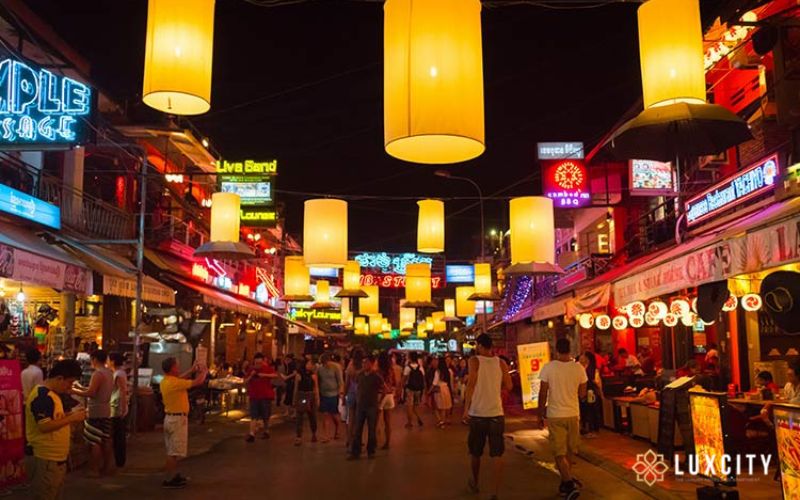 Every city has some sort of nightlife. The city that never sleeps is no different. The best nightlife in Phnom Penh is memorable, exciting, and, if you're lucky, romantic. Coming to this bustling city and not visiting its nightlife makes as much sense as lacing your shoes without laces. So come on! Let your inner child take the lead and dance the night away with the most fascinating things above! After visiting most of the famous and typical attractions during the day, turn to your companion and say: "Let's go see what type of trouble we can get into!" and we make sure you will never regret it!
Take a look more at our best things to do in Phnom Penh.