2022-12-06
Top 7 best rooftop bars in Phnom Penh for booze with stunning views
Have you ever noticed how a place can look entirely different at night? Consider the capital of the Kingdom. During the day, it serves as a backdrop in the lives of ordinary people, but at night, it provides the most beautiful views and the best way to immerse yourself in the beauty of the night is to take things one step higher. We're talking about rooftop bars, which have become increasingly popular recently. Today, the city's skyline is dotted with some of the most aesthetically pleasing bars, offering custom liqueur concoctions and unrivalled city views. Head to one of these best rooftop bars in Phnom Penh, order a couple of sundowners, and unwind as the city slowly falls asleep. Welcome to a unique Phnom Penh experience!
Learn more: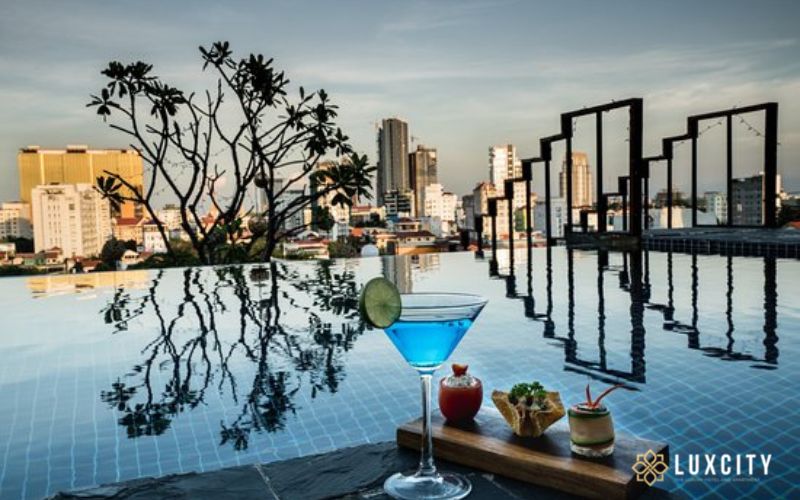 Sora
Unwind high above the city and take in spectacular views at one of the best sky bars Phnom Penh has to offer, perched on a cantilevered terrace. Located on level 37, Sora is a high-energy bar and lounge where guests can feel the buzz of the dynamic city below.
Sora features soft seating groups, high tables, and a bar, all complemented with attentive yet discreet service. This is a sophisticated setting to admire the cityscape at night or to people's watch. Whether for a relaxing evening after work with friends and colleagues or a first-date venue, Sora is a must-visit in the heart of Phnom Penh. The relaxed, urbane atmosphere, coupled with unbeatable views of the city, ensures the sky bar is the most sought-after nightspot by the city's sophisticated.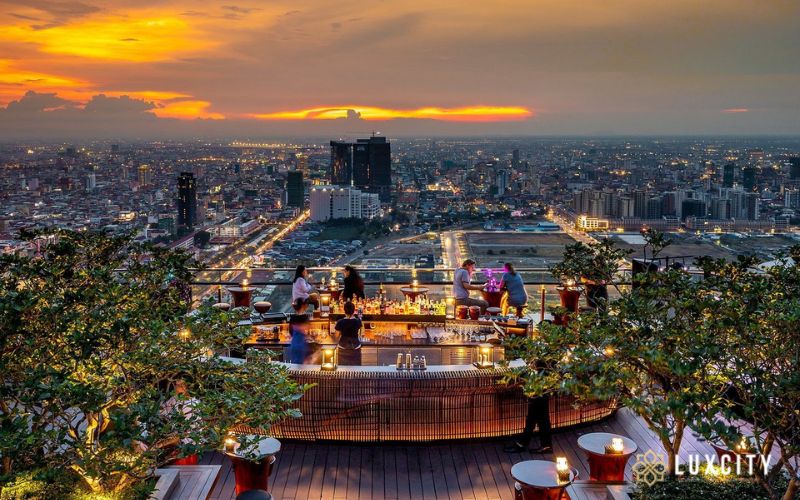 Foreign Correspondents Club
Despite being a French protectorate for nearly a century, Phnom Penh has very little colonial architecture, making it all the more rewarding to stumble across little outposts of history like the Foreign Correspondents Club. It was once a haven for intrepid Western journalists and photographers covering the country's various wars, a place where they could get a cold beer and a warm meal. Later, UN personnel moved in, and it is now a popular bar and hotel, with black and white photography honoring those who came before. The setting is wonderfully atmospheric, with ceiling fans and riverside views (snag a rooftop seat before sunset).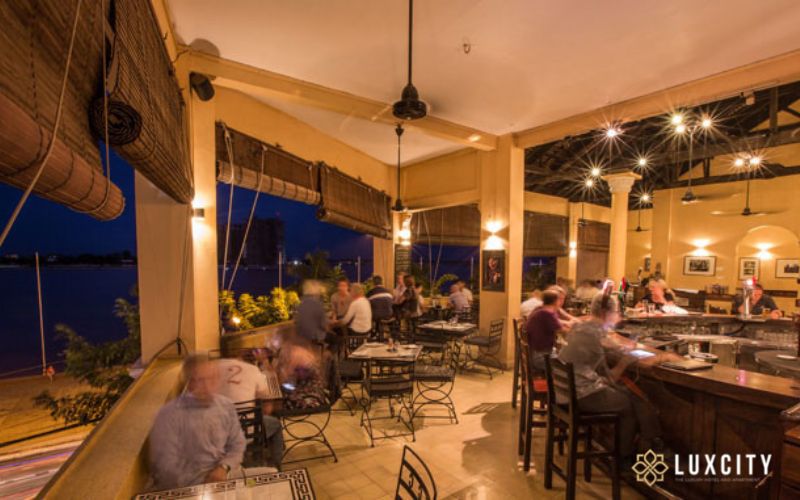 5 Drunk Men
When a bar's name is 5 Drunk Men, you know you've found a place that isn't afraid to be honest - or that it resulted from drunken bravado. Regardless, this riverside venue is a laid-back hangout with one of the best craft beer selections in town.
They have over 20 different types of bottled craft beer, ranging from coconut ale to hazelnut chocolate stout, coffee stout to weizens, and plenty of IPAs made by Singapore, Hong Kong, and Thailand brewers, including the award-winning Red Truck Red Ale from Chiang Mai. Their signature drink, however, is the 5DM, which consists of five liquors (hence the name) and is served in a small fish bowl with a bottle of cider.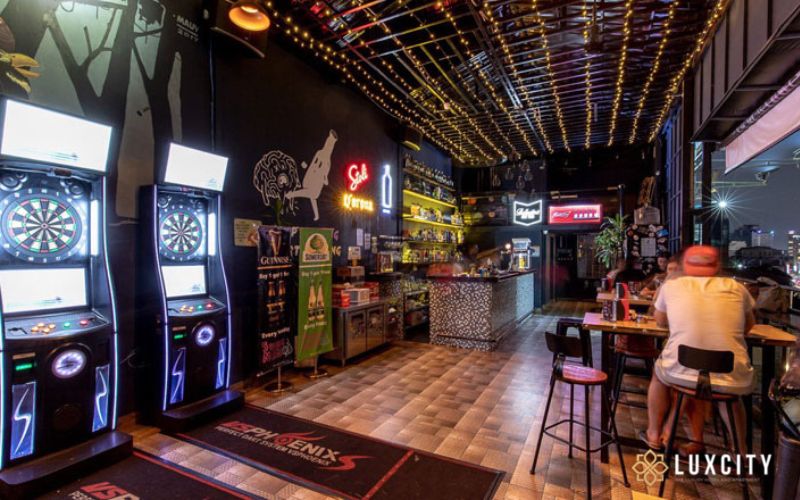 Rooftop Bar at Lumiere
Lumiere is one of dozens of high-rise buildings being built throughout the city. Still, it stands out with its twisty design (each floor rotates in a way that resembles a Rubik's Cube being solved) and its remarkable rooftop Skybar, designed by local architect Hun Chansan. It's only on the 14th floor, but that's plenty in a city still getting its head around heights. The dining table at one end of the tall space has floor-to-ceiling glass on three sides, providing talking points with no matter which way you look, while the outdoor lounge on the east side provides mild vertigo. Combine this with a Cambodian and Western tapas menu, and you've got a place to impress visitors.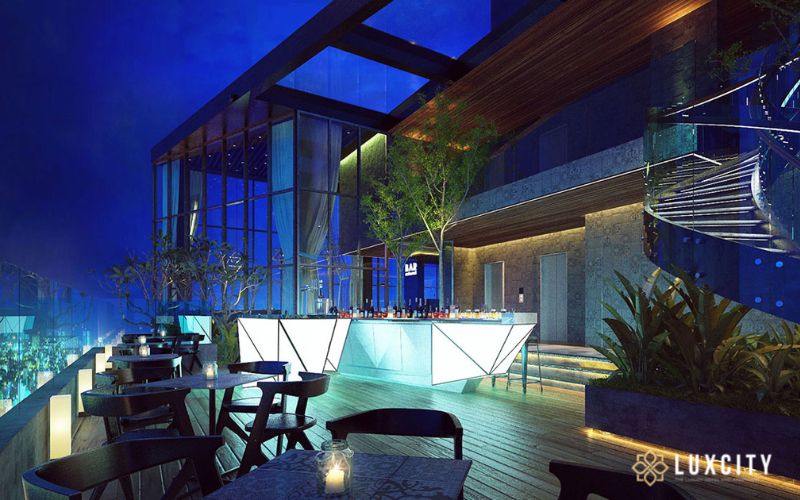 Sundown Social Club
Phnom Penh can be a hectic little town at times. Still, it also has a lot of charm, which is why many ex-pat entrepreneurs decided to create an urban oasis cocktail retreat where you can unwind from all the hustle and bustle while still feeling connected to it. The Sundown Social Club is the result, an open rooftop that combines greenery and neon and where Hawaiian shirts are mandatory. The bar looks out onto Russian Market, a buzzing hub of tourist shops, street food, and fruit stalls (side note: the market was named for the Soviet shoppers that frequented it in the 1980s). Try one of their tropicana cocktails or a draught Kingdom craft beer.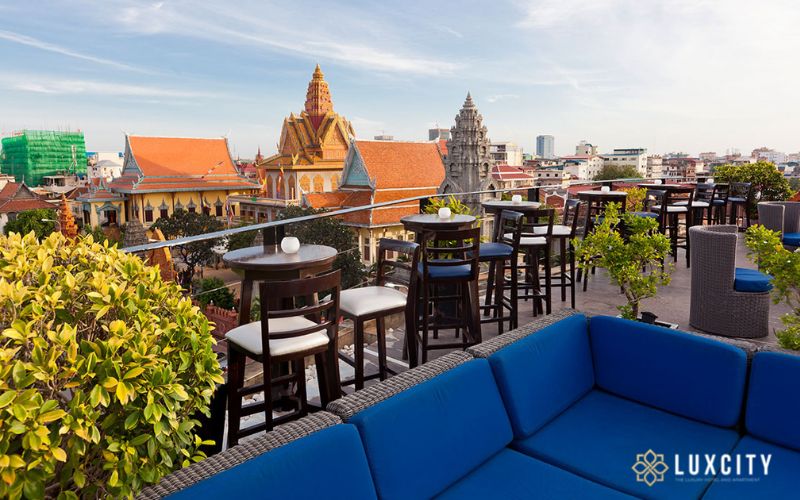 Elephant Bar
A visit to our famous Elephant Bar is a must during any trip to Phnom Penh. If not, simply to taste some of the finest spirits, wines, and beers Southeast Asia has to offer but to soak up the atmosphere of a legendary bar that has witnessed the merriment of the many prominent public figures who have enriched the fascinating story of our hotel.
Take time out from your day on a comfy leather couch, with a refreshing drink in hand. This is your chance to try the Femme fatale, our signature cocktail created for Jacqueline Kennedy during her visit–and our version of the Singapore Sling. Tapas and light meals are served all day in the delightful dining area or out on the balcony overlooking the tropical gardens.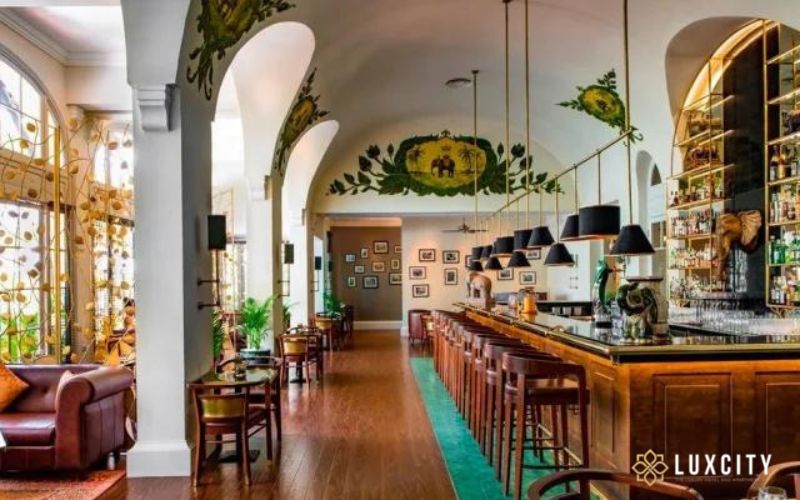 Le Moon Rooftop
We offer a broad range of cocktails at Le Moon, but our drinks complement the stunning view. Located in Phnom Penh's touristic epicentre, we have an unobstructed 270-degree view of 2 rivers and parts of the city. Our bartenders can create any generic or international cocktail. Moreover, they have created a series of original cocktails that can only be ordered here. The wide-open space and fresh air flow allow for constant comfort on our terrace, so you'll never feel too hot!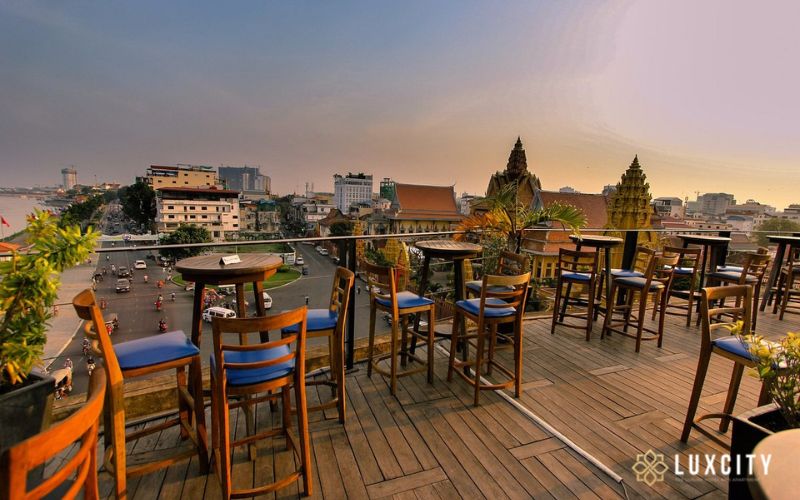 This capital city has a crush on rooftop bars, from swanky city skyscrapers to performatively casual warehouse hangouts. Whether braving rainy conditions or catching a breeze in a high heatwave, Phnom Penh lovers are blessed with a plethora of rooftops offering a combination of wicked city views and top-notch drinks. Take your pick among our list of best rooftop bars in Phnom Penh for booze with stunning views above. It's time to soak in those sunsets and cheer on the beautiful cocktails with your gangs. Check out our collection of must-visit places and activities to best experience this capital city!