2022-06-17
Top 10 best dishes in Thai restaurants in Phnom Penh [2023]
Thailand is known as the "land of the Golden Temple" of countless temples and Buddha statues. But in that long-standing culture, the cuisine is also a quintessence that needs to be mentioned. So recently, a lot of Thai restaurants in Phnom Penh were born. So what is the difference between those restaurants and the rest of the restaurants in this vast capital that so many people love and choose? In today's article, let's learn about Thai culinary culture and Thai restaurant-style with Luxcity.
Learn more: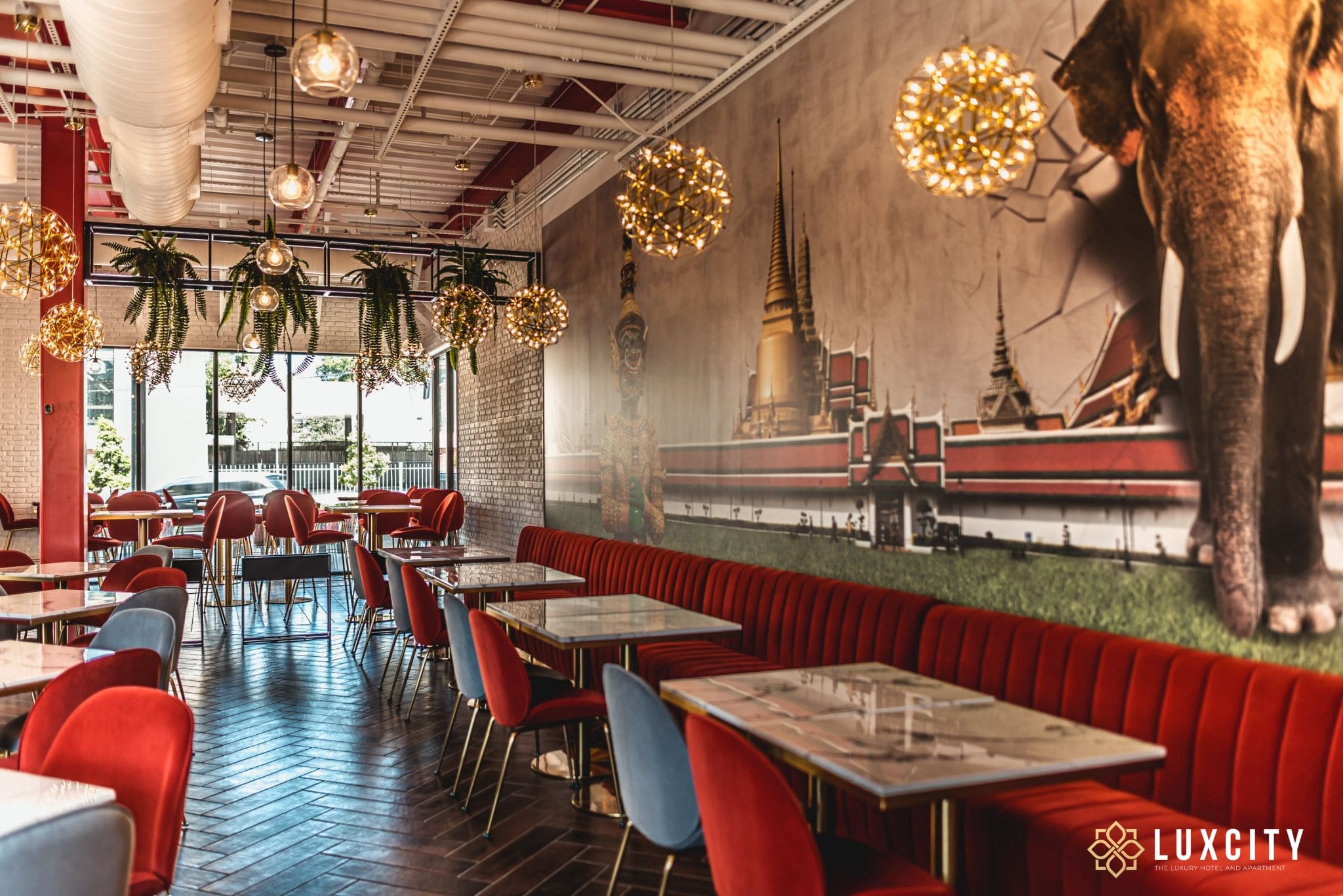 What makes Thai cuisine so special?
For a long time, Thai cuisine is known and loved by many people from all over the world. What makes Thai cuisine special is that each dish has its unique ingredients, flavors, and cooking methods.
Those who have once had the opportunity to enjoy Thai dishes will find it hard to forget the rich and unique flavors not found anywhere in the world. Thai cuisine is so rich and diverse that it is difficult to list them all.
Each dish with different processing gives us different experiences and emotions.
From spicy stir-fries, greasy curries, and sweet and sour soups to hot grilled dishes, Thai cuisine never disappoints. If we have ever enjoyed Thai food, whether traditional or modern, we will realize that Thai cuisine is a harmonious combination of spicy, salty, sour, and sweet.
In Thai dishes, chefs often use lemongrass, fish sauce (more intense than using salt), galangal (a root of the ginger family but with a very different flavor), and coconut milk. Those familiar ingredients play a very important role in making delicious dishes.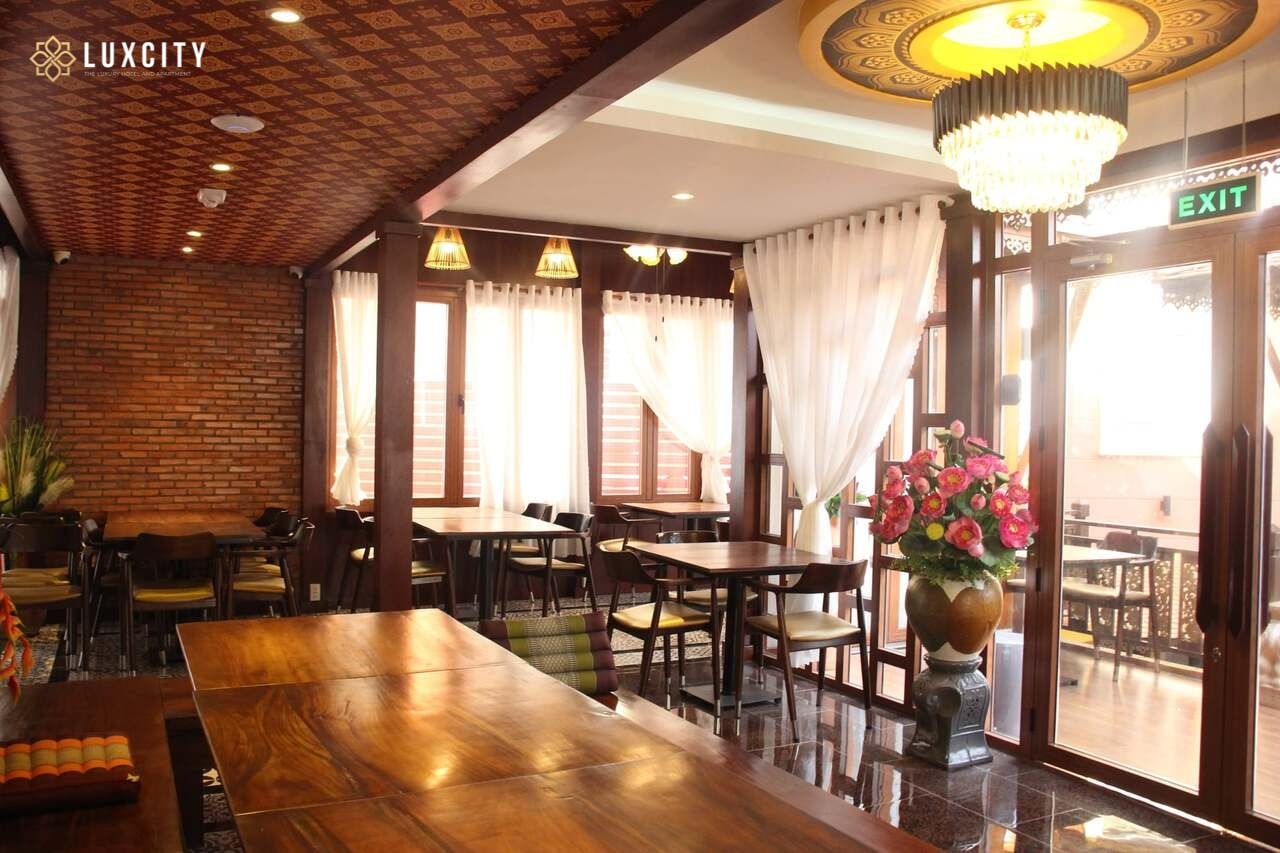 Imported elements in Thai cuisine
Traditionally, the Thai people have several processing methods such as stewing, grilling, steaming, etc. Gradually, experiencing the variation of time and the vicissitudes of history, Thai cooking methods are influenced by some countries inside and outside the region, making their processing methods more diverse.
First, following the trend of Chinese immigrants to Southeast Asia, stir-fried dishes and fried dishes have crept into Thai cuisine. After that, some countries such as the Netherlands, France, and Japan invaded Thailand and also introduced new dishes into the land of the Golden Temple. Since then, they were forming an incredibly unique and diverse culinary culture in Thailand today.
If you love Thai food, try making basic dishes like Eggplant Chicken Curry or Thai Iced Tea in a Thai Restaurant in Phnom Penh. The taste will be amazing, far from the usual taste we know.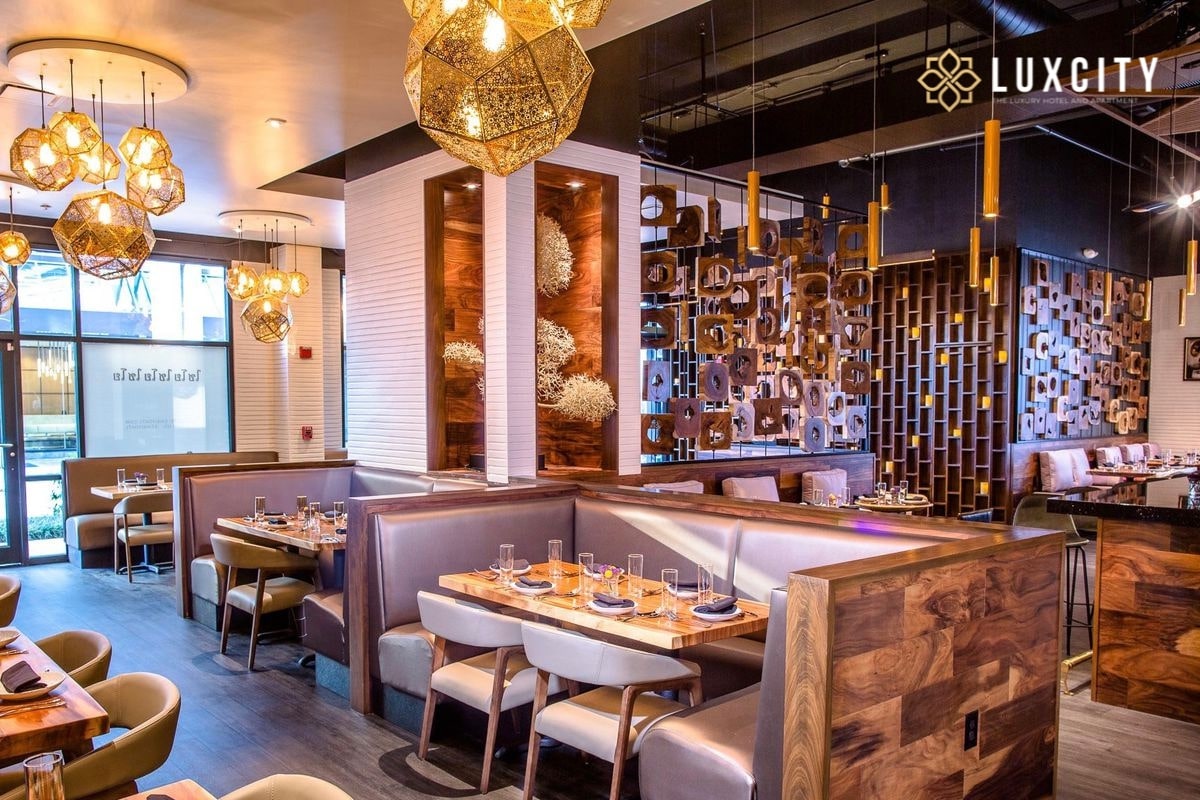 Characteristics of Thai restaurants in Phnom Penh
Imprinted with the quintessence of Thai cuisine
Thai cuisine is a delicate blend of herbs, spices, and fresh food. Each dish has a harmonious combination of spicy, sour, sweet, and bitter. The dishes are all brought with very special cooking styles. Thai cuisine is part of the quintessence of Thai culture. These refined features always strangely attract tourists.
Therefore, a Thai restaurant in Phnom Penh has been opened in recent years. Although the quantity is not much, the quality is undeniable. Each restaurant has different characteristics, different menus, and different spaces. But the common point is that they are all imbued with the unique features of Thai culinary culture.
Typical space of the land of the Golden Temple
The space of Thai restaurants in Phnom Penh is often not the same. Some restaurants have a modern style, some restaurants have traditional features. Some restaurants combine modern and classic features. However, all of those restaurants have typical features of the country of the "Golden Temple".
The feature of these restaurants is the spacious and airy space. However, when entering, diners will feel extremely cozy and reunited. Because Thai people respect the family traditions and culture of their families and ancestors. Therefore, the family atmosphere and the meal atmosphere are very crowded. Therefore, no matter how spacious, the space carries the sacred and priceless feelings of family and loved ones.
Architecture and interior rich in tradition
Thai culture affects not only the space but also the architectural style. As mentioned above, Thai people respect the traditional family culture. Therefore, to convey this cozy atmosphere, Thai restaurants in Phnom Penh often use deep, warm colors. For example, yellow lights, and wooden furniture. The walls have images of Buddha images, typically patterned partitions, elephant statues, etc. These small details also contribute to the decoration of the bold Thai restaurant in Phnom Penh.
Prepared by a Thai chef
Some restaurants serve menus from your country such as Japan, China, and Korea, often prepared by chefs in their home country. The cost to hire a foreign chef is not small, and it is not easy either. Therefore, dishes imbued with your country's culture, have very attractive names and stimulate the taste, but the taste is far from the traditional cuisine of your country.
But with a Thai restaurant in Phnom Penh, is completely different. The chef can be Thai, with experience in cooking methodically. The dishes are also full of Thai flavors, full of sour, spicy, sweet, and bitter flavors. This is a huge advantage of Thai restaurants to score points in the eyes of diners.
The menu is like a symphony
If the Thai chef is a conductor, the grill restaurant menu is like a symphony. The symphony is full of low notes, as well as the menu is a harmonious combination of sour - spicy - sweet - bitter. Asian cuisine is different from Europe and America in that the flavors are balanced very well. Even the famous British chef Gordon Ramsay once had to utter surprise at the unique and wonderful features of Thai cuisine. Thai people often eat very spicily, that's why most of the dishes use buffalo horn chili.
The cuisine of Western countries is often fried, fried with a lot of fat. But Thai cuisine is the opposite. Thai people rarely use fat in their dishes.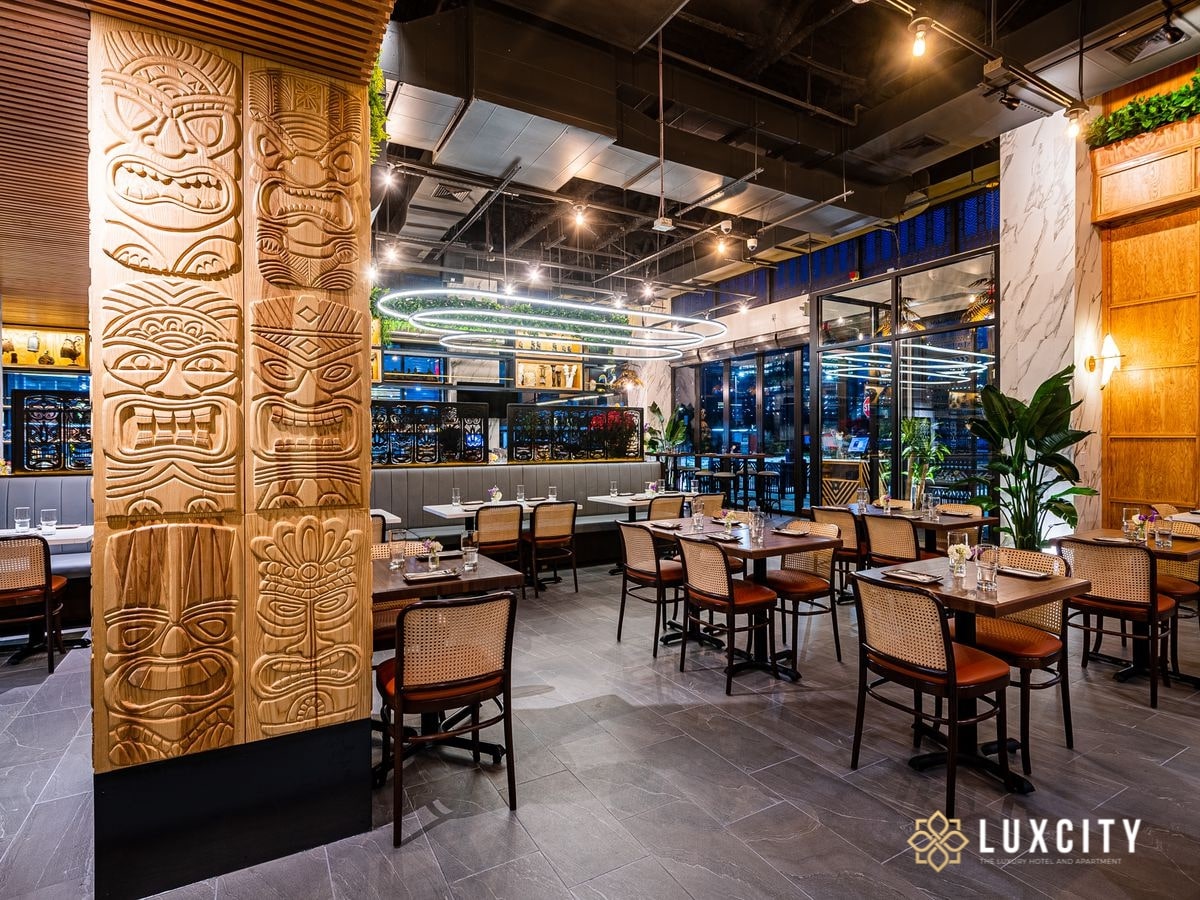 Top 10 best dishes in Thai restaurants in Phnom Penh
Pad Thai (Fried Pho or Thai Fried Noodles)
Perhaps the most famous Thai dish among tourists is Pad Thai. This dish has the main ingredient of fresh rice noodles with shrimp, eggs, bean sprouts, and chives. All are mixed with a very "divine" sweet and sour sauce that makes many people eat once but crave forever!
Tom Yum Goong (Spicy and sour shrimp soup)
If I had to choose the most typical flavor for Thai cuisine, it would probably be Tom Yum Goong – a spicy and sour shrimp soup.
To make a perfect bowl of Tom Yum Goong, the chef needs to prepare nearly a dozen different ingredients, such as shrimp, coconut milk, cilantro leaves, chili, lemongrass, ginger, lemon, etc. Spicy, sour taste light, sweet - all combined to create a unique and attractive flavor for this Thai delicacy.
Khao niao mamuang (Mango sticky rice)
Thailand is famous for many desserts made from tropical fruits, but perhaps the most famous of them is mango sticky rice. The seemingly simple combination of ripe mango, sticky rice, and coconut milk brings a magical blend. You can easily find this dish in restaurants and sidewalk stalls all over the streets of Thailand. Mango sticky rice is sure to be a perfect dessert or afternoon snack!
Som Tam (raw papaya and crab salad)
Som Tam is a very famous dish in Thailand, once in the top 50 most delicious dishes in the world. This Som Tam dish is not only famous for its "divine" deliciousness but also because it is quite… scary!
The main ingredients of Som Tam are green papaya and raw crabs. Papaya is shredded, mixed with cowpea, green banana, toad, green mango, cabbage, cucumber, roasted peanuts, and special spices. Fresh whole crabs are soaked in a mixture of salt, lemon, bitter melon, and hot peppers, then cut in half or broken into small pieces, and mixed with the rest of the ingredients. Do you dare to try this Som Tam?
Green curry, red curry
Coming to Thailand, we cannot miss the delicious and spicy green curry, red curry, and numbing tongue! Unlike Indian curries, Thai curries have a fatty and mild flavor of coconut milk and not too strong the scent of cinnamon. This Thai delicacy is often cooked with a variety of vegetables such as bamboo shoots, eggplant, lime leaves, green peppers, onions, garlic, galangal, and beef, chicken, or seafood.
Khao man kai (Chicken rice)
This Thai dish is the Thai version of Hainanese chicken rice with familiar ingredients such as sliced ​​chicken, rice cooked with garlic, with some special spicy sauce of the people of the Golden Temple.
Laap pet (Fried duck meat)
Thai people use chopped duck meat stir-fried and then mixed with fish sauce, lemon, and some special spices before mixing with chili and mint. Restaurants often serve dishes with sticky rice. Some places are still eaten raw, creating a very unique flavor.
Sai Krok Isan (Thai Sausage)
This is one of the most famous Thai dishes in the North. Ingredients include pork sausage mixed with garlic and delicious glutinous rice. In particular, this type of sausage is left to ferment for many days before being grilled, giving it a very unique taste.
Kor moo yang (Pork neck)
Dishes with pork neck marinated in special spices and grilled over hot coals. Visitors can not help but be surprised by the sweet and soft taste with a little spicy dipping sauce.
Roti kluai Khai (Banana egg cake)
This is one of the delicious dishes in Thailand that is popular with tourists. The ingredients of this Thai street food are very simple bananas, eggs, and chocolate syrup sauce. Pancakes filled with bananas and eggs are sold at sidewalk eateries, especially the night market with an indescribable delicious taste, which is very satisfying to eat.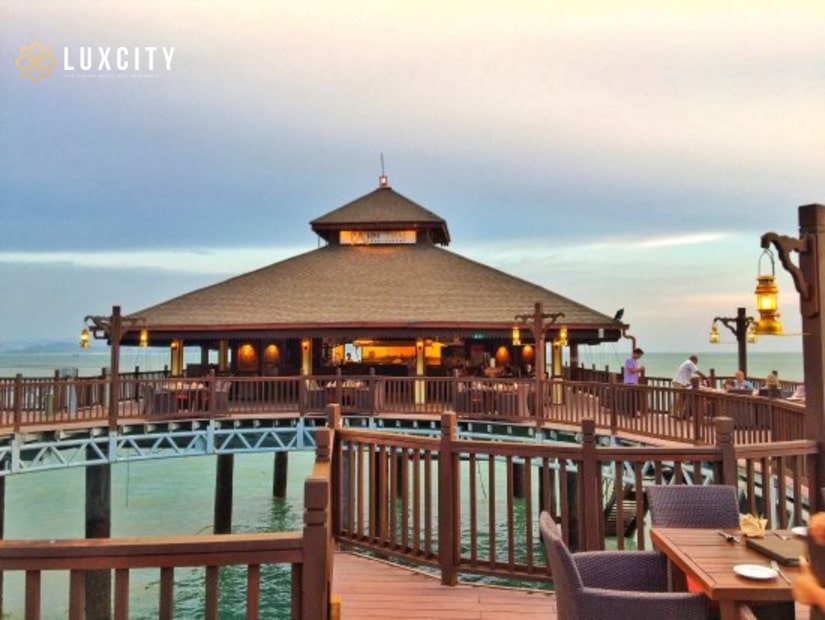 After reading this article, you must have a good understanding of the culinary culture and characteristics of Thai restaurants in Phnom Penh, right? We hope to bring you useful information about the cuisine of countries around the world. Knowing about your country's cuisine is very good, both helping you a lot in your travel and experience, and improving your understanding of knowledge around the world. If you still have any questions, please send them back to Luxcity so we can help you answer them.
Read more travel articles in Cambodia and inspiration from Luxcity.com.