2022-06-22
Top 5 the best BBQ restaurant in Phnom Penh
BBQ is a very popular grilled dish, not only among young people but also older people tend to eat in addition to other healthy steamed and boiled dishes. Especially for families, this is always a great and favorite choice every weekend, or holiday. Gather together, talk about a past day, happy or sad stories, and sip BBQ meat. It's great, isn't it? Sounds interesting already. So restaurants that cook this dish are very popular. However, because of its wide popularity, if you do not have a lot of experience or knowledge to choose from, you will not find a suitable BBQ restaurant. In today's article Luxcity we will help you find out that. Let's refer to the characteristics of BBQ in Phnom Penh and suggestions to enjoy it.
> Learn more: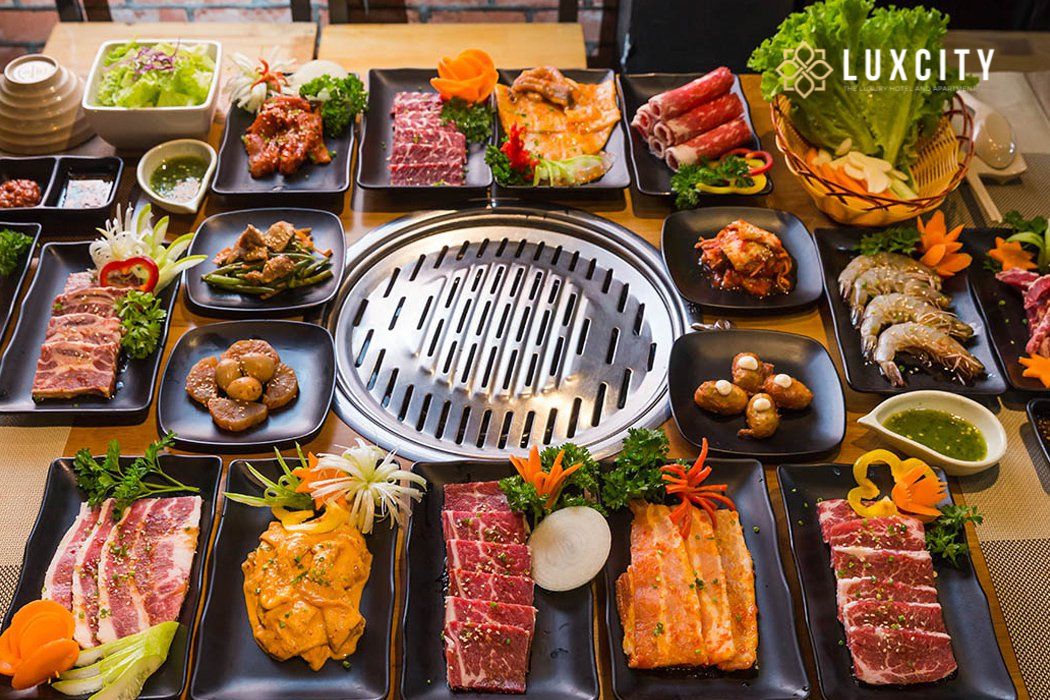 What is the definition of BBQ?
BBQ stands for Barbecue, is the word used to refer to grilled meat dishes on charcoal, mainly pork, beef, veal, chicken, lamb… roasted or grilled in pieces or whole and placed in the connection of an outdoor party with many attendees. In other words, BBQ can be understood as an outdoor festival with pigs, cows, and sheep... roasted or grilled.
The type of BBQ party appeared for a long time in countries around the world such as the UK, USA, Australia, New Zealand, countries in South Africa, South America... Later, BBQ spread to Asia, including Phnom Penh. As a new trend in enjoying food, more and more restaurants and BBQ shops are opening and attracting many customers.
The meats are marinated with rich, mouth-watering spices, then spread with a layer of sauce and put on fiery red coals. BBQ meat on an electric stove does not give off an attractive aroma, but when grilled on charcoal, it gives off a complex aroma that is hard to refuse. When cooked, the skin of the meat will be slightly crispy, and the inner layer of meat will be soft and mixed with sauce and spices, stimulating all the senses of diners. On weekend evenings or occasions when family and friends gather, it would be great if everyone sat around the charcoal stove, inhaling the fragrant aroma from the grilled meat and feeling the attractive aroma of the grilled meat BBQ. That is also the reason why BBQ is popular around the world.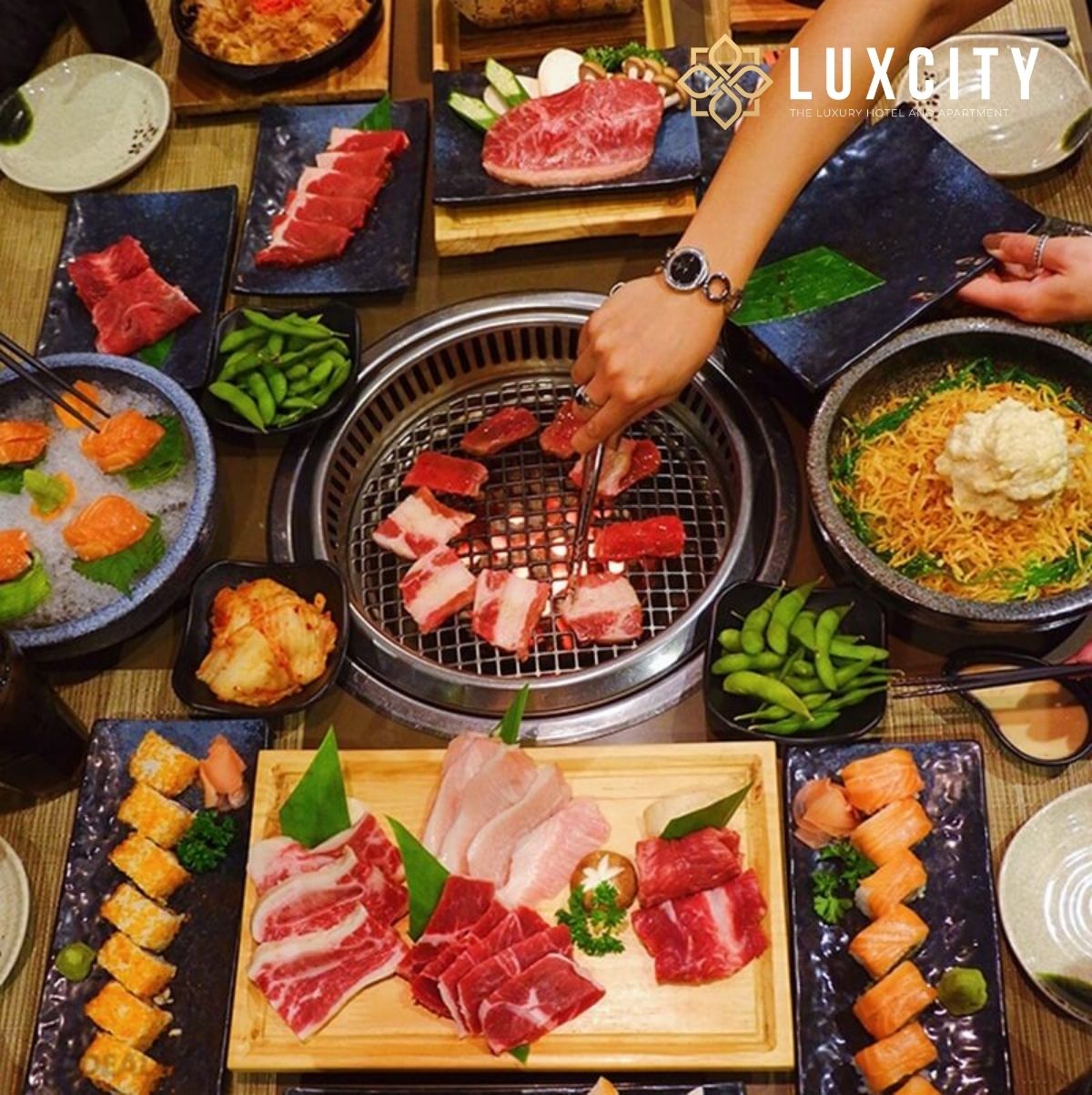 Why is BBQ in Phnom Penh popular?
The reason why the BBQ in Phnom Penh is so popular is that this dish has two highlights that most people like:
Firstly, most BBQ dishes are made from seasoned meat, so when grilling them directly on a charcoal stove (or electric grill) will give off a very specific scent. This has stimulated the palate and taste buds of the eater, even if you pay attention, you will find the burnt meat with a bit of fat looks very attractive.
Second, because it is grilled on a charcoal stove (or an electric stove), BBQ dishes in Phnom Penh can bring a lot of people together.
For example, a BBQ party in the family or with friends is an opportunity for everyone to chat while waiting to grill and enjoy grilled meats and vegetables that are easy to eat. Even the BBQ dish is also served with wine or beer, which is also quite ideal.
The most important reason why BBQ is so popular is that fully seasoned ingredients when grilled directly over the charcoal fire will give a richer and more delicious taste, very different from when grilled. Bake on an electric stove or use an electric oven. Because when grilled on charcoal, the cooking time will be longer, and the temperature of the charcoal will make the ingredients cook gradually through different stages, not burning the natural sweetness of the food. On the other hand, the color of charcoal-grilled dishes is also more eye-catching.
Besides, the BBQ party is very popular because it is an "invisible string" connecting people, each person contributing to the food preparation process - an opportunity to chat and have fun together.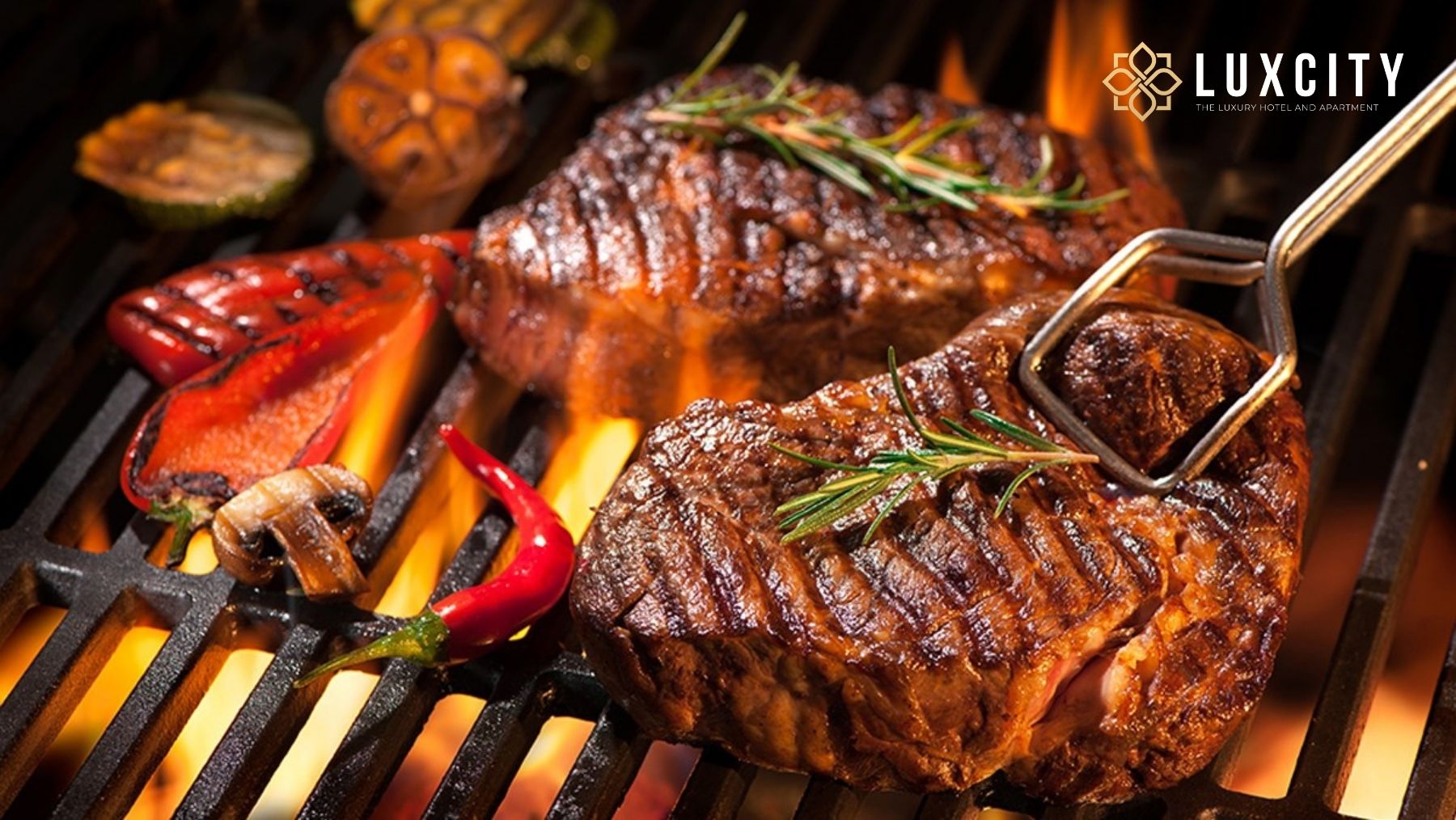 Origin of BBQ
BBQ originated from the Taino Indians whose name is similar to the Spanish word barbacoa. For centuries, the name barbacoa was used to refer to appliances made of wood, not to describe the act of grilling, and later it was modified to "grilled meat" as with the name BBQ.
In the past, the technique of barbacoa (also known as BBQ today) was used by Caribbean and Amerindian tribes to smoke and dry many foods such as fish, turtles, crocodiles, lizards, frogs, rats, mice, snakes, birds, and many other small animals to preserve them for everyday use. They can use this food to make stews or snacks.
This BBQ method is even salted, dried, and smoked by the Indians in the Caribbean to prevent them from going rancid. While Indians often use this method to make grilled beef.
Over time, the foods were changed when processed into the BBQ as we know it today.
Types and locations of BBQ in Phnom Penh space
There are two types and locations of BBQ in Phnom Penh space that are indoor and outdoor. As follows:
Outdoor BBQ party
Venues for outdoor BBQ parties are usually in cool, spacious areas that are convenient for everyone to move around. At that time, it is necessary to prepare all tools such as BBQ grill, plates, spoons, dining tables, cups, spices, sauces, drinking water, and napkins,...
However, when organizing an outdoor BBQ party, it is also necessary to pay attention to the weather and environmental situations. Because this can affect the experience of everyone at the party, especially when there is heavy rain or wind. Therefore, a covered venue will help the party avoid the rain or harsh sun.
BBQ party at home
When organizing a BBQ party at home, you will not need to be too concerned about the weather. But an important thing is the issue of ventilation to the outside, avoiding smoke inhalation. Pay attention to ventilation places so that coal smoke and dust do not stay inside the house. To solve this problem, the front or back yard is the ideal place to organize while ensuring spacious and airy.
Experiences when organizing a BBQ party in Phnom Penh
Up the number of guests: The number of guests will determine how the organization will be. If the specifics are determined, the better, then the planning will be more detailed and thorough
Choose a reasonable location: You need to determine whether the location is rented or held in the garden at home. From there, determine related issues such as water system, grill, parking lot, toilet, high or low rental cost, etc
Prepare tools and ingredients for the BBQ party: Equipment to be prepared such as a grill, charcoal, grill, igniter, newspaper to light a fire, bowls, chopsticks, spoons, and forks,... Preparation materials such as meat, vegetables, sausages, seafood, and seasonings such as pepper, sauce, and salt
Assign people in charge of grilling: Assign 1-2 people to stand on the grill or take turns. Should choose someone with experience and quick operation to get the dish quickly, to avoid burning
Choosing the right clothes: Due to having to load a lot of energy for the body and protein in the barbecue, you will feel full very quickly. Therefore, please wear clothes that are comfortable, easy to move and walk-in at the party. In addition, because it is possible to be exposed to smog, and the nature of the barbecue party is simple, please wear everyday clothes, not too luxurious
Reasonable choice of drinks: In addition to fruit juices, you can choose cocktails or beer mixed with some other ingredients. These drinks will help the body digest faster
Organize clean-up after the party: After the party, everything will be very messy, pay attention to cleaning up trash and leftover coal. Then dispose of them in the designated places.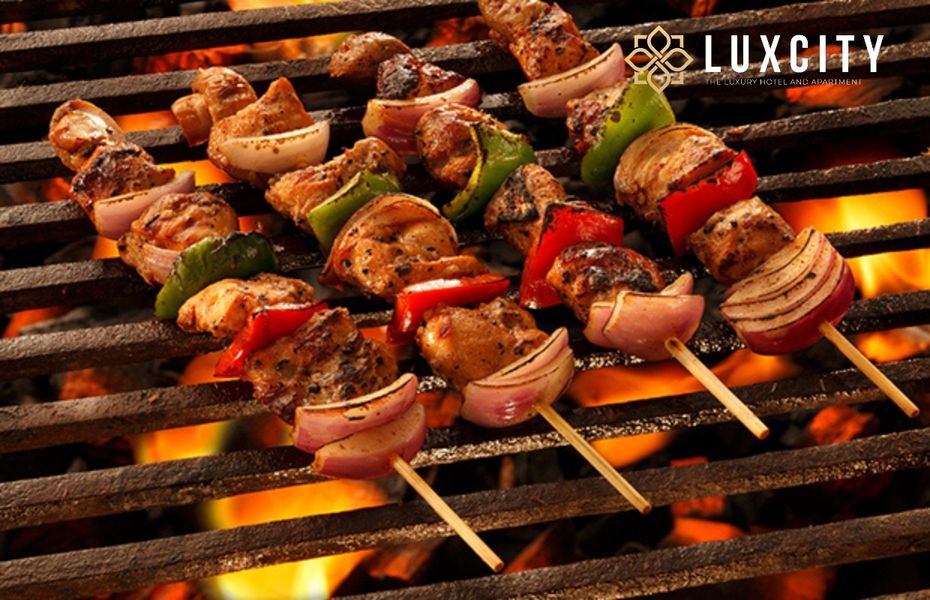 Top 5 the best BBQ restaurant in Phnom Penh
350 BBQ Cafe
We are a small restaurant beside Toul Sleng Museum selling tasty, affordable, and fresh Khmer and Western dishes with beer on draft and BBQ every evening. 350 BBQ Cafe is also a partner of Your Phnom Penh. Your Phnom Penh offers online menu listing and delivery service to any venue in Phnom Penh. Interested in adding your venue to Phnom Penh's online ordering and delivery company?
Dot Grill
The setting is modern and casual. Cambodians maintain the tradition of gathering family, clan, or friends together to socialize or celebrate over a big meal. Families and friends sit together at a big round table, discussing politics and arranging weddings. They eat, talk, drink and laugh. Then they eat more. Dot encourages this tradition of long meals with a large central sharing table in the restaurant's lounge area. Join the large table and make new friends. Don't worry, you don't have to talk about politics and wedding arrangements if you don't want to! We also offer more private individual tables. You can also sit on our terrace and watch the city life while you dine.
Sovanna II
Sovanna II is always jumping with locals and a smattering of ex-pats, who have made this their barbecue of choice thanks to the huge menu and cheap local beer. Sovanna I, on the same street, opens from 6.30 am and is as good a place as any to sample the national breakfast.
Uraetei Cambodia
BBQ Japanese Yakiniku Garden Tokyo is the latest premium international F&B brand to open its doors at 313 Quayside in Phnom Penh. The commercial property, developed and managed by Hongkong Land (HKL) as a food and beverage plaza, sits along the picturesque Preah Sisowath Quay, within viewing distance of Wat Ounalom and the Royal Palace. Located on the 3rd Floor of 313 Quayside, BBQ Japanese Yakiniku Garden Tokyo offers customers panoramic views of the riverside day or night. The restaurant seats up to 120 people over 450 square meters. Customers can book tables through the restaurant's Facebook page in the general seating area designed with a blend of Japanese and European styles. Or, they can make free bookings on 4 VIP Rooms and 3 Private Rooms that offer privacy and views of the street below.
Seorae Korean Charcoal BBQ - AEON Mall Sen Sok
Understanding the history of Seorae requires one to travel back to the time of Korean monarchs of old when royal families lived lavishly and demanded perfection in all aspects of life. This perfection also translated into kitchens, where only the best quality ingredients and meat were prepared and served. One type of meat that stood above all others was the Galmaegisal. Also known as "skirt meat", this part has the perfect combination of tenderness and juiciness, yet contains a minimal amount of fat. A fully grown pig or cow produces only 250 grams of such meat. It is so good and so rare that this meat was reserved only for the palates of monarchs and royal families.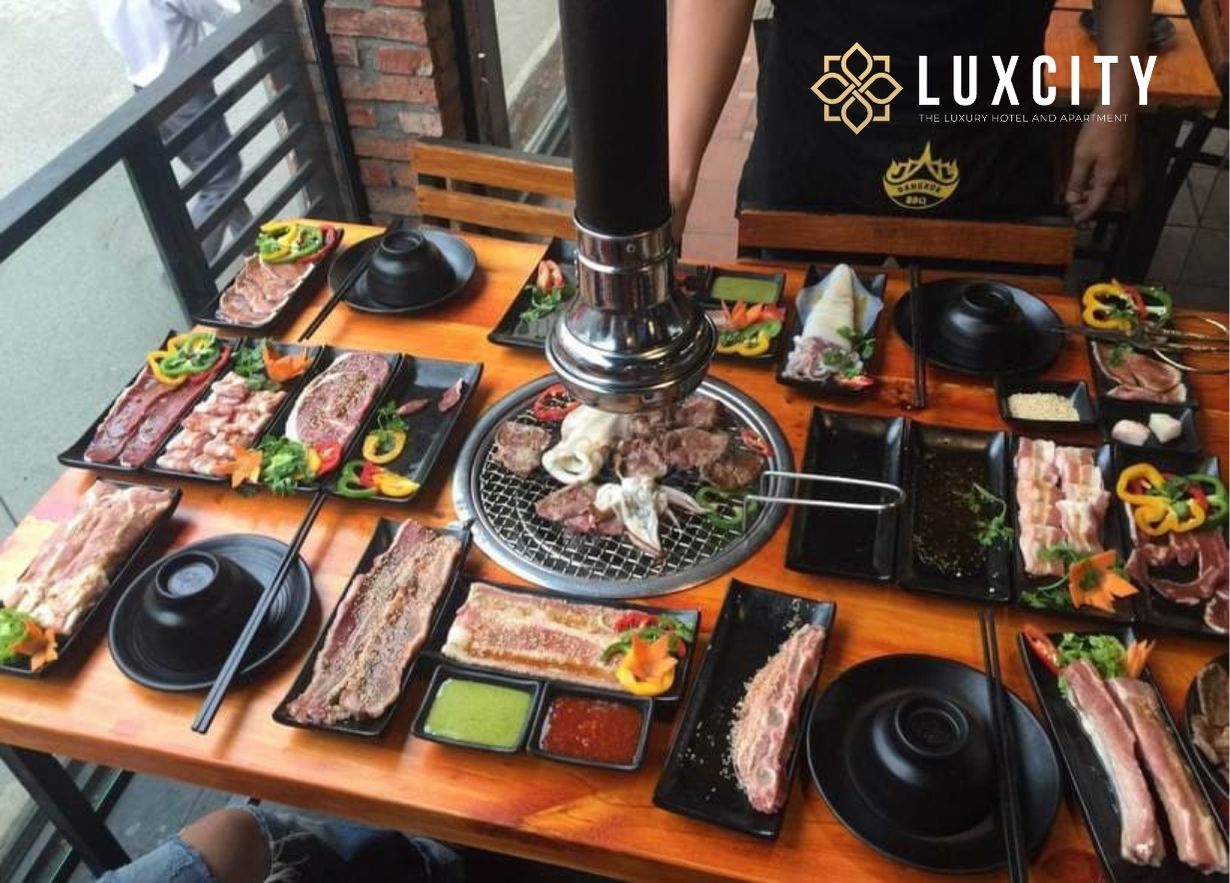 Through this article, we have understood the characteristics and types of BBQ that are widely popular around the world. Depending on many other different grilling methods that have been created, we can enjoy BBQ in our way. In general, BBQ in Phnom Penh will still become part of the cultural identity of the locals. What could be more wonderful than enjoying a BBQ party at many restaurants specializing in barbecue, be it your familiar grill or a barbecue restaurant that is loved and favored by diners? Save these Luxcity suggestions right away to find those favorite restaurants. If you have any further questions, please feel free to contact us.
Read more travel articles in Cambodia and inspiration from Luxcity.com.