2022-06-22
Top 5 the Best Rooftop Restaurant in Phnom Penh (with Spectacular Views)
It is undeniable that rooftop restaurant designs are getting hotter day by day. With a panoramic view of the landscape below, the restaurants above, and the restaurant on the terrace always attract customers of all ages. Experiencing the restaurant on high gives people a feeling of clearing their minds, being released into a space away from the hustle and bustle of everyday life. So how to choose your rooftop restaurant? Let's follow Luxcity's article today. We will help you understand this and recommend you a few quality rooftop restaurants in Phnom Penh that we have reviewed and experienced.
Learn more:
Top 5 the Best Rooftop Restaurant in Phnom Penh
Sora
Unwind high above the city and take in spectacular views at one of the best sky bars Phnom Penh has to offer, perched on a cantilevered terrace. Located on level 37, Sora is a high-energy bar and lounge where guests can feel the buzz of the dynamic city below.
The vibrant venue also showcases an effortlessly stylish whisky bar, including a handful of real rarities. The bartenders are true craftspeople, adept at everything from advising on beers and matching wines to preparing specially curated cocktails. Tapas are served from the Japanese kitchen so diners can enjoy alfresco dining while soaking up the stunning views of Phnom Penh.
Sora features soft seating groups, high tables as well as a bar, all complemented with attentive yet discreet service. This is a sophisticated setting to admire the cityscape at night or to people's watch. Whether for a relaxing evening after work with friends and colleagues or a first-date venue, Sora is a must-visit in the heart of Phnom Penh. The relaxed, urbane atmosphere, coupled with unbeatable views of the city, ensures the sky bar is the most sought-after nightspot by the city's sophisticated.
Elephant Bar
A visit to our famous Elephant Bar is a must during any trip to Phnom Penh. If not, simply to taste some of the finest spirits, wines, and beers Southeast Asia has to offer but to soak up the atmosphere of a legendary bar that has witnessed the merriment of the many prominent public figures who have enriched the fascinating story of our hotel.
Take time out from your day on a comfy leather couch, with a refreshing drink in hand. This is your chance to try the Femme fatale, our signature cocktail created for Jacqueline Kennedy during her visit–and our version of the Singapore Sling. Tapas and light meals are served all day in the delightful dining area or out on the balcony overlooking the tropical gardens.
Look up to see colorful frescoes depicting leafy scenes and majestic elephants. Wander around to peruse portraits of famous past residents who have graced our bar stools. Feel a part of something grand when you come to the Elephant Bar, and write your part of our unique story while you're here.
The Big Easy Phnom Penh
Ideally set in the center of Phnom Penh, The Big Easy Phnom Penh features air-conditioned rooms, a bar, free Wi-Fi, and a shared lounge. The property is situated 1 km from Chaktomouk Hall, 1.7 km from Vattanac Capital, and 1.8 km from Wat Phnom. The property is 2.7 km from Diamond Island Convention and Exhibition Center and 3.2 km from Aeon Mall Phnom Penh. Popular points of interest near the hostel include Sisowath Quay, Royal Palace Phnom Penh, and Riverside Park. The nearest airport is Phnom Penh International Airport, 11 km from The Big Easy Phnom Penh.
Club Love
With the very best in international music playing every night, Club Love is a late-night dance club located in the most popular tourist area in Phnom Penh, Cambodia.
Guest DJs every night, cheap drinks, special events every weekend & free shots throughout the night in a fun, high-energy atmosphere with lovely staff always looking to provide the best nightlife experience for ex-pats, locals & travelers.
Le Moon Rooftop
We offer a broad range of cocktails at Le Moon, but our drinks are complemented by the stunning view. Located in Phnom Penh's touristic epicenter, we have an unobstructed 270-degree view of 2 rivers and parts of the city. Our bartenders can create any generic or international cocktail, moreover, they have created a series of original cocktails that can only be ordered here. The wide-open space and the flow of fresh air allow for constant comfort on our terrace, so you'll never feel too hot!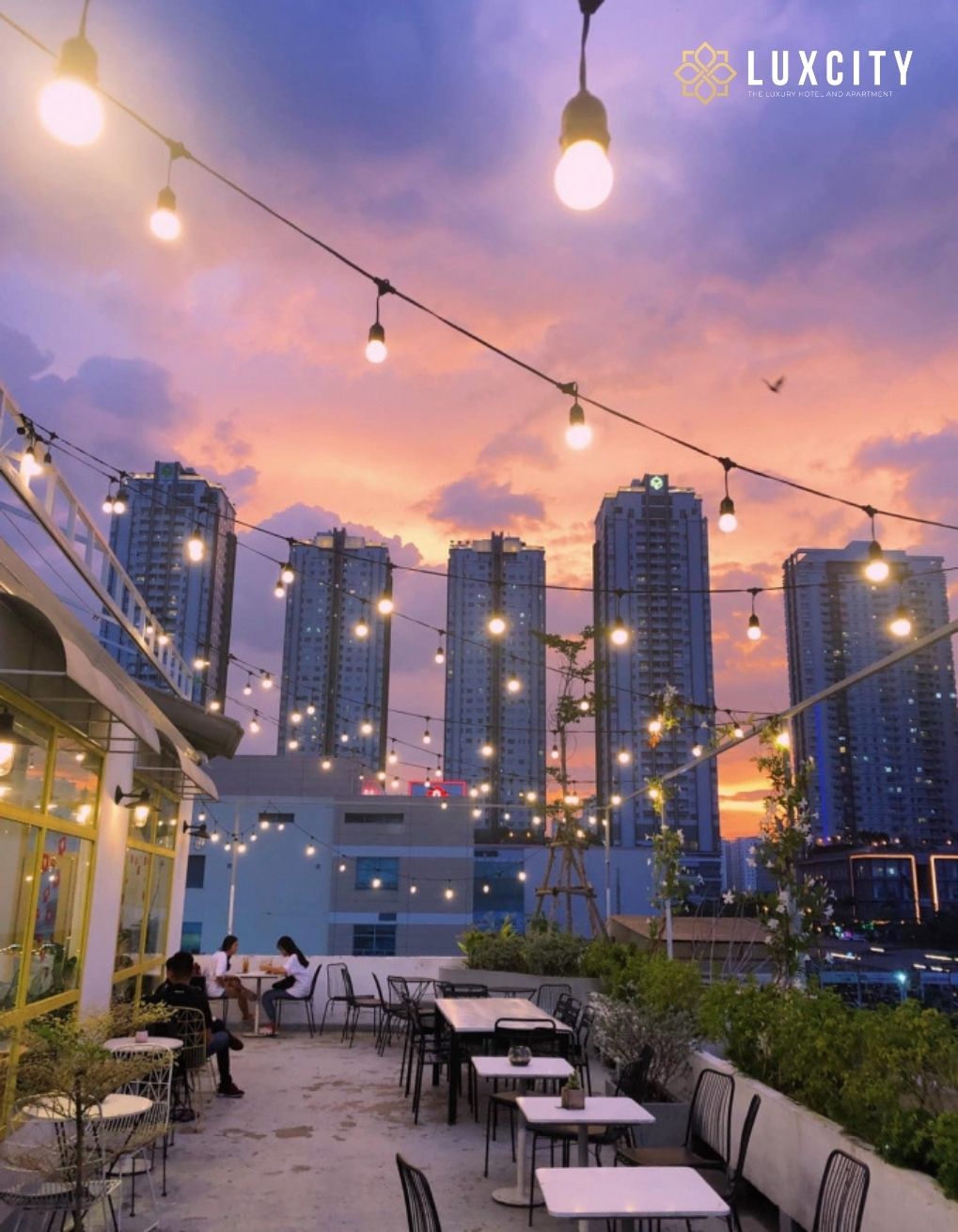 What is a rooftop restaurant and how was it formed?
When talking about the type of rooftop entertainment, we can think of outdoor restaurants and bars, often located on the terraces of large buildings, hotels, and commercial centers.
This is the nightlife area of ​​Phnom Penh youth. Coming to the rooftop, young people will enjoy delicious food, a luxurious and vibrant atmosphere, and many other entertainment performances when participating in that "open-air" party. Along with the architectural interpretation method, Rooftop is also adapted to explain the business' meaning. At this time, Rooftop is understood as the restaurant, bar, and cafe on the terrace area. In essence, it retains the space of a rooftop. However, this area will be more invested in serving the needs of diners to enjoy or take pictures. Rooftop areas appear more food processing areas or other business items.
With the appearance of more and more high-rise buildings, along with a very new style of experience. Rooftop cafe and bar business is hotter than ever. Keywords like Rooftop cafe, Rooftop bar, etc. appear densely on many social networking sites. This becomes even more special when any rooftop business model after appearing creates a huge attraction. Although it is still the method of doing business in the rooftop area, each different layout and style of rooftop brings different experiences. Therefore, it can be said that the Rooftop model is a potential business method in this industry, attracting a lot of customers.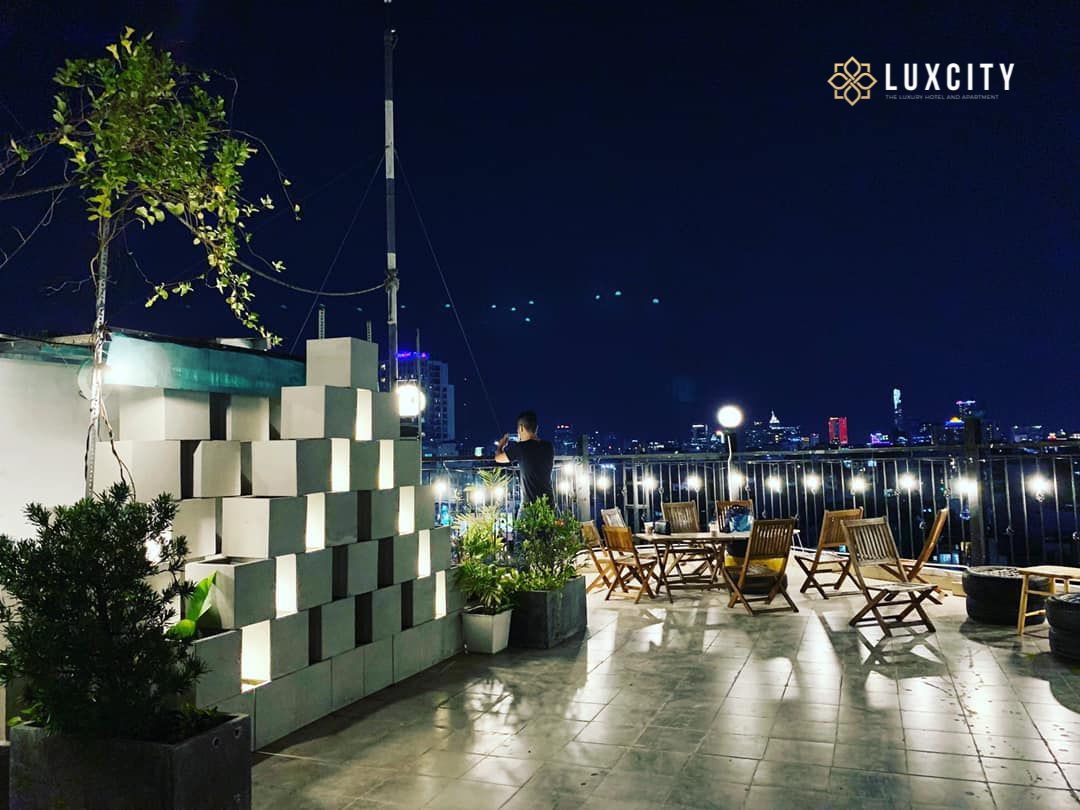 Advantages of the rooftop restaurant Phnom Penh
Have a nice view, open space
No longer being "wrapped" in four somewhat stuffy, secretive walls, the rooftop restaurant Phnom Penh gives customers an "extreme" view, an airy view. Customers will admire the panoramic view of the city from above, enjoy the fresh and cool air, and avoid the smog and crowded streets...
In particular, in the evening, when the city lights up, design string lights, decorative pendant lights, etc., along with some small décor details, to create a romantic and shimmering space. This will be an extremely expensive place for customers to check in virtual life, thereby helping to attract more visitors to explore.
Wide target customer file
It can be said that the rooftop restaurant Phnom Penh is suitable for all types of customers such as young people who come to exchange, have fun and entertain on weekends, couples who come to date, meet, etc. is an ideal space for entrepreneurs to meet their partners, customers to negotiate, work... The target customer's age range will be from about 19-45, extremely diverse.
However, you should also pay close attention to the legal provisions on age or customer characteristics to avoid future risks and legal problems.
Versatile, non-restrictive design
When doing business in the design of a rooftop restaurant in Phnom Penh, you will be free to choose the design style according to your preferences and market trends. You can design the shop in a youthful, modern, luxurious, classic, or retro style, etc. You can unleash your creativity with unique and distinct designs, creating a unique personality strong, unique, and unmistakable.
However, no matter what style or design you choose, you still have to keep its inherent characteristics and characteristics and create the connection, synchronization, and homogeneity of the details in the entire project body space.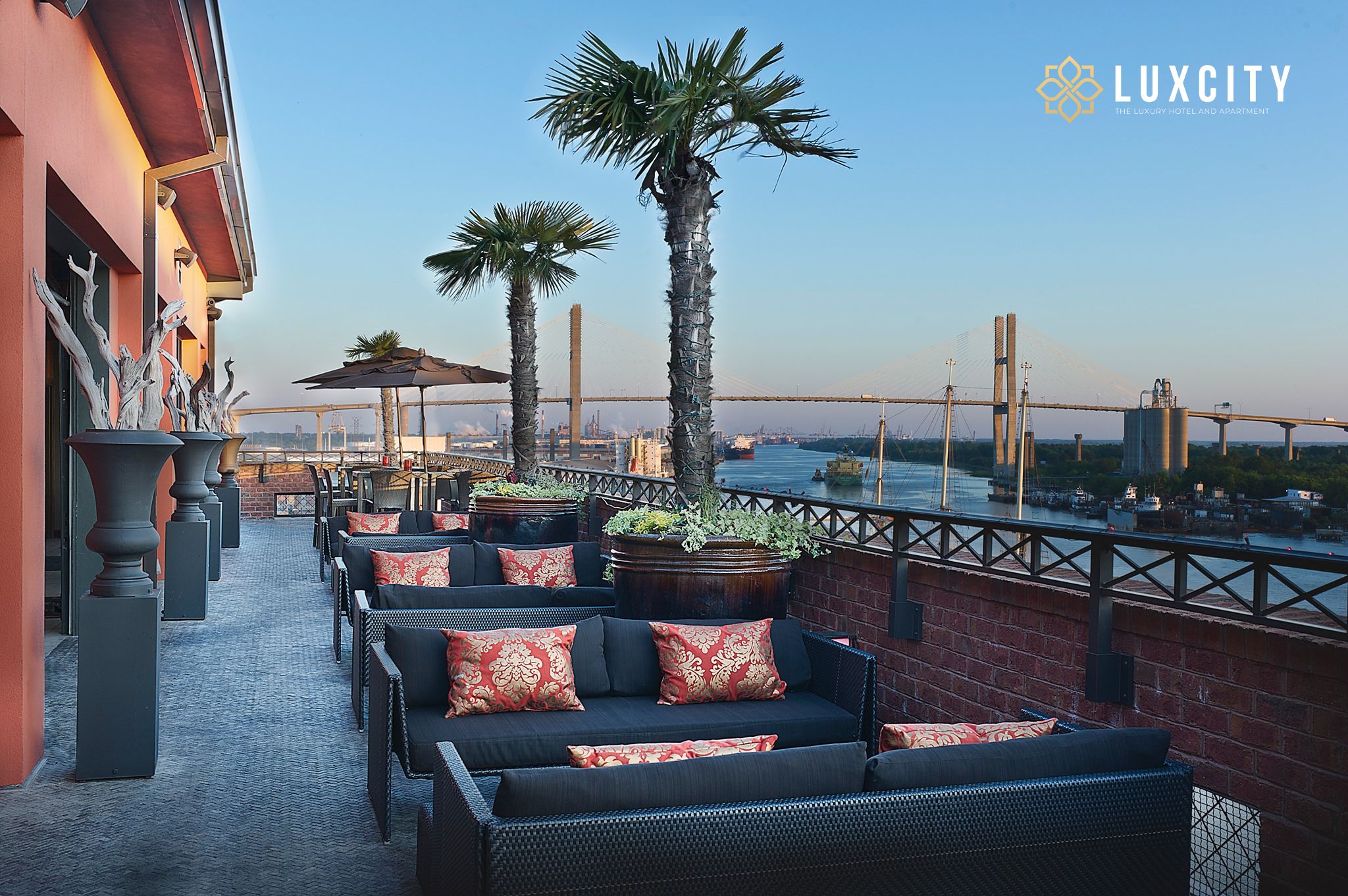 How to Design a Rooftop Restaurant in Phnom Penh
However, the rooftop restaurant Phnom Penh is not always about endless experiences. As a restaurant owner, there are many things you need to prepare before deciding to invest in this seemingly promising model. Anyone considering pursuing an elevated restaurant business opportunity has some considerations worth considering.
Choosing a rooftop restaurant Business location
Location is an extremely important factor in any business venture and, with overhead restaurant designs, location becomes even more important. One of the key keys to success for overhead restaurants is the potential for traffic in the building below. You can easily come across the rooftop restaurant Phnom Penh located on the rooftops of commercial centers or central buildings and high-rise buildings. Simply because the number of people from the areas below will ensure many potential customers for your rooftop restaurant when they have a compelling reason to visit the building.
Therefore, if you have an idea to invest in a rooftop restaurant business, first of all, take the time to survey buildings to find the right premises, and at the same time consider who your target audience is. Because each segment has a different characteristic, affecting the investment cost and later style of the restaurant. You don't have to put your restaurant in expensive skyscrapers if your target audience is not high-class. You can completely consider the terraces of 3-5 story buildings with the river, lake, or city views.
Design a rooftop restaurant with a reasonable movement
Next, you need to consider how customers will move to your rooftop. From taking the elevator or stairs to area security and trash removal, restaurant owners must fully understand all of this to operate and reach customers.
Serving food at the top is always a headache for rooftop restaurant owners. You will have to consider whether to install an elevator or not, how to design the aisles, and whether to put a separate bar on the rooftop… Operating this restaurant model always costs more for the investor low cost, and at the same time has a great impact on the capacity used. Owners should learn these items carefully from the beginning to have a reasonable financial plan when designing a rooftop restaurant in Phnom Penh.
The cost of designing and building a rooftop restaurant
Depending on the size of the building, you'll need a crane or two to get the building materials up to the rooftop. These investors should take this into account in the budgeting and construction planning stages. In many cases, the construction cost for a rooftop restaurant is usually 25–50% more expensive than the construction cost on the ground floor.
The main attraction of the rooftop is the outdoor space. Therefore, while designing a rooftop restaurant, one must create as many opportunities as possible for guests to enjoy the outdoor atmosphere and view. So that external factors such as weather changes do not affect the guest experience as well as the operation of the restaurant, rooftop restaurants always have their unique designs.
Because the shop is located outdoors, the air is cool and airy, so on summer nights, you can take advantage of the open air instead of the cooling system. However, outdoor space is sometimes a disadvantage because of rainy or stormy days. To overcome this situation, architects designing rooftop restaurants often add a small space inside the house for customers if the rain comes suddenly. Besides, the roof or umbrella systems are also very user-friendly for the customer experience.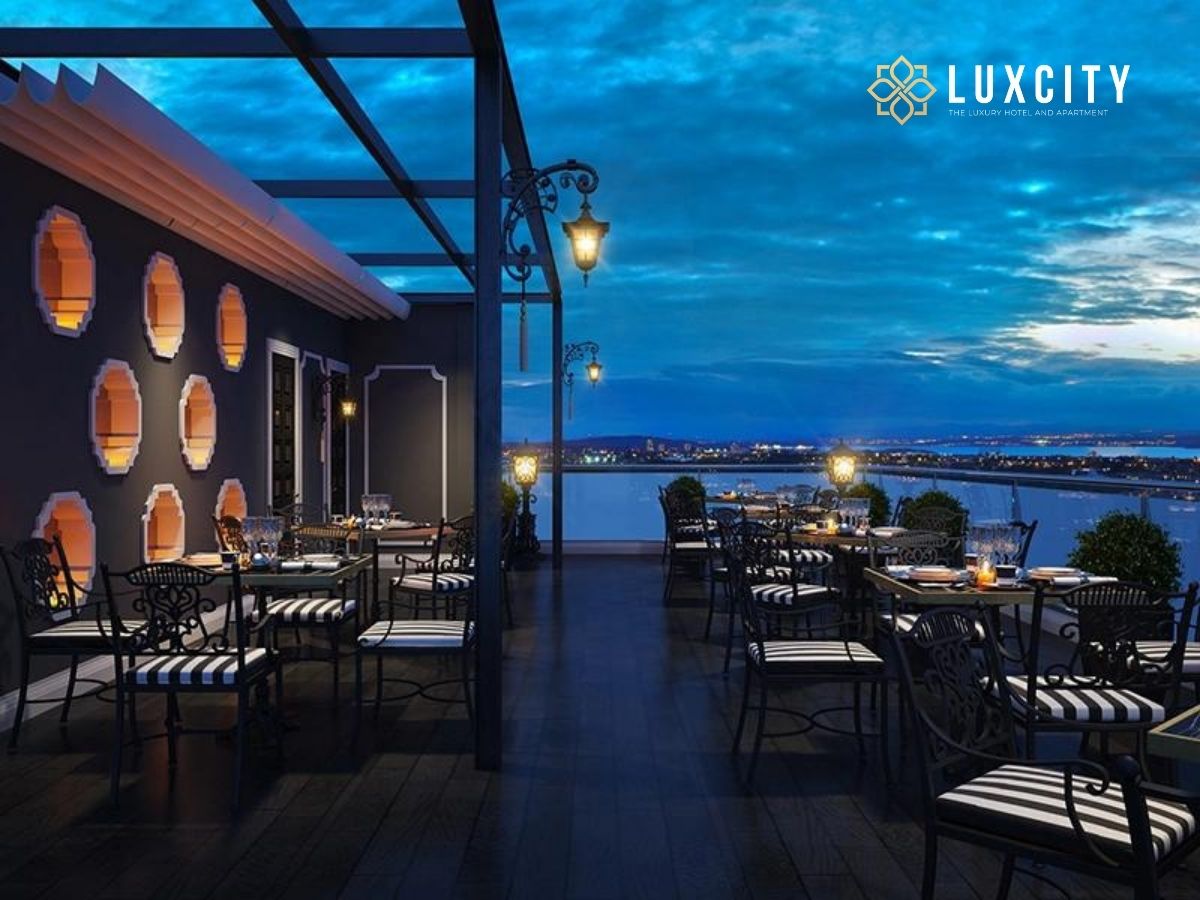 Experience when going to Rooftop Phnom Penh restaurants
Pay attention to weather issues
Need to equip umbrellas and awnings to limit the influence of the weather.
With the feature that food services are held outdoors, the weather factor will directly affect the business of the restaurant. Even though you follow the daily weather forecast, it's still a good idea to prepare yourself in advance.
To avoid the effects of the weather, you are forced to invest in equipping umbrellas or awnings because they will assist in shading from the sun and rain diners. This also helps avoid customers being afraid to come to the restaurant when the weather is worse and helps customers experience not being affected while dining but having to move to avoid the rain.
Follow the directions of the staff
Because your restaurant/café is at the top and it can be difficult to find, you should provide the necessary information to ensure that your guests know the directions to the restaurant. If your restaurant has an elevator, show customers where and how to get to the elevators so customers don't have to spend too much time searching.
Another suggestion is that when guests make a reservation, ask a third-party partner to show them the way so that they can both know the address and the way to go to the restaurant/cafe because some shops will be located in alleys or have a rather special way of numbering addresses.
In addition, if your shop is located indoors, you can use elegant, easy-to-read signs that help guide the way up for customers and can advertise rooftop seats for unknown customers.
Choose a restaurant with cool decoration and style
For an impression, you can use a range of lush greenery to create a cool feeling, large strings of light bulbs to enhance the aesthetic, or go for a classic style with items from the decades before.
Always have a backup plan
The outdoor dining business depends on many factors, so you should prepare plans so that you can have a suitable solution. One of the cases where you need to plan is to divide the space reasonably because usually, the terrace has a limited area, so you have ways to solve it if customers are short of seats at peak hours. What happens when many guests are booking a party at the same time,… Planning will help you be ready for unexpected situations as well as ways to retain customers instead of giving them a bad experience and impression.
Pay attention to employee movements
Pay attention to the movement of employees to avoid problems. Most terrace restaurants/cafes rarely design a kitchen or bar right on the terrace. Therefore, moving food will sometimes be chaotic and easy to touch. At this time, you should train the service staff to minimize the possibility that too many people go at the same time, causing incidents such as spilling food, and broken dishes,... If you have a kitchen counter, or a bar on the terrace Then make sure you always have enough materials and tools to avoid carrying bulky items in confined spaces.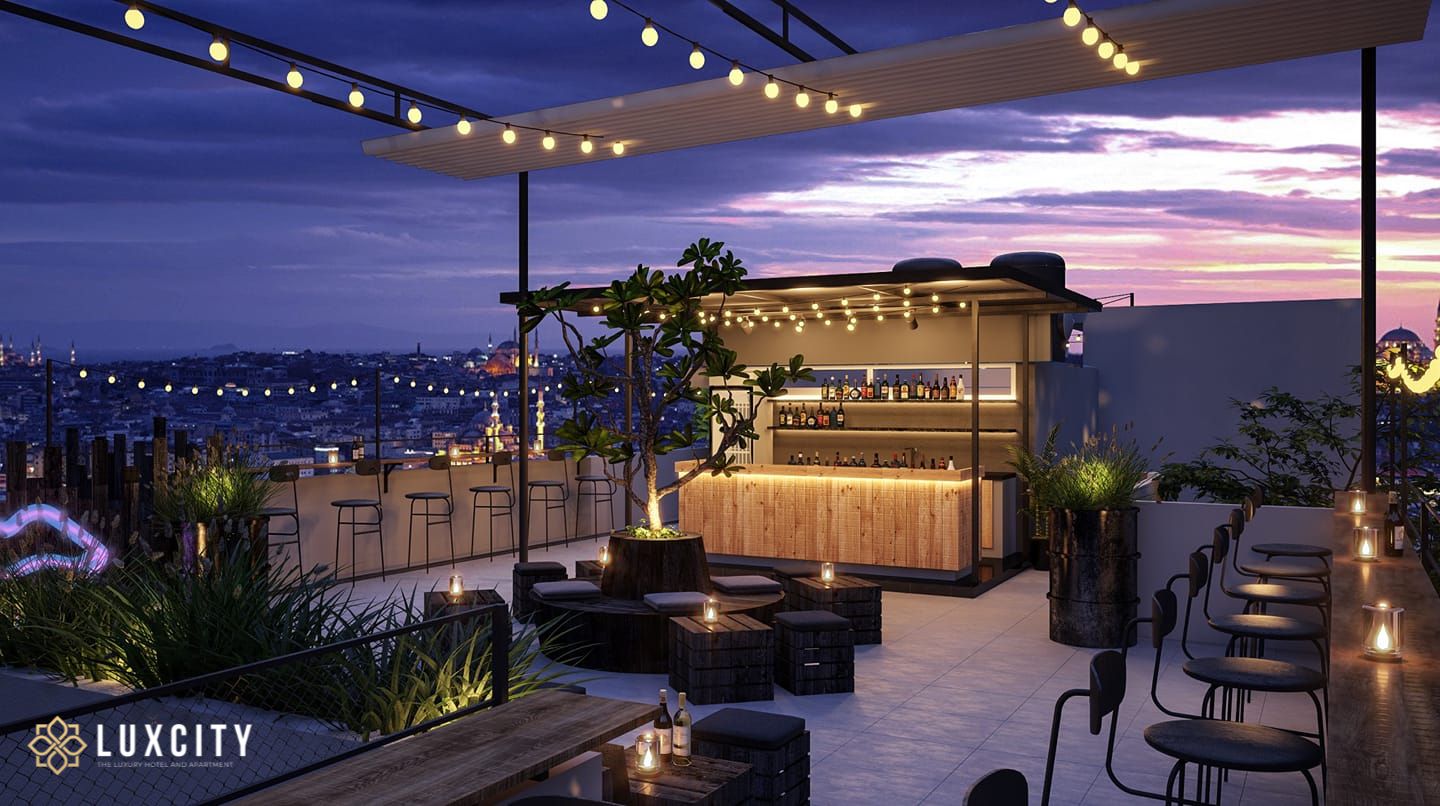 Hopefully, the information we provide above will help you better understand what a rooftop is? It can be said that finding a Rooftop Restaurant in Phnom Penh is not too difficult, but it is not easy to match and meet all the standards, preferences, and peace of mind of customers. So please save these suggestions for us if you have the opportunity to visit Phnom Penh. Hope this article will be helpful for you to find your favorite rooftop and enjoy a wonderful trip. If you have any questions, please contact Luxcity for answers.
Read more travel articles in Cambodia and inspiration from Luxcity.com.