2022-07-24
Top 7 Best Luxury Restaurants in Phnom Penh Worth Checking Out
Working up an appetite in the warm Cambodia sun is easy to do, especially when there is a heap of luxury restaurants in Phnom Penh to make a bucket list. Wake up to the tropical sunlight heading to the Mekong River for breakfast. Then pick up some lunch in a breezy outdoor garden on the outskirt of town. When the sun beams down, check out a copious amount of rooftop restaurants and bars or a Brazilian steakhouse to call it a day. I have rounded up the 7 best luxury dining spots in Phnom Penh so you don't have to.
Learn more:
Izakaya Japanese Restaurant
You can't go wrong with Japanese food. In Phnom Penh, Izakaya is known as one of the top-rated Japanese dining houses in Phnom Penh, leaving you an ample and stylish ambiance to linger in and sample course after course of a fine-dining Japanese flare.
The main thrill at this dining house is the robata-yaki and irori charcoal grill open kitchen.
So what is it exactly?
We have 'robata' as 'fireside' while yaki is 'grill'.
There you have it, a tastefully-decorated open concept where you surround an interactive kitchen on a comfy sofa while the master chefs dish up your favorite cuisine on the countertop. Bring the entire Pacific East Coast to your table as you get to browse mackerel, scallops, chicken skewers, shiitake mushrooms, and many more.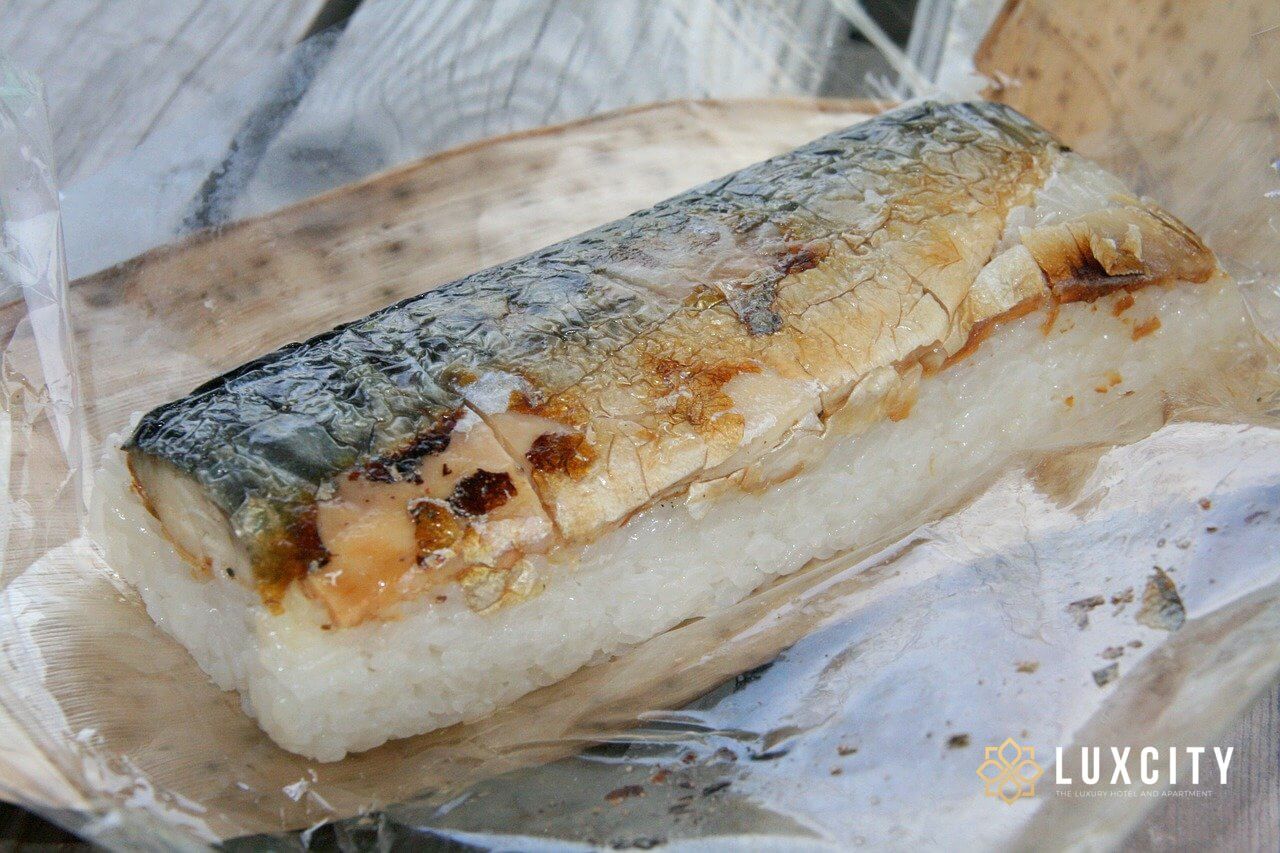 On top of that, no Japanese cuisine can go without a fine selection of traditional sake. Wanna fire up your palate with an authentic drink that belongs to Japan? Now you know where to go.
CUTS
With deep-set leather couches, dazzling view, and a huge collection of in-house fine wines stocked up in the cellar, CUTS is the best luxury restaurant in Phnom Penh to enjoy some age-dry beef.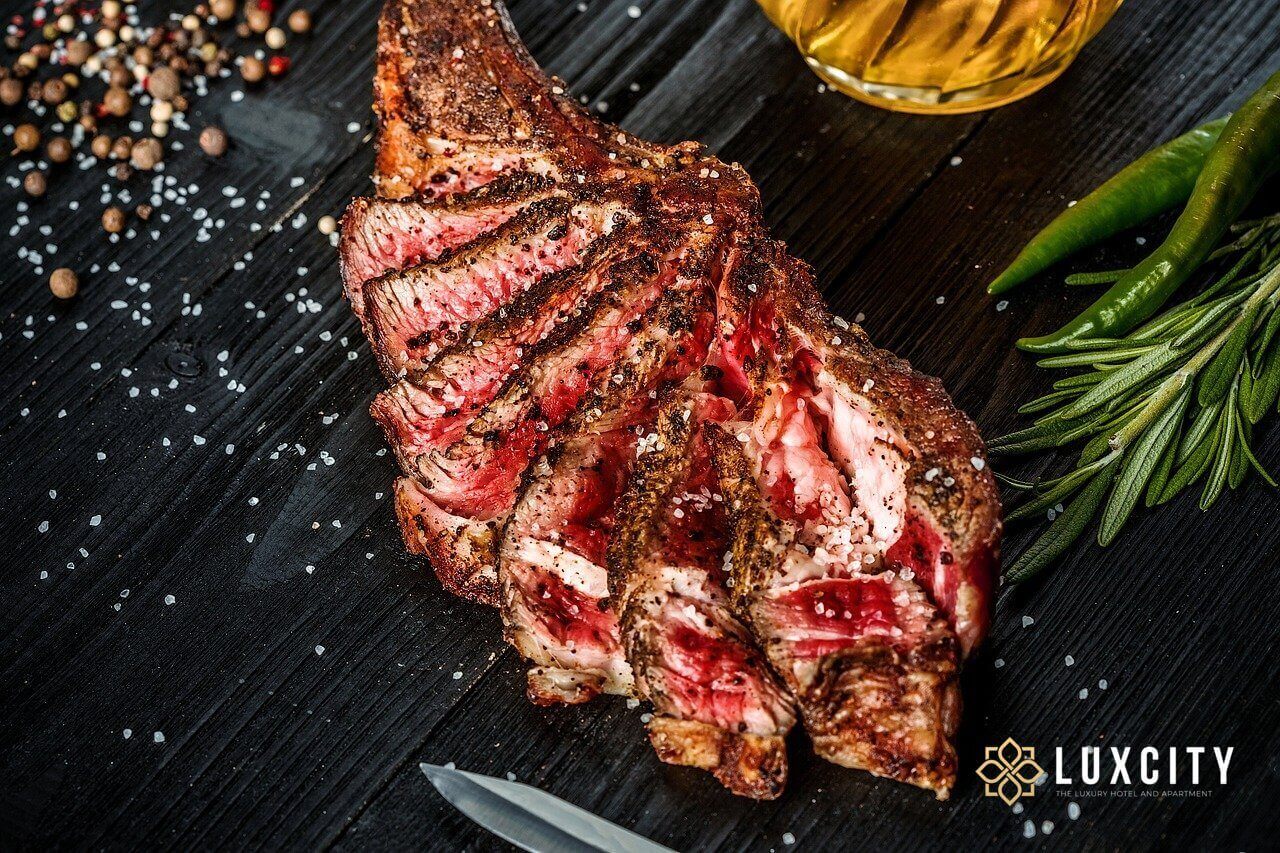 The city view you get to soak up while munching on your grain-fed lamb or hand-cut steaks from the 38th floor of the Rosewood Phnom Penh is beyond imagination.
Going on a date? Throwing a family reunion? Planning a business dinner that wows your partners? CUTS ticks all the boxes.
One of the best corners to be seated at is the corner where you get to enjoy two sides of the glass walls. The sweeping wraparound vista of the unobstructed Mekong River at every angle will instantly drown you with 'wowness'.
The steakhouse is split into different areas. There is a casual dining room looking onto the grill kitchen for a casual friend get-together. There are four private dining suites for an impressive corporate meeting. Then a wine-tasting room comes along if you want to inspire your main course with some earthy notes from an oaked French bottle. And last but not least, it has a grill room brought by chef Danny Chaney and a wine vault with the largest collection in the country.
Palais de La Poste Restaurant
Crab Royale? Check.
Egg Caviar? Check.
Foie gras Ravioli? Check.
If these above-mentioned dishes cannot make a luxury dinner in Phnom Penh, I don't know what can. Palais de La Poste is the best luxury restaurant in Phnom Penh dishing up drool-worthy high-end French staples in a fascinating cultural building. There's nothing that says "Bon Appetit" louder than a heritage French colonial mansion linking the past of Cambodia's history to the present.
Well-lit, tastefully decorated, and relaxing, Palais de La Poste will inject your date night with a chic personality that wows, not to mention a striking chandelier on the main dining hall that makes the house so amusing to dine at.
Even better, Palais de La Poste is actually a heritage building listed on UNESCO. The fancy side of the restaurant doesn't come from the sleek and modern design, but a nostalgic feel incorporated into the background music, the color, the design, and the aroma.
Luigi's Italian Restaurant
If you forget this quaint little Italian corner when searching for the best luxury restaurants in Phnom Penh, you'll be missing out big time.
Don't let its shabby look fool you! On any given sunny day, dusk or dawn, you'll see epicure locals and visitors alike flocking here to sample their favorite Italian cuisine. Fresh pasta, antipasti, and pizzas as fine as in Naples made into art. Luigi is my favorite luxury Italian dining house in Phnom Penh that transports you back to Italy right away without even boarding the plane.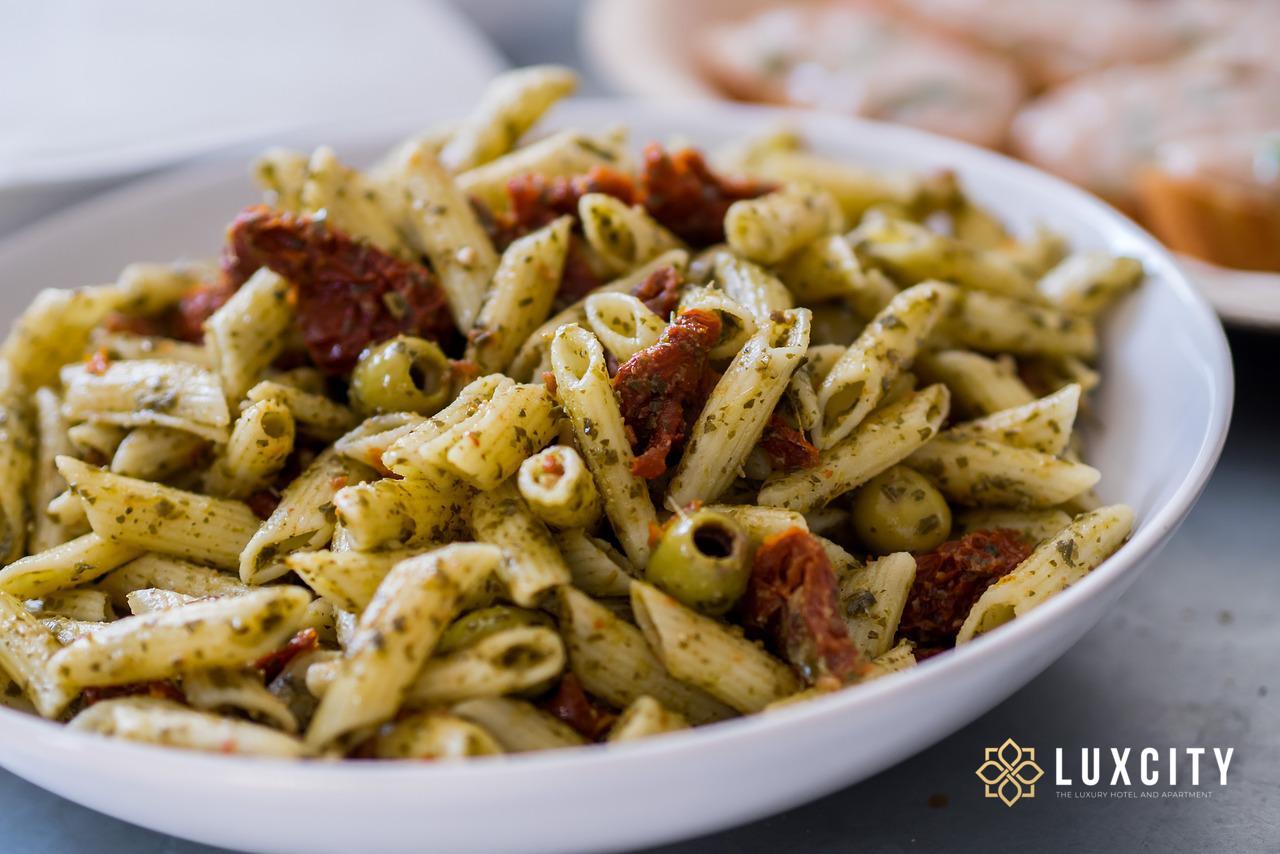 So what are the must-haves here that you have to order?
I went for seafood linguine and a pizza topped with Italian sausage and cherry tomatoes and I was instantly shaken. The linguine has a strong Mediterranean soul while the combination of white wine and olive oil makes a beautiful medley together.
And you know what's special about Italian pizza?
The wood oven! The smell of charcoal-burned edge that blends into the hot crispy dough will put your palate hypnotized.
Kinin
Bring all the greens in here! Call Kinin an interesting dining hideout, because it's going to have your mind blown with the rustic and stylish decor which goes beyond just good food.
A luxury restaurant doesn't have to be indoor and covered in bells and whistles. Sometimes, the concept it promotes is the biggest hook. What I found most fascinating was how a glass recycling CSR initiative was carried on by the establishment. This is a great way to swab expensive interior decor items with meaningful practices.
With the scorching summer heat of Phnom Penh, Kinin transfers into a lost garden for locals and visitors alike to enjoy the cool breeze under the starry sky.
When it comes to the best food to be ordered, go for the succulent pork belly sandwich blanketed inside the softest bread. Hmmm.. finger licking is good!
Alternatively, those looking for something more unique should not overlook the feta avo and lentil salad as a starter with beef bourguignon as the main dish. There's no better way to call the day's events than this.
Luna Prime
Oh.. is it a wedding venue? Because it certainly looks like it!
Luna Prine is like a modern castle where glossy white marble makes a statement while a floral wreath hangs all around the ceiling, climbing down the staircase, and nestled next to your table too.
Luna Prime pops out as an all-in-one luxury restaurant. There's pastry, there's a cafe, there's wine, and there are steaks. It looks like a stellar place to have your group spoiled with so many options to choose from.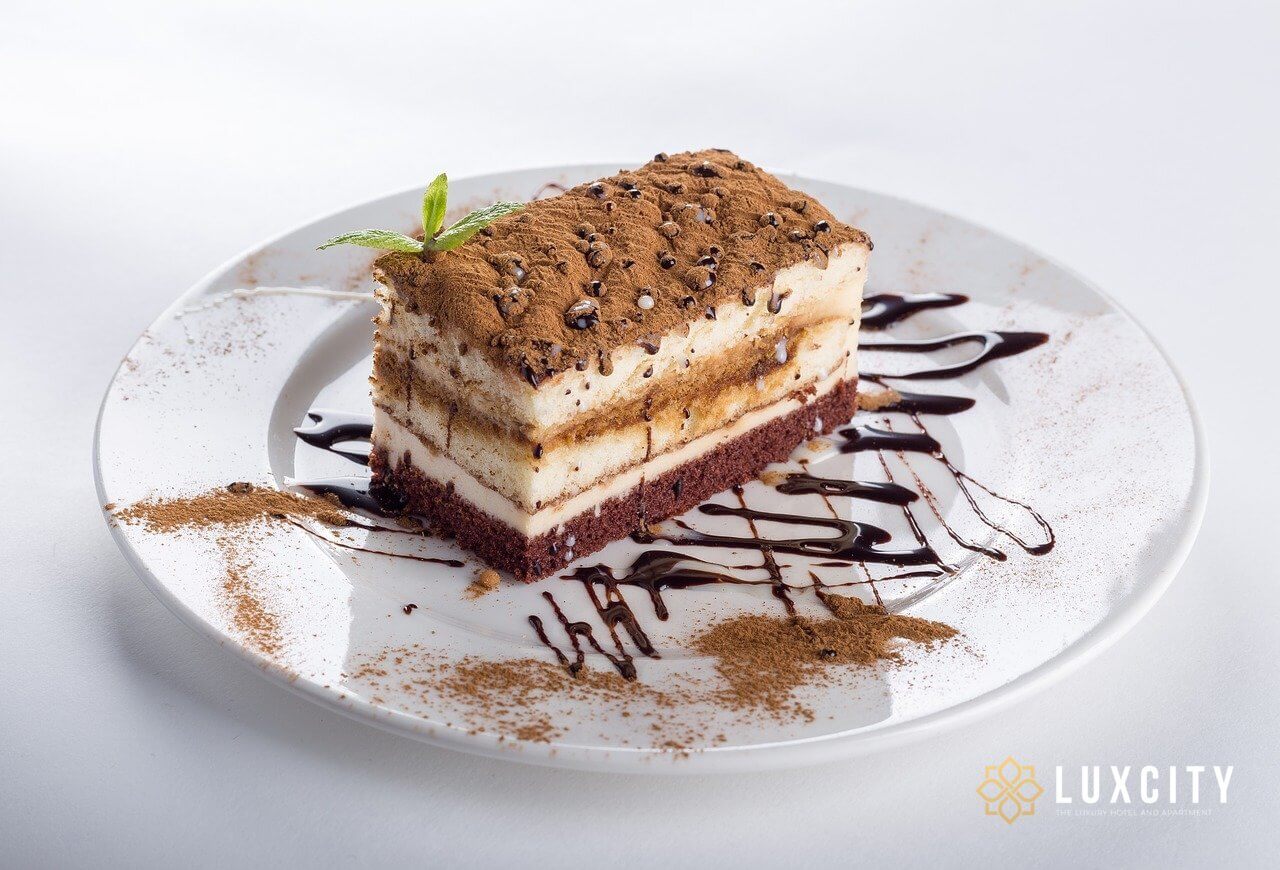 The fancy side to it is the stunning decor and an ample space flooded with sunlight throughout the day. There's something about Luna Prime that is easy-going and casual rather than a stiff dining house where dress code is a thing and you can barely grasp.
I would recommend Luna Prime as a luxury yet casual get-together, a fun, chilled-out place to throw a reunion when your relatives are back from abroad or friends returning home after years living further afield.
The Attic
There are many reasons to give The Attic a standing ovation. Well, I'm by no means a bias, but Attic is such a whimsical hidden gem that not many people know about. I didn't even know there is such a stellar restaurant nestled beneath a five-star hotel in the heart of Phnom Penh but not many people talk about it.
The Attic is one of many restaurants Hyatt Regency beholds. It's definitely one of the most cohesive French colonial houses I've ever seen. There's a balance between the 'wow' and the 'chilled-out sides of this place. It's not overwhelmingly beautiful, but it still has a tasteful personality to it that gets you hooked.
The Attic is cuddled in the eaves of the original colonial house, promoting the heyday of the past. That means it sure has a charisma that not only comes from the design but also the food and the view. Lounge in the comfortable seating and wait for your cocktail to be prepared, or pick an outdoor seat by the balcony and soak up the wonderful city view.
The Attic's got a really nice Oysters and Bubbles menu that I still remember until today. The rates fluctuate anywhere between $ 28 to $ 110 which allows you to order a glass of Champagne Brut or Rose Champagne (Nicolas Feuillatte) with 6 or 12 pieces of Pacific oysters.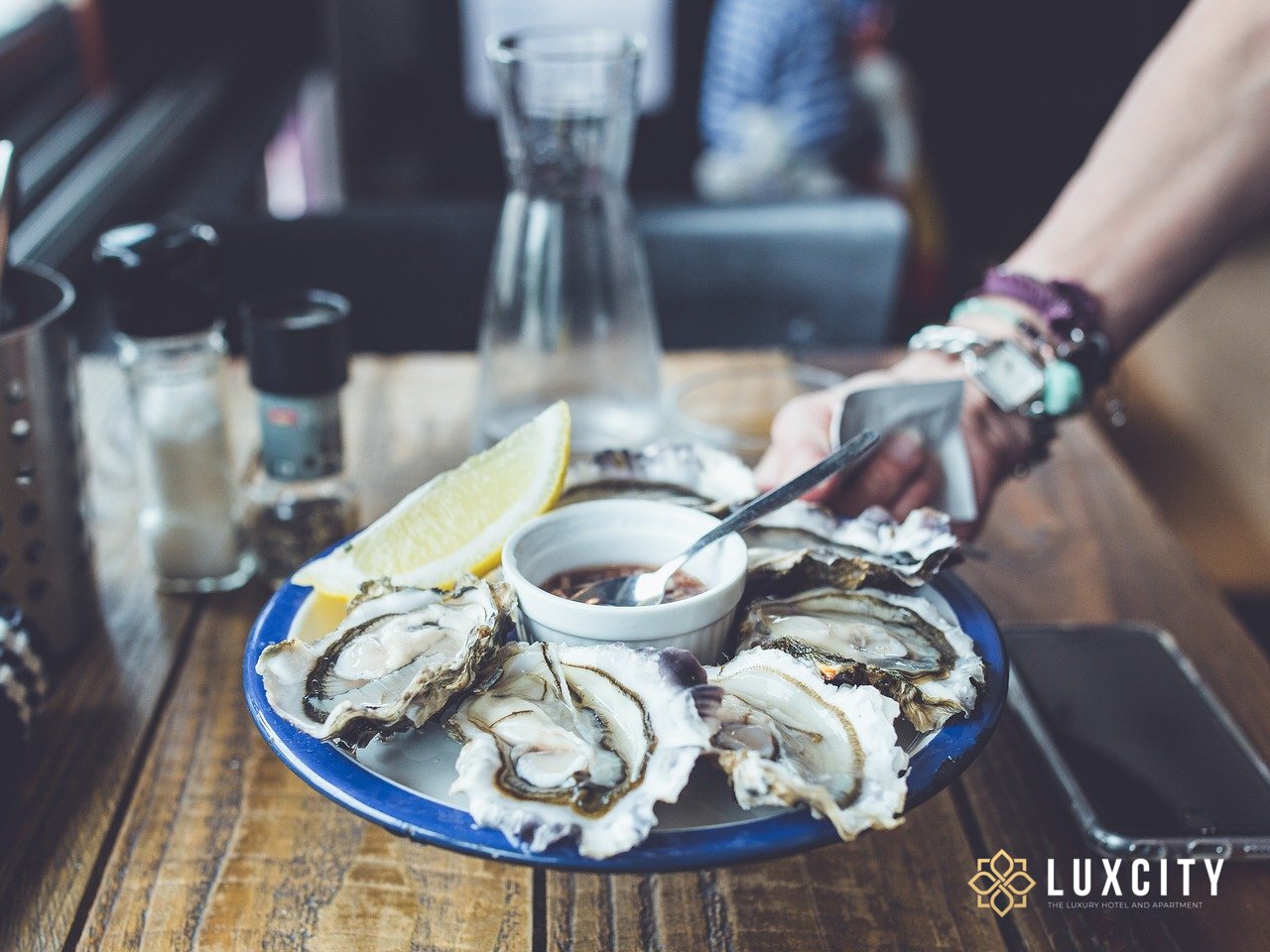 But that's not the only thing you should order here. If you come with the girls or hang with your family, make sure to reserve a Charcuterie and Cheese Platter. Its collection of artisan cold cuts, pickles, fine imported cheeses, dried fruits, and nuts will give you the most amusing afternoon ever.
While the list of Phnom Penh's best luxury restaurants goes on and on, these 7 top tiers are my favorite. Check out one of them every time you're out searching for a stellar date night or a fancy get-together and I'm sure you'll be stunned! Make sure to call ahead for a booking though as the seats fill up fast, especially with the scenic restaurants with a view.
Read more travel articles in Cambodia and inspiration from Luxcity.com.