2022-09-16
Top 10 Vegetarian Restaurants That You Must Try In Phnom Penh
Phnom Penh is a bustling and interesting dining destination, with a dizzying array of affordable cuisines from around the world to delight any foodie. If you are a vegan, vegetarian restaurants in Phnom Penh will not disappoint you because they provide a variety of tasty selections.
Learn more: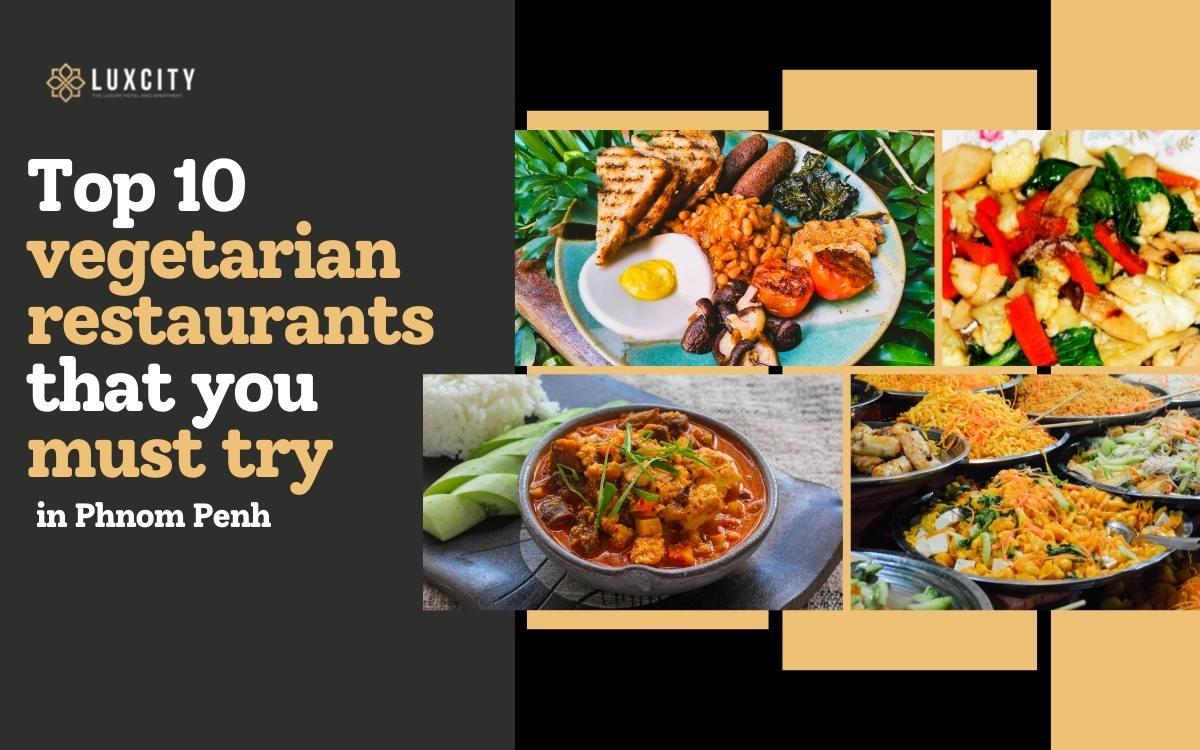 Even the savviest vegetarians should agree that the superb vegan options available at these restaurants would satisfy even the most discriminating palate. We've highlighted the Top 10 vegetarian restaurants in Phnom Penh that offer the best vegan eating experiences, from breakfast to brunch, dinner to late-night snacking, and every meat-free meal in between.
Vegan Restaurants in Phnom Penh
Sacred Lotus – Vegan Cafe x Hostel
Sacred Lotus Cafe is the next must-try vegetarian restaurant on your list.
It is highly recommended that you pay a visit to this vegan café, co-working space, homestay, and yoga and meditation studio, which is owned and operated by the affable Krishnan and Neth. You will definitely want to return for more of the delectable plant-based cuisine that is offered, as well as the Western and Khmer meals that are also available. Don't miss out on their plant-based coffees that are only one dollar each every Tuesday, and if you're searching for hostel accommodation, there's no better place to look.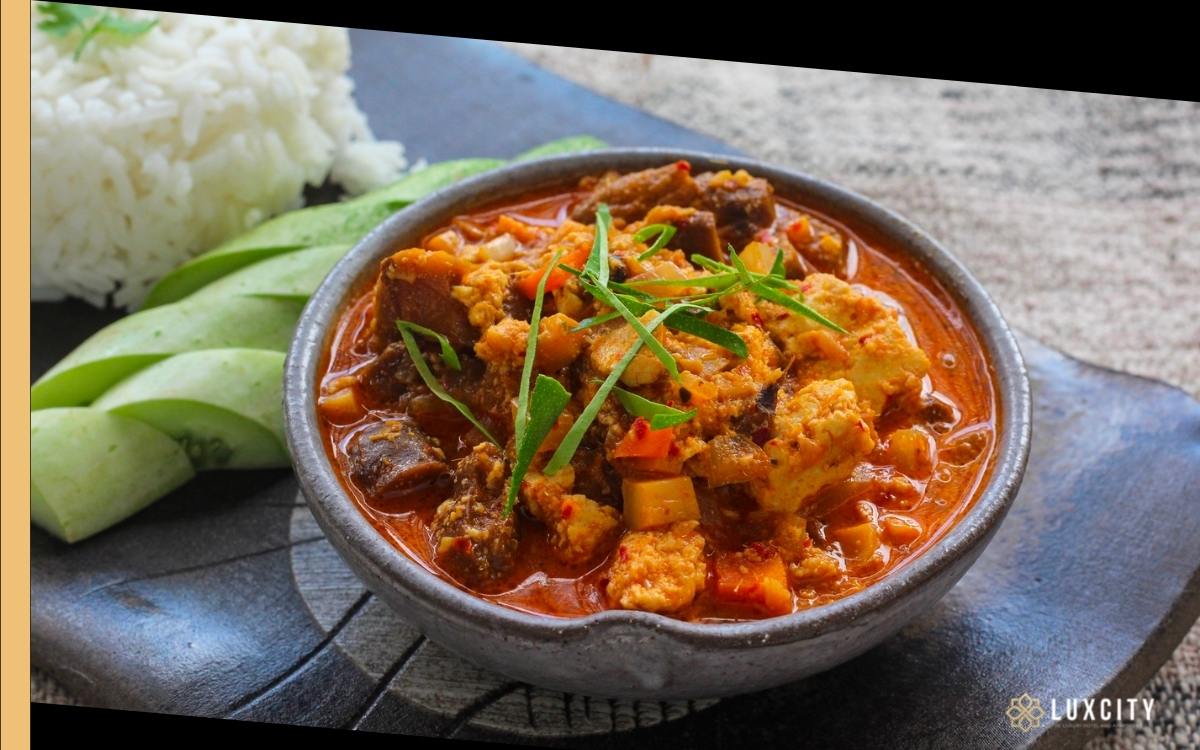 Address: 127 Street 440
Opening Times: 7 pm-9 pm every day
Bong Bonlai
The food at Bong Bonlai is a "combination of Mediterranean and Asian flavors." This vegetarian restaurant is in a courtyard near a small pool, and it also includes rooms as part of YK Arthouse, making it the ideal option for vegans. You will be able to dine in a peaceful and welcoming environment here. People who work at Bong Bonlai and YK Arthouse are passionate about veganism, a lifestyle that is highly encouraged!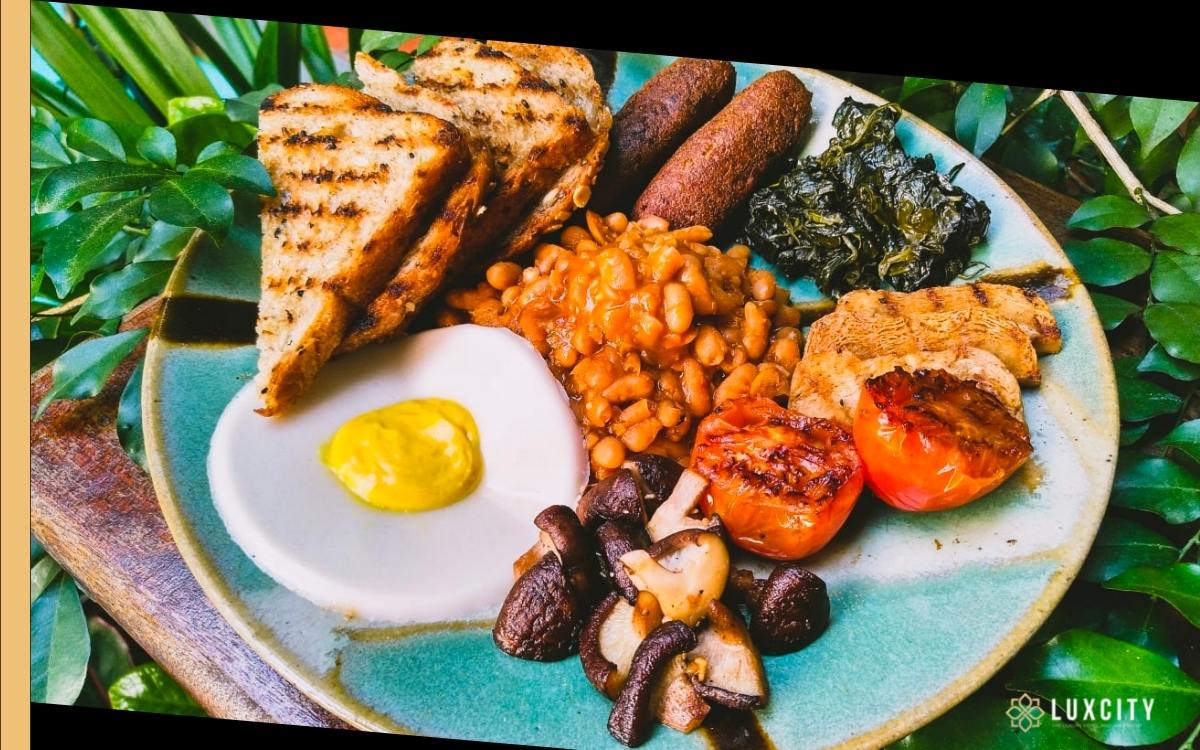 Address: Bong Bonlai, 13A Street 830
Opening Times: 7.30 am-8.30 pm every day
Masala Dosa Street Kitchen
This amazing vegetarian restaurant in Phnom Penh has quickly gained a loyal following, with customers praising the superb assortment of dosas and other Indian delicacies offered at the hip and trendy establishment. Sit back and enjoy the atmosphere. The hardest choice you'll have to make is which dosa you want to try. Check out the Vegan Omelette made with chickpea flour. It has a lot of flavors and tastes great. They also serve vegan chai, need we say more?
Address: Samdach Sothearos Blvd 3
Opening Times: 11am-3pm and 5.30pm-9.30pm every day (closed Monday)
JC Vegetarian
Sweet and sour fish on a vegetarian menu might sound strange, but patrons at Riverside's JC Vegetarian Restaurant can rest easy knowing that no fish were hurt in the making of this tasty meat-substitute dish. In addition to that, they have a comprehensive vegetarian menu that features a number of different vegan alternatives and a professional team that is more than willing to assist customers. If you're looking for a place to dine in the afternoon, you'll be happy to know that JC Vegetarian stays open nonstop, in contrast to most of the other vegetarian restaurants in the area, which often close between lunch and supper.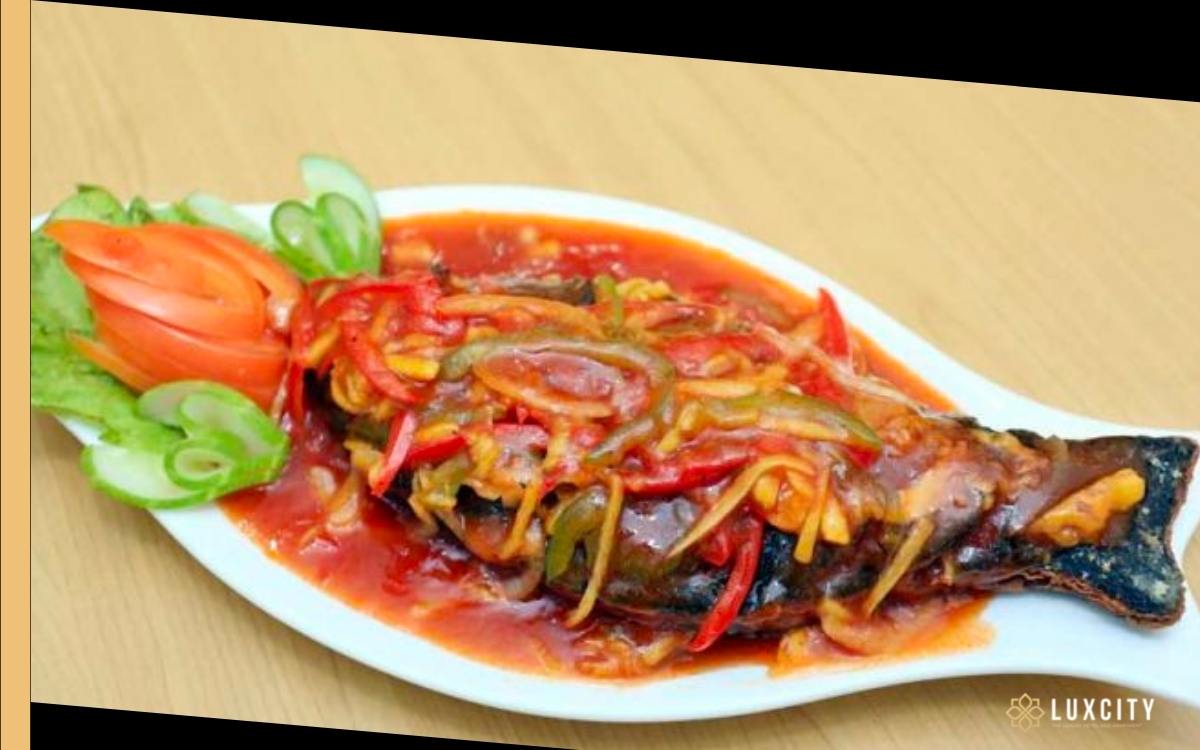 Address: Street 136
Opening Times: 7 am-9 pm every day
Sundown Social Club
This airy rooftop bar near Toul Tompuong Market serves vegan burgers, vegan hot dogs, and vegan tacos. It has a pleasant and laid-back attitude, and we're sure it's ideal for sunset drinks. If you go for lunch, you should get the BBQ falafel hot dog with caramelized onions, tomato relish, and chives, as well as the beer-battered lemon tofu tacos. Both were wonderful, especially the hot dog, which was nearly perfect. Because the quantity was a little small, the tacos would have been better with more salsa and chips, so keep this in mind and order large. The cuisine was of such high quality that patrons kept coming back to this vegetarian restaurant!
Address: #86 Street 440
Opening Times: 12am-12pm every day
Juniper Gin Bar
This is a fantastic rooftop bar with panoramic views of the river and magnificent sunsets. It has the same proprietors as Sundown Social Club and has the same laid-back ambiance. Not only are the sunset vistas and inventive gin-based drinks worth visiting, but they also serve a tasty vegan pizza. The pizza had a garlic and artichoke foundation and was topped with jalapenos, olives, spinach, caramelized onion, olives, and fresh basil, and it was ideal after a few cocktails. We resisted the urge to have paprika French fries with garlic mayo, even though they smelled delicious!
Address: 12th Floor, Point Boutique Hotel, St 130, Phnom Penh
Opening Times: 4 pm-12 am every day, closed Monday
Evergreen Vegetarian House
The vegetarian menu is wide, featuring several veggie or vegan variants of Cambodian cuisine as well as a range of faux meat dishes. It is an unpretentious place that is spotlessly clean, and the people who work there are kind. Many of the things on the menu cost under $2, making it an excellent value. It is highly recommended that you get noodle soups, inexpensive and cheerful fried rice, and anything that is cooked with their own seitan imitation meat.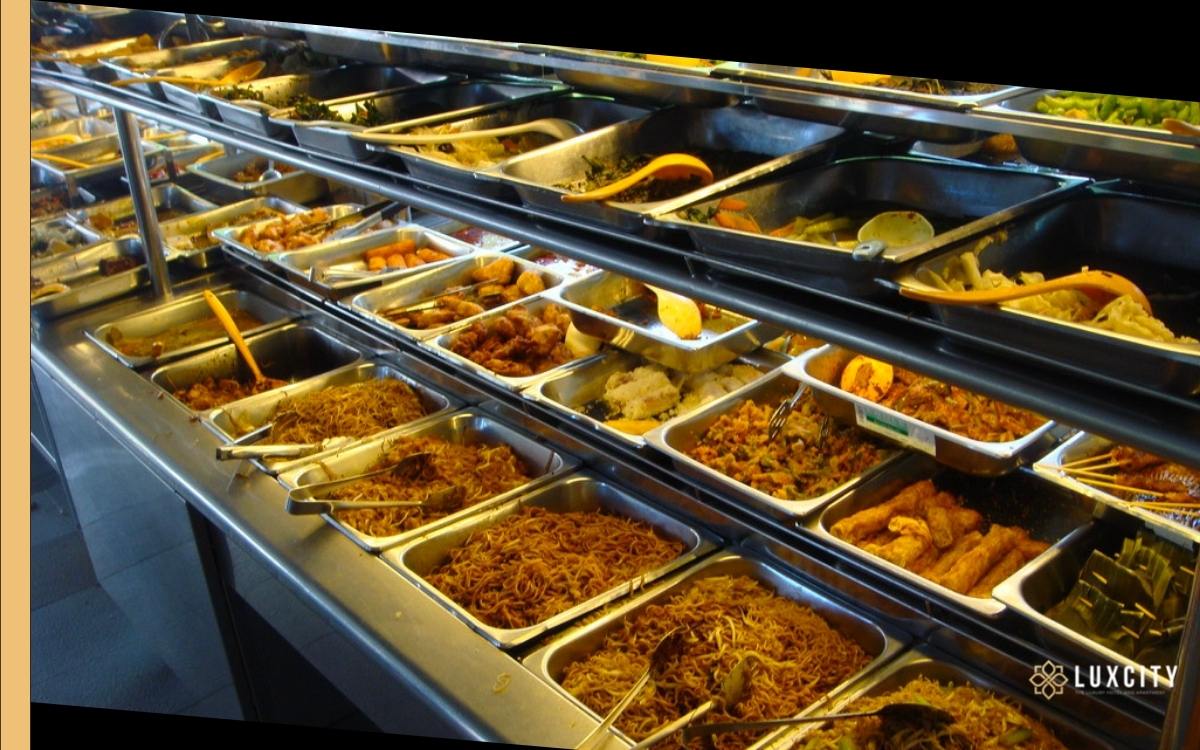 Address: 13F Street 118
Opening Times: 7.30am-2pm and 3.30pm-8pm every day
Maitreya Healthy
At this unpretentious but well-renowned vegetarian restaurant in Phnom Penh, you can count on finding items like noodle soups, fake meats, and vegetable hot pots on the menu. The Maitreya Vegetarian Restaurant offers excellent value for the money, welcoming service, and complimentary tea with each meal. When you are in Phnom Penh, this is the best place for you to indulge in your cravings for faux meat.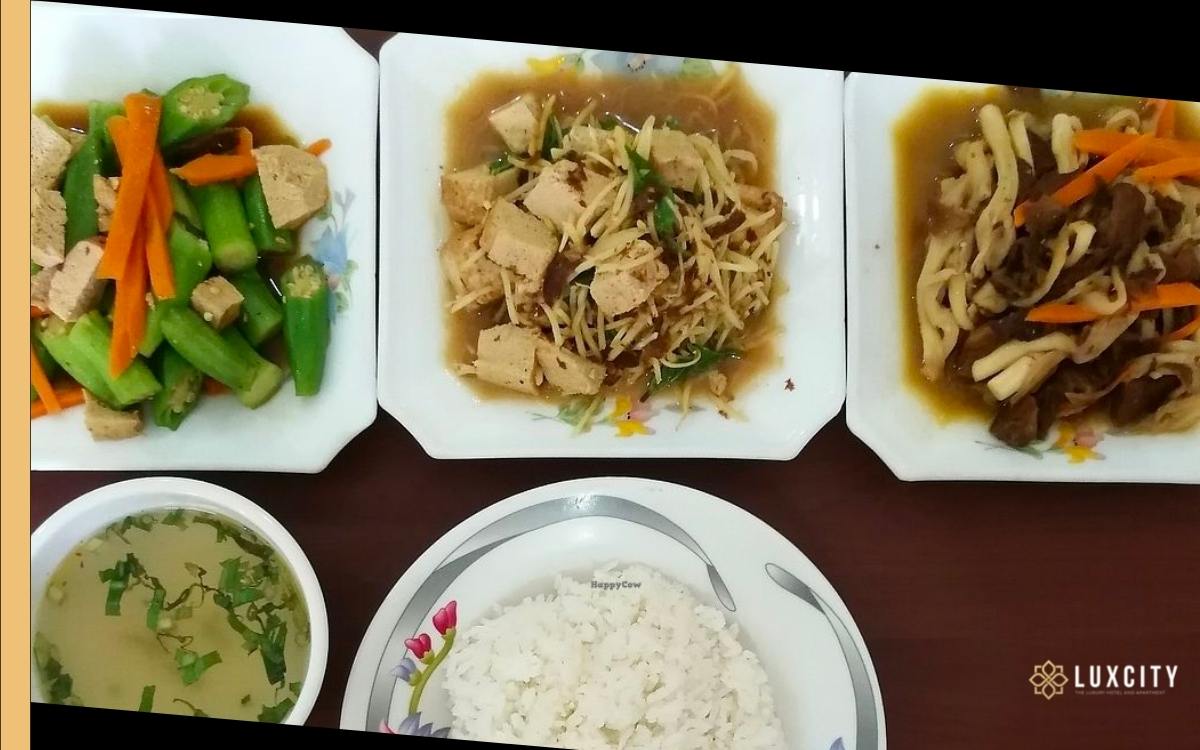 Address: House 155, Street 113, Khan Chamcar Morn (at St 386)
Opening Times: 6 am-9 pm every day
Farm to Table
The rustic, verdant, and leafy backdrop, replete with a vegetable garden, makes for the ideal setting for a farm-to-table restaurant. They put a lot of effort into promoting healthy eating in the community, and the fact that they use organic and locally sourced products is at the heart of what they make. Even though it is not a vegetarian restaurant, the exceptionally skilled chef prepares a variety of vegan and vegetarian alternatives, all of which are labeled appropriately on the menu. The vegan cuisine served at Farm to Table has always looked as appetizing as it tasted, and one example of this is the colorful and flavorful trio of bruschetta.
Address: 16 Street 360
Opening Times: 8 am-9 pm every day
Enso Cafe
The Enso Cafe is a chic and contemporary cafe that also functions as a "healing place" and offers various programmes, including yoga. On the menu, you'll find a wide selection of vegan and vegetarian alternatives, some of which are already vegan, and others that can be modified. Perhaps the greatest options for you would be the eggplant lasagna and the beetroot walnut bread sandwich. Both of these dishes were wonderful, but the lasagna truly stood out. Although quite good, the 'lasagna' was much better than the sandwich that was served.
Address: #50B Oknha Chhun Street 240
Opening Times: 7 am - 8 pm every day
There are numerous vegetarian restaurants that will delight you with their fresh, tasty, and quality vegetarian menus! We're hoping you've found a few new places to eat in Phnom Penh thanks to this article. If you have any additional questions, please contact us.
Read more travel articles on Cambodia and get inspiration from Luxcity.com.