2022-07-08
Top 7 Best Pho Spots in Phnom Penh That Transport You to Vietnam with a Steamy Bowl
There is one thing I realized after a while going out searching for the best Pho in Phnom Penh. They are more similar to the Southern Vietnamese version rather than the Northern. That means you'll have a lot of fresh herbs and veggies on the side to pluck and mix in your soup. Plus, I like how diverse it is to have multiple ingredients to enhance the flavor profile even more rather than just sticking to steak and green onion only.
As a Vietnamese, I'm pretty serious about our national food. I can tell which Pho is good and which one is just right. But there's nothing to blame because making Pho is a work of art. It takes over 10 hours to make the broth from beef bones before working on any other things. There are not many Pho spots in Phnom Penh. But if you're out looking for one, here are the seven best spots you've gotta try.
Learn More: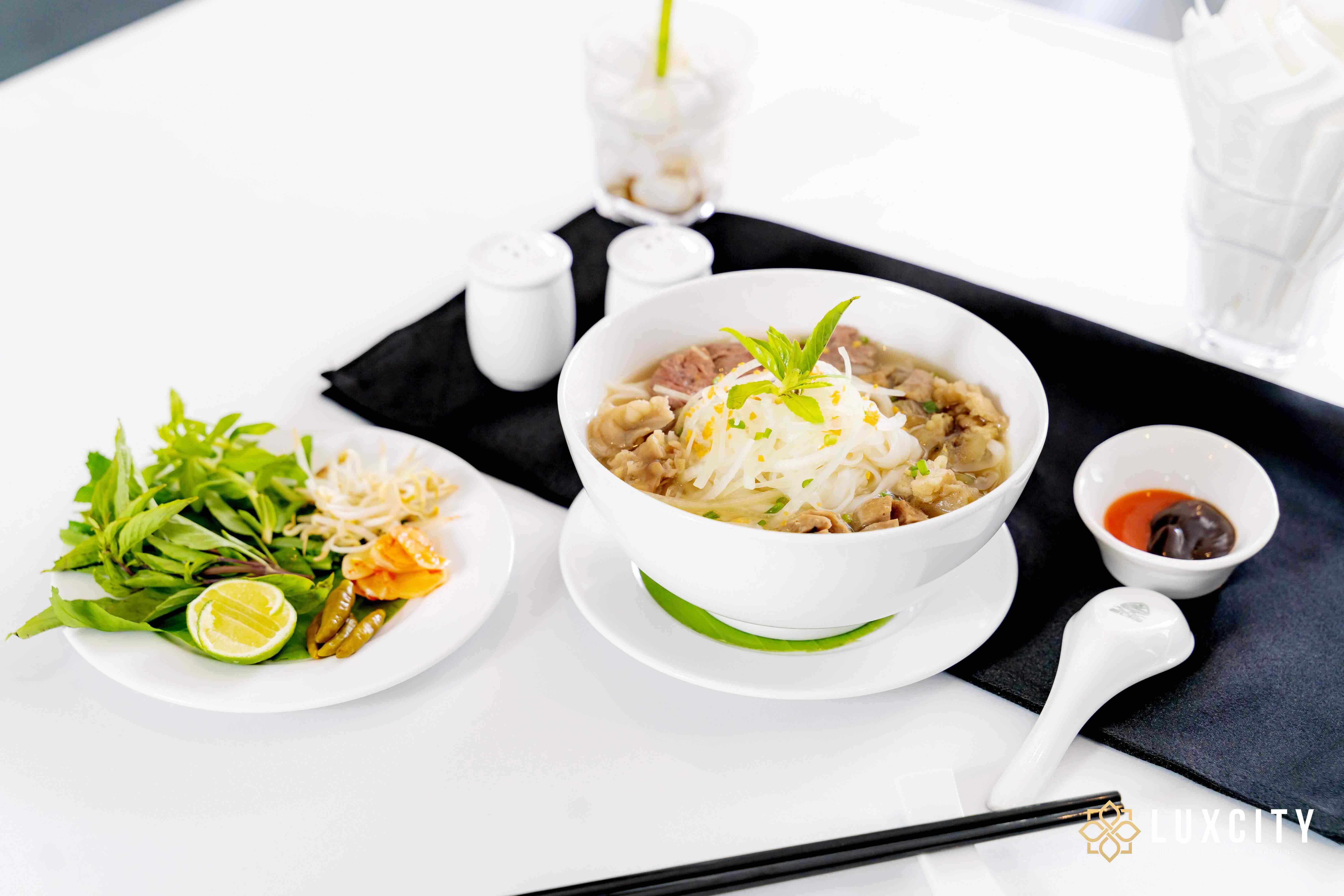 Luxcity Hotel Restaurant
The Pho at Luxcity totally debunks the "tasteless-hotel-food" myth. I don't know why some people have a stereotype against hotel food but for me, my favorite hotel in Phnom Penh totally nails it.
Luxcity is always my favorite accommodation whenever I stop by Phnom Penh. Pho is usually my go-to choice for breakfast so I can start my day on a high note. Otherwise, it would be the best Vietnamese comfort food to recharge after I spend a long day on the street.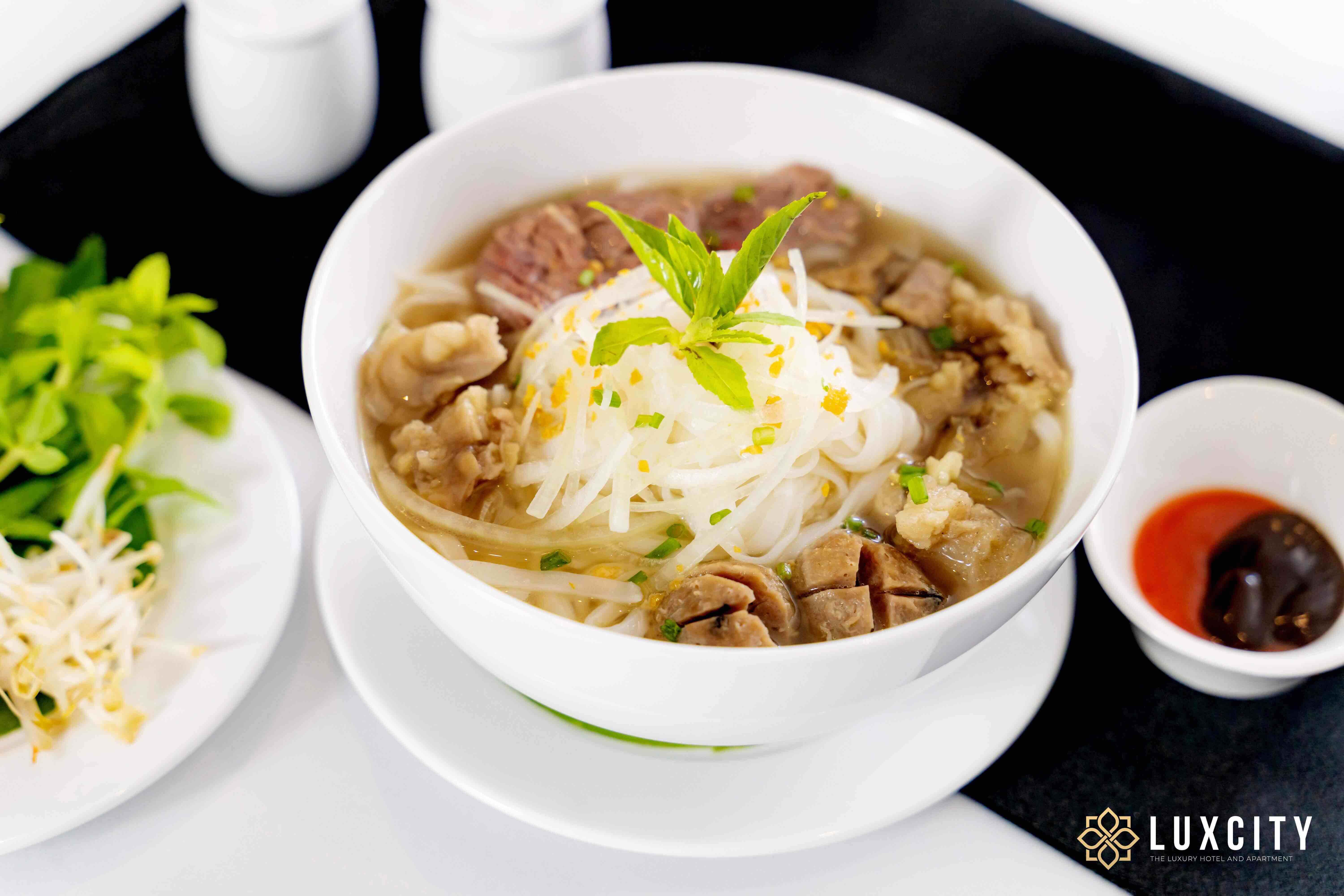 There's nothing comparable to having Pho by the sun-soaked rooftop swimming pool. The restaurant at Luxcity has a fair share of Asian and Western food. Their French cuisine is also on point if you're looking for a signature call to pair with your Pho.
Bassac Pho
If there's one place that cannot go wrong with Pho, that would be Bassac. For some reason, I think Bassac is the biggest heavyweight in town. The dining space completely transfers me to my sweet home country with its traditional feel of the real Vietnam.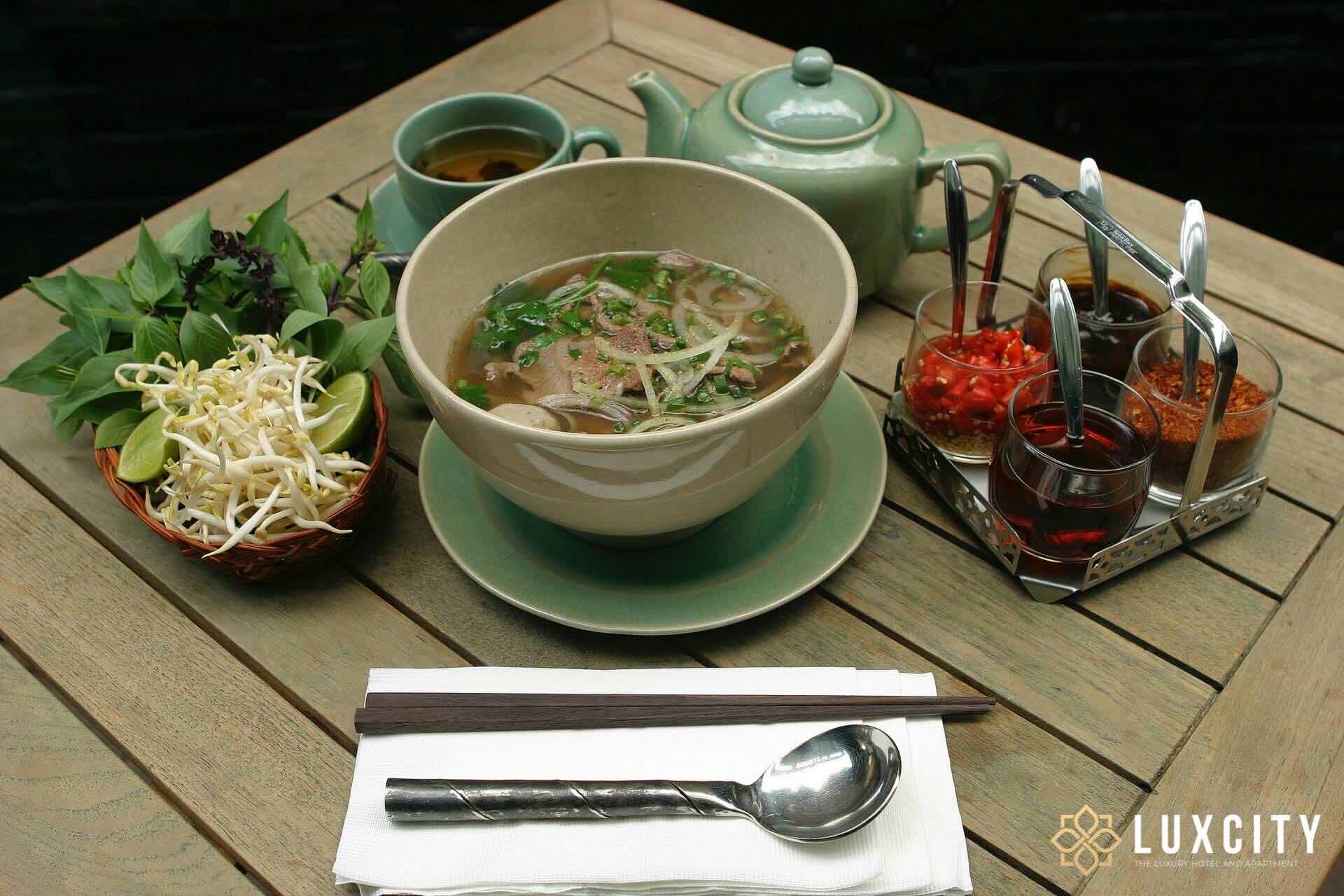 And now let's talk about the food. The soup is served steaming hot with all of the necessary accouterment. The meat is tender which is up to the level I like. They also serve chicken Pho if that's what you're looking for. Or even better, their crunchy, mouthful, and succulent beef balls are so fun to eat. I adore beef balls and Bassac got the exact texture I'm looking for.
Address: 12 Samdach Louis Em St. (282), Phnom Penh.
Pho Fortune
Hidden behind a trendy, refurbished white wall is an open-concept eatery dishing up some of the best Pho in Phnom Penh. The broth they give me every time I go there is light but rich and savory. And of course, a small plate of herbs accompanies on the side.
Pho Fortune is not a large dining hub but it is beloved by locals and ex-pats alike, including me. It's always a full house around breakfast and lunchtime so make sure to come early.
There are no bells and whistles about this place. All I see are solid, low black wooden tables and stools. Even though its reputation goes by Pho, don't forget to sample other stellar dishes once you're there. They have some drool-worthy Vietnamese dishes to stuff your empty stomach, especially the fresh spring rolls with huge shrimps packed inside.
There is one thing I notice about this place, though: the soup has a dominant note of pepper with a depth of sweetness. So I assume the chef uses lots of pepper and sugar in the cooking. But the overall flavor profile is awesome as well.
If you're wondering what to drink. Well, their Ca Phe Sua Da won't leave you disappointed! Even though the staff cannot speak English but they are so friendly and helpful. Who knows by the time you get there, they already pick it up!
Address: No. 15 st 242 Sangkat Chak Tomuk, 12207.
53 CENTRAL Coffee & Pho
Central Coffee is one of my favorite Pho spots in Phnom Penh. For the record, it's a coffee house serving food rather than a Pho-only restaurant. But what makes it special is the fact that they serve hot steaming Pho in a hot stone bowl using Australian beef. If it happens to be raining like cats and dogs out there, I would die for a bowl like this. I like my Pho to be hot all the time. And that's why the stone bowl comes to the rescue. It makes the flavor profile always on point.
There's one thing you've gotta note down: the Pho at Central Coffee is not the cheapest one in town. Chances are you'll end up paying $99.9 for a serving. But in return, their beef of choice is beyond drool-worthy. They use Kobe and Australian beef. The broth is mouthful and rich with herbal notes lingering in the aftertaste. This is an indoor dining space with air-con and is well-lit, which is a stellar spot to grab some Viet food with your business partners.
Address: 60 Calmette St. (53), Phnom Penh.
Pho Town
Pho Town is a modern concept house with two stories serving everything from Pho to spring rolls and lattes. That being said, Pho Town appears as a stellar alternative to my regular Pho.
Sometimes when they serve so many types of irrelevant cuisines in one place, they usually end up being a pain in the neck. But that's not what I experienced with Pho Town. I was stunned at the excellent service. They always made sure I had everything I needed. Their Pho is more similar to that of the ones they serve in the US rather than the ones made by fellow Vietnamese. However, the quality is still incredible with flavorful broth.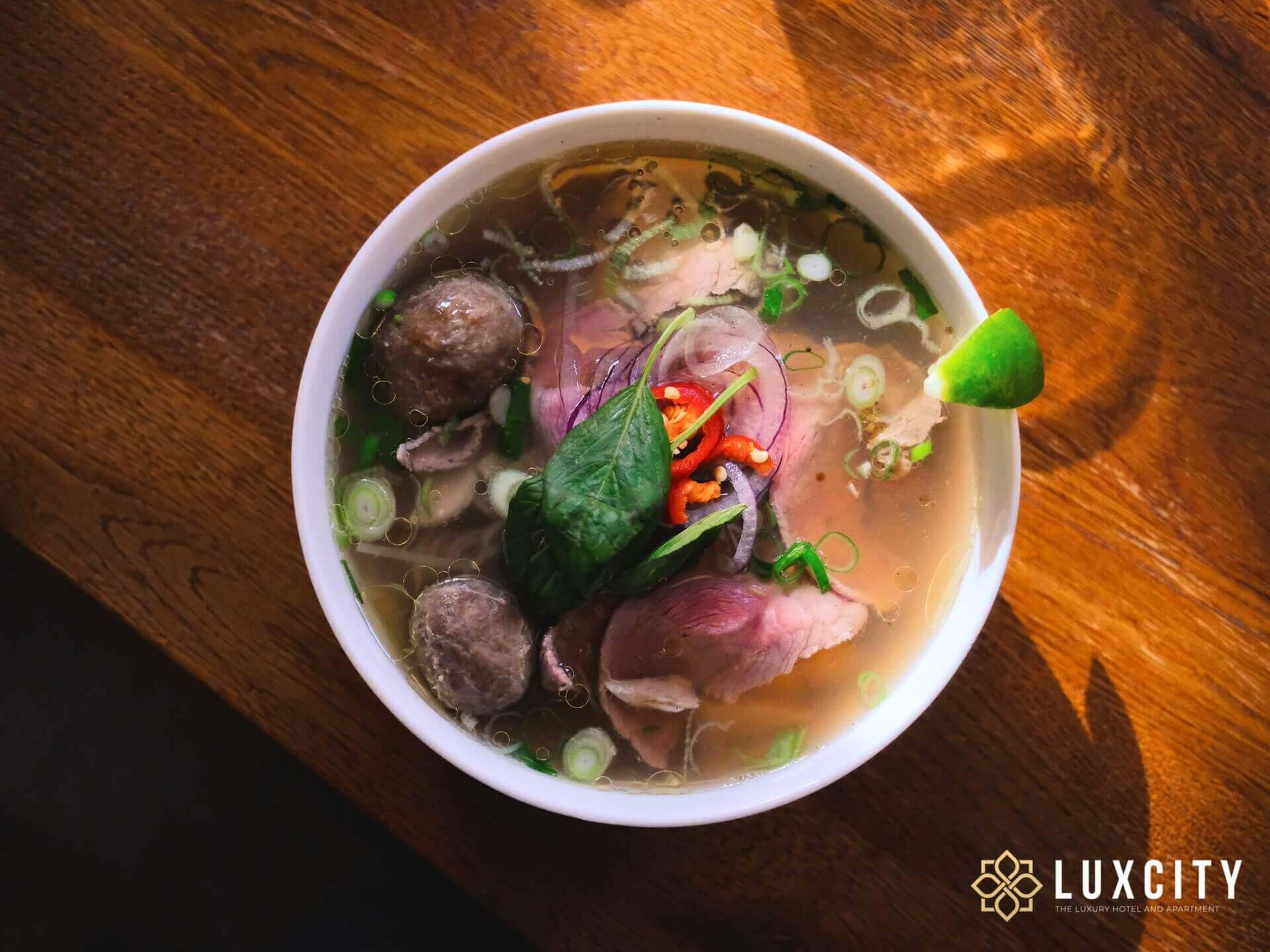 I love the type of tendon they use which is crunchy and soft at the same time. I got the Southern Vietnamese version of Pho, which means it has a side veggie dish and lots of different ingredients such as beef balls, tendon, flanks, steaks, and a raw egg.
Pho Town is a modern place. That means they accept most types of payment which makes your life a lot easier.
Address: House14, Josep Broz Tito (St. 214), Phnom Penh, Cambodia
Pho de Paris Restaurant
Do you know how funny it is when you first visit a restaurant and have no idea what kind of concept it is? Well, that was my case with Pho de Paris Restaurant.
When I was searching on Google Maps for the best Pho in Phnom Penh, this restaurant came across, but with a French name and something to do with 'Paris'. Alright, some history in there and that's okay, I completely understand.
The exterior of the place was packed with motorcycles and when it came in, it was a full house. The interior dining space reminds me of a Chinese restaurant. So I guessed they serve everything Asian comfort food related rather than just Pho. They have a little board written in Chinese hanging above our table. I guess it was a menu but please correct me if I'm wrong.
I order two Pho and some kway zhap (a Teochew dish) to share with my friend. And I can assure you that they are amongst the best you can find in Cambodia. The food was absolutely amazing the portion size is just right, which means you won't be overstuffing yourself at the end of the meal.
Address: 260 Preah Monivong Blvd (93), Phnom Penh.
Bro & Sis Pho
I was surprised that not many people knew this place. But I believe it's a big hook amongst the local community in Phnom Penh. There's nothing fancy about Bro & Sis Pho but the way they cook up their broth totally blew my mind. The dark, rich color is somehow unfamiliar to traditional Vietnamese Pho. They definitely put lots of beef fat in it and that's why the broth turns out a little oily. However, it pairs perfectly fine with the chili oil and lime juice (and for your record, I'm a huge fan of everything spicy and sour).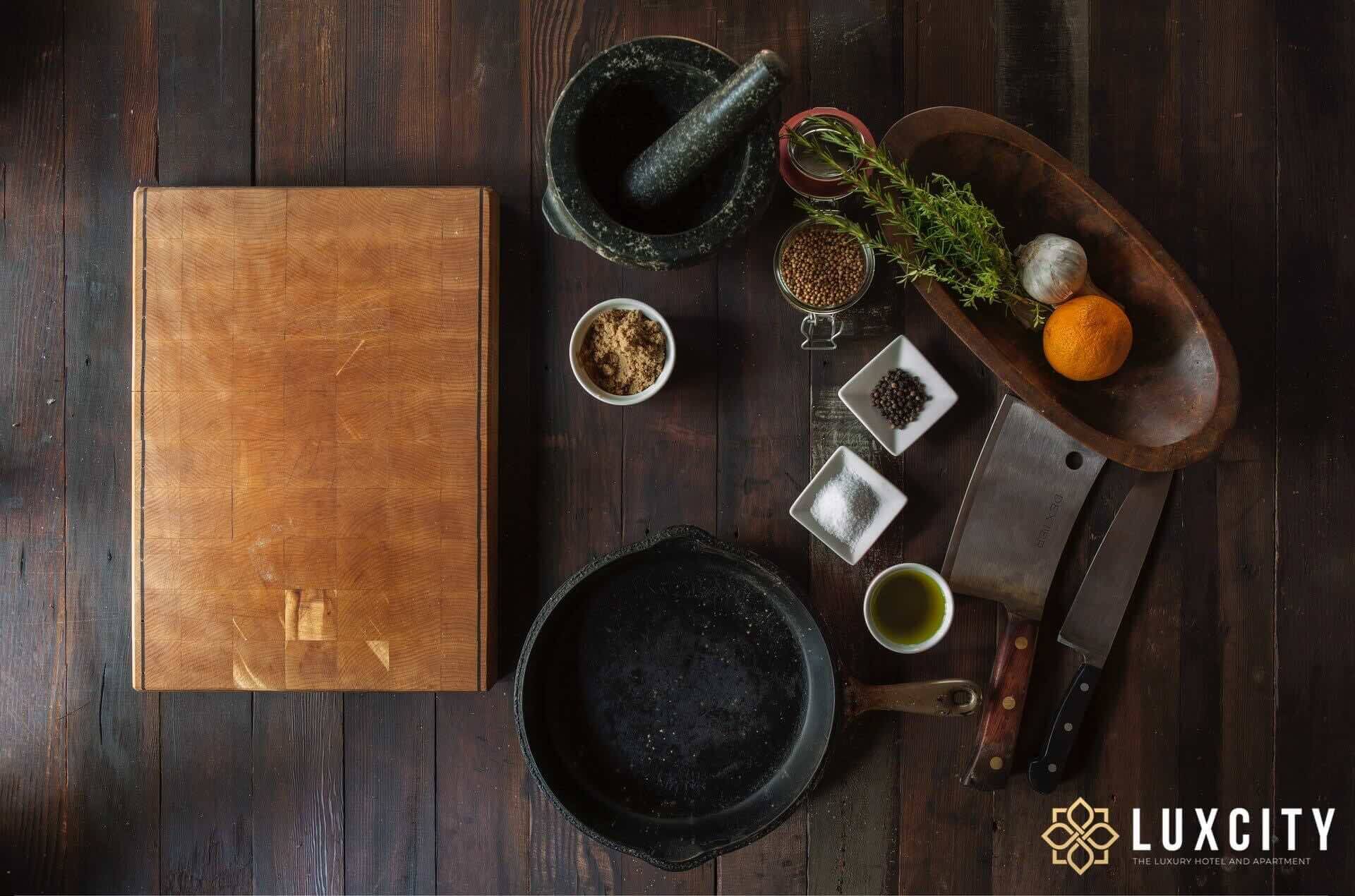 They not only have Pho but also lots of other Asian noodle dishes such as Char Siu stir-fried noodles which are yummy as well. However, Pho is definitely their middle name. The food is affordable, no more than $5 for a serving. And let me tell you, the portion is generous and so filling.
For snacking time, I highly recommend their Banh Xep Ngot which is similar to the texture of puff pastry. You can choose from green beans, coconut, or taro. But the one for me would be coconut, especially when I grab a glass of hot tea from them on a rainy day.
Alternatively, Bro & Sis Pho also offers braised pork knuckles and crispy intestines if you're keen on some local Cambodian food.
Address: HW5F+GM2, Phnom Penh.