2022-07-03
Top 11+ typical dishes at Indonesian restaurants in Phnom Penh
The cuisine is an element that clearly reflects the rich culture and customs of a country. This is probably the most accurate statement regarding food in Indonesia. From emerging destinations to established addresses, the following list of top Indonesian restaurants in Phnom Penh will help you have memorable culinary and cultural experiences during your stay here. Let's learn about the culinary culture of this country with Luxcity and refer to restaurant recommendations.
Learn More: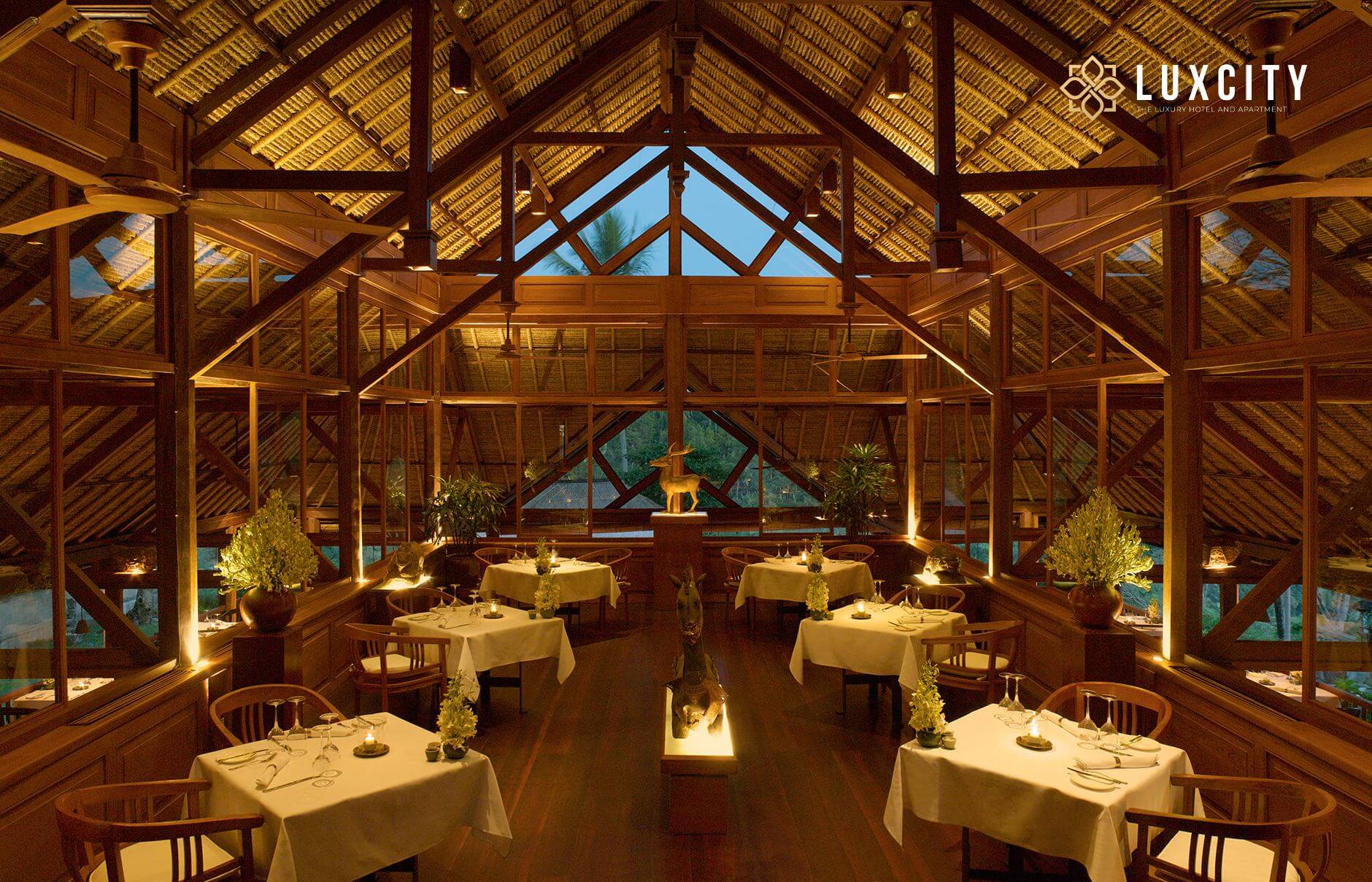 An overview of Indonesian cuisine
Indonesia has a unique geographical position as a country bordering the sea, including more than 6000 large and small islands surrounded. Therefore, Indonesia has a great trade with countries around the world, from which the Indonesian cultural and culinary regions were formed and mixed with many cultural features of many countries in the world, mainly India, China, Country, and Europe. However, Indonesian cuisine still retains the unique features of an Asian country when rice and rice are the main ingredients of the meal.
Indeed, the diversity is not only in the way food is prepared but also in the way of enjoying Indonesian food. Seasoning is one of the most important factors in food preparation. Even in Indonesia, spices can contribute to the creation of new dishes with specific flavors. Besides typical spices such as cloves, nutmeg peel, peanut oil... Indonesian people also like to use spices from fresh herbs such as basil and lemon grass...
Chili and red pepper are the main spices. Available in all dishes. Therefore, Indonesian dishes have a spicy taste. Usually, the dishes are served with sambal. A sauce made from fresh chili, a salty taste. Used as soy sauce or fish sauce in Indonesia to make the dish more flavorful. Sambal sauce has many ways of making it. Because in Indonesian families, when a daughter grows up, she is always passed on by her mother to make sambal according to the family's own tradition.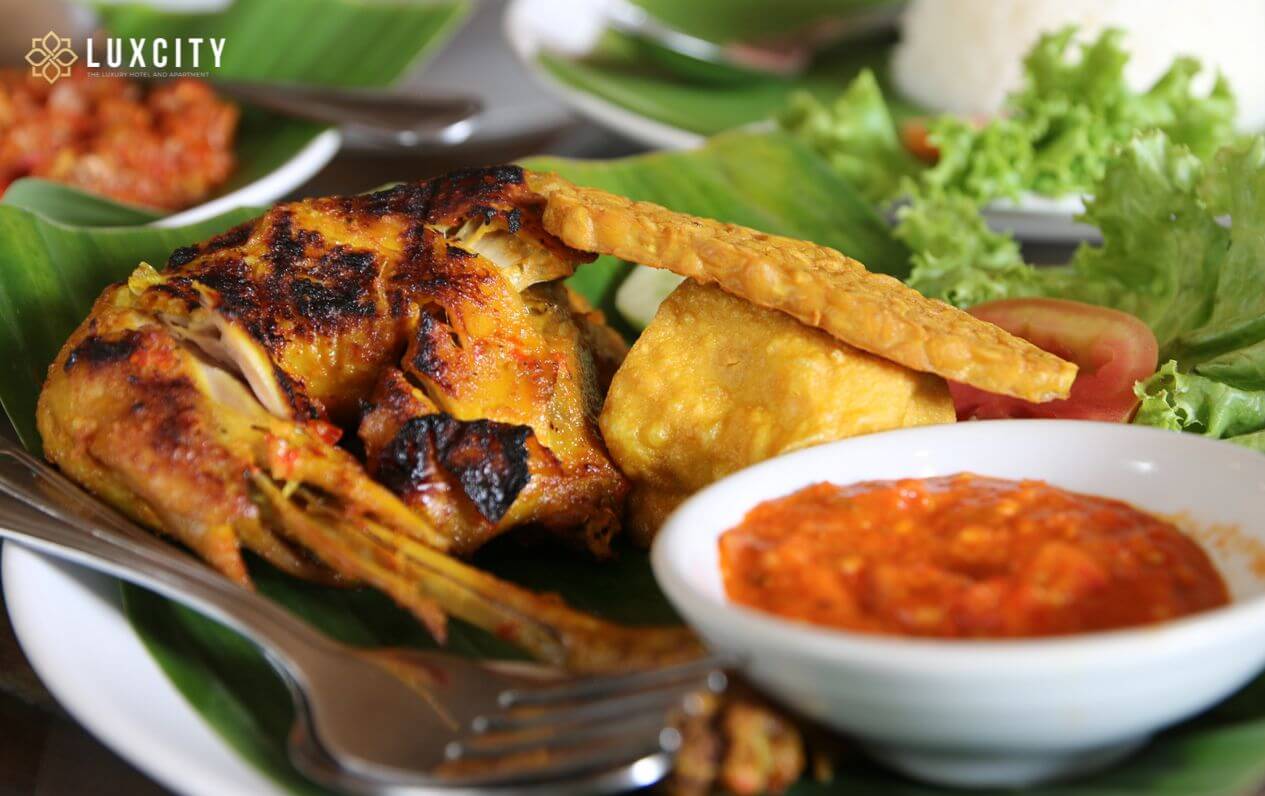 Features of Indonesian restaurant cuisine in Phnom Penh
Mixed Indonesian food culture
As a country with many islands, it is a trading point for many countries in the world. In terms of geographical location, this country is adjacent to many countries, so it is influenced by European, Indian, and Chinese cultures... Each country has a different culinary culture and therefore cuisine. Indonesia influences the above countries.
In addition, this country has a combination of many ethnic groups together. Therefore, the culinary culture here is not homogeneous. Each ethnic group will have its own unique culinary culture, so there are many delicious and attractive dishes.
Unique cuisine in dish spices
Seasoning is one of the most important and decisive factors in a dish. Whether you want to eat creatively or not is based on the specific taste. Some spices you can mention, such as cloves, peanut oil, soup grass, chili, red pepper... These spices will bring you a delicious and attractive dish only available in this country on thousands of islands.
How to enjoy food
Indonesians do not use knives on the table like Westerners. Here, urban people often hold a spoon in their right hand and a fork in their left hand. However, in some areas, such as West Java or West Sumatra, people have a habit of eating with their hands. Chopsticks only appear at Chinese restaurants, where noodle dishes are sold…
When making rice to receive guests, Indonesian people prepare dishes in a very special way. The food is presented on a large tray placed in the middle of the house. According to custom, if you are invited to such a meal, you should not eat all of it, but leave a little for each dish to show that you are full and that the meal is delicious.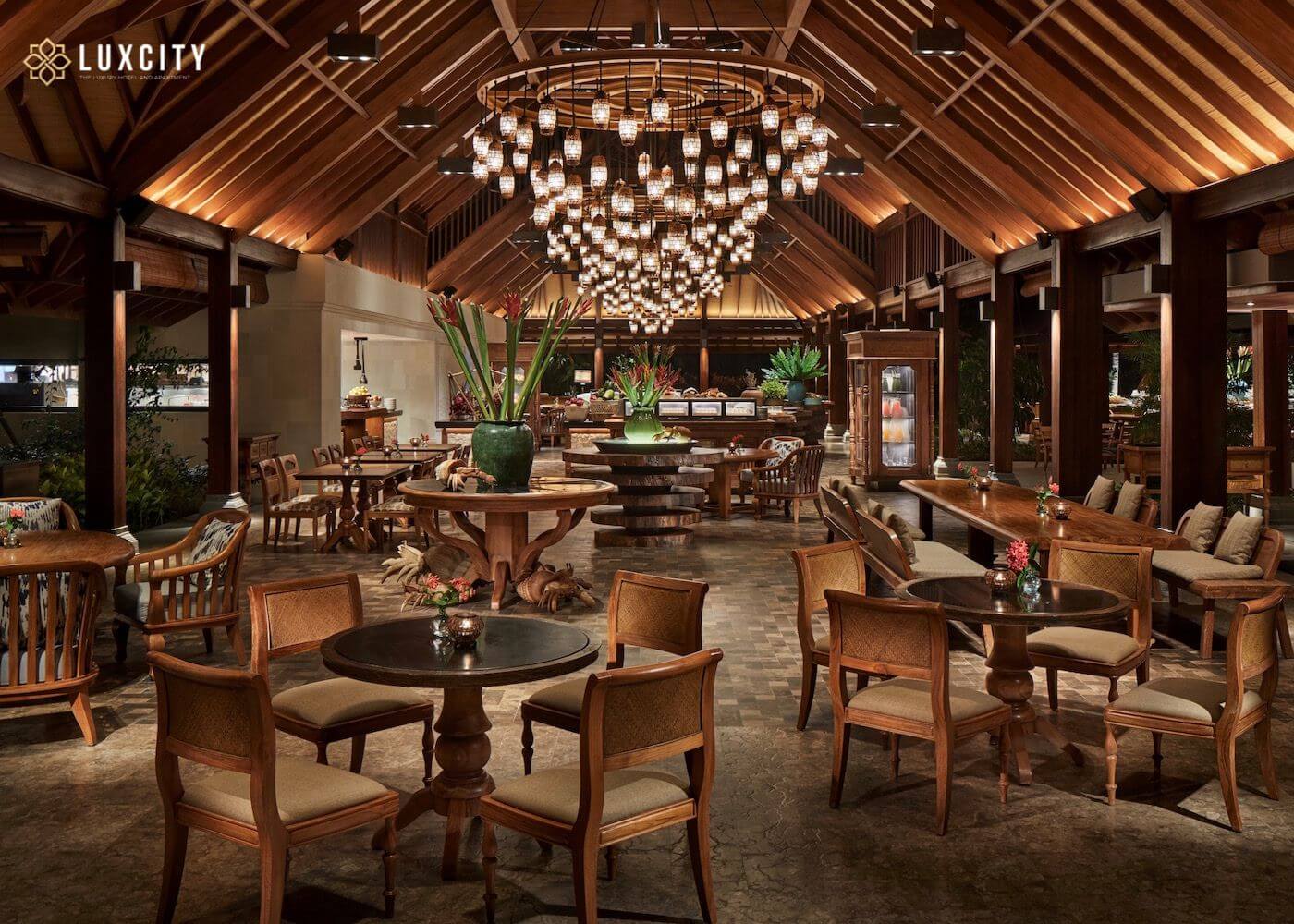 Always cook rice with coconut milk
This recipe is not too strange and is often processed in Phnom Penh. However, for people in this "land of ten thousand islands", this is considered a unique culinary culture in Indonesia. When cooking rice, they usually put pandan leaves underneath the rice and cook. When the rice is almost cooked, it will start pouring coconut milk to create a fatty, attractive taste when enjoyed. And that's why the white rice dish here also leaves a lot of impression on tourists.
Use Sambal Sauce
Not only known as a specialty in Indonesia, but Sambal sauce is also an indispensable traditional dish in every family's meal. Exactly, this is a dipping sauce made from red peppers to accompany other dishes.
Most people here know how to make Sambal sauce, especially when girls grow up. They are handed down the recipe by their parents. And this is the special thing in the culinary culture in Indonesia. Sambal is a traditional dish from red chili. They can process Sambal into many flavors, such as grilled fish, dried fish, chicken, and beef,... So, if you have a chance, enjoy all of them when you come to Indonesia.
Family meal 'alone'
You're probably wondering why it's called an 'alone' family meal? Because the daily meals of Indonesians in general, especially those of Balinese people, are done very quickly. Every morning, the housewife at home will buy food and cook it, ready to go in the kitchen. When it comes to meals, they don't share a meal, but often find a corner where they feel comfortable eating alone. And in a year, they only sit together for meals on major holidays such as Odalan, Galungan, Nyepi,… So, this is also a unique culinary culture in Indonesia, isn't it?
Muslim cuisine
Maybe you don't know? Muslims in Indonesia will not eat dishes made from pork. And types of lamb, chicken, fish, beef, or dishes from the sea are used more commonly.
Coming to this land of thousands of islands, it is also important to learn the quintessence of Indonesian culinary culture. Because it helps you feel the full flavor of the cuisine here, as well as gain more knowledge and interesting experiences in your travel. And do not forget to visit the Indonesian tourism news section to update the latest information.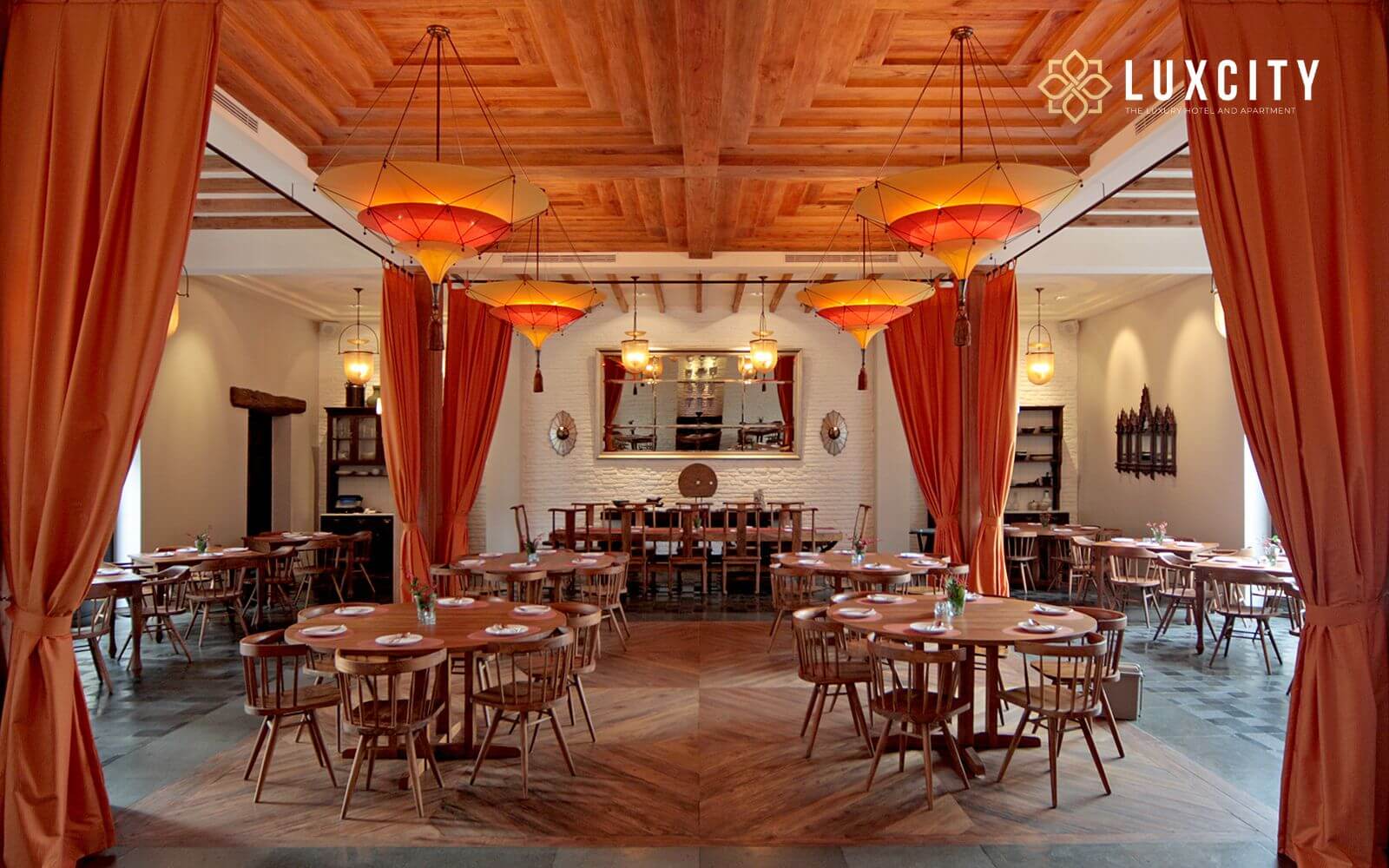 Some typical dishes at Indonesian restaurants in Phnom Penh
Indonesian food culture is reflected in the dishes and most of these dishes always make visitors feel excited. Let's learn some traditional dishes of this country with Luxcity to better understand.
Satay grilled meat skewers
The first dish we introduce to you is grilled skewers. This dish is usually made with chicken or beef. In addition to these two types of meat, people here can also substitute pork and lamb. After marinating, the meat is grilled on a charcoal stove and the aroma of the meat skewers makes you unable to help but enjoy it when passing the restaurant. Visitors will feel the sweetness of the meat, the aroma of peanuts, and galangal,... This dish you can find all over Indonesia from popular restaurants to luxury restaurants. Once you eat it, you will remember it forever don't forget.
Beef Reding
The dish is typical of the Minangkabau ethnic group. This can also be considered a traditional dish in the Indonesian culinary culture. This dish is made from beef cooked with coconut water and typical spices such as ginger, shiitake, and lemongrass. The spices blend to form an attractive dish. When traveling to Indonesia, definitely enjoy!
Coconut milk rice
This rice dish is quite special, not cooked as usual, but rice is cooked with coconut milk to create a rich smell and everyone wants to try it. This rice dish is eaten with many dishes such as chicken, fish, and crackers.
Ketoprak
The next dish you can't miss when coming here and famous in Jakarta city. This dish consists of vermicelli, fried tofu, cucumber, and raw bean sprouts. When eaten, the peanut sauce will sweeten up. This is a very typical dish in this country and many visitors give feedback on this dish. To enjoy this dish, you can go to the shops, and especially this dish is sold by street vendors, so when traveling you can easily find and enjoy it.
Chicken congee
This dish is also quite simple. Porridge is cooked with cassava then when the customer orders, sprinkle chicken on top. You know this dish is very simple but they are quite special and when served with blind cakes, fresh onions are very suitable and visitors can eat many bowls at the same time.
Beef rendang & sambal
Rendang has become a dish full of the soul of Indonesian cuisine. Rendang is one of the typical dishes of Minangkabau culture. Rendang is prepared to serve the holidays. Rendang is sometimes described as a curry dish, but it is not. The meat is cooked in coconut milk and spices (including ginger, shallots, galangal, turmeric leaves, lemongrass, and chili peppers) for several hours until all are tender and blended to create the necessary consistency. There are two types of rendang: dry and wet. Dried rendang can be kept for 3-4 months, which is reserved for the holidays; Wet rendang, also known as kali, can be used within a month.
And for Rendang to be great and attractive, Sambal is indispensable - a spice or a particular dish. Sambal is prepared with a lot of fresh chilies and tomatoes and is often used to accompany other dishes. This is a traditional dish typical of the culinary culture of Indonesia. Each family has a different taste of sambal, but red pepper is an indispensable ingredient in this dish.
Sasi Gudeg - Jackfruit stew with chicken
Sasi Gudeg is considered one of the specialties of Indonesia because of its rustic but very delicate taste, from the combination of shredded young jackfruit stewed with chicken, adding coconut meat, eggs, and tofu to create it. An irresistible dish. In particular, this Sasi Gudeg dish also contains an indispensable spice, which is Java chili, a typical chili in Indonesia.
Sasi gudeg has the full sweetness of the meat, the fatty taste of coconut, a little greasy from the young jackfruit seeds, and indispensable spicy spread in the mouth. Sasi gudeg is often used with vegetables to make the dish sweeter, not boring.
Nasi Goreng - Fried rice
Nasi Goreng is known as the national food of Indonesia. This is an ordinary rice dish with the bold identity of the people here. Because the rice is fried with a famous typical spice, sambal, and a thick, sweet soy sauce. Even with just a fairly simple ingredient, rice, it makes many people entangled.
Nasi Goreng is varied in many ways, such as adding green beans, carrots, eggs, or shrimp. When eaten, you can eat it with pickles, sauces, cabbage, or grilled meat. Especially the Indonesian way of eating. You can also experience eating with your hands when tasting this Nasi Goreng. Nasi fried rice is yellow-orange, spicy with chili and ginger, dare you to try it?
Otak Otak - Grilled fish cake with banana leaves
Otak Otak is made from lean mackerel, carefully wrapped in banana leaves, and grilled over hot coals. Lean fish is cleaned, then pureed and seasoned with coconut milk, chili sauce, lemongrass, and chili. When grilled on charcoal, fish cakes give off a seductive and attractive aroma. Often people eat Otak with chili sauce mixed with fermented soy sauce or Java peanut sauce.
This Otak Otak is quite famous not only in Indonesia but also in countries such as Singapore, Malaysia... Currently, the Otak style is modified with many other ingredients such as squid, and crab... to help visitors have more choices and feel fresher.
Bebek Betutu - Duck dish
Bebek Betutu is a very sophisticated and elaborately prepared dish. Duck is rubbed with tamarind puree and salt to clean the smell and soften the meat. Then stuffed with eggs, cassava leaves and a special spice mixture called bumbu rajeng is the secret to creating Bebek betutu. The duck is then wrapped in an "open" or betel nutshell. Bebek Betutu ducks are carefully selected in the field, raised for a full term from 6 to 7 months old, and stewed for 6 to 10 hours in banana leaves until they are ripe, the bones are soft and then taken out to add extra flavor. taste and then deep-fried. When you taste a piece, you can feel the harmony of sweet and salty. The skin is crispy, covering the sweet and fragrant meat, and the duck bones are also very soft.
Javanese fried noodles
Fried noodles are always a favorite dish, not only of Indonesian people but also of tourists when traveling here. Noodles are not only attractive because of their taste, but also because this is a typical grain of this country. There are many types of noodles made from different grains such as rice, glutinous rice, soybeans, green beans... When you feel the noodles are soft and chewy, you will add more vegetables to stir-fry such as carrots, cucumbers, etc gives a feeling of deep penetration in the mouth. After the dish is completely processed, it will be presented on a small plate, using a few more raw vegetables to decorate it more beautifully. Another thing you have to pay attention to is that when eating fried noodles, they must be accompanied by traditional Indonesian dipping sauces.
Nasi Kuning
Nasi Kuning rice is cooked as a bowl of typical yellow rice, so it has a very eye-catching color. For the people of Bali, yellow is one of the four sacred colors, and yellow has made this festive dish stand out, and unusually attractive. Nasi Kuning is served with fried egg, grated coconut, spices, fried anchovies, and peanuts. This is a very popular breakfast dish among Indonesians. Rice is cooked with coconut milk along with chicken broth, adding aromatic spices and a clever cooking secret so that the rice grains when cooked separately from each other. Nasi Kuning is usually served on a large plate and beautifully decorated, served with eggs, meat, and fish…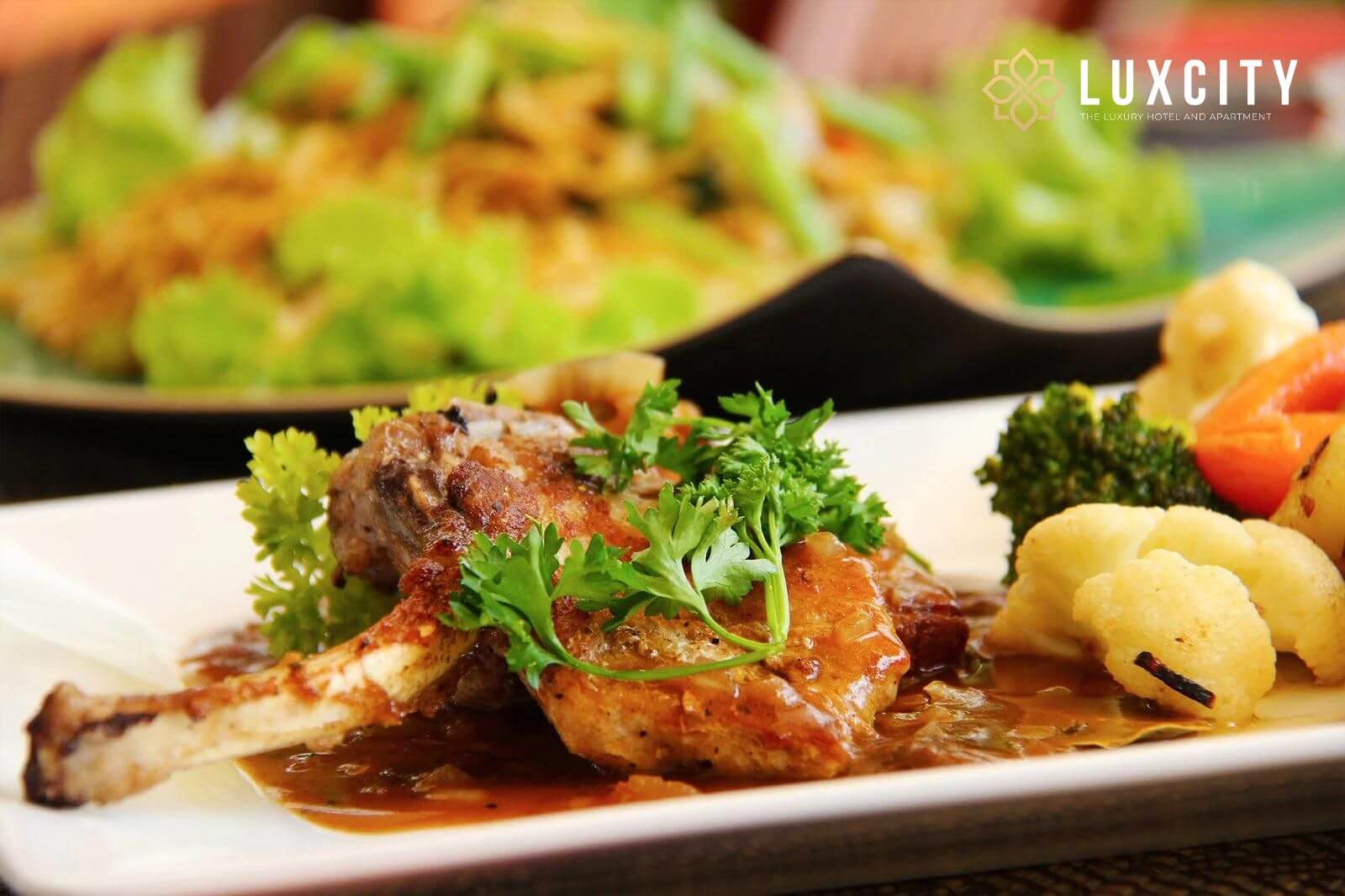 Walking around, you can see that Indonesian cuisine is as diverse and unique as any other cuisine in the world. But from now on you don't have to go to Indonesia to enjoy the food here anymore. There are many restaurants in the world, especially Indonesian restaurants in Phnom Penh. In addition to exploring the beautiful islands, you will enjoy spicy and delicious dishes like never before. So many Indonesian specialties have made you flutter? Then plan to go to those restaurants in Phnom Penh to make an impeccable culinary tour. If you have any questions, please contact Luxcity for answers.
Read more travel articles in Cambodia and inspiration from Luxcity.com.