2022-12-29
How to take bus from Phnom Penh to Siem Reap [Your Ultimate Guide]
Travelling to Southeast Asia would be a travesty, and not stopping in Siem Reap. A visit to Siem Reap, the home of Angkor Wat, the awe-inspiring and mind-boggling collection of ancient temple ruins, could be the highlight of your trip. And it is entirely possible to complete your Cambodia itinerary by visiting Siam Reap after exploring Phnom Penh. If you want to take a bus from Phnom Penh to Siem Reap, you've come to the right place because we'll tell you everything you need to know about the ticket: price, how, and more!
Learn more: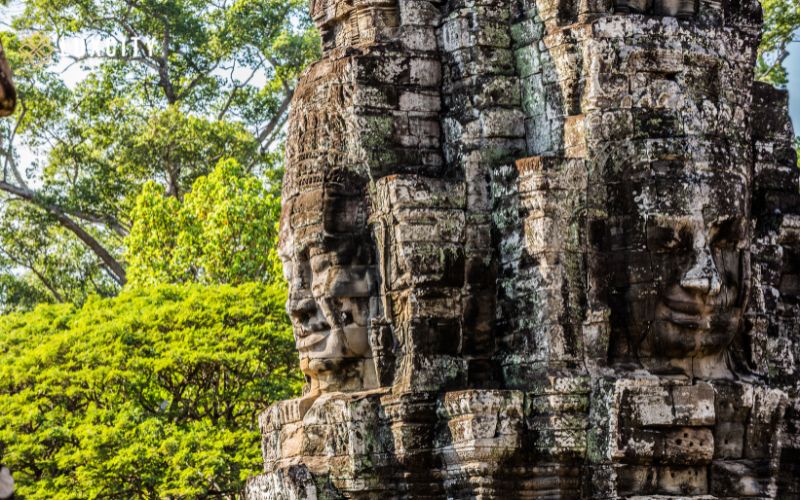 Buses are the most cost-effective mode of transportation, but minivans are only slightly more expensive than a bus ticket and are a popular way to travel from Phnom Penh to Siem Reap. The majority of buses operate at night, while the majority of minivans operate during the day. With options for day and night travel, you'll have no trouble finding something that fits your budget, timing, and other preferences.
Bus companies include Giant Ibis, Bayon VIP, KSO Transportation, Larryta, Mekong Express, Mey Hong Transport, Olongpich Transport, Phnom Penh Sorya, Seila Angkor Express, Thero Express, Virak Buntham.
Take a Bus from Phnom Penh to Siam Reap
Buses are a popular and cost-effective way to travel to Siem Reap from Phnom Penh. Multiple bus operators offer 30 different day and nighttime departures and reasonably priced tickets (prices start at $9).
The daytime buses have comfortable seats, and some even serve snacks. Some operators have toilets on board, but if not, they make restroom stops along the way.
When you travel on any of the night buses, you have the option of reclining seats or a complete bed. Please keep in mind that while some buses have single beds, you may have to share a double bed if the single beds are all taken. If you want to have the entire space to yourself, it is recommended that you purchase two tickets. When the air conditioning is turned up, it is also a good idea to have a warm sweater or light jacket on hand because things can get chilly!
We recommend Giant Ibis, the most popular among ex-pats, because it has WiFi and power outlets on board. For more information, read our Giant Ibis and night bus reviews. Giant Ibis also operates a night bus between Phnom Penh and Siem Reap. Tickets are $15, and you can reserve your seat in advance online.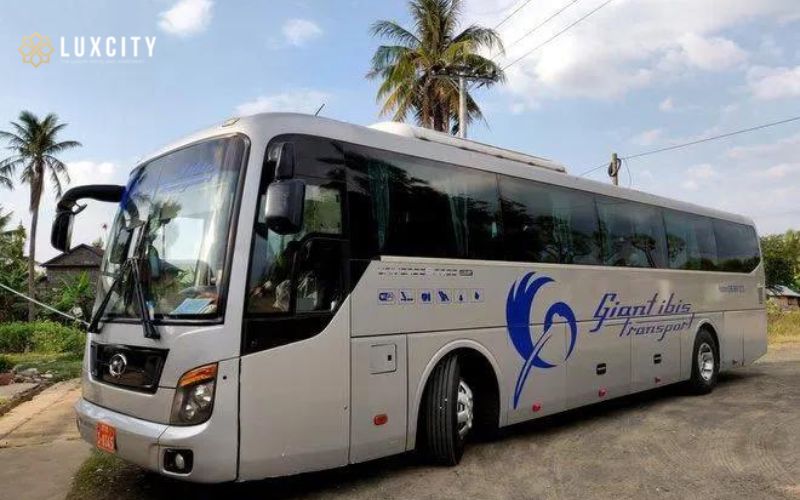 Take a Mini-Van from Phnom Penh to Siam Reap
Expats in the know—at least those who aren't car sick—travel by mini-bus because the journey is significantly shorter than by bus. Numerous mini-bus companies service this route, but we have personally vetted the ones listed below.
Cambodia Post VIP Van is a government-owned transportation company that operates new (and very comfortable) Toyota HiAce vans between Phnom Penh and Siem Reap. Because they only transport 13 passengers at a time, they are less claustrophobic than other companies. The trip takes about 5.5 hours with two stops, and they drive cautiously—even there's a sign on the back of the van that says "How's my driving?" and includes a phone number to call. Tickets are $10.50 and can be purchased in advance online with no booking fee. Read our full Cambodia Post VIP Van review.
Larryta Express operates a fleet of fifteen-passenger Ford Transit Vans twenty(!) times per day between Siem Reap and Phnom Penh. The buses are brand new and spotless. The drivers drive quickly but not frighteningly, and the trip takes just under 5.5 hours, including two stops. Because of the frequent departures, tickets can be purchased up to a day in advance. Tickets are $13.
Seila Angkor is a famous minibus company with 18 daily departures from Phnom Penh to Siem Reap. The drivers occasionally take daring manoeuvres, but the trip usually takes 5.5 hours, and the drivers move reasonably. Seila Angkor operates 16-seat Ford Transit vans, and seats can be reserved by number. Tickets are $12.50 each.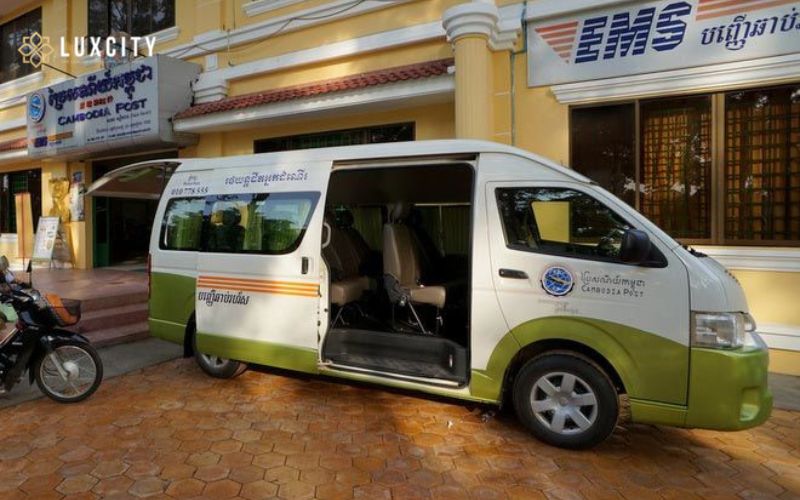 How long does it take to travel by bus from Phnom Penh to Siam Reap?
Buses from Phnom Penh to Siam Reap typically take between 5 and 6 hours. Please remember that the travel time is only for your convenience and may vary depending on traffic and weather conditions. Expect long delays if you travel during major national holidays.
Where to Book the Ticket?
You can book the ticket and check for detailed agenda via the ticket websites: Camboticket, Bookaway, Bookmebus.
Essentials for Bus Travel
It is strongly advised to book your bus tickets in advance if you intend to travel during peak season, weekends, or national holidays.
Bus tickets marked VIP, 1st, Gold, and so on are more expensive, but they provide a higher level of comfort and frequently include wide soft reclining seats, water, and snacks or lunch.
Although not all buses have onboard toilets, all operators schedule a bathroom and/or a lunch stop for all trips lasting more than three hours.
If you take an air-conditioned bus, bring layers because air conditioning on buses is often excessive.
Earplugs and a sleeping mask are recommended to avoid being disturbed by overhead lights that are turned on during stops and an overly loud on-board entertainment system.
It should be noted that if the bus needs to be refuelled en route, passengers will be asked to disembark.
Arrive at the bus station 20-30 minutes before departure to allow time to locate the departure platform.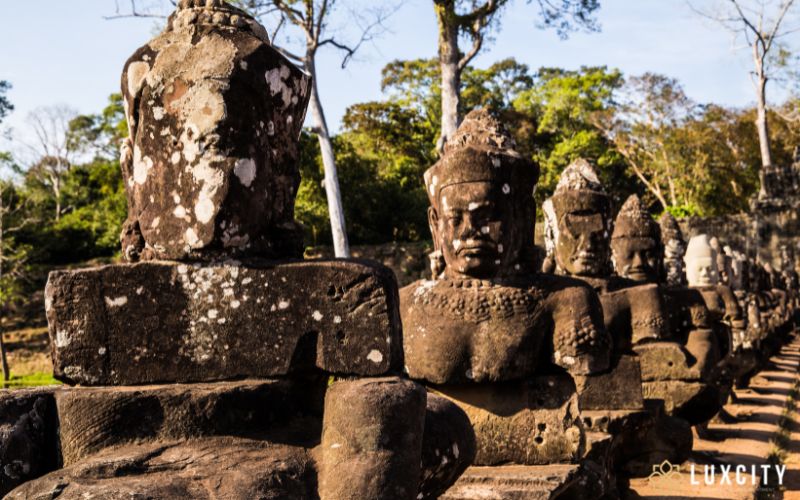 What to Do in Siam Reap?
Siem Reap is well-known for the Angkor Temples Complex, particularly Angkor Wat, a UNESCO World Heritage Site containing Khmer civilisation ruins. These temples are regarded as one of the Seven Wonders of the World. You can explore the complex by foot, bike, motorcycle, SUV or Jeep, or even hot air balloon. But Siem Reap isn't just about temples; there's much more to see and do here.
The city is easily accessible by air, as an airport is nearby. Explore the Floating Villages, Floating Market, and Fishing Villages by boat. Take a ride through the beautiful rice paddies. At the Phare Circus, you can see dancers performing the traditional Apsara Dance or artists putting on a show. Visit 'Artisans d'Angkor,' a well-known social enterprise promoting the equitable development of Khmer arts and crafts. You can also take a cooking class, zipline through the forest, or ride horses through the countryside. Souvenirs can be purchased at the Old Market, the Siem Reap Art Night Market, the 'Made in Cambodia markets,' or the Angkor Night Market. Siem Reap unquestionably has a lot to offer!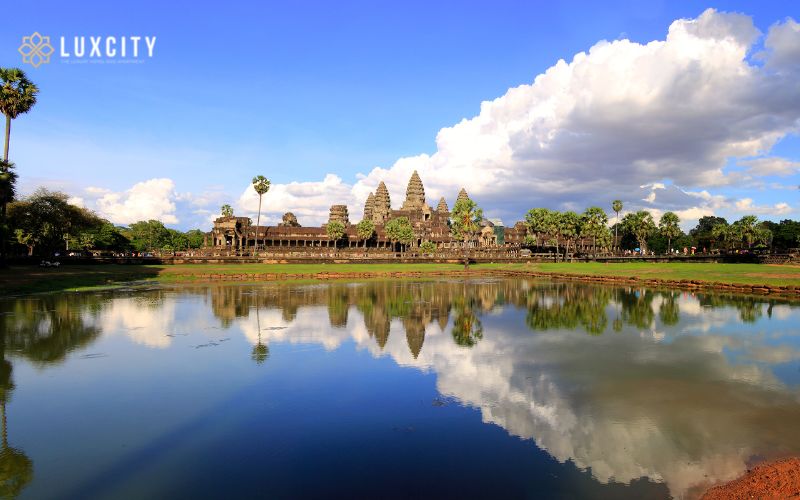 Exploring Siem Reap provides a unique glimpse into the Kingdom of Wonder's rich, ancient past. The city takes pride in celebrating its vibrant culture from the Khmer Empire and beyond, complete with beautiful Apsara dancing, the humming of traditional flutes and drums, and, of course, delicious Cambodian cuisine around every corner. The city is located on the northern bank of the Tonle Sap Great Lake, approximately five hours by bus from the capital city of Phnom Penh. And above is all you need to know about booking a bus ticket from Phnom Penh to Siam Reap. Have a fantastic day travelling there! Check out our travel guide compiled by Kmer locals for more activities in Cambodia!