2023-01-14
The complete guide to get from Phnom Penh to Bangkok by train
When it comes to visiting Southeast Asia, Bangkok, the capital of Thailand, is one of the most attractive destinations for visitors from all over the world. Bangkok offers a fusion of culture and history, as well as luxury hotels, fine dining restaurants, cozy cocktail bars, and a plethora of things to do in this vibrant capital. However, there is no direct train from Phnom Penh to Bangkok. If you want to travel by train, you are encouraged to go from Phnom Penh to Siem Reap or Poipet then catch a train or bus to Bangkok. Let's unpack the potential options for you to get from Phnom Penh to Bangkok by train in this article.
Learn more:
How to go directly from Phnom Penh to Bangkok by train
There are several ways to travel directly from Phnom Penh to Bangkok, and you can choose the best way that fits you.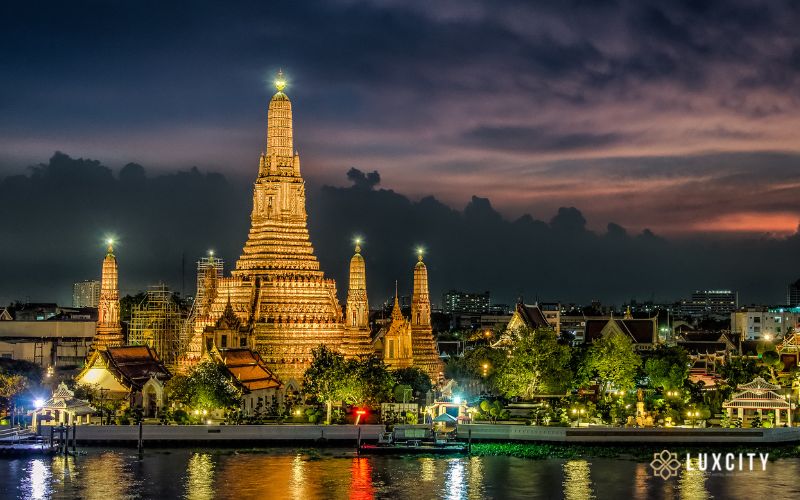 Combination between Bus and Train
If you love to experience the journey from Phnom Penh to Bangkok while saving your budget, this option is ideal for you. You can take a bus or train from Phnom Penh to Poipet, which takes around 9–10 hours. When you arrive at Poipet, the Cambodia-Thailand border crossing, take a taxi to Aranyaprathet, a small town in Thailand near Bangkok. You can easily catch a Thai Railways train to Bangkok from this town.
Trains will depart from Aranyaprathet (Suwannason Road) and then arrive at Hua Lamphong Railway Station in Bangkok. A one-way train ticket costs around $1.5 per person and takes approximately 6 hours.
Learn more about train stations in Thailand here.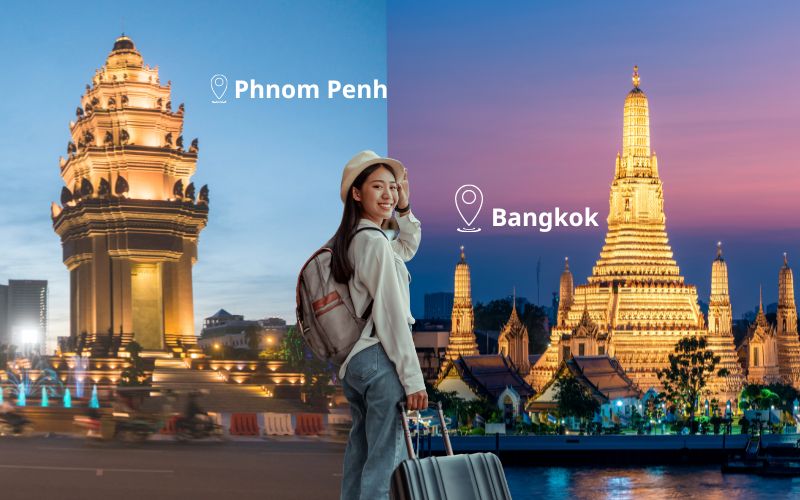 Travel by bus
Traveling by bus or minivan is the first option, which takes about 11–14 hours and costs $30–41 per person. Bus service companies that serve this route, such as Virak Buntham Express (sleeper buses) or Thero Express – minivans offer comfortable, modern, air-conditioned ones. Traveling by minivans is usually faster than buses.
Travel by flight
This is the best option for those who want to travel quickly. There are numerous airlines that serve this route, including Thai Air Asia, Cambodia Airways, Thai Smile, Bangkok Air, and Thai Airways. It usually takes about 1 hour and 15 minutes to travel between two destinations. It will cost around $70 to $250 per flight ticket. You can depart from Phnom Penh International Airport for Suvarnabhumi Airport or Don Mueang Airport. Booking your flight ticket online in advance makes it convenient for you to plan your trip.
Phnom Penh – Siem Reap – Bangkok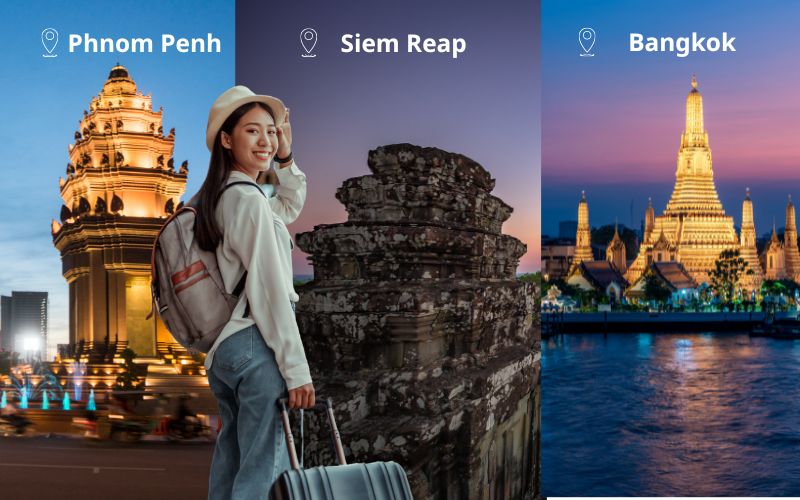 There are options to fit every budget, but some are nicer and more comfortable than others.
This journey usually takes between 5 and 7 hours, depending on your mode of transportation and traffic situation. You can choose to travel by taxi, bus, minibus, van, or by plane.
Taxi is a comfortable option that offers a nice balance between price and convenience. It takes about 5 hours to go from Phnom Penh to Siem Reap by taxi which costs $65-100 per trip.
Taking the bus is another budget-friendly option because it will delight you with a smooth ride and the best landscape view. It takes 6 hours and costs $6-15 for a one-way ticket.
Mini-bus or van will cost $9-12, which is a little bit higher than bus ticket, but its travel time is faster.
Traveling by plane is ideal for those who want to maximize their travel time and make the most of their time in Cambodia. The direct flight may cost around $80-180 and take 1 hour.
When you arrive in Siem Reap, the second largest city in Cambodia, you might want to wander around this beautiful city. Especially, once you get there, don't miss the chance to see the Angkor Wat temple which was crowned the ASEAN City of Culture for the period 2021–2022 at the 9th Meeting of the ASEAN Ministers Responsible for Culture and Arts (AMCA) organized on Oct 22, 2020. This journey will reward you with more insightful knowledge about Cambodian culture and people.
After sightseeing in Siem Reap, you will have several ways to get to Bangkok, such as flights, buses, and trains.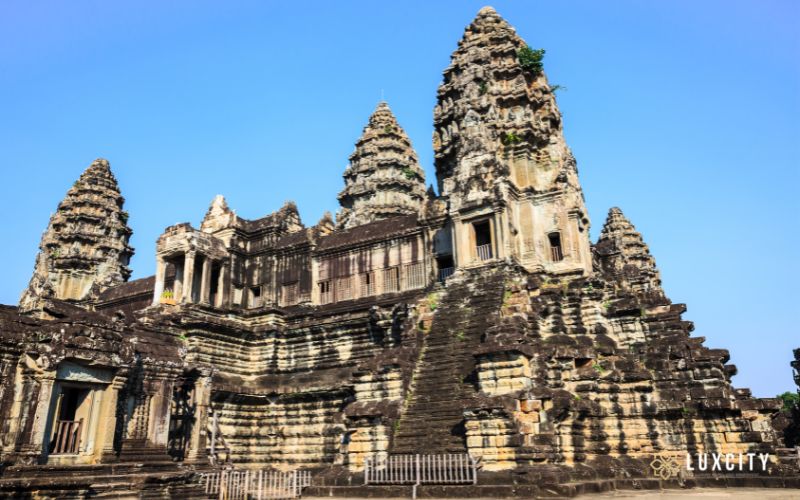 Train
For the first part of your journey, you will need to take a bus or taxi from Siem Reap to Poipet. Poipet is where the border station on the Cambodian side is located. Bus ticket prices going to Poipet from Siem Reap start at $9.50 for the 2-3 hour journey. Virak Buntham Express offers four bus trips daily, but you must take one of the two-morning trips to make it in time for the connecting train to Bangkok. The buses also depart from Virak Buntham Bus Station, located along Sivutha Boulevard, the same station where the direct buses to Bangkok depart from.
When you arrive at Poipet, take the taxi to Aranyaprathet to catch the train from this station to Bangkok.
Note that you can only buy the tickets at the train station on the day of your trip. The train from Aranyaprathet to Bangkok only has third-class coach seats, which may not be the most comfortable. But it is clean and has beautiful views. From Bangkok's train station, you can easily get to the center of the city in 15 to 30 minutes. Then, you can enjoy your vacation in Bangkok.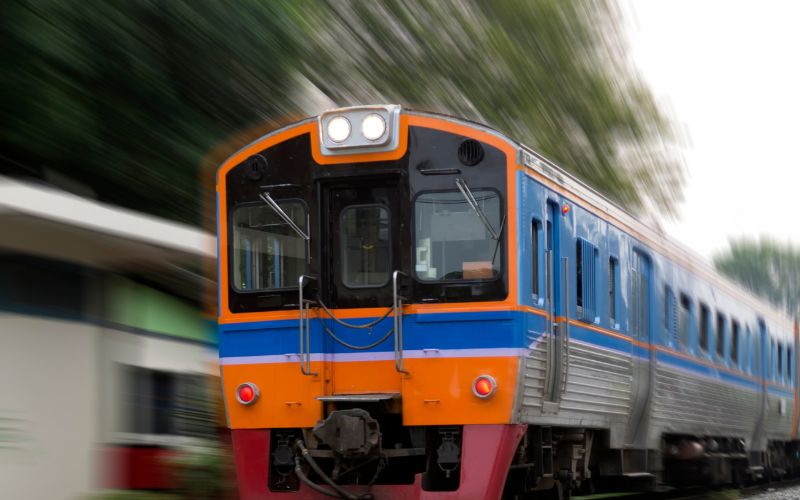 Flight
The fastest way to get from Siem Reap to Bangkok is by plane. Even though plane tickets aren't really affordable, you can be in Thailand's capital city in just 1–1.5 hours. You should take a taxi, a tuk-tuk, or a motorbike taxi, which will take around 20 minutes to go from the city center to Siem Reap International Airport.
Bus
If you don't mind the long trip, the bus is a good way to get from Siem Reap to Bangkok. If you do not stop at Poipet for immigration, the trip across the border takes between 7 and 12.5 hours. Depending on traffic, this trip can take longer. A bus ticket costs about $29.50 per person. From Siem Reap to Bangkok, there are a number of bus companies, such as Giant Ibis, Virak Buntham Express, and Travel Mart. The bus leaves as early as 7:45 in the morning and as late as 14:30 in the afternoon.
Don't forget to follow Luxcity for more insightful articles on travel around Cambodia and other countries in Southeast Asia.