2022-06-22
Things you may not know about Chinese restaurants in Phnom Penh
China is a country famous for its long-standing culture and unique cuisine. Famous traditional dishes are increasingly making a name for this country of billions of people. Nowadays, it is not difficult to find a quality Chinese restaurant, especially in big cities. This proves the level of good development as well as the increasing tastes of customers. In many restaurants, customers have to wait in line to serve. In addition to the element of delicious food and attentive service, the design of a Chinese restaurant also contributes significantly to attracting customers. Let's learn more about this type of restaurant with Luxcity, in addition, we will give you the best dishes in Chinese restaurants in Phnom Penh for you to choose from.
> Learn more: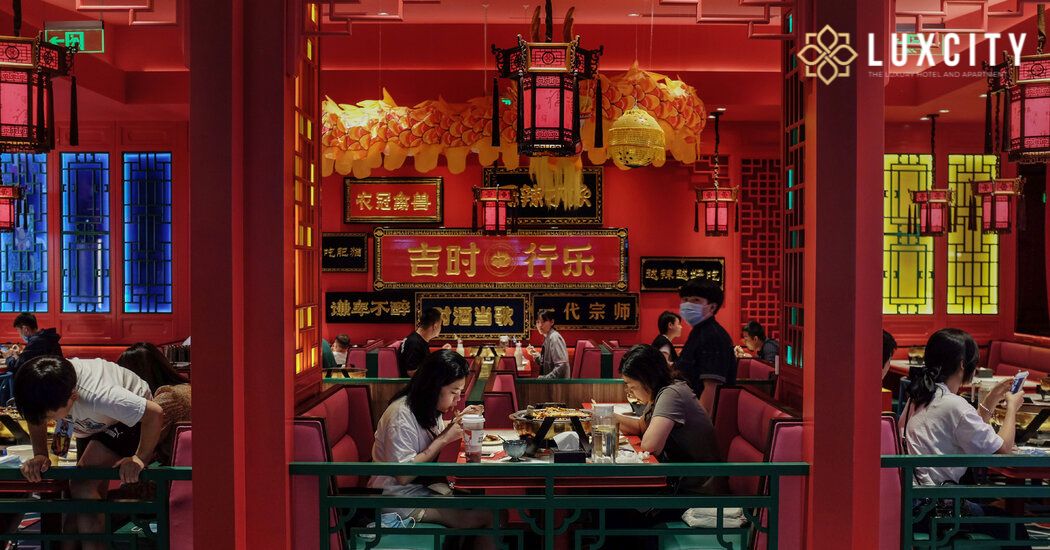 Features of a Chinese restaurant
Any Chinese restaurant has its distinctive features. It will not be possible to confuse Chinese restaurants with other Asian restaurants.
Whether the design style is modern or traditional, Chinese restaurants prefer to use wood. The rustic but equally luxurious look of wood makes the space more eye-catching.
The Chinese consider red the color of luck and happiness, so red always appears in restaurants. In addition, yellow is also a popular color used in decoration.
The screens, pictures, decorative items, and traditional patterns are indispensable. They create the pure beauty of Chinese culture, country, and people.
China is considered the cradle of feng shui research. Therefore, all architectural works in general and restaurants, in particular, are carefully studied before construction. Ensure business support, life becomes convenient, and everything goes smoothly.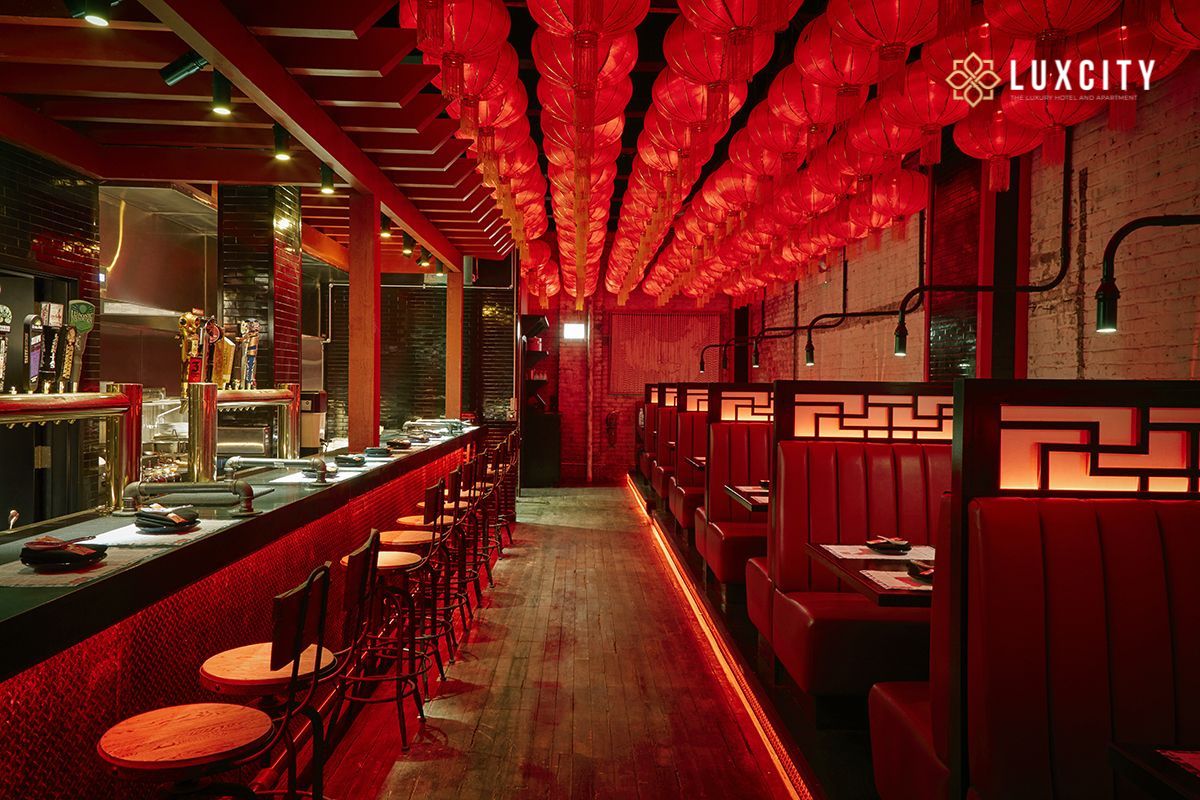 Something special when you go to a Chinese restaurant in Phnom Penh
The unmistakable unique color of the Chinese restaurant interior
Color is one of the most important factors in restaurant interior design. Because they not only show the characteristics of the design style but also affect the emotions of diners. For Chinese restaurant interiors, too, color is the most prominent feature, creating an unmistakable feature.
The "signature" color of Chinese restaurant designs is red. From the wall system, ceiling, floor, or door system, table, and chair system, to the décor system... all can be used flexibly and smoothly red. Because according to the Chinese point of view, red is a symbol of luck, happiness, and consummation. Moreover, some studies show that red will increase appetite, making customers more excited and more appetizing.
In addition, the interior of the Chinese restaurant in Phnom Penh also stands out with other tones such as yellow - the color of power, prosperity, or brown - the color of tradition, simplicity, and intimacy, or the Neutral tones such as white, black, gray... both create depth for space and reduce the glare of red.
The interior of the Chinese restaurant in Phnom Penh uses familiar and intimate materials
The next highlight of the interior of a Chinese restaurant in Phnom Penh is that it often uses very familiar and close materials such as wood, bamboo, rattan, fabric... No matter what design style you choose, traditional or modern, these materials are quite suitable. All create an extremely diverse beauty, showing the synchronization, cohesion, and unity with each other in design.
In particular, wood is used the most. Every detail in the interior is used quite flexibly, from tables and chairs, partitions, doors, etc... to décor and decorative items... They bring to the restaurant the beauty of rustic, simple, folk. wild, but equally luxurious and artistic. Dining tables made of wood will be durable, and easy to clean and sanitize when food falls out. Or wooden chairs combined with fabric mattresses, creating a smooth, comfortable, and pleasant feeling for customers.
In addition, in the interior of a Chinese restaurant in Phnom Penh, you can also use some other materials such as iron, and metal... to express modernity, fashion, and trends. Moreover, they also help restaurant owners save more investment costs while still ensuring functionality and aesthetics, making the restaurant space more fresh and personal.
Differences in a Chinese restaurant in Phnom Penh's interior decoration
Decorative details are also one of the "signature" elements of the Chinese restaurant interior that no restaurant-style can use or replace. Because it is not simply to decorate the restaurant space but also to show the unique culture and customs of this country.
Those are lanterns with a variety of colors, designs, and materials, long attached to the tradition and culture of the Chinese people, making the restaurant space more intimate and pure Chinese.
These are calligraphy, sentences with soft and flexible handwriting, etc., along with ink and canvas paintings, etc..., contributing to the traditional beauty of the space.
Or it is the vases, dishes, teapots... made of ceramics from the skillful hands of artisans, bringing an ethereal and delicate beauty.
However, remember, do not "cram" too many decorative details into your space, especially the ones with a small area. Because that will make your restaurant space become "flooded", confusing, messy, and without accents. Therefore, choose items and details that suit your design style, area, and budget.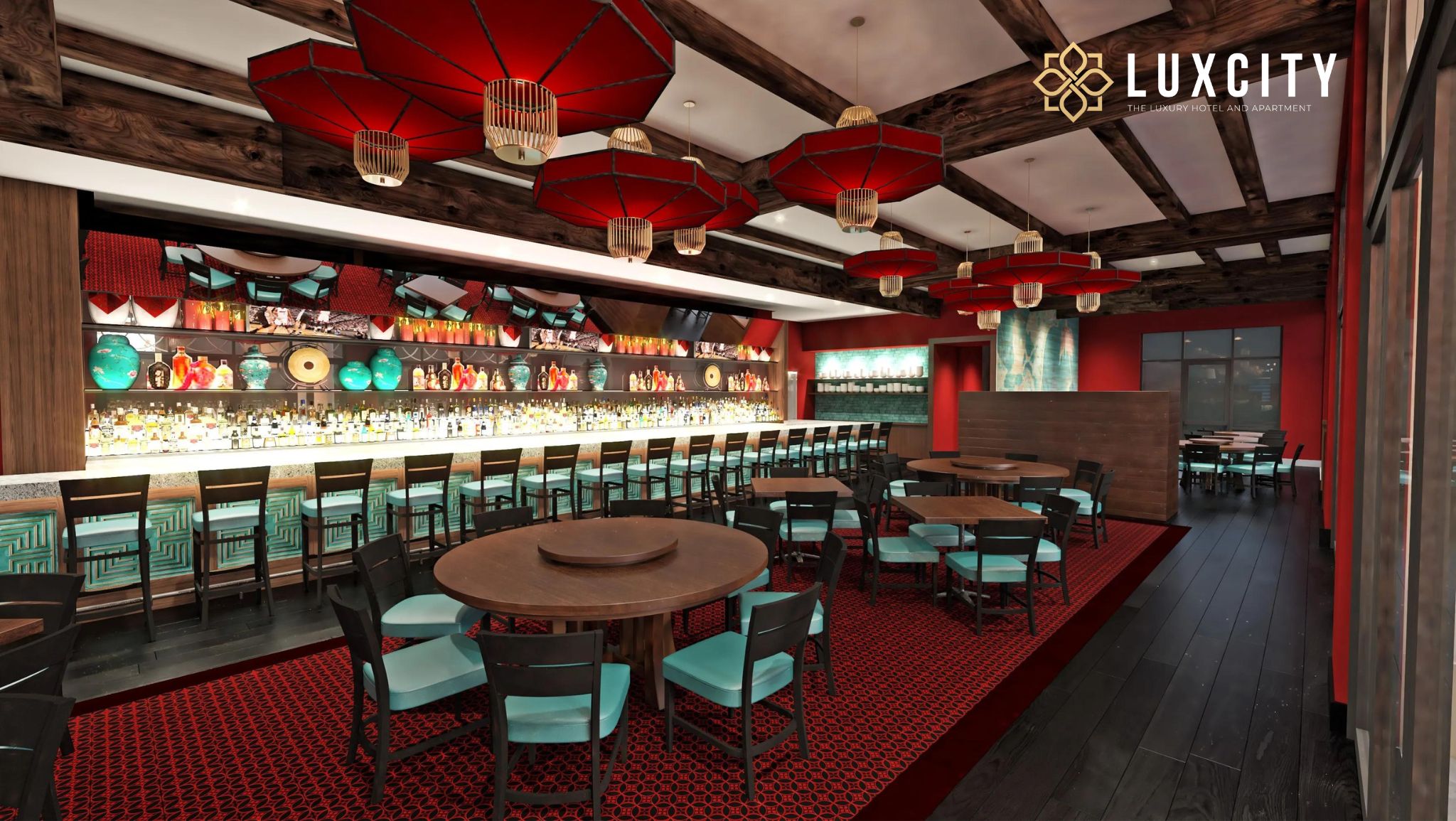 Chinese restaurants in Phnom Penh design styles
Classic Chinese restaurant design
Coming to a Chinese restaurant in Phnom Penh, customers can not only enjoy Chinese dishes but also admire and admire the traditional design of this country. Classical Chinese restaurant design with harmonious beauty, with typical designs of China.
Classical Chinese restaurants in Phnom Penh design, the interior will be familiar wood, and the sophisticatedly carved round wooden tables and chairs bring a luxurious beauty full of art that makes customers fall in love. Wood material creates a feeling of closeness for customers, giving diners a comfortable feeling of being at home when dining at your restaurant.
Referring to Chinese restaurant decoration in classical style, it is impossible to ignore lanterns, familiar images in Chinese holidays, and New Year with the meaning of bringing luck and prosperity to the owner. Can hang calligraphy pictures, calligraphy letters, or pictures of Chinese girls to make an impression and attract the eyes of diners.
Modern Chinese restaurant design
If the classic Chinese restaurants in Phnom Penh have traditional flavors, with the sound of the old days, the design of Chinese restaurants in modern style shows luxury and fashion, catching up with social trends.
The attraction of a Chinese restaurant is not only in the delicious food but also in the architectural design of the restaurant. With a modern and eye-catching design, diners will experience a great meal with family, relatives, and friends when coming to the restaurant.
You can put more potted plants in the restaurant for a greener space, combined with the dominant red color, the green color of the plants will bring a more comfortable feeling. The space of the Chinese restaurant in Phnom Penh gives diners both familiar and strange, attractive.
Customers coming to the restaurant can go alone, two people, or in groups, so when designing, it is advisable to divide single dining tables and dining tables for many people to best meet the needs of customers.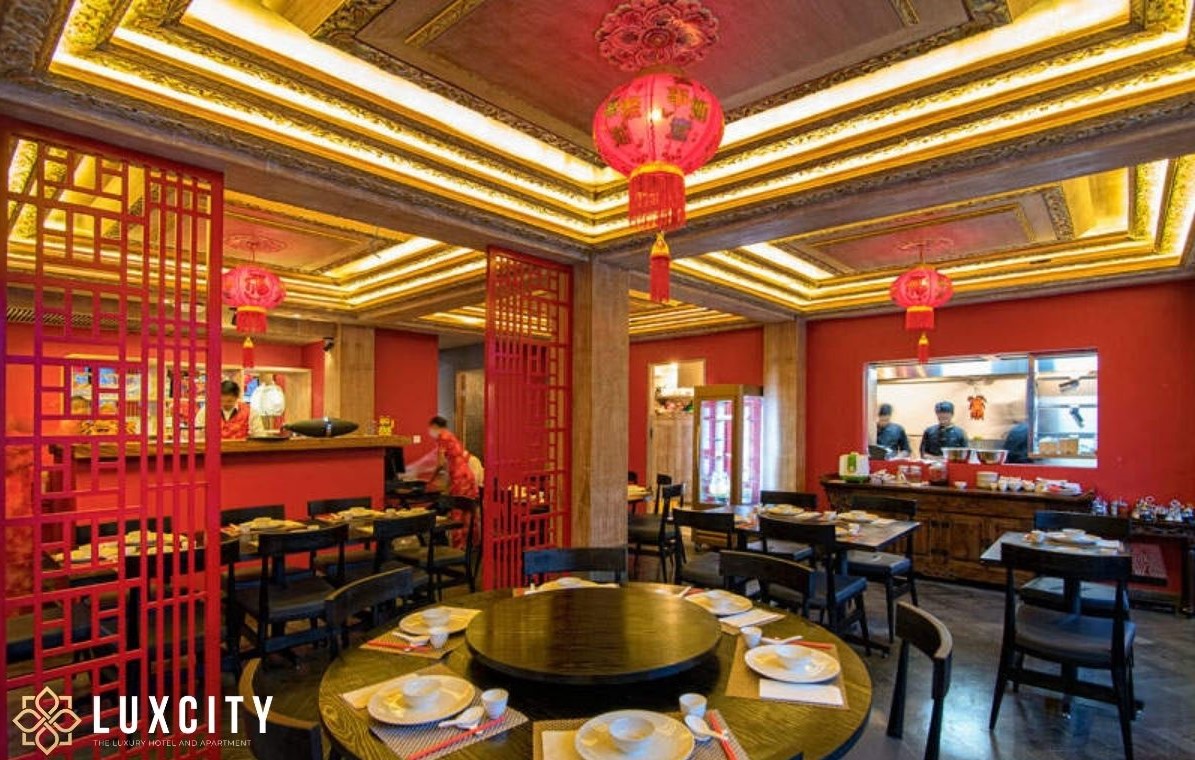 Delicious food at a Chinese restaurant in Phnom Penh
To better understand the uniqueness of dishes in China, let's learn about the following 4 culinary schools:
Cantonese Cuisine - Masterpiece of Chinese Cuisine
Cantonese cuisine is heavily influenced by the traditional cooking of Cantonese, Chaozhou, and Dongjiang people. Moreover, the people here are very knowledgeable about European cuisine to apply to their dishes.
People often liken polite Cantonese cuisine to a gentleman. The food here is varied and plentiful. People here often cook in the form of fried, stewed, braised, grilled, etc. In particular, there is a very unique way of processing, which is a steamed rice bowl upside down. The culinary background in this land is meticulous care in taste, aroma, and taste. The dishes must be prepared according to the season: cool in the summer and bold in the winter.
In addition, food must be cooked but not raw, fresh but not coarse, fatty but not greasy, and light but not bland. It is this fastidiousness that has adorned Cantonese cuisine in particular and Chinese cuisine in general.
Here are the typical dishes of this cuisine:
Shrimp Dumplings - A famous dish in Chinese cuisine
Shrimp dumpling is a very famous dish of Chinese cuisine in Guangdong. What makes this dish famous is its very special taste. Shrimp dumplings taste fresh from shrimp and cool from vegetables. The white shell made from wheat flour covers the filling made from fresh shrimp and a mixture of vegetables, minced by hand. Then, steam it. When eating, we will feel the fresh taste of shrimp and the freshness of vegetables.
Stuffed mackerel is - An extremely special dish
The elaborate and sophisticated processing of Chinese cuisine is reflected in this Cantonese stuffed mackerel. The stuffed mackerel dish is processed very elaborately and sophisticatedly.
To cook this dish, first, people have to process the filling by chopping mackerel, sausage, and mushrooms, then mixing and seasoning to taste. Next, it is necessary to skillfully stuff the filling inside the carefully prepared fish skin.
Decide whether this dish is delicious or not, depends on the esoteric sauce made from fish bone broth. People often eat mackerel stuffed with sautéed broccoli.
Shunde Chicken Fillet Stew - A dish not to be missed
Going to Cantonese without tasting Shunde-style chicken fillet is a big omission. This dish contributes to the uniqueness and uniqueness of Chinese cuisine. The chicken will be carefully prepared and marinated with ingredients to enhance the taste such as white wine, ginger, salt, rock sugar, and rice flour. We will feel the sweet and warm taste of Shunde-style chicken fillet. Cantonese people often eat white rice with this dish.
Shandong Cuisine - The cradle of Chinese cuisine
Referring to Chinese cuisine, we cannot ignore Shandong cuisine. The dishes here are likened to a healthy male page.
Over thousands of years of development, the dishes here have become the first cuisine of the country and are specialized in serving in the capital. The people of Shandong have put all the most precious things into each of their dishes.
The specialty of this region's cuisine is its strong flavor. Onions and garlic are two indispensable things in dishes.
The characteristics of Shandong cuisine are reflected in the following dishes:
Braised snails - A rustic but very special dish
Shandong is a land that receives the favor of nature from the Yellow River, which is considered the cradle of Chinese civilization. People here have known to take advantage of aquatic resources to improve their meals for thousands of years. Gradually, the food here became perfect and reached the level it is now. Typically, snails - are a very rustic dish in Chinese cuisine.
It is difficult to resist the delicious taste of the rustic snail stew of Shandong cuisine.
The people of Shandong will preliminarily process the whole animal and then cook it, not separate the meat and the shell. When enjoying, eaters must take out the snail meat themselves and eat it with a smooth sauce and slices of spicy chili. Only snails in the Yellow River can create a special taste. Because the snails here are extremely fatty and sweet.
Sweet and sour carp - A typical dish of Shandong cuisine
In addition to snails, carp are also in favor of nature for this land. This was once a trademark dish of Shandong cuisine.
The special thing about sweet and sour carp is that when processing, it must be fried whole and cooked in an esoteric sauce. When eating, we will feel the fatty taste of the fish mixed with the moderate acidity and sweetness of the sauce to create a perfect dish for Chinese cuisine.
Chicken breast milk soup - Very unique dish
The people of Shandong love to use milk to make soup. Therefore, this dish has a unique taste in this place. Chicken breast milk soup has contributed to the colorful picture of Chinese cuisine a very unique feature.
If you want this soup to be delicious, you must choose a thick piece of chicken breast with delicious masala root (also known as tapioca) and then marinate it with local spices. After that, the above ingredients must be cooked until they thicken before adding milk and water to the stew for many hours.
This dish has the sweet and fatty taste of milk combined with the freshness of masala and the sweetness of chicken breast. In particular, chicken breast milk soup is also very good for health.
Szechuan cuisine - Unique and unique features of Chinese cuisine
Sichuan cuisine is famous for its spicy dishes. The ingenious combination of color, flavor, and taste has created a culinary scene that is likened to a talented celebrity.
The cuisine here is changed according to the season, the weather, and the taste of each guest. Another extremely special point is the skillful mixing of all sour, spicy, salty, sweet, and bitter flavors in the same dish. These are the things that make Chinese cuisine unique.
Chilled Chicken with Spicy Sauce - A dish not to be missed
The dish that makes Sichuan cuisine famous is cold chicken with spicy sauce. The taste of this dish can satisfy all domestic and foreign diners. Mouthwatering with this famous Sichuan dish. This dish is quite simple to prepare. Chicken is cut into small squares and seasoned with spices. Then, it will be stir-fried with chili, peanuts, and sweet and sour sauce. All blended to create a very special taste that even the emperor of the Qing Dynasty fell in love with this dish.
Mapo Tofu - Famous dish in Sichuan cuisine
For Chinese cuisine, tofu dishes are extremely famous. However, Mapo tofu has a very unique character and has become a famous specialty of Sichuan. This dish is made from young tofu and meat. The meat will be minced and then marinated with spices, especially Sichuan pepper. Then, bring the meat cooked with young tofu and the typical sauce of this place and present it on a plate. Mapo Tofu when cooked, the meat is soft and sweet combined with the fatty tofu that melts in the mouth.
Sichuan Hot Pot - A hot pot dish with an unforgettable taste
Another famous dish is Sichuan hot pot. This is an iconic hot pot dish not only for local cuisine but also for Chinese cuisine. Sichuan hot pot has two compartments, spicy and non-spicy. Sichuan hot pot has very sophisticated ingredients and processing. If you want a good hot pot, you must have bone broth and two indispensable ingredients, which are chili and pepper in this region. Besides, to create a characteristic aroma, it is necessary to have aromas such as lemongrass, cinnamon bark, cloves, and cumin seeds,...
Hot pot usually has two compartments: spicy and non-spicy. And the special thing about this dish is that diners will choose the ingredients they like to enjoy.
Jiangsu Cuisine - China's most nutritious cuisine
The cuisine of Jiangsu is a huge piece of Chinese cuisine. The taste of the food here is in contrast to Shandong. Therefore, the cuisine of this region is often compared to the beauty of the South. Jiangsu cuisine is very sophisticated in processing and decoration. The food here has a very sophisticated and beautiful decoration. It is like a work of art, delicate in taste and frugal in taste. Unlike the rest of China, people here often do not use soy sauce to keep the inherent color of the material. Besides, they love to use sugar and vinegar. Therefore, the dishes here are often sweet and sour. Jiangsu people are very meticulous in processing. Therefore, the cuisine here is considered very good for health.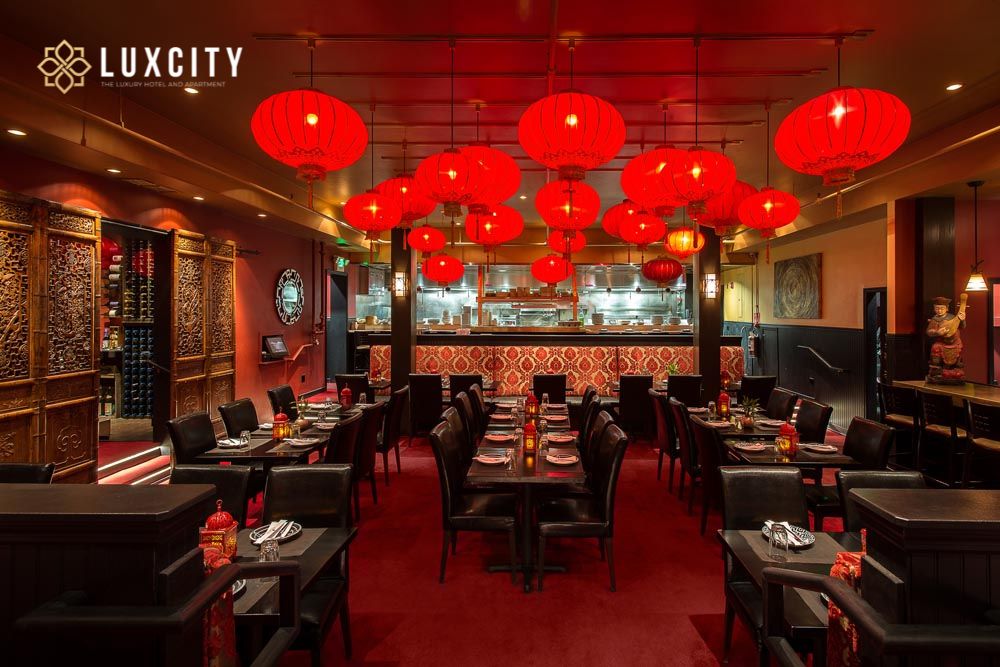 China is a mainland with billions of people, not only famous for being a densely populated country but also known as the culinary paradise of the world. These cuisines have been and are growing to be world-class. So it has grown in Phnom Penh, and many Chinese restaurants in Phnom Penh have been built a lot in recent years. Therefore, understanding the nature, characteristics, and evaluation criteria of these restaurants is very important for choosing the right restaurant for your dinner. Hope this article will help you with that. If you have any questions, please contact Luxcity for answers.
Read more travel articles in Cambodia and inspiration from Luxcity.com.