2022-09-19
Top 10 Best Family Hotels in Phnom Penh worth checking out in 2023
Family trips not only create lifelong memories but also get your family out of a daily basis and enhance relationships among family members. So, if you are thinking about a trip to Phnom Penh with your family, start planning your vacation with Luxcity now! With all the 4-star amenities we have well-prepared for you, you will surely be delighted to make more priceless memories with your beloved ones.

Luxcity Hotel and Apartment
Located in Phnom Penh, 1.7 km from Vattanac Capital, Luxcity Hotel & Apartment provides accommodation with comfortable service and a cost-effective solution. You only need a few minutes to reach the major attractions in Phnom Penh, making it a perfect base for families with kids, who can easily hang out and get immersed in a variety of activities.
At Luxcity, our rooms provide thoughtful amenities that bring a sense of home to any of your family members. The spacious room will include 2 bedrooms and a private balcony. Beyond the standard amenities such as bedding, wardrobe, dressing table, TV, air conditioner, and shoe rack, we also offer all-day dining, a laundromat, as well as 24-hour reception, 24-hour security, and housekeeping service.
Moreover, weekend family outings with a touch of nature and, of course, some fun in the deep blue water of the L-shaped swimming pool pretty much sum up what the 3P Square pool represents. Luxcity offers you an 800m2 rooftop pool that your children can enjoy while you unwind on the poolside under the warm sunshine.
The Plantation Urban Resort and Spa
Gorgeous and affordable, boutique-style resort in a great location behind the Royal Palace with fresh, deluxe double rooms (up to 3 people) with 4-poster beds, open bathrooms, mini-bars, tea & coffee facilities, and balconies/terraces with lovely pool/garden views. It also has a sumptuous penthouse suite for a family of 4, with 3 terraces, a private bar, an open-air BBQ station, a jacuzzi, etc. Has a stunning pool, spa, restaurant, and bar. The National Museum, Wat Botum (Royal Pagoda), shopping areas, the riverside & nightlife are all within easy walking distance.
Raffles Hotel Le Royal
This sensational, historic hotel with old-world colonial charm has lovely executive suites (up to 4 people) with wooden floors, living rooms, kitchens, mini-bars, bathtubs, and balconies (has long-stay options). It features pools, restaurants and bars, a spa, gardens, and an extensive buffet breakfast. Within walking distance of Wat Phnom and the riverfront with its many bars and restaurants.
Okay Boutique Hotel
Minutes away from the Royal Palace and National Museum, this reasonably priced, boutique hotel offers vibrant, ancient Khymer-style family rooms (up to 4 people) with wood floors, bathtubs, coffee/tea makers, and balconies with great city views. It has a complimentary breakfast and a spectacular rooftop pool and restaurant. The Central Market, night market, and the riverfront restaurants and bars are all within walking distance.
Xin Lan Xin Hotel
Set in a trendy neighborhood within walking distance of the palace and riverfront, this value-for-money, boutique hotel offers very spaciously, colorful family suites (up to 4 people) with modern & Khymer touches, free Wifi, coffee/tea makers, mini-bars, refrigerators and balconies/terraces. It has a complimentary breakfast, a small pool, restaurants, and bars. great variety of restaurants in the surrounding area.
Villa Samnang
A modern colonial villa/boutique hotel in the BKK1 district, within walking distance of the buzzy 308 restaurant/bar street and a 5-minute drive from the Royal Palace & riverside. It has bright, deluxe family rooms (up to 4 people) with tasteful interiors, refrigerators, mini-bars, and tea coffee/makers. It has a wholesome breakfast, a small outdoor pool, and a pool bar bistro.
The Kabiki
This charming, restored period villa hotel, surrounded by a tropical garden, is within a 10-minute walk of the Royal Palace, Independence Monument, and the riverside. It offers reasonably priced, cozy, deluxe family rooms with four-poster beds with mosquito nets, bunk beds, mini-bars, tea/coffee makers, and private terraces. It has a swimming pool, a children's paddling pool, a bar, and a restaurant with a kid's menu.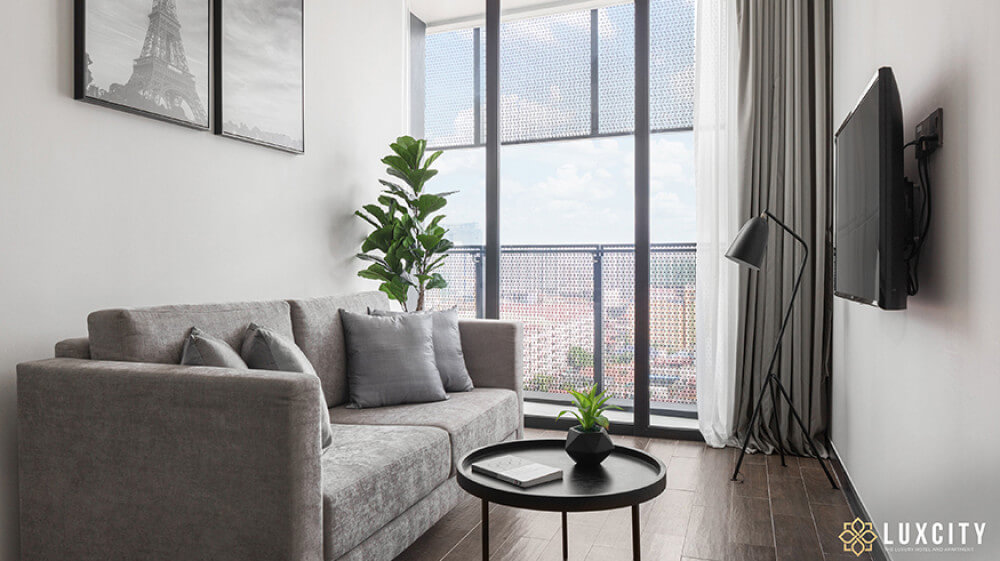 We hope that after reading this post, you have a better understanding of what a family-friendly hotel is and have got your own list of hotels to consider.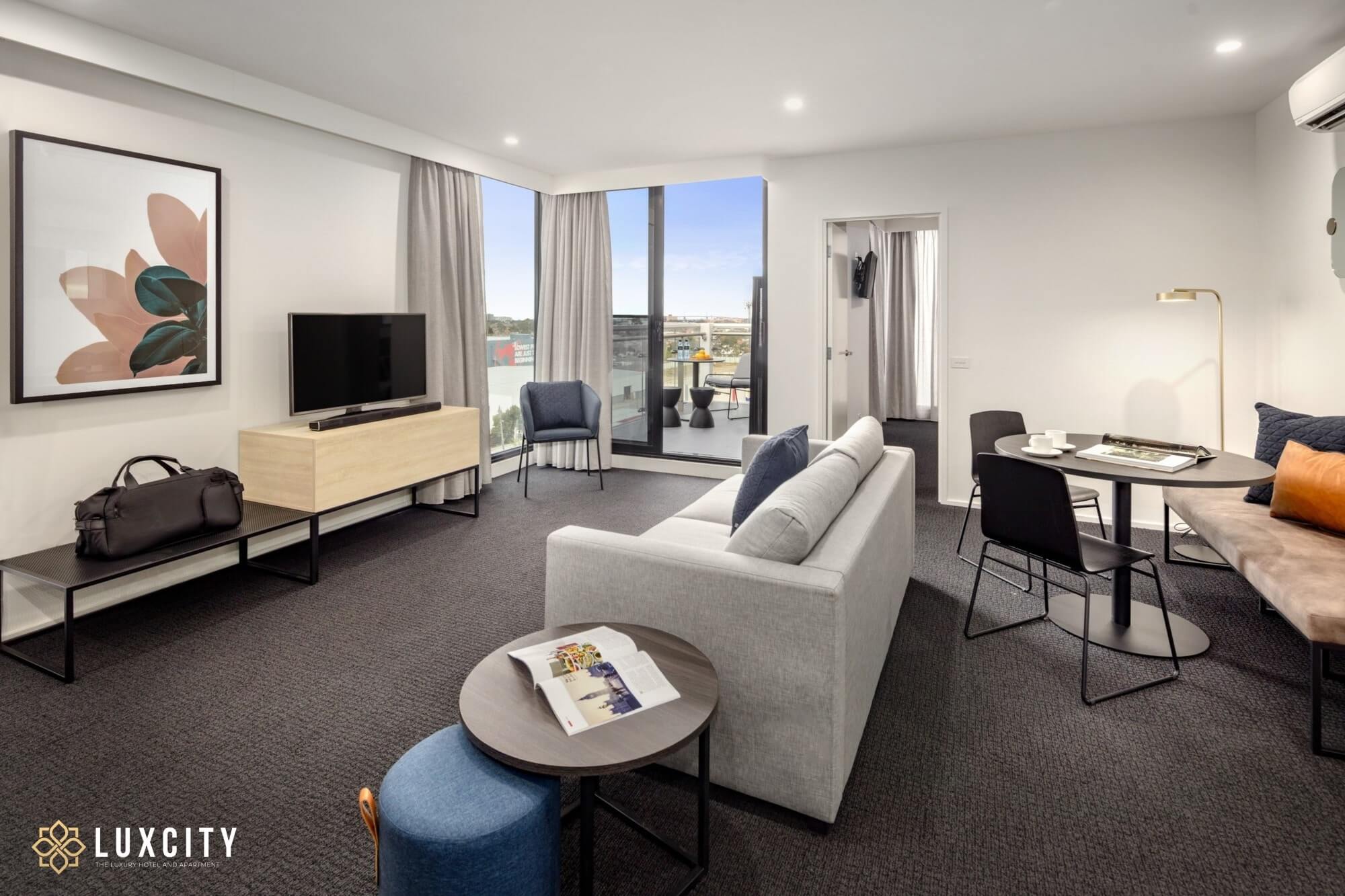 What are family hotels?
A family-friendly hotel offers accommodation that is suitable for all members of an average family, especially for kids. A family hotel can provide a safe and comfortable space for you and your children to relax in, as well as give your family the opportunity to meet and make friends with a variety of people, especially the locals so that your kids can better understand Cambodian culture. In addition, family hotels often have their own children's activities programs, which can keep the little ones entertained while you relax.
Family hotels come in a wide range of styles and prices. They can be apartment-style living or a duplex living situation, one with multiple bedrooms, larger floor plans, and perks like private patios. As with any standard hotel, they provide 24-hour room service and other standard conveniences. And most of them are located in the downtown area, close to the city centre.
Learn more:
What makes a good family hotel room?
Bedroom
The bed policy should be one of your first concerns. Family rooms in hotels typically consist of a double bed and one or two single beds. Some hotels provide a kid-friendly room adjacent to the parents' suite. You can also request a travel cot, which is a handy alternative to bringing your own sleeping gear.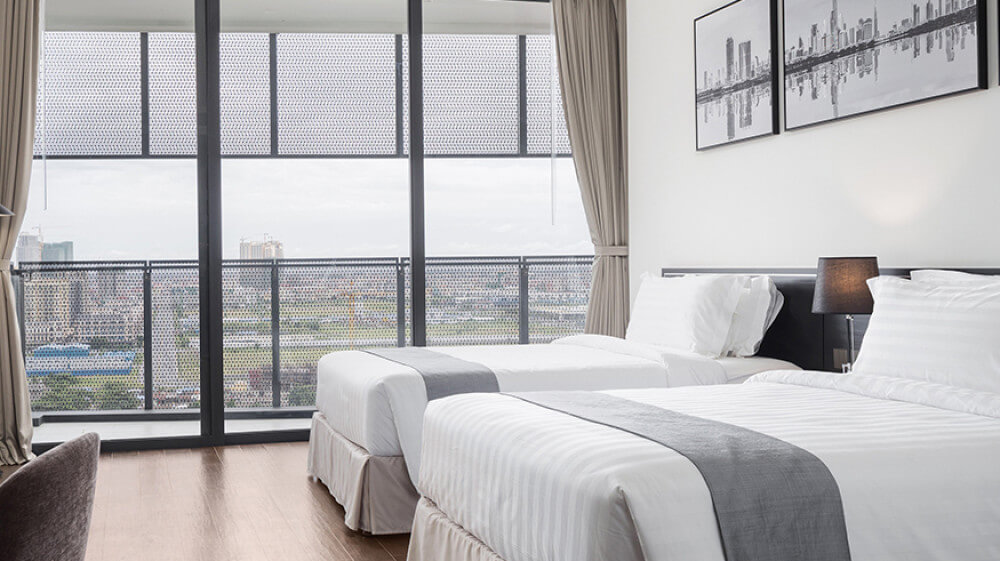 Playrooms and Children-Only Zones
A family-friendly hotel will recognize that parents need an hour or two to themselves. As a result, they frequently have playrooms and children-only areas that are perfectly safe for all ages. Many of the playrooms are soft play areas, with staff members available to supervise your kids for 30 minutes or an hour.
So, check to see if the family hotel has a kids' club and what activities are included in the kids' program, as well as where the activities take place. It is best to inquire about specifics such as the club's charges and fees, the age minimum, and the experience of the club counselors.
This is to ensure that your children are occupied with age-appropriate activities in the club while you and your partner relax poolside.
Kid-friendly pools
The pool at a family hotel can make or break your family vacation, especially if you plan to spend more time in the hotel for rest and relaxation. While other hotels may provide the comfort of an indoor pool, some hotels go above and above by providing an entire waterpark to the delight of your children. Therefore, you should check to see if the family hotel offers a pool, especially one for children.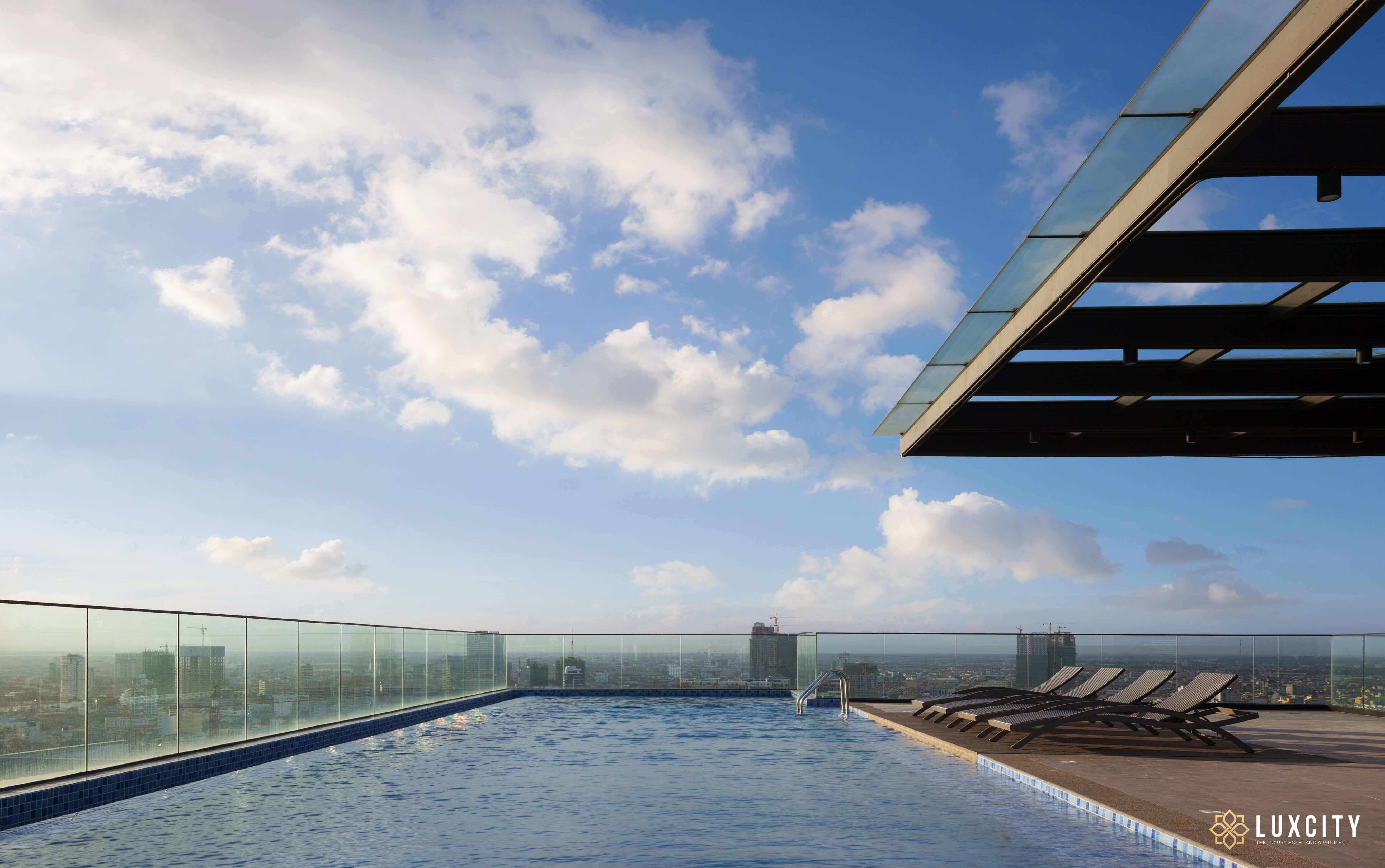 Services
Traveling with a large group may make it tough to pack light. This problem is simply solved by the family hotel's effective laundry service. Some hotels will pick up your laundry and do it for you, while others feature coin-operated self-service machines.
Aside from laundry services, you might want to take a look at their room service offerings. Do they provide 24-hour service? Is it restricted to certain service hours?
You should also double-check the hotel's services because it might be frustrating to arrive at a hotel that only offers the kid's club during peak season or a hotel with a pool that is closed and under construction.
Read more: How do the facilities in the hotel meet the needs of customers?
Easy food options
It is great if the family room you are considering has an on-site restaurant because it is very appealing to simply go ahead and check out the menu after a long and exhausting day. The majority of restaurants at family hotels already have kid-friendly menus.

However, family hotels that offer buffets are also a good option because they allow finicky eaters to have something to eat. It's even better if the restaurant's kitchen can accommodate specific requests, especially from your child, or dietary restrictions from any member of your family.
Read more: Top 10 best restaurants in Phnom Penh [For Family and Couples]
While most hotels provide complimentary breakfast for two, family hotels provide breakfast for the entire family. While this is usually dependent on the room booked, it can also be a benefit of booking with special discount deals and promotions.
Finally, inquire about unusual dining hours if an early dinner or late lunch is required. Most family hotels also have room service so that you can eat in the comfort of your own room, but it is preferable if the hotel room has an in-room fridge, coffee machine, or microwave.
This will allow you to prepare your own food, particularly simple foods like snack pieces, in the comfort of your own room.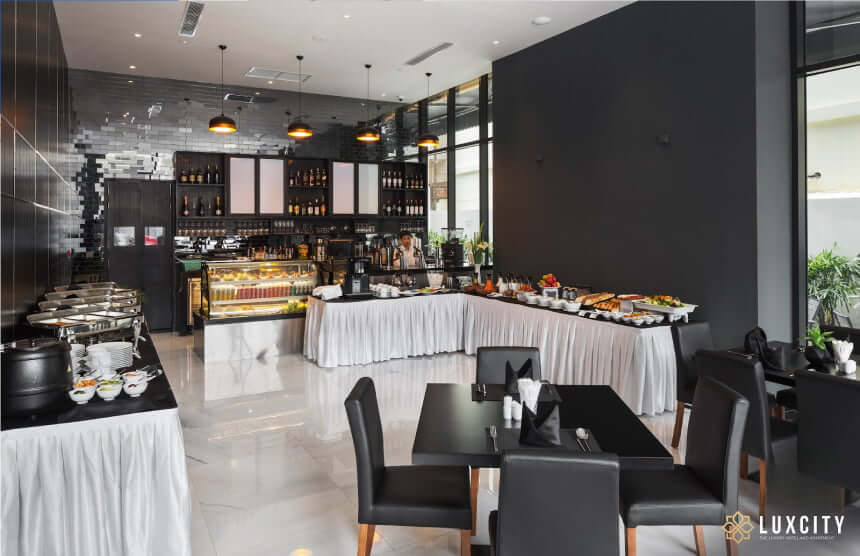 Give yourself the opportunity to spend time with your loved ones by taking advantage of the 4-star amenities and services that Luxcity has prepared for you and your family. If you have any concerns, please contact Luxcity for round-the-clock support!