2022-06-02
Have you tried one of the best Korean restaurants in Phnom Penh?
When it comes to Korean cuisine, we will find a lot of extremely attractive dishes such as kimchi,… bibimbap (mixed rice), and bulgogi (marinated grilled beef). The outstanding feature of Korean cuisine is that each region, and region and each spring, summer, autumn, and winter have its own, unique dishes. Diverse and colorful food ingredients. To prepare such dishes, it is impossible not to mention Korean restaurants in Phnom Penh - a place that attracts tourists every weekend. In today's article, let's learn about this type of restaurant with Luxcity and the features surrounding it.
Learn more: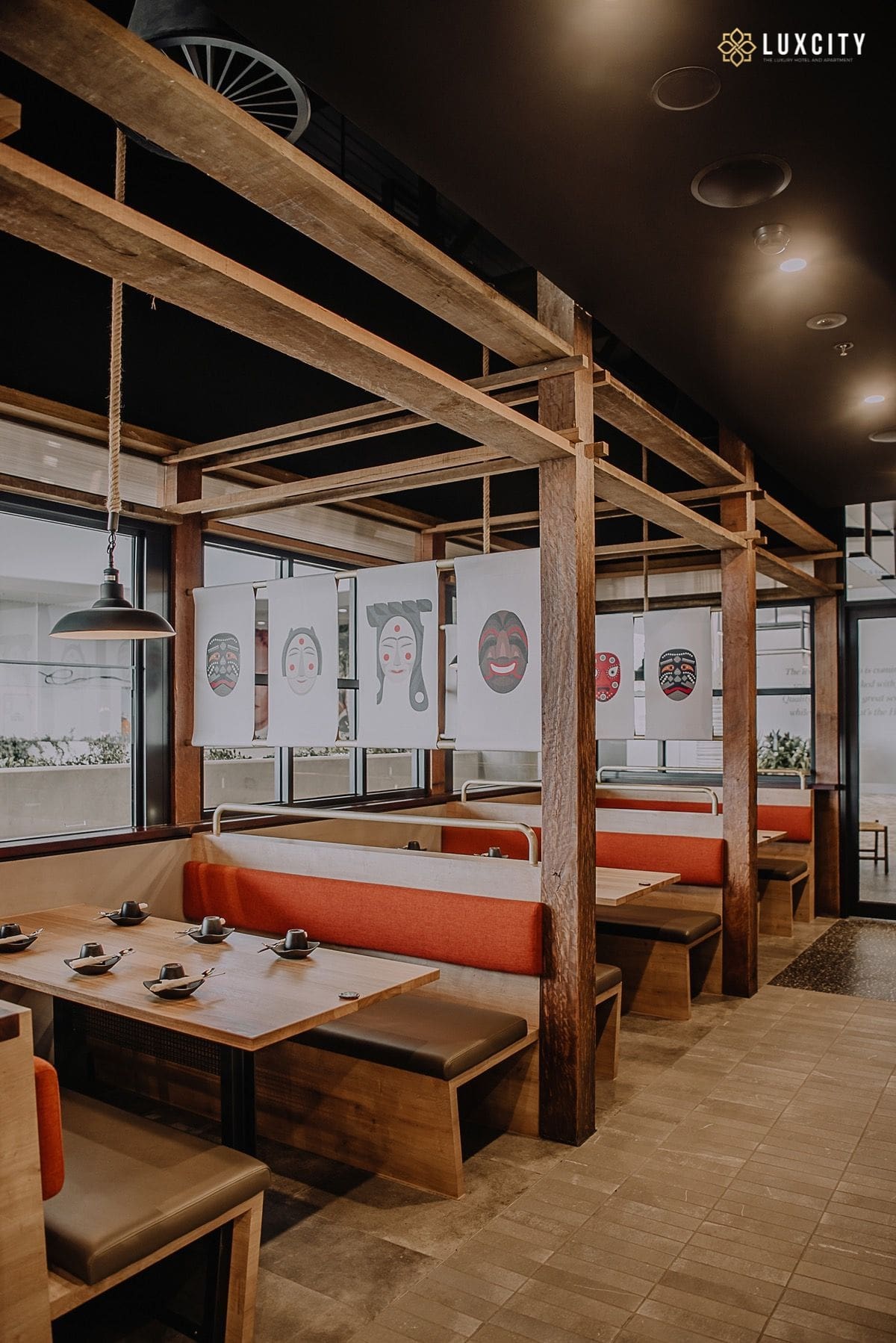 What is a Korean restaurant?
Korean restaurant in Phnom Penh is a restaurant specializing in Korean cuisine, cooking typical dishes of the land of Kim Chi.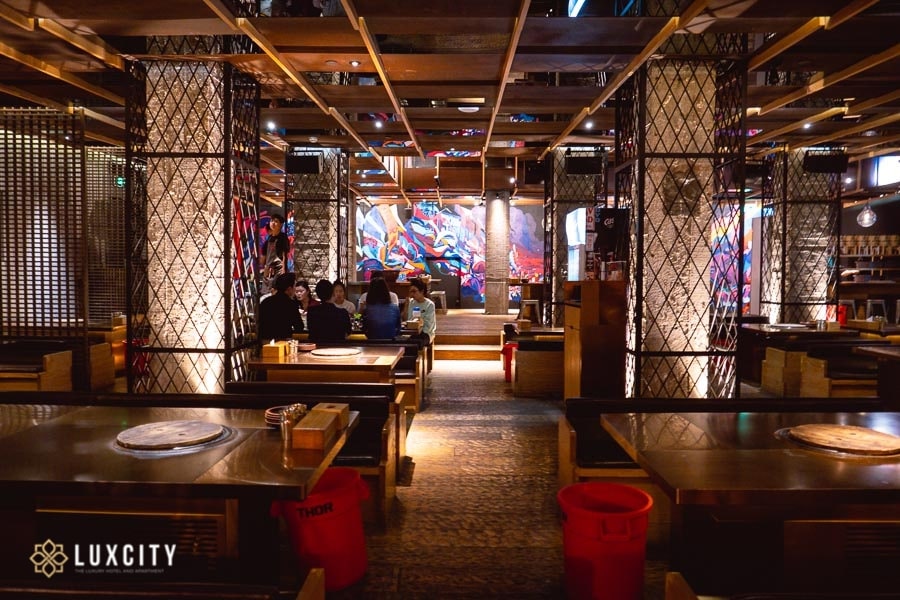 Features of Korean restaurants in Phnom Penh design style
Characteristic in Korean restaurant design is a natural style. Korean-style restaurant design is often directed towards closeness and environmental friendliness. The similarity between a Korean-style restaurant and a Japanese-style restaurant is that the requirement for privacy must always be ensured. Korean restaurant design features traditional Korean culture. There are not many sophisticated design details, the restaurant space is concentrated and the shapes are with sustainable materials such as wood. Create a space that is simple, harmonious, but no less sophisticated.
Space of shapes
This is said to be a highlight when designing the interior of a Korean restaurant that investors and contractors are not allowed to ignore. The shape is located in the most mainstream designs of the restaurant such as tables, chairs, murals, etc. The cubes create simplicity, avoiding sophisticated designs, and creating a unified design space. The popular shapes used today are rectangular, circular, or square blocks.
Wood is the main material
Selection is mainly from natural sources such as wood, and stone… You will easily recognize this when entering any Korean restaurant. For tables and chairs, floors, or some decorative details, wood is chosen as the main design. This first creates a very simple and friendly space, then a natural sense of harmony, keeping customers. In addition, along with the modern trend, industrial materials such as tempered glass, steel, and stainless steel... are also used more commonly.
Color and light in Korean style restaurant design
Light colors are two very important factors that create the restaurant's soul. It clearly shows the theme as well as conveys the style effectively. In Korean restaurant design, these two elements aim at natural beauty. Depending on the traditional or modern style, the investor will have a reasonable plan. With a traditional restaurant design, the natural color of familiar wood and stone materials will be the main color of the restaurant. Along with that, the soft, yellow light system will add traditional beauty to the space. Brings a warm and very familiar feeling. Investors can also highlight a few green colors through the bonsai system.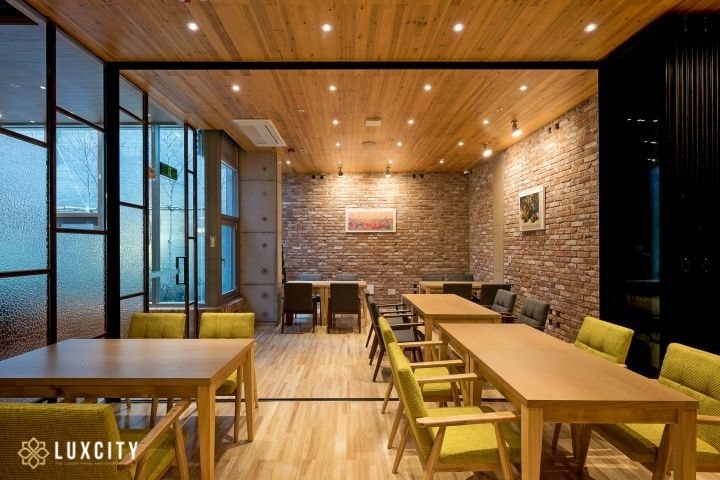 Popular Korean restaurant design styles today
Modern simple Korean style restaurant design
A simple, gentle Korean style, with a slight resemblance to the design of a cafe, will be a plus point to attract young customers. This style is often suitable for Korean restaurants for students.
To design a Korean restaurant in this style does not need to be too picky in terms of décor. Simple decor details such as bookshelves, vases or wall paintings, etc. are enough to highlight the restaurant space. The main colors here are usually white and light brown of the wood. Make the whole space bright, the romantic compound of Korea. Wood material is the typical material of this style, along with materials such as rattan, iron, and glass,... If combined, it will create a unique and harmonious restaurant space.
An important requirement when designing a BBQ hot pot restaurant is to find ways to handle odors and smoke generated at the table when diners eat and drink. Please use smoke and odor extraction devices at the table. To minimize the smell of food affecting diners when eating. They will comfortably order baked goods without worrying about the smell of their clothes. And it will also be more satisfying when your restaurant invests in a safe and modern table-top hood system.
For BBQ, always eat hot and grill raw on equipment placed directly on the table. Therefore, when designing a BBQ hot pot restaurant, special attention should be paid to using a good heat-resistant dining table. It is recommended to use heat-resistant wooden dining tables to avoid heat from appliances. Ensure the safety of diners. In addition, the color of the tables and chairs at the BBQ hot pot restaurant should choose deep wood tones: brown, and gray to create a cool feeling when diners sit and eat.
Traditional Korean restaurant design style
The interior design of a traditional Korean restaurant brings a new breeze to diners. Bring a new space that stimulates curiosity. Designed in this style, tables, and chairs must use rustic and natural wood materials. Design of tables and chairs should choose low tables and chairs or flat tables and chairs. Bring close space for customers. Adorn the walls you can hang pictures of Korean girls wearing traditional Hanbok. Or the ancient calligraphy that has brought the traditional breath of this country and left a strong impression on customers.
The design of a street-style Korean restaurant will bring something dusty, and full of youthfulness. Unplastered brick walls with striking neon lights will be interesting ideas for this style. The main colors are usually dark colors that create a true street feel. Along with that, the glittering neon signs that simulate the street at night will also make the restaurant more prominent.
Popular Korean restaurant design
With this style, there is no need to be too fussy about the design, and the area of ​​​​the restaurant will mostly be for tables and chairs. Tables and chairs should be designed with the same simple design. Convenient in moving, can be stacked next to each other to take advantage of the area. The main material is still the familiar wood material in the Korean style. In addition, iron material will also be a reasonable choice for this design.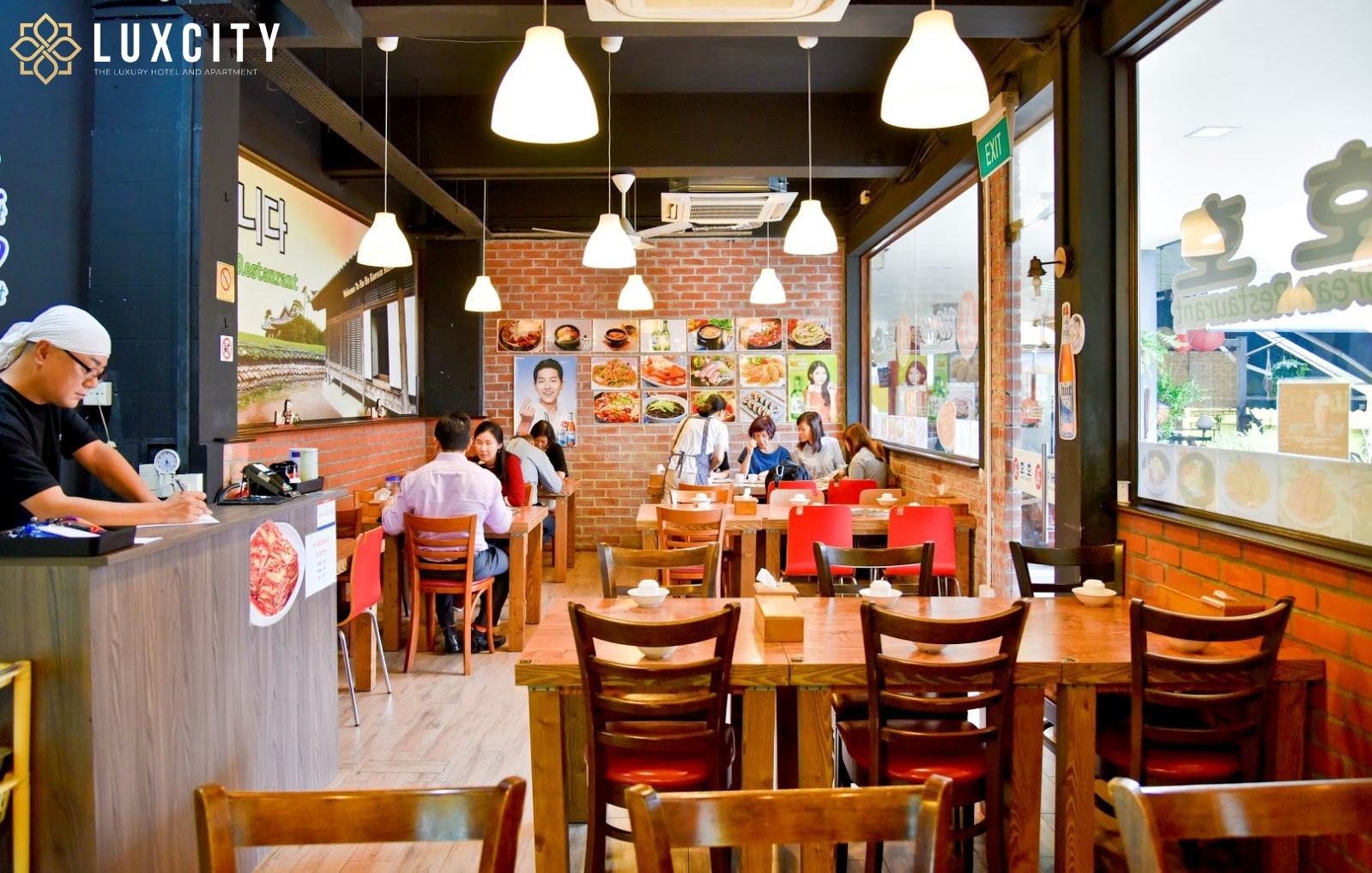 Top 10 best Korean restaurants in Phnom Penh
Sikgaek Korea Restaurant
Let them give you a brief introduction to Sikgaek Korea Restaurant. Sik Gaek means a person who searches for the most delicious food, also known as a food lover. Their restaurant wholeheartedly focuses on every part of beef. They created Sik Gaek to provide the best Korean dishes for all food lovers.​ Don't hesitate to have a taste of Sik Gaek.
Tonle Bassac
In addition to the name Tonle Bassac, this restaurant is also known as Chaoprya. Tonle Bassac's specialty is serving buffet menus. For about $25, you can enjoy all 50 delicious dishes, such as Papaya salad, grilled lamb leg, Tonle Bassac fried rice, pork ribs with wine, and 3 types of Cambodian specialty cakes, In particular, there is also a Private Dining Roon room, which has less than 300 people and has a chef who is famous for processing Asian - European dishes.
Seorae Korean Charcoal BBQ - AEON Mall Sen Sok
Seating, Quality Table Service, Free Wifi. Cuisines include Asian, Korean, and Barbecue. The service staff is Korean but they are also quite knowledgeable in English and seem to be very friendly, they know how to create a cozy space, reminding everyone of the Korean dining atmosphere.
Le Seoul
Barbecue is mainly Korean barbecue. The first impression of visitors coming here is the aroma of grilled meat, the smell of wanting to eat it immediately. The meat is also prepared quite fresh, during the day, so visitors can feel secure experiencing it. Bringing friends here on weekends or after work is a very good option and worth a try.
Teuk Sieng
Restaurant service is quite good, and attentive, when customers need it, they try to be there as quickly as possible to solve it. The talking staff is also friendly, easy to listen to, easy to approach, and asks and cares about customers whether the food needs to be adjusted. The price is also quite reasonable, but the dishes are diverse and rich, mainly from Korean dishes, so they are characterized by spicy taste, suitable for young people.
Dae Jang Geum Toul Kok
The favorite place of some high-ranking officials. Each dish comes with about 10 complimentary side dishes. The quality here is very high, and the meals are great value at $20-$26. Since the high prices are suitable for big staff, the customer service here has to be real. good is natural. If you have the conditions or reward yourself with a trip here, make sure you enjoy it.
UWA Korean Street Food
From the food to the atmosphere, everything was perfect. Especially their food brings back memories of my time in Korea, The interior is also very stylish and stylish. And I must mention their staff is also extremely friendly and helpful.
Gogos Korean Casual Dining
Friendly, kind staff with reasonable prices, suitable for ordinary people, those who have low monthly revenue but like to eat Korean food, this is the best choice. The dish suits the taste of many people due to its moderate spiciness, not too much.
Bornga Korean Restaurant
Great food, great service, and superior facilities. You can book a private room to enjoy more privacy. The staff is very friendly and helpful. You can enjoy Bornga's exotic dishes at home with home or restaurant delivery
Wang's Family Restaurant
The food is also to many people's taste but the price may be a bit high compared to the taste of the food. The biggest highlight is that the restaurant is very clean, and has a clean and thorough sanitation system. In expansion, it has a convenient, beautiful location, located in the shopping center, so it is easy to find. The attitude of the staff is also customer friendly.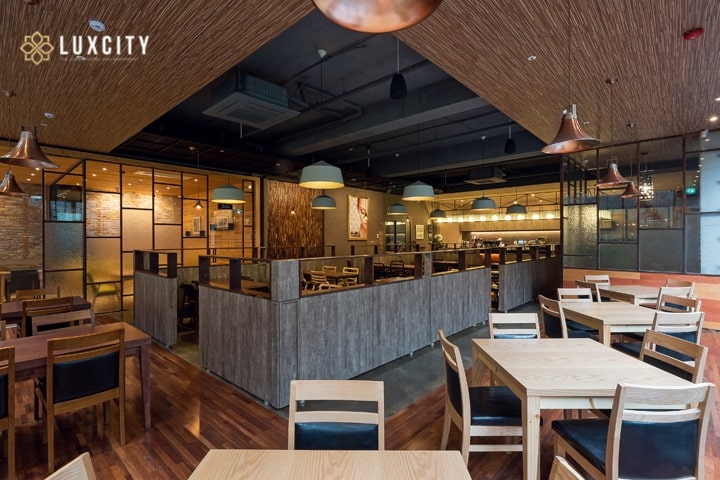 After reading this article, you have clearly understood Korean restaurants in Phnom Penh, the characteristics and criteria for evaluating a good restaurant, right? Hopefully, if you have a chance, come and try a dish here because it's so good. As we said, if you are a person who likes to eat spicy food, a Korean restaurant is the best choice for you. While eating, chatting, and laughing with friends and relatives, it was an interesting evening. If you have any questions, please contact Luxcity to get answers as quickly as possible.
Read more travel articles in Cambodia and inspiration from Luxcity.com.