2022-11-08
Most stunning hotel room views near me to discover Phnom Penh from another angle
One of the best parts of traveling is getting to see the gorgeous landscape that you don't usually see at home. So if you're visiting Phnom Penh or simply looking for a staycation, these are top-tier hotels with luxurious, lavish interiors and prime views of the Royal Palace, Independence Monument, Mekong Riverside, and other attractions. After exploring the best museums, temples, restaurants, neighborhoods, and other things to do in Phnom Penh, you can kick back, relax, and absorb all you've seen on your city adventures. Need some extra relaxation and variety outside of the city centre? Some of these hotels have some of the best countryside views and are conveniently located near the city. Let Luxcity walk you through the most stunning hotel room view near me to discover Phnom Penh from another angle!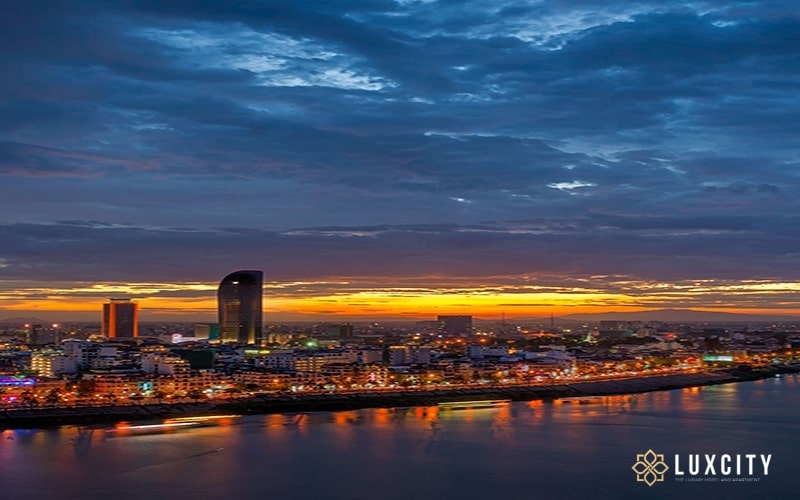 A luxury experience to capture the panoramic view of Phnom Penh's centre from above
Luxcity Hotel and Apartment
This is one of the best hotels in Phnom Penh offering you the panoramic landscape of the city centre right from your balcony. Being centrally located in Phnom Penh, Luxcity is a convenient location for all itineraries on your trip as you can easily visit any restaurants and entertainment areas in Phnom Penh no matter if you are on a business trip or relaxing vacation.
Luxcity hotel's rooms are very spacious and fully equipped with modern and comfortable amenities. There are unique amenities that not all hotels offer. The services in and around Luxcity are also of high quality; the staff is enthusiastic and attentive, and they take good care of their customers. Guests can approach the front desk at any time for help with outside services such as taxis, luggage storage, currency exchange, and so on. Meals are also served with a wide range of specialties worldwide. It is also close to many famous tourist attractions in Phnom Penh. You can quickly relocate there without spending a lot of money.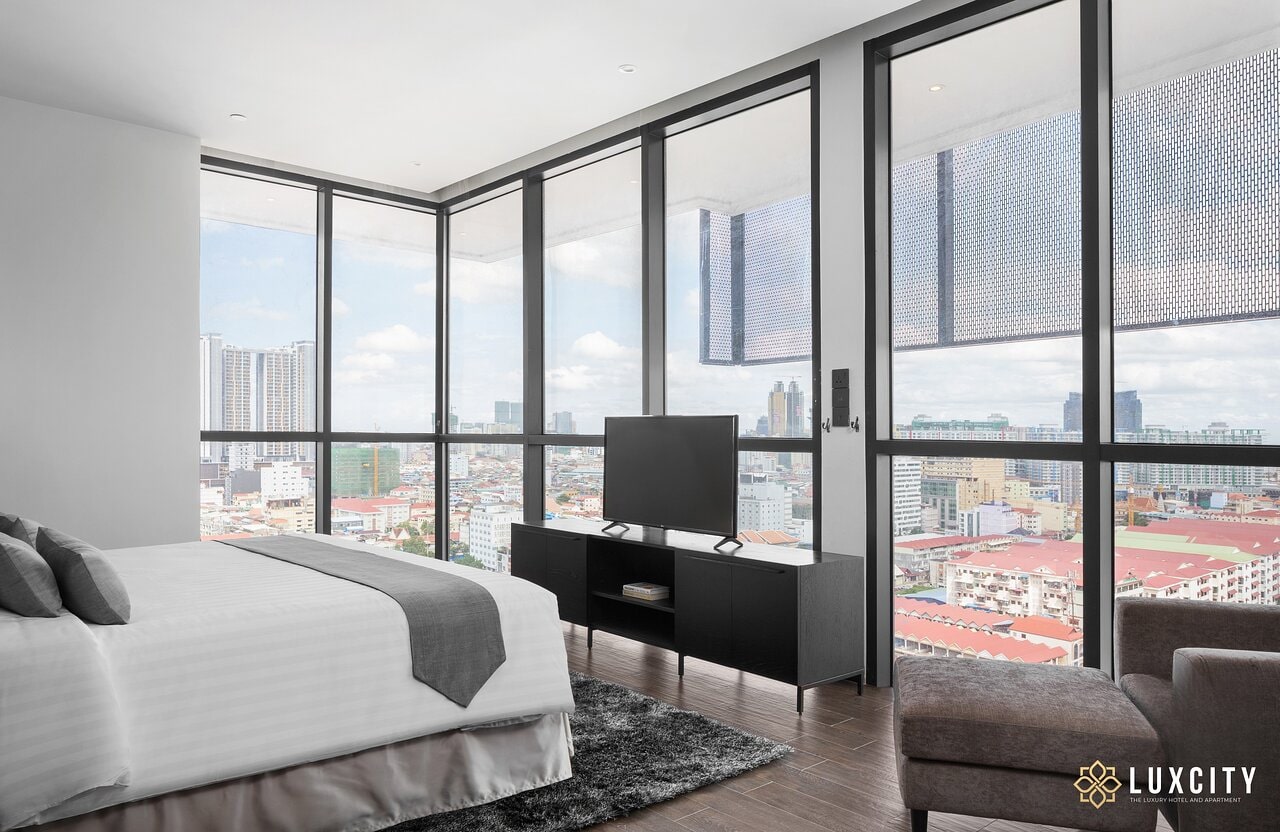 The accommodations are sheer luxury, with several large windows where you could easily spend the entire day gazing out at the city skyline from above. From the amazing starry night to Phnom Penh's pulsing nightlife, you can capture everything no matter where you sit at Luxcity.
Hyatt Regency Phnom Penh
Hyatt Regency Phnom Penh is a 5-star luxury hotel in the heart of Phnom Penh City Centre. At Hyatt Regency Phnom Penh, you can look forward to 18 holes of golf, a nightclub, and a poolside bar. Indulge in a massage, a manicure/pedicure, and a facial at the onsite spa. The onsite fine-dining restaurant, FiveFive Rooftop, features international cuisine. Free WiFi in public areas is available to all guests, along with a free daily manager's reception and a terrace. All 247 rooms have comforts such as 24-hour room service and pillow menus, in addition to perks like air conditioning and bathrobes. Other conveniences in all rooms include: Recycling and composting; Bathrooms with hydromassage showers and eco-friendly toiletries; 65-inch Smart TVs with premium channels; Mini fridges, free infant beds, and coffee/tea maker.
Learn more: What are the facilities of a 5-star hotel? [Need to know]
Ohana Phnom Penh Palace Hotel
This is a 3-star hotel in the heart of Daun Penh. The hotel offers a roundtrip airport shuttle, a poolside bar, and a rooftop terrace at Ohana Phnom Penh Palace Hotel. Treat yourself to a massage or other spa services. The onsite international cuisine restaurant, Damrey Restaurant, features al fresco dining and happy hour. In addition to a coffee shop/cafe and dry cleaning/laundry services, guests can connect to free in-room WiFi. You'll also find perks like 3 outdoor pools and a children's pool with sun loungers, a porter/bellhop, concierge services, and multilingual staff. In general, guest reviews give top marks for the overall value.
Poulo Wai Hotel and Apartment
Located right in Phnom Penh City Centre, Poulo Wai Hotel and Apartment will surely make you delighted with an airport pick-up service, a poolside bar, and an art gallery on site. Indulge in a massage at Poulo Wai Spa, the onsite spa. Be sure to enjoy a meal at any of the 4 onsite restaurants, which feature al fresco dining and more. Stay connected with free in-room WiFi, and guests can find other amenities such as designer stores on-site and a coffee shop/cafe. What's more? There is an outdoor pool and a children's pool, with sun loungers and pool umbrellas, buffet breakfast (surcharge), bike rentals, and train station pick-up service. All guestrooms at Poulo Wai Hotel and Apartment offer thoughtful touches such as laptop-friendly workspaces and air conditioning, as well as amenities like free WiFi and safes.
Saravoan Royal Palace
With the 3-star hotel located in the heart of Phnom Penh City Centre, you can look forward to a roundtrip airport shuttle, a terrace, and a garden at Saravoan Royal Palace. Treat yourself to a body treatment, aromatherapy, or thalassotherapy at Bodia Spa, the onsite spa. In addition to dry cleaning/laundry services and a bar, guests can connect to free in-room WiFi. Other perks include a swimming pool, luggage storage, and massage treatment rooms. Guest reviews say great things about the helpful staff.
A cozy stay to get immersed in gorgeous sunset view of Phnom Penh riverside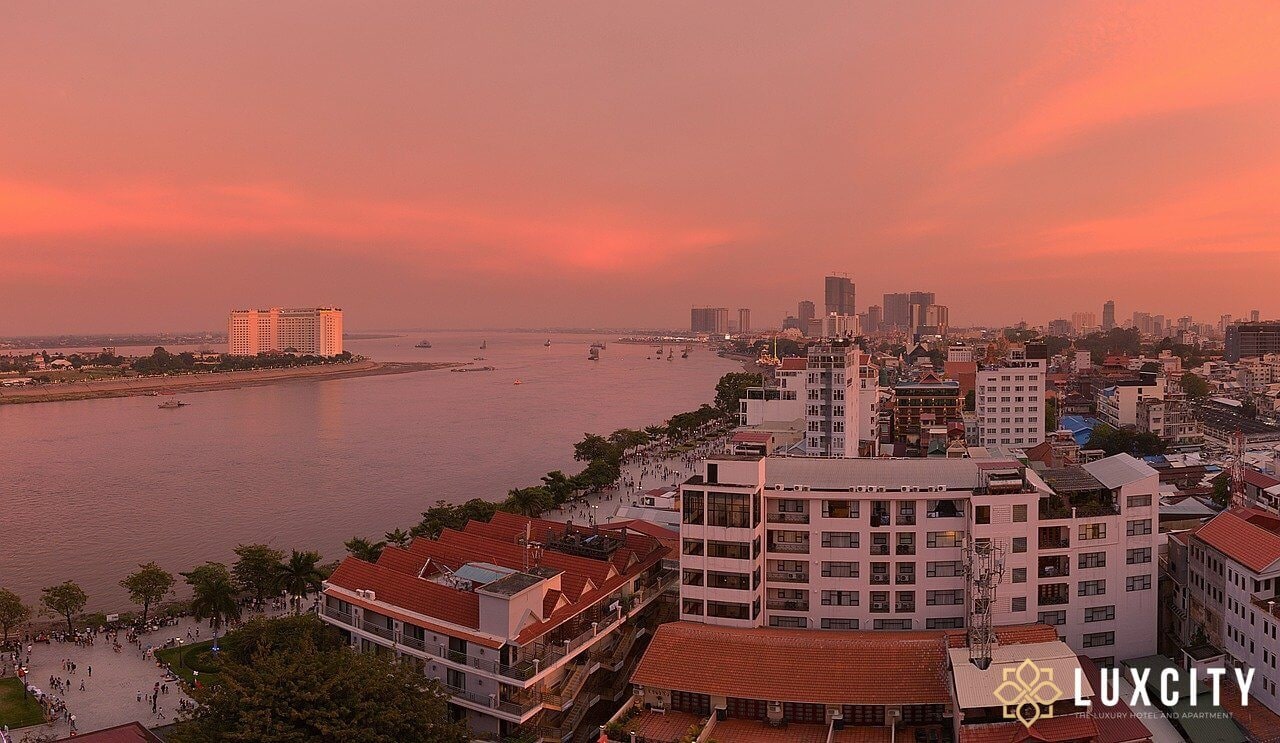 TAO Riverside Residence
Centrally located right on the lively Sisowath Quay Riverside strip in Daun Penh, TAO Riverside Residence offers uniquely designed, riverfront accommodations with sweeping views of the Tonle Sap and Mekong Rivers. Guests can approach the 24-hour front desk for a taxi, luggage storage, currency exchange, and tour arrangements. Located close to several attractions, Royal Palace is just 800 meters away, while the National Museum is 650 meters from the property. Airport transfers can be arranged at an additional charge.
Onederz Hostel Phnom Penh
Located along the lively riverside on Sisowath Quay, Onederz Phnom Penh offers rooms with free WiFi and a private bathroom. The property has a 24-hour front desk and a business center for guests. Onederz Phnom Penh is a 5-minute walk from the Royal Palace of Cambodia and 1 km from the Central Market. Air-conditioned rooms are fitted with a flat-screen cable TV, wardrobe, and work desk. The private bathroom comes with a shower, slippers, and free toiletries. In addition, 2 complimentary bottles of water are provided in the room daily.
Learn more: Top 7 hotels in Phnom Penh with bathtubs to soak your worries away
Amanjaya Pancam Suites Hotel
Located 300 meters from Wat Ounaloum along Sisowath Quay, the AMAN JAYA PANCAM SUITES HOTEL features a terrace view of the river and an in-house restaurant where guests can enjoy meals or have a drink at the bar. Free WiFi is available throughout the property. Air-conditioned rooms have polished cherry wood flooring and offer a private balcony with views. The seating area is fitted with a flat-screen cable TV and a sofa. All rooms feature en suite bathrooms where some units offer a hot tub. Complimentary toiletries and a hairdryer is included.
An ecological corner in Phnom Penh countryside with views of authentic nature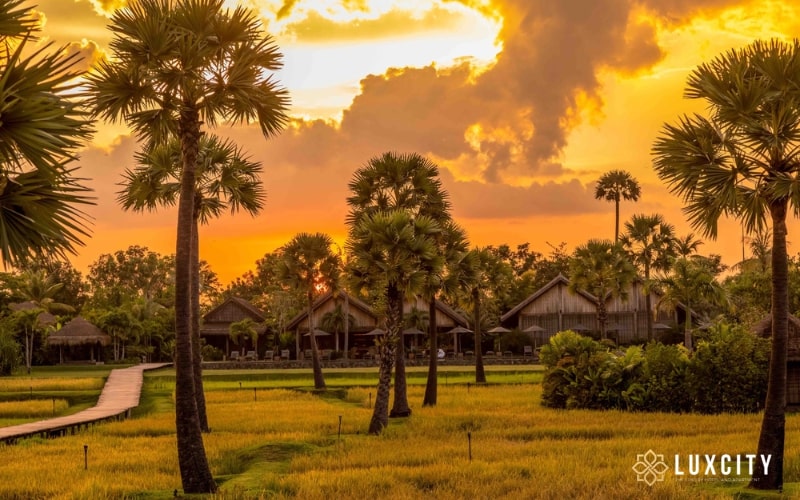 Maison Polanka
Maison Polanka is a cluster of traditional Khmer villas on stilts, nestled in an idyllic garden estate near Siem Reap – a hip hub of Cambodian culture and gateway to the ancient temples of Angkor Wat. The stylish suites are divided by color and have handpicked antiques, art deco furniture, and wooden verandahs with views of the grounds. Sample authentic local delicacies at the intimate restaurant, then learn how to make them with a chef-led market food tour and cooking class—or focus your energy on cooling dips in the pool and deep-tissue massages at the palm-leaf–lined spa.
Zannier Hotels Phum Baitang
Tucked away among the paddy fields in Cambodia's picturesque countryside, Zannier Hotels Phum Baitang is a world away from the bustle of nearby Siem Reap town. Perched high on stilts in luxuriant tropical gardens, this all-villa resort has the rustic charm of traditional Khmer wooden houses, albeit ones with hand-picked antiques, freestanding baths, and private plunge pools. Surrender to the ministrations of its expert mixologists and spa therapists—should you ever feel compelled to leave, ancient ruins, vibrant markets, and a lively nightlife are just a short tuk-tuk ride away.
Shinta Mani Wild
Shinta Mani Wild is so much more than a tented riverside perch deep in the Cambodian rainforest's heart. This luxe retreat taps into the country's burgeoning appetite for adventure basecamps that don't scrimp on home comforts – and it does so in Bill Bensley's inimitable escapist style. Strap on your hiking boots to explore jungle trails, butterfly sanctuaries, and unspoiled waterways. And the tents? They're one of a kind, of course: picture-perfect feats of the stretched canvas, polished teak, and outdoor bathtubs just waiting to welcome weary explorers home.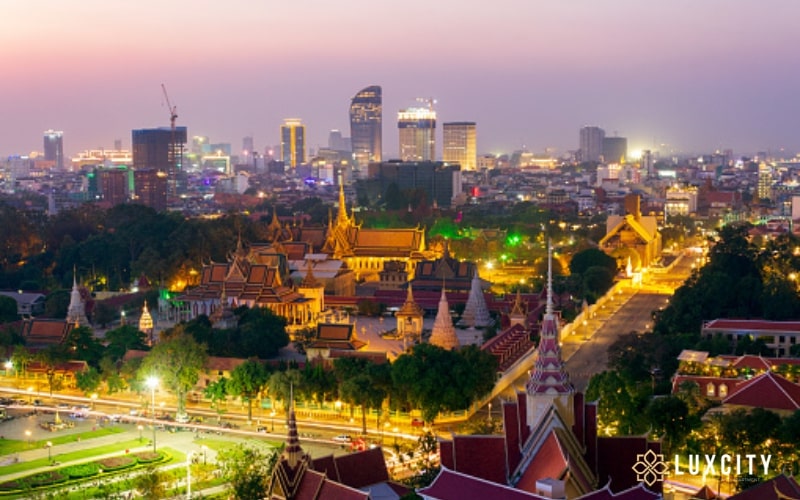 We are all aware that the ultimate goal of travelling is to immerse ourselves in various breathtaking landscapes. If you want to savour the experience, even more, stay in a hotel with spectacular views right from your room. Phnom Penh is the gateway to a supernatural landscape, and all of the accommodations on the preceding list have one thing in common: they are surrounded by breathtaking views. Choosing a hotel with a spectacular view of the city centre, the river, or a famous monument will make for an extra special vacation - even if it's nearby. Again, we cannot conclude this article without mentioning Luxcity! We can provide you with high-class amenities and services while you enjoy the stunning view from your window and balcony in the heart of Phnom Penh.
Your stay in Phnom Penh isn't complete until you've checked into the coolest experience with Luxcity. Book us now: https://luxcity.com/.