2022-06-12
How to Arrange Two Twin Beds in a Small Room? [6 Tips]
Are you currently in the process of designing a kids' bedroom or guest room that will feature two twin beds? Before you get stuck when it comes to configuration, note that two twin beds can be arranged in several different ways. To help you get started, we're outlining six suggestions below. "When arranging twin beds, I prefer to have them as far away from the door as possible," she says. And, the designer adds, "It's always important to find beds with height to create a larger sense of scale in the space." Keep reading for six options for how to arrange two twin beds in a room.
Book Now: Top 10 Best Hotels in Phnom Penh, Cambodia
Learn more: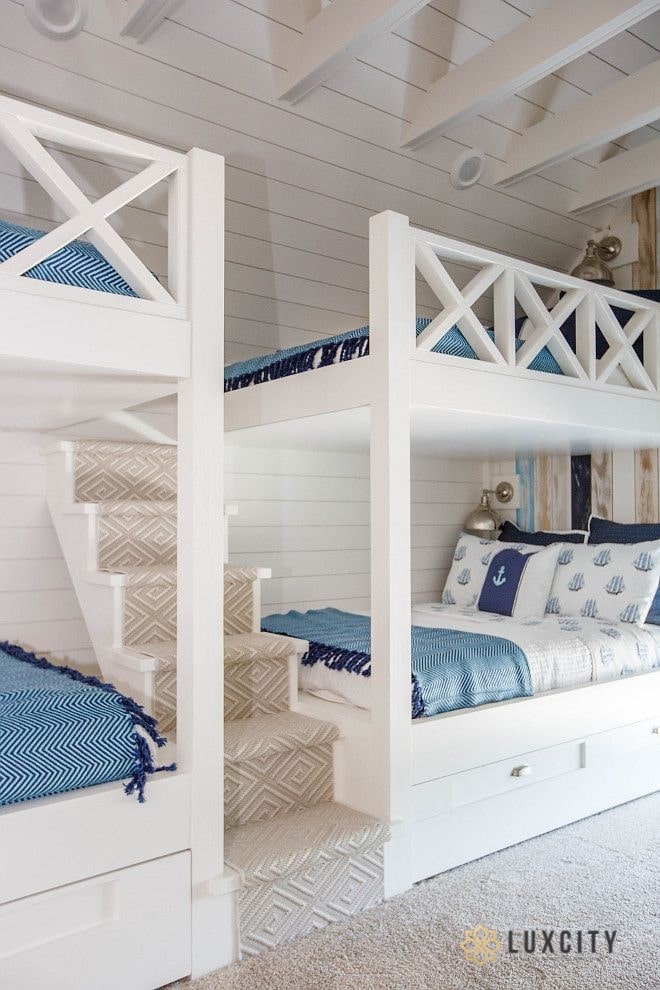 How to Arrange Two Twin Beds in a Small Room
Put two beds in the perpendicular part of the two walls
This way of placing a bed not only saves money but also increases the area of ​​​​the children's bedroom. Place two single beds in the perpendicular part of the wall, then install a small shelf at the head of the bed to increase storage space.
Use a curtain for a girl's room
If you plan to design a room for girls, use white and pink tones to create a bright and spacious feeling for the bedroom interior, and use additional curtains for each bed to create privacy because there is no room for privacy. Only adults, but children also need their freedom sometimes. Designing a room like this also helps you show respect to your child.
What if both a girl and a boy share the same room?
Then the simplest and most effective way is to divide the space clearly for two children, you can paint the bedroom space of the boy and girl with two different colors, or separate the two interior spaces. this bedroom with a curtain for example.
Place the bed vertically
If you're tired of the usual ways of arranging the bed, try turning your baby's bedroom into a miniature dorm by placing the bed vertically. This way is quite suitable for rectangular rooms that have the advantage of length. To increase the spaciousness of the room, you should choose elegant and simple colors.
Make the room appear larger with lovely textures
Lovely textures such as left pictures, cartoons...with a variety of designs and outstanding pastel colors will surely make not only children but also adults utter surprise and delight. And especially these types of patterns are also very suitable for use in both winter and summer.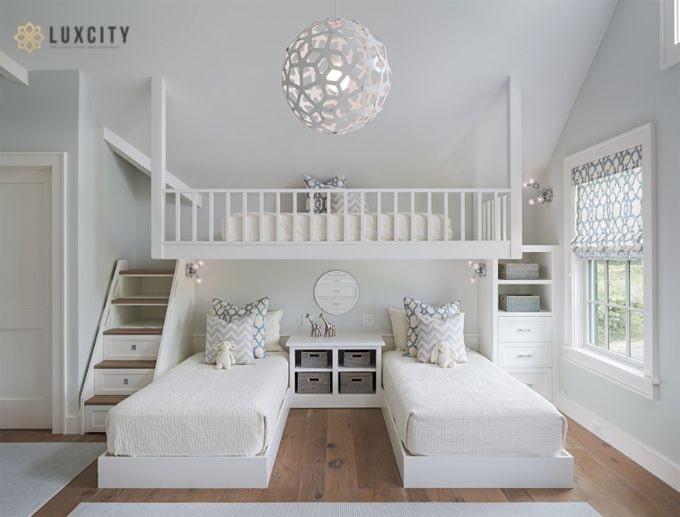 Design tips for twin beds for small rooms
Small bedroom design with 2 beds
Are you looking for small 2-bed bedroom design ideas? Check out these best bedroom designs for the best planning inspiration.
Bedroom design with 2 single beds
The twin bedroom is a practical choice for a kid's bedroom or a guest bedroom. A pair of beds is an ideal solution for spaces with two people, whether it's weekend visitors or siblings sharing a room.
The layout of a bedroom with 2 beds
Two traditional or modern single beds can create cohesion for the space immediately. Whether you're looking for bedroom ideas for two girls, two boys, or a boy and a girl, don't let space issues stop you from having a bright and cheerful bedroom.
The interior design of a bedroom with 2 beds
There are lots of lovely little twin bedroom layout ideas out there, like the examples below. Create extra drawers under the bed for more storage space, or add some multipurpose nightstands with openable lids to stash stuff inside.
Bedroom design for 2 people
We spend about a third of our lives sleeping, so the bedroom is an important room in the house. For homes that do not have many private rooms, this is also a storage area and is often combined with some other function such as study, this combination requires a more ingenious layout.
Besides, not every size and style of bed is suitable for every lifestyle and space. In this collection, we'll explore different bed layouts in bedrooms of different shapes and tackle the conundrum of small two-bed bedroom designs.
Two-bed bedroom design
Even a small bedroom can accommodate two single beds. A room with two beds gives each individual their own space to rest comfortably and decorate to their liking.
A most traditional layout is to place two beds side by side, parallel to each other and separated by a nightstand, table, or dresser in the middle, with the two nightstands on the same wall. The space between two beds can vary depending on the size of the room.
Model bedroom 2 beds
Matching double beds are a great way to start a shared space. This layout also has the advantage of giving the room symmetry and a cohesive color palette.
Bedroom design with 2 double beds
Choosing the same bedding for both beds also helps to tie things up well. If you want to mix things up a bit so that each child's personality shines through, try varying the artwork on each side, trying to keep them in the same color palette. If it is too different, it will make the room feel disjointed.
Small bedroom design for 2 kids
The right twin bedroom ideas can turn a small space into an ideal resting place and a practical solution that maximizes functionality.
A shared bedroom often has to hold twice as much furniture, and to control the space you'll need some creative storage. Incorporate storage whenever possible, for example, this bed frame with built-in drawers. Choose bright colors to keep the space light and airy.
Design a bedroom with 2 beds for girls
If planning a bedroom layout for two children, make everything equal. Make sure each child has the same amount of space and storage. Pay attention to an even number of drawers for furniture so that everything can be divided evenly.
Bunk bed design for small bedroom
Traditional bunk beds are the obvious space saver. A stylish bed looks fun and frees up floor space for a dresser or desk.
Many options revolve around a children's bunk bed, for example incorporating storage drawers will also help increase floor space for more play areas. Beautiful bed models give children a space where they not only have a good night's sleep but also a place to play.
Placing bunk beds in small bedrooms can save floor space, place the bed against the wall, and place a desk by the window if the room has a doorway.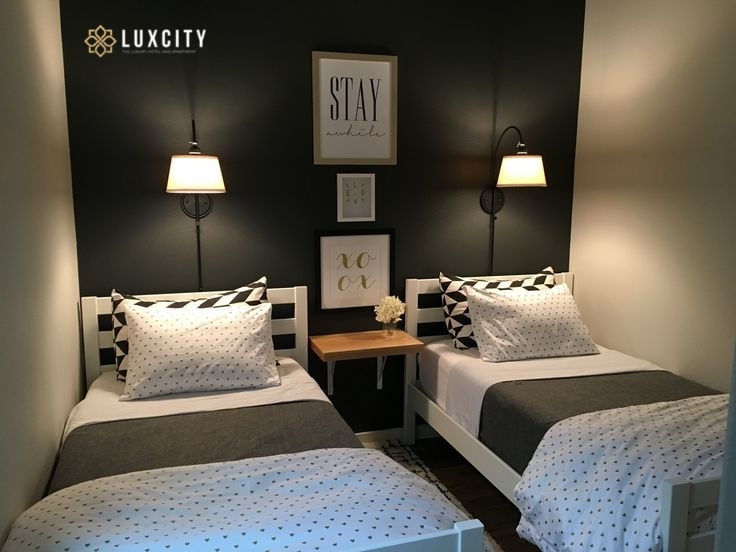 How to arrange furniture in a small room to increase the area of ​​the room.
Declutter and Clean
Getting rid of unnecessary furniture, and other home decor items create a spacious room that is attractive to buyers. Set aside time to stage your bedroom correctly before potential buyers view your home. The bedroom should feel like a retreat for buyers to enjoy each evening, but should also be a place for rejuvenating the spirit for the next day.
Keep the Bedroom Clean and Tidy
Cleaning and decluttering go hand in hand. The first thing you should do is remove all unnecessary furniture from the room. As inviting as your bedroom may be, its numerous belongings may be off-putting to buyers. Make sure that nothing is on the floor or furniture surfaces. Remove family photos, stuffed animals, the TV, and other personal items. Store small items in pullout storage drawers under your bed. The smaller the room is, the more essential it is for effective organization.
Use a Smaller Bed
Most bedrooms have king-size beds which take up a lot of space. Replace your large bedroom with a queen bed or a full-size bed to make the room seem bigger. If you are staging a kid's room, use a twin bed. Position the bed in the middle of the wall opposite the bedroom door. It should be the first thing buyers see when they walk into the room. Beautify it with fresh linen, a comforter, and colorful throw pillows.
A bed that is too big for a room will seem to decrease the square feet. While your home is on the market, resist the temptation to buy more furniture pieces. If you have to, choose small, comfy pieces that are not bulky.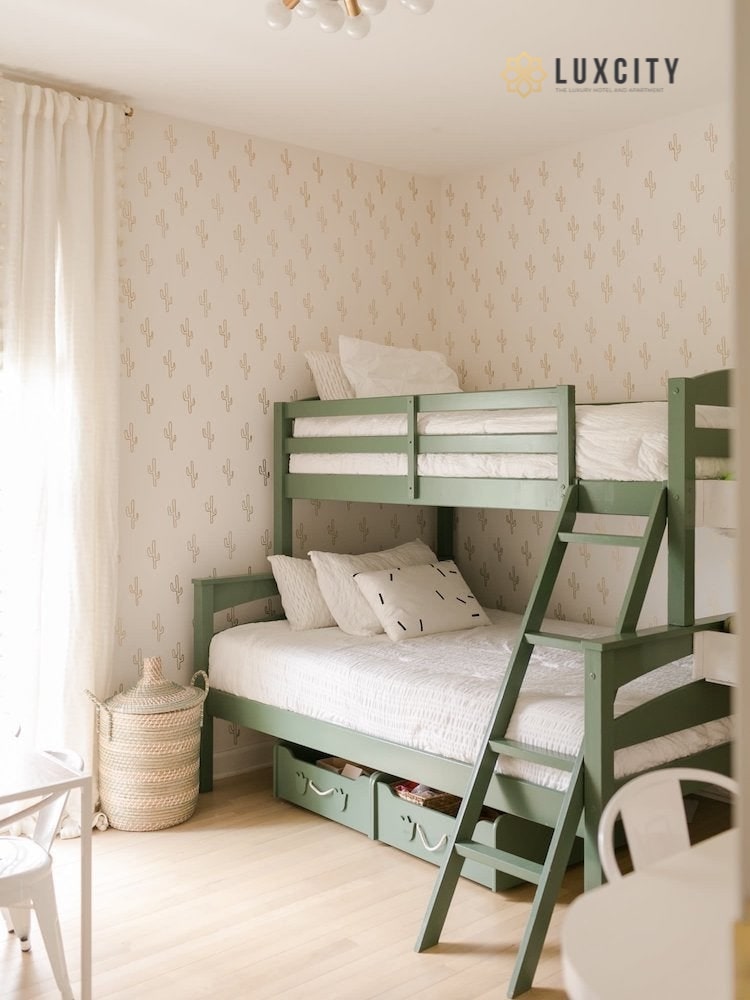 Remove Excess Furniture
Large furniture pieces such as vanities and large dressers could be inessential and should be moved into another room of your home or put into storage. If your bedroom is really small, don't add anything else than night tables and a small chair. Keep in mind that the purpose of staging the room is to define its purpose and not to show buyers how many furniture pieces it can accommodate. Ensure there is enough space for people to walk around and don't block the flow of traffic with furniture.
Use Mirrors and Natural Light
The power of good lighting cannot be overestimated. Light can trick the eye and make a room look bigger than it is. Use plenty of light throughout the day when showing your bedroom. Open windows in the daytime and ensure the bedroom lighting in the evening is varied. Place lamps on your bedside table to soften the space. Make sure they match because dissimilar ones can be a distraction.
You can get shabby-chic white lamps, black lacquered lamps, or even Asian-inspired lamps. To give your small bedroom plenty of style, use window treatments properly. Choose those that soften harsh sunlight but still, let in light. Window sheets behind window treatments help your bedroom have diffused light on extra bright and sunny days.
Decorate With Mirrors When Possible
Mirrors enlarge spaces by reflecting light from windows and lighting. They do not consume visual space but double it. They are an inexpensive way of filling the blank spaces on your walls. Place mirrors across windows to augment the light in your bedroom. You can also place a mirror across a piece of art to call attention to it.
Small rooms, especially bedrooms, can be hard to stage. Modern buyers want a lot of space and they can disregard your home if you have a small bedroom. But do not despair. Simply use these home staging tricks to make your bedroom appeal to as many buyers as possible. You will not only increase its size seemingly, but you'll also make it stylish and cozy.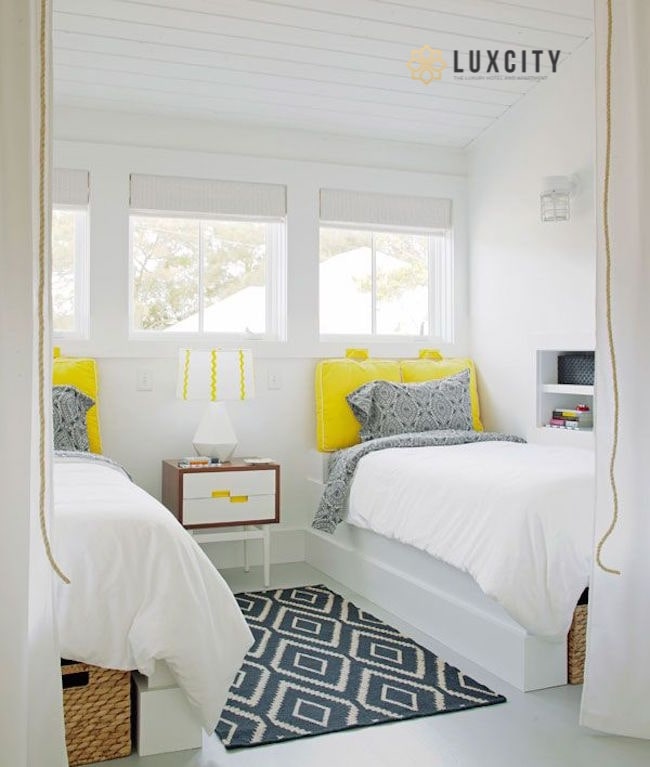 One essential area buyers focus on when shopping for homes is space. Most buyers want to move to upsize their homes and will not pay attention to small homes. The good news is even the smallest of homes can be enlarged. The recent trend of more homebuyers means seeking homes in overcrowded communities sellers have to get creative with their staging. A few simple adjustments can transform tiny homes, especially small rooms like bedrooms. After reading this article, you probably understand how to arrange two twin beds in a small room, right? If you have any further questions, please contact Luxcity for answers!
Read more travel articles in Cambodia and inspiration from Luxcity.com.