2022-06-12
How to style a twin bed to be both beautiful and comfortable, giving yourself a good night's sleep?
The bed sizes are typically available in the United States range in sizes and dimensions and are called the twin or single, double or full, queen, standard King or Eastern King, and California king or Western King. How in the world is anyone supposed to know the difference between all the mattress sizes and bed dimensions on the market today? Especially the Twin bed? How do distinguish and refresh and beautify them? Refer to our article today, Luxcity will help you refresh your twin bed and how to style that twin bed in your bedroom, so you can comfortably relax at the end of the day best.
Book Now: Studio Twin Hotel Room in Phnom Penh - Cambodia (From $60)
Read more: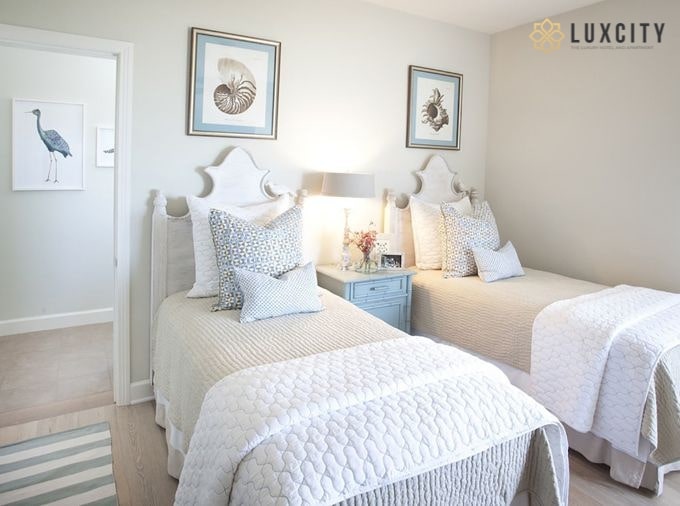 What is a room with a Twin bed?
The twin room has the English name Twin room. This room type is usually arranged with 2 regular single beds for guests who do not want to share a bed. The size of 2 beds in the room will be:
Twin beds with dimensions of 2m x 1m are used for hotels of 3 stars or less. Twin beds measuring 2m x 1m2 will be suitable for 4-star hotels or more.
The interior of the Twin room is arranged in a modern and simple style, so it helps to bring the most comfortable space for customers. Twin rooms can be divided based on the quality and size of the bed in the room. For example, Standard Twin Room, and Deluxe Twin Room. Having this division will help customers easily choose the type of room that best suits their needs.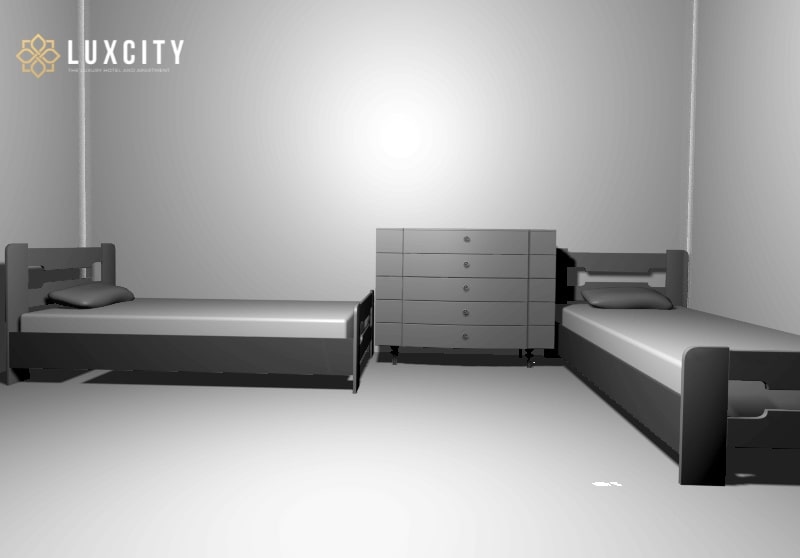 Outstanding features of a room with a Twin bed
Currently, the hotel has many different types of rooms, you should pay attention to this issue. Here are the features of the Twin room that make the uniqueness of this accommodation model:
Room size: this is a room for 2 people, so the area of ​​the Twin room is average, not too big. For each hotel, the quality standards in Twin rooms will be significantly different.
Quality of Twin room: Room interior will depend on hotel class, and room type. Therefore, you can come across modern Twin rooms but also simple designed Twin rooms. A typical example here is the Superior Twin Room, which has more advanced and luxurious furniture than the Standard Twin Room. Deluxe Twin Rooms in small hotels will be more limited than in high-end hotels.
Twin room service: This room type will include the most basic services such as housekeeping, laundry, or cleaning.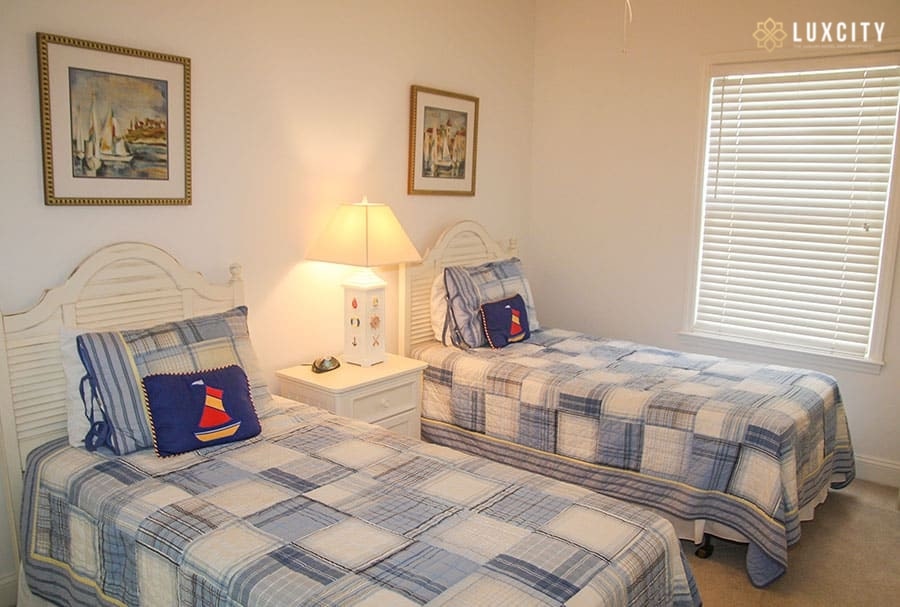 Tips for reasonable, comfortable, and beautiful twin bed style
Choose a Subtle Color Palette
Instead of using bold primary colors in your bedroom, choose soothing shades and a restful palette of monochromatic tones. Gentle hues of blue, lavender, or green are considered calm and serene, while rich jewel-toned hues (think: rich emerald or deep pomegranate) help set the mood of coziness and comfort. You can also use toned-down versions of your favorite colors in the bedroom, like selecting a blush instead of bright pink or copper instead of tangerine.
Don't Overlook the Ceiling
The ceiling is often referred to as the fifth wall in a room, but it becomes especially important in a bedroom where you stare at it while laying in bed. Adding a subtle pattern or soft color can go a long way in making the room feel more stylish and considered. You can also try painting the ceiling a slightly lighter version of the wall color, which will help to visually lower the ceiling and give the space a feeling of comfort and intimacy.
Other solutions would be to stencil or wallpaper the ceiling, add architectural elements in the form of beams or moldings, or use a decorative paint treatment. For an added touch of luxury, add a molded medallion and chandelier of crystal or delicate shades bringing color, pattern, and texture to the "fifth wall" above you.
Keep the Decor Simple
A bedroom should look cozy, sophisticated, and elegant, regardless of what style of decorating you choose. For ease of movement, leave a minimum of 3 feet between the bed and side walls or large pieces of furniture, and at least 2 feet between the bed and low furniture, like tables and dressers. If you have to walk around the bed to get from the closet or the bathroom, think of how you can move the bed to make things more streamlined.
Beyond that, furnish your bedroom with only what you need. A bed, a bedside table or two, a dresser, and a chair are necessities. Anything else may be considered clutter and can easily add to the feeling of chaos or business in your space. Accessories should also be kept to a minimum. Choose a beautiful piece of artwork, arrange some family photos, add flowers and candles, and let the rest breathe.
Choose the Right Size Furniture
When you're ready to buy bedroom furniture, start with a floor plan and a measured drawing of the space. Furniture should fit the room it lives in—this is particularly true for bedroom furniture. Don't choose a heavy, large bed and dresser for a small bedroom. If the ceiling is high, a tall headboard will help to visibly bring it down to size. If your bedroom is large, choose furniture that suits a larger space, too. Add a chair and ottoman or place a piece of furniture at the end of the bed to help fill extra square footage. Furniture and accessories that are too small will look lost in a large room.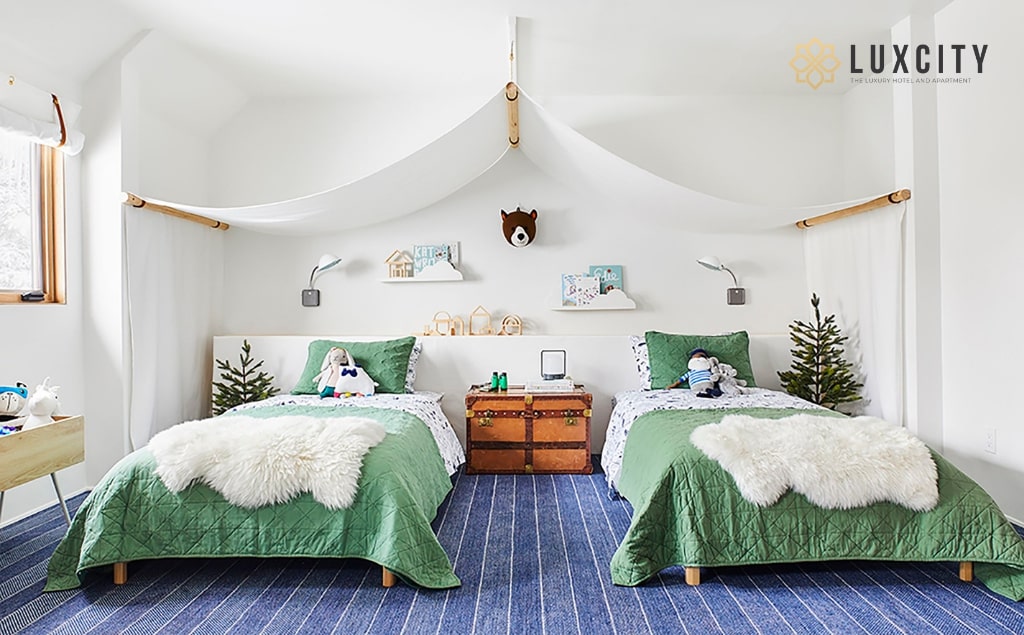 Have Plenty of Storage
To add to the serene feeling of a bedroom, store things out of sight. This will help the room appear more calm and roomy. Choose a bedside table with drawers or doors behind which you can hide books, lotion, and reading glasses within reach but out of sight. For more storage, a skirted table or a small dresser with drawers is a great option.
A trunk or a storage bench at the foot of the bed is a great way to store extra sheets, blankets, and pillows. For easy-to-reach books and accessories, use a headboard with built-in shelves or sliding panels. Place shallow boxes underneath the bed to hold smaller accessories or out-of-season clothes, hiding them with a beautiful bed skirt. Finally, a custom-designed organization system can also help you make maximum use of your existing closet space.
Include a Private Nook
Give yourself a special treat with a quiet place to sit and read. All it takes to create an intimate reading or lounging area is a comfortable chair and footstool at the end of your bed or in a corner. If you have the room, build a window seat under the bedroom window to enjoy the view and natural light.
Indulge in Luxurious Linens
Outfitting your bedroom with beautiful and luxurious fabrics is a great way to up the comfort factor of your space. As a rule of thumb, don't buy sheets that are less than 100 percent cotton or linen with high thread counts of 350 or more. For sheets that feel like they came from a 5-star hotel, send them to the dry cleaner for professional washing and pressing, which doesn't cost much, but creates a crisp smoothness worthy of the Ritz. You can also add other sensual-feeling fabrics throughout the bedroom, like a soft mohair or cashmere throw on the arm of a reading chair, textured wall coverings, luxe drapes, and a breezy bed canopy, or a plush rug.
Cover the Windows
A beautifully dressed window will help to frame the window and view and provides another way to add color, pattern, texture, and softness to a bedroom. If you love soft sheer curtains that filter light, combine opaque roller blinds that can be pulled down to maintain privacy at night and to block morning light. For all draperies, include opaque blinds or drapery lining to keep out the sun when you want to sleep late.
Include Multiple Lighting Options
In a bedroom, it's good to "layer" your lighting throughout the room. Ambient lighting illuminates the whole room, while small lamps can focus light for reading and other activities and accent lighting helps to wash the walls in soft illumination. To focus the reading light where you need it, use a bedside lamp with a movable arm. Each light should be adjustable with a dimmer. Install a separate on/off switch for each light so that you can be selective and light only the area you want.
Go Tech-Free
Try to keep your cell phone, computer, television, exercise machine, or another tech out of the bedroom to create a cherished place to relax and renew. Trust us: You'll love having a room dedicated to reading, sleeping, and romance.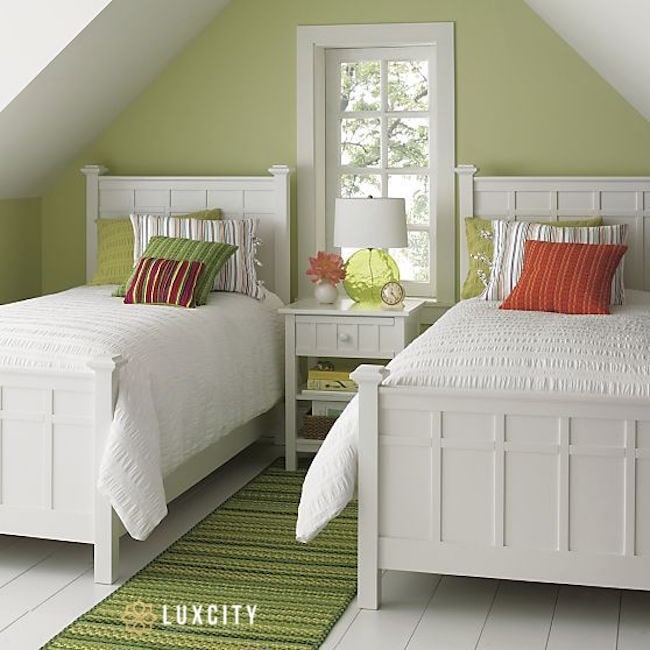 Your twin bed should be a personal sanctuary where you can relax, unwind, and find peace. Decorating your bedroom with your favorite colors, collectibles, and soothing feelings is a great way to ensure you have a relaxing retreat you can enjoy every evening. To help you get started styling twin beds, keep these key tips in mind. We hope this article will help you find the right style for your twin bed as well as for your bedroom. If you have any questions, please contact Luxcity for answers!
Read more travel articles in Cambodia and inspiration from Luxcity.com.