2023-05-24
Where to stay in Koh Sdach: best Koh Sdach guesthouses traveller cannot miss in 2023
Welcome to the pristine island paradise of Koh Sdach, where turquoise waters, white sandy beaches, and a tranquil ambiance await. If you are looking for accommodation that meets both affordability and convenience, we invite you to discover the best Koh Sdach guesthouse that will elevate your island getaway to new heights. Choosing the right guesthouse is not just about a comfortable place to stay; it's about immersing yourself in the island's enchanting atmosphere and embracing a truly unforgettable experience. Let us guide you to the guesthouse that embodies the essence of Koh Sdach!
Learn more: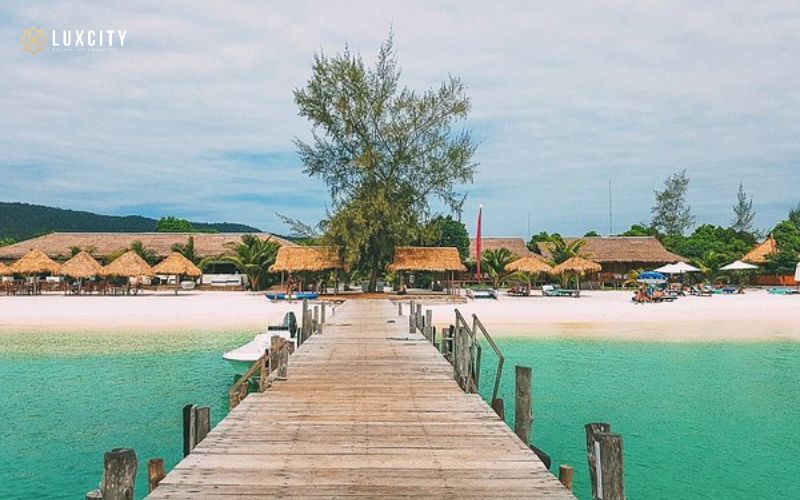 Where is Koh Sdach? Why is it Worth Visiting?
Located off the coast of Cambodia in the Gulf of Thailand, Koh Sdach is a hidden gem waiting to be discovered. This picturesque island is known for its pristine beaches, crystal-clear waters, and laid-back atmosphere that invites travelers to unwind and embrace the beauty of nature. Koh Sdach, also known as King's Island, is celebrated for its untouched landscapes, offering a peaceful retreat away from the hustle and bustle of city life. The island is renowned for its vibrant marine life, making it a haven for snorkeling and diving enthusiasts. As you explore the island, you'll be captivated by its untouched charm, swaying palm trees, and stunning sunsets that paint the sky in hues of orange and pink. Koh Sdach beckons travelers seeking a serene and unspoiled island escape, where time slows down and the beauty of nature takes center stage.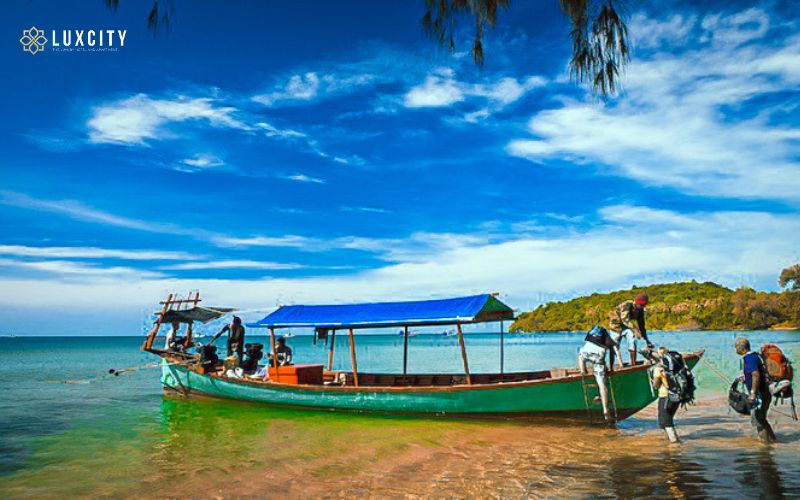 Top Activities Traveller Cannot Miss in Koh Sdach in 2023
Snorkeling and Diving: Explore the vibrant underwater world surrounding Koh Sdach. Grab your snorkeling gear or join a diving excursion to discover stunning coral reefs, colorful marine life, and hidden treasures beneath the surface.
Island Hopping: Embark on a boat tour and explore the neighboring islands surrounding Koh Sdach. Discover secluded beaches, untouched landscapes, and enjoy the tranquility of these pristine gems.
Sunset Cruise: Set sail on a sunset cruise and witness the breathtaking beauty of the sun dipping below the horizon. Relax on the boat, soak up the mesmerizing views, and capture unforgettable moments as the sky transforms into a kaleidoscope of colors.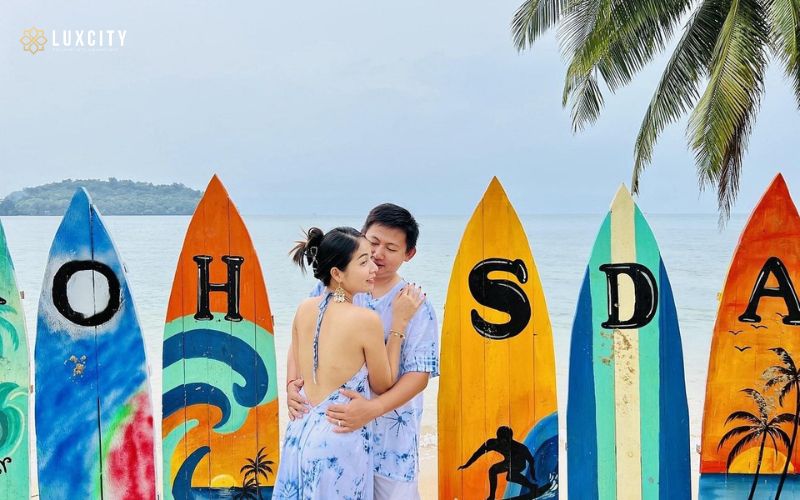 Kayaking and Paddleboarding: Rent a kayak or paddleboard and navigate the calm waters surrounding the island. Enjoy a peaceful and active adventure while taking in the stunning coastal scenery.
Fishing Excursion: Join a fishing excursion and experience the thrill of catching your own dinner. Engage in traditional fishing techniques, learn from local fishermen, and savor the taste of fresh seafood cooked onboard.
Island Trekking: Lace up your hiking boots and embark on an island trek to explore the lush landscapes of Koh Sdach. Discover hidden trails, encounter exotic flora and fauna, and enjoy panoramic views from elevated vantage points.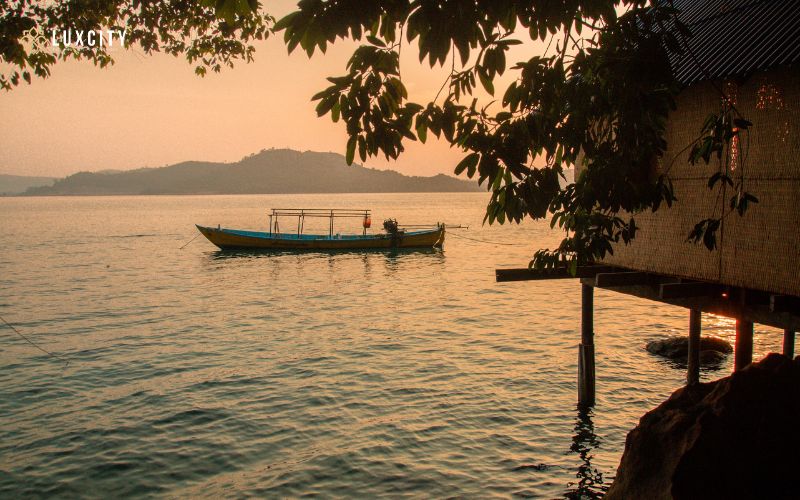 Best Koh Sdach Guesthouses For A Budget and Safe Stay in 2023
Koh Sdach Meanchey Guesthouses
Address: W3QF+HQV, Unnamed Road, Koh Sdach, Cambodia.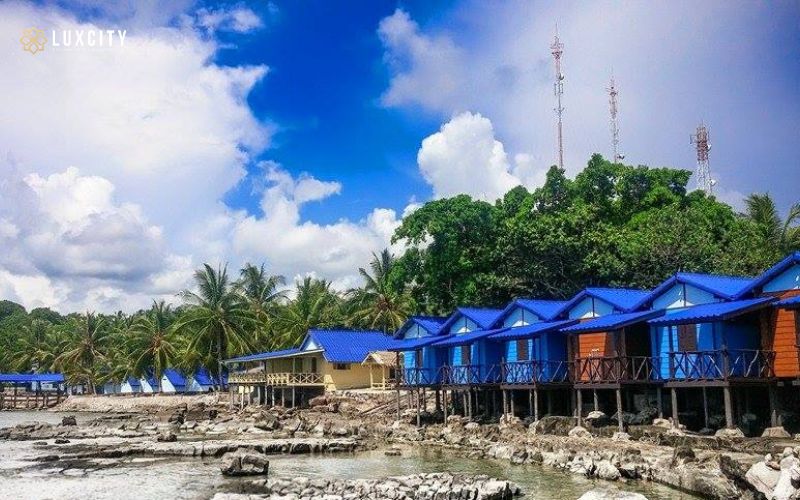 The Koh Sdach Meanchey Guest House (the signs mostly just read Mean Chey Guesthouse) is one of two Cambodian-run guesthouses on the island. It has two sets of bungalows -- small, windowless wooden affairs by the karaoke bar and water, and baby blue concrete cinderblocks up on the hill, almost out of earshot of the karaoke. We strongly recommend the blue houses on the hill over the wooden beachfront affairs -- unless you have industrial-strength earplugs. The concrete rooms are very clean with mosquito nets, private bathrooms with squat toilets, and cold water showers.
CDK Guesthouse
Address: W3MG+P6G, Unnamed Road, Khum Kaoh Sdach, Cambodia.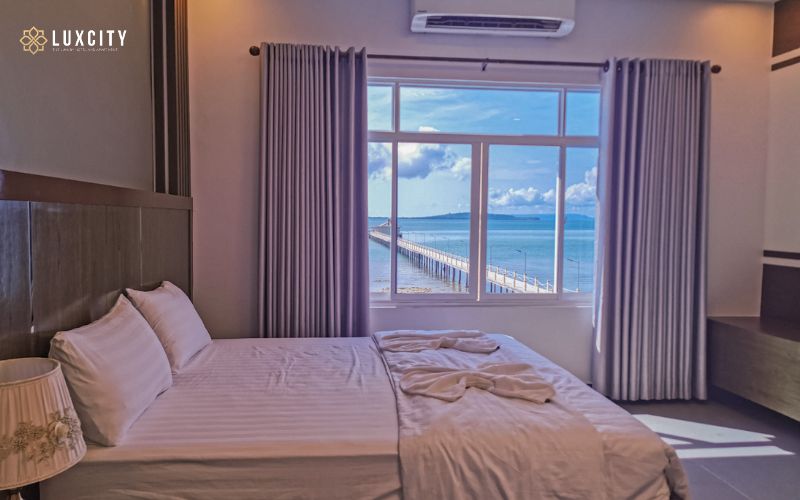 CDK Guesthouse is a relaxing and peaceful place overlooking the sea, perfect for a romantic, charming. Each fan room has a TV, showerhead in the wet bathroom, and Western flush toilet. Free water bottles are provided and towels are made into fan shapes on the bed, so it at least feels like some effort has been made to welcome guests here. The drawback is that there's no restaurant on site and it's a short walk to the village to find sustenance.
SP Koh Sdach Guesthouse
Address: Koh Sdach, Cambodia.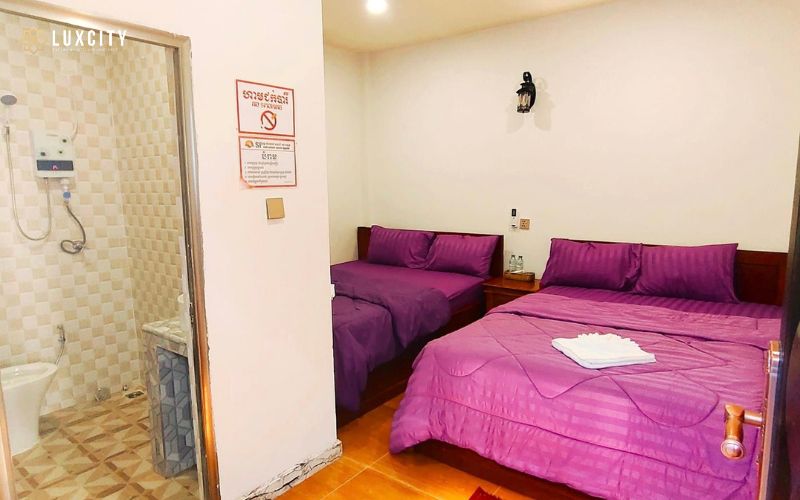 SP Koh Sdach Guest House is your budget-friendly accommodation option on the beautiful island of Koh Sdach. With a convenient location, friendly staff, and cozy rooms, SP Koh Sdach Guest House provides a welcoming and relaxed atmosphere for guests to unwind and enjoy their time on the island. Whether you're exploring the pristine beaches, snorkeling in the turquoise waters, or simply soaking up the tranquil ambiance, SP Koh Sdach Guest House is the ideal base for your budget-friendly adventure in this tropical paradise.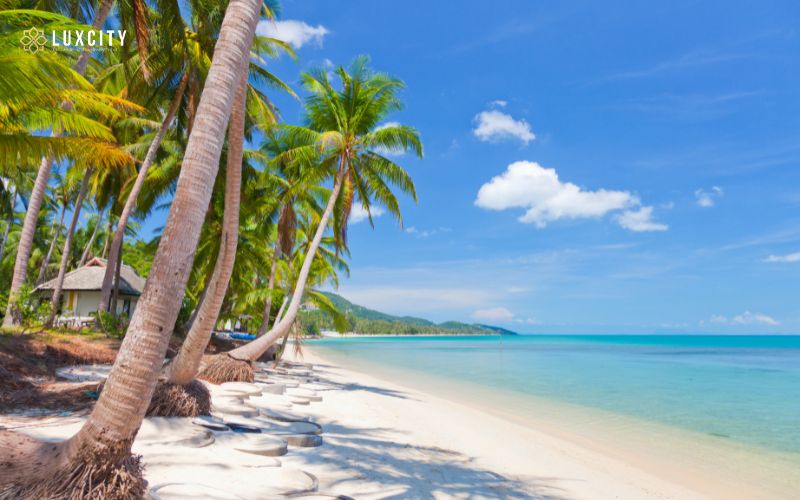 Koh Sdach is a captivating destination that offers a multitude of activities to make your visit in 2023 truly unforgettable. The list of best Koh Sdach guesthouses in 2023 we have hand-picked for you above offer unparalleled hospitality, ensuring an unforgettable stay. By staying in the right guesthouse with full convenience, friendly staff, and local host family while remaining on a budget, Koh Sdach invites you to embrace its natural beauty, discover hidden treasures, and create cherished memories that will last a lifetime. Wanna know more about what you can do to make the most of your trip to this wonderful country? Read more about our blog with local tips.