2023-03-14
Best hotels to stay in Koh Ta Kiev: Your dream island getaway in 2023
Nestled in the heart of the Gulf of Thailand lies a hidden gem that's just waiting to be discovered. Koh Ta Kiev is an island paradise that's bursting with natural beauty and charm. From the moment you set foot on this idyllic island, you'll be transported to a world of tranquillity and wonder.
But where should you stay in Koh Ta Kiev? In this blog, I'll share my top picks for the best hotels in Koh Ta Kiev. Whether you're looking for a luxurious beachfront resort, a cosy bungalow nestled in the jungle, or a budget-friendly guesthouse, I've got you covered!
Learn more: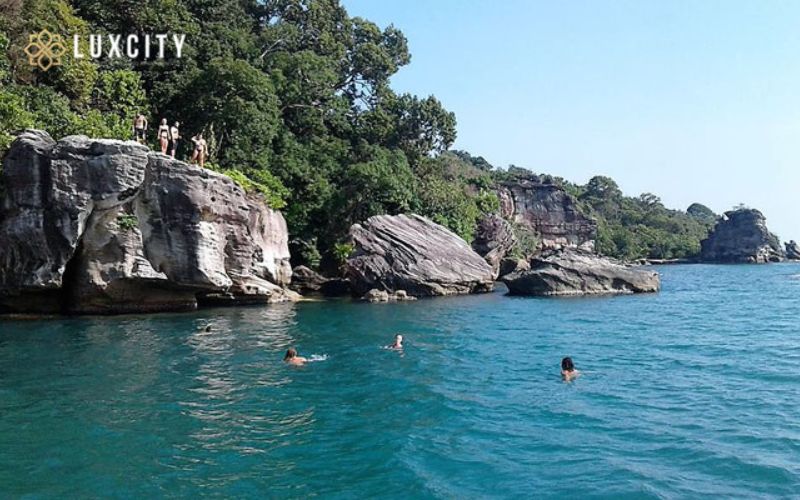 Kactus
Address: Krong Preah Sihanouk, Koh Ta Kiev Island, Cambodia.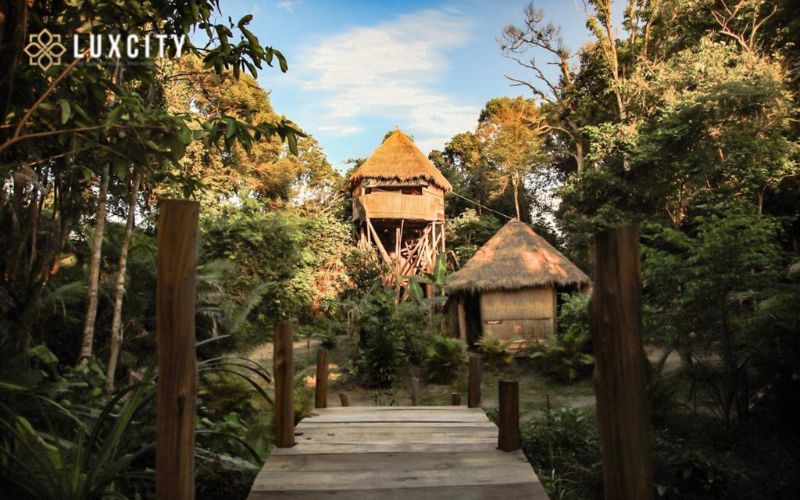 Located on 1 km of private beach, Kactus offers accommodations on the sunset side of Koh Ta Kiev. Guests can enjoy meals at the in-house restaurant or have a drink at the bar. Some units include a seating area where you can relax. A balcony or patio are featured in certain rooms. Rooms are fitted with a shared bathroom. All the bungalows at the property have a powered solar light and a USB plug for charging. Guests can engage in various activities, such as snorkelling, kayaking, night swims, and island hopping. Kactus's in-house restaurant serves up a fine dining menu prepared by the property's French-Cambodian chef.
Crusoe Koh Takiev Island
Address: Koh Ta Kiev Island, Sihanouk Ville, Koh Ta Kiev Island, Cambodia.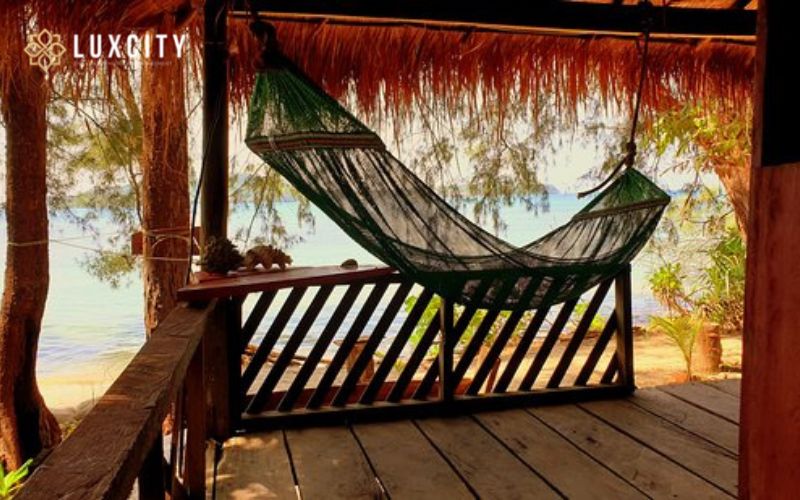 Crusoe Koh Takiev Island has a garden, shared lounge, a terrace, and restaurant in Koh Ta kiev Island. 300 m from Long Beach, the guest house features a bar and barbecue facilities. The accommodation offers evening entertainment and a concierge service. The guest house offers a children's playground. You can play darts at Crusoe Koh Takiev Island, and the area is popular for hiking. The nearest airport is Sihanouk International Airport, 24 km from the accommodation.
Naks Shack
Address: Koh Ta Kiev Island, Koh Ta kiev Island, Cambodia.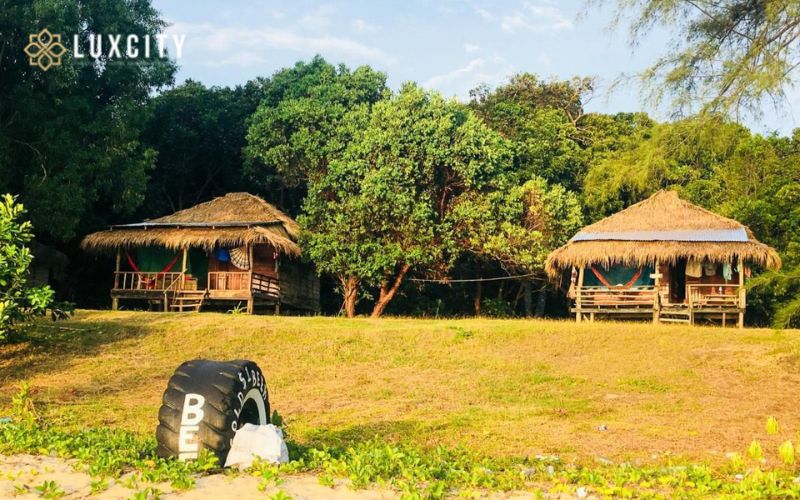 Boasting a garden, bar, and views of the sea, Naks Shack is situated on Koh Ta Kiev Island, a few steps from Long Beach. Each room is fitted with a balcony. At the hostel, the rooms are fitted with a terrace. All rooms at Naks Shack are fitted with a private bathroom and bed linen. A à la carte breakfast is available each morning at the accommodation. Guests at Naks Shack will be able to enjoy activities in and around Koh Ta Kiev Island, like hiking.
Sea Garden Koh Ta Kiev Island
Address: Koh Ta Kiev, Sihanoukville, Cambodia.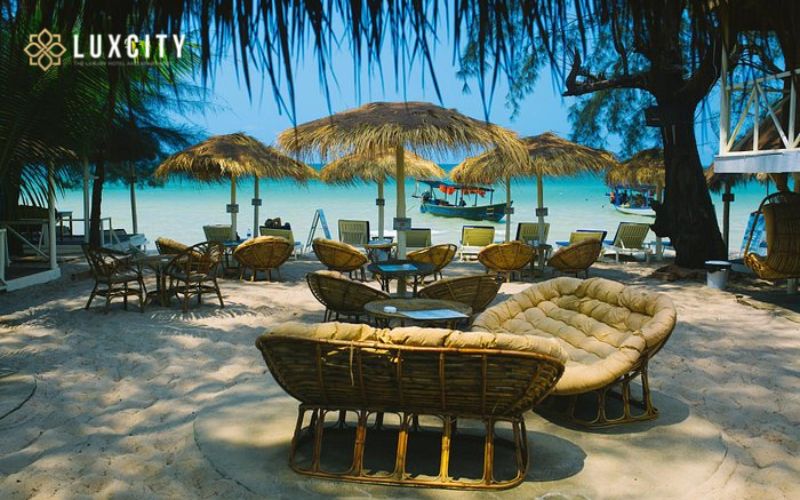 The facilities and services provided by Sea Garden Koh Ta Kiev Island ensure a pleasant stay for guests. While lodging at this wonderful bungalow, the helpful staff at the front desk can assist you with multiple services that include express check-in or check-out and luggage storage. The bungalow's on-site laundry service helps you keep your favorite travel outfits clean so you can pack less. Some small or last-minute needs can be quickly fulfilled by convenience stores without having to leave the bungalow.
Experience high-quality room facilities during your stay at Sea Garden Koh Ta Kiev Island. The bungalow provides linen service in some rooms for the benefit of guests. Some selected rooms at Sea Garden Koh Ta Kiev Island include a balcony or terrace, as part of the room design. Sea Garden Koh Ta Kiev Island also provides toiletries in some of its bathrooms for your convenience.
The Last Point
Address: Koh Ta Kiev, Preah Sihanouk, Koh Ta Kiev, Sihanoukville, Cambodia
Have a hassle-free trip while enjoying the services and amenities offered by The Last Point. Getting from and back to the airport can be easily arranged with the hostel's airport transfer services. Shuttle services provided by The Last Point make it easy to plan your day trips, sightseeing, and more around Sihanoukville. Guests can enjoy convenient available parking right at the hostel. Front desk service is provided at the hostel including luggage storage. Getting tickets for the city's best entertainment is easy through the hostel's ticket service and tours. Get cozy and warm in the lobby with the hostel's charming on-site fireplace. Feeling lazy? In-room conveniences like daily housekeeping let you get the most out of your room time. For the comfort and health of all guests, smoking is not permitted anywhere within the hostel.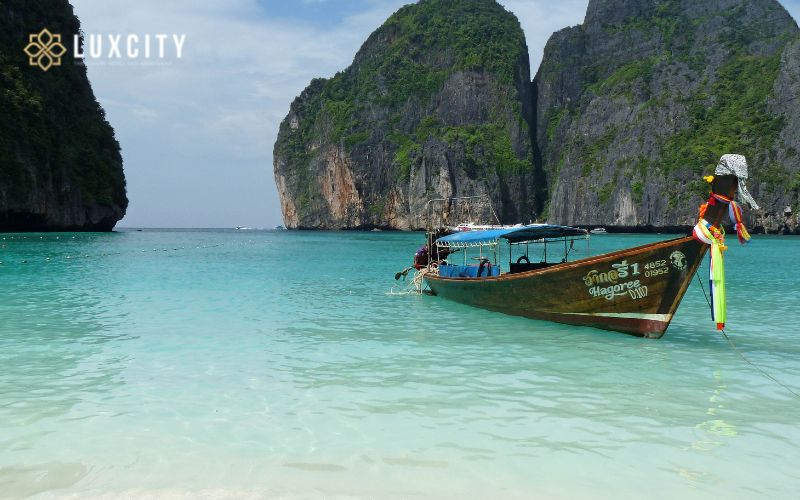 Whether you're a backpacker seeking adventure or a traveller looking for a peaceful retreat, Koh Ta Kiev has something for everyone. So why not take the plunge and experience the magic of this enchanting island for yourself? I bet that you won't regret it! And before you plan to this untouched paradise, don't forget to check out the list of the best hotels in Koh Ta Kiev that guarantee you make you dive into your dream island getaway in 2023. Enjoy and check out my latest travel tips to help you be more well-prepared before planning to Cambodia!