2023-03-09
Koh Kong Hotels: Best accommodations to dive into Cambodia's untouched paradise
Koh Kong is a hidden gem in southwest Cambodia, offering a perfect blend of natural beauty and adventure. Koh Kong has everything from pristine beaches and clear waters to majestic waterfalls and lush rainforests.
If you're planning a trip to Koh Kong, you'll want to make sure you have a comfortable, enjoyable stay, and best to immerse yourself in this untouched paradise of Cambodia. Whether you're looking for a luxurious resort, a charming boutique hotel on the beach, or a comfortable and affordable stay, there's sure to be a hotel in Koh Kong that meets your needs. In this review, I'll take a closer look at some of the best hotels in Koh Kong and what makes them stand out from the rest. So sit back, relax, and get ready to plan your dream trip to Koh Kong!
Learn more:
Best Resorts and Hotels - Where Nature Meets Comforts
Long Set Resort
Address: Long Set Beach, Koh Rong, Cambodia.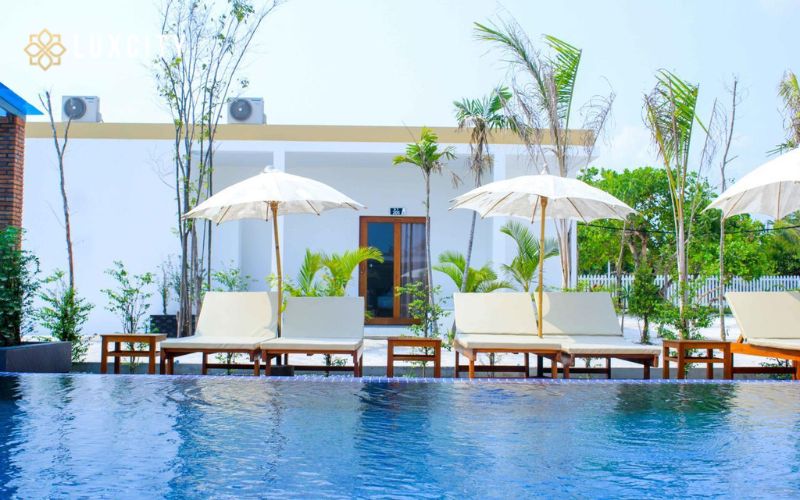 Koh Rong Island welcomes you to a tropical paradise of white sandy beaches, turquoise-toned bays, and a lush undiscovered jungle interior. Long Set Resort is the premier resort on the stunning 4K beach, offering sheltered beachfront accommodation on the stunning island of Koh Rong. Long Set Resort is a spacious 3o room beachfront resort offering comfortable, quiet, clean, air-conditioned accommodations with pool views, tropical garden views, and sea views to the neighbouring island of Koh Rong Somloem. Resort facilities include a stunning private sandy beach, infinity pool, free Wi-Fi, fully equipped gym, massage, well-being services, and a beachfront Bar & Restaurant.
Song Saa Private Island
Address: Near Sihanoukville, Koh Rong 18000 Cambodia.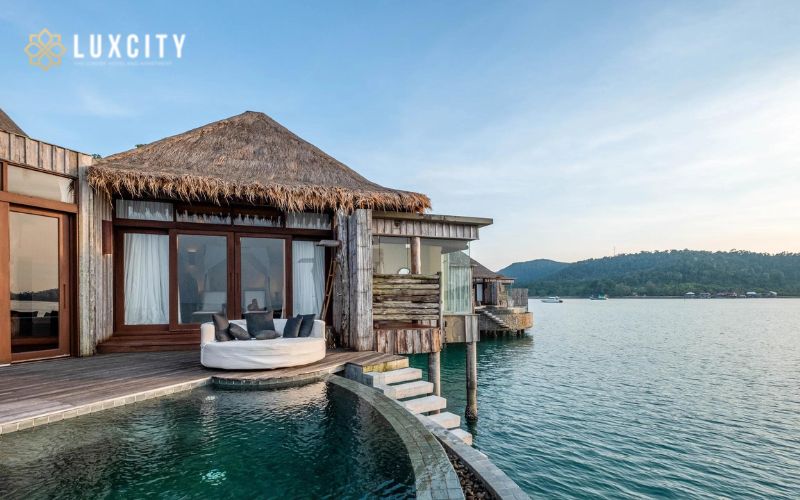 Song Saa Private Island is a haven of sustainable luxury nestled in the undiscovered beauty of Cambodia's Koh Rong Archipelago. With unique, world-class cuisine, stunning sunset views of the Gulf of Thailand, and an array of spa and wellness treatments, Song Saa offers the ultimate indulgence for mind, body, and soul. Best of all, our commitment to environmental and community programs means you'll be treading lightly on this special piece of paradise.
The Royal Sands Koh Rong
Address: Sok San Village, Koh Rong 12202 Cambodia.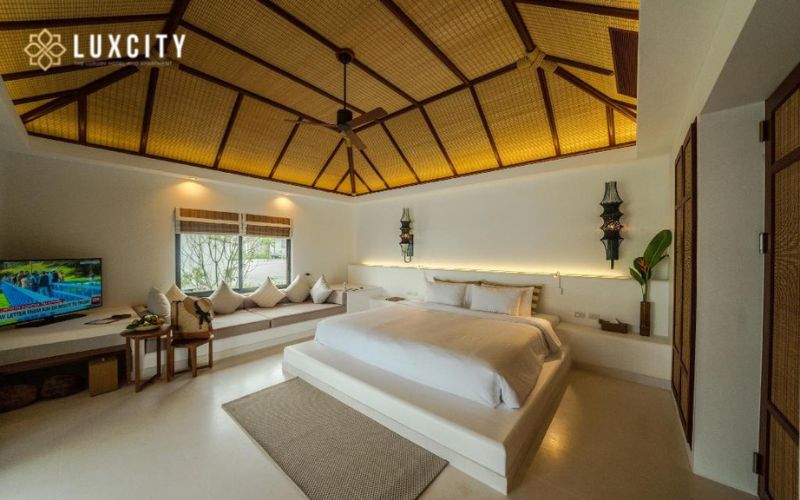 The Royal Sands Koh Rong is located on 550 meters of fine, white sandy beach near Sok San Village. Strategically located on the western side of the island, where the sunsets are legendary. The 67 all-villas resort. The resort incorporates the highest quality materials including teak, bamboo, and natural stone, with many open-air venues from which to enjoy 180-degree views of the Gulf of Thailand and the legendary sunsets. It is "Beyond the ordinary to laid-back luxury".
Anaya Koh Rong
Address: Pagoda Beach, Koh Rong Cambodia.
Anaya Koh Rong is a perfect place to unwind and relax in a peaceful atmosphere. We offer 20 rooms in an exclusive living space surrounded by coconut trees and jungle, allowing our guests to enjoy a cozy experience and more relaxing vacation. Located at Pagoda Beach, our resort is a place that brings calm and joy to our guests. With its private pier to our beach, you can reach our hotel easily.
Sok San Beach Resort
Address: Sok San Village, Koh Rong 18000 Cambodia.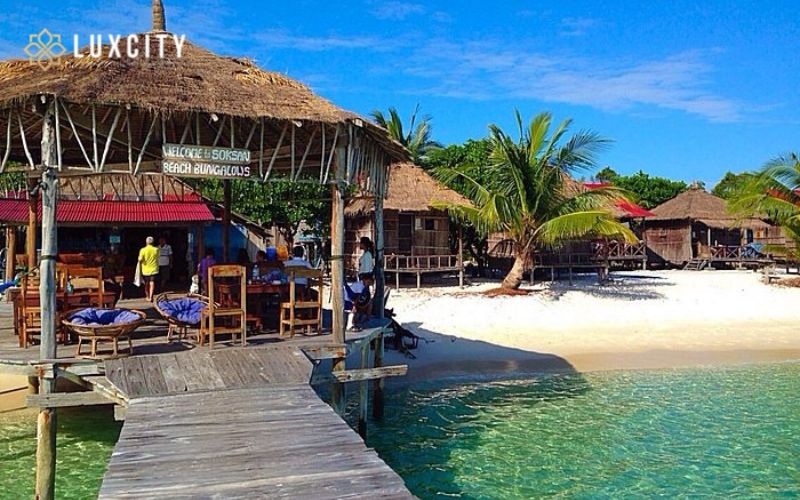 Our resort can be found on the island of Koh Rong, a tropical getaway off the coast of Cambodia with white sandy beaches, turquoise waters, and verdant forest. The island boasts a fabulous environment, from lush jungle to exotic savanna, fringed by a stunning shoreline, brimming with reefs and a multitude of unexplored islands, each with its own pristine beaches. Tucked away from the major tourist spots, the resort can be reached from the mainland in Sihanouk Ville in less than an hour, making it a secluded yet convenient seaside retreat. Sok San Beach Resort is a Khmer-style beach resort offering a tasteful blend of nature and comfort.
Best Bungalows in Koh Kong To Be Closer To Local Vibes
Palm Beach Bungalow Resort
Address: Prek Svay Village, Palm Beach, Koh Rong 18102 Cambodia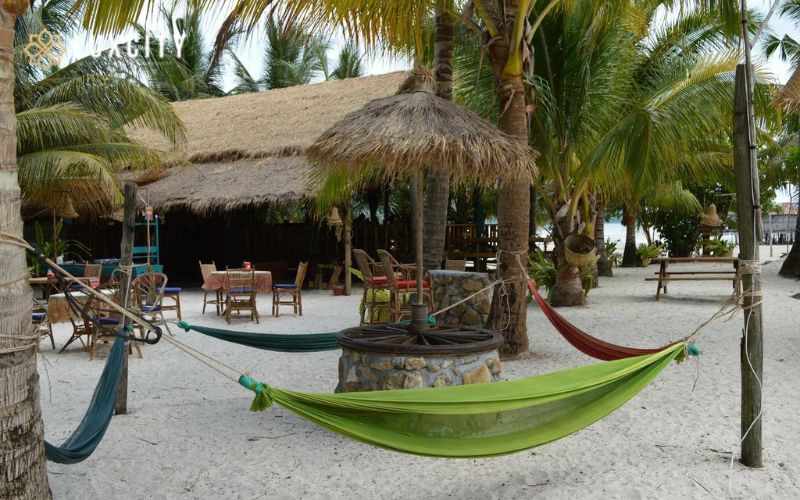 The best of both worlds, jungle and ocean sounds, quiet, relaxing, clean along with beach bar, good food and music, and many activities like pool bar, darts, small boat tours, swimming, snorkeling, hiking, and volleyball. Modern bungalows are all on the beach with awesome views, a truly relaxing and fun-filled experience.
Paradise Bungalows
Address: Koh Touch Beach, Koh Rong 18000 Cambodia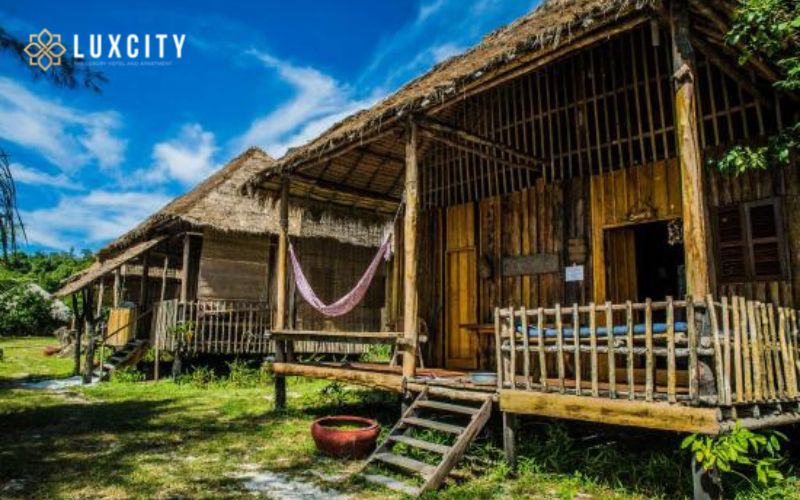 Paradise Bungalows, set in the hills of a pristine and quiet island, is western managed with continuous dedication to the perfect holiday getaway. We have a nature-oriented resort of 20 Bungalows amid the lush vegetation of Koh Rong. Local and natural materials are the central features of our venue, making it a natural island Paradise.
Koh Rong Ocean View Bungalow
Address: Phum Kohtouch, Koh Rong Cambodia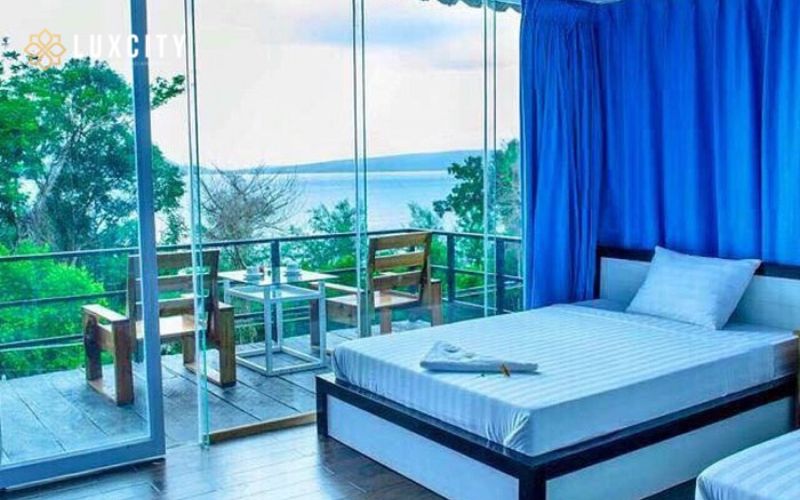 Looking for a place to stay in Koh Rong? Then look no further than Koh Rong Ocean View Bungalow, a budget-friendly small hotel that brings the best of Koh Rong to your doorstep. Free wifi is offered to guests, and rooms at Koh Rong Ocean View Bungalow offer air conditioning. If you are looking for a good Indian restaurant, you may want to check out Shanti Shanti Restaurant while staying at Koh Rong Ocean View Bungalow. If you're looking for things to do, you can check out Koh Rong (0.1 mi), which is a popular attraction amongst tourists, and it is within walking distance.
Learn more: Top 10 the best Indian Restaurant in Phnom Penh [2023]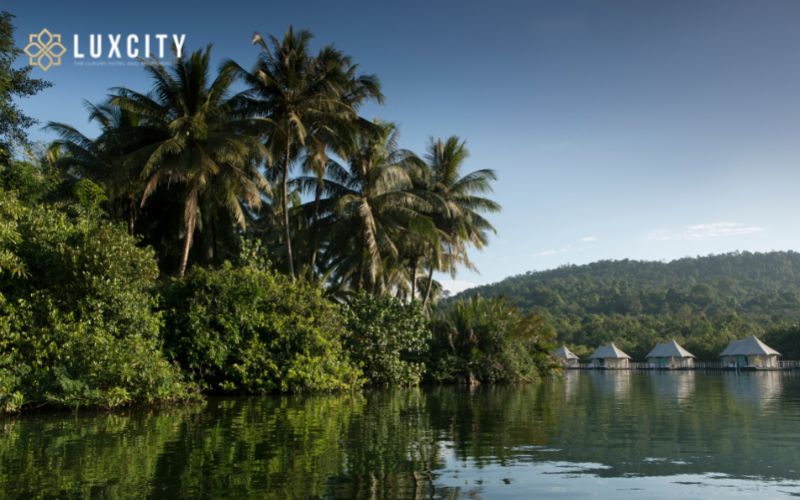 From the stunning natural scenery to the friendly locals and delicious cuisine, Koh Kong has it all. With its beautiful scenery, friendly people, and delicious cuisine, Koh Kong is a destination that should not be missed. Knowing that reasonable accommodation can make or break a trip, I hope the above list of the best hotels in Koh Kong will help you best immerse in this Cambodia-untouched paradise.
Since you are here, check out my latest travel tips to help you be more well-prepared before planning to this paradise!