2023-03-20
A hidden oasis: Top picks for boutique hotels in Cambodia for any traveller
From remote eco-lodges to chic urban retreats, Cambodia offers a wide range of boutique hotels that cater to different tastes and preferences. As a frequent traveler and lover of unique and personalized accommodations, I have had the pleasure of staying at some of the most attractive and memorable boutique hotels across Cambodia.
In this blog, I will be sharing my reviews of the best boutique hotels in Cambodia, highlighting their distinctive character, stylish decor, personalized service, and overall appeal. Whether you're planning a romantic getaway, a family vacation, or a solo adventure, I hope that my reviews will inspire you to discover some of the best boutique hotels that Cambodia has to offer. Join me on this exciting journey of exploration and discovery!
Learn more live like royalty: Best luxury 5-star hotels in Cambodia [2023 Updated]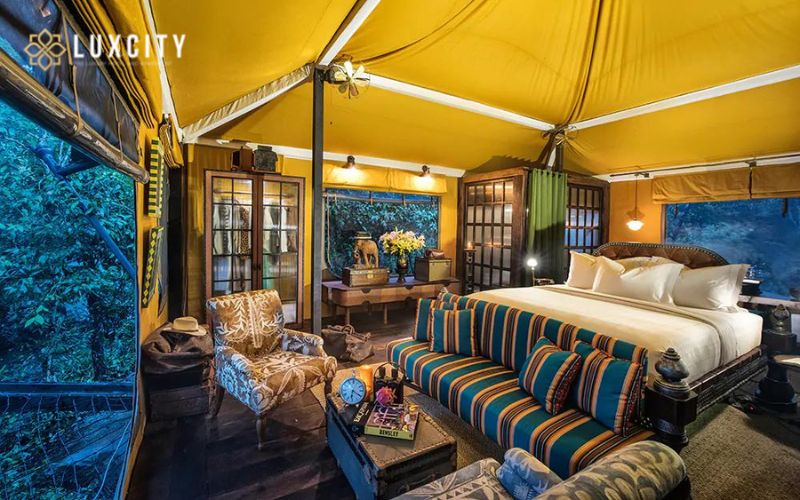 What is A Boutique Hotel?
A boutique hotel is a type of small, independently owned and operated hotel that typically offers a unique and personalized experience to its guests. The term "boutique" refers to the hotel's size, style, and approach to hospitality.
Boutique hotels are known for their distinctive character, often featuring stylish and upscale decor, personalized services, and a focus on providing a memorable experience for guests. They are usually smaller than traditional hotels, with fewer rooms and a more intimate atmosphere.
Learn more: Top 10 Best Boutique Hotels in Phnom Penh [Recommend]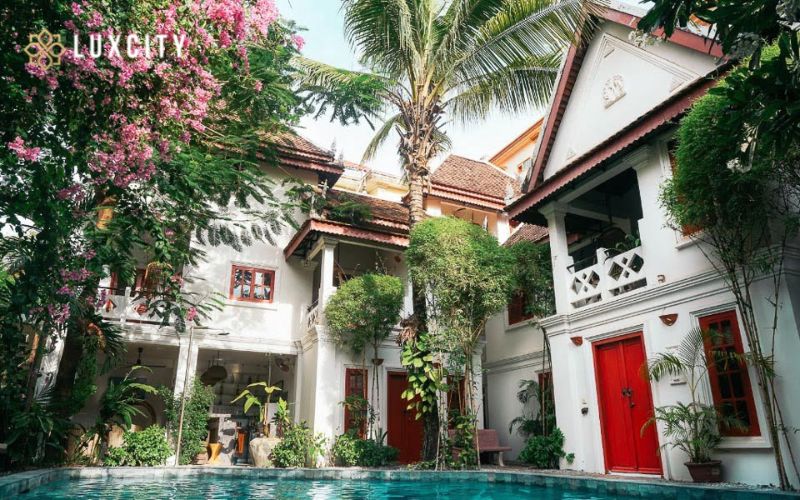 Boutique hotels often have a specific theme or style, such as a vintage or retro design, a focus on local art or culture, or an emphasis on sustainable practices. They may also offer amenities such as on-site restaurants, spas, or fitness centers, and may cater to specific niches, such as adults-only or pet-friendly accommodations.
Who Should Look for Boutique Hotel?
Boutique hotels can be suitable for a wide range of travelers, depending on their preferences and needs. You may enjoy staying at boutique hotels if you are:
Couples: Boutique hotels often have a romantic and intimate atmosphere, making them a popular choice for couples looking for a romantic getaway or honeymoon.
Business travelers: Boutique hotels may offer a more personalized and attentive service compared to larger hotels, making them a good choice for business travelers who value comfort, convenience, and a unique experience.
Solo travelers: Boutique hotels can offer a more welcoming and social atmosphere compared to larger hotels, making them a good choice for solo travelers who want to meet other travelers or local people.
Luxury travelers: Boutique hotels often offer high-end amenities, stylish decor, and a focus on personalized service, making them a good choice for travelers who seek luxury and exclusivity.
Adventurers: Boutique hotels may be located in unique and off-the-beaten-path locations, such as historic buildings, remote natural settings, or urban neighborhoods, making them a good choice for adventurous travelers who want to explore and discover new places.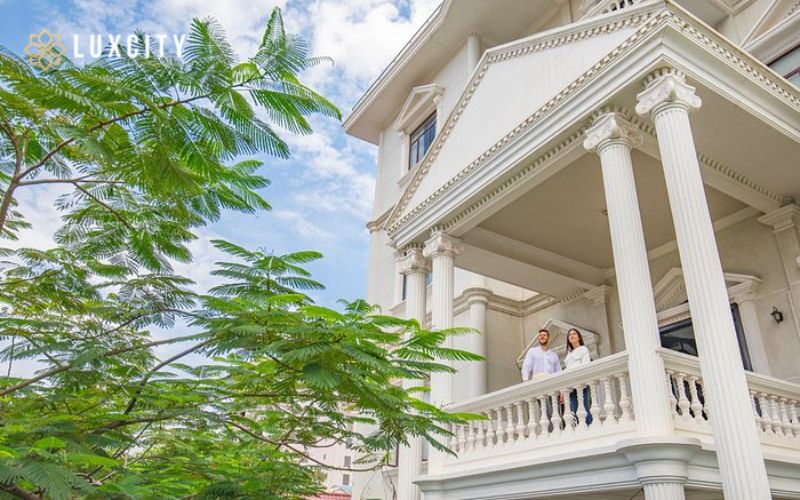 Top-rated Boutique Hotels in Cambodia for a Unique Retreat in 2023
iRoHa Garden Hotel & Resort
Address: No.8,Street 73, Sangkat Tonle Bassac, Chamkar Mon, Phnom Penh, Cambodia.
iRoHa Garden Hotel & Resort offers different themed accommodations in Phnom Penh. It features an outdoor swimming pool, tropical garden, and spa. Meals are served at the in-house restaurant while free private parking is available. Free WiFi is available throughout the property. Each air-conditioned room features a flat-screen cable TV, minibar, and safe. The en suite bathroom includes a bath, rain shower, hairdryer, and free toiletries.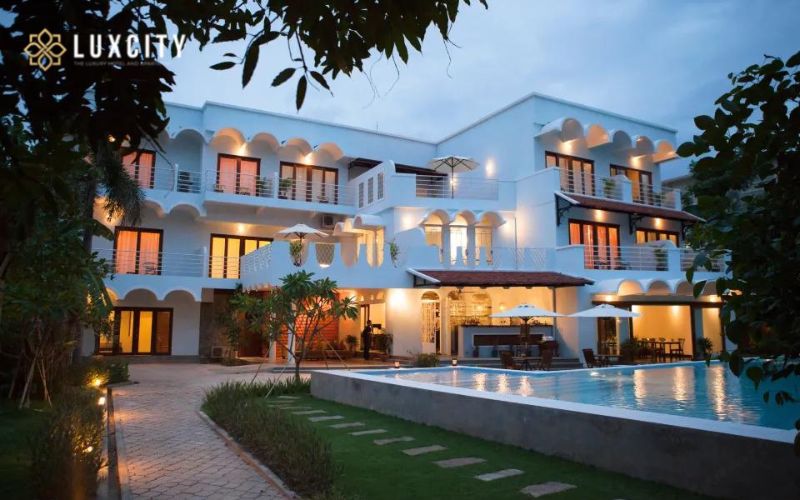 Guests can approach the 24-hour front desk for tour arrangements, luggage storage, and concierge services. Guests have access to a library as well as a communication space. A business centre is available with meeting facilities. Carefully-restored from a 1930s mansion, the in-house restaurant serves up a variety of Asian and Western dishes. Refreshing cocktails and light snacks are served at the bar.
Plantation Urban Resort & Spa
Address: 28 Street 184, Daun Penh, Phnom Penh, Cambodia.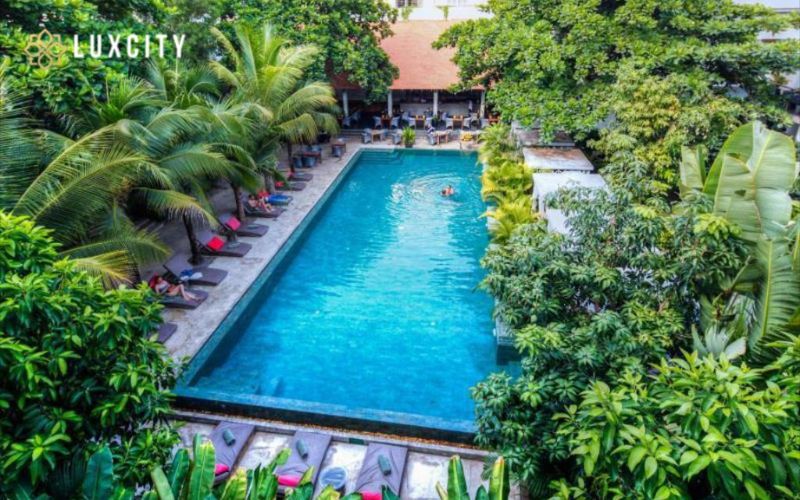 Centrally located in Phnom Penh, Plantation Urban Resort & Spa is situated directly behind the Royal Palace. It features two outdoor swimming pools and guests can enjoy meals at the in-house restaurant or have a drink at the bar. Free WiFi is available throughout the property. Guests can approach the 24-hour front desk for currency exchange, tour arrangements, concierge services, and meeting facilities. Recreational facilities include a fitness centre and spa. Private business meetings can be conducted at Le Petit Salon and The Study, where light refreshments from La Pergola will be served, or at Red Pool Lounge. Guests can buy souvenirs at Cambomania and the Lotus Pond Gallery plays host to many art exhibitions all year round. Union Pay is accepted at the property.
Jaya House River Park
Address: River Road, Siem Reap Cambodia.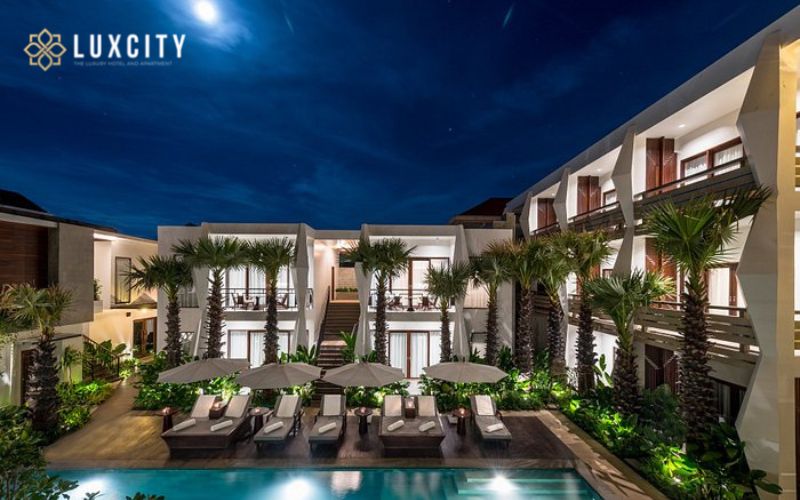 Jaya House River Park is peacefully located alongside the Siem Reap River, surrounded by fully grown trees. A small boutique hotel with only 36 rooms, two swimming pools, a spa, and an all-day-dining restaurant. The hotel is located about a 6-minute tuk-tuk journey from town in the direction of the magnificent temples of Angkor Wat. Each of our 36 rooms has either a balcony or direct garden & pool access. Guests can expect award-winning service, lush grounds, spacious gardens, and charming Khmer art-deco inspired design.
Learn more: Top 9 hotels in Siem Reap for budget-minded travelers
Viroth's Hotel
Address: Street 24 Wat Bo Village, Siem Reap, Cambodia.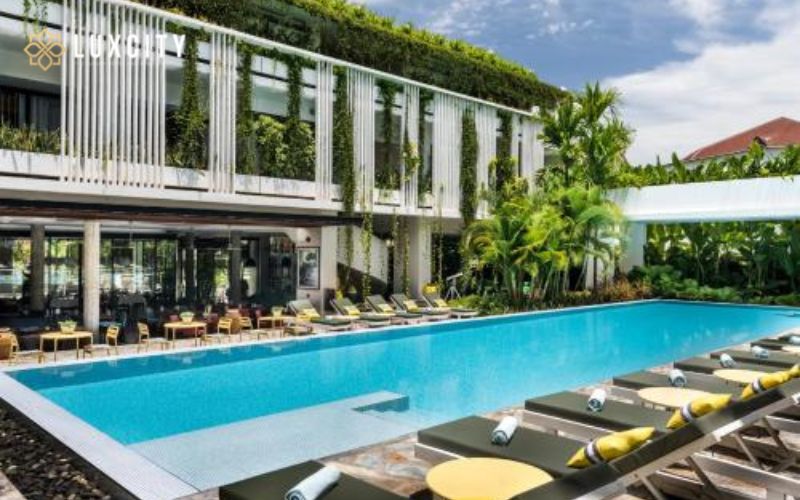 Located in the center of Siem Reap, in the vibrant Wat Bo area, the hotel boasts 50's-inspired design, complemented by large green areas and vertical gardens. Viroth's Hotel includes 35 guestrooms, a 20-meter pool, spa, gym, air-conditioned dining room / open-air restaurant, bar, and 24-hour reception service to satisfy all your needs.
The Embassy Angkor Resort & Spa
Address: 7 Makara St. Chunlung Village, Sala Kamroek, Commune, Siem Reap, Cambodia.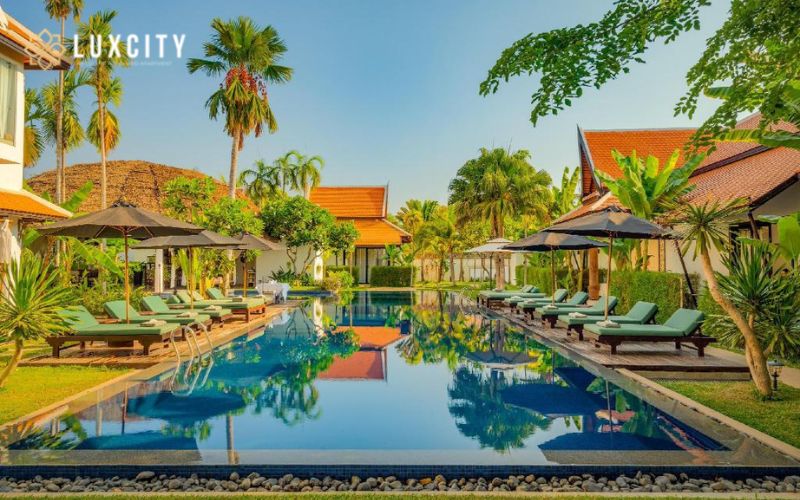 The Embassy Resort & Spa is located on a quiet side of Siem Reap Town and we managed to create a small Paradise just for you! The resort is built in a style where Khmer architecture meets Western efficiency and is located amidst a green and relaxing environment. Unwind after a hot day at the Temples of Angkor at our extensive pool complex, which lies in front of your room and encircles our Restaurant. A romantic place, especially in the evening when the pool floor is lit up by fiber optics! The rooms are meticulously designed to give you the greatest comfort, tastefully decorated in Khmer style, and perfectly maintained. The Deluxe Pool Suites even have their own private swimming pool, discretely hidden from other's eyes…
Learn more: Top 7 hotels in Siem Reap near Angkor Wat for all the visitors
Golden Temple Retreat
Address: Wat Damnak, Sala Kamreuk, Siem Reap, Cambodia.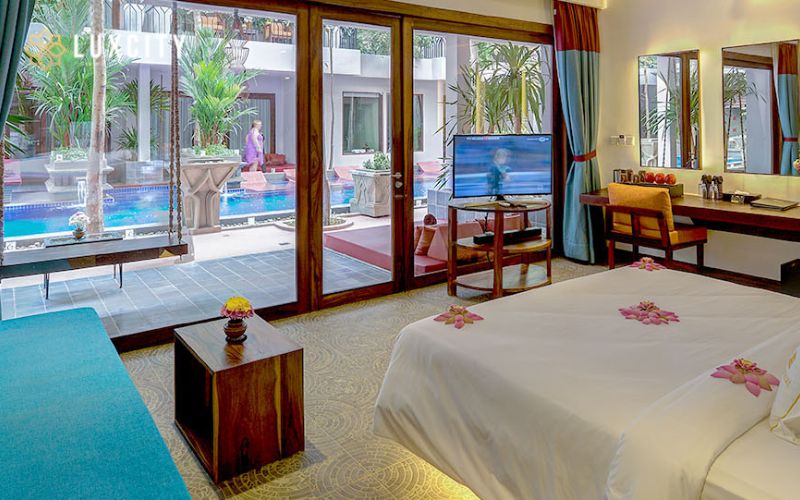 For guests looking for relaxation and serenity, the Golden Temple Retreat, one of the five Golden Temple Group properties, offers just that. Located in the Wat Damnak area, in the South-East quarter, the retreat is just 10 minutes walk to downtown Siem Reap and about 10 kilometres from Angkor and the airport. Like the other Golden Temple properties, the Retreat provides professional spa, a lengthy swimming pool, extensive bar, and high-quality restaurant. The restaurant features complimentary Apsara dance performances at selected times and serves both Western and local gastronomic delights. All rooms are air-conditioned and offer flat-screen TVs with satellite channels and many modern comforts. Each room has an en-suite shower room with quality fittings. Recognising the importance of guest service, the team constantly works to improve language skills, proactivity, cultural awareness, and interpersonal skills.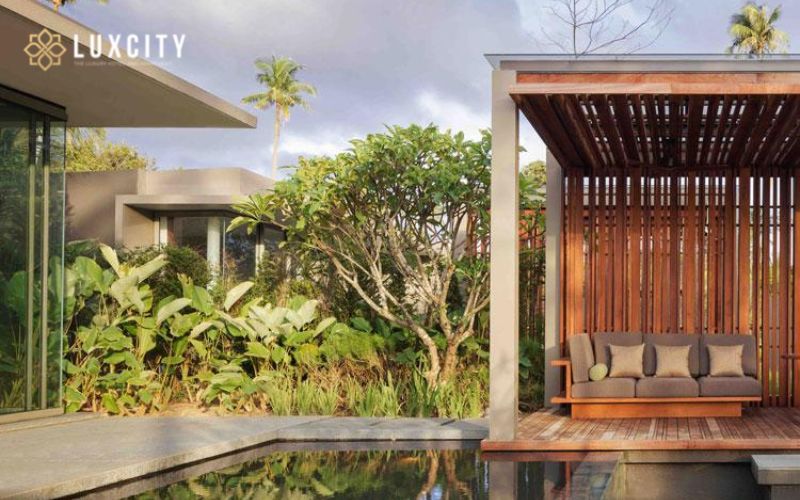 Boutique hotels aim to provide a more unique and personalized experience compared to larger, chain hotels, and are a popular choice for travelers seeking a more intimate and memorable stay. After reading this article, have you found the best boutique hotels in Cambodia for you? So pack your bags, grab your camera, and get ready for an unforgettable adventure! If you want to learn more about other exciting travel tips, be sure to read our blog for more information!