2022-11-02
Top 5 Spacious hotel rooms near me with a fully stocked kitchenette in Phnom Penh
For many travellers, an extended stay is not strange because visiting a different country entails more than just spending a couple of days for tourism or sightseeing. And when relocating to a new location, the quality of your lodgings and meals are among the first things you should think about. You probably won't want to splurge on a restaurant for every meal. However, signing a lease on an apartment can be complicated if you aren't planning to be there for a few weeks or months. Here's where a hotel room with a kitchenette comes to your rescue. Let us walk you through how a well-equipped kitchenette in your room will benefit you and where you can find the best hotel room with modern kitchenette in Phnom Penh to best bring the most comfort to your stay. Let's get started!
Learn more: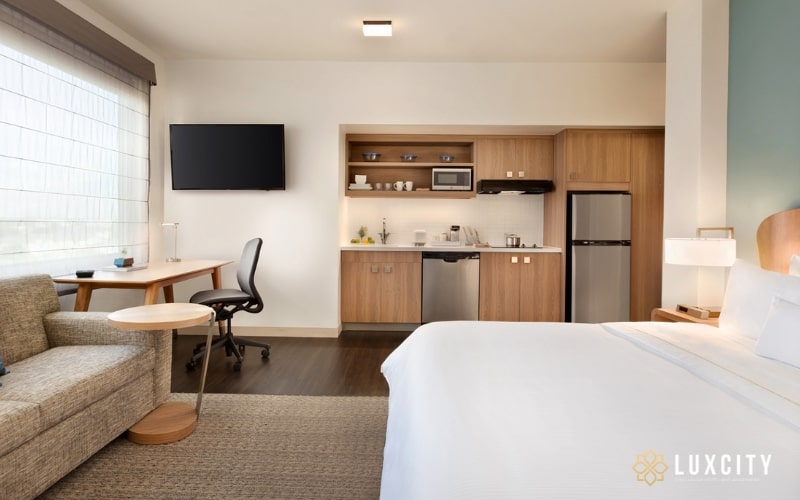 What Is a Kitchenette?
The term "kitchenette" refers to a small cooking area in a hotel or apartment that provides users with some of the flexibility of a kitchen while taking up much less space. Kitchenettes typically occupy only one wall and are often located in a corner. They are intended to be efficient and space-saving. A kitchenette will typically include a small refrigerator, a microwave, and a sink. Larger kitchenettes may include one or two burners, as well as a small oven.
The Value of a Fully Stocked Hotel Kitchen When Staying a Long Time
If you're planning a stay of several days or a couple of weeks, such as when relocating for a new job, taking a long family vacation, relocating to or remodelling your home, attending college, touring the local sites, or travelling for temporary business, make sure you take advantage of the hotel's kitchenette.
You will Spend Less on Restaurant Meals
It can cost a lot to eat out. Over a short period of time, spending $10 on lunch and $20 on dinner can add up to a significant financial burden. Making your own meals while staying in an extended-stay hotel can help you save a tonne of money, which is just one of its many advantages.
You can prepare meals just like you would at home if your kitchen is fully stocked. If you know you can cook in your temporary home, you won't need to order takeout or go through the drive-through. Additionally, there is a full-sized refrigerator where you can keep all of your favourite foods and beverages. Drinks and snacks from the vending machine are free.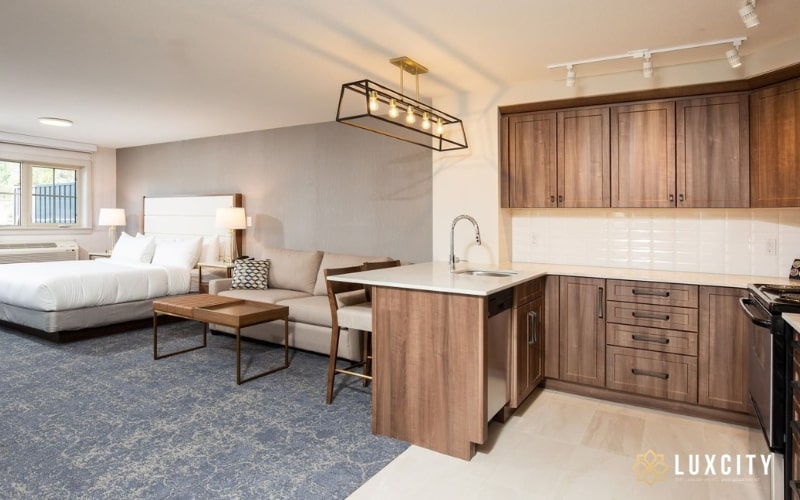 You will Eat Healthier Food
There's a good chance you'll have to eat out or order room service if you stay in a traditional hotel. The portions of these foods are typically enormous and unhealthy. You can make sure you're cooking the same nutritious food you do at home if you have a kitchen of your own.
A full-sized refrigerator allows you to keep fresh snacks close at hand as well. You'll always have wholesome snacks on hand rather than reaching for an expensive mini-bar.
You will be able to prepare meals
In a conventional hotel, it is nearly impossible to prepare meals. You will have all the ingredients you need to prepare meals in a hotel with a full kitchen. You can cut vegetables for dinners that week or fresh fruit for snacks.
You can still plan your weekly or monthly meals as you normally would even if you are not at home. There will be a cutting board and all the pots and pans you need for meal preparation in an extended-stay kitchen.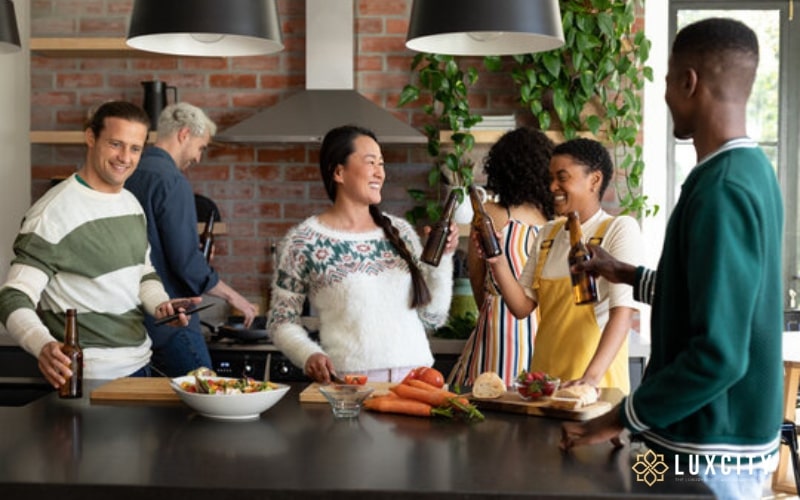 Embrace your own coffee
Being able to make your own coffee is a huge advantage if you enjoy drinking it. You'll be able to enjoy your preferred cup of coffee while you're away thanks to a fully stocked kitchen. You can make it yourself by bringing your own coffee, creamers, and sugar. There is no need to pack coffee cups because there will be some in the kitchen as well.
Additionally, you'll spend less on coffee-to-go. You can prepare your own coffee at home and take it to work with you. There's no need to spend money at a pricey coffee shop.
You won't have to bring your own cooking utensils
The last thing you want to do when moving or staying in an extended stay suite for business is pack kitchen supplies. Especially if you are moving and your kitchen equipment is prepared for the big move. Relax during your extended stay and take advantage of everything you require.
Pots, pans, cooking utensils, and silverware will all be in your kitchen. You don't need to bring anything with you for the duration of your stay. Additionally, you won't have to spend any money on dispensed kitchenware. Save the environment and money by using paper products and plastic silverware that you might have otherwise needed at other hotels.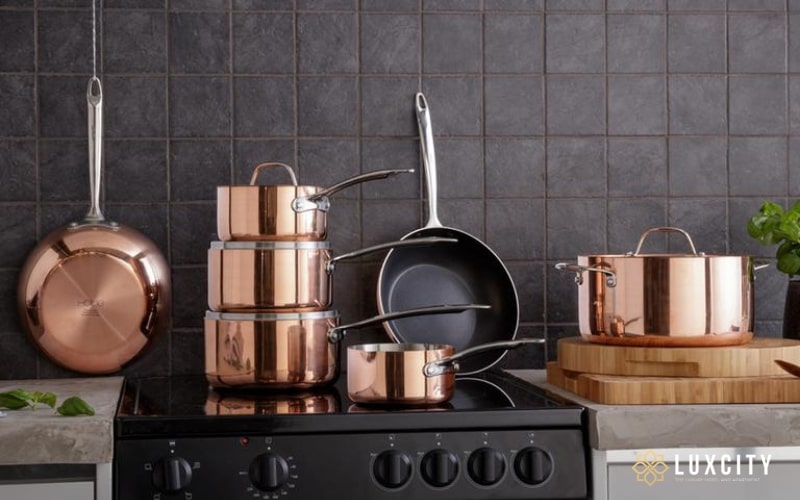 You may invite a coworker/friend/guest to dinner
You will be able to invite a coworker over for dinner if the kitchen is fully equipped. Everything you need to host a guest is in your kitchen and dining area. It's nice to be able to have a meal and a drink with a coworker after a long day.
You will have plenty of room to set up a meal for you and a teammate if you have a breakfast meeting or training. You can make a pot of coffee and serve a quick breakfast just like you would in a boardroom or at work.
Top 5 Best Hotel Rooms with Modern Kitchenettes in Phnom Penh in 2022
Luxcity Hotel and Apartment
Luxcity is recognised as one of the most prestigious 4-star hotels in Phnom Penh. Strategically situated in the heart of this capital city, Luxcity offers easy access to the majority of the city's most famous attractions as well as convenient amenities. We offer various options for you to choose from when it comes to a long stay: sky villa, executive residence room,... that is well equipped with world-class amenities from the kitchen to a laundromat. We also offer you weekly and monthly discount rates as well as a flexible lengthy changing policy to make you feel worry-free on your long trip.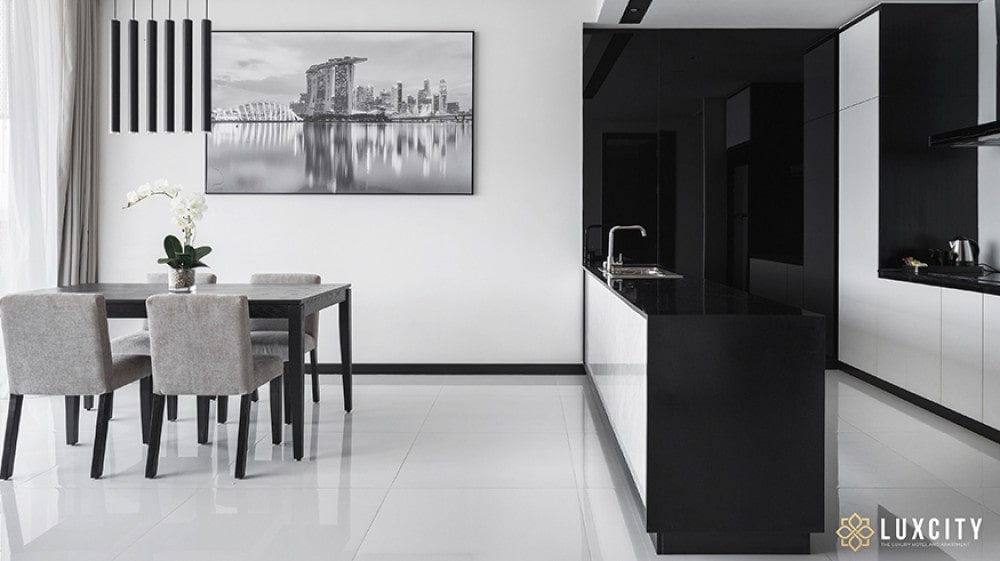 The room will include a bedroom, living room, minibar, and a private balcony. Beyond the standard amenities such as bedding, wardrobe, dressing table, a mini bar, TV, air conditioner, and shoe rack, some hotels also offer a separate kitchen and swimming pool arrangement to inject your stay with a fancy touch. But what distinguishes Luxcity as outstanding is our service; we provide a wide variety of services through staff who embody Cambodian tradition and international standards of hospitality. With our courteous and enthusiastic staff, a stay at Luxcity will ensure that you make the most of your trip.
Hotel Emion Phnom Penh
Located in the heart of Phnom Penh, only a short walk from the Mekong River, Hotel Emion Phnom Penh has an infinity swimming pool with a pool bar. Among the facilities of this property are a restaurant, a 24-hour front desk, and an ATM. Free Wifi is available throughout the property. All rooms are equipped with a kitchenette and an en suite bathroom. The sofa is provided in every room along with an electric kettle. Guests at the hotel can enjoy a continental or a la carte breakfast accompanied by river views at the restaurant or work out at a fitness center. The kids club is also available. Popular points of interest near Hotel Emion Phnom Penh include Chaktomouk Hall, Royal Palace Phnom Penh, and Diamond Island Convention and Exhibition Center. Phnom Penh International Airport is a 50-minute drive from the property.
Somerset Norodom Phnom Penh
Set in Phnom Penh, 1.1 km from Aeon Mall Phnom Penh and 1.9 km from Tuol Sleng Genocide Museum, Somerset Norodom Phnom Penh offers city views and free WiFi. All units come with air conditioning, and some have a flat-screen TV, washing machine, and a kettle, completed with a kitchenette. Guests at the apartment can enjoy a continental breakfast. Diamond Island Convention and Exhibition Center is 2.1 km from Somerset Norodom Phnom Penh, while Royal Palace Phnom Penh is 2.5 km away. The nearest airport is Phnom Penh International, 13 km from the accommodation, and the property offers a paid airport shuttle service.
Aquarius Hotel and Urban Resort
Located just 700 m from the Tonle Sap River, Aquarius Hotel and Urban Resort features an outdoor saltwater infinity pool and guests can enjoy a meal at the open-air restaurant or a drink at the bar. Every contemporary-styled room at this hotel is air conditioning and is fitted with a flat-screen cable TV, an electric kettle, a minibar, and a desk. Some units include a seating area where you can relax. En suite bathrooms include shower facilities, a hairdryer, and free toiletries. Slippers are included. Guests can approach the 24-hour front desk for tour arrangements, meeting facilities, and concierge services. Guests enjoy complimentary use of computer terminals at the Internet cafe.
Aurea Central Hotel
Situated in Phnom Penh, 500 m from Vattanac Capital, Aurea Central Hotel features accommodations with a restaurant, free private parking, a fitness center, and a bar. Among the facilities at this property are a 24-hour front desk and room service, along with free WiFi throughout the property. The hotel has family rooms. A continental breakfast is available each morning at the hotel. Aurea Central Hotel offers a terrace. Wat Phnom is 1.2 km from the accommodation, while Riverside Park is 1.6 km from the property. The nearest airport is Phnom Penh International Airport, 10 km from Aurea Central Hotel.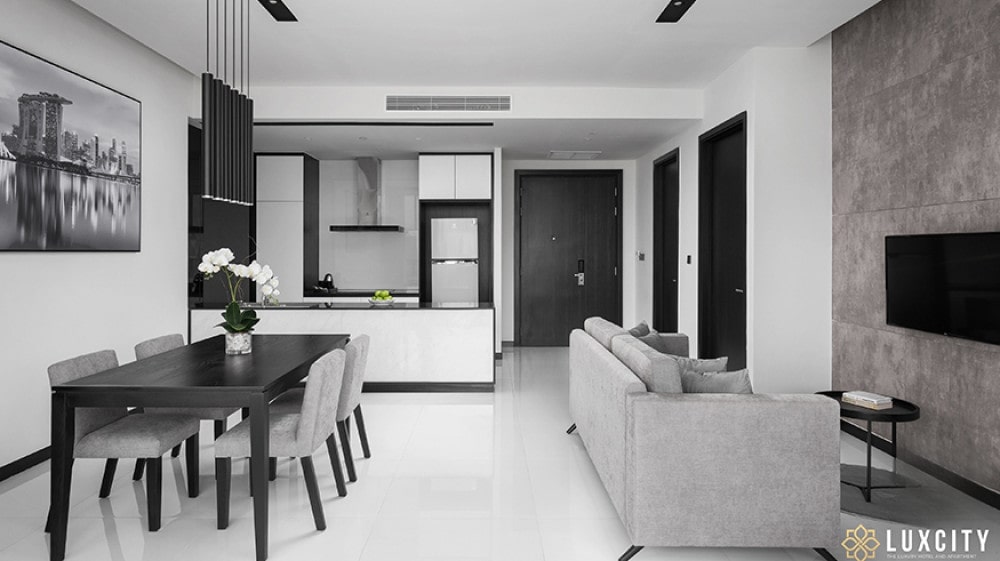 When you are booking for a long stay in a hotel, you want to make sure you get the most bang for your buck. Here, you can rest knowing that you're making the right decision by choosing a hotel with a fully stocked kitchenette. Everything you need to prepare your own meals, snacks, and coffee is provided in an extended-stay hotel kitchen. You and your partners/family will have all the conveniences of home without having to pay for expensive room service or restaurant meals. And if you're thinking about staying in Phnom Penh for an extended period of time, let Luxcity take care of you with not only our fully functional kitchen, but also our roomy accommodations and other first-rate modern conveniences.
To save your best deals, contact Luxcity now: https://luxcity.com/executive-residence.