2022-11-02
Top 7 best weekly hotels in Phnom Penh - Where your savings increase the more nights you stay
If you plan on staying in a different location for a certain period of time, lodging is one of the most important aspects of your trip to consider right from the get-go. So whether you're relocating for a new job, taking a long family vacation with the kids, transiting to or remodeling your home, attending college, touring the local sites, or travelling for a temporary business — you deserve to feel at home when on the road. This is where weekly hotels could come in handy. But what exactly is a weekly hotel? Is it more advantageous than renting an apartment? And where to find the best weekly hotels in Phnom Penh? Let's get started and discover more about what to expect during your stay at an extended-stay hotel.
Learn more: THE 10 BEST Hotels in Phnom Penh for 2023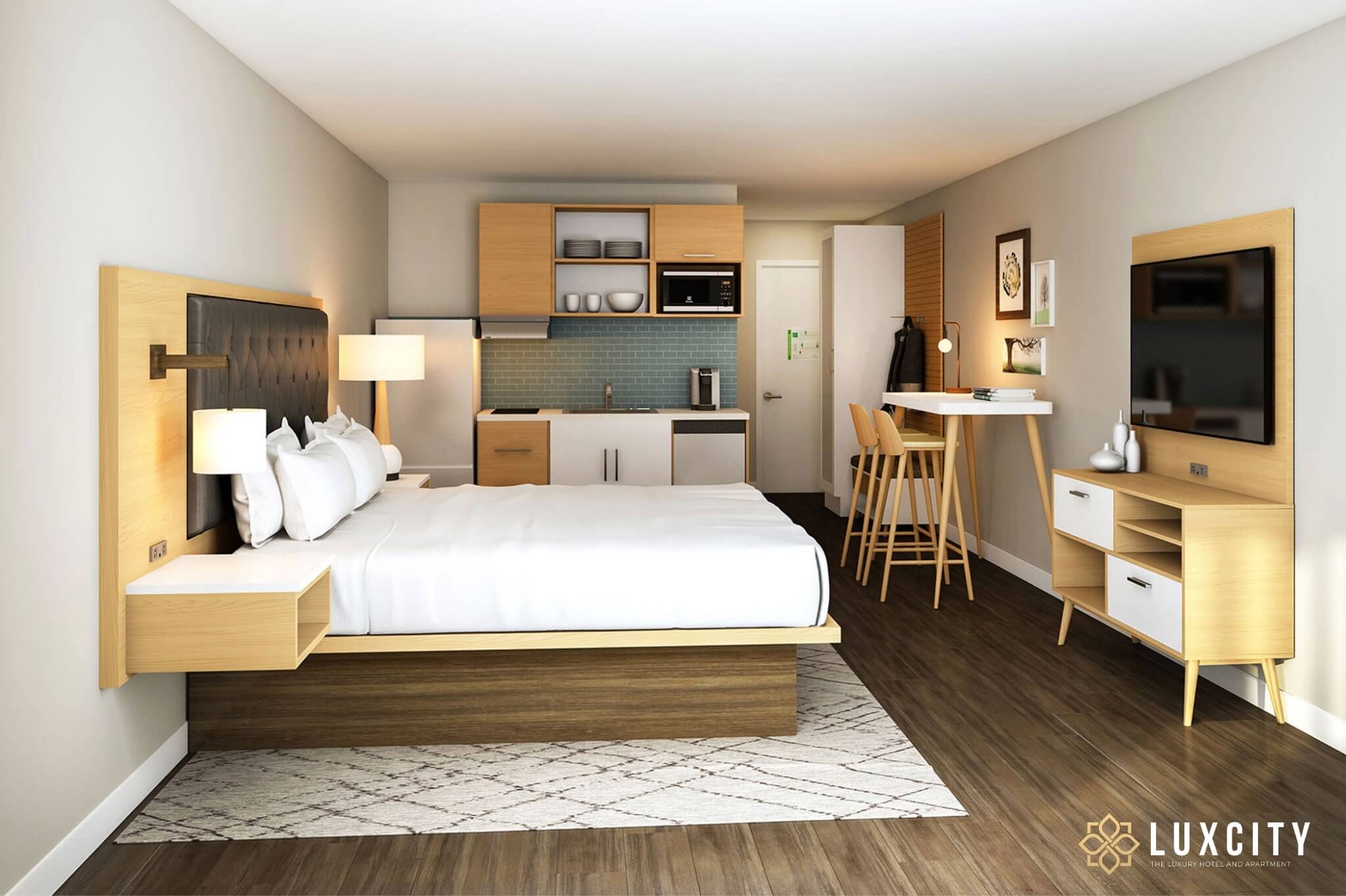 What is A Weekly Hotel?
A weekly hotel is one that offers long-term lodging at discounted rates that are typically provided in weekly and or even monthly increments. While each weekly hotel brand is different, the majority of them provide guests with fully furnished living quarters that include in-room kitchens, storage space (such as built-in closets), and on-site laundry facilities. Most weekly hotels are more akin to studio apartments than hotels.
Reasons to Book a Weekly Hotel in Phnom Penh
Feels More Like Home
Weekly hotel amenities make you feel more at ease than in a standard hotel room. Suites typically include kitchenettes with a refrigerator, microwave, and storage. Some may include cooktops. Your room is also more likely to have a sofa and other comfortable furniture. Space can be divided into two rooms to create a more apartment-like atmosphere than a standard hotel room.
Having that sense of home makes your stay more relaxing, especially if you have children. You get convenient amenities that make caring for your children easier while you're away from home.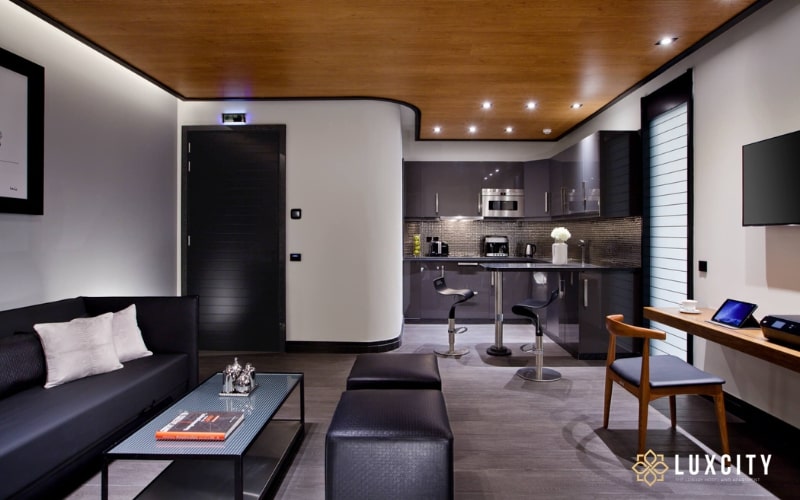 Saves on Your Budget
Some of the best hotels charge high nightly rates, but weekly hotels offer weekly or even monthly discounts. If you need to stay for a week or two, you can inquire about weekly rates, and you can inquire about monthly rates if you need a place to live for a month or longer. The weekly and monthly rates significantly reduce the nightly rate. You'll save a lot of money by taking advantage of this feature that most weekly hotels provide.
What's more? A weekly hotel can help you save money on meals by allowing you to buy cheaper snacks and food. Rooms usually have more cupboards and storage space for these items. The refrigerator and cooking appliances provided allow you to easily store perishable foods and prepare meals in your room. Many weekly hotels also provide free breakfast, saving you money on one meal. Some establishments may offer a happy hour or other special events with drinks or snacks for additional savings.
Learn more: Top 10 Cheapest hotels options for budget travellers in Phnom Penh (Updated 2023)
Ideal for Business Trip
If you're going on a business trip, weekly hotel suites are the ideal solution. You won't have to worry about checking out of your room if you stay for the week when you're on business for a week or longer.
Moreover, you will have access to business rooms when you stay in a weekly hotel. Assume you need to meet with clients. Instead of meeting in a noisy, crowded restaurant, reserve a business meeting room at your hotel. You'll have privacy and won't have to deal with noise this way. Maids will also come into your room and clean it as needed. They will provide you with clean towels and will take care of your garbage.
Read more: Top 10 Best Business Hotels in Phnom Penh City Center in 2023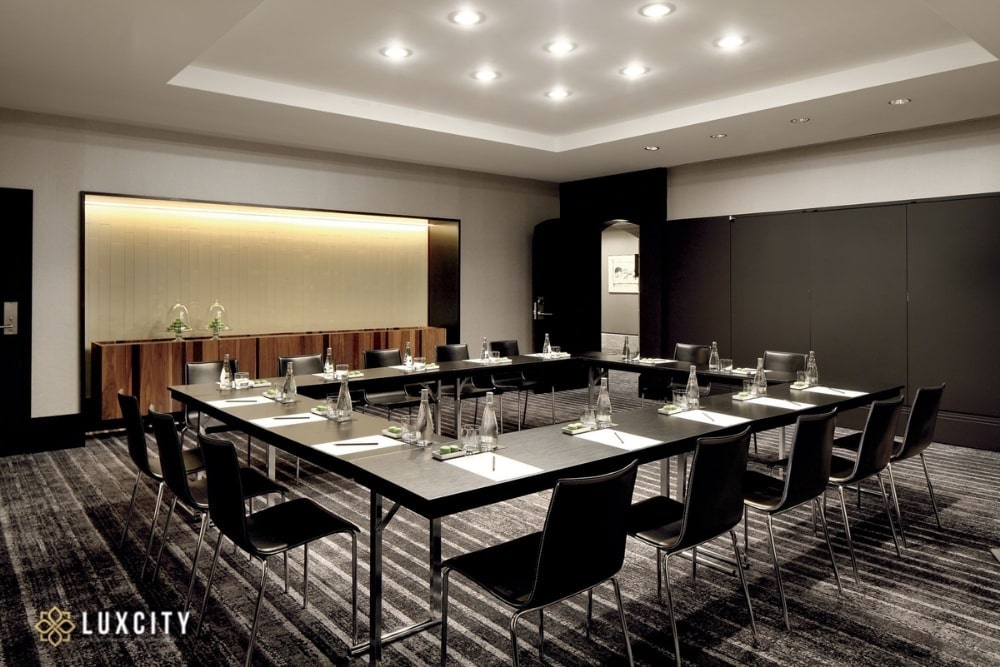 Flexible stay
Despite its name, this type of hotel offers flexible stay lengths. Even if you're only staying for a week or a month, or even longer, you can stay at this type of hotel. They're also useful if you need to stay for an extended period of time. Perhaps you are renovating your home, or you have sold your home but have yet to move into your new one. Perhaps you're looking after a sick parent and need to be close by for an extended period of time. These hotels usually allow you to extend your stay if necessary. If your renovation takes longer than expected, you can easily extend your stay at the hotel.
Why Choose a Weekly Hotel Over an Apartment?
While the amenities in a weekly hotel are similar to those in an apartment, there are some key differences.
Policy
Unlike apartments, weekly hotels do not require lease agreements. Guests at a weekly hotel can pay in advance for their initial length of stay. They can easily extend their stay for another week or month using the hotel policy when their first week or month is up. This flexibility puts the guest in charge, as there are no penalties for breaking an agreement.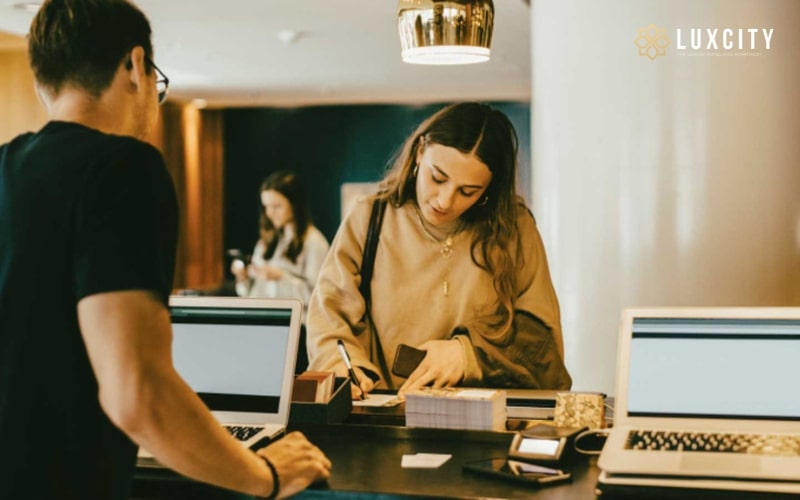 Ideal for moves
Visitors also choose residential hotels like this when they are in between moves. Assume you had to vacate your apartment or house and had no place to stay until you closed on your new home. During this time, you could be in limbo for several weeks or months. While you could rent an apartment during this time, renting a hotel room is much easier and more convenient. If you move to an apartment, you'll have to unpack everything in order to have the furniture you need. Furthermore, it's difficult to find an apartment manager who will rent you a unit for a few weeks or months because most require annual leases.
Amenities You Can Expect At a Weekly Hotel
In-room WiFi and high-speed internet access.
Televisions with apps such as Netflix.
Local transportation is back and forth between the airport, major shopping centres, tourist attractions, and business districts.
On-site DIY laundry centres.
Fully stocked kitchens with a refrigerator, microwave, sink, garbage disposal, and oven.
Filtered drinking water.
Recreational facilities such as a pool and hot tub.
A gym with machines and weights.
Conference rooms and business centres with printer access.
Takeaway breakfast items, snacks, and vending machines.
Parking spaces, dog parks, and a grocery or liquor store on site. Luxury weekly hotels may also include lounges, movie theatres, security patrols, and 24/7 guest services.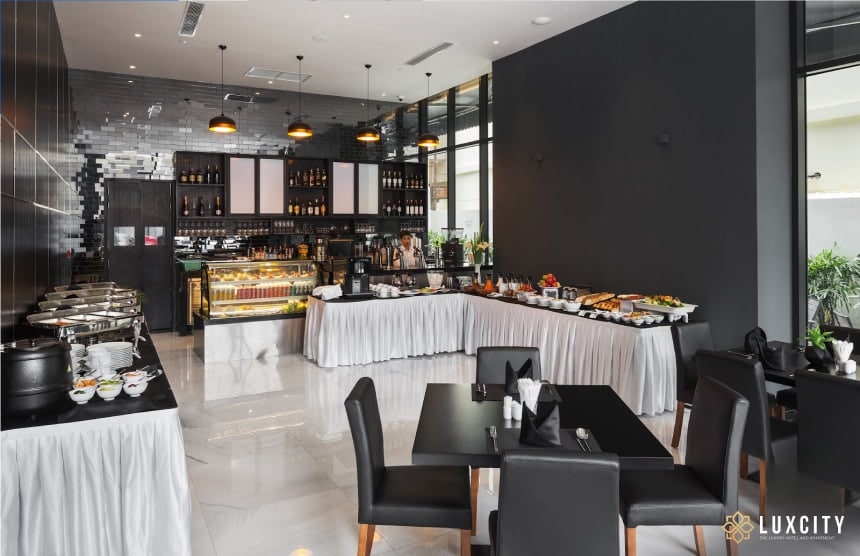 Top 7 Best Weekly Hotels In Phnom Penh For Your Most Cost-Effective Extended Stay
Luxcity Hotel and Apartment
Luxcity is recognised as one of the most prestigious 4-star hotels in Phnom Penh. Strategically situated in the heart of this capital city, Luxcity offers easy access to the majority of the city's most famous attractions as well as convenient amenities. We offer various options for you to choose from when it comes to a long stay: sky villa, executive residence room,... that is well equipped with world-class amenities from the kitchen to a laundromat. We also offer you weekly and monthly discount rates as well as a flexible lengthy changing policy to make you feel worry-free on your long trip.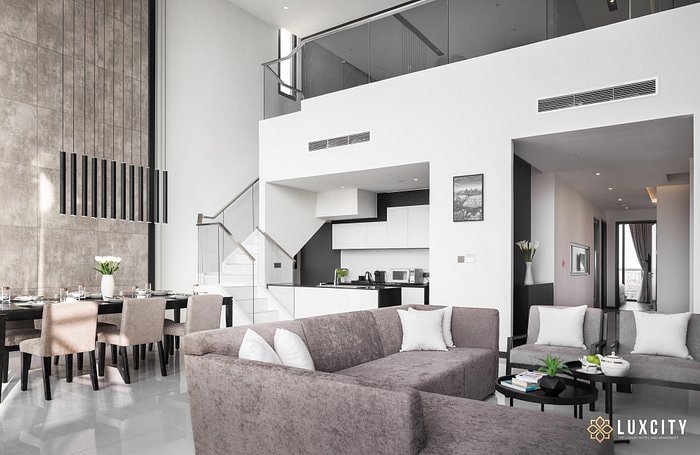 The hotel offers 24-hour reception, 24-hour security and housekeeping service, one parking space in an automated parking garage, a restaurant, and a swimming pool. You can keep fit through fitness classes at the gym. Each of the standard rooms is equipped with all necessary amenities. Additionally, each unit includes an electric kettle, coffee/tea-making facilities, and kitchenware. But what distinguishes Luxcity as outstanding is our service; we provide a wide variety of services through staff who embody Cambodian tradition and international standards of hospitality. With our courteous and enthusiastic staff, a stay at Luxcity will ensure that you make the most of your trip.
Sun & Moon, Urban Hotel
Offering an outdoor pool and views of the city, SUN & MOON, Urban Hotel Phnom Penh is situated in the Daun Penh district right in the heart of Phnom Penh. Located within walking distance of many of the city's landmarks and prominent attractions, the hotel sits 350 meters from the bustling riverside. Guests can enjoy dining options from the hotel's in-house restaurant and rooftop bar. It also features an outdoor pool and includes spa facilities. The hotel provides transfers and shuttle services at an extra cost. Each room at SUN & MOON, Urban Hotel is air-conditioned and is fitted with a flat-screen TV. Some units have a seating area to relax in after a busy day. You will find a kettle in the room. Every room is fitted with a private bathroom with a bath or shower and shower, with bathrobes, slippers, and free toiletries provided. A TV with cable channels is featured.
Snowbell Hotel
Snowbell at The Bridge Hotel is situated in Phnom Penh, Popular points of interest near the accommodation include Chaktomouk Hall, Vattanac Capital, and Riverfront Park. Phnom Penh International Airport is about 8 km away. Around 900 meters away from Tuol Sleng Genocide Museum and about 1.2 km away from Royal Palace Phnom Penh. Around 1.6 km from Aeon Mall, the property is also about a 20-minute walk away from Sisowath Quay. The hotel provides free WiFi and a 24-hour front desk. There is a tour desk, and car rentals are available, while the business centre has an ATM. Snowbell at The Bridge Hotel features certain rooms that have river views, and each room has a private bathroom and a desk. All units will provide guests with a fridge.
Bali Hotel
Featuring an outdoor pool and buffet restaurant, Bali Hotel Phnom Penh has spacious and air-conditioned rooms with free Wi-Fi and a balcony with garden views. A garden with tropical trees and flowers awaits guests. A flat-screen cable TV, minibar, and safe are found in the rooms of Bali Hotel Phnom Penh. A seating area and a private bathroom with a bathtub, shower, and hairdryer are included. Free bottled water is provided. Other recreational facilities include a fitness centre and billiards. A ticket service, tour desk, and luggage storage are available. A buffet breakfast is served in the morning at Bali Hotel Phnom Penh. A variety of drinks including beers and cocktails can be ordered from the Pool Bar.
G Mekong Hotel Phnom Penh
Nestled in the busy Phnom Penh city, G Mekong Hotel Phnom Penh offers accommodation with views of the city just 1.2 km from the Royal Palace Phnom Penh. The property features a refreshing outdoor pool, terrace, and spa centre. Guests can enjoy a local or international meal choice at the restaurant. G Mekong Hotel features free WiFi.
The air-conditioned room of G Mekong Hotel Phnom Penh features a cable TV and a kettle for hot water. The En suite bathroom is fitted with a shower and provides the use of a hairdryer and slippers. You will find a 24-hour front desk at the property.
Orussey Binke Hotel
The property is just 800 m from Royal Palace and 1.3 km from Tuol Sleng Genocide Museum. Riverfront Park is 1.5 km away, while Phnom Penh International Airport is accessible within a 9 km drive. Simply furnished, rooms come with air conditioning, a fan, and tiled flooring. Private rooms include a wardrobe and cable TV. Guests have access to either shared or private bathrooms with a shower facility.
NagaWorld Hotel & Entertainment Complex
NagaWorld Hotel is an entertainment resort located in the heart of Phnom Penh, where travellers can easily access the hotel by a 20-minute-drive from Phnom Penh International Airport, and it is within walking distance of major tourist attractions like the Imperial Palace and the National Museum. Next to the Mekong River, our guests can enjoy awe-inspiring views over Phnom Penh from luxurious hotel rooms.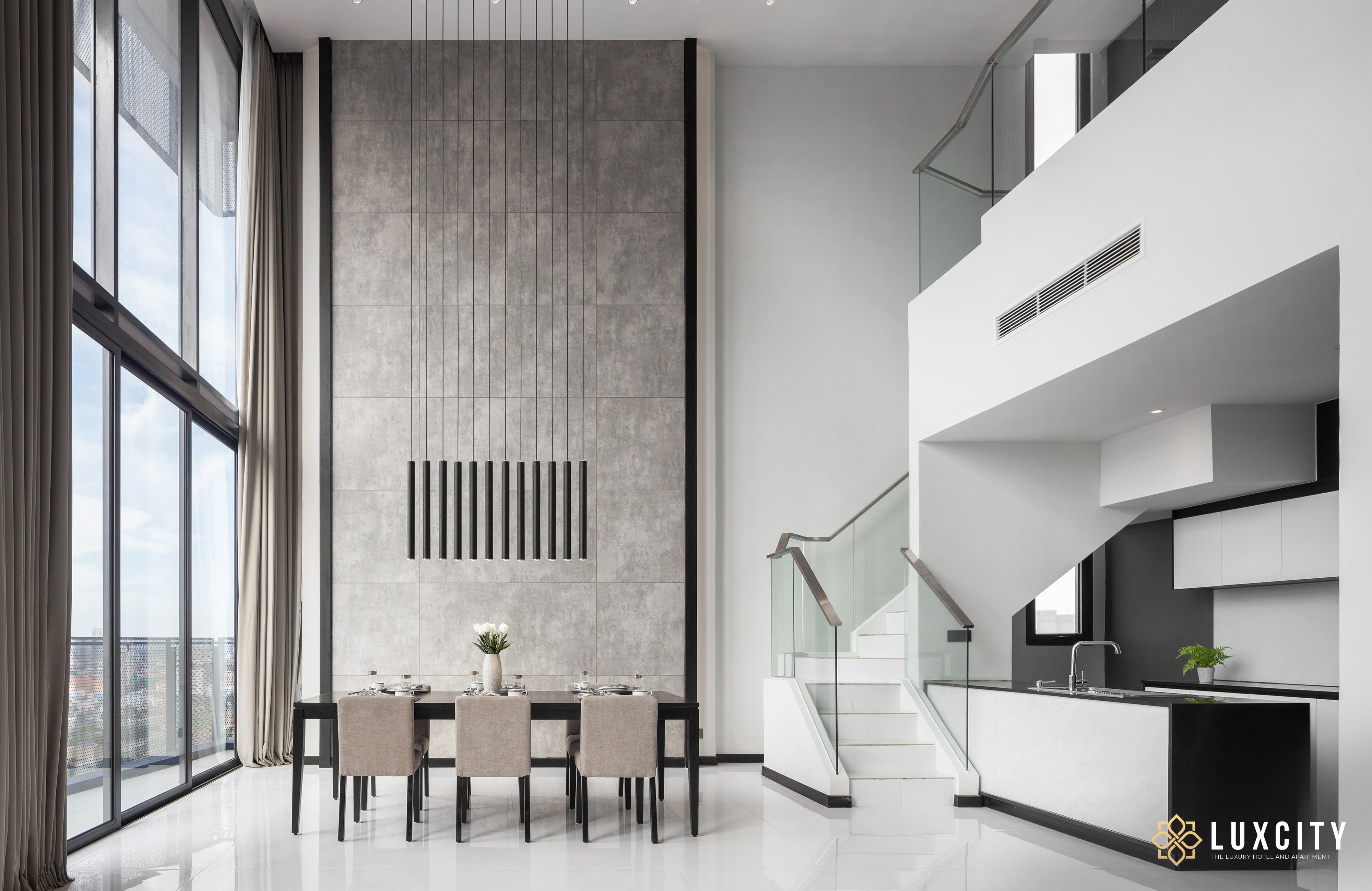 Travelling for leisure, business, leisure, or even a staycation with family or friends, weekly hotels offer more benefits than just saving your money. The weekly hotels listed above come with in-room kitchenettes, affordable weekly hotel rates with facilities that help you to feel at home and act like you are home a wide range of value-added amenities, and many other benefits for a weekly hotel that helps you to stay healthy. If you are travelling to Phnom Penh, let Luxcity have the chance to serve you with our high-class amenities and fully furnished hotel suites that bring you your best comfort when staying in this city. Contact us today to receive many great special offers this year: https://luxcity.com/.