2022-11-02
Find the best hotels with car parking near me in Phnom Penh [Including valet service]
When you're on a trip, there are numerous logistics to think about. It may not be a major concern for those who already have a hotel reservation, as most hotels now provide complimentary hotel parking. However, if you aren't planning on booking a room, one of the most important considerations you'll have to make revolves around transportation - specifically, where you're going to leave your car and how much it costs. Finding a hotel in Phnom Penh with parking can be a challenge - but also a great achievement when you bag one. From private underground car parks and free on-site spaces to valet service, here's our pick of the best hotels with car parking near you in Phnom Penh.
Learn more: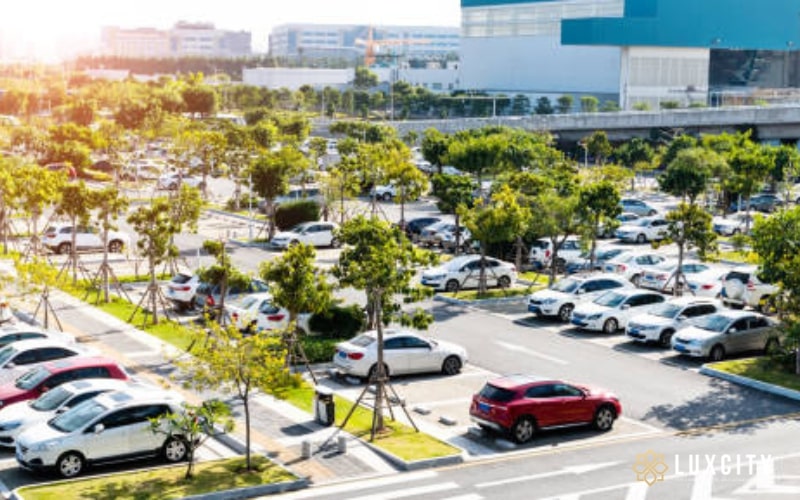 How Leaving your Car at the Hotel Parking will benefit you?
Hotel parking is an appealing option due to benefits such as convenience and flexibility. You'll be able to avoid airport parking hassles and have a place to stay in case of cancellations. Here look at some advantages of parking at a hotel parking lot.
Convenience
Convenience is one of the most obvious benefits of hotel parking. Instead of driving into the often chaotic airport and struggling to find a parking spot, you'll be able to comfortably find a spot at the hotel, which is likely booked days in advance. For some, this alleviates a lot of the stress of the journey. All you'll have to do is to start your fascinating trip and trust that your car is safely parked back at the hotel.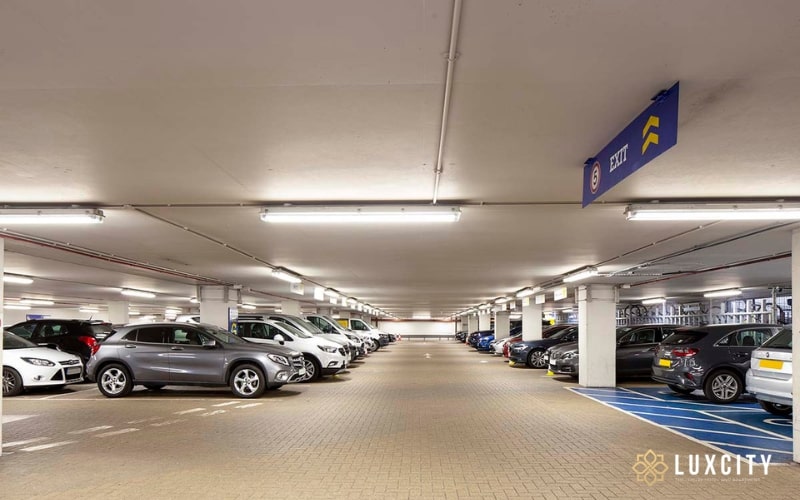 Adaptable Arrangements
Flight delays usually happen, so having a backup plan is a good idea. If you've already purchased a parking spot at the airport, you could be stuck there for a long time looking for a comfortable place to spend the next few hours. A hotel parking spot allows you to return to your hotel room, put your feet up, and wait for the next flight. It provides a versatile option that gives you peace of mind during your journey.
Budget-friendly
You'll normally have two main options for parking — a hotel and the Phnom Penh airport, which both offer options to park your vehicle. However, airport parking can sometimes be prohibitively expensive, even exceeding the cost of a plane ticket. Hotel parking is a low-cost option that may be suitable for those looking to save money. Finding hotels near Phnom Penh with free airport parking can be difficult, but finding cheap parking options at a nearby hotel can benefit your travels.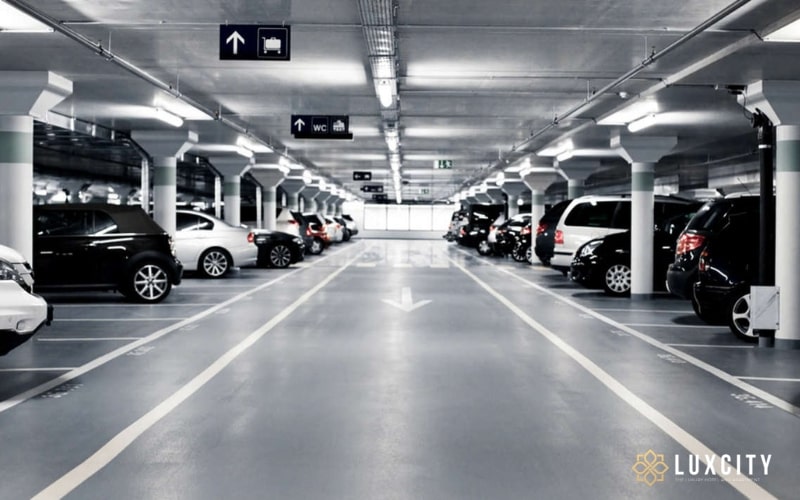 What to consider before parking at a Hotel
Parking is classified into two types: valet and self-parking. Regarding the self-parking option, you must find a parking space for your own vehicle, while valet parking is a convenient drop-off and pick-up point located outside an entrance. You hand over your keys to a professional parking attendant, who secures and retrieves your vehicle before leaving.
So, on vacation, don't waste time looking for parking and walking to and from the parking lot. Instead, book a room at a hotel or resort that provides valet parking. This handy parking amenity is fantastic because you can usually call ahead and have your car brought to the front of the hotel before heading down to the lobby.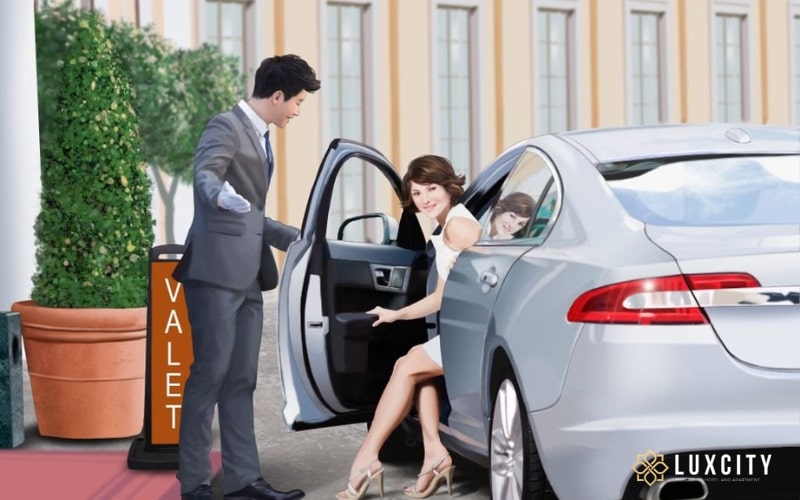 The Best Hotels with Car Parking Near Me in Phnom Penh (including Valet Service)
Valet Parking at lower-priced hotels in Phnom Penh
If you require hotel parking during your visit to Phnom Penh, Cambodia, we have compiled a list of parking options available at various hotels in Phnom Penh to make planning easier.
City Centre Hotel
City Centre Hotel is a friendly hotel (with an elevator) in the heart of Phnom Penh, conveniently located near the Riverside District, within easy walking distance, of the Royal Palace. The museum, Wat Phnom, and old and Night Markets. For an evening stroll, the hotel is close to the Sisowath Quay area of restaurants and nightlife along the riverside as well as the open promenade with local people enjoying their freedom. For shopping, it's only a couple of blocks from the Phnom Penh Central market. Bus terminals for all points in Cambodia are nearby. City Centre Hotel is designed for comfort and convenience, including free high-speed WIFI, in-room refrigerator, flat-screen TV with 66 channels, in-room coffee/tea maker, an in-room phone, luxury spring beds, and western-style bathrooms. There is 24-hour security, with security cameras monitoring all floors.
Valet Parking at Luxury resorts in Phnom Penh
If you want to stay at a luxury hotel in Phnom Penh for a romantic getaway, relaxing vacation, or business trip, go the extra mile and reserve a luxury hotel with valet parking. Some of the luxury hotels in Phnom Penh provide valet parking.
Asia Tune Hotel
Located in the heart of the city and just a few minutes from the famous Mekong River, Royal Palace, and Wat Phnom, which is a tourism site attraction. It perfect base from which to explore urban tours in Phnom Penh, a minute's walk from shops, restaurants, and markets. Asia Tune Hotel is a sanctuary for tourists and corporate guests alike who expect excellent hospitality and friendly service. Asia Tune Hotel welcomes and invites you to enjoy your stay and relax with 4-star service. The Asia Tune Hotel offers a luxurious haven, elegantly furnished to provide you with a comfortable stay of the luxuries amenities and facilities with Cambodian hospitality.
Double Leaf Boutique Hotel
Double Leaf Boutique Hotel provides a peaceful aesthetic ambiance constructed from many natural materials spanning the indoor and outdoor spaces. The rooms are spacious and fitted with flat-screen TVs, a small fridge, and premium mattresses and pillows to ensure a restful night. Some accommodation units feature a seating area for your convenience. Some also feature views of the pool, garden, or city. Each room is fitted with a private bathroom. Extras include slippers and free toiletries.
The Kabiki
The Kabiki is a resort that is family-orientated and child-friendly with its 3500m2 of surrounding land. With Caring, friendly staff, and lots of nature for children to explore, the Kabiki is a place to relax, take a swim, and lounge in the sun between days exploring Phnom Penh and the nearby attractions of the Royal Palace, Wat Botum, and the riverside. They planted over 500 native trees, many of which we've placed name tags on so you can identify them yourselves.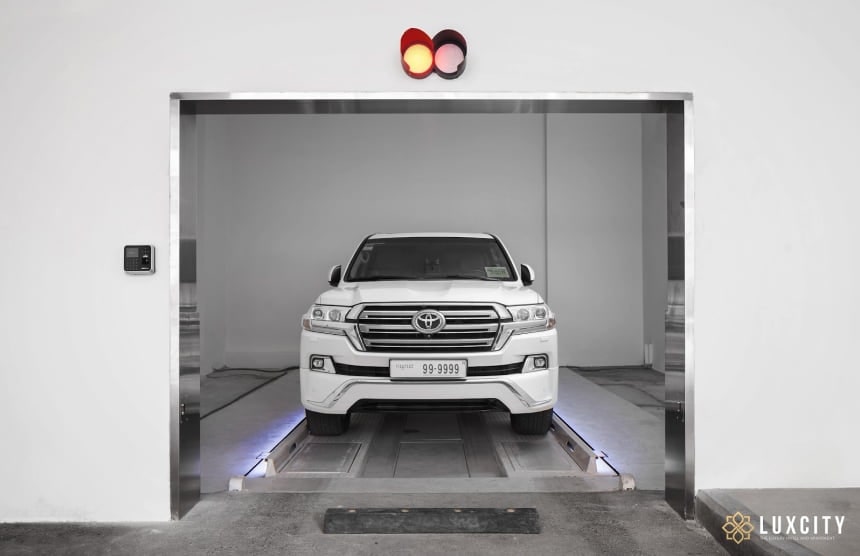 Most hotels today provide onsite parking for guests' convenience while on vacation; however, keep in mind that this luxury usually comes at a per-night or flat-rate cost. Some hotels even go so far as to provide more opulent parking options such as covered parking, valet parking, and even electric vehicle car charging stations. If you need hotel parking during your visit to Phnom Penh, Cambodia, Luxcity hopes the list above comes in handy. And if you are looking for a hotel in Phnom Penh with a central and well-connected parking service and other amenities, at Luxcity, we have a private car park for your vehicle and 4-star facilities. From there, you can then enjoy your trip without worrying about your vehicle.