2022-05-26
Away From Home For a While? Enjoy amenities designed for long term stay at hotels
The growth of long-term stay hotels has reached a record high in recent years as more and more travelers look for safe, comfortable lodging, great atmospheres, and affordable rates. As construction rates for this property type increase, so do the interest in staying in one, hosting events at one, or even running one. But what is a long-term stay hotel, exactly? Here's everything you need to know, including how they work, what types of guests they attract, and much more.
Learn More: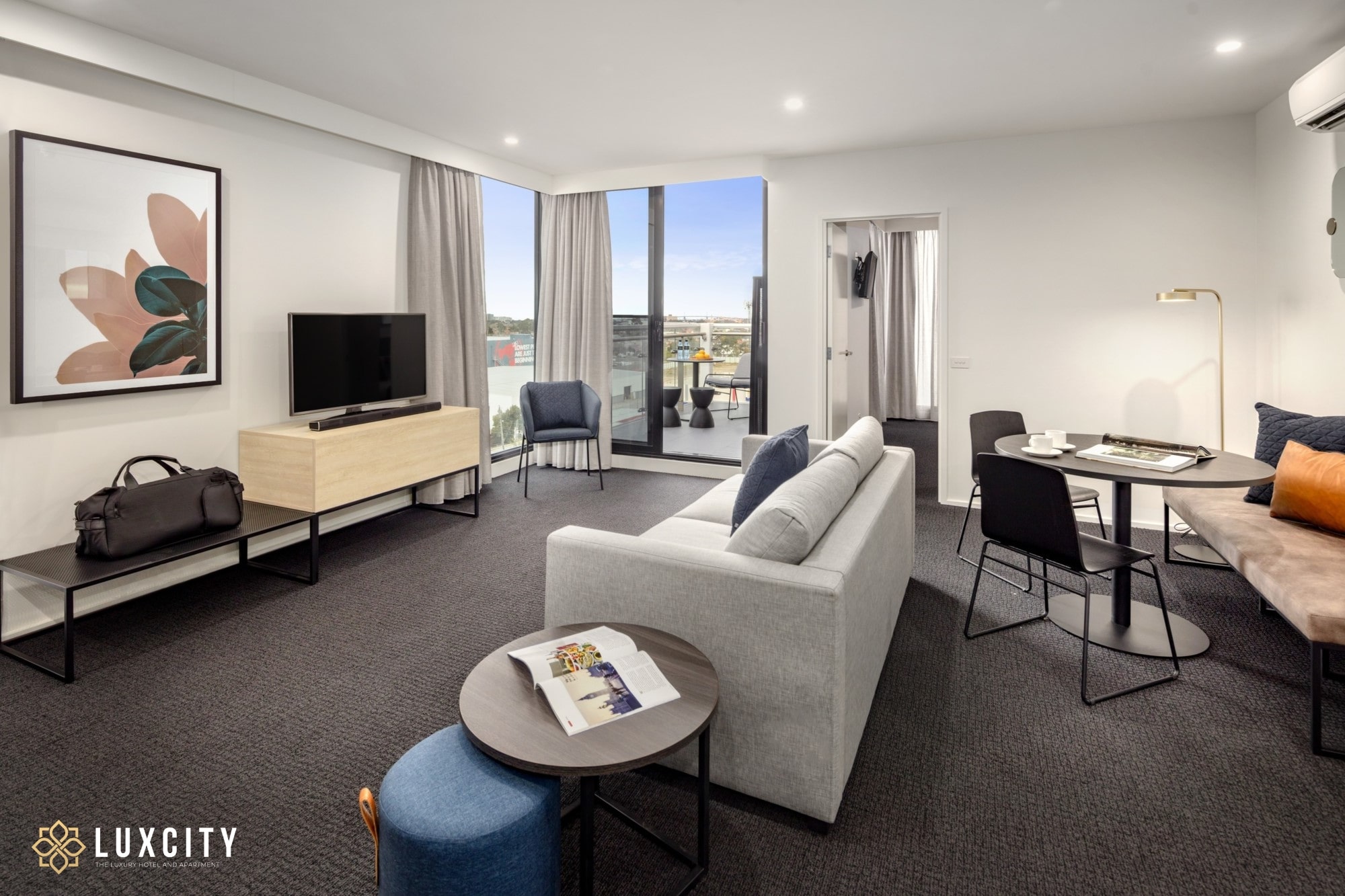 What is a long-term stay hotel?
A long-term stay hotel offers long-term accommodation for guests. With amenities such as self-serve laundry and in-suite kitchens, they're a cost-effective and convenient alternative to renting a traditional apartment. Because guests stay for a longer period of time, extended-stay hotels typically offer discounted rates. They often feature a home-away-from-home style and will often be referred to as apartment hotels or serviced apartments.
Just like regular hotels, long-term stay hotels range in price and style. Some offer apartment or studio-style living while luxury options have multiple bedrooms, more square footage, and special amenities such as private patios. They also offer amenities you'd expect to find in a regular hotel, including daily room service. You'll most likely find them centrally located near attractions, dining, and nightlife.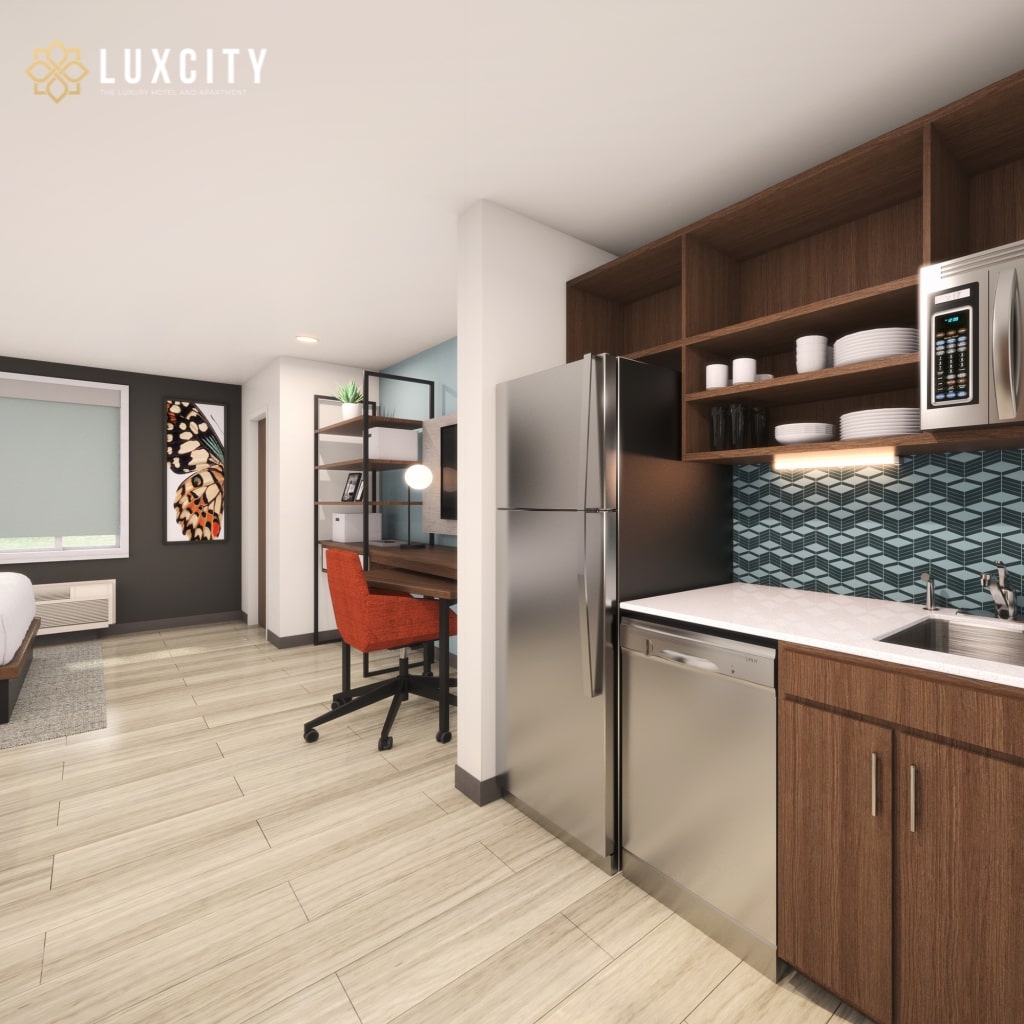 How long can you stay in a long-term stay hotel?
You can stay as long as the property allows, though rates may fluctuate over time. Although these hotels can hypothetically host guests for a night or two, most see guests who stay for five to seven days at a minimum since that's when discounts are typically applied.
But there are some rare exceptions. For example. Over the years she became close friends with staff, moved in furniture from her former home, and even created a community feeling for her many neighbors.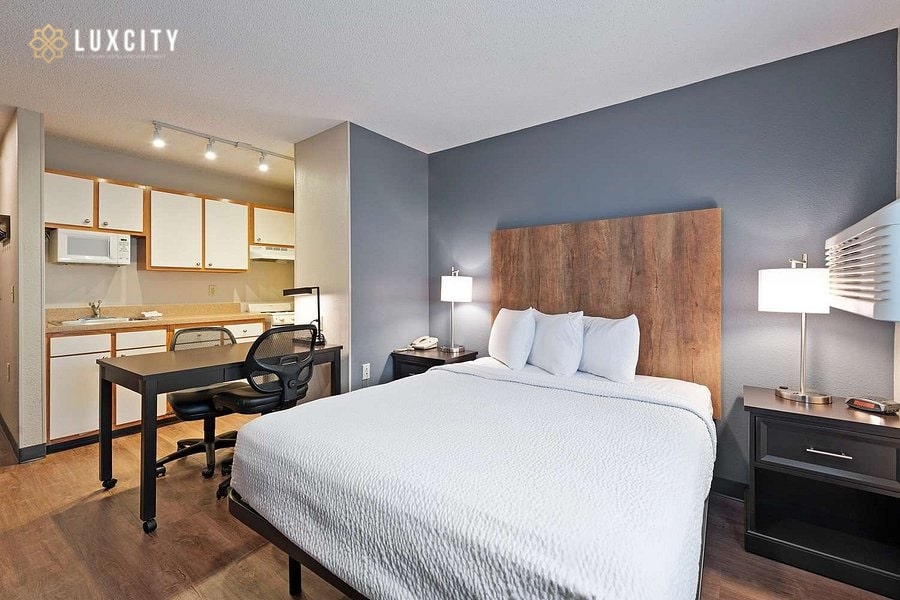 How do they differ from other hotels?
The biggest difference between a long-term stay hotel and other hotels is the price, what guests are billed for, and the different lifestyles often associated with each property type.
The average price for one night in a standard hotel room is higher than the average price of one night in an extended-stay hotel room — if you stay there long enough. For example, the average cost of a regular, short-term hotel room in Los Angeles is $216 for a weekend night and $194 for a weeknight. If a guest stays for one week, they can expect to pay $1,402. But a two-star extended stay hotel in the same city only costs $714, offering lodgers 50% savings on their visit.
Guests at most extended-stay hotels can also expect to get amenities such as WiFi and major utilities included in their nightly rate whereas other hotels sometimes charge fees for premium options like faster internet and movie rentals. For mid-range options, you'll also see differences such as coin-operated laundry facilities at long-term stay hotels versus professional onsite laundering services at other hotels. Plus, hotels typically offer additional lounge spaces, bars, restaurants, stores, and concierge services while this is not the norm at the average extended-stay hotel.
What do long-term stay hotels typically include?
The average extended stay hotels typically include each of the following:
In-room WiFi and high-speed internet access.
Televisions with apps such as Netflix.
Local transportation back and forth between the airport, major shopping centers, tourist attractions, and business districts.
On-site DIY laundry centers.
Fully stocked kitchens with a refrigerator, microwave, sink, garbage disposal, and oven.
Filtered drinking water.
Recreational facilities such as a pool and hot tub.
A gym with machines and weights.
Conference rooms and business centers with printer access.
Takeaway breakfast items, snacks, and vending machines.
They may also offer parking spaces, dog parks, and a grocery or liquor store on site. Luxury extended-stay hotels may also include lounges, movie theaters, security patrols, and 24/7 guest services.
How does a long-term stay hotel work?
Long-term stay hotels are booked the same way regular hotels are: by phone, online, or in person. The minimum age needed to rent an extended-stay hotel depends on the laws of the state in the property is located. Rates are based on your expected arrival and departure date. Lock in deals by booking more than seven nights in a row.
You may have the option to stay even longer if your room or other suites are available after your initial booking date. Smaller, family-owned hotels may be willing to work with you on your check-out date as long as you give them as much notice as possible. For long-term stay hotels in popular areas during peak travel seasons, staying past your initial booking date is unlikely.
Most long-term stay hotel rooms are meant for a maximum of four occupants. Guests must share how many people are staying with them when they book. There may be a fee for additional occupants, however, children are usually free. Like short-term hotels, they also usually offer discounted rates for seniors, military, and Triple-A members.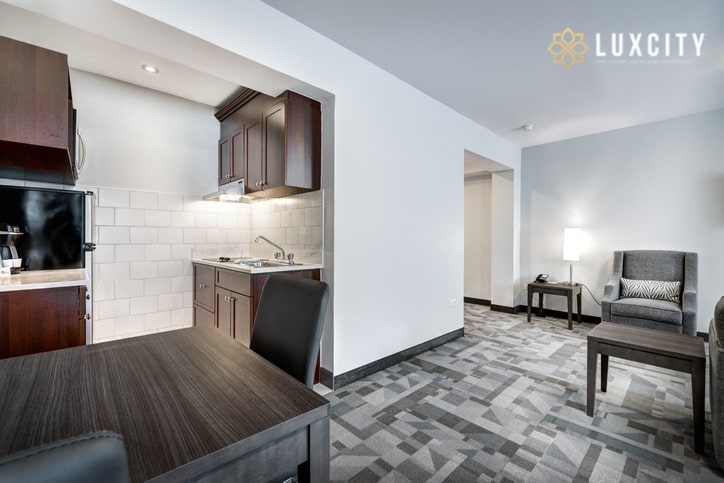 What kind of guests do long-term stay hotels attract?
Long-term stay hotels attract a wide range of guests. Their price points, amenities, and designs are often marketed towards specific groups, the same way hotels are. Simple, no-frills properties maintain the lowest possible rates to offer customers a roof over their heads where they don't have to worry about utilities, furniture, or other essential amenities.
On the other end of the spectrum, high-end properties with all the bells and whistles are an experience all their own. They provide luxury lifestyles for business and pleasure travelers alike and offer competitive rates.
The average extended-stay hotel occupant at a mid-range property travels for work and needs the convenience of a home without the commitment of a second mortgage or lease. They are often attracted to the option to cook in their private kitchen and hotel-related perks.
Business guests who are visiting from elsewhere are often given per diem or stipend pay for lodging, transport, and/or food. You may also find couples on long retreats, retirees, and families with small children. Extended-stay hotels do attract people from all walks of life.
Top 10 best long-term stay hotels in Phnom Penh
Snowbell Hotel
Snowbell at The Bridge Hotel is situated in Phnom Penh, Popular points of interest near the accommodation include Chaktomouk Hall, Vattanac Capital, and Riverfront Park. Phnom Penh International Airport is about 8 km away. Around 900 meters away from Tuol Sleng Genocide Museum and about 1.2 km away from Royal Palace Phnom Penh. Around 1.6 km from Aeon Mall, the property is also about a 20-minute walk away from Sisowath Quay. The hotel provides free WiFi and a 24-hour front desk. There is a tour desk and car rentals are available, while the business center has an ATM. Snowbell at The Bridge Hotel features certain rooms that have river views, and each room has a private bathroom and a desk. All units will provide guests with a fridge.
HM Grand Central Hotel
Situated in Phnom Penh, 700 meters from Royal Palace Phnom Penh, HM Grand Central Hotel features accommodation with a restaurant, free private parking, an outdoor swimming pool, and a bar. Among the facilities at this property are room service and a shared lounge, along with free WiFi throughout the property. The accommodation offers a 24-hour front desk, a shared kitchen, and a currency exchange for guests. The rooms are fitted with air conditioning, a flat-screen TV with satellite channels, a fridge, a kettle, a shower, a hairdryer, and a desk. The units at the hotel come with a seating area. Guests at HM Grand Central Hotel can enjoy a continental breakfast. The accommodation offers a sun terrace. The area is popular for cycling, and bike hire is available at HM Grand Central Hotel. Guests can enjoy playing table tennis or singing karaoke or taking advantage of the business center. Popular points of interest near the hotel include Chaktomouk Hall, Sisowath Quay, and Vattanac Capital. The nearest airport is Phnom Penh International Airport, 11 km from HM Grand Central Hotel.
NagaWorld Hotel & Entertainment Complex
NagaWorld Hotel is an entertainment resort located in the heart of Phnom Penh, where travelers can easily access the hotel by a 20-minute-drive from Phnom Penh International Airport and it is within walking distance of major tourist attractions like the Imperial Palace and the National Museum. Next to the Mekong River, our guests can enjoy awe-inspiring views over Phnom Penh from our luxurious hotel rooms.
Our spacious and luxurious rooms with modern amenities will always make your stay extremely comfortable. Don't forget to pamper yourself with ancient Cambodia therapy at SPA and also indulge culinary desires at our 10 themed bars and restaurants. Staying at Nagaworld Hotel, our distinguished guests will experience Phnom Penh from a whole new angle.
The Bridge Club
600 meters from Aeon Mall, The Bridge Club is located in Phnom Penh and provides free WiFi and express check-in and check-out. The property is situated 700 meters from Diamond Island Convention and Exhibition Center. The hotel has a fitness center and a 24-hour front desk. An Asian breakfast is available every morning at the property. Chaktomouk Hall is 1.1 km from the hotel, while Royal Palace Phnom Penh is 1.3 km away. The nearest airport is Phnom Penh International Airport, 10 km from the property.
Bali Hotel
Featuring an outdoor pool and buffet restaurant, Bali Hotel Phnom Penh has spacious and air-conditioned rooms with free Wi-Fi and a balcony with garden views. A garden with tropical trees and flowers awaits guests. A flat-screen cable TV, minibar, and safe are found in the rooms of Bali Hotel Phnom Penh. A seating area and private bathroom with a bathtub, shower, and hairdryer are included. Free bottled water is provided. Other recreational facilities include a fitness center and billiards. A ticket service, tour desk, and luggage storage are available. A buffet breakfast is served in the morning at Bali Hotel Phnom Penh. A variety of drinks including beers and cocktails can be ordered from the Pool Bar.
G Mekong Hotel Phnom Penh
Nestled in the busy Phnom Penh city, G Mekong Hotel Phnom Penh offers accommodation with views of the city just 1.2 km from the Royal Palace Phnom Penh. The property features a refreshing outdoor pool, terrace, and spa center. Guests can enjoy a local or international meal choice at the restaurant. G Mekong Hotel features free WiFi.
The air-conditioned room of G Mekong Hotel Phnom Penh features a cable TV and a kettle for hot water. En suite bathroom is fitted with a shower and provides the use of a hairdryer and slippers. You will find a 24-hour front desk at the property.
Orussey Binke Hotel
The property is just 800 m from Royal Palace and 1.3 km from Tuol Sleng Genocide Museum. Riverfront Park is 1.5 km away, while Phnom Penh International Airport is accessible with a 9 km drive.
Simply furnished, rooms come with air conditioning, a fan, and tiled flooring. Private rooms include a wardrobe and cable TV. Guests have access to either shared or private bathrooms with a shower facility.
Palace Gate Hotel & Resort
Set in a restored French colonial villa adjacent to the Royal Palace, Palace Gate Hotel offers accommodations in Phnom Penh with views of the Tonle Sap River. It features an outdoor swimming pool and guests can enjoy meals at the in-house restaurant or have a drink at the rooftop bar. Free WiFi is available in public areas.
It is 550 m to the National Museum, while Chaktomouk Conference Hall is 500 m from the property. Kandal Market is 950 m away and Independence Monument is 1.8 km from Palace Gate Hotel. The nearest airport, Phnom Penh International Airport is 11 km away. Airport transfers are available at additional charges.
Every room at this hotel is air-conditioned and features a flat-screen TV. Some units have a seating area for your convenience. Certain rooms feature views of the pool or river. Rooms are fitted with a private bathroom equipped with a bidet. For your comfort, you will find bathrobes, slippers, and free toiletries
Sun & Moon, Urban Hotel
Offering an outdoor pool and views of the city, SUN & MOON, Urban Hotel Phnom Penh is situated in the Daun Penh district right in the heart of Phnom Penh. Located within walking distance of many of the city's landmarks and prominent attractions, the hotel sits 350 meters from the bustling riverside. Guests can enjoy dining options from the hotel's in-house restaurant and rooftop bar. It also features an outdoor pool and includes spa facilities. The hotel provides transfers and shuttle services at an extra cost. Each room at SUN & MOON, Urban Hotel Phnom Penh is air-conditioned and is fitted with a flat-screen TV. Some units have a seating area to relax in after a busy day. You will find a kettle in the room. Every room is fitted with a private bathroom with a bath or shower and shower, with bathrobes, slippers, and free toiletries provided. A TV with cable channels is featured.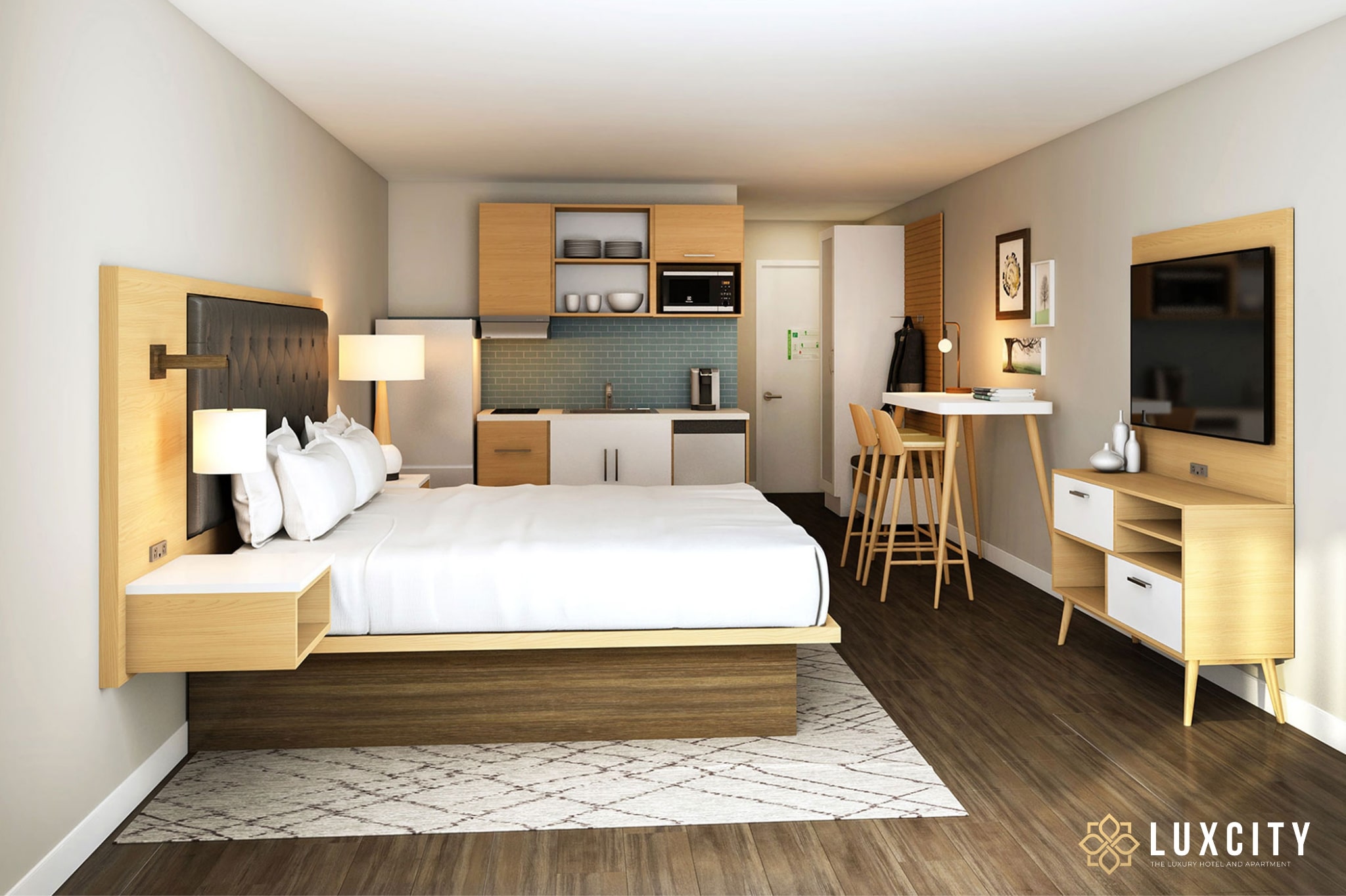 After reading this article, have you understood more about long-term stay hotels? A long-term business trip or want to change accommodation in the meantime, I think a long-term hotel is probably the best fit for you. Especially during the current epidemic, long-term hotels are also quite popular, which seems to be a new trend among residents. If you are interested, you can refer to the above hotels we have just provided for you. If you still have questions, please contact Luxcity for the fastest possible answer.