2022-06-17
Top 15 best Mexican food in Phnom Penh - A unique piece of the world culinary culture picture
Referring to Mexican cuisine, it is difficult for most visitors to forget the eye-catching dishes, rich in flavors of this South American country. If you have not had the opportunity to enjoy the colorful cuisine here, let Luxcity help you find out! After researching, you will be struggling to find a restaurant to eat Mexican food in Phnom Penh to enjoy! Look forward to today's post right now.
Learn more: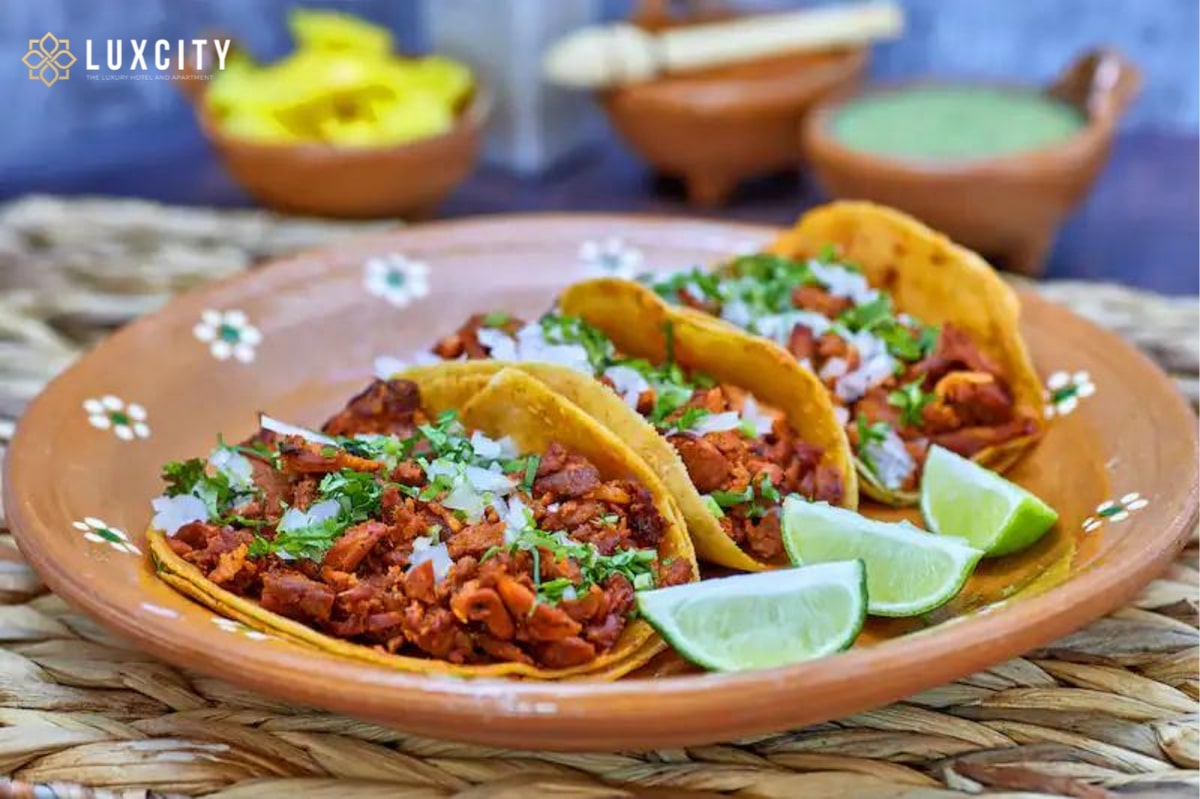 Overview and history of Mexican food
The country of Mexico is known for its extremely rich and diverse culinary culture, from the colors of the dishes to the ingredients for processing. Mexican cuisine is a blend of natural ingredients and flavors.
In all the ingredients, you will easily find the pungent taste of red peppers, the fresh smell of green butter, and the fragrant purple onions... in the dishes in Mexico. Mexicans are always skillful in preparing food, so the dishes here are not only delicious but also very beautiful.
Mexican food is known for its diverse flavors, colorful food presentation, and large use of spices and ingredients, most of which are indigenous to the country. Mexican cuisine has evolved over thousands of years as a result of the fusion of Aboriginal pre-Columbian cuisine, which later absorbed foreign elements.
The history of Mexican cuisine begins about nine thousand years ago, when agricultural communities such as the Maya formed, domesticated corn, created the standardization of corn, and established their eating routes (Mayan cuisine).
Subsequent waves of other Mesoamerican groups brought their cooking methods. These include Olmec, Teotihuacanos, Toltec, Huastec, Zapotec, Mixtec, Otomi, Purépecha, Totonac, Mazatec, Mazahua and Nahua. With the formation of the Tri-Ethnic Confederacy (Aztec Empire) in Mexico, culinary dishes became traditional (Aztec cuisine). Mainly native foods, such as corn (maize), beans, squash, amaranth, chia seeds, avocados, tomatoes, tomatoes, cocoa, vanilla, agave, turkey, spirulina, sweet potatoes, Cactus, and chili.
Characteristics of Mexican food in Phnom Penh
The variety of dishes is one of the essential features of Mexican cuisine in Phnom Penh. Each place has its traditions and recipes, but the common denominator is beans, corn, peppers, and tomatoes.
Another feature of Mexican cuisine is that they do not distinguish between everyday cuisine and haute cuisine. There are typical festive foods like tamales and groundhogs that can be consumed any day of the year.
Mexican food in Phnom Penh is the result of a cross between cultures and in it, you can appreciate the Mexican vision of the world.
Chili is a part of everyday Phnom Penh food, making it a culinary adventure for ex-pats, as they marvel at the multitude of sauces and different variations that this ingredient carries. back for the dishes.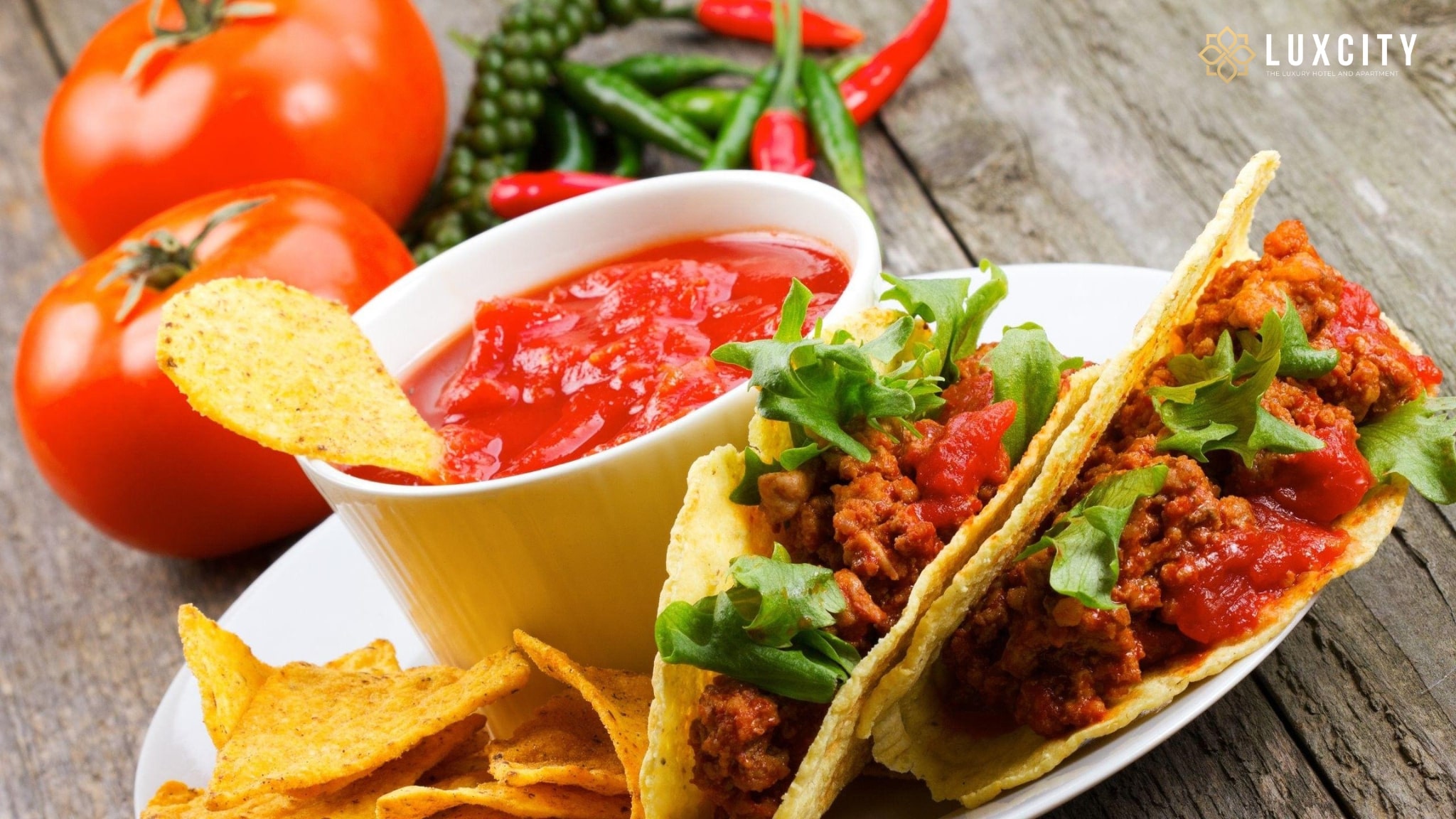 As for beans, they have been used for generations as a decoration in every meal. But without a doubt, the greatest score of Mexican food in Phnom Penh is corn in its various versions: enchiladas, chilaquiles, tacos.,. without this food Mexican cuisine would not be. nothing similar.
Top 15 best Mexican food in Phnom Penh
Traditional Mexican food in Phnom Penh
Referring to Mexican food in Phnom Penh, people will immediately think of dishes with the red color of tomatoes and peppers or dishes made from cornmeal but extremely attractive, each dish is a very unique feature in the cuisine. of this country. Let's explore the most famous delicious dishes in Mexico to better understand the culinary preferences of the people here.
Tacos are a legendary dish in the Mexican culinary world
Tacos are made from flavorful minced beef combined with green avocado, lettuce, tomatoes, and spicy sandal sauce. Use your bare hands to enjoy Mexican-style Tacos because people here believe that using a knife and fork to enjoy this traditional cake is a very silly and impolite thing. That is also a liberal feature in the culinary culture of Mexicans. As Enrique Olvera, head chef of a Mexican restaurant once said, "tacos are a way of life." Tacos come in many varieties, such as carnitas tacos, filled with stewed, chopped pork served with coriander, diced onion, salsa, guacamole, tortilla chips, and fried beans.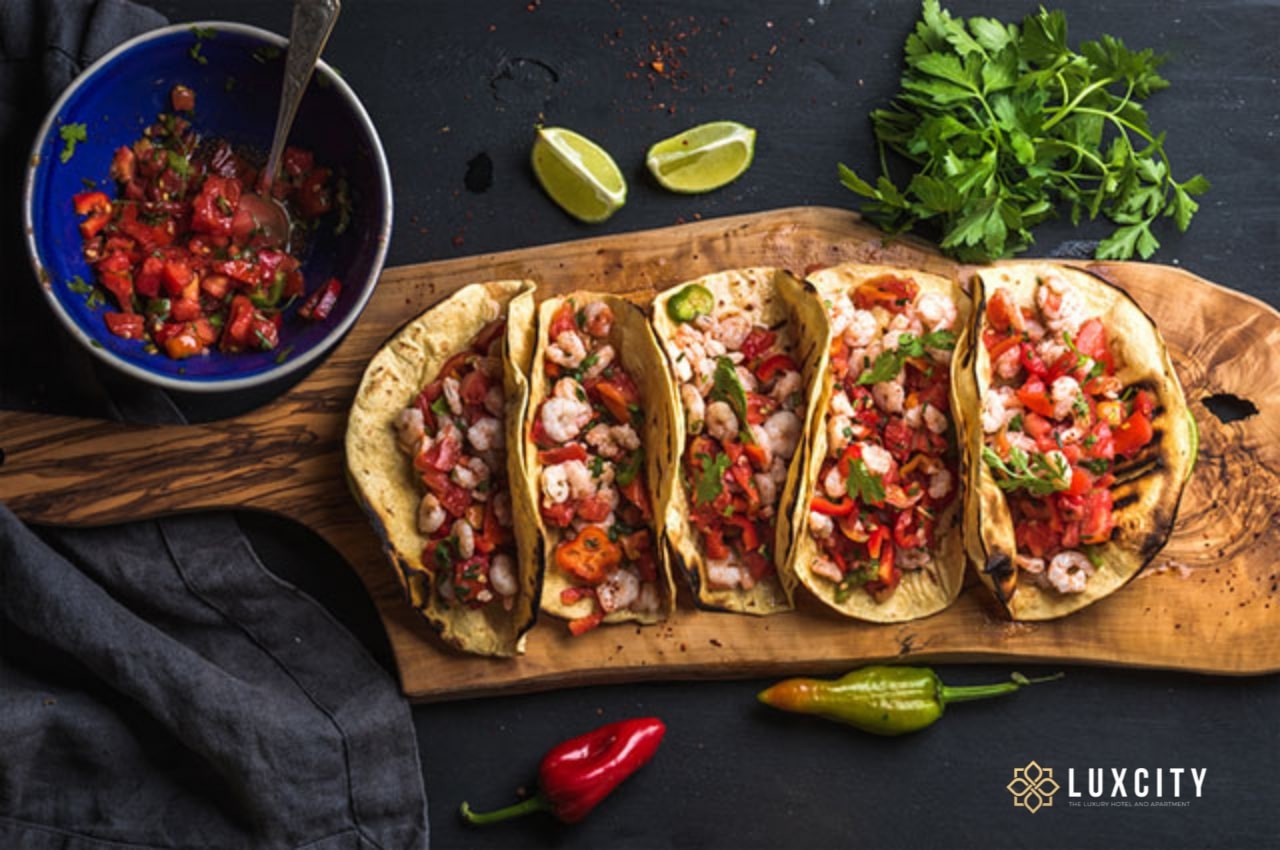 Quesadillas – The best cake in Mexico
Quesadillas are a type of cake made from corn flour most famous in Mexico. The tortilla shells will be sandwiched inside with cheese, sausages along with vegetables such as mushrooms, garlic, beans, chicken, and beef... and then carefully wrapped and grilled on charcoal until it's tender. This is a dish that is appreciated by tourists as very special, delicious, and worth trying when traveling to eat Mexican food in Phnom Penh.
Cocktails Micheladas and Sueros – The most special drink in Mexico
Micheladas and users' cocktails are one of the most special drinks in Mexico that all visitors love and want to try. The ingredients to make this special drink are pureed chili peppers, dark beer, and lemon juice mixed in proportion. It sounds too special, isn't it a drink that is spicy enough, but this is a familiar and regular drink in the meals of the people here. Once you taste it, you will never forget it.
Sopes eye-catching soup with many strange shapes
For Mexican food in Phnom Penh, there are endless dishes made from cornmeal, but the standout is Sopes. There are many ways to prepare them depending on the region of each country, and also each chef puts his personal opinion on this type of stew and decorates it to his or her taste. Dishes of this type, are commonly referred to as snacks. Sopes made from several thick, medium tortillas that, after boiling are sandwiched along the edges. This edge formed when pinching the edges helps us avoid spilling the sauce in the tortillas. Depending on the preferences of each person, they can decorate the cake in many different shapes such as round, oval, small, or large. The outer layer of tortillas is considered as bowls, cups, or plates to hold foods that are cooked together.
The Sopes can be fried in lard or lard, or just reheated to reduce the fat. The most common ingredients are mashed beans; chicken, pork, or beef, and sometimes stewed, with sauce, lettuce or cabbage, and fresh cheese.
Chilaquiles are an indispensable appetizer on the table
With a simple processing method and natural ingredients, Chilaquiles at the Merced Market of Oaxaca City have contributed to creating a unique beauty for Mexican culinary culture. The name Chilaquiles exists in Mexican food in Phnom Penh culture as a traditional breakfast food. Made from tortillas mixed with eggs or chicken, tomatoes, and many other vegetables. Processing Chilaquiles is not difficult. Chilaquiles are not even picky about ingredients, anything you have can be combined with a tortilla. Chilaquiles are also delicious thanks to salsa (sauce). Salsa comes in a variety of colors, based on the color of its ingredients, such as red tomatoes or greens from vegetables, and even black beans can be used as a sauce.
Tamales are delicious Mexican New Year dishes
Tamales impress at first sight is the outer crust. With a pale yellow color that can be called pale and many parallel stripes, the raw material for wrapping Tamales is corn husks, which are almost all thrown away in most other countries. It is thanks to the reuse of the often discarded part to wrap the cake, so Tamales are easy to attract the attention of foreign diners. In particular, this corn husk, after steaming, looks very frugal but no less luxurious when it is served on the table. Tamales can be sweet, savory, or vegetarian depending on the taste of each family. The sweet filling is usually made from flour, corn kernels, cheese, spices, etc., pureed. The savory filling is usually more diverse, in addition to the cornstarch, there is also chicken, pork, beef, green peppers, cheese... also marinated and minced. Vegetarian fillings often prioritize vegetables, but the deliciousness is not inferior to the two types of sweet and salty fillings.
Chinicuiles – The most terrifying dish in Mexico
This is a very scary dish in Mexican food in Phnom Penh. You must be a very brave person to dare to enjoy this dish. Made from the worm called the red maguey, which eats the roots and leaves of the aloe plant, their flesh is rich in protein and good for health. This dish is used a lot in the dishes of the people here, but according to the experience of traveling to Mexico, it is recommended to eat it raw to ensure nutrients.
Tostadas dishes are prepared irregularly.
Tostadas mean mess. They are made with a deep-fried corn tortilla topped with mashed beans, grated cheese, avocado, chopped tomatoes, lettuce, and salsa. It is prepared quite simply and does not follow any hidden recipes. It is usually made with a fried corn tortilla, topped with mashed beans, shredded cheese, salsa, and lettuce. Heat oil in a large pan. Add onion and cook for 5 minutes or until translucent. Add garlic and seasoning and cook for one more minute. Add coriander and mint leaves, black beans, and 2 cups of water. Boil. Reduce heat, cover, and simmer for 55 minutes or until tender. Season with salt and pepper.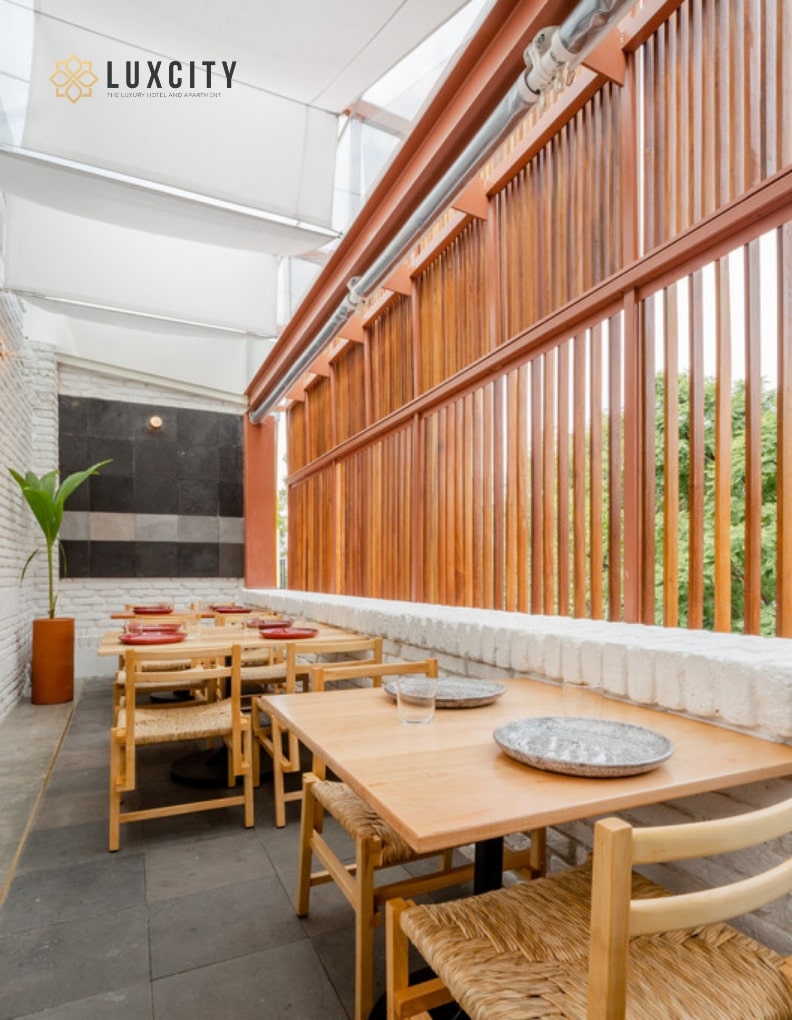 Combine guacamole ingredients in a small blender. Blend until smooth. Or mash with a fork. Then, peel the corn leaving the husk intact. Bake over the flame until golden brown and let cool. Slice corn kernels from the cob. Heat 1 tablespoon oil in a large skillet or griddle over high heat and place the tortillas once or twice in the pan. Place in oven to rotate once for 3 minutes or until golden and puffy. Repeat with remaining tortillas. Spoon black beans onto tostadas with grilled corn, sour cream, guac, radish, green peppers, and coriander leaves. Depending on the choice of each person, Tostadas are divided into fish tostadas, shredded chicken tostadas, or beef tostadas.
Mollette – popular Mexican delicacy
Mollette is the name of a delicious Mexican dish that is extremely popular in this country. This is also a great suggestion if you do not know what to enjoy Mexican food in Phnom Penh.
This is a sandwich consisting of fillings such as jalapeño peppers, fried beans, onions, coriander, salsa, and an indispensable cheese layer. When enjoying the melted cheese mixed with the rest of the ingredients, it will make the audience just whisper and applaud.
Enchiladas – the pride of Mexican cuisine
One of the prides of Mexican cuisine in Phnom Penh is Enchiladas. Enchiladas are made from corn tortillas, the filling is a mixture of cheese and is rolled up and then baked until cooked. Usually, the cake will be served with a spicy sauce made from poblano peppers.
Depending on the taste of each person, the baker can add different kinds of fillings such as beef, chicken, pork, etc. Enchiladas are fragrant with the rich and spicy cheese flavor of the sauce. The cake when eaten must have a pungent taste that melts at the tip of the tongue spreads in the oral cavity, and then slowly softens to be correct. This is also the spicy taste of the Mexican breath.
Don't miss the Mole Poblano when enjoying Mexican food in Phnom Penh
The next specialty on the list of delicious Mexican dishes is Mole Poblano. This is also considered the national dish in this country. Many people often say that if you come to Phnom Penh to eat Mexican food, you must enjoy Mole Poblano. This sauce is made from about 20 ingredients, with chili and chocolate being used the most.
To successfully prepare this dish, the chef must use a variety of paprika and constantly stir it throughout the cooking process. In Mexico, on important occasions such as weddings, birthdays, and Christmas, the red Mole Poblano sauce is an indispensable dish on the table.
Pambazos - delicious Mexican specialties
During your trip to enjoy Mexican food in Phnom Penh, if you are wondering what to choose to enjoy, Pambazos is a great suggestion. This is a famous street food specialty in this country. Pambazos are made from white bread and are filled with chorizo sausage and potatoes. When cooking, the baker will dip it in a sauce so that the cake turns golden red and then deep-fried.
When enjoying, it is indispensable for the pepper sauce in the cake and the accompanying salads, choose salsa, cheese, or sour cream. This dish has a hot spicy taste, so it is very suitable for spicy lovers. The taste of delicious cakes along with their attractive appearance will certainly not disappoint visitors.
Pozole – delicious food in Mexico that cannot help but try
If you need a hint of delicious Mexican food in Phnom Penh, you can't help but try Pozole. This is a type of stewed soup that has existed in Mexico for thousands of years. This traditional dish is made from chicken, pork, and vegetables such as dried corn kernels, radish, salsa, cabbage, onion, chili, avocado, garlic, etc.
Pozole is stewed with ingredients for many hours. The seasonings are well seasoned and delicious. On important occasions such as Mexican Independence Day, birthdays, and Christmas, almost every family in this country cooks Pozole to enjoy.
Mexican Lasagna – traditional Mexican dish
Another delicious Mexican dish in Phnom Penh that visitors can consider when visiting this country is Mexican Lasagna. The dish is the perfect combination of two cooking methods: stir-fry and grill. The spices marinated in Mexican Lasagna are meticulously seasoned to bring out a very distinct flavor.
First, the chef will stir-fry the beef, then layer it with noodles and cheese, then bake until the meat is tender and the cheese melts. This dish is decorated quite eye-catching with red and yellow colors dominating the island. Surely when enjoying Mexican Lasagna, visitors will be knocked down from the first bite.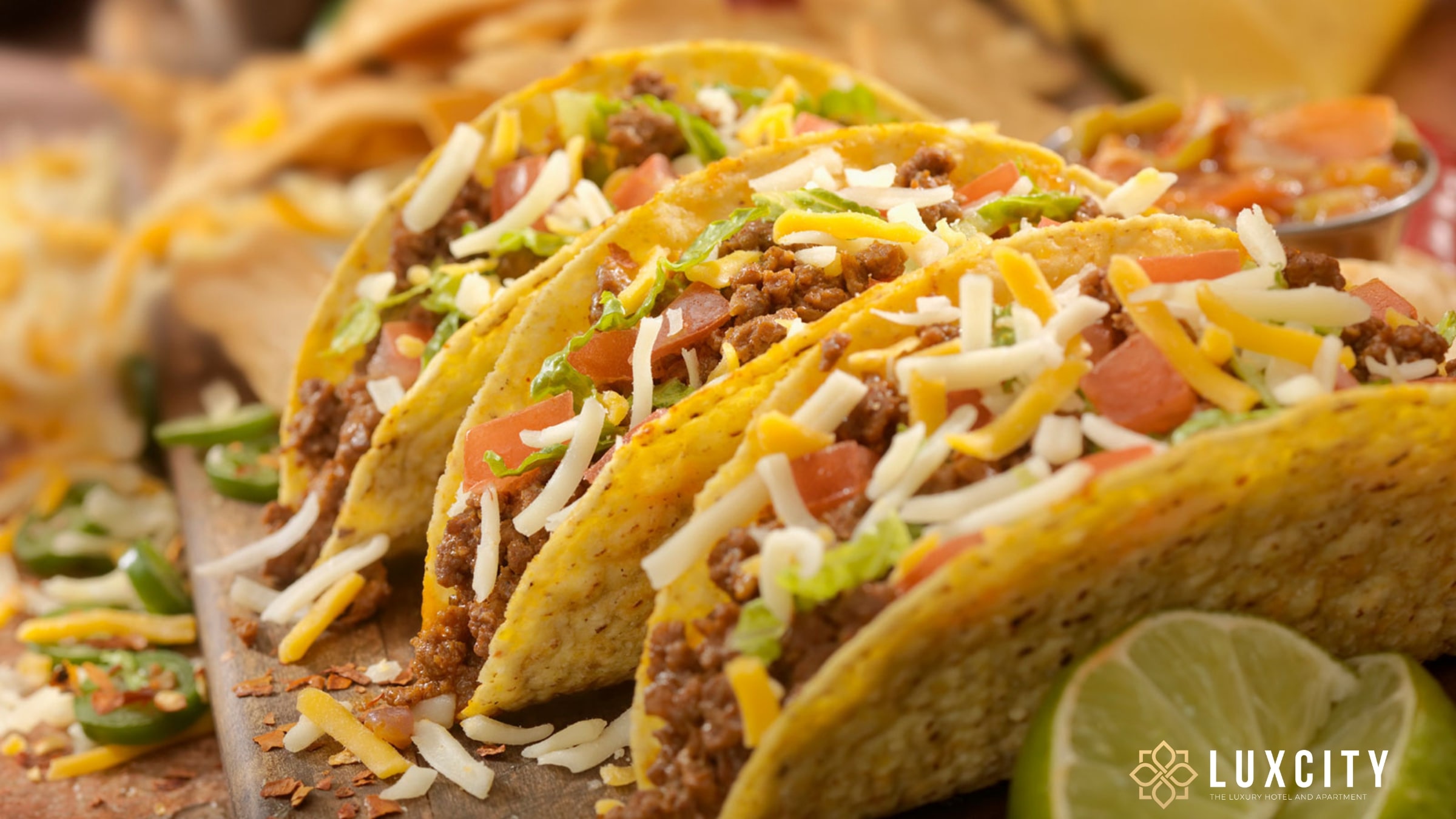 After reading this article, you want to go to enjoy Mexican food in Phnom Penh, right? Mexican cuisine must be said to be extremely diverse, rich, and wonderful. Their dishes are always appreciated by tourists all over the world, everyone is amazed at their excellent quality. If you come to Phnom Penh, you should find Mexican restaurants here to enjoy the cuisine of this country. If you need us to advise or answer any questions, please contact us immediately.
Read more travel articles in Cambodia and inspiration from Luxcity.com.